Anonymous expert compilation, analysis, and reporting.
</end editorial>
---
---
Volker and Surkov post meeting statements diametrically opposed, since Volker is a straight shooter, and Surkov a propagandist, the meeting likely did not go nicely. Babchenko argues Russia will attack after Zapad. Bulgaria debates replacement of its FULCRUM fleet. Baltics receive first US LNG shipment. Eidman in Germany launches diaspora group to fight Russian influence ops in Germany.
More on neo-Stalinism. The  "Second Protocols", AKA fake Guardian articles become a hit on Russian TV.  Åslund hits a key point on Putin poisoning relations with his oligarchs. Galkina, Pastukhov and Portnikov speculate on the fall of the Putin regime, the consensus being it will not be pretty. More sobering reports on Russia's descent. Uzbeks debate Latin vs. Cyrillic, no doubt with Russian encouragement.
Belarus invites observers to Zapad 2017, but not NATO. Moldova pleads with UN to expel Russian troops from Transnistria.
Alleged assassination plot against Poroshenko. SECDEF visit major media topic. Majority in poll reject Russian language. Poroshenko to ask UNGA to provide peacekeepers for Donbass. First president of Ukraine Leonid Kravchuk lambasts the Russians. Donbass fires continue. Poroshenko launches new TV broadcast tower at Bakhmutivka that will reach 50 km deep into Russian held Donbass. More disturbing Crimea reports. Hulli speculates on Ukraine's tech startups, pointing to early Ukrainian involvement in Whatsapp and Paypal. Part 2 of Gen Muzhenko's interview on Ilovaysk. Flag day in Ukraine, Pres Poroshenko winning today's COCW Award for this gem: "Russian invaders recoil from the Ukrainian flag like devils from incense" – noting that in Ukrainian tradition, incense wards off demons like a crucifix wards off vampires. Much media traffic on Independence day parade, noting that vehicles will not be a part, they are presented in a static public display – as yet no good photo essays.
SECDEF visits Iraq, Bibi visits Russia and berates Iran, SECSTATE fingers Russia for arming Talibs.
Russia and China lambast US over DPRK sanctions. Taylor makes a good point, denuclearizing the DPRK will require regime change, either way. NTI survey of DPRK CW ranking on Google News.
Times analyses illegal immigration crisis in Europe (aided and abetted by Russia).
Bone as an ASuW asset. Excellent polemic on AI relations.
More on Russian fake news, Kaspersky gets the chop in the US, reports of an imminent large scale cyber attack on Ukraine.
Some excellent analysis on Russian influence ops in the US, and Russia's inept counter-sanctions regime, described by Rabinovich as "Bombing Voronezh". More on Manafort and the Bureau.
---
Russia / Russophone Reports
---
Russian aggression in Ukraine means challenge for entire Europe, – Kurt Volker; The U.S. Special Envoy on Ukraine's affairs visited Lithuania for talks on settlement of Donbas conflict  – 112.international
The ongoing Russian military aggression against Ukraine is not a challenge for a single state; it's a risk for the entire European continent. Kurt Volker, the U.S. special envoy on Ukraine's affairs, said that at a briefing in Vilnius, where he came for negotiations on peaceful settlement of Donbas conflict. 'We gathered here as the military actions on the European continent continue. This is less than two hours by plane from here. This conflict should not have taken place at all; so now, we've got to stop the human suffering… About 10,000 already deceased in the conflict; millions were forced to leave their lives. It is a challenge not only for Ukraine, but also for the entire Europe,' he said. As 112 International reported, on Monday, Minsk hosted the meeting between Kurt Volker and Vladislav Surkov, the presidential advisor to Russian leader Vladimir Putin. The sides discussed ways of Donbas conflict's solution. After the meeting, Surkov stated that none of the parties are 'fine' with the current situation in Donbas. On August 23, Volker will join U.S. Secretary of Defense James Mattis, as they are going to meet with Ukraine's high-ranked officials in Kyiv.
U.S. wants to restore Ukraine's integrity and sovereignty – Volker – 23.08.2017 09:58 — Ukrinform News
U.S. Special Representative for Ukraine Kurt Volker has confirmed that a United States goal is to restore the territorial integrity of Ukraine and its sovereignty. Speaking at a conference on regional leadership at Vilnius University on Tuesday, he recalled that this goal had been outlined by U.S. Secretary of State Rex Tillerson when he visited Kyiv on July 9. In addition, the United States wants to help ensure the safety and security of all Ukrainian citizens, regardless of nationality, ethnicity or religion. Volker noted that "a hot war is raging" on the European continent "less than an hour and a half's flight from here" and that this should not be forgotten. He said that a first step to that would be a lasting and viable ceasefire. On August 22, Volker met in Vilnius with Lithuanian President Dalia Grybauskaite and Foreign Minister Linas Linkevicius to discuss the implementation of the Minsk agreements and support for reforms in Ukraine. On Wednesday, August 23, Volker arrives in Kyiv to discuss with Ukrainian Foreign Minister Pavlo Klimkin the results of his meeting with Russian presidential aide Vladislav Surkov.
After meeting Volker, Surkov says both parties aren't satisfied with situation in Donbas – 112.international
Assistant to the President of Russia Vladimir Surkov commended his meeting with US Special Representative for Ukraine Kurt Volker, which took place today in Minsk. He also called the meeting "useful and constructive", as TASS informs. "We agreed that the current situation in South-East of Ukraine can't be seen as satisfactory by either the conflicting parties, or the external forces facilitating the settlement. The discussion was mutually respectful, interested, honest, and serious, without the illusions and prejudice. The commitment to Minsk agreements wasn't put under doubt: both parties suggested fresh ideas and innovative approaches to their implementation," Surkov claimed. "(We) agreed upon continuing joint work, identified the topics for the next meeting, agreed that the peace settling process in both politics and security can, and must go faster," he said. As it was reported earlier, a closed-door meeting between US Special Representative for Ukraine Kurt Volker and Assistant to the President of Russia Vladimir Surkov was held today in Minsk. The official results of the meeting haven't been aannounced yet. Kurt Volker is to speak out about the meeting in Vilnius, on August 22, where the envoy is going to discuss the issue of regulating the conflict in Ukraine with the Lithuanian government.
US Ukraine Envoy Returns to Kyiv With Talk of Defensive Weapons – YouTube
US Defense Secretary Jim Matis will meet with Ukrainian President Petro Poroshenko and top Ukrainian military officials in Kyiv. This will come only two days…
Russia to invade Ukraine, only later – journalist | UNIAN
The Russian Federation will invade Ukraine, but not during the Russian-Belarusian joint military exercises "Zapad -2017" (West-2017), a Russian journalist, political emigrant Arkady Babchenko said in an interview with the Novoe Vremya weekly. The journalist believes that Russia will take such a step when its citizens face actual impoverishment, Novoye Vremya reported. "I think that Russia will still invade Ukraine, but not now. When it comes to the real impoverishment of the Russian people and the 'oil-for-food' social programs, then the war will be definitely needed, and Ukraine is an obvious target," the journalist said. He also said that the Russian-Ukrainian war will end only when Ukraine regains all its territories. According to the journalist, Kyiv has both military and non-military resources for the return of the occupied territories of Donbas. "… Russia is even ready to give them up. However, Ukraine does not have the resources to return Crimea. Russia will never give up the peninsula by its own will," Babchenko said. As UNIAN reported earlier, the Russian Federation will be forced to withdraw its forces from the now-occupied areas of Donbas, according to Ukrainian Deputy Minister for temporarily occupied territories and internally displaced persons Yuriy Hrymchak, who commented on the meeting of U.S. special representative for Ukraine Kurt Volker and Putin's aide Vladislav Surkov. Hrymchak suggested that the decision to withdraw Russian troops from Donbas had already been taken. According to the official, the only thing being discussed now is how exactly the Russian troops will leave eastern Ukraine. At the same time, Deputy Minister for the Temporarily Occupied Territories and IDPs George Tuka doubted the idea that any concrete agreements had been reached at the meeting, so it is too early to talk about the withdrawal of Russian troops from Donbas.
Russian bomber Tu-95 spotted above Baltic Sea, Denmark's fighter jets escorted it – Russian bomber Tu-95 spotted above Baltic Sea, Denmark's fighter jets escort it – 112.international
Despite its large size, the Tu-95 bomber is the world's fastest aircraft with screw engines
UAWire – Bulgaria wants to abandon Russian MiG military aircraft
In response to a statement made by the Bulgarian Minister of Defense, Krasimir Karakachanov, that Bulgaria could abandon purchasing new fighters and repair old Russian MiGs that are used in the Bulgarian army, Bulgarian President Rumen Radev spoke against the repair of Russian MiG-29 fighters insisting on the acquisition of new aircraft that meet NATO standards. "No, absolutely not, we cannot give up buying new fighters for the Bulgarian military. Our aviation should be compatible with the aircraft of other NATO member countries," Radev said. The Bulgarian president stressed that, despite their high maneuverability, Russian fighters do not have modern combat capabilities. Earlier, the government of Bulgaria initiated negotiations on the purchase of eight new Swedish multirole Gripen fighters. The total cost of the new fighters will amount to approximately 750 million euros.
Lithuania challenges Russia with U.S. natural gas shipment – Axios
Another poke in the eye just a month after NATO military exercises in the Baltics
UAWire – First shipment of liquefied gas from the US arrives in Latvia
On Monday, the first gas carrier arrived in Lithuanian Klaipėda from the US export terminal Sabine Pass. Delphi writes that a ship with …
The Morning Vertical, August 23, 2017
ON MY MIND There is more than one Russian world. Prominent Russian sociologist and dissident Igor Eidman, who resides in Germany, has started a Facebook group (featured below) to counter Kremlin propaganda in that country. And Eidman isn't the only Russian living abroad who is representative of the Other Russian World. In Riga, Anton Lysenkov, a former journalist for Lenta.ru, has started a magazine called Spektr that is dedicated to countering the narratives on Russian state television and providing Latvia's Russian speakers with quality reporting, analysis, and commentary in their language. Galina Timchenko and her team at the Riga-based Meduza news site are likewise performing a similar service. Former State Duma Deputy Ilya Ponomaryov, the only Russian lawmaker to vote against the annexation of Crimea, now resides in Kyiv, where he not only pushes back against Russian propaganda, but has also become a constructive voice on Ukrainian politics as well. The list can go on. As Russia's best and brightest minds emigrate in increasing numbers, they are often making their new homes in the Baltics and Ukraine. And as this trend continues, the term "Russian World" is taking on a whole new — and less menacing — meaning.
Organisational Committee of the Berlin Forum
Friends, I propose to discuss the declaration of our committee, which we will have to take at the meeting in Berlin on 17 September. I would be grateful for the amendments, proposals, alternative drafts. After the amendment, we shall vote. The option to support most would be to collect signatures. Declaration of the committee forum of Russian-speaking Europeans in Germany (project) We, the Russian-speaking people of Germany, are outraged that the representatives of the putinist authorities are trying to speak on our behalf. The Kremlin has created a whole system of manipulation of Russians in its interest. This is done by the Federal Agency of Russian Affairs, the Russian World foundation, the party die Einheit, the All-German Coordinating Council of Russian Compatriots, the association of "-Motherland, the Russian group in AfD, and so on the eve of the bundestag elections, the campaigning work of these organizations Their Promotional Materials have grown, with the participation of widely held Russian congresses in Magdeburg and in Bad Homburg.
'A real catastrophe': Russia's reverence for Stalin grows as memory of atrocities fades – World – CBC News
A sculptor in Moscow hopes a memorial to Stalin's atrocities will reverse an ominous trend — a renewed reverence for the Soviet-era tyrant.
Fake Guardian Article On 'Collapsing Russia' Plan Finds Receptive Audience…On Russian State TV
A prominent pro-Kremlin television journalist has come under fire for giving credence to a widely debunked fake story about an alleged Western plot to break apart Russia.
Anders Åslund | The Achilles Heel of Putin's Regime by Anders Åslund – Project Syndicate
Russia's crony capitalism is weaker than it seems. In fact, President Vladimir Putin's consolidation of power has created a major potential threat to his authority, because the lack of credible property rights forces senior Russian officials and oligarchs to hold their money abroad.
Window on Eurasia — New Series: Seeking to Avoid Another 1991, Kremlin Takes a Step Making That More Likely, Galkina Says
Paul Goble Staunton, August 22 – Arguing that "there is no truer path to the collapse of a system than the hyper-centralization of authority," Moscow blogger Elena Galkina says that the Kremlin has now taken a step that shows its denizens think that "if they tighten the screws, it will be possible to avoid the fate of the USSR." But in fact, they are repeating the errors of the late Soviet period when that empire fell apart not because it liberalized but because it liberalized and then tried to take it back first by Mikhail Gorbachev's own turn to the right that Eduard Shevardnadze warned of and then by the ill-fated August 1991 coup. Galkina says this is clear if one looks beyond the discussions of moving the capital from Moscow and recognizes that Sergey Kiriyenko, the first deputy chief of the Presidential Administration, has not only stated that Moscow won't extend the power-sharing agreement with Tatarstan but made a more fateful declaration (kasparov.ru/material.php?id=599BC8EC5C63E). The Kremlin official says that "Russian statehood and the state are built not on the basis of agreement." Not only does that contradict Point Three of Paragraph 11 of the Russian Constitution which specifies exactly the reverse but also poses a challenge to regional leaders at precisely a time when Moscow should not be alienating them further. "The economic losses of the regional elites of the Russian Federation as a result of the insane adventures of the Kremlin in foreign affairs could be compensated by decentralization," Galkina says. "But the rejection of competitive gubernatorial 'elections,' the strategic declaration of Kiriyenko, and much else" shows the Kremlin is going in the opposite direction. According to Galkina, "it appears that in the Kremlin they think that if they respond to the challenges of 'the new 1980s' by tightening the screws, that is to proceed along a path opposed to that of Gorbachev, they will be able to avoid the fate of the USSR." They are simultaneously right and wrong. They are right that the situation they are setting up is unlikely to be resolved peacefully, but they are wrong to think that the center won't be challenged and the country's territorial integrity won't be as well. After all, she says, "the hatred of the regions for the center will be much stronger than it was in perestroika" if Moscow continues in its current direction. Galkina ends with a plea: "It is time," she says, "for the civilized world to work up scenarios so that the toxic remnants of the last empire will not spread and cover the continent."
Seeking to avoid another 1991, Kremlin takes a step making that more likely, Galkina says | EUROMAIDAN PRESSEuromaidan Press |
Arguing that "there is no truer path to the collapse of a system than the hyper-centralization of authority," Moscow blogger Elena Galkina says that the Kremlin has now taken a step that shows its denizens think that "if they tighten the screws, it will be possible to avoid the fate of the USSR." But in fact, they are repeating the errors of the late Soviet period when that empire fell apart not because it liberalized but because it liberalized and then tried to take it back first by Mikhail Gorbachev's own turn to the right that Eduard Shevardnadze warned of and then by the ill-fated August 1991 coup. Galkina says this is clear if one looks beyond the discussions of moving the capital from Moscow and recognizes that Sergey Kiriyenko, the first deputy chief of the Presidential Administration, has not only stated that Moscow won't extend the power-sharing agreement with Tatarstan but made a more fateful declaration.
Window on Eurasia — New Series: The Revolution Looming in Russia will be More like 1917 than like 1991, Pastukhov Says
Paul Goble Staunton, August 23 – Twenty years before the Great French Revolution broke out in 1789, Lord Chesterston wrote to his son that he had found during his visit to France "all the signs which [he] had sometime encountered in history and which usually precede a overthrow of the state and a revolution." Vladimir Pastukhov, a Russian historian at St. Antony's College, cites this when he says that "all the signs which [he] ever encountered in culture and which usually precede the overthrow of the state and a revolution exist now in Russia and are increasing with each passing day" (bbc.com/russian/blog-pastoukhov-41001499). He draws that conclusion on the basis of the reaction of Russian commentators and politicians to a rap battle which took place last week between two Russians whose vocabulary and attitudes reflect the following four trends among young people and their elders who are chasing after them: · "The universal denial of any rules and conditions, the lifting of every and all taboos, the rejection not only of past culture but of the challenges of culture as such, the cult of wildness and force;" · "The poetization of cruelty, the voluptuous relishing of evil, the mockery of victims, the passionate denigration of weakness';" · "The aggressive decades, the pursuit of form at the expense of content, and the exaltation of the symbolic;" and · "Moral relativism where there is neither good nor bad but rather cynicism raised to an absolute." "All this," the historian continues, "very much recalls the times of Russian futurism and constructivism with only this difference that futurism and constructivism were all the same to a remarkable degree original Russian formats while rap and other similar trends are deeply derivative." "The so-called 'battle'" between two young rappers, Fedorov and Mashnov, was far less interesting than the reaction of Russian observers. Their reaction showed that the television is declining in importance to YouTube for Russian young people and that those born in the last 20 years have become the focus of elite attention. According to Pastukhov, "the combination of subject and format is generating a chain reaction," one that clearly suggests that "the fuel of all future revolutions and regime overthrows" can rely on "a renewable source of protest energy" and that this will lead to the outbreak of "a real war." Today, "the slogan for Russia is what is good for the young is good for politicians," all of whom have suddenly begun to display a hitherto hidden love for rap music. "Everyone from Putin to Navalny is ready to sing 'pioneer songs,'" but the words of the new songs are very different than those of Soviet times. The message of this new rap is that "your culture is hateful to us, your laws are hateful to us … and we in general hate all of you. Somewhere we have already heard all of this," in the years leading up not to 1991 but to 1917, Pastukhov says. "A revolution matures over the course of decades … but creative people have a surprising nose for revolution. They feel the shifting of the social foundations much earlier than the institutions begin to fall." And that is clearly what is happening in Moscow now. "If one judges by the tendencies of the development of Russian culture and the tempos of its evolution into 'an anti-culture,' then the end of Putin's 'beautiful era' will occur more according to the scenario of the beginning of the 20th century than according to the scenario of its end, however much one might prefer otherwise." And "if 'the battle' of Fedorov and Mashnov is really mainstream," Pastukhov continues, "then I know how the future Russia will be called – 'a Greater Donbass.'" A revolution is inevitable, he says, but it will not be a "velvet" one but rather a bloody one carried out by "the real Russian political hardcore."
Window on Eurasia — New Series: If Putin Were Arrested, Russians who Back Him Now would Disown Him Then, Portnikov Says
Paul Goble Staunton, August 23 – The failure of Russians to see that what is being done to others may soon be done to them and to rise in protest means, Vitaly Portnikov says, that "if tomorrow Putin were to be under arrest at his dacha, it would turn out that 90 percent of those who now back him would disown him." The Ukrainian commentator argues that the Russians and especially those often identified as their cultural leaders thus continue to fall victim to the self-justification for going along if they personally aren't attacked that Pastor Martin Niemoeller described so classically in Nazi Germany(ru.krymr.com/a/28691992.html). That of course means that no Russian leader, including Putin, can count on unwavering support however much power he appears to have amassed and that no real solidarity can emerge among Russians to oppose the rise of ever more authoritarianism among leaders who simultaneously recognize that reality and fear it. Portnikov takes as his point of departure the reactions of Russian intellectuals to the arrest of Serebrennikov. Some support Putin's decision to detain him; others don't. But among the latter there are two groups: the small one whose members view it as part of a larger problem, and the far more numerous one consisting of those who don't connect the dots. The latter fail to recognize that Putin's war against Ukraine and his arrest of independent-minded directors are all of a piece, and they thus hope, as Pastor Niemoeller warned against, that the wave of arrests will somehow not reach them and that they can continue to get money for their activities from the regime. Those who act in this way, the Ukrainian commentator continues, do not reflect "a culture of self-awareness and analysis of their own spirit and life situation." Indeed, one should not call them representatives of genuine culture at all. Thus, "Tatyana Lioznova filmed '17 Instants of Spring' about the Soviet apparats but to the end of her life didn't understand it. Mark Zakharov filmed 'Kill the Dragon'" but didn't get it either. And the list goes on and on, an indictment of those who seek to claim the title of independent intellectuals. They do not appear to understand what they are about or at least are prepared to "imitate" culture" much as "Putin imitates political activity when his closest friends fill their pockets with billions." Ultimately, however, neither imitation will be persuasive because as Pastor Niemoeller implied, there will always be some who will see through it.
Window on Eurasia — New Series: The Problem isn't Where the Russian Capital Is but Rather the Role It Plays, Commentators Say
Paul Goble Staunton, August 22 – The latest call to move the Russian capital from Moscow to east of the Urals (windowoneurasia2.blogspot.com/2017/08/krupnov-proposes-shifting-capital-to.html) has sparked discussion even though most say the idea isn't new and won't ever be realized (windowoneurasia2.blogspot.com/2017/08/history-suggests-cheaper-ways-to-get.html). But the most important aspect of this discussion is not about a possible move to Irkutsk or Novosibirsk or someplace else but about the fateful role that a Russian capital wherever it might be inevitably plays for the country as a whole and in particular for the region in which it is situated. Siberian historian Yury Chernyshev notes that proposals to shift the Russian capital from Moscow to a city in Siberia have become a commonplace, something used for PR purposes or to distract attention from real problems. "None of the current 'elite' of course, will voluntarily move to Siberia," so these ideas are going nowhere (regnum.ru/news/polit/2312215.html). At the same time, there is a real problem that lies behind such talk, he continues: "All Russia now is divided between Moscow and not-Moscow," the result of Kremlin actions that have made federalism meaningless and that have sucked the best and the brightest out of the regions to the center, while allowing them to give orders and demand reports from the subjects. As a result, Chernyshev says, there has been an even greater bureaucratization of the state apparatus than there was in the Soviet nomenklatura, and this in turn has frozen the development of the country and especially weakened its eastern regions where it is most difficult for people to survive." Vladislav Inozemtsev, a Moscow economist and commentator provides some additional discussion on what he calls "the dangers of de-Muscovization," a process that he suggests ignores what the real problems of Russian administration now are and what needs to be done to correct them rather than just moving the capital city (snob.ru/selected/entry/128172). Everyone should recognize that "the concentration of resources in the places most favorable for life is a natural worldwide tendency and [that] the chance for resettling millions of people in the tundra or the desert has disappeared since GULAG times," Inozemtsev continues. The question people should be asking is very different. How can Russia create conditions in which there are dozens of such cities which "could become "'anchors' for people who don't want to live in villages" and who would be quite content to live in a mid-sized city if it had all the features of modern life and a modicum of financial and political power. Such a situation, of course, could arise "only under conditions of financial and political decentralization, the improvement of standards of living in the regions, and the weakening of the attractiveness not of Moscow as the capital but of the capital as such, wherever it might be located." That "will not be decided by transferring capital functions or changing the headquarters of state corporations," he says. What is needed is that "business, intellectual centers, and mass media arise in the provinces rather than being 'imposed' there from the center. The most important condition for this is a rejection of vozhdizm, 'the 'tsarist' tradition of our rule." "Moving the capital will not solve the problems of federalism." What has to happen is htat the regions need to receive "or better" demand the right to oppose Moscow, to elect governors and mayors without the center having any say, and to manage their finances with a far greater accent on regional priorities." In short, "the basis of a real 'de-Muscovization' must be a new Federative treaty, in which the capital would not be a subject – a good example is Washington, which fulfills the functions of a capital but does not have any representation in the Congress of the United States," Inozemtsev continues. "If Russia were to become a genuine federation, one created from below rather than imposed from above," then all relations between the center and the periphery and the meaning of the center would change, and the issue of where the capital should be would become something of secondary interest. Inozemtsev explores a number of other reasons why simply moving the capital will do nothing to solve Russia's problems. Among these is his observation that shifting the capital to Siberia "would neutralized the reformist potential of Siberia by killing in the cardle any attempts at decolonization of the still existing empire." Moreover, such a shift would lead to a new emphasis on raw materials rather than high tech as the basis of the economy and make Russia more Asian and less European. People should remember that "greater democracy or respect for law never has come to Russia from the East" and wouldn't this time around. Moscow for all its problems is like a large diamond, "one of the main glories of Russia." Dividing it up or shifting its function to somewhere else would be like breaking it into pieces. Much would be lost and the resulting multiplicity would be worth far less than the single gem. The task, he says, is to create a setting for Moscow by building a federation from below.
Window on Eurasia — New Series: Russians Urged to Reflect on 'Inexplicable Paradoxes of the Soviet Union'
Paul Goble Staunton, August 22 – A Moscow blogger has suggested that Russians now, when thinking about the Soviet past, should reflect on what he calls that country's "inexplicable paradoxes" not only when thinking about their own relationship to it but also about where they are now (topru.org/59430/neobyasnimye-paradoksy-sovetskogo-soyuza/). His observations merit quotation in full. In Soviet times, he writes, · "Everyone had a job, but no one did anything." · "No one did anything but the plan was always fulfilled 100 percent or even at times 104 to 110 percent." · "The plan was fulfilled 100 percent but there was nothing in the stores." · "There was nothing in the stores, but everyone had all they needed." · "Everyone had all he needed but all stole." · "All stole but all had enough. · "All had enough but all were dissatisfied." · "All were dissatisfied but no one went on strike." · "No one went on strike but no one did anything." · "All were against, but all voted 'for.'" · "He who shouted 'yes' the loudest, now beats his chest more than anyone else and insists he was against." · "There was no sex but the birthrate was higher than now." · "How was all this possible? What do you think?"
The Daily Vertical: Theater Of The Absurd (Transcript)
Yesterday's arrest of Kirill Serebrennikov crosses a line. It crosses a line because it shows that Vladimir Putin's regime is no longer just prosecuting opponents for things that are patently absurd and it is no longer fabricating criminal cases with any degree of plausibility. Now it is making stuff up out of whole cloth and denying reality altogether. Yesterday's arrest of Kirill Serebrennikov sets a precedent. It sets a precedent because as soon as you do this once, it is easier to do it again, and again, and again. And yesterday's arrest of Kirill Serebrennikov sends a message. It sends a message because by coming after one of Russia's most renowned living film and theater directors in such a way, the Kremlin is saying that nobody who speaks out against the regime — no matter how famous, prominent, or popular they may be — is safe. According to media reports, Serebrennikov and three of his colleagues are charged with embezzling state funding to produce an adaption of William Shakespeare's A Midsummer Night's Dream. The play premiered in November 2012 and was a big hit. It has been staged multiple times in Moscow — including at the Golden Mask Russian theater festival — as well as in Paris. The performances have been photographed and filmed and dozens of reviews have been published in Russia and abroad. But despite all this, the authorities are insisting the play was never performed and that Serebrennikov and his colleagues simply pocketed the money. In an editorial this week, Meduza compared Serebrennikov's case to that of Vsevolod Meyerhold, the director who was arrested and executed at the height of Josef Stalin's Great Terror. We may not be back in the 1930s. But the Kremlin is again prosecuting Russia's best and brightest for political ends.
Russian Director Serebrennikov In Court Amid Outcry Over Fraud Charges
A prominent Russian director whose arrest on fraud charges has raised fears of a clampdown has implored a Moscow court not to place him under house arrest on charges he has called "absurd."…
'In Six Months I'll Be Dead': Russian Activists Warn Of Looming Spike In AIDS Deaths
MOSCOW — Activists in Russia are warning that the country faces a dramatic rise in the number of deaths from AIDS because of the government's failure to fund the battle to stop the spread of HIV…
Putin To Meet Top Vatican Diplomat In Sochi
The Vatican's secretary of state is set to hold talks with President Vladimir Putin in the Black Sea resort of Sochi on the third day of his official visit to Russia. The discussion betwee…
Russia Is Now Letting Women Become Fighter Pilots | The National Interest Blog
A big deal?
Russia to Produce 5-Ton Heavy Combat Drone, Says Contractor
Kronstadt Group estimates it will take five years to produce the heavy aircraft to be used for civilian, as well as military, purposes.
Window on Eurasia — New Series: Karimov's Passing has Sparked New Calls to Return Uzbek to the Cyrillic Alphabet
Paul Goble Staunton, August 22 – The alphabet wars in Central Asia have taken a new turn: In Uzbekistan where the late president Islam Karimov effectively blocked any criticism of his policy to shift from Cyrillic to Latin script, his passing has opened the way for a new debate on whether that change, still far from complete, is a good or bad thing. The current debate was opened by open letter to Karimov's successor from Uzbek literary scholar Shukhrat Rizayev in Kitob dunesi arguing that Uzbekistan should return to Cyrillic lest it fall further behind the world because Uzbeks still have to rely mostly on Uzbek materials published in Cyrillic (kitobdunyosi.uz/publitsistika/460-prezidentimizga-maktub.html). That letter provoked a discussion of the issue in many Internet portals with some backing Rizayev's ideas and others insisting that the current course of promoting a Latin script is the correct one. The FerganaNews portal asked Alisher Ilkhamov of SOAS to comment on the implications of alphabet reforms (fergananews.com/articles/9524). In fact, Ilkhamov points out, Rizayev didn't call for returning everything in Uzbekistan to the Cyrillic script but only legalizing the situation in which now and for some decades ahead much of the popular and scientific literature in Uzbek will remain in Cyrillic and Uzbeks need to be able to use it, even if they also use the Latin script. The London-based Uzbek scholar also argues that a shift from one alphabet to another is more a political issue than a substantive one because the sound values of letters are set by convention. (He doesn't discuss the earlier shift from Arabic to Latin script because then alphabet change mattered more as Arabic didn't show vowels while the Latin did.) The push to shift from Cyrillic to Latin scripts in the Turkic republics followed a November 1991 meeting in Istanbul at which representatives of the soon-to-be independent union republics supported the idea of shifting to Latin script as a move away from Russia and toward Turkey. "For leaders of the Central Asian republics, frightened by the growth of Islamic movements, and especially for Islam Karimov, the Turkish political model represented a real alterantive to both Islamism and the hegemonism of Moscow," the SOAS scholar continues. And in 1993, Karimov pushed through a law calling for that shift. Some progress has been made but it is far from complete. Schools have been using the Latin script, and consequently almost one in four adults now uses it. But except for school textbooks, most other publications remain in Cyrillic – and almost three-quarters of adults still prefer Cyrillic to the Latin script given that what they need is in Cyrillic, not Latin. For the rising generation to displace the Cyrillic group will take 30 to 40 years at a minimum, Ilkhamov says; and even when they are a majority, many of the books and publications on which Uzbeks will continue to rely will still exist only in Cyrillic and not in Latin script. It isn't "realistic" to expect anything else, he concludes. And he cites with approval the comment of one Uzbek woman on Facebook: "'To choose Cyrillic is not 'a return to the past.' For we still haven't left it." One needs only add the following: even if Tashkent doubled its spending on the transition, it wouldn't be able to affect the sttus quo anytime in the next several decades.
Window on Eurasia — New Series: Central Asian Militaries More Capable than Many Think, Kazakhstan Analyst Says
Paul Goble Staunton, August 23 – Many in Moscow and the West dismiss the military forces of the five post-Soviet Central Asian countries, but they are wrong to do so, according to Marat Shibtov, a military affairs specialist at Alma-Ata's Center for Military-Strategic Research, who says that in most cases, they have far greater defense capabilities than observers think. In a major article on the Regnum news portal today, he marshals an impressive array of data about the size of forces, their armaments, government military spending, and combat experience (regnum.ru/news/polit/2313004.html) in order to dispel the image the militaries of this region have and to offer four conclusions: · "Despite the existing stereotypes, the armed forces of the countries of the region are not badly armed and have sufficient numbers for current tasks." · "The armed forces of the countries of the region carefully follow current trends in armaments and tactics which are being manifest in present-day local wars." · "Considering that the main danger is the penetration on the territories of the countries there of groups of militants numbering up to approximately 300 people, they have completely sufficient military potential to respond adequately." · "The possible shortage of professionalism can be completely compensated by the firepower of artillery and aviation that even in many population points like Iraq's Mosul leads to victory."
Belarus Reports
NATO criticizes Russia, Belarus for avoiding transparency in Zapad-2017 drills
NATO regrets that neither Russia nor Belarus, which will conduct large-scale joint military exercises "Zapad-2017" (West-2017), has invited the Alliance experts to observe the drills at the proper level, that is, in accordance with Vienna Document 2011 on confidence- and security-building measures, according to an UNIAN correspondent in Brussels. News 22 August from UNIAN.
Belarus Invites Observers To Monitor 'Zapad 2017' Exercises, But NATO Critical
The Belarusian Defense Ministry has invited observers from several countries to the Zapad 2017 joint Belarusian-Russian military exercise that takes place September 14-20 in Belarus, bu…
Belarus invites Ukrainian observers to West-2017 drills – 112.international
Besides representatives from Ukraine, military experts from Poland, Lithuania, Latvia, Estonia, Sweden and Norway can come to see the exercises
Two Ukrainian observers to be present in West-2017 drills in Belarus – 112.international
Moreover, the Belarusian military is expecting observers from Poland, Lithuania, Latvia, Estonia, Sweden, and Norway. Two Ukrainian observers are to oversee the West-2017 drills in Belarus, according to the General Staff of Ukrainian Armed Forces Facebook. "The Ukrainian side confirms the fact of Ukraine having been invited to observe the West-2017 military exercise, which is to take place in Belarus, with Russian Armed Forces participating. According to the Department of verification of the General Staff, two Ukrainian observers are to oversee the exercise on September 16-20, based on the invitation from the Belarus side," the message says.
Russia causes alarm with 'largest ever' military drills in Belarus | The Independent
Concerns are mounting over Russian military exercises planned for next month, which some fear could be used as cover for intervention in Belarus.  The Zapad ('West') exercise, which occurs every four years, will take place in Belarus and western Russia.  Russian war games have previously preceded or provided cover for real military operations, including in Ukraine and Georgia, analysts said.
Transnistria / Moldova Reports
Moldova asks UN to withdraw the Russian troops from Transnistria – To Inform is to Influence
By Arina Livadari August 23, 2017 The Republic of Moldova called on the United Nations to include the issue of the complete withdrawal of Russian troops from Transnistria on the agenda of the 72nd session of the National Assembly, which will take place on September 12, writes Deutsche Welle. A request to this effect is included in a letter sent by Victor Moraru, the Permanent Representative of the Republic of Moldova to the United Nations. Thus, Chisinau states that the presence of Russian soldiers "represents a threat to international peace and security", the letter states. Moraru urged the UN to support the Republic of Moldova's efforts to complete the process of "unconditional, orderly and complete withdrawal of foreign armed forces from the national territory". The diplomat referred to the OSCE statement in 1999, welcoming "the Russian Federation's commitment to complete the withdrawal of Russian forces on the territory of the Republic of Moldova by the end of 2002″. Reminder: On May 3, the Constitutional Court of Chisinau declared that the presence of any troops or military bases on the territory of the Republic of Moldova, managed and controlled by foreign states, is unconstitutional. The president of the CC, Alexandru Tanase, declared that: "THE FACT THAT THE RUSSIAN FEDERATION DID NOT WITHDRAW ITS TROOPS FROM THE EAST BUT STRENGTHENED ITS MILITARY PRESENCE IN THE TRANSNISTRIAN PART OF THE REPUBLIC OF MOLDOVA IS A VIOLATION OF THE CONSTITUTIONAL PROVISIONS ON INDEPENDENCE, AS WELL AS OF THE INTERNATIONAL LAW," Please recall that on May 3, the Constitutional Court of Chisinau declared by a decision that the presence on the territory of the Republic of Moldova of any troops or military bases, managed and controlled by foreign states, is unconstitutional. "The fact that the Russian Federation did not withdraw its troops from the east but strengthened its military presence in the Transnistrian part of the Republic of Moldova is a violation of the constitutional provisions on independence, Of the Republic of Moldova, as well as of international law, "said Alexandru Tanase, then president of the CC. Moreover, on July 21, the Parliament adopted a statement "demanding" the withdrawal of Russian troops from the Republic of Moldova. Source: http://www.moldova.org/en/moldova-asks-un-withdraw-russian-troops-transnistria/
Moldova asks UN General Assembly to consider withdrawal of Russian troops from Transnistria – 112.international
Chisinau is convinced that the presence of the military poses a threat to international peace and security. Moldova asked the United Nations to include the issue of complete withdrawal of Russian troops from Transnistria to the agenda of the 72nd session of General Assembly. Such letter was addressed by the Permanent Representative of Moldova to the United Nations Viktor Moraru, reports DW. Chisinau is convinced that the presence of the military "poses a threat to international peace and security." Moraru asked the UN to support Moldova's efforts aimed at completing the process of "unconditional, orderly and complete withdrawal of foreign armed forces from its national territory." He also cited the OSCE declaration adopted in 1999 that welcomed "Russia's obligations to complete the withdrawal of Russian forces from the territory of Moldova by the end of 2002."
Moldova Appeals to UN to End Russian Occupation of Transnistria – YouTube
The Transnistria war in Moldova ended on July 2nd, 1992. Transnistria, a small strip of land between Moldova and Ukraine, has been disputed territory since t…
Ukraine Reports
Assassination attempt on Poroshenko plotted during recent Kharkiv region visit – source
An anonymous call warning of a plan to assassinate President of Ukraine Petro Poroshenko, who was visiting Kharkiv region August 22, was reported by the Security Service of Ukraine, an informed source in the regional law enforcement agency has told UNIAN. "Yesterday, on August 22, at about 12:00, a call was received by the SBU from an anonymous phone number. The call came not from a landline phone but through an IP telephony. A planned attempt on Poroshenko during a visit to Kharkiv region was reported by a mechanized voice of a female," the source said. According to Ukrinform, it was impossible to locate the anonymous source. As reported on August 17, head of the SBU Vasyl Hrytsak said the FSB of Russia was plotting terrorist attacks and high-profile assassinations in Ukraine against the country's political leadership.
Poroshenko, Mattis to make joint statement for media on August 24 | KyivPost
President of Ukraine Petro Poroshenko and U.S. Secretary of Defense James Mattis on August 24, will make a joint statement for the media following the results of the joint talks. The ceremony of meeting between Poroshenko and Mattis near the building of the presidential administration of Ukraine is scheduled for 12:00 a.m. (Kyiv time), and at 12:50 p.m. the president of Ukraine and the U.S. defense secretary will make a statement for the media, the presidential official website said. As it is known, U.S. Defense Secretary James Mattis will visit Kyiv on August 23-24, where he intends, in particular, to meet with Poroshenko and Defense Minister Stepan Poltorak. Together with the head of the U.S. Defense Department, the capital of Ukraine will host U.S. Department of State Special Representative for Ukraine Negotiations Kurt Volker, who also intends to hold meetings with high-ranking Ukrainian officials.
UAWire – Former Advisor to the Chief of the General Staff of Ukraine: The purpose of Mattis' visit to Ukraine is not only participation in the Parade on the Independence Day
Head of the US Department of Defense James Mattis' visit to Ukraine will certainly not be limited to participation in the Independence Day …
Poroshenko to raise issue of bringing UN peacekeepers to Donbas at UN General Assembly session; the Ukrainian leader will speak at the event slated for September – 112.international
Poroshenko to raise issue of bringing UN peacekeepers to Donbas at UN General Assembly session; the Ukrainian leader will speak at the event slated for September
Poroshenko to present to UNGA idea of peacekeepers' deployment in Donbas
President of Ukraine Petro Poroshenko during his Thursday visit to Severodonetsk said he intended to submit to the UN General Assembly next month the idea of introducing a peacekeeping mission to Donbas, an UNIAN correspondent reported. News 23 August from UNIAN.
Poll: Over 50% of Ukrainians oppose granting Russian language official status
Some 54% of Ukrainians oppose granting the Russian language official status, according to a poll conducted by the Institute of Sociology of the National Academy of Sciences of Ukraine in cooperation with the Intellectual Prospects Charitable Foundation, presented at a press conference in Kyiv on Tuesday, an UNIAN correspondent reports. News 22 August from UNIAN.
Ukraine to return sovereignty over occupied Crimea, Donbas – Poroshenko
Ukrainian President Petro Poroshenko believes Ukraine will regain sovereignty over the temporarily occupied Crimea and Donbas, according to an UNIAN correspondent. News 22 August from UNIAN.
Russia liked Ukraine as long as it "lay beneath it" – Kravchuk
First president of Ukraine Leonid Kravchuk says Russia only liked Ukraine as long as Kyiv "lay beneath" Moscow, according to an UNIAN correspondent reporting from an international round table in Kyiv. Leonid Kravchuk suggested looking carefully into the influence Russia has been exerting on Ukraine. "Russia has been fighting for 150 years. It has created the war intelligentsia, the intelligentsia of pressure. They know nothing else. They loved Ukraine as long as Ukraine was lying beneath them. As soon as it [Ukraine] got up on its feet and said it would go the other way, Russia began to think of ways to strangle us," Kravchuk said. "Everything used to go smooth: Russian cadres, [pro-]Russian policy, and we keep obeying… And suddenly Ukraine said 'No' – choosing to go toward Europe. So you're going to Europe? We will not let you go. But why are we fleeing away from Russia? Is it Ukraine to blame for this? We are fleeing because they have been hitting and killing us," he said. At the same time, he expressed belief that everyone understands that "our lives are being taken because we want to live in a different way." Read also Ukraine breaking away from Moscow due to Russia's futility – Kravchuk "And those governments that support us do not understand everything. Some of them are afraid of Russia, frankly speaking, they are afraid not to spoil relations with Russia. But I tell them: today it's us, tomorrow it's you. Stop! Russia will not stop. It won't stop," Kravchuk added. "I had the opportunity to communicate with many Russian figures, starting with Chernenko, Andropov, Gorbachev, Yeltsin, etc. They are all the same. Someone is a bit worse, someone is better. But the main thing is that they all believed Ukraine should be with Russia. Not to let it go but hug it to death. This is the main issue of Russian life today as well," the former president said.
Militants launched 28 attacks on Ukrainian troops in Donbas in last day – 23.08.2017 09:30 — Ukrinform News
Militants launched 28 attacks on positions of the Armed Forces of Ukraine in ATO area in Donbas over the past day. Three Ukrainian soldiers were wounded and one soldier was injured.
Militants shell 28 times in Donbas, four Ukrainian soldiers injured – Militants shell 28 times in Donbas, four Ukrainian soldiers injured – 112.international
In Donetsk area the situation remains tense in Avdiivka industrial zone
Donbas militants engage heavy weapons, 4 WIA in last day
Russia's hybrid military forces attacked Ukrainian army positions in Donbas 28 times in the past 24 hours, with four Ukrainian soldiers reported as wounded in action (WIA), according to the press service of the Anti-Terrorist Operation (ATO) Headquarters. News 23 August from UNIAN.
Donbas: Heavy artillery shells hit Mariinka, Krasnohorivka (Donetsk region); however, most of the attacks that took place on August 22 did not employ use of Minsk-banned weaponry –  112.international
Donbas: Heavy artillery shells hit Mariinka, Krasnohorivka (Donetsk region); however, most of the attacks that took place on August 22 did not employ use of Minsk-banned weaponry
Ukraine, Russia Agree To New Cease-Fire At Start Of School Year
Ukrainian President Petro Poroshenko has proposed a cease-fire in eastern Ukraine starting on August 23 at the beginning of the school year and got unanimous support from Russia, Germany, France, an…
Ukraine: European and Russian leaders agree new ceasefire deal | News | DW | 23.08.2017
Germany and Russia have announced their support for a proposed new ceasefire deal in east Ukraine. The announcement follows a four-way phone call with the French and Ukrainian presidents.
Poroshenko opens new radio, TV broadcasting station in Bakhmutivka, Luhansk region – Poroshenko opens new radio, TV broadcasting station in Bakhmutivka, Luhansk region – 112.international
The Ukrainian president said that information war is the key element of Russian aggression
Ukraine launches another TV tower to broadcast east – LB.ua news portal
Ukraine launches another TV tower to broadcast east. Luhansk residents will be able to watch Ukrainian TV. Political – LB.ua news portal. Latest from Ukraine and the world today
Ukrainian army to get first batch of country's newest Oplot MBTs before year-end
Ukrainian President Petro Poroshenko said that the first batch of the newest Ukrainian Oplot tanks would be delivered to the Armed Forces this year. Latest UNIAN news from 23 August.
UAWire – Ukrainian Security Service uncovers an illegal ring exporting military aircraft parts to Russia
In the Kharkiv region, the Security Service officers exposed the supply channel of repaired units and equipment for military transport aviation …
Ukrainian police general detained on suspicion of bribery – Lutsenko
Serhiy Budnyk, the chief of the protection police department of the Ukrainian National Police, has been detained on suspicion of receiving improper advantage, Ukrainian Prosecutor General Yuriy Lutsenko said.
Russia gives suspected Euromaidan killers asylum, imprisons Maidan activists
Ten of the 23 ex-Berkut riot police officers suspected of gunning down protesters in the last days of the Revolution of Dignity in Kyiv have received Russian citizenship, while a further two men have been given 'refugee' status, according to Kharkiv Human Rights Protection Group. News 23 August from UNIAN.
Jailed in occupied Crimea for a Ukrainian flag: the case of Volodymyr Balukh -Euromaidan Press |
Russian authorities reproduce ugly practices of the KGB, which for decades hunted for the "criminals" who installed blue-and-yellow flags all over Ukraine.
UAWire – Russian strike forces carry out tactical exercises in annexed Crimea
The Russian strike forces in annexed Crimea are carrying out tactical exercises, the Russian Defense Ministry press service announced. As …
Enis Hulli | Ukraine: The Next Startup Nation – Startup Grind – Medium
Ukrainians already put a stamp on Silicon Valley with outstanding companies like Whatsapp (Jan Koum), Paypal and Affirm (Max Levchin). Still at the dawn of its tech revolution, Ukraine is headed to become a startup powerhouse with many more global success stories to come. Strong tech education provides a powerful foundation Country's robust education system creates close to 40k graduates a year in technical studies and the government aims to get this number to 100k by 2020. The economy of the country has been shaking but IT has always been one of the most stable industries with much higher salaries, which makes it super attractive for people and drives more interest.
U.S. Sends First Coal Shipment To Ukraine To Bolster Energy Security
The United States has sent its first shipment of anthracite coal to Ukraine from the U.S. port of Baltimore under a deal designed to increase Ukraine's energy security. Pennsylvania-based XCoa…
"I'm not afraid to say" that something's changing in Ukraine | openDemocracy
Last summer, Anastasiya Melnychenko used a single hashtag to start an entire movement against rape. How is this movement faring today?
Femen erected a statue of chocolate Independence in Kyiv – Femen erected a statue of chocolate Independence in Kyiv – 112.international
A day prior to the Independence Day Femen sextremist underesses herself on the pedestal where the Lenin monument used to be. Activists of the sextremist group Femen got onto the pedestal where the Lenin monument used to be, Radio Liberty reported in their Twitter. The sextremist group Femen explain they erected the statue of "The Chocolate Independence". "Thus, the movement Femen sums up the Independence of Ukraine, the main achievement of which is the enrichment of the chocolate magnate, and concurrently the President of Ukraine Petro Poroshenko," reads the message of the group on their official website. "The Poroshenko's chocolate freedom blossoms against the backdrop of war, the impoverishment of the population, war crimes against women and children on sexual grounds. The current government has withdrawn from resolving the problems of women: the Istanbul Convention has not been adopted, law has been issued banning abortions, women and children of the front-line zone are forced to engage in prostitution, and authorities do nothing about it. We demand freedom, independence and safety for Ukrainian women!," states the sextremist group.
Ukraine Inside Out: a Travel App showing the world what Ukraine has to offer -Euromaidan Press |
Monty Myrtle Ukraine Inside Out is a project to create a Travel App in English, Ukrainian and Russian to show the world the rural sights of Ukraine. As its official launch draws closer, its creators shared with Euromaidan Press the story of how the project appeared.
Chief of the General Staff of the Ukrainian army told 112.ua news agency about the causes of terrible loss in the bloody battle that took place in Donbas in August 2014 – Viktor Muzhenko: Battle of Ilovaisk through the prism of time. Part 2 – 112.international
Chief of the General Staff of the Ukrainian army told 112.ua news agency about the causes of terrible loss in the bloody battle that took place in Donbas in August 2014. Last week, Ukraine's Prosecutor General's office released the report on the results of the investigation of the Ilovaisk tragedy. The governmental authority says that the report was passed to the International Criminal Court in the Hague. Several Ukrainian MPs got their hands on the forensics' conclusions in this case, which are strictly classified. Last year, 112 Ukraine TV channel shot the documentary called 'Shadows of Ilovaisk'; an interview with Chief of the General Staff of the Ukrainian army Viktor Muzhenko was an important part of this film. Back then, our news agency did not publish the full interview. But since the HQ of the Armed Forces did not change their position on this topic, 112 International releases the full interview now.
Probe into Ukraine's largest military defeat at Ilovaisk pins blame on Russian invasion, admits mistakes -Euromaidan Press |
On 14 August 2017, Ukraine's General Prosecutor's Office (GPO) released the results of a probe into Ukraine's largest military defeat – the battle for Ilovaisk. They not only shed light on the responsibility of the Ukrainian higher military command for the catastrophe dubbed as a "nation-wide tragedy" inside the country but provide proof of a direct Russian invasion, with the help of forensic and military examinations involving 31 army experts. Russia has been persistently denying its involvement into Donbas's turmoil from the very beginning, naming it as a civil war.
Петро Порошенко on Twitter: Russian invaders recoil from the Ukrainian flag like devils from incense.
Presidential Flag Day Ceremony Honors Symbol of State Sovereignty – YouTube
A symbol of the struggle for freedom, democracy, and independence. The day of the national flag is celebrated in Ukraine. _ Follow UATV English: Facebook: ht…
Poroshenko solemnly raises National Flag on Sofia Square – Poroshenko solemnly raises National Flag on Sofia Square – 112.international
Verkhovna Rada Chairman Andriy Parubiy, Prime Minister Volodymyr Groysman, Security Council Secretary Oleksandr Turchynov and other high-ranking officials also attended the event
Patriots of Ukraine in Sevastopol hold rally on Day of National Flag – 23.08.2017 12:43 — Ukrinform News
In the occupied Crimea, patriots of Ukraine hold a rally in honor of the Day of the National Flag. More than twenty people have been photographed on the embankment of Sevastopol dressed in yellow and blue, the colors of the national flag.
Nine defense ministers of partner countries to take part in parade on Independence Day – Poltorak – 23.08.2017 14:38 — Ukrinform News
Ukrainian Defense Minister Stepan Poltorak says that nine defense ministers of partner countries will participate in the parade on the Independence Day of Ukraine.
Kravchuk: NATO presence at parade an important step towards cooperation with alliance – 23.08.2017 14:25 — Ukrinform News
First Ukrainian President Leonid Kravchuk believes that the presence of NATO soldiers at a military parade in Kyiv on August 24 will be an important step towards recognizing the Ukrainian army as being ready for cooperation with the alliance.
President opens defense exhibition on Khreshchatyk – 23.08.2017 14:01 — Ukrinform News
Ukrainian President Petro Poroshenko has opened an exhibition of arms and military equipment on Khreshchatyk Street in Kyiv on the occasion of the 26th anniversary of Ukraine's independence, an Ukrinform correspondent reports. 
Valentyn Badrak | Independence Day Parade: symbolism and practicality | UNIAN
Participation of foreign delegations in the celebration of Ukraine's Independence Day means psychological support for the country, and this is very symbolic, indeed. It is important that such occasions can lead to actual assistance to the country in the future. In particular, we can tentatively expect some progress with the U.S. military aid to Ukraine. If Ukraine gets such military support, including lethal weapons, this will mean the formation of a bloc of Ukraine's allies. Of course, there are foreign policy factors functioning without Ukraine's participation. For example, there's awareness in the West of the threat posed by Putin's Russia, which leads to the fact that the Western international community is increasing its leadership positions. And this, in turn, goes in line with the need to support Ukraine. The West is constantly looking at Ukraine, wondering whether it can be considered an asset to the Western world and an important element of international security rather than a burden. I can't say that the West is definitely ready to say that Ukraine is indeed an asset, but there are many indications and signals hinting at the fact that there are now more positive attitudes than negative ones. This means that Kyiv can count on the possibility of further strengthening of our defenses, including at the expense of Ukraine's Western partners. On the other hand, Ukrainians shouldn't get overwhelmed with parades and national holidays. They should note the number and types of newest military hardware and weapons that will be showcased at this year's parade. In this regard, the situation is not too promising as over three and a half years of the raging war, nothing has been done to obtain strategic weapons. I am talking about air defense systems, combat aircraft, and powerful unmanned aerial vehicles, perhaps also strike drones. This situation is really alarming. Ukraine's rearmament is limited to tactical steps (increasing the mobility of ground forces, introducing new communication systems, etc.). However, there are positive things as obtaining high-precision weapons. But in general, the process is only at its initial phase. If Ukraine keeps dragging on this path, in the next 50 years it will not become an effective instrument to deter Russia's foreign aggression. It is necessary that Kyiv understands this and changes its approach. Today, Ukraine can't afford having a Soviet-type 250,000-strong army, a large enough National Guard, and other state military formations, and at the same time spend more than 80% of its defense budget on "maintenance" without moving to an active rearmament of troops. So, such parades should become a symbol of a new understanding that Ukraine needs a new type of army. That is, at first the professional core of the army should appear, with an appropriate attitude toward this core. We are now witnessing such a negative trend as weaker patriotism, and this is due precisely to the erroneous development of the Ukrainian army. I stand for being proud of our army, making sure that the troops are professional and rearmed, that the army is smaller in number, while the issues of military draft are resolved through the territorial defense instruments. However, returning to the events scheduled for August 24, it should also be mentioned that Pentagon chief James Mattis on this day scheduled meetings with Ukrainian President Petro Poroshenko and Defense Minister Stepan Poltorak. Support from Pentagon is definitely very much needed in Ukraine, being a significant factor that should become a symbolic signal to the Kremlin that Ukraine may move under the umbrella of U.S. protection. Indeed, it may. But there's still a long path to walk in this direction. Also important is the fact that Ukraine will be visited by U.S. special representative Kurt Volker, who ahead of the visit met with the Russian "supervisor" of the armed attack on Ukraine, Putin's aide Vladislav Surkov. This is important because it means that the United States willingly consults with the Ukrainian side and does not pursue any talks behind Kyiv's back. This is a significant encouraging factor for all observers in the process. Russia always reacts negatively to any formats of support for Ukraine and to Washington's refusal to conduct a dialogue with Moscow in a mode, which the Kremlin was counting on. Therefore, I do not rule out that there may be provocations on Independence Day, including the escalation of tensions and more shellings in eastern Ukraine. It should also be borne in mind that today, Russia has substantially transformed its strategy and translated it into the political and social plane on the territory of Ukraine as a whole. That is, Russia implements it beyond the occupied Donbas and Crimea (the strategy has already been worked out there, aiming at making the regions pro-Russian and ensuring that they are subject to informational and psychological "treatment" by the Russian propaganda machine). As regards other regions of Ukraine, there is a threat of various terrorist acts and provocations with political and financial support of certain groups of Ukrainians who can either be used without their knowledge, as the Kremlin often does, or deliberately assist the aggressor for a certain pay, presenting their efforts as an "alternative vision" of Ukraine's development. These things require improvement of the legal framework, especially with regard to politicians who voice pro-Russian slogans. And, of course, this requires strengthening of counter-intelligence efforts, to ensure that the strategy has been worked out clearly for responding to certain anti-Ukrainian manifestations. Valentyn Badrak is a military expert and writer, chief of the Center for Army, Conversion and Disarmament
Might of the Unconquered: exhibit of military equipment opened downtown Kyiv (photo report)
On Kyiv's central street, Khreshchatyk, an exhibition of military equipment titled Might of the Unconquered" has opened today, August 22. Latest UNIAN news from 22 August.
Kyivans Get a Look at Tanks and Artillery Display for Independence Day – YouTube
'Undefeated Power'. An exhibition with this name was opened in Kyiv on the eve of the Independence Day. The official opening will take place on the 23rd of A…
Exhibition of Ukraine's modern military vehicles – 112.international [VIDEO]
Ukraine's armed forces presented about 70 modern combat vehicles at the exhibition in the downtown Kyiv. Visitors observed the self-propelled artillery systems, tanks, IFVs and APCs. After the military parade timed to Ukraine's Independence Day, the vehicles will be handed over to the troops fighting in the war-torn Donbas. Topics:
Ukraine purchases military equipment, weapons 10 times more than before, – Poroshenko – Ukraine purchases military equipment, weapons 10 times more than before, – Poroshenko – 112.international
Budget of 2017 provides 2,5 billion dollars for the needs of Ukraine's Armed Forces. Today, the financing for purchases of military equipment and weapons has increased by 10 times in Ukraine. This was stated by the President of Ukraine Petro Poroshenko during the opening of the exhibition of weapons and military equipment in Kyiv on air of 112 Ukraine TV channel. "The financing for the purchases of military equipment and armaments increased 10 times compared to 2013. During the war we found these opportunities. 62,5 million dollarswill be allocated now to purchase and modernize the latest weapons and military equipment, and another 54, 719 dollars to the construction of a plant for the production of ammunition based on the latest technology. Budget of 2017 provides 2,5 billion dollars for the needs of Ukraine's Armed Forces , " the president said.
Poroshenko announces modernization of Ukraine's Armed Forces – Poroshenko announces modernization of Armed Forces – 112.international
Poroshenko announces modernization of Ukraine's Armed Forces. The Ukrainian weaponry and military hardware will be modernized. President Petro Poroshenko said that at the exhibition of weaponry and vehicles, which kicked off in Kyiv. 'We begin the program of weaponry and hardware modernization in the army; we've got to make our armaments adequate to the challenges of the 21st century. The scientists, designers and leaders of leaders of defense enterprises have an essential task; they are to develop and produce new missiles, missile launchers, modern artillery systems, modern precision weapons and ammunition, combat drones, radioelectronic warfare stations, counter-artillery radars and means of space reconnaissance. We already began serial production of main battle tanks 'Oplot,' the Ukrainian leader said. According to Poroshenko, some of the vehicles presented at the exhibition – and those to be shown at the Independence Day military parade – will be sent to the combat area in Donbas. 'Those are mainly tanks, self-propelled artillery systems, infantry combat vehicles and anti-aircraft defense systems. Certain vehicles will be then used in the military academies, while others will undergo tests. But it is crucial that today and tomorrow they are present here, at Khreshchatyk street, in the downtown Kyiv,' he said.
Kyiv tank factory presents T-72 A, the modernized main battle tank – 112.international [VIDEO]
eng рус укр news analytics video archives UKRAINE CRISIS POLITICS FINANCE UA & EU SOCIETY SPORT RUSSIA #ATO #Poroshenko #Independence Day #National Flag Day #Michael Elleman's report #corruption #Yanukovych #Ukraine: bird's eye view breaking news x Kyiv tank factory presents T-72 A, the modernized main battle tank 16:15, 21 August 2017 00:34 00:44 spaceplay / pause qunload | stop ffullscreen shift + ←→slower / faster ↑↓volume mmute ←→seek . seek to previous 12… 6 seek to 10%, 20% … 60% Ukraine's Defense industry proudly presents T-72A – the main battle tank for the army. The vehicle was modernized thanks to the efforts of Kyiv armor factory. From now on the tank has a modern protection system called the knife. It decreased the effectiveness of the enemy fire. Besides the T-72 is equipped with modern digital stations supposed to improve the signals quality and to duly protect it. The tank will be first showed during the Independence Day military parade. It will be held in Kyiv on August 24th, then all of the vehicle systems are to be tested at a firing range.
Military parade marking 26th anniversary of Ukraine's independence. Infographics – 22.08.2017 17:46 — Ukrinform News
Many surprises related to the history and traditions of the Ukrainian army during the period of the Ukrainian People's Republic expect Ukrainians at an Independence Day parade in Kyiv on August 24.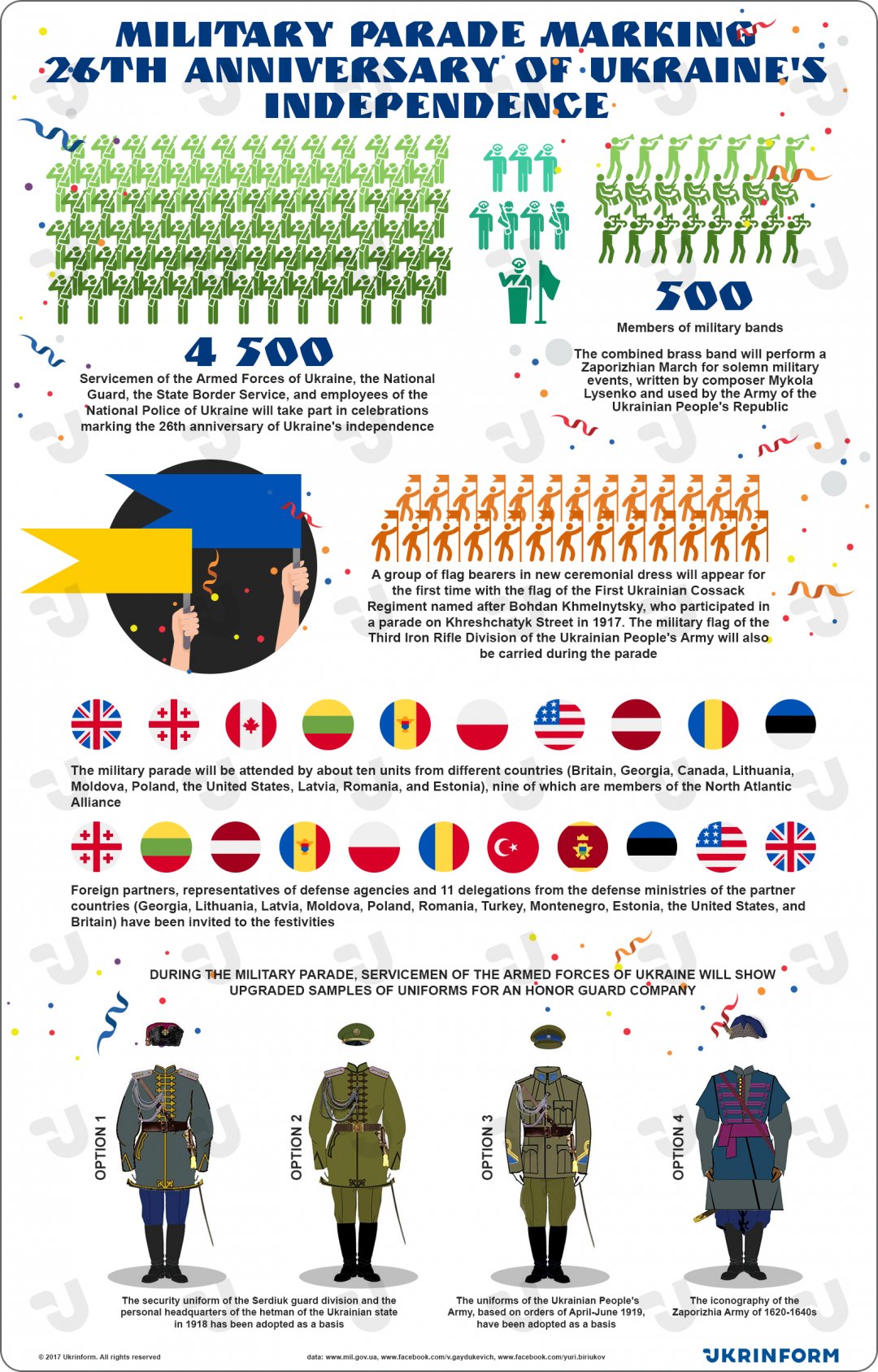 The ceremonial units, which will take part in the parade on Independence Day on August 24, last night held the first training session at Khreshchatyk. We watched the preparation, and also found out how the current parade will be different from last year's – Parade in Kyiv: Without equipment, but with NATO military – 112.international
The ceremonial units, which will take part in the parade on Independence Day on August 24, last night held the first training session at Khreshchatyk. We watched the preparation, and also found out how the current parade will be different from last year's. – "Strength! Glory to the heroes, death to the enemies! Always free! To the victories!" Soldiers chant this, marching along the square. They are preparing to take part in the military parade, which will be held on August 24. After chanting, military personnel return to their initial positions – in the area of Bessarabska Square. From there, they will march towards Independence Square: in this direction everything is already as it should be at the parade, the orchestra is also ready. Viewers, strolling on a warm summer evening on the central street of Kyiv, like the military chants. Especially when they hear "Death to the enemies!", many people applaud. Rehearsal of the parade is being filmed on mobile phones. People in military uniform are also here today. Unlike ordinary onlookers, they are worried, actively sharing their impressions: "Why they are late? Have they lost the distance?" No, everything is fine ". Involuntarily public reminds association with a football match. The rehearsal was also visited by Defense Minister Stepan Poltorak. He traveled to the center of the capital by subway. Despite the fact that Khreshchatyk was closed for traffic, cafes, shops worked at it, as in ordinary evenings. When the military band did not play, the music from the violin concert of Vivaldi sounded in time with the musical fountains. In between the periods of rehearsal, the military were in a cafe, talking to their friends and relatives. A dozen guys with automatic rifles rested on the steps of the Kyiv City Administration building. Among the participants we saw many men who came to Kyiv for the first time. "Never visited this city", – said one of guys in the military uniform and asked another to photograph him on phone. Many other also photographed themselves: in groups and singly, against the backdrop of the administration, Khreshchatyk, co-workers. They do not rest for a long time: a pleasant male voice from the loudspeakers, which are set along the entire distance of the parade (the whole Khreshchatyk), mildly reminds them of another run. And again military marching towards Bessarabka, then come back with the accompaniment of an orchestra. One step from NATO
Russia / Iran / Syria / Iraq / OEF Reports
Mattis in Iraq: ISIS is on the run – CNN
US Secretary of Defense James Mattis said US-backed Iraqi forces will finish off ISIS fighters in their last remaining strongholds in Iraq.
Troops make progress in Tal Afar battle as U.S. defense secretary visits Iraq
Government forces breached the city limits of Tal Afar in northwestern Iraq on Tuesday on the third day of a U.S.-backed offensive to seize it back from Islamic State militants.
Mattis Asks Iraqi Kurds to Put Off Vote on Independence – The New York Times
American officials say the referendum, scheduled for Sept. 25, could lead to new internal conflicts and imperil the campaign against the Islamic State.
U.N. ambassador says Trump has not decided his next move on Iran nuclear deal – The Washington Post
Nikki Haley says she's seeking information about Iran's compliance but has not prejudged an outcome.
Netanyahu Tells Putin Iran's Growing Syria Presence Threatens World
Israeli Prime Minister Benjamin Netanyahu has told Russian President Vladimir Putin that Iran's growing presence in Syria "poses a threat to Israel, the Middle East, and the whole world.&quo…
Netanyahu to tell Putin: Russia, U.S. must cooperate to curb Iranian presence in Syria – Israel News – Haaretz.com
Netanyahu will attempt to influence Syrian cease-fire agreement and urge Putin to coordinate with Washington despite tensions, senior official says
Yemen Blames Its Civil War On Iran, Says Can't Be Part Of Solution
Yemen's foreign minister has blamed Iran and its support for Huthi Shi'ite rebels for fueling the country's civil war and said Tehran can't be part of the solution. "Iran i…
Iran Denies Joint Operation Against Kurds With Turkey
Iran's Islamic Revolutionary Guards Corps (IRGC) has denied a claim by Turkey that the two countries were planning to conduct joint military operations against Kurdish rebel groups beyon…
Tillerson accuses Russia of arming Taliban – 112.international
U.S. Secretary of State believes that weapons to Afghanistan can only be supplied through the government of the country. U.S. Secretary of State Rex Tillerson accused authorities of the Russian Federation of supplying arms to the Afghan Taliban movement. He stated this during the press conference in the Department of State on Tuesday. "Russia is supplying weapons to the Taliban. Obviously, this is a violation of international laws and violation of the UN Security Council norms. We will certainly object to this and will draw Russia's attention to this. If someone intends to supply weapons, then this should be done through the Afghan government," he said. Also in his speech, Tillerson noted that the number of US troops in Afghanistan will be announced after a decision on this matter has been taken.
Trump Changes the Game in Afghanistan – The Cipher Brief
President Donald Trump laid out his new strategy for war torn Afghanistan Monday night, promising a winning formula that will include all instruments of U.S. military, diplomatic, and economic power, as well as pressuring our allies for more assistance in the fight. But there were few specifics for how he will accomplish his goal to end America's longest war. The Cipher Brief's Managing Editor Pam Benson spoke with former NSA and CIA Director General Michael Hayden about his assessment of the president's strategy.
'Corruption hub' Ukraine could offer terror route to Europe for Russian IS fighters [Russian PROPAGANDA]
Observers say up to 500 ex-jihadists are hiding out in the country that recently signed a visa-free travel deal with the EU.
DPRK / PRC / WESTPAC Reports
North Korea news: Kim Jong-un will sell weapons to Iran, warns expert | World | News | Express.co.uk
NORTH KOREA will happily sell its nuclear weapons to United States enemies Iran and Syria if Donald Trump continues to push sanctions on Pyongyang, warns an arms expert.
China demands US immediately withdraw NKorea sanctions, warns will hit ties – The Washington Post
Beijing says it opposes unilateral sanctions — even though it is a tactic it habitually uses.
Russia Vows To Retaliate Against New U.S. Sanctions Over North Korea
Russia says it will retaliate after the United States imposed new economic sanctions on 16 mostly Chinese and Russian companies and individuals, accusing them of aiding the North Korean government an…
U.S. Senator: 'Bold Realistic Strategy' Needed For North Korea
North Korea's nuclear and missiles programs pose "an unacceptable risk to the United States, its allies, and the entire world," said U.S. Senator Ed Markey on August 22. The Democrat from Massachusetts was speaking as part of a U.S. congressional delegation's visit to South Korea, as the two countries hold joint annual military exercises amid rising tensions with North Korea. Meanwhile, an anchor on North Korean state television said the U.S.-South Korean drills were "aimed at igniting a nuclear war on the Korean Peninsula." (AP, KRT via Reuters)
Will China do the balancing act in US-N Korea standoff? | Latest News & Updates at Daily News & Analysis
Will China do the balancing act in US-N Korea standoff? – Ninety per cent of North Korea's trade is with China, and as the crisis escalated, Beijing decided to ban import of iron, lead, and coal from North Korea in line with new UN sanctions.
U.S. targets Chinese, Russia entities for helping North Korea
The United States on Tuesday imposed new North Korea-related sanctions, targeting Chinese and Russian firms and individuals for supporting Pyongyang's weapons programs, but stopped short of an anticipated focus on Chinese banks.
New North Korea sanctions could hit US ties with China, Russia
The latest sanctions on Chinese and Russian entities for aiding North Korea reveal President Donald Trump's willingness to alienate potential partners.
U.S. hits Chinese and Russian companies, individuals with sanctions for doing business with North Korea – The Washington Post
The Treasury Department said 10 firms and 6 individuals had done business that helped Pyongyang develop its ballistic missile and nuclear weapons program.
Trump Administration Unveils Sanctions To Curb North Korea's Weapons Program : The Two-Way : NPR
Ten Chinese and Russian companies and six individuals are targeted. Many were tied to the rogue country's coal and resource trade and its efforts to send workers abroad.
[Brad Taylor] How to beat North Korea at nuclear blackmail
"Strategic patience" is out as the US approach to North Korea, and "strategic accountability" is the new term of art. That's according to an op-ed article by Secretary of Defense James Mattis and Secretary of State Rex Tillerson. "The object of our peaceful pressure campaign," they write, "is the denuclearization of the Korean Peninsula."While I heartedly approve of finally providing clarity beyond President…
Chemical Weapons | North Korea | Countries | NTI
North Korea may possess between 2,500 and 5,000 tons of CW agents. [8] The South Korean government assesses that North Korea is able to produce most types of chemical weapons indigenously, although it must import some precursors to produce nerve agents, which it has done in the past. [9] At maximum capacity, North Korea is estimated to be capable of producing up to 12,000 tons of CW. Nerve agents such as Sarin and VX are thought be to be the focus of North Korean production. [10] According to the government-sponsored Korea Research Institute of Chemical Technology [한국화학연구원] in South Korea, North Korea has four military bases equipped with chemical weapons, 11 facilities where chemical weapons are produced and stored, and 13 dedicated research and development facilities. [11] Two facilities near the cities of Kanggye and Sakchu are reportedly equipped to prepare and fill artillery shells with CW agents. These two locations also allegedly test agents, possibly in large underground facilities. [12] However, there has been no open source evidence of new storage facilities. [13] North Korea's weak economy has resulted in severe shortages of both energy and raw materials, making estimating the country's CW production levels even more difficult. [14] It is possible that Pyongyang is allowing its existing CW cache to age due to these economic circumstances, which could make them unreliable on the battlefield — if usable at all. This may be particularly true of what is thought to be the majority of the DPRK's cache: unitary munitions which hold a single canister of lethal chemicals, rather than the more stable binary system, holding two or more stable chemicals which are combined at deployment. [15]
Who's afraid of North Korea's Kim Jong Un? Well, not South Koreans. – The Washington Post
South Korea held civil defense drills to practice for a potential North Korean attack. But people are used to the threat and weren't much interested.
Fighting North Korea with balloons, TV shows and leaflets – To Inform is to Influence
By: TIM SULLIVAN, Associated Press  August 22, 2017 SEOUL, South Korea (AP) — Some send up plastic leaflets that weigh less than a feather and flutter down from the clouds with calls for democracy or blurry cartoons ridiculing North Korea's ruler. Some send flash drives loaded with South Korean soap operas, or mini-documentaries about the…
China July trade with North Korea slows from June as coal ban bites
China's trade with North Korea fell in July from a month earlier, data showed on Wednesday, as a ban on coal purchases from its isolated neighbor slowed imports amid growing pressure from the United States to rein in Pyongyang's missile program.
'Too many soldiers to feed': North Koreans fear more sanctions as drought threatens famine | World news | The Guardian
Plight of ordinary people being overlooked amid focus on missile launches and rising tensions between Pyongyang and Washington
[Special contribution] The danger of reckless threats : Editorial & Opinion : News : The Hankyoreh
President Trump's off-the-cuff comment that North Korea could expect fire and fury like the world has never seen if it threatens the US continues to occasion alarm and consternation here and abroad, especially in South Korea. Despite dire threats from the North over the years, South Korea has successfully relied on America's nuclear umbrella for its ultimate security. Now North Korea's increasing capability to directly to attack well beyond the borders of Korea has prompted heightened concern in Washington about US security. For decades the North has had the capability of inflicting huge damage on the megalopolis Seoul, including catastrophic loss of life, both Korean and American, civilian and military, even without nuclear weapons. Despite their most bellicose rhetoric, they have not dared initiate hostilities for they know their country would be utterly destroyed. Does their nuclear capability and delivery system increase the likelihood of their initiating an attack? They must know their ultimate destruction would be swift and certain and that has not changed. What has changed is the president's threatening rhetoric. That brings us back to President Trump's off-hand remarks. Does the president think by his stating publicly what has been known all along but never before issued as a direct threat, namely our capacity to utterly destroy North Korea, will now deter the North from continuing to develop its nuclear arsenal? Is he implying a willingness to make a preemptive strike should they persist? His fiery words have prompted much discussion of international law and the definition of a justified first strike. Questions are being raised as to whether this new situation makes such a strike acceptable legally and morally. There is no question concerning the legitimacy of using force for self defense. What is unresolved is whether North Korea's possessing this new capability makes its use so imminent and inevitable that a preemptive strike is warranted and justified. On the other hand, to what extent does that new capacity mean North Korea itself is willing to risk a first strike? Probably not unless it concluded that the US intended to attack first, seeking to destroy their nuclear and missile capability. How would they make that determination? Do the president's threats have the potential to convince them the US is prepared to make a preemptive strike? At least so far the North's reaction to Trump's fiery words cannot have given him much satisfaction. Their official response has been to ridicule his words as "nonsense". And from past experience we know President Trump cannot win the game of rhetorical chicken. North Korea has mastered the art of bellicose rhetoric, so when he states maybe he was not forceful enough he stoops to their level with little prospect of their standing down. We may be in the perilous zone of threat and counter threat, both made by vain and thin-skinned leaders. Saving face becomes the new necessity. That is why more responsible and mature leaders through the years have declined to voice such dire warnings. Threats can escalate beyond the point of no return. At some point they may be taken seriously. The world's greatest power should be able to be counted on to exercise some restraint in its words even while wielding the biggest stick ever known. The real danger is that North Korea might finally conclude that Trump really means what he says. How tragic if our threats to deter them should prompt them to act precipitously, thus bringing about the very catastrophe we have for decades sought to avoid. How tragic if President Trump finally concludes that their dire threats and unwillingness to back down justify nuclear preemptive action. The result in either case would be catastrophe of untold dimensions, especially in South Korea. For no matter how successful we might be in destroying their nuclear arsenal, the havoc wreaked upon the Seoul megapolis by thousands of long range artillery is incalculable. For in addition to the millions in Seoul, there are well over one hundred thousand American civilian and military in the vicinity. And so far, Seoul, our staunch ally through the years, is not in the decision making loop concerning their fate. How sad. By James T. Laney, former U.S. Ambassador to South Korea (1993-97)
Foreign Policy Reports
From slavery to street battles, a migrant crisis swamps Europe and Africa | News | The Times & The Sunday Times
The young Ghanaian migrant had already been robbed at gunpoint, left to die in the desert, kidnapped and tortured. Then he was sold into slavery.From the moment
U.S. Slaps Egypt on Human Rights Record and Ties to North Korea – The New York Times
The Trump administration denied Egypt $96 million in aid and delayed $195 million in military funding despite President Trump's lavish praise.
Venezuelan Leader Asks Russia, Vatican To Help Fend Off U.S. 'Military Threat'
Venezuelan President Nicolas Maduro has called on Russia and the Vatican to help fend off a U.S. "military threat," and said he will soon go to Moscow to visit with Russian Presiden…
Strategy / History / Capability Publications
The B-1 Bomber Has a New Mission
America's first stealthy bomber, the Rockwell B-1B, now has a new mission: ship killer. Originally designed to penetrate enemy air defenses during a nuclear war, the B-1B has been adapted to a wide range of non-nuclear missions. Now, with the successful launch of the U.S. military's latest anti-ship cruise missile, the "Bone" has been transformed into a powerful naval strike platform capable of taking on the most heavily defended enemy task forces.
Hope and Hype: Advising Foreign Forces in the Middle of a Counterinsurgency Campaign
Walter C. Ladwig III, The Forgotten Front: Patron Client Relations in Counterinsurgency (Cambridge University Press, 2017) – Available in paperback with a
Does K-2SO Deserve a Medal? Warrior Ethos, Human Judgment, and our (Possible) Machine Colleagues – Modern War Institute
Author's note: The following is based on remarks I delivered on August, 2, 2017 at the Royal United Services Institute for Defense and Security Studies (RUSI), in London, for their Technology and Future Combat Roundtable, along with a previous essay published in the Small Wars Journal. I wish to thank Dave Dilegge at Small Wars Journal for permission to republish this version, as well Dr. Peter Roberts, Director of RUSI Whitehall's Military Science group, for his welcoming invitation and for generously allowing me to share these remarks with a larger audience.
UAWire – Latvia purchases American Stinger anti-aircraft systems
The Latvian military has purchased American Stinger man-portable air-defense systems (MANPADS), as announced by Latvian Defense Minister …
IW/IO/Cyber Reports
Russian news outlets spread fake story about huge lines outside the U.S. embassy in Moscow — Meduza
A day after U.S. officials announced the suspension all visa services at America's three consulates in Russia (limiting this activity to the embassy in Moscow), Russian news agencies reported a fake story about long lines outside the Moscow embassy, claiming that Russians were hurrying to submit visa applications for a review process that's now expected to take as long as six months. Stories about "gigantic" or "long" lines outside the embassy appeared in the state news agency RIA Novosti, Metro, Life, Vesti.ru, Ura.ru, REN-TV, and many other outlets.
Dominating Duffer's Domain – To Inform is to Influence
The RAND Corporation published a small book on information operations called Dominating Duffer's Domain, Lessons for the U.S. Marine Corps Information Operations Practitioner by Christopher Paul and William Marcellino. It is written from the aspect of the military classic The Defence of Duffer's Drift by Major General Sir Ernest Swinton. The fictitious narrator, Captain I. N.…
W.H. cybersecurity coordinator warns against using Kaspersky Lab software – CBS News
Rob Joyce says the U.S. is lacking 300,000 cybersecurity experts needed to defend the country
FBI pushes private sector to cut ties with Kaspersky
The FBI has been telling private sector companies that Kaspersky is an unacceptable threat to national security.
Ukraine Central Bank Detects Massive Attack Preparation
Ukraine's central bank has warned state-owned and private banks that a new malware campaign targeting financial services firms across the country may be a prelude
Ukraine cyber security firm warns of possible new attacks
Ukrainian cyber security firm ISSP said on Tuesday it may have detected a new computer virus distribution campaign, after security services said Ukraine could face cyber attacks similar to those which knocked out global systems in June.
US Domestic Policy Reports
Here's What Russia's Propaganda Network Wants You to Read – POLITICO Magazine
How a new system for tracking Kremlin influence operations reveals what Moscow is thinking.
Russia's Attacks on Democracy Aren't Only a Problem for America | The Nation
And that's a problem for skeptics of Russian meddling.
Robert Legvold | Getting America and Russia Back to Normal | The National Interest
Putin and his entourage, the Trump administration, and the U.S. Congress have a large choice to make.
Who's losing the Moscow-Washington fight? Ordinary Russians. – The Washington Post
Both American and Russian measures have been bad for Russian citizens.
Putin will "bomb Voronezh" until his regime ceases to exist: US sanctions against Russia began not with the Donbass and the Crimea, but before
In response to Moscow's demand to reduce the number of employees of the American diplomatic mission in Russia by 755 people to 455 people, the United States changed the procedure for issuing nonimmigrant visas, including tourist visas, to Russian citizens . From September 1, the Russians from the regions for a visa will have to go to the capital. And the citizens of Belarus, who recently were supposed to receive such visas in Moscow or St. Petersburg, – to go with documents to Kiev, Warsaw or Vilnius. The Russian financier and blogger Slava Rabinovich told about the Russian-American "war of sanctions" and the significance of the latest decision of Washington "Apostrophe". First of all, I want to remind readers that Russia did not respond at all with any sanctions to the law that was passed in the US by both chambers of Congress and signed by President Trump . The expulsion of American diplomats is only a delayed response by the Russian Federation to the expulsion of Russian diplomats, which was announced by President Obama in late December 2016. The only thing that Russia has done: the number of Russian diplomats expelled from America counted in dozens, and the number of American diplomats that Russia expels in hundreds. Although as a result, the US State Department was forced to reduce the vast majority of Russian citizens. Because among the hundreds of people that America had to cut in its diplomatic corps in Russia, it was Russian citizens who worked under contract with the American embassy and consulates in various cities of Russia. Accordingly, the Russian Federation did not respond to the law on counteraction to Russian, North Korean and Iranian threats. And here the question arises: could Russia have something to say? Especially as they like to talk – symmetrically. Symmetrically could not and could never. In any case, under Putin's regime. Similarly, the entire history of sanctions and so-called counter-sittings has been going on for the past few years. What Putin and his OPG are doing is very well described by the phrase "bombing Voronezh." Sanctions [US against Russia] began not from the moment when Russia attacked Ukraine, annexed the Crimea and unleashed a war in the Donbass. Sanctions and so-called counter-offenses began with the case of attorney Sergei Magnitsky, who died after about a year of bullying in prison, and the so-called "Magnitsky Act" against those people who violate human rights and are corrupt and thievish at the state level. Russia could not respond in a symmetrical way, they could not adopt a similar law. And they answered "asymmetrically": they forbade American families to adopt Russian orphans. It is well known that the overwhelming majority of the adoptions and adoptions of these orphans by the Americans were among sick children who were doomed to stagnation and slow death in orphanages and orphanages. And Americans took them to their families and spent money on them in the American health care system in such a way that ultimately the vast majority of these children were cured. These diseases are not treated in Russia, they are treated in the United States. This is the so-called symmetric answer – "bomb out Voronezh." Then, as you remember, sanctions were introduced against the Putin regime in connection with the aggression against Ukraine. In response to these sanctions, they "bombed Voronezh" – through a food embargo, banning the import of the vast majority of high-quality food from those countries that imposed sanctions against Putin's regime for aggression against Ukraine. And now, when in such a geographically large country as the RF, throughout its territory, there were American consulates with visa departments in order for Russian citizens to issue visas to the United States, so-called counter-attacks struck precisely on this mechanism, depriving Russian citizens of the opportunity relatively simply Receive American tourist visas, which are among the most liberal in the world in terms of the duration of the visa and the duration of the right to stay in the country. That is, Voronezh was bombed again. In fact, this will continue forever, as long as Putin's regime does not cease to exist in one way or another. Firstly, because this regime has nothing to say symmetrically. Otherwise there would be no war of sanctions and confrontation with the West. It's just a crumbling under-empire with post-imperial syndromes and post-Soviet nostalgia wrapped in a web of monstrous Putin's kleptocracy. Secondly, "bombing Voronezh" will be until the conditional Voronezh will allow it to do. I think we are now witnessing how the Kremlin's lie ceases to act on more and more people. An interesting element of this decision of Washington: Belarusian citizens will have to obtain visas no longer in Russia, but in Kiev, Warsaw or Vilnius (with some exceptions, since January 2017 Belarusians needed to obtain non-immigrant visas in Russia, Apostrophe). This is in the plane of a big and big political trolling: "You, the Belarusians, you must decide." Trolling an even higher level would be to stop issuing visas to Russians in Moscow in general and the requirement to receive American visas at the US Embassy in Kiev. Slava Rabinovich , a Russian financier and blogger, specially for Apostrophe
New Reality: Russians React With Casual Annoyance Over U.S. Visa Curbs
MOSCOW — Yekaterina Barabash might be precisely the kind of Russian that Sergei Lavrov had in mind this week when Moscow's top diplomat accused the United States of trying to stoke a "colo…
Russia dossier firm founder speaks with Senate judiciary investigators – CNNPolitics
Glenn Simpson, the former journalist who helped compile the Russia dossier with allegations of collusion by President Donald Trump's top aides, spoke with staff on the Senate Judiciary Committee Tuesday for more than 10 hours.
No U.S.-Russia cyber unit without Trump notifying Congress, bill says
U.S. President Donald Trump would be required to notify U.S. lawmakers before creating a joint U.S.-Russia cyber security unit – an idea that has drawn criticism across the political spectrum – under legislation advancing in Congress.
Breitbart goes after Trump | TheHill
The website's critical bent is only a snapshot in time and could change in the wake of Trump's planned red-meat rally with supporters in Phoenix on Tuesday night.
Valerie Plame Wilson wants to buy Twitter to kick Trump off – The Washington Post
Former undercover CIA agent Valerie Plame Wilson is looking to crowdfund enough money to buy Twitter so President Donald Trump can't use it.
FBI suspects Manafort could have received $100 million from pro-Russian Ukrainians – FBI suspects Manafort could receive $100 million from pro-Russian Ukrainians – 112.international
The funds were allocated by pro-Russian Ukrainian politicians and their like-minded people from the Russian Federation. Paul Manafort's place in Special Counsel Robert Mueller's probe into the Kremlin's attempts to sway the 2016 presidential election grows more uncomfortable. This was reported by Miami Herald. Two sources familiar with the inquiry tell McClatchy that investigators are working to confirm information indicating that Manafort and the consulting firms he led earned between $80 million and $100 million over a decade from pro-Moscow Ukrainian and Russian clients. Mueller's expanded focus on Manafort's complicated financial picture is zeroing in on whether he may have evaded taxes or engaged in any money laundering schemes, the sources say, and the hunt for his financial records through a labyrinth of offshore bank and business accounts has become an important prong of the investigation.
FBI suspects Manafort received up to $100 mln from Party of Regions, Russia – media
Paul Manafort's place in the crosshairs of Special Counsel Robert Mueller's probe into the Kremlin's attempts to sway the 2016 presidential election seems to be growing more uncomfortable, Miami Herald wrote. News 23 August from UNIAN.
U.S. Military Commander Warns Enemies Not to Test Forces After USS John McCain Crash
A day after the Navy's fourth collision in the Asia-Pacific, the head of U.S. forces in the region warned adversaries not to perceive the military as weak.
Commander Of Navy's 7th Fleet Dismissed After Series Of Ship Mishaps : The Two-Way : NPR
Vice Adm. Joseph Aucoin, the three-star commander of the U.S. 7th Fleet was relieved of command on Wednesday after four accidents involving Navy ships. Rear Adm. Phil Sawyer will assume command.
In the Navy, a premier surface fleet faces new scrutiny after deadly disasters at sea – The Washington Post
"While each of these four events is unique, they cannot be viewed in isolation," said Adm. Scott Swift.
Questions raised over navigation of ships in busy waterways following US naval collision | TODAYonline
SINGAPORE — The collision involving the destroyer USS John S McCain and a commerical vessel, the second such accident involving an American warship in two months, has raised questions on how ships navigate busy waterways safely. Mr Kirk Patterson, a former dean of the Japan campus of Temple University who has crossed the Pacific in a sailboat and circumnavigated Japan, said that an oil tanker hitting a destroyer would be like the collision of an "F1 sports car and a garbage truck".