Anonymous expert compilation, analysis, and reporting.
</end editorial>
---
---
Interesting reports and backfill on today's Volker – Surkov meeting, currently under way. First US LNG arrives in Lithuania. A multiplicity of reports on Russia's descent.
In Belarus, Russian heavy equipment arriving by train, while Belarusian border guards cut down trees along Ukrainian border.
In Moldova, Putinist Pres Dodon rubbishes the holy grail of reunification with Romania after almost two centuries of Russian and later Soviet colonisation, and calls for alliance with Russia.
In Ukraine, Independence day visit of SECDEF Mattis is a major MSM focus. Donbass fires escalate to around twice last week's intensity, while AFU report Russian losses for last week at 30 KIA and 51 WIA, while AFU lost 1 KIA and 27 WIA – 30:1 lethal exchange ratio against Russia. Excellent interview with Gen Muzhenko on Ilovaysk battle.
Assad brags publicly and lauds Russian and Iranian support. Much MSM speculation on impending announcement of new Afghan strategy.
RoK exercises commence, while DPRK cranks up propaganda machine – COCW Award to DPRK poster artists. UATV run 4 minute summary segment lambasting NYT who have yet to respond to being publicly castigated for their adventurous re-interpretation of the DPRK ICBM program. More toxic language in India – China dispute.
Merkel hits SDP icon Schroeder for taking Russian money, while SDP leader Gabriel attacks Merkel's intent to increase defence spending – the SDP is becoming by language alone the Soviet Disciple Party.
AI leaders call for ban on autonomous AI based weapons – rejecting the notion of out of control real-world Cyberdyne Systems Series 600 Terminator lookalikes. They have a good point to make.
Three interesting cyber reports.
In the US, interesting and unexpected comments by Dershowitz. A curious analysis of the US political upheavals by Russian analyst Bezrukov – this is what a Marx-Leninist style forensic deconstruction looks like.
---
Russia / Russophone Reports
---
The Morning Vertical, August 21, 2017
ON MY MIND On one hand, Moscow is getting something it wants with today's meeting in Minsk with U.S. special envoy Kurt Volker: the symbolism of Moscow and Washington resolving the war in Ukraine together — without the Ukrainians present. But it comes with a twist. From the Belarusian capital, Volker will travel to Vilnius to discuss "the way forward in Ukraine" with Lithuanian officials. And from there, he will join U.S. Secretary of Defense Jim Mattis for high-level meetings with Ukrainian officials. Volker has also said Washington is considering sending arms to Ukraine, something Kyiv has long sought. Moreover, as Timothy Ash suggests in a piece featured below, Moscow appears to believe that the political winds in Ukraine are shifting in Russia's favor. On today's Power Vertical Briefing (featured below), we discuss how both Moscow and the West are telegraphing their next moves with regard to Ukraine. So be sure to give it a listen.
U.S. Envoy On Ukraine Conflict To Meet With Russian Counterpart In Minsk
The new U.S. special envoy for efforts to end the conflict in eastern Ukraine, Kurt Volker, is expected to meet with a Russian representative on August 21 in the Belarusian capital, Minsk. The U.S…
The Briefing: Shuttle Diplomacy
What can we expect from the new U.S.-Russian talks on Ukraine? Listen to The Power Vertical Briefing.
Volker, Surkov meet in Minsk, discuss Donbas conflict settlement – 112.international
Volker, Surkov meet in Minsk, discuss Donbas conflict settlement; the parties talked through compliance with Minsk agreements as well. The latest developments in Donbas conflict and compliance with Minsk agreements are the key topics of today's negotiations in Minsk. On Monday, the Belarusian capital hosts the meeting of Russian presidential counselor Vladislav Surkov and U.S. envoy in Ukraine's affairs Kurt Volker. It is their first meeting ever. During President Obama's rule, Surkov negotiated U.S. Assistant Secretary of the State Victoria Nuland. Volker replaced her as the key U.S. envoy in the Ukrainian affairs. As is known, the U.S. are not involved in either Normandy and Minsk format; however, they participate in settlement of Ukraine-Russia conflict.
Kremlin Envoy Played Central Role in Eastern Ukraine | Fox Business
MOSCOW – When American envoy Kurt Volker meets his Russian counterpart Monday to try to restore peace in eastern Ukraine, the man sitting across the table will be no ordinary diplomat. Vladislav Surkov, Moscow's point person, is a powerful Kremlin adviser who has played a central role in encouraging, organizing and managing the pro-Russia separatists fighting against Ukraine's central government, according to former rebel leaders and Ukrainian and Western officials. A top aide to Russian President Vladimir Putin, Mr. Surkov has been involved with the rebels, who hold sway over territory in eastern Ukraine, since early 2014, shortly after Russian forces seized the country's Crimean peninsula, these people say. He is under U.S. and European sanctions for his role in the annexation of Crimea. "Putin is the father" of the separatist movement, said Valentyn Nalyvaichenko, who headed Ukraine's security agency during the first 15 months of the insurgency. "Surkov is the babysitter." Mr. Surkov didn't respond to questions sent via the Kremlin press office. Russia says it has influence with the separatists, but denies controlling them and presents the conflict in Ukraine as a civil war. It has said repeatedly that it supports the peace accords signed in Minsk, Belarus, an agreement aimed at reintegrating the breakaway region into Ukraine, but giving it more local autonomy. But many on both sides of the yearslong conflict, as well as Western observers, say they believe Russia's aims are broader. They say Moscow really wants to trade peace in Ukraine for assurances Kiev won't get too close to the West and for an easing of the international sanctions imposed on Russia for grabbing Crimea and intervening with its military in the east. The separatist movement "is a bargaining chip" in a bigger geopolitical game, said Aleksei Aleksandrov, a former top separatist official who now lives in Crimea and says he was pushed out of his leadership role by the Kremlin. If Moscow doesn't get what it wants, said Mr. Nalyvaichenko, the former Ukrainian security chief, "they keep it burning," by supporting a low-intensity conflict that keep's Kiev's pro-Western government off balance. U.S. and European officials say they won't bargain away Ukraine's political options. Russia's military interventions have united Ukrainian public opinion against Russia, polls show, making any political concessions to Moscow all but impossible for Kiev. When the two envoys meet in Minsk, Mr. Volker is aiming to test the water as to whether the Kremlin is ready to move beyond the status quo and seek a resolution of the conflict, a U.S. official said. Meanwhile, the Pentagon and the State Department are seeking approval from the White House for plans to supply Ukraine with antitank missiles and other weaponry, plans that Russia has condemned as potentially inflammatory. Mr. Surkov, 52, is a former public-relations executive who served in military intelligence in the 1980s, according to people familiar with his biography. In the 2000s, he served as Mr. Putin's deputy chief of staff and helped design the Russian leader's tightly controlled political system. As protests against pro-Russian Ukrainian President Viktor Yanukovych turned violent in early 2014, Mr. Surkov shuttled to Ukraine to meet with Mr. Yanukovych, politicians and businessmen close to him, as well as political leaders in Crimea, according to Mr. Nalyvaichenko and another Ukrainian official. Mr. Yanukovych later fled to Russia and a new government took power. In March, small protests began in some parts of eastern Ukraine near the Russian border. The target of their ire: what the demonstrators saw as the growing embrace of the West by the new government and fears, fanned by Russian propaganda, that new authorities were controlled by nationalists bent on destroying Russian culture in Ukraine. Mr. Surkov began to reach out to the local activists, according to one of them, gathering information. In May 2014, a group of security-service veterans and a public-relations executive arrived from Moscow to advise the insurgents, said Mr. Aleksandrov, the former separatist leader. Some locals perceived their appearance as a takeover by the Kremlin, coordinated by Mr. Surkov, he said. "We gave them the keys to the town," Mr. Aleksandrov said. "They squeezed out the first wave of leaders." That's when Mr. Surkov started to play a decisive role in how rebel areas were run, said Mr. Aleksandrov and other former separatist leaders, molding the leadership and structure to bring it under Moscow's control. Mr. Surkov had experience in helping manage the politics of Russia's periphery. In 2013, he became point man for disputed territories that Russia carved from the former Soviet republic of Georgia after a war in 2008. In August 2014, Mr. Surkov orchestrated the switch in the so-called Donetsk People's Republic, the largest of the two separatist areas, from a Moscow public-relations executive to a local military commander seen as loyal to Moscow, Mr. Alexandrov said, with the aim of disguising the fact that Moscow was running the show. Later that month, Russian forces covertly entered the region to push back a Ukrainian army advance that threatened the rebellion, according to Ukrainian and Western officials, citing satellite imagery, intelligence reports, and captured Russian soldiers. Russia says its armed forces never entered Ukrainian territory. The intervention forced Ukraine to the negotiating table for peace talks. Mr. Surkov then headed to Donetsk, the separatist stronghold, to explain the deal to local leaders and check on their work, according to separatist leaders from the time. At a meeting with several separatist commanders who wanted to carry on fighting, Mr. Surkov challenged them, according to a person present. "What's the alternative" to peace negotiations?," Mr. Surkov said, according to Andrei Pinchuk, then the separatists' security chief. "Go and fight, if you want it so much. We'll see how long you last." He also scolded a local official for problems paying pensions and opening schools for the new academic year, Mr. Pinchuk said. Mr. Surkov visited again in February 2015 after a fresh peace deal was reached in Minsk. In a sign of his influence, he was called on to adjudicate a dispute between two local military commanders and visited the front lines of the conflict, according to Mr. Pinchuk. The peace agreementslargely froze the front lines, but didn't stop shooting at some hotspots. Little progress has been made on political reintegration despite drawn-out discussions brokered by European officials. Mr. Surkov held meetings with a top U.S. State Department official, Victoria Nuland, in 2016 that were aimed at finding a breakthrough. Still, he maintained ties with the rebels. In November last year in Moscow, Mr. Surkov was as a guest at a meeting of a group of former Russian volunteer fighters, according to a photo and two separatist leaders who lead the group. The discussions with Ms. Nuland appeared to make some progress on a potential handover of control of Ukraine's border to Kiev's control, according to people familiar with the talks, but halted when Donald Trump won the U.S. presidential election and Ms. Nuland left her position.
Timothy Ash: How events in US, Ukraine could play out in Putin's favor | KyivPost
A number of factors in my mind suggest that Russia will want to keep the military situation in the Donbas relatively contained for the time being, or at least without a major bout of re-escalation. First the opinion polls posted this week by the Social Monitoring Centre and the Ukrainian Institute for Social Research must have been encouraging for Moscow, with President Petro Poroshenko trailing Yulia Tymoshenko with 9.5 percent, versus 11.2 percent for Tymoshenko. Yuriy Boyko, the former minister of energy under ex-President Viktor Yanukovych and the leader of the Opposition Bloc came third with 7.5 percent, and then Vadym Rabinovych with his For Life party also on 7.5 percent. Boyko and Rabinovych are seen as more aligned with Russian interests, and supportive of cutting deals with Moscow. The populist Oleh Lyashko then polled 6.7 percent and the pro-European Union reform Anatoli Grytsenko had 5.1 percent. These polls suggest that the pro-EU reform crew might struggle to form a working coalition come elections in 2019. Remember Russian President Vladimir Putin signed a gas deal with Tymoshenko back in 2009 – which eventually put her in jail – and the assumption is that another deal could be cut with Moscow. In recent months Poroshenko has taken out two reform hopes – Mikheil Sakaashvili, the former Georgian president, and Andriy Sadoviy, the Lviv mayor, and as yet musician Svyatoslav Vakarchuk is keeping his powder dry. With risks for Moscow from military re-escalation, and perhaps mindful how political events eventually worked against Saakashvili in Georgia, with the emergence of Bidzini Ivanishvilli and the Georgia Dream, a similar strategy may now be the preferred option for Moscow. Keeping the conflict in the Donbas simmering away still creates fissures in Ukrainian domestic politics – plus also it gives some leverage with the U.S., so we won't see peace, but a continuation of the still relatively high intensity conflict status quo. I think Moscow is also now awaiting the Vladyslav Surkov-Kurt Volker meeting later this month, to see how far the new US administration is willing to trade. Second, the crisis in US-North Korean relations has created opportunities and potential "leverage" for Moscow. See this FT piece this week: https://www.ft.com/content/a829149a-8147-11e7-94e2-c5b903247afd Indeed, my sense at this stage is that North Korean President Kim Jong-un trusts Moscow much more than Beijing, reflective in his own travel arrangements. Putin has made clear that he despises the idea of forced regime change, "colored" revolutions, indeed opposition therein is central to his foreign policy ethos, and "sovereign democratic" concept. But I rather think at this stage that Beijing would not be that averse to political changes at the top in Pyongyang, at least sideways, with a slightly more deferential replacement to Kim emerging from within the existing leadership ranks. Likely Moscow has been signaling its "usefulness" to the U.S. over the crisis in North Korea , and hoping that this secures better leverage in the Great Power summit it now expects with Trump – assuming Trump survives that long. But importantly, and despite the U.S. congressional Russia sanctions bill, I don't think that Moscow has given up on President Donald J. Trump as a politician who can deliver to Putin's agenda. Indeed, Trump's own agenda increasingly looks close to that of Putin – support for strong man regimes overseas (at least not those posing a nuclear threat to the US), not pushing a Western values agenda (human rights/democracy) overseas (any maybe even not at home), a return to foreign policy based around the nation state rather than working through multilateral agencies (whether Paris Climate Change, or NATO) and America First. Indeed, Russia First has been Putin's own agenda for some time. I also think that Trump and adviser Steve Bannon's views around threats from a clash of civilizations, and that Moscow and the U.S. should be aligned in this final battle, are likely quite close. And hence third, therein there is a desire not to rock the boat for Trump domestically with further tensions/strains with Moscow. I think also in Moscow there is a desire to wait it out to see how domestic U.S. politics unravels. While there may be some irritation in Moscow over the latest U.S. sanctions bill, as payback for Russian meddling in the U.S. election, there is understanding that this will have a slow burn negative impact on the Russian economy, with no killer punch in the short term. The bigger goal still is a US-Russia rapprochement under Trump, which might still cast aside the congressional sanctions bill or see limited implementation, even easing, from the Trump executive. And there much also be plenty of enjoyment now in Moscow from the political and social upheaval now playing out in the U.S. under Trump – why would Russia feel the need to stir things up, when Americans themselves seem engrossed in tearing their own country apart? Moscow is hence happy to sit on the sidelines, and perhaps eager not to give the U.S. establishment an easy external target, e.g. with more military aggression in Ukraine – which could rally the Americans again against the external foe. From a Russian perspective – and perhaps also Bannon's – long-running contradictions/social/political fault lines are now playing out in the US, so why not just watch how these evolve. More a case of "fire in the hole" from a Moscow perspective! In a best case for Moscow, Trump emerges victorious, stronger and able to cut a Great Power deal then with Moscow, aligning the two around the Clash of Civilisations mantra. And in a worst case, the U.S .establishment will continue to tear itself apart, weakening it (and the U.S. in the process), and its ability to conduct foreign policy and military endeavors overseas. Indeed, the longer the Trump show continues, the less the US looks like a global power, and global leader, for other to follow, and less able to impose its will and agenda overseas. A weaker USA, all this time, relatively speaking, makes Russia look stronger. So why take risks now in places like Ukraine which still have the potential to backfire, and damage the Putin story this side of presidential elections in March 2018? I guess a counter argument here might be that Moscow might look to take strategic advantage in Ukraine while the U.S. (and West for that matter) is weak/distracted. Perhaps. But Putin is cautious by nature, and given Ukraine's greater military capability such an outcome would risk major military casualties before presidential elections. More likely he will want to await to see how events in D.C. with Trump evolve before committing more wholeheartedly to a conflict in/with Ukraine.
Lithuania receives first shipment of LNG from U.S
An LNG carrier has arrived in Lithuania with LNG from the Sabine Pass terminal in the U.S., the first such shipment the Baltic States have received, the Marinetraffic.com portal reported.
The Daily Vertical: A New Look At An Iconic Old Photograph (Transcript)
Sometimes, taking a fresh look at an iconic old photograph can be pretty revealing. Twenty-six years ago this weekend, Boris Yeltsin stood atop a tank and faced down a hard-line coup. At th…
Window on Eurasia — New Series: A Lesson for Today: August 1991 Coup Failed because KGB Didn't Support It, Gennady Gudkov Says
Paul Goble Staunton, August 20 – Force structures have invariably played a key role in all revolutions, revolts, or palace coups, either by supporting the incumbent regime or supporting its challengers, Gennady Gudkov says; and August 1991 was no exception because in his view, the attempted coup failed because it did not have the backing of the Soviet KGB. That fact carries with it an important message to those who want to change the Russian political system now, the opposition politician says. They must stop viewing the FSB and the other siloviki as invariable props of the existing regime and recognize that many in this group are as radical or more so than they themselves (echo.msk.ru/blog/gudkov/2040242-echo/). Gudkov says that he is "certain that the 1991 putsch failed to a significant degree because 26 years ago, the KGB, the most politicized Soviet special service, did not support the actions of the GKChP." And there was no other force on whom those seeking to seize power could rely with confidence. The Moscow section which included "more than 5,000 officers" and in which Gudkov served "more than ten years," was combat ready and could have acted successfully if its commanders had agreed to follow the orders of the coup plotters. But those commanders, sensitive to the views of their own staffs, refused; and the coup failed as a result. "Why didn't the KGB support the restoration of the CPSU regime?" the Russian opposition politician asks rhetorically. Because "within the special services long before the August 19, 1991 putsch," the officers of that security service had a clear "understanding of the ideological, moral and professional degradation of the leadership of the country." Many KGB officers recognized that "the CPSU Politburo had led the country into a dead end and that serious changes in the SYSTEM of power and deep reforms of the economy of the country were needed." And despite what many might think, they "absolutely freely" discussed this reality among themselves. "Paradoxically," Gudkov continues, those who were repressing people for the system had "real freedom" as to their views about it and were in fact "at times much more 'anti-Soviet' than the expressions of many dissidents." And that "ideological split" was responsible for "the relatively bloodless revolution of 1991." Opponents of the current Putin regime should take note of this reality," he says, because "a change in power in present-day Russia will also become possible only when the ideas of change come to dominate part of the office corps of the country and become a real force on which the future 'revolutionaries' will be able to act." Up to now, Gudkov says, he doesn't see any evidence that the opposition understands this; but there is plenty that those in power understand the risks to themselves of such a development, especially since the siloviki organizations on which they rely know very well that they are being forced "to defend not the interests of Russia and its people" but of their rulers. Anyone who is serious about struggling for power, he continues, who wants "a democratic and free Russia must consider the importance of this aspect of work" and seek to spread the influence of democratic forces "within the force structures. Without that, it will be extremely difficult if not impossible to achieve victory over the regime."
Russian national TV ignored a domestic attack on pedestrians this Saturday claimed by ISIS — Meduza
Terrorist violence in Catalonia dominated news headlines around the world this weekend, but another attack on Saturday, August 19, occurred in the Russian city of Surgut, where a man non-fatally stabbed seven pedestrians before being shot and killed by police. The "Islamic State" later claimed responsibility for the incident, though Russian law enforcement are not investigating the stabbings as an act of terrorism. Surprisingly, Russian national news networks nearly ignored the attack in Surgut. Meduza reviews what Russian television decided to report, instead.
Russia Steps Up Investigation Of Knife Attack Claimed By Islamic State
Russian federal authorities in Moscow have taken over the investigation into a stabbing rampage in the city of Surgut that left seven people injured and was claimed by the extremist Islamic State (IS) group.
Window on Eurasia — New Series: Ethnic Russians Face Same Challenges American Whites Do, Nationalist Commentator Says
Paul Goble Staunton, August 20 – Many have focused on the ways in which Moscow has promoted radical white nationalism in the US and why some American whites view Putin's Russia as a model for emulation – see, for example, novayagazeta.ru/articles/2017/08/19/73526-edinstvennaya-derzhava-gde-u-vlasti-belye. But a Russian nationalist blogger, who uses the screen name Yegor Pogrom, says that Russians should see in protests by whites in the US an early warning sign of the challenges that ethnic Russians will soon face and have to respond to with protests and other unspecified means (sputnikipogrom.com/usa/76171/why-care/). In the US, Pogrom writes, whites have seen their share of the population drop from 80 percent in 1980 to 62 percent in 2014 and, because their fertility rates are lower than non-whites, they fear that their share will inevitably drop still further. Indeed, in 17 US states, he says, white have seen a decline in their percentage even though in 15 overall population has grown. The response of the establishment, he suggests, has been to suggest that whites should celebrate diversity even as they continue on their way to becoming a minority of the American population by about 2040. For many US whites, Pogrom says, their "country is becoming alien" to them. "The very same situation is occurring with ethnic Russians in the Russian Federation," he says. Yes, it is true that they still form about 80 percent of the population, but that is temporary and caused largely by Russian flight from Ukraine. The underlying demographic realities point to a very troubling future. "Birthrates in the non-Russian republics are much higher" than in Russian areas, "plus" there is massive immigration from Central Asia bringing which is also changing the ethnic balance of the country, despite the bold words of the Putin government that everything is just fine as far as the nationality question is concerned, Pogrom says. "And just as in the US, no one in the Russian Federation is offering any variants for the solution of this problem besides 'being glad about multi-nationality," he says. But the problem is growing, and as Russians have fewer children, age and die, they too will soon decline from 80 percent of the population to 60 percent or even less. Russians are encouraged not to worry and to avoid doing anything that might make the situation even worse, Pogrom says; but they should be ready to protest at US whites did in Charlottesville in front of a Kadyrov University in 2040 when North Caucasians begin demanding that statues of Russian heroes be removed because they "offend."
ALICE E.M. UNDERWOOD | Why Lenin's Corpse Lives On In Putin's Russia – The Russia File
Long Live the Past, But What About the Future? The Kremlin's continued reliance on Soviet symbols fuels a murky understanding of a period marked by repressions on the one hand, and international preeminence on the other. In capitalizing on Russians' sense of lost greatness, today's government prevents a true reckoning with the past. The lack of a clear break with Soviet icons—even a 93-years-dead corpse—shows that politics may have changed since the fall of the Soviet Union, but leaders' reliance not on policy, but on symbols that obfuscate their means of staying in power, remains. Russian history has rarely seen a smooth transfer of power. Putin's government today, in coopting a revolutionary corpse as a legitimating symbol of continuity and stability, helps ensure its own place at the top in a Russia marked by passivity and indifference. By maintaining the immortal remains in the center of Moscow, they permit nostalgia for Lenin, but keep Leninism, and revolutionary ideas in general, as quiet as a corpse.
Window on Eurasia — New Series: 'Self-Loathing Orthodox Christians' Emerge as Force to Be Reckoned with in Russia, Sociologist Says
Paul Goble Staunton, August 20 – For many years, Western sociologists have talked about "self-loathing Jews," people who by their origins are Jews but base their identity on denying and opposing everything Jewish. Now a St. Petersburg sociologist is suggesting that an analogous group has emerged in Russia, "the self-loathing Orthodox Christians." Elena Ryigas, a scholar at the Sociological Institute in the northern capital, says this term refers not to those who call themselves Orthodox but don't take part in the life of the church but rather to those who are fully "churched" as far as practice is concerned but who dissent from what they see Orthodoxy having become (echo.msk.ru/blog/elena_ryg/2039968-echo/). Up to now, these people form an insignificant minority, she writes; but because they are middle class and display a high level of social activity, they are worrying the church hierarchy by their constant raising of "inconvenient questions" about church financing, the election of hierarchs or "simply by citing too often the holy word." Deacon Andrey Kurayev explains their appearance by the fact that "the Russian Orthodox Church was too rapidly transformed from an oppressed Church into a corporation" which enjoys the full backing of the state and does what it wants regardless of its own rules or the laws of the state. Many who can be described as self-loathing Orthodox, Ryigas suggests, might seem to be good candidates for shifting to another denomination altogether. But instead, they are standing their ground within the church but forming various groups like Stalinists, Mizulinists and Milonovs especially after the patriarch met Pope Francis in Havana. According to the sociologist, "the Orthodox church is gradually becoming like one large communal apartment," in which the original residents are being openly challenged by new ones, some of whom simply assert that they are Christians rather than members of any particular faith, including that of the Russian Orthodox Church. In many respects, Ryigas says, "the self-loathing Orthodox are really closer to Protestantism and Catholicism" than to the ROC. They are more active in social work than are traditional Orthodox. Indeed, in some ways, they are like many who say "'I don't need the church; God is in my soul.'" As the number of churches have grown, there has been observed a trend toward "self-organization of those believers" who are not prepared simply to obey the priest in all things. They use the church as a kind of base, but in fact have "emigrated" into a kind of Kitezh in which they are on their own. "The relationship between state Orthodoxy and the internal Kitezh city" is complicated. Both say they are for the same things, but the one does one thing and the other something quite different. And that makes the self-loathing Orthodox a new "variety of religious opposition and even dissent." Such ideological competition can play "a positive role" in many cases, Ryigas says, but not in this one. The clash between the official church and the self-loathing Orthodox will only grow, she suggests, and last as such religious disputes tend to "no less than 40 years" before one group succeeds in suppressing or displacing the other.
How Russia treats its Ukraine veterans – The Atlantic
Returning volunteer fighters have been treated more like an inconvenience than as national heroes.
Opposition Activists In Rostov Hold 'Patriotic' Protest
A small group of opposition activists in the Russian city of Rostov-on-Don have held a protest calling for the regular turnover of political power.
Moscow Court Refuses To Freeze Siemens Turbines In Crimea, Pending Suit
The Arbitration Court of Moscow has declined to place a freeze on gas turbines manufactured by the German firm Siemens that were transferred to the illegally annexed region of Crimea earlier this year.
Russian court rejects Siemens' plea to seize its turbines in Crimea
A Moscow court has rejected a request by Siemens to seize its gas turbines, which have turned up in Crimea contrary to EU sanctions, and to ban their installation ahead of preliminary hearings next month, the court's ruling showed on Sunday.
St. Petersburg Police Arrest Suspect In Attack On LGBT Activists
Police in Russia's second-largest city, St. Petersburg, say they have arrested a suspect in an attack on LGBT activists and journalists after local lawmakers pressured authorities to investigat…
UAWire – Putin wants to reduce the number of audits and prosecutions of businessmen in Russia
President Vladimir Putin signed a list of orders "on measures to reduce the administrative burden on business entities in the Russian Federation, …
UAWire – Russia's Foreign Ministry speaker Zakharova accuses Israel of 'historical betrayal' over reconstruction of Sobibor museum
The official representative of the Russian Foreign Ministry, Maria Zakharova, considers the position of the Jewish state "to be close to …
Russian Jews slam Moscow's exclusion from Holocaust memorial project in Poland | Jewish Telegraphic Agency
(JTA) — A leader of Russian Jews called on Poland to avoid any exclusion of Russia from an international forum that is responsible for preserving for educational purposes the former Nazi death camp of Sobibor. Mikhael Mirilashvili, the president of the Euro-Asian Jewish Congress, issued the call Sunday, following claims by Russian officials that Poland barred Russian experts from participating in the work of the International Steering Committee on Sobibor, even though the Russians had been invited to do so by non-Polish members of the committee. "Russia is a key player in memorializing Holocaust victims, and her participation in this project is vital," said Mirilashvili, whose organization is an affiliate of the World Jewish Congress and represents Jewish communities from Ukraine to New Zealand. Poland's right-wing nationalist government has responded strongly to Russia's expansionist policies in Ukraine and beyond, issuing threats and imposing sanctions on Russia. According to Sputnik News, Russia was invited this year to join the work of the steering committee, a body set up in 2013 with commemoration representatives from Poland, Israel, Slovakia and the Netherlands in order to build a commemoration project befitting Sobibor's key role in the murder of Jews during the Holocaust. About 200,000 Jews were gassed at the camp in eastern Poland, as were non-Jewish Soviet prisoners. However, in July Moscow received an official message from Warsaw that the project would continue without Russia's participation. Russian Foreign Ministry Spokeswoman Maria Zakharova said on Thursday that Russia's exclusion was an "outrageous fact of historical amnesia" and her ministry intends to summon ambassadors from all the countries on the steering committee to offer clarifications.
Big Data Convert Channels Big Brother to Monitor Russia's Pulse – Bloomberg
Raw numbers no longer cut it for Russia's central bank in its effort to keep up with the economy.
UAWire – South Ossetia transfers its schools to Russian language
Beginning from the new academic year, Georgian schools in South Ossetia, the territory that declared independence from Georgia in 1991, are …
---
Belarus Reports
---
Russian equipment arrives in Belarus to participate West-2017 drills [2S19 "Msta-S"] – 112.international
Rolling equipment with tanks was seen on the territory of the country. Less than a month before the start of the West-2017 exercises, Russia began to move its armored vehicles to Belarus, social networks users say. User Brovar published photos of Russian military equipment in Belarus on his page in Twitter. Apparently, the Russian command sent several dozen tanks to Belarus. It is noteworthy that on the tanks there are insignia of the Armed Forces of the Russian Federation, as well as markings indicating the oversized cargo.
Independent Journalist: Why Cut Down Forest On Border With Ukraine Before West-2017? – Charter'97 :: News from Belarus – Belarusian News – Republic of Belarus – Minsk
Locals report a massive cut down of bushes on the border of Belarus with Ukraine. The independent journalist from Homel Kanstantsin Zhukouski wrote about it on Facebook: – "Hello, Kastus. Bushes are massively cut down at the border between Belarus and Ukraine. Locals reported…" Please, tell me, if it's possible to check it and to find out what for they do it? Is it demarcation or preparation for an attack?! Russian-Belarusian military exercises West-2017 will be held in Belarus in September. Many Belarusian and European politicians, as well as the military, believe that Russian troops will stay in Belarus after the exercises. The prevention rally demanding to abolish the West-2017 exercises will begin on Kastrychnitskaya Square in Minsk at 19.00 on September 8.
---
Transnistria / Moldova Reports
---
'We Cannot Survive Without Strategic Partnership With Russia,' Says Moldovan President
Moldovan President Igor Dodon says he is "confident that we cannot survive without a strategic partnership with Russia." Dodon was speaking on August 19 in the city of Comrat, at a ceremony attended by the ambassadors of Russia and Turkey to mark the 26th anniversary of the declaration of the region's autonomy. Making an indirect reference to some of his political opponents in Moldova, Dodon vowed to "fight back hard against those who want to liquidate the Moldovan state." (RFE/RL's Moldovan Service)
Dodon Denounces Romania Reunification Idea In Rare Visit To Gagauzia
COMRAT, Moldova — Moldovan President Igor Dodon has urged supporters in the ex-Soviet nation's autonomous Gagauzia region to fight against those he says are plotting to "destroy&quot…
---
Ukraine Reports
---
En Route Media Availability with Secretary Mattis > U.S. DEPARTMENT OF DEFENSE > Transcript View
SEC. MATTIS: In Ukraine, I'm going there to commemorate the Ukraine's Independence Day, and just to make certain that, you know, that they know we're aware of the values and what they're trying to put together coming out of the history they've had in the past. It's not easy making a democracy. It's not easy making a sovereign state, especially right now with the way Russia has been violating territorial integrity. So I'm going to go to the parade there on their Independence Day, and I'm scheduled to meet with President Poroshenko and the minister of defense, that's Poltorak, and underscore our commitment to a strategic partnership and our support for their sovereignty and territorial integrity and highlight the U.S. train, equip and advise efforts to build the capacity of their forces. We'll be joined there by Ambassador Voelker, our special representative for Ukraine negotiations. Remember, again, as in many other places in the world right now, it's a diplomatically led effort there that I support, that I'm in support of Secretary Tillerson's efforts there to work with our NATO allies and Ukraine and continue to press Russia on its Minsk commitments. And that includes an immediate cease-fire, withdrawal of heavy weapons, and unfettered access by the monitoring — that's the OSCE monitors there.
Mattis elaborates on agenda of Ukraine Independence Day visit
U.S. Secretary of Defense James Mattis during his upcoming visit to Kyiv August 24 will emphasize the U.S. commitment to strategic partnership with Ukraine, according to U.S. Department of Defense. News 21 August from UNIAN.
Poroshenko says Russia may provoke hot phase of war
President of Ukraine Petro Poroshenko believes that the Kremlin could provoke a hot phase of the war, president's speaker Sviatoslav Tsegolko quoted the head of state as saying Monday. News 21 August from UNIAN.
Poroshenko expects extremely important talks with Pentagon chief
Ukrainian President Petro Poroshenko expects that his talks with U.S. Secretary of Defense James Mattis, scheduled for August 24 in Kyiv, will be extremely important for strengthening Ukraine's defense capability, according to an UNIAN correspondent. News 21 August from UNIAN.
Visit of U.S. Secretary of Defense to be of great importance for strengthening defense capability of Ukraine, Poroshenko hopes – 21.08.2017 15:08 — Ukrinform News
President Petro Poroshenko hopes that talks with U.S. Secretary of Defense James Mattis, who will arrive in Kyiv on Independence Day, will be of great importance for strengthening of the defense capability of Ukraine.
President Poroshenko: Most difficult times behind us, Ukraine withstood the test – 21.08.2017 16:19 — Ukrinform News
President of Ukraine Petro Poroshenko has reassured that Ukraine's most difficult times are behind."Changes are taking place, despite the fact that life isn't easy nowadays. But I can firmly say that the most difficult times are behind us, Ukraine has withstood the test, the Ukrainian people have demonstrated with honor their ability to unite, resist the aggressor and ensure effective development under conditions of war," President Poroshenko said at an opening ceremony of a new building of children's hospital in Kirovohrad region, an Ukrinform correspondent reports. At the same time, he noted that "the point of no return is still ahead," and Russia's aggressive actions, as well as populism of some Ukrainian politicians could procrastinate the development of Ukraine. At the same time, he promised to do everything possible so that to "prevent such a scenario."
Independence Day an important holiday for Ukrainians – Poroshenko – 21.08.2017 15:17 — Ukrinform News
Ukraine's Independence Day is a state holiday marked every year on August 24, and it is now of particular importance for Ukrainians, President Petro Poroshenko has said.
Poltorak grateful to Pentagon chief for intention to visit Kyiv
Ukrainian Defense Minister Stepan Poltorak has said he is grateful to U.S. Defense Secretary James Mattis for his intention to visit Kyiv on the occasion of the 26th anniversary of Ukraine's independence.
Poltorak comments on Mattis's visit to Ukraine: I hope for constructive dialogue and cooperation – 21.08.2017 11:09 — Ukrinform News
Defense Minister of Ukraine Stepan Poltorak expects a constructive dialogue and cooperation with the U.S. following the visit of U.S. Secretary of Defense James Mattis to Kyiv.
UAWire – Poroshenko's advisor: Ukraine and the US have common interests but that can change at any time
Ukraine can count on political support from the United States under the new leadership, however there shouldn't be any illusions, believes the director of the National Institute for Strategic Studies, presidential adviser Volodymyr Horbulin. He discussed this in an interview with Dzerkalo Tyzhnia newspaper, as reported by Interfax-Ukraine. "Can Kurt Volker 'reset' American policy towards Ukraine? He makes a strong impression. It is obvious that he has an absolutely clear and realistic understanding of what is happening in Ukraine, and he knows what steps should be taken to solve the issue. However, the current political reality in the United States is more like the sandbox of the Greek goddess Eris than the unconventional model with the "one vote" policy, including in matters of foreign policy," Horbulin said. According to the expert, such problems are connected with the issue of granting Ukraine lethal defensive weapons. "If Barack Obama took an explicit position "to promise to think about it, but in no case to give," now … when Trump is still in search of solutions (including the Ukrainian situation), the corridor of opportunities to provide such assistance are substantially expanded. However even if such help is provided (which would be really important for us in the military sense), the main result would be more of a political one," Horbulin said. He also noted that for Ukraine, military assistance from the US is "primarily a symbol of the fact that the US is actively involved in Ukrainian affairs, a symbol of fulfilling the charter on strategic partnership and a sign to European countries that it's time to move on to active action." At the same time, the expert believes, the idea of lethal weapons in Ukraine "resembles a magical spell considered by many to be a panacea for all Ukrainian problems," while the lion's share of these problems is in a different sphere, which is "the effective management of the national security sector, combating corruption, effective reforms, and economic growth." Horbulin said that it is essential to remember the important aspects of US-Ukraine relations, pointing out that now "the national interests of Ukraine and the US foreign policy interests coincide." "However, this does not mean that it will be so permanently, or that decisions that will be good for US foreign policy will prove equally good for the national interests of our country," Horbulin said. Analyzing the situation with the new US sanctions against Russia, Horbulin noted that they are "very serious and will lead to a gradual systemic collapse of the current Russian economic model." On Monday, the US Special Representative for Ukraine, Kurt Volker will meet with Russian presidential aide, Vladislav Surkov, in Minsk. Earlier, US State Department has released a request for proposals for the supply of non-lethal weapons to Ukraine.
Media note growing threat of terrorist attacks in Ukraine ahead of Independence Day
The threat of terrorist attacks in big cities across Ukraine is growing on the eve of Independence Day, as evidenced by the numerous instances of disclosure of terrorists' plots by Ukraine's security services, TSN Tyzden weekly report says. News 21 August from UNIAN.
Border security tightened ahead of Independence Day – LB.ua news portal
Border security tightened ahead of Independence Day. There will be more regular and dog patrols. Political – LB.ua news portal. Latest from Ukraine and the world today
Escalation in Donbas: 47 attacks on Ukraine troops, 5 WIA in last day
Russia's hybrid military forces attacked Ukrainian army positions in Donbas 47 times in the past 24 hours, with five Ukrainian soldiers reported as wounded in action (WIA), according to the press service of the Anti-Terrorist Operation (ATO) Headquarters. News 21 August from UNIAN.
Militants launched 47 attacks on Ukrainian troops in Donbas in last day – 21.08.2017 09:30 — Ukrinform News
Militants launched 47 attacks on positions of the Armed Forces of Ukraine in ATO area in Donbas over the past day. Two Ukrainian soldiers were wounded and other three were injured.
uacrisis on Twitter: "Col. Motuzyanyk: UA mil intel reports last week enemy casualties: 30 militants KIA, 51 – WIA, 3 pieces of heavy weapons destroyed"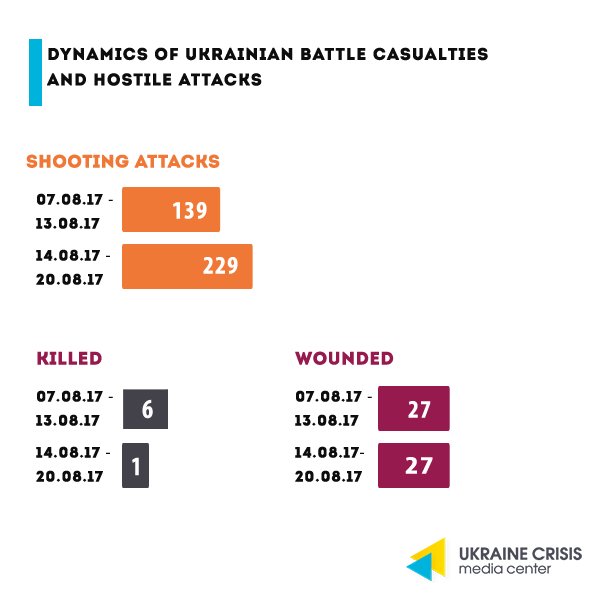 Ukraine Accuses Separatists Of Incendiary Attack
Officials in Ukraine have accused Russia-backed separatists of firing on the settlement of Zaitseve, in a government-controlled part of the Donbas region.
Russian proxies in Donbas preparing new wave of "nationalization" of Ukrainian companies – media
In August and September 2017, court hearings will be held, where the so-called "State Property Fund of the Donbas People's Republic" is preparing to seize control over the assets of a number of Ukrainian companies, according to DN.ua News 21 August from UNIAN.
President Poroshenko: Bases for Special Operations Forces to be built in Kropyvnytskyi – 21.08.2017 14:27 — Ukrinform News
New facilities will be built in the city of Kropyvnytskyi to improve the training of soldiers of the Special Operations Forces of Ukraine's Armed Forces.
Ukrainian army to get Oplot tanks this year – Poroshenko – 21.08.2017 11:58 — Ukrinform News
The Ukrainian army will get Oplot tanks due to the introduction of amendments to the state budget and increased defense spending in 2017, President Petro Poroshenko has said.
SBU: Russian components harming limb prosthetics for ATO troops
Security service's economy counterintel operatives along with the Ukrainian prosecutors have liquidated the supply channel of low-quality components for limb prosthetics aimed to facilitate rehabilitation of Ukrainian troops who suffered injuries during the Anti-Terrorist Operation in Donbas, the SBU's press center told UNIAN. News 21 August from UNIAN.
Military equipment at Kreshchatka: What they will show this year [PHOTOESSAY] – 112.ua
UAWire – Ukrainian MP: Ukroboprom sold Ukraine's only repair plant for engineering and demining equipment
Deputy of the Verkhovna Rada Tatyana Chornovol from the People's Front party stated that the Nizhinsky repair plant for engineering equipment …
UAWire – Ukraine's state-owned Ukroboprom exported $345 million worth of weapons and equipment in first half of 2017
The volume of export of special and dual-purpose arms and services by enterprise-members of the state-owned concern Ukroboronprom in the first …
UAWire – Audit reveals significant financial violations at Ukraine's state-owned Ukroboronprom
During the inspections of the State Enterprise Ukroboronprom, the State Audit Service revealed financial violations and inefficient resource …
LITPOLUKRBRIG pilgrims carry crosses to the Holy Hill of Grabarka | Міністерство оборони України
The Lithuanian-Polish-Ukrainian Brigade Command servicemen went to the pilgrim adventure to carry crosses, get holy water and pray on the Christian Orthodox Holy Hill of Grabarka in the eastern Poland on Friday, August 18. For this religious journey the Ukrainian and Lithuanian officers and non-commissioned officers joined uniformed pilgrims from all over Poland. Among the hundreds of Christian Orthodox believers heading to Grabarka were also delegations from bordering countries' Armed Forces. Together shoulder to shoulder they underwent a long path of self-sacrifice to place the carried cross on the top of the Hill. "As military people with operational experience we know the true price of peace and with our pilgrimage we aim at praying to God to set tranquility all over the world. We ask the Creator for the peace in Ukraine and all around the globe" said Lieutenant Colonel Andrii Kikhtan, Deputy Chief of Staff Support. Colonel Zenon Brzuszko, the Lithuanian-Polish-Ukrainian Brigade Commander also added that the participation in the pilgrimage is voluntary and he wanted to join it with his other LITPOLUKRBRIG fellow colleagues-Catholics. "This is the symbol which marks this event more important. The Lithuanian, Polish and Ukrainian soldiers become not just brothers in arms, but also in their prayers" remarked Colonel Zenon Brzuszko. For more information contact Oleksandr Gain, LITPOLUKRBRIG Public Information Officer at (Pol) +48 508 272 094, тел. (Viber) +38 (096) 501 65 51, e-mailo.gain@ron.mil.pl or gainop@gmail.com.
Ukraine envoy outraged over AfD leader's Crimea statement
Ukrainian Ambassador to Germany Andriy Melnyk has expressed his indignation over the recent statement by the leader of the German political party Alternative fur Deutschland (AfD) Alexander Gauland regarding Crimea's annexation. News 21 August from UNIAN.
Russia's FSB prevent rally of Crimean Tatars in Belaya Skala village, Crimea – 112.international
Russia's FSB prevent rally of Crimean Tatars in Belaya Skala village, Crimea; Law enforcers say activists 'hid weapons and explosives near the rally's designated area' in Belaya Skala village, Crimea
U.S.-Based Group Sending Veterinarians To Treat Stray Dogs In Chernobyl
A Boston-based international animal-welfare group says it is sending a veterinary team to Ukraine to treat dogs near the site of the 1986 Chernobyl nuclear disaster. The Four Paws group said o…
Viktor Muzhenko: Battle of Ilovaisk through the prism of time. Part 1 – Viktor Muzhenko: Battle of Ilovaisk through the prism of time. Part 1 – 112.international
Chief of the General Staff of the Ukrainian army told 112.ua news agency about the causes of terrible loss in the bloody battle that took place in Donbas in August 2014. Last week, Ukraine's Prosecutor General's office released the report on the results of the investigation of the Ilovaisk tragedy. The governmental authority says that the report was passed to the International Criminal Court in the Hague. Several Ukrainian MPs got their hands on the forensics' conclusions in this case, which are strictly classified. Last year, 112 Ukraine TV channel shot the documentary called 'Shadows of Ilovaisk'; an interview with Chief of the General Staff of the Ukrainian army Viktor Muzhenko was an important part of this film. Back then, our news agency did not publish the full interview. But since the HQ of the Armed Forces did not change their position on this topic, 112 International releases the full interview now. Part 1. Combat situation in Sector D, July and August 2014
Russia's Role in 2014 Battle of Ilovaisk Massacre Highlighted in New Exhibition – YouTube
UATV has taken a special tour of a museum dedicated to the Ukrainian soldiers killed in the Battle of Ilovaisk. _ Follow UATV English: Facebook: https://www….
Russian regular army is the party, which is mainly responsible for the tragic consequences of Ilovaisk battle, which took place in August 2014 – 112.international
Russian regular army is the party, which is mainly responsible for the tragic consequences of Ilovaisk battle, which took place in August 2014. Russian regular army is the party, which is mainly responsible for the tragic consequences of Ilovaisk battle, which took place in August 2014. Such is the conclusion made by Ukraine's Prosecutor General's office in this case; however, now that the investigation is over, the ultimate decision in this case should be formalized by expertise. Yuriy Hrymchak, the deputy minister for the temporarily occupied territories said that in his commentary for 112 Ukraine TV channel. 'In September and October 2014, I met our colleagues and allies (in the EU, – 112 International), trying to prove there were regular Russian troops in Donetsk region; they did not believe me. The respective materials were handed over to the Hague Court; I don't think, though, that we'll be able to prove it as quick as we'd want to. Any proof should be formalized by the conclusions of forensics. For the time being, we've got conclusions of Prosecutor General's office; of course, the main culprits of 2014 Ilovaisk tragedy are the Russian forces,' Hrymchak said. Last week, Ukraine's Prosecutor General's office completed the investigation into the case of Ilovaisk tragedy.
Military PGO blames Ilovaisk tragedy on Russia alone
Chief of Ukraine's Military Prosecutor General's Office (PGO) Anatoliy Matios has said there is no reason to blame Ukrainians for the tragedy in Ilovaisk because Russia is the only guilty party.
---
Russia / Iran / Syria / Iraq / OEF Reports
---
Syria's Assad Thanks Iran, Russia For Helping Thwart Attempts To Oust Him
Syrian President Bashar al-Assad has said his army has foiled Western attempts to overthrow his government thanks to assistance from allies including Russia, Iran, and Lebanon's Hezbollah movemen…
Syria's Assad rejects security cooperation with the West – The Washington Post
Syrian President Bashar Assad on Sunday refused any security cooperation with Western nations or the reopening of their embassies, until they cut ties with opposition and insurgent groups.
Syria's Assad says Western plots against him foiled but war not yet won
Khalidi
Finland Attack Suspect, a Moroccan Youth, Faces Murder Charges – The New York Times
The authorities said they had been tipped off about the 18-year-old, identified as Abderrahman Mechkah, but the information had not been treated as a priority.
Trump to outline Afghan strategy in national TV address – The Washington Post
President Donald Trump will use a nationally televised address to outline for a war-weary nation the strategy he believes will best position the U.S. to eventually declare victory in Afghanistan after 16 years of combat and lives lost.
Trump plans to ask for trust of Americans on Afghanistan: report | TheHill
Defense Secretary Says Trump Has Settled on an Afghan Strategy – The New York Times
Defense Secretary Jim Mattis said the president, who had been criticized for a drawn-out review, would announce the details himself in the coming days.
Afghanistan Marks 98 Years Of Independence From Britain
Security forces are on high alert across Afghanistan, as the country marks the 98th anniversary of its independence from Britain. The celebrations this year are occurring following a number of hig…
---
DPRK / PRC / WESTPAC Reports
---
South Korea and US launch Ulchi Freedom Guardian drills | News | DW | 21.08.2017
South Korea and the US have begun their annual war games. In Seoul, President Moon Jae-in warned his nuclear-armed counterpart in the North against using the drills to continue cranking the "vicious cycle" of tensions.
U.S., South Korea begin computer-simulated drills which North says are aimed at nuclear war
South Korean and U.S. forces began computer-simulated military exercises on Monday amid tension over North Korea's weapons programs, while a report it has earned millions of dollars in exports is likely to raise doubt about the impact of sanctions.
South Korea and U.S. Begin Drills as North Warns of Rising Tensions – The New York Times
North Korea, calling the joint exercises a rehearsal for real war, said the drills would escalate tensions on the peninsula.
Weekend Roundup: Trump's 'Fire And Fury' Posture Threatens Allies As Well As Enemies | HuffPost
If incendiary bluster slides into military conflict, the populations of South Korea and Japan are in harm's way.
North Korea's bold wave of propaganda art – in pictures – To Inform is to Influence
The searing propaganda is aimed to embolden the country and urge its people to resist US imperialism – with an arsenal of missiles eyed as the ultimate threat Arnel Hecimovic Sunday 20 August 2017 16.11 EDTLast modified on Sunday 20 August 2017 16.13 EDT A propaganda poster with loaded imagery reads, 'Our answer!' A North Korean propaganda poster declares, 'Kick…
North Korea Warns Australia: U.S. Military Alliance a 'Suicidal Act'
Australia's decision to support the U.S. in any future military conflict with North Korea has been called a "suicidal act" by Pyongyang.
China's propaganda machine in overdrive – To Inform is to Influence
We look at Beijing's control and censorship mechanisms before the Communist Party's 19th Congress. 21 Aug 2017 07:23 GMT Censorship, China, Media, Asia As China's ruling Communist Party gears up for its 19th Congress, President Xi Jinping is calling on the country's media to play their part in touting his grand vision for China, and especially an infrastructure venture called the Belt and Road Initiative…
China calls U.S. intellectual property probe 'irresponsible' – NY Daily News
BEIJING (Reuters) – China expressed "strong dissatisfaction" on Monday with the U.S. launch of an investigation into China's alleged theft of U.S. intellectual property, calling it "irresponsible".
doklam: India, Russia talk Doklam before Brics | India News – Times of India
The government is in touch with Russia over the Sino-Indian military standoff at Doklam ?ahead of the upcoming Brics summit in China, official sources said. This is significant as India, hampered by an increasingly disoriented Trump administration, has looked at Moscow in the past 6 months to convince Beijing to shed its antagonistic approach towards India.
Rajnath Singh Says China Tension To End Soon, Beijing Makes Angry Comment
Days after footage emerged of Indian and Chinese soldiers fighting at the border at Sikkim, Home Minister Rajnath Singh said that the confrontation will end soon. China offered no assurances, instead blaming India again for the altercation that has extended into its third month and for the clashes that erupted with soldiers from both sides throwing stones at each other.
India says China stand-off will end 'soon' – Channel NewsAsia
How NYT's Focus on Ukraine Conceals Story Behind North Korea Missile Success – YouTube
Follow UATV English: Facebook: https://www.facebook.com/UATVEN Twitter: https://twitter.com/UATV_en Instagram: https://www.instagram.com/uatv.en Medium: http…
---
Foreign Policy Reports
---
Merkel hits out at predecessor in Russia row before election
German Chancellor Angela Merkel criticized her predecessor, Gerhard Schroeder, on Monday for taking a new job at Russian oil producer Rosneft and said she did not intend to take any posts in industry once she leaves politics.
Angela Merkel distances herself from Schröder's Russia ties – POLITICO
Former German chancellor Gerhard Schröder has drawn harsh criticism for accepting lucrative jobs at Russian state-owned companies.
Merkel hits out at predecessor in Russia row before election
German Chancellor Angela Merkel criticised her predecessor, Gerhard Schroeder, on Monday for taking a new job at Russian oil producer Rosneft <ROSN.MM> and said she did not intend to take any posts in industry once she leaves politics.
Angela Merkel wants to join 'Trump's weapons madness,' says Sigmar Gabriel – POLITICO
The German chancellor is coming under pressure for her commitment to boost Germany's military spending.
Disarmament Experts Urge Europe to Help Halt 'Cold War 2.0': German Minister | World News | US News
BERLIN (Reuters) – Disarmament experts have urged Europe to be vocal in helping to halt what they regard as a new Cold War in which global powers have embarked on a new conventional and nuclear arms race, Germany's foreign minister said on Wednesday. Sigmar Gabriel was briefing reporters after hosting what he called a "very troubling" meeting of a commission known as "Deep Cuts", a panel created in 2013 to discuss arms control issues. It includes experts from the United States, Russia and Germany. "They told us we are now repeating the worst mistakes of the Cold War and are in the middle of a Cold War 2.0," Gabriel said. "They called on us in Europe to raise our voices and express our interests vis-a-vis Moscow and Washington, but also within NATO," Gabriel said. He added it was particularly important now to focus on halting the nuclear arms race, given developments on the Korean Peninsula, where fears of a military clash between North Korea and the United States flared up last week.
Economic pressure on Turkey 'working,' German FM Gabriel says – EUROPE
Economic pressure on Turkey "is working," German Foreign Minister Sigmar Gabriel has said, commenting on ongoing tensions between Berlin and Ankara.
---
Strategy / History / Capability Publications
---
Russia's Cold War Plan to Crush France (In 7 Days) | The National Interest
Think nukes. Lots of nukes.
Navy's Major New Missile Upgrade Could Turn Tables On Russia, China
The Navy today faces a devastating missile gap between Russia and China, but a new upgrade could quite literally blow the two competitors out of the water.
Leaders of Top Robotics and AI Companies Call for Ban on Killer Robots – Future of Life Institute
Founders of AI/robotics companies, including Elon Musk (Tesla, SpaceX, OpenAI) and Mustafa Suleyman (Google's DeepMind), call for autonomous weapons ban.
An Open Letter to the United Nations Convention on Certain Conventional Weapons – Future of Life Institute
Don't Be Fooled. Airstrikes Are War. – Reason.com
Despite evidence they may make things worse, airstrikes are mistakenly seen as a perfectly reasonable response.
The U.S. Spy Hub in the Heart of Australia
From a base known as Pine Gap, the NSA has been locating and monitoring cellphone users thousands of miles away.
The quest to single-out authoritarians might be ended if we look at parenting ideals
In the wake of World War II, social scientists from the Western parts of the world found themselves enamoured in something akin to a new sport: spotting radicals in society. That is, psychologists…
---
IW/IO/Cyber Reports
---
Trump elevates Cyber Command; split with NSA still an option
President Donald Trump has announced plans to elevate U.S. Cyber Command to the status of a unified combatant command, underscoring the significance of the cyberspace-focused mission on national security.
June 2017 hacker attack was aimed to collect info about Ukraine's enterprises
Ukraine's security service SBU is warning of a possible new hacker attack on the networks of Ukrainian state agencies and businesses and therefore, is calling to abide by specially designed recommendations, the SBU press center said.
Russian Federation hackers used the software of a Ukrainian programmer to attack the US | UACRISIS.ORG
Russian Federation hackers used the software of a Ukrainian programmer to attack the US. UCMC presents an article by Ukrainska Pravda on a Ukrainian hacker who voluntarily decided to testify for the FBI when he learned that the software he had developed was used for the elections manipulations in 2016. The Ukrainian hacker nicknamed Profexer became an FBI witness in the case on the hacking of servers of the US Democratic National Committee, reports The New York Times. In an interview to the media, the Head of the Ukrainian cyber police Serhiy Demedyuk said that Profexer came to the police at his own will. He decided to surrender after the U.S. intelligence publicly stated to have identified that the program he had written – P.A.S. web shell – was used by the hackers to attack the servers of the U.S. Democratic Party. Demedyuk also said that he had made the hacker available as a witness for the FBI. One of the FBI agents present in the US Embassy in Kyiv is working with him. Profexer was not arrested because he was the author nor the user of the harmful program. "He told us that he created it not to be used for this exact purpose," Demedyuk explained. Ukrainian MP Anton Gerashchenko told that the Ukrainian programmer was paid to develop the program, he actually did it without knowing that it will be used for the Russian hackers' attacks. There is no proof to the fact that the Ukrainian hacker was working for the Russian intelligence, however, his program was used for this purpose, the media proceeds.
---
US Domestic Policy Reports
---
America and Russia: Same Old, Same Old | The National Interest
The real impediments to better U.S.-Russian relations are structural, and go far deeper than the latest revelations about ties between Trump associates and Russians.
Russia Replaces Ambassador To US With Official On EU Sanctions List – To Inform is to Influence
Mon, 21st Aug 2017 14:35 MOSCOW (Alliance News) – Russian President Vladimir Putin on Monday appointed a new ambassador to the US, Anatoly Antonov, a career official who is on the EU's sanctions list because of Russia's role in the Ukraine conflict. Antonov, who was serving as Russia's deputy foreign minister until the appointment, was…
U.S. Embassy stops issuing nonimmigrant visas to Russians as diplomatic standoff deepens – The Washington Post
The temporary halt comes after Moscow ordered the American mission to cut staff by nearly two-thirds after Congress approved new sanctions against Russia.
U.S. Diplomatic Missions In Russia Suspend Nonimmigrant Visa Operations
The United States says that "all nonimmigrant visa operations" at U.S. missions across Russia will be suspended as of August 23 due to the Russian-imposed cap on U.S. diplomatic staff. …
Russian Twitter Bots And Trolls Being Used To Influence US Politics – To Inform is to Influence
There are a few conclusions in this story which need to be brought out because they are not that obvious in the following article. Russia is still attempting to influence US politics, and they're doing a really bad job hiding it. Russia is using bots, automated twitter accounts, to amplify their message Russia is actively and overtly…
Dershowitz: Russia investigation 'endangers democracy' | TheHill
Attorney Alan Dershowitz says special counsel Robert Mueller's investigation into possible collusion between the Trump campaign and Russia "endangers Democracy." "The idea of trying to create crimes just because we disagree with [Trump] politically, and target him, really endangers democracy. [It] reminds me of what the head of the KGB said to Stalin: 'Show me the man, and I will find you the crime,'" Dershowitz told John Catsimatidis on New York's AM 970 in an interview that aired on Sunday. "[This is] where things happen in darkness and secrecy. The American public doesn't learn about it," he said, accusing the investigators of not sharing information with the public. "This exactly the wrong way to approach the problem of Russia's attempt to influence American election. We do not know what is going on. We get leaks, but the leaks are selective leaks." ADVERTISEMENT The Harvard law scholar, who is an opinion contributor to The Hill, also criticized former FBI Director James Comey, whom he called one of the "worst offenders" of leaks that have encouraged other members of government to leak classified information. "One of the worst offenders of leaks is the former head of the FBI, Comey," Dershowitz says. "[He] created a very very bad precedent for people in government, making it sound like it is okay to leak material. It is not okay to leak material." Comey had a friend leak several memos of his conversations with President Trump to the New York Times shortly after he was dismissed from the FBI in May. The conversations detailed in the memos, in which Trump appears to ask Comey to drop his investigation of former national security adviser Michael Flynn, are widely credited as the deciding factor that led to the formation of Mueller's special counsel office. Mueller has been investigating Russian meddling in the 2016 election and alleged collusion between Trump campaign staff and Moscow.
Dershowitz: Weaponized Russia Probe 'Really Endangers Democracy'
The Russian investigation and the appointment of FBI special counsel Robert Mueller has become a political weapon of the left, one that really endangers democracy, self-proclaimed liberal, author, and law professor Alan Dershowitz said. The idea of trying to create…
Why There Are No Nazi Statues in Germany – POLITICO Magazine
What the South can learn from post-war Europe.
Bannon to GOP leaders: Do not expect 'sweetness and light' from conservatives | TheHill
The Left is Marching the Nation Towards Civil War | US Defense Watch
I believe it is no longer hyperbole to say the United States may very well be on the road to a Second Civil War. This time it won't be North vs. South, but Left
Trump as a mirror of the American Revolution – Political scientist Andrei Bezrukov – on the struggle of national and global in the United States
Trump is, if not the inspiration, then the unconditional symbol of the first revolution. The irony of history is that by his victory he clears the way for the defeat of his supporters in the second. The reasons for the first revolution are beyond doubt. Since the late 1980s, America has entered the imperial era. In the absence of ideological competitors, the American political system has become rotten, stagnant. In Washington, an "imperial class" grew up, which decided that its finest hour would never end. As in ancient Rome, a typically imperial elite emerged, whose ideology can be called universalism. Believing in Fukuyama's "end of history", she proclaimed the universality of the American system (that is, the principles of the organization of economic and political life that exist in the United States are the only true and should be extended to the whole world). Universalists completely controlled the American agenda from Bill Clinton to Trump, regardless of which party the president belonged to and what was the layout on Capitol Hill, so the division into Republicans and Democrats has long lost its meaning. Universalists created the notion of globalization and the ideal "global" human being of the future that exists outside the context of social belonging, gender, color of skin and country. This sterilely tolerant individual symbolizes a globally-connected, fully self-righteous elite that watches CNN and hangs out in Davos. Historically and mentally, universalism is based on Anglo-Saxon white Protestant activism – on understanding the role of the United States as God's chosen defender of the universal good from evil and affirming the Kiplingian "white man's burden" as a model for the development of the world. The current universalist elite has even forgotten how money is made: most of its representatives have never been engaged in business, they are professional politicians serving the system, party activists, journalists, professors, bureaucrats, heads of charity foundations and NGOs set up for political grants. This elite receives money only because it is a political and ideological superstructure over the American imperial system. That is why she is so aggressive in trying to maintain her position, that she can not simply feed herself in another way. As the recent events in Charlottesville show to break Trump, she is even ready to unleash a new civil war. Only in the last few years, after a series of military and financial failures by universalists, their opponents-conservative nationalists-have a chance. American entrepreneurs, losing their competitiveness, and the impoverishing American middle class, had a common interest in the national victory over the global one. Trump's appeal to the Jacksonian, anti-elite, traditional, self-sufficient America found a response among all those who felt fear for their future, for their way of life. Nationalist Trump put an end to globalization, directly calling the whole world a rival to the United States. But he also put an end to America's hypocrisy, hypocrisy above all in relation to itself. With the advent of Trump came the end of political correctness – to such an Esperanto universalists, who controlled, narrowed A substantial discussion to the eligible limits of the elite and discredited, outlawed all ideas that went beyond this framework, together with their authors. It was the most terrible censorship. Publicly labeling (remember the "Russian hackers"), she permanently withdrew from the game objectionable along with their ideas. By the way, Tocqueville warned about American ideological totalitarianism 150 years ago! However, the phenomenon of Donald Trump is not only the result of the rise of the conservative movement. In no less measure is the result of the failure of the left ideology in the United States. Becoming imperial universalists, the top democrats broke away from the middle class as their traditional base. The party has left Roosevelt's social liberalism for the oligarchic neoliberalism of the Clintons. However, now America, and the whole world, has returned to the situation that brought Roosevelt to power almost a hundred years ago. We are faced again with a systemic economic crisis and financial bubbles, glaring polarization and social discontent, and, most importantly, the prospect of a new redivision of the world and the need to concentrate national resources for a new race for world leadership. The historic choice facing America is: either, as it used to be Roosevelt, in order to maintain social stability and purchasing power to make the distribution of national wealth more equitable, to ensure a normal, meaningful life of a person in society, all the more E-atomized "Uber", where robots can soon leave millions of people without hope for the future, or there will be a revolutionary explosion – as in the Hollywood "Hunger Games". With America it already happened – the holiday of May 1 came to us after the shootings of the Chicago workers in 1886.No one of the issues on which the future of America depends can not be solved from the position of the conservatism that prevails today, which, on the contrary, implies a reduction in the role of the state, maximum freedom For business and the primacy of the interests of the individual over the interests of society, that is, leads the country into a dead end, to a social explosion. To solve the accumulated problems, a new stage of state regulation of the economy and a new social contract are needed at the level of those economic opportunities that the US really will remain. Therefore, the arrival of social liberals to power is inevitable, it is only a matter of time. But where does Trump come in? In order to build something new, the old must be broken. Trump is the destroyer of the old system, cutting off the cancerous outgrowth of her stiffened elite, liberating the political space for change. Any other, less radical, if not odious, politician would try to reform the system slowly and be this system digested and subordinated. Trump disavowed Washington – both Democrats and Republicans – as bearers of universal truth, provoking a vivid demonstration of their moral degradation and showing, That, in addition to American universalists, there are American nationalists, that is, American universalism is not universal. At the same time, Trump also destroys Atlantic solidarity, which for the self-sufficient America becomes unnecessary and costly. Progressive Democrats should be grateful to Trump for accelerating the sweep of the left flank of US policy from Clinton's rot, which the democrats themselves were afraid to touch. As the election campaign showed, from the left flank, from Sanders, it was simply impossible to break through the wall of politically correct, all-encompassing censorship. This could only be done by Trump – the one to whom labels, no matter how many hung them up, could not do any harm! Trump can still lose, but there will be no return to the status quo. He had already destroyed the treaty of elites, aggravated their confrontation, brought their war into public space, cut off everyone's way to retreat. Conservatives of his administration are already breaking down the obsolete social programs that the US economy no longer has resources for, unleashing the hands of those who will come after them with radically new decisions, which means that for the first time in many years, instead of the Republican and Democratic staging competition, we will see a real struggle of the rightists And leftists – conservatives and liberals. Both parties are rejuvenated and radicalized – they have already begun to return to their ideological roots – precisely on the basis of American national interests, and with an obvious bias on the social agenda. This struggle begins with local authorities and in 4-8 years will radically update the congress. It is worth noting that the priorities of the conservatives of Trump and the progressors of Sanders coincide in a number of key problems of America: the need for tax reform, the restriction of the power of financiers, the revival of the national economy, Electoral system. This gives us hope that a stable electoral majority in support of the left-liberal, Roosevelt policy in the domestic and foreign policy of tomorrow's America is not only possible, but practically inevitable. On the one hand, Trump is the leader of the conservative revolution of the departing Anglo-Saxon Protestant America. On the other hand, Trump is the accelerator of another revolution, much more fundamental. He inexorably breaks down the system, which restrains this revolution. The coming of the conservatives to power will force all those who disagree with them to return to the origins of American social progressivism. The conservative revolution from above opens the way for a liberal revolution from below. Thus, Trump, quite possibly without understanding and not wanting himself, accelerates the historical turn of America from Reagan's heirs to Roosevelt's heirs. The author, an assistant professor at the University of the Moscow Institute of International Relations, may not coincide with the position of the editorial board
USS John S. McCain collides with merchant ship near Strait of Malacca > Commander, U.S. 7th Fleet > Display
SOUTH CHINA SEA – The guided-missile destroyer USS John S. McCain (DDG 56) was involved in a collision with the merchant vessel Alnic MC while underway east of the Straits of Malacca and Singapore on Aug. 21. The collision was reported at 6:24 a.m. Japan,
U.S. Sailors Missing After Maritime Collision Off Singapore
The U.S. guided-missile destroyer USS John S. McCain sustained damage to its hull after a collision with the Liberian-flagged, Greek-owned oil tanker, Alnic MC. A U.S. Navy statement said that 10 U.S. sailors were missing and five were injured in the incident on August 21 in the Singapore Strait. The warship is named after U.S. Senator John McCain's father and grandfather, who were both admirals in the U.S. Navy. (Reuters)