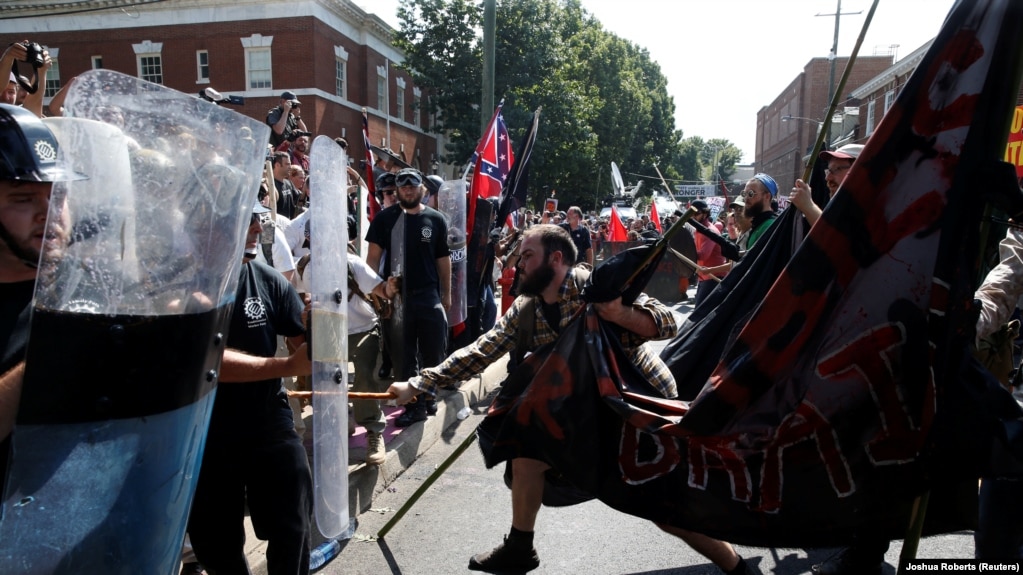 At some point, there is going to be a free-speech resistance to the current movement to ban neo-Nazi hate speech sites. 
This may result in two things, a legal decision and possibly legislation. 
We are seeing international movements to shutting down Neo-Nazi hate speech, but there are no legal precedents of which I am aware.  Another problem is the limitations. At what point will this wave of emotions reach a crest or a limit?  Is this historical revisionism gone wild? 
There is another problem, however. Which hate speech will be banned?  What are the limits? Neo-Nazi only?  BLM? Antifa? White Nationalist?  Aryan Nation?  KKK?  Stalin? Lenin? Fascism? Russian? Pol Pot? Mao? Falun Gong? Any party other than United Russia? 
Who will make the determination?  The Southern Poverty Law Center has a very leftist perspective, according to many experts. 
No matter the road before us, it is rife with legal, political, ethical, moral, and other problems and it is highly emotional. 
</end editorial>
---
---
A Russian web-hosting provider says it has suspended the Russian domain of the prominent U.S. neo-Nazi website Daily Stormer after the government's media regulator asked it to look into the site's "extremist content."
Ru-Center, a private Moscow-based domain registrar, told RFE/RL on August 17 that the company received an official letter from Roskomnadzor requesting that the company look into possibly suspending the domain Dailystormer.ru.
The Daily Stormer lost control of the Dailystormer.com domain earlier this week after Google and GoDaddy refused service to the publication.
The two domain registrars were responding to a social-media campaign against the website spawned by its attacks on a woman who died protesting against racism at a white-supremacist rally in Virginia over the weekend.
The Silicon Valley firms' decisions made the controversial website inaccessible on August 15, but by the morning of August 16, the Daily Stormer — which takes its name from Der Sturmer, a newspaper that published Nazi propaganda — was back online with the Russian domain name Dailystormer.ru.
The Russian domain was registered with Ru-Center on August 15, according to public records. But the site quickly became unavailable.
Ru-Center spokesman Yegor Timofeyev told RFE/RL in an e-mail that Roskomnadzor's letter asked the company "to look into [the] possibility of register suspension due to extremist content of this domain."
"So we decided to suspend [the] domain Dailystormer.ru," he said.
Roskomnadzor head Aleksandr Zharov confirmed in an August 17 statement that the agency had sent the letter to Ru-Center.
"Russian law has established a very strict regime for combatting any kind of extremism in the Internet," Zharov said.
He said that the agency appealed to Ru-Center "with a request to quickly examine the question" of canceling the Daily Stormer's Russian domain because the publication "propagates neo-Nazi ideology and stirs up racial, national, and other forms of social discord."
The Daily Stormer's publisher declared earlier that he has been "completely banned from the Internet" after the site briefly secured the Russian domain name and then disappeared again on August 16.
Andrew Anglin told The Associated Press that after being booted off platforms in the United States and Russia he could no longer find a place to air his white-supremacist views.
"Clearly, the powers that be believe that they have the ability to simply kick me off the Internet," Anglin told AP in an e-mail.
Anglin for a while kept up his inflammatory statements through the Russian domain, mocking Heather Heyer, the woman who was killed when a suspected Nazi sympathizer rammed his car into a crowd of demonstrators in Charlottesville, Virginia.
Anglin's original story called Heyer, among many other things, "the definition of uselessness," provoking an outraged response on social media.
Anglin told AP that he had been kicked off four domains and had run out of options since most domain registries explicitly ban "hate speech."
"They have effectively banned me from registering a domain," he told AP.
Also late on August 16, Twitter and Facebook said they had suspended accounts and removed websites linked to the Daily Stormer, which helped organize the rally in Charlottesville that resulted in Heyer's death.
With reporting by AP, Reuters, and Arstechnica.com
Source: https://www.rferl.org/a/u-s-neo-nazi-website-russian-domain-daily-stormer/28680409.html