Anonymous expert compilation, analysis, and reporting.
</end editorial>
---
---
Russians conduct amphibious assault exercise in Kaliningrad, likely to scare the Swedes and Finns who have exposed island territories in the Baltic Sea. More on Butusov's comments on invasion scenarios – will the Russians try for the Crimean corridor and extend to Transnistria, will they push for Kyiv, or both? Ukrainian Ministry for Temporary Occupied Territories and Internally Displaced Persons publishes a map of the range footprints of advanced Russian weapons deployed to Crimea, and as a bonus, do the same for Kaliningrad, the intent being to educate "some politicians and public figures in several European countries" – likely futile as Russian money is more important than unwanted facts. Notable is the long range SS-N-30 / 3M14 SLCM variant deployed on the Buyan-class corvettes, and the derivative SSC-7 / 9M728 Iskander K GLCM. Ukrainians also comment on Putin's drive to deploy long range A2/AD SAMs into Belarus. Lavrov issues warning to US govt not to meddle in Russian elections.
Russia's internal meltdown continues – multiple reports on Internet censorship, show trials, disappearances, economic decline and the mess made in Crimea. Kazakhstan reorganizes language education, and prioritizes English over Russian, as "90 percent of the information coming to us via Russia is simply a translation from English. And why shouldn't we get it from the original source? We are thus introducing English in order to reduce the influence of Russian."
Belarusian opposition comments on Zapad-2017 and the prospect of Russian occupation.
Multiple articles on lethal aid to Ukraine and Donbass war. Independence Day Parade 2017 intended to reclaim Ukrainian historical military heritage. Donbass fires continue. Very nice targeting RPV footage of artillery strike on Russian AAA emplacement – first shot to estimate drift error, second shot bullseye on DMPI. Russians reinforcing Donbass border with Rostov Oblast to prevent proxy force troops and locals from entering Russia. Military courts being reinstituted.
Israel starts construction of underground wall, 120 ft deep, to prevent tunnelling.
Much on the DPRK. Analyst Voloshin speculates that a deal could be made, trading Ukraine for the DPRK – this assumes Russia has more control over the situation than China. Chinese president calls POTUS but no readout as yet. Multiple articles proposing solutions to the situation. China may be reluctant to act as the hardliner camp agenda of not reunifying the Koreas and pushing the US out of Asia is well served by not facilitating regime change in Pyongyang, that is of course the only robust long term solution. India reinforces the border with China.
More on #SiemensGate, while Germany warns its police officers against traveling to Russia, following recent harassment incidents. POTUS publicly canvasses a military option for Venezuela.
SECDEF argues for AI. Sea trials imagery of new HMS Queen Elizabeth CV. Wilson challenges WW2 history. T-50 PAK-FA is now officially the Su-57.
Multiple interesting reports on cyber, and also GPS spoofing, noting that for inexplicable reasons the MSM are calling the transmission of bogus GPS spoofing radiofrequency signals  "cyberwarfare" – well if it is technical and too difficult to understand, then it must be  "cyberwarfare".
In the US, public attitudes on Russia shift dramatically, with 52% now favouring military intervention against Russia if it attacks the Baltic states, and 39% if it attacks Ukraine. More on Manafort.
---
Russia / Russophone Reports
---
Russia Holds Military Drills On Baltic Coast
Russia's navy held military drills on the Baltic Sea and along the shores of the Russian exclave of Kaliningrad. Soldiers practiced beach landings, as fighter jets and helicopters provided air support on August 10. The exercises at the Khmelevka military grounds involved over 2,000 troops, more than 20 vessels, and 100 military vehicles. (Russia Defense Ministry via Reuters)
Working out "invasion scenario": journo comments on movement of Russian military equipment along Ukraine border
The rotation and amassing of Russian troops at the borders with Ukraine are related to constant drills aimed at working out the scenario of the invasion of Ukraine, military expert and journalist Yuriy Butusov says, according to Obozrevatel. Russia has drawn conclusions from the events of 2014 and in the case of a "suitable political situation," they intend to act more promptly, Butusov told Obozrevatel. Commenting on the report by war journalist Andriy Tsaplienko on the unprecedented movement of military equipment toward Ukraine, Butusov said: "I think that the movements may be related to the fact that Russian troops conduct rotations and exercises on the border with Ukraine and are working out an invasion scenario." According to him, the army is an "instrument of influence," and "must be constantly prepared for certain situations." "For example, they are working out moves to counteract against Ukrainian actions or a version of certain offensive actions against Ukraine. To this end, they put their troops through constant drills and work out certain scenarios." "They have an offensive scenario for Donbas, and I think it's not only about Donbas but, judging by the amassing of the group, it's also about Kharkov region," the expert added. In this context, Butusov recalled the events that preceded the 2008 war in Georgia: "The year before, Russia conducted the Caucasus Frontier exercises to develop the amassing of forces on the border with Georgia so, when the war began, they had a worked-out plan, and a number of units carried out their task successfully. That's how they managed to organize an invasion quickly enough." According to the expert, the Kremlin learned its lessons from the events of 2014. Russian army has been reformed, aimed at ensuring that, as soon as there is a suitable political situation, "the invasion of Ukraine is carried out as promptly as possible." Read also Ukraine's General Staff speaks of threats of Russia's West-2017 drills At the same time, Butusov said that today he did not see any prerequisites for a large-scale offensive operation by Russia. "The units of the regular Russian army are on the territory of Ukraine, taking part in hostilities. Therefore, there is constant rotation: units come in and out of Ukraine. But the main efforts are related to the exercises in Belarus," he said.
Russian missiles from Crimea may reach Europe and Middle East – 11.08.2017 15:58 — Ukrinform News
Russia has equipped the ships of its Black Sea Fleet with Kalibr-NK missiles that have a range of about 2,500 kilometers. If the ships of this class are stationed in the annexed Crimea, such missiles may reach European countries, as well as the Middle East, North Africa, Western Asia and the Suez Canal, the press service of the Ukrainian Ministry for Temporary Occupied Territories and Internally Displaced Persons reported. "The Russian Federation has created in the Autonomous Republic of Crimea a militarized zone that is not accessible to international control and monitoring. Modern military armaments and military equipment continue to flow to the peninsula. According to the latest statements made by some politicians and public figures in several European countries, not everyone fully understands the nature and reality of a threat to the entire continent as a result of annexation and subsequent militarization of Crimea," the report says. According to the ministry, in December 2015, the Russian Black Sea Fleet was replenished by two small missile ships, the Zeleny Dol and the Serpukhov, equipped with Kalibr-NK missile systems. According to military experts and Russian media reports, these missile systems, using 3M14 (SS-N-27 Sizzler) missiles, allow them to hit targets at distances up to 2,500 kilometers. "In the conditions of the stationing of the ships of this class in Crimea, in the damage radius are European countries – from Romania to France and Scandinavian countries, as well as countries of the Middle East, North Africa, Western Asia and an important strategic object – the Suez Canal," the report says. The ministry also noted that Russia consciously relies on ships of this type, since the 1987 Intermediate-Range Nuclear Forces Treaty forbids the ground-based deployment of cruise missiles similar to 3M14s in terms of range, while a ship carrying such missiles is relatively inexpensive and enjoys the advantage of fire from the water areas, where it can be protected by coastal forces. "The Zeleny Dol and Serpukhov warships are currently part of the Russian Baltic Fleet, which makes it possible to use them within a circle with a radius of 2,500 kilometers, with a center in the Kaliningrad region. Almost all European countries, including Iceland, are in the danger zone. It should be noted that on this territory there are 20 nuclear power plants and 139 chemical enterprises of the European Union," the ministry said. It also recalled that on August 19, 2016, these ships, which at that time were part of the Russian Black Sea Fleet, carried out three missile strikes against Syria. The ministry said that Russia continues to exert military pressure on Europe to achieve political goals and creates a threat to the existence of peace not only in Ukraine, but also throughout the European region.
Putin's missiles in occupied Crimea able to hit targets across EU (Infographics)
A significant number of European countries are in the operational range of Russia's missile weapons, which the Kremlin deployed in the occupied Crimea, according to the infographics published by Ukraine's Ministry for Temporarily Occupied Territories and Internally Displaced Persons. News 11 August from UNIAN.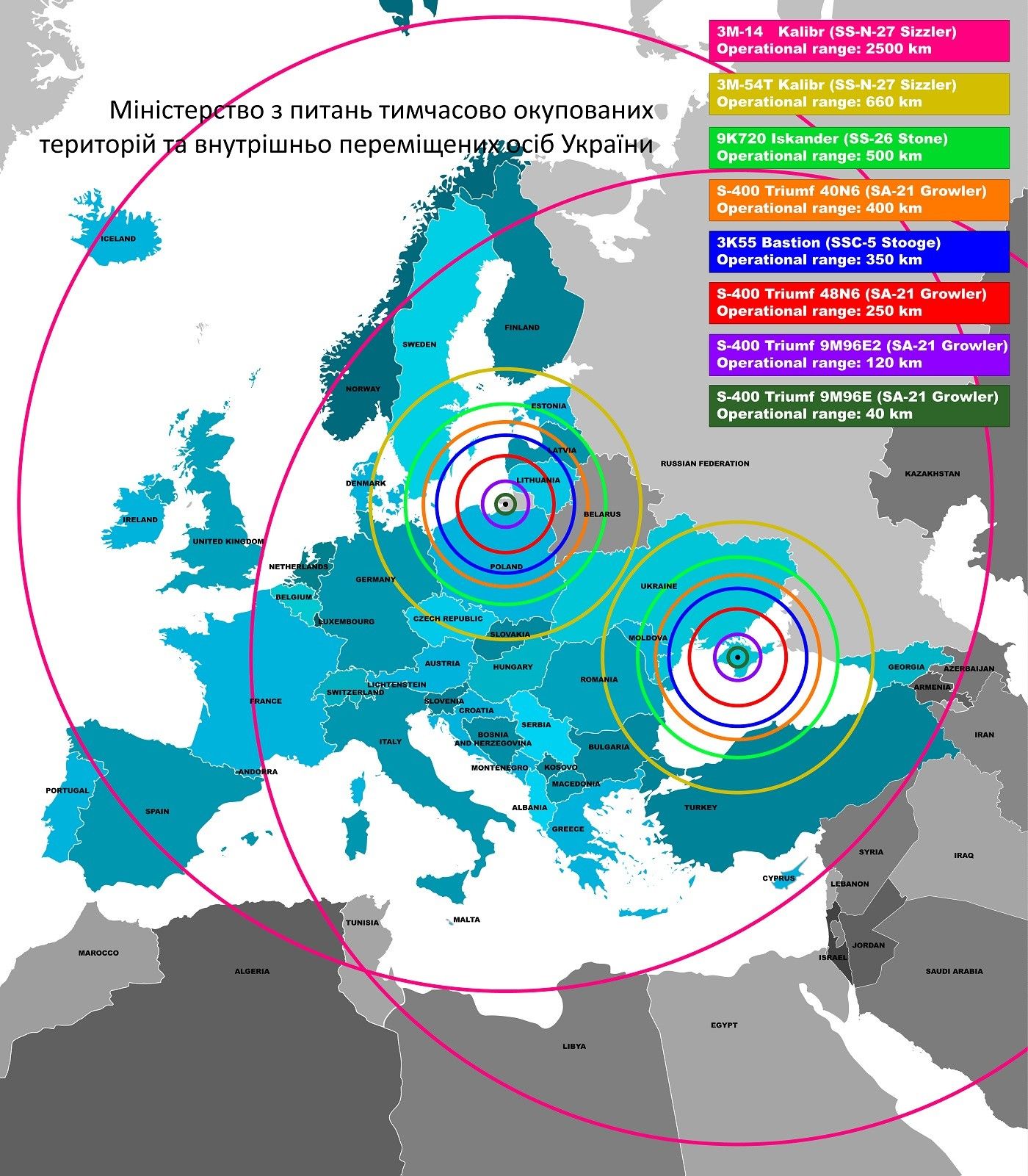 SS-N-30A (3M-14 Kalibr) | Missile Threat
Although commonly referred to as the Kalibr cruise missile in media reports, the SS-N-30A is in fact just one part of the larger Kalibr family of Russian sea-launched missiles, which includes the SS-N-27 (Sizzler) anti-ship cruise missile and the 91R anti-submarine missile. All three Kalibr missiles share common Kalibr vertical launch system (VLS) tubes, which are quickly becoming a mainstay of the Russian Navy's cruise missile launch capabilities. According the U.S. Office of Naval Intelligence, a "high ranking Russia defense industry official" said of Kalibr system in 2011.
SS-N-27 "Sizzler" | Missile Threat
Along with the rest of the Klub and Kalibr family of missiles, this anti-ship cruise missile began development in 1985 by Novator Experimental Design Bureau and was made available for export in 1997. NATO designated it the SS-N-27 "Sizzler" by NATO after it was first displayed in 1993. It has since been established that the SS-N-27A refers to the 3M54 version of the missile (three-stage propulsion) and that the SS-N-27B refers to the 3M54M1 version (two-stage propulsion). 1 The Sizzler's family of export variants is known as the "Klub" series. These include the submarine-launched Klub-S, which consists of the anti-ship 3M54E and 3M54E1 missiles. The Klub-N variants are surface ship-launched anti-ship missiles and include the 3M-54TE and the 3M54TE1. The Klub-A variant is air-launched and includes the anti-ship 3M54AE and the 3M54AE1. 2
R-500 / Iskander-K / SSC-7 GLCM
Some 9K723 Iskander-M units have received the 9M728 (SSC-7) cruise missile as an adjunct to the 9M723 short-range (500 kilometer) ballistic missile. Iskander-K (K stands for krylataya or "winged") 9M728 cruise missiles has a flight altitude up to 6 km, automatic adjustment in the way, following terrain relief in flight to a range of 500 km. R-500 is a cruise missile, based and evolved from RK-55 3M10 and 3M54 3M14, Kh-101 102 ALCMs. In 2006, OKB "Innovator" successfully carried out a series of tests 9M82MV missiles, and in 2007, as a result of successful launches of cruise missiles 9M728 (OCD "Iskander") made the decision to move in 2008 to the final stage of testing. The "Caliber" cruise missiles can be easily installed on the multi-purpose missile system "Iskander-M", without prejudice to the agreement on the reduction of intermediate and short range. The multi-purpose missile system "Iskander-M" managed to solve the problem of accommodation of a Unified Launch Installation (SPU) for a ballistic missiles with its own system of aiming and for a cruise missile with its data entry systems before launch. The first entry in the topic was the launcher, which was shown at MAKS in 2009 and named "9P78 version 2". The unit has a modified body – increased its height and probably length.
Iskander-M – 9M723 version for Russian armed forces. Range: published 415 km, rumoured 500 km. Flight altitude up to 6–50 km, stealth missile, controlled at all stages, not ballistic flight path. The intense maneuvering on takeoff and descent complicates prediction of target.[47] Missile constantly maneuvers during the flight.[22][48] Iskander-K (K stands for krylataya or "winged") – 9M728 cruise missiles, flight altitude up to 6 km, automatic adjustment in the way, follow of terrain relief in flight.[47] Range: 500 km.[49] R-500 is a cruise missile, based and evolved from 3M10 and 3M54 3M14, Kh-101 102 ALCMs. Currently the system includes 5 ballistic and 1 cruise missiles.
Slingshot redux: Russia's alleged ground-launched cruise missile | IISS
Thirty years after what appears to be its direct predecessor was banned as a result of the 1987 Intermediate-range Nuclear Forces (INF) Treaty, the United States claims that Russia has now deployed its first battalion of a ground-launched land-attack cruise missile (GLCM), breaching the three-decade old deal.
Russia Turns Crimea into Heavily Armed Military Base – YouTube
More news coming out of Russian occupied Crimea – Moscow has decided to create a militarized zone in Crimea. That would make an area of the peninsula inacces…
Ukraine to take appropriate measures if air defense systems deployed in Belarus – Defense Ministry – 11.08.2017 16:20 — Ukrinform News
Ukraine does not violate the air boundaries of neighboring states and does not give reason for using air defense systems.S pokesman for the Ukrainian Armed Forces Yuzef Venskovich said this to journalists, an Ukrinform correspondent reports. "We monitor every situation, and appropriate measures are being taken," he said. Venskovich noted that the Armed Forces of Ukraine did not violate the air boundaries of neighboring states, therefore, did not give reason for using air defense systems. As reported, Russian President Vladimir Putin has tabled in the State Duma a bill that will help Russia use its air defense systems on the borders of Belarus, in particular, with Ukraine.
Ukraine's Armed Forces on Putin's initiative: We follow the situation and take measures
11.08.17 15:11 – Ukraine's Armed Forces on Putin's initiative: We follow the situation and take measures Deputy PR head of the Armed Forces of Ukraine Yuzef Venskovych says Ukraine is following the situation regarding President Putin's initiative to use anti-air defense systems on borders of Belarus with EU and Ukraine, and will take measures. Venskovych told journalists on Friday, Censor.NET reports citing UNIAN. Commenting on the situation with possible deployment of anti-air defense systems on Belarus's border with Ukraine, he cited the Chief of the General Staff Viktor Muzhenko as saying that "any situation is being followed, and measures taken." Venskovych added that the Armed Forces of Ukraine do not violate borders of neighboring countries, i.e. they do not provide reasons for use of these means that might be deployed. "Our air forces act solely on Ukrainian territory," he said. As reported, on Aug. 10 Russian President Putin introduced a bill to State Duma that allows using anti-aircraft defense on Ukraine and Belarus border.
Russia's use of air defense systems in Belarus could trigger new sanctions – Roman Bezsmertny – 12.08.2017 12:37 — Ukrinform News
Putin's initiative for the State Duma to allow the use of air defense systems during conduct of Russian military exercises in Belarus is a violation of the fundamental international documents. Russia's deployment of air defense systems on the borders of Belarus with the European Union and Ukraine may trigger imposition of new sanctions on the aggressor country. Roman Bezsmertny, ex-representative of Ukraine in the political subgroup in the Trilateral Contact Group, said this on the air of Channel 5. "In fact, this step is a violation of the fundamental international documents that have been signed since Brezhnev, including Gorbachev, etc. We will find the relevant provisions in all these documents that prohibit such actions. Is this a reason for new sanctions? Yes, it, obviously, is," he said.
The Simulator Training Marines for World War III With Russia
Don't step on a bomb and don't give your number to a prostitute. These are just some of the lessons being taught for a potential fight with Moscow's men.
UAWire – US special representative for Ukraine Volker and Putin's aide Surkov to meet in the end of August
The meeting of US State Department Special Representative for Ukraine Kurt Volker and Russian Presidential Advisor Vladislav Surkov will take …
Russia's Targets Hit Back – Stratfor Worldview
Hybrid warfare is not a one-sided game — a lesson Moscow is learning the hard way.
UAWire – Latvia detects Russian warships and fighter jets near its borders
Several aircraft and ships of the Russian Armed Forces were seen near the borders of Latvia yesterday, August 9, the National Armed Forces of …
UAWire – Russia denies explosion mark findings on President Kaczynski's plane
The Polish state sub-commission conducting investigation into  the crash of President Lech Kaczyński's Tu-154M plane said that the wing wreckage  …
Russian foreign minister warns U.S. not to meddle in its elections
Sergei Lavrov puts U.S. embassy on notice ahead of Russian regional voting.
Russia's recovering economy fears US sanctions chill
Rising investment threatened by uncertainty over measures approved by Donald Trump
Window on Eurasia — New Series: FSB Demands Detailed Personal Information on Russians Using Social Networks
Paul Goble Staunton, August 11 – In its effort to gain control over social networks, an effort that is likely to fall short given various workarounds available to Internet savvy users, Russia's FSB is demanding that by next year, instant messenger services and social networks provide it with the kind of personal data that most people prefer to keep secret to avoid identity theft. The draft order (http://regulation.gov.ru/projects#npa=18013) which has been issued by the communications ministry and is slated to take effect next July will require these services to provide the following information about each user (meduza.io/en/feature/2017/08/11/here-s-exactly-what-kind-of-user-data-russia-s-federal-security-service-wants-from-registered-instant-messengers-and-social-networks):· User name · Full real name · Date of birth · Exact Address · Passport number · List of relatives · Friends list · Contacts list · List of all foreign languages spoken · Date and time of account's creation · Date and time of all communications · Full text of all communications · Full archives of all audio and video communications · All shared files · Records of all e-payments · Location for use of each service · IP address · Telephone number · Email address · Software used Such requirements are intended to send a chill through Russian social networks. And they will certainly discourage some from making use of these networks lest they fall victim to the powers that be. But more than that they will underscore the increasingly Orwellian nature of the Russian state under Vladimir Putin. The immediately interesting question is whether those in other countries will complain as much about this as they have about NSA's far less invasive procedures.
FSB demands detailed personal information on Russians using social networks | EUROMAIDAN PRESSEuromaidan Press |
In its effort to gain control over social networks, an effort that is likely to fall short given various workarounds available to Internet savvy users, Russia's Federal Security Service (FSB) is demanding that by next year, instant messenger services and social networks provide it with the kind of personal data that most people prefer to keep secret to avoid identity theft.
Here's exactly what kind of user data Russia's Federal Security Service wants from registered instant messengers and social networks — Meduza
Russia's Communications Ministry has published a draft order outlining the technical equipment "information distribution organizers" will be required to operate by July 2018, and the kinds of user data these "organizers" will have to share with the Federal Security Service. The mandatory requirements would apply to Russia's growing list of instant messengers and social networks, which so far includes Vkontakte, Odnoklassniki, Yandex, Rambler, Mail.ru, and recently Telegram and Snapchat. Beginning on July 1, 2018, these companies will be required by law to store all written and multimedia correspondence between users. In the image above, Meduza breaks down the full list of user data Russian federal police expect to receive from all registered "information distribution organizers."
Window on Eurasia — New Series: Moscow Secures 3,000 Additional Haj Slots for Russia's Muslims
Paul Goble Staunton, August 11 – In a remarkable display of the increasing political clout of Russia's Muslim community and also of Saudi desires to regularize the number of pilgrims from the Russian Federation, Moscow has secured a 3,000 person increase in the number of haj slots for the faithful this year. Now, the number of Russian hajis will be 23,500. Since the 1990s, the Saudis have set the annual Russian quota at 20,500, a figure that reflects Saudi estimates that there are 20.5 million Muslims in Russia. But except for brief periods after the onset of the economic crisis, Russia has sent far more hajis, in some cases as many as 40,000, on the pilgrimage ignoring the limit. In the past, the Russian authorities have argued for additional slots because of pent-up demand from the times when Soviet Muslims were not able to make the pilgrimage required of Muslims at least once in their lifetimes if possible. Now, Moscow is saying that it needs the slots just because so many want to go (ansar.ru/rfsng/hadzh-smogut-sovershit-235-tys-rossiyan). The Saudis have been trying to get a handle on the number of hajis. Last year, for example, they cut the quotas of all countries significantly. Russia's quota was set at 16,000. But Russia last year as before violated that limit and sent an acknowledged 17,000. The real number may well have been higher. Consequently, Riyadh may have agreed to the higher figure now in the hopes that the Russian authorities both civil and Islamic will work harder to keep the actual number of hajis within the Saudi limits. Another innovation this year is that the Saudis have introduced a special fee for anyone making the haj a second or third time. But remains unclear whether Moscow will help the Saudis to collect it or ignore Riyadh's request altogether. The Saudi-Moscow accord on the total number now sets the stage for fights over the allocation of slots among the predominantly Muslim regions of the Russian Federation. Traditionally, more than half of the hajis from Russia have come from the North Caucasus with a disproportionate number of them coming from Chechnya and Daghestan. That is likely to remain the same. But that is not the end of the story: there will be the question of which individuals and groups will be selected in each federal subject and whether the Russians will allow hajis from the Russian Federation to accept subsidies from outside groups. They have sometimes done so and sometimes not. Such subsidies have become critical in recent years because the price of going on the haj for Russia's Muslims has skyrocketed. Until 15 years ago, most hajis from Russia went by bus. But the wars in Iraq and Syria put paid to that, and now most must fly. If they don't get outside subsidies, they may not be able to afford to go especially in today's economic climate.
Saudi Arabia Increases Quota Of Russian Muslims Joining Hajj By 7,500
Saudi Arabia significantly increased the quota of Russian Muslims allowed to undertake the Hajj this year after learning of strong demand from Russians interested in making the pilgrimage, the head o…
Snapchat Registered With Russian Regulator 'Without Its Knowledge'
Snapchat's parent company says the U.S. messaging app has been registered with Russia's media regulator without its knowledge. According to an August 10 statement by Roskomnadzor, Snapcha…
Russian Court Sentences Ukrainian To 8 Years On Terror Charges
A court in Russia has sentenced a Ukrainian citizen to 8 years in prison on terrorism charges. The North Caucasus Regional Court on August 11 found Artur Panov guilty of planning a terrorist attac…
Desperate Mothers Of Missing Chechens Ask European Rights Groups For Help
The mothers of several missing Chechen men have turned to European rights groups for help in finding their sons amid fears that some may have been killed by authorities in the southern Russian region…
Another Flawed Extremism Verdict in Russia | Human Rights Watch
[[nid:307771 field_ne_alignment=center]] This week, a Moscow court found four members of the group For Responsible Government guilty of operating an "extremist organization" and handed down prison sentences ranging from three-and-a-half to four years.
Russian Journalist Sentenced To Prison On Extremism Charges – To Inform is to Influence
August 10, 2017 14:20 GMT Carl Schreck A Russian court has sentenced a journalist from a respected business daily to 3 1/2 years in prison after convicting him on extremism charges in a case denounced by rights activists and scores of fellow journalists. A Moscow court on August 10 found Aleksandr Sokolov, a special correspondent…
UAWire – Russian journalist sentenced to 3.5 years for investigating incomes of the high ranking officials
The Tverskoy District Court of Moscow sentenced Alexander Sokolov, a journalist of RosBusinessConsuilting Media group (RBC), to three and a half …
Russia sentences Ukraine's Panov to eight years in colony – LB.ua news portal
Russia sentences Ukraine's Panov to eight years in colony. It found him guilty of plotting a terror act in Rostov-on-Don. Political – LB.ua news portal. Latest from Ukraine and the world today
UAWire – Putin plans another visit to Crimea
Russian President Vladimir Putin is planning another visit to Crimea. According to Russian media group RBC, he will visit the peninsula August 18 …
UAWire – Russia introduces emergency administration in the largest Crimean bank due to insolvency
The Central Bank of Russia introduced a temporary administration in Genbank, one of the largest banks in the Crimea, as reported on the bank's …
UAWire – Crimean authorities are investigating why most of the generators on the peninsula are out of order
Vladimir Serov, Deputy Prime Minister of Kremlin-controlled Crimea, requested an official investigation into the fact that most of the diesel …
The Death of Stalin: From Russia, With Incompetence – To Inform is to Influence
This looks like a must see!  The trailer is below, released today. The Death of Stalin on IMDB In the midst of all the Russian tension, in view of Russian revisionism, this bit of comedy may be just what we need. I am quite certain that this film is going to be excoriated by the Russian…
Window on Eurasia — New Series: Kazakhstan Promoting English-Language Instruction to Reduce Dependence on Russian, Scholar Says
Paul Goble Staunton, August 11 – In an interview to the Kazakh-language newspaper Zhas Alash that is certain to raise hackles in Moscow, Erden Kazhybek, the director of Kazakhstan's Institute of Linguistics, says that his country is doing away with the notion of "Russian" schools and promoting English to lessen the country's dependence on Russian sources. The scholar says that in Kazakhstan all schools must be "Kazakh" on an analogy with other countries, including the Russian. And he adds that the move to Latin script will affect only the Kazakh language and not Chinese or Russian (365info.kz/2017/08/vse-shkoly-kazahstana-dolzhny-byt-kazahskimi-uchenyj). But that doesn't mean that those studying in schools where Russian or Chinese remains the language of instruction won't be affected by Latinization, Kazhybek says. The government plans to require that students in them study certain subjects in Kazakh and thus in the Latin script. Kazakhstan must "stop dividing schools of the country by language" as it has done since Soviet times. Instead, and the government has agreed, from this fall there will be only "Kazakh schools," even if there is "deepened instruction" in one of the foreign languages be it Russian, Chinese, or English. "There should not be a term 'Russian school'" any longer, the scholar says, because "in Russia there are no Russian schools just as there are no English schools in England or Chinese in China. All schools of Kazakhstan must be Kazakh schools." Doing otherwise is "an archaism," a survival of the past. "Today, the Kazakh language is not only the language of the Kazakh nation: it is the language of the entire state. And likewise, Kazakh culture is the achievement not only of the Kazakh people but the culture of this state. It is time to recognize that we are the state-forming nation." At present, he says, Kazakhstan is promoting instruction in English above all. The reason is simple: "90 percent of the information coming to us via Russia is simply a translation from English. And why shouldn't we get it from the original source? We are thus introducing English in order to reduce the influence of Russian." "We lose nothing from this; on the contrary, we gain a broader access to advanced information and new technologies," Kazhybek says.
More than 20 Russian regions now at third world levels economically | EUROMAIDAN PRESSEuromaidan Press |
According to official statistics, approximately every fourth subject of the Russian Federation has a GDP per capita that puts in on par with third world countries like Sudan, Nigeria, and Guatemala, and all of them are suffering as a result from rising crime and increasing interest in emigration. Among these failing places, which should be called "zones of national disasters," the Russian nationalist RNE portal says, are predominantly ethnic Russian areas like Bryansk, Ivanovo, Kirov, and Kurgan oblasts, Stavropol and Transbaikal krays, and non-Russian republics like Altay, Mordvinia, and Buryatia.
---
Belarus Reports
---
Alexei Arestovich: Putin To Establish Negotiating Stance By Occupying Belarus – Charter'97 :: News from Belarus – Belarusian News – Republic of Belarus – Minsk
The Russian Federation ruler will be looking for a way out of the deaf diplomatic deadlock at the West-2017 exercises. Russian troops seem to be surrounding Ukraine with carrying out their last maneuvers. The peak of this envelopment is mid-September. What will the Kremlin do in the future, why do they need it – is not known. But we can lay out some options, Ukrainian military expert Alexei Arestovich writes. The first one is a full-scale assault against Ukraine. The probability of this is small, but still exists, because Putin is raving, sanctions have driven him into a dead end. He either has to admit his defeat, or just slam the door and establish strong negotiating stance. Like, let's us bargain with the West, when we have a part of Ukraine under occupation. Lift the sanctions, and we will free Ukraine. The latest American sanctions have driven Putin into a dead end. The Russian presidential elections take place on March 18, and by March 1, US intelligence agencies will have published financial data on Putin's top executives and his entourage. All their criminal billion schemes may become known. Since the Congress adopted this decision, a countdown for Putin's regime has started. He should either admit the defeat, or to do his utmost. And the fact that the Russian troops have been set in motion does not look like admitting the defeat. This is no fewer than a platform for creating strong negotiating positions for bidding, or the attempts to do something in military respect. For example, to occupy Belarus, attack Ukraine. Or, the one and the other.
Zmitser Bandarenka: By Flirting With Lukashenka, West Undermines Its Own Security – Charter'97 :: News from Belarus – Belarusian News – Republic of Belarus – Minsk
Belarus and Russia's dictatorial regimes are a threat to neighboring countries. Politicians in a number of European countries are primarily interested in establishing trade relations, so when negotiating with Aliaksandr Lukashenka, they turn a blind eye to the authorities' repressions against Belarusian citizens, Zmitser Bandarenka, a coordinator of the European Belarus civil campaign, said in a commentary to the Gordon periodical. "If we talk about the threats from the West-2017 military exercises, we should pay attention to the fact that in recent years, the approaches of politicians and military to the situation in Belarus have varied a lot." Politicians of neighboring states have to deal with the Belarus state under Lukashenka's control, so they have to turn a blind eye on some things happening in our country, in particular, the repressions against the civil society, violation of human rights, absence of elections, illegality of Lukashenka's power. Foreign politicians try not to notice that, thinking about the trade," – Bandarenka says. He draws attention to the close ties between the armed forces of Belarus and Russia. "Now to the military. Last year, there was a NATO summit in Warsaw, and as a result, it was decided to deploy Alliance battalions in Poland and the Baltic countries, and to increase the presence of the American contingent in European countries. Western military proceed from the assumption that Belarus is an integral part of the Russian Federation military. For example, there is a joint group of air defense and other structures. So the attitude towards Lukashenka, who has supposedly become more liberal, is in contradiction with the concrete fact of conducting large scale military exercises together with the Russian Federation," – Bandarenka underlines. According to him, the "dictatorial regimes" of Belarus and Russia are a threat to neighboring countries. "The politicians, who used to call themselves Lukashenka's friends, face with the fact that the reality in Belarus is much tougher than they thought. While Lukashenka was being the best friends with President Poroshenko in Kiev, the Ukrainian Defense Minister announced a serious threat from the territory of Belarus during the West – 2017. Poland and the Baltic countries realize it as well. Democratic countries do not fight among themselves as a rule. But a dictatorial regime, in alignment with another, more powerful dictatorial regime, always carries a threat to its neighbors. This year, we have had most large-scale repressions since 2010, but no one is paying attention to that. Neighboring countries respond to the repressions in Belarus, only when they see a threat to their own security. Flirting with Lukashenka, the West undermines its own security," – Bandarenka sums up. The exercises West-2017 will be held from September 14 to September 20. Russian servicemen started arriving in Belarus on July 24. According to the Minister of Defense of Estonia, Margus Tsakhkhn, Russia can use West-2017 to deploy thousands of soldiers in Belarus as a warning to NATO. On June 30, Defense Minister Stepan Poltorak said at a meeting with NATO Secretary General Jens Stoltenberg that carrying out West-2017 exercises on the border with Ukraine is a threat to the state. The commander of the US ground forces in Europe, Lieutenant-General Ben Hodges, noted that the Russian-Belarussian exercises West-2017 could play the role of a "Trojan horse." On August 10, Russian President Vladimir Putin introduced to the State Duma a draft law on using air defense on the Belarusian border.
Putin Introduced State Duma Bill On Using Air Defense On Border Of Belarus And EU – Charter'97 :: News from Belarus – Belarusian News – Republic of Belarus – Minsk
The Russian president wants to amend the Russian – Belarusian agreement on joint protection of the border of February 3, 2009.
Another Ukrainian Museum Perpetuated Memory Of Belarusian Heroes – Charter'97 :: News from Belarus – Belarusian News – Republic of Belarus – Minsk
The collection of the local history museum of the city of Kamen-Kashirsky was joined by new exhibits of Belarusian volunteers.
---
Ukraine Reports
---
U.S. Considering Lethal Defensive Arms to Ukraine
U.S. President Donald Trump's administration is considering arming Ukraine with lethal defensive weapons that Kyiv could use against Russia-backed separatists. Opponents argue arming Ukraine risks escalating the conflict while supporters say better weapons would act as a deterrence to Russian aggression and give a psychological and political boost to Kyiv. The debate comes as Trump's new envoy on Ukraine, Kurt Volker, is to visit Russia soon. VOA's Daniel Schearf reports from Washington.
Ukraine's army digs in for long war in Debaltseve area (PHOTOS) | KyivPost
It's been over two years since Ukrainian troops retreated from the embattled city of Debaltseve after a month of fierce fighting against Russian-led forces back in February 2015. After the battle for the pre-war transport hub some 700 kilometers southeast of Kyiv, the front line in the Donbas stabilized roughly in its present-day position, and a new stage in Russia's war against Ukraine started – exhausting static warfare that has continued to this day, with no end in sight. Ukraine's forces continue to hold trench position near Debaltseve, which is still occupied by Russian's proxy forces. The soldiers of the 53rd Mechanized Brigade are positioned just a few kilometers northwest of Debaltseve, defending the towns and villages of the so-called Svitlodarsk Bulge just behind the front line. There, they beat back enemy attacks from behind heavily-fortified entrenchments, and shelter from enemy mortar and artillery shelling in dugouts. The soldiers live and fight in these positions for many months without leave, setting up their everyday housekeeping and сconsolidating the defensive lines. The logic of this stalemate war dictates that they use each and every chance to build up their defenses – and the enemy is doing so also. At an advanced observation point in the salient that stretches into the Russian-occupied zone, Ukrainians troops at night can see the lights of Debaltseve to the south – and dream of taking back the city, lost in a decisive battle of the war.
Okun Was 20 When He Sacrificed Himself To Defend Ukraine
They see themselves as soldiers in a war of independence, struggling to secure Ukraine's proper place in Europe.
Appointment of US Special Representative for Ukraine positive for war in Donbas -Euromaidan Press |
Willem Aldershoff America's freshly appointed "Special Representative for Ukraine Negotiations" Kurt Volker visited the war zone in East-Ukraine in late July. In the warn-torn village of Avdiyivka he made some remarkable statements: the conflict is not "frozen, but a hot war" and "it is America's main task to restore Ukraine's integrity and sovereignty."
Six things to watch for in Ukraine's Independence Day Parade 2017 -Euromaidan Press |
The Ukrainian Army is gradually moving away from its Soviet past and taking on the history and traditions of the Ukrainian army during the liberation movements of the 20th century. The many generations of fighters for Ukraine's freedom – from the UNR Army (Ukrainian National Republic declared on June 10, 1917) to the UPA (Ukrainian Insurgent Army created on October 14, 1942) – should be the cornerstone for a new Ukrainian army. Moreover, the soldiers themselves should realize that they are not heirs to some foreign Soviet system, but successors to the great struggle of the Army of the Ukrainian People's Republic, the Ukrainian State of Hetman Skoropadsky, the Ukrainian Insurgent Army and others. A rehearsal of the 2017 Independence Parade was held on August 4. Ukraine's military command announced six important events and innovations that will mark this year's parade.
March of the Armed Forces of Ukraine (2017) – YouTube
Fair use. Марш нової армії (2017) У патріотичній відео-нарізці використано пісню Марш нової армії, соліст Олег Скрипка, слова Олеся Бабія, відео нарізка наро…
Запорізький марш / Zaporizhian March / Запорожский марш / Marche Zaporogue – YouTube
Запорозький марш (Запорізький марш) — музичний твір сліпого бандуриста Євгена Адамцевича. Відомий в обробці та оркестровці Віктора Гуцала. Автором «Запорозьк…
Ukraine reports 20 enemy attacks, 1 KIA, 6 WIA's in last day
Russia's hybrid military forces attacked Ukrainian army positions in Donbas 20 times in the past 24 hours, with one Ukrainian soldier reported as killed in action (KIA) in a mine explosion and six as wounded in action (WIA), according to the press service of the Anti-Terrorist Operation (ATO) Headquarters. News 12 August from UNIAN.
Militants launched 20 attacks on Ukrainian troops in Donbas in last day – 12.08.2017 11:19 — Ukrinform News
Militants launched 20 attacks on positions of the Armed Forces of Ukraine in ATO area in Donbas over the past day.
Ukrainian positions in Donbas shelled by deadly Russian RPG-27 Tavolga
Positions of the Armed Forced of Ukraine (AFU) stationed near the village of Krymske, Luhansk sector, have been shelled with powerful Russia's RPG-27 Tavolga anti-tank grenade launchers, according to the Ukrainian military TV. News 11 August from UNIAN.
Enemy anti-aircraft system destroyed in Donbas thanks to UAV fire spotting
A video has been uploaded by the Ukrainian volunteer community showing pro-Russian militants' anti-aircraft gun destroyed in a direct hit by the Ukrainian artillery in Donbas. News 10 August from UNIAN. First flights of the newly delivered unmanned aerial vehicle yielded results and "delivered a punch at the teeth of the "lost" troops of the 'pseudo empire'" "This time the Ukrainian forces found a newly-established position where terrorists deployed an anti-aircraft gun for another evening shelling of the Armed Forces. One test shot, then spotting via a quadrocopter, and there goes a strike right on target," the caption to the video says. Read also Enemy Grad hits ATO forces in Shyrokine, Vodiane – HQ Earlier, volunteer Yuriy Mysyagin showed the destroyed position of militants at the Svetlodarsk Bulge.
Return ALive – at this time we offer a small video of the most recent. [VIDEO]
Russia reinforcing border with DPR, LPR in order to prevent militants from getting into its territory
Russia is reinforcing its border with Ukraine at a section bordering separate areas of Donetsk and Luhansk regions (ORDLO) uncontrolled by the government to prevent militants from getting into their territory, Head of the State Border Service of Ukraine Petro Tsyhykal said.
UNHCR: 700 schools and 150 hospitals damaged in Donbas – 12.08.2017 11:55 — Ukrinform News
Children in Donbas have limited access to education due to the security situation and damaged school buildings.
President Poroshenko: Ukrainian army gets 16,000 units of military equipment – 12.08.2017 12:18 — Ukrinform News
State Concern "Ukroboronprom" has produced 16,000 units of weaponry and military equipment for the Ukrainian army.
Additional payments for military on 1st and 2nd defense lines in ATO to increase in September, – Poroshenko
11.08.17 15:45 – Additional payments for military on 1st and 2nd defense lines in ATO to increase in September, – Poroshenko From September 2017, Ukrainian military serving on the 1st and 2nd defense lines in the anti-terrorist operation (AT) area in the Donbas will start receiving increased additional payments. View news.
UAWire – 5 officials from Ukrainian Ministry of Defense indicted on embezzlement
The Chief Military Prosecutor's office sent to court 7 indictments against 5 former and current Defense Ministry officials and 2 commercial …
UAWire – 7 officials detained in Ukraine over embezzlement of funds for construction of wall on Russian border
In Ukraine, seven people are suspected of embezzling 16.69 million hryvnia ($642,000) allocated for the European Wall Project on the country's …
UAWire – 2,500 soldiers from Ukraine and 14 countries will participate in the 'Rapid Trident 2017' exercises
More than 2,500 soldiers from Ukraine and 14 partner countries will take part in the international exercise "Rapid Trident-2017", which will …
Ukrainian marines participated in international Platinum Lion 2017 exercise in Bulgaria. PHOTOS
11.08.17 17:48 – Ukrainian marines participated in international Platinum Lion 2017 exercise in Bulgaria. PHOTOS Marines of the Navy of the Armed Forces of Ukraine took part in the multinational exercises Platinum Lion 2017 in the Republic of Bulgaria. View photo news.
NATO Helps Ukrainian Soldiers Work Through Post Traumatic Stress – YouTube
Post-Traumatic Stress affects soldiers serving in many different militaries in many different places. Ukrainians serving on the front lines in Donbas are no …
Three years of Estonian support for Ukraine. The story of Vaba Ukraina -Euromaidan Press |
Exactly three years ago, the Estonian NGO Vaba Ukraina was launched in order to assist Ukraine in repelling the Russian-led militants engulfing the east of the country in war. Over these three years, the NGO has steadfastly assisted the Ukrainian efforts to repel the aggressor – via charity concerts, organizing medical trainings, shipping medical supplies. How can an NGO in a small country far away care so much? "We have a common enemy, so support is a given," Sven Salumets told Euromaidan Press. "For the honor of Estonia and the freedom of Ukraine." Here is a very brief report on all the things that Vaba Ukraina has done for Ukraine -for which we thank our Estonian friends from the bottom of our hearts.
Ukraine to reinstate up to 14 military courts, their jurisdiction to embrace pardoning of Donbas war participants | KyivPost
A bill on reinstating military courts in Ukraine envisions the establishment of up to 14 garrison courts, a military appeals court, and a military chamber, Justice Col. Yuriy Bobrov of the legal support directorate at the Ukrainian armed forces general staff said. "A bill on reinstating military courts has already been drawn up. It envisions the establishment of about 12-14 garrison courts, a military appeals court, and a military chamber. It is also planned in the future to transfer the cases on pardoning members of illegal armed groups to the jurisdiction of military courts," the Ukrainian Defense Ministry quoted Bobrov as saying. Military courts act efficiently in more than 40 countries, including 12 European countries, it said.
Will Ukraine finally have a new judiciary? Explained by the Public Integrity Council -Euromaidan Press |
About a month is left until Ukraine makes the decision which will define its future for the next decades. The candidates to the new Supreme Court, the core judicial institution influencing processes in all the areas of life, have been selected. Opinions about this potential squad differ dramatically. Ukrainian President Petro Poroshenko and the High Qualification Commission of Judges who were responsible for selection praise the transparent process of the competition and claim that Ukrainian judiciary will finally be independent. However, the activists and the Public Integrity Council, the public body created to assist the High Qualification Commission to assess the professional ethics and integrity of judges, sound the alarm – too many candidates do not fit the criteria. This endangers the whole reform. Before the final list was released, Euromaidan Press published an interview with Serhiy Koziakov, the Head of the High Qualification Commission of Judges (HQCJ), representing the opinion of the body on the competition to the Supreme Court. Now, we also want to present the other side of the story – the competition and the results as seen by the activists and the Public Integrity Council (PIC).
Operation "Re-election": Poroshenko campaign to vow EU accession, no word on war end – media
The main thesis of Petro Poroshenko's election campaign will be the idea that as president of Ukraine he is "irreplaceable," according to Ukrainska Pravda, citing its sources in the presidential team. News 11 August from UNIAN.
US energy secretary's visit may spur privatization of Ukrainian oblenergos – media – LB.ua news portal
US energy secretary's visit may spur privatization of Ukrainian oblenergos – media. Richard Perry will visit Ukraine in the coming weeks. Main – LB.ua news portal. Latest from Ukraine and the world today
UAWire – Ukraine to seek legal assistance in the return of €15 million seized after Eurovision-2017
The Cabinet of Ministers has approved the acquisition of legal services by the Ministry of Justice for the return of the blocked financial …
Ukrainians turning away from Russia not only politically but culturally | EUROMAIDAN PRESS Euromaidan Press |
To no one's surprise, Moscow's aggression against Ukraine has alienated Ukrainians politically from the former imperial center; but more important but less noticed, it is increasingly leading them to turn away from Russia culturally, a development with far-reaching consequences that it may be impossible to reverse. In an essay for Radio Liberty, Elena Matusova says that researchers in a wide variety of areas have confirmed that "Ukraine is coming out from under the cultural influence of Russia" and thus is "becoming independent not only in a political and government sense but in a cultural one as well." The journalist rightly points out that Russia has been losing influence on the culture of Ukraine" since 1991 when Ukraine achieved its independence, but the process accelerated following the collapse of the pro-Moscow regime of Viktor Yanukovych and Moscow's annexation of Crimea and its continuing war in the Donbas. Viktor Mironenko, the director of the Center for Ukrainian Research at Moscow' Institute of Europe agrees. He notes that "the reduction in the role of Russia has occurred at all levels: political, economic and cultural" and he explains this by pointing to the rise of "a new generation of Ukrainians who live in a different reality which is neither Soviet nor Russian."
Story of Frants Brzhezytsky, last Ukrainian survivor of Majdanek concentration camp -Euromaidan Press |
The last surviving Ukrainian prisoner of Majdanek* concentration camp passed away in his native town of Zhytomyr on August 4, 2017. (*Majdanek was a German concentration and extermination camp built and operated by the SS on the outskirts of the city of Lublin during the German occupation of Poland in World War II)
Ryanair drops plans to serve Ukraine
SUCH has been the success of Ryanair, Europe's largest low-cost carrier, that the continent is now awash with towns and villages whose economies depend in no small part on access to its route network.
---
Russia / Iran / Syria / Iraq / OEF Reports
---
Why Israel Is Spending $800 Million on a Hidden New Wall
The Israeli army has revealed details of a wall in the planning since 2014.
Report: Libyan Strongman Haftar To Visit Moscow On August 12
Powerful Libyan military commander Khalifa Haftar is reportedly due to travel to Moscow on August 12. Lev Dengov, who heads Russia's Libya contact group, was quoted as saying on August 11 tha…
John McCain to force vote on new Afghanistan war strategy – Washington Times
Worried by the Trump administration's delay in announcing a military strategy for the war in Afghanistan, Sen. John McCain said Thursday he'll try to force the debate on Capitol Hill, offering his own plan that would force a troop increase.
---
DPRK / PRC / WESTPAC Reports
---
Window on Eurasia — New Series: Korean Crisis Seen Opening a Way for New Trump-Putin Rapprochement
Paul Goble Staunton, August 11 – Short of war, the largest fallout from the intensifying Korean crisis is likely to be a new rapprochement between Donald Trump and Vladimir Putin, according to a Ukrainian analyst, who suggests that under the cover of the threat of a nuclear conflict the US president and his Kremlin counterpart may do a deal at Ukraine's expense. In a commentary for Strana.ua, Oleg Voloshin says that Trump has signaled he still hopes for a big deal with Putin, condemning Congress for adopting new sanctions against Russia and praising Putin for saving the US government money by expelling American diplomats (strana.ua/articles/analysis/86711-krizis-otnoshenij-kndr-i-ssha-na-ruku-kremlju-kotoryj-hotov-prijti-na-pomoshch.html). Trump's second action is especially indicative. On the one hand, it highlights the contempt of the current administration for the diplomatic service whose members are viewed with distaste by many ordinary Americans who form the current American president's political base. On the other, Voloshin argues, it demonstrates that Trump has not given up on his fundamental idea that partnership with Moscow is something that would be good for the US and that he will use almost any development in the world to promote that idea both within his administration and more generally. In almost any other circumstances, no American president would dare praise a Kremlin leader for expelling US diplomats, but now, faced with the crisis in Korea, the situation has changed. "If Russia is viewed by its opponents as a threat to democracy and the existing world order, North Korea looks like a threat to the very existence of the US." And that creates a definite basis for expanding cooperation with Moscow as far as Trump is concerned, the Ukrainian analyst says. Russia's willingness to vote for a UN Security Council resolution imposing harsh sanctions on North Korea shows that Moscow is quite open to this possibility. More than that, this Russian vote "allows Trump to temporarily put off the imposition of new anti-Russian sanctions." Moreover, Voloshin continues, Moscow has shown itself willing to cooperate with the US in Syria, and "this allows the Trump command to make the argument that partnership with Moscow from a position of strength is more useful than the application of force (including economic) to punish Russia for past sins." All of this taken together, however, "doesn't mean that a total rapprochement between Moscow and Washington is possible," at least anytime soon. Their differences are too great for that, as one or the other would have to sacrifice things that are the core values of these respective regimes. But it does mean that Trump and Putin will be looking for places where they can make progress, and one of the most obvious is the pursuit of some kind of compromise on Ukraine. That is all the more likely given European pressures for an accord and given the Kremlin's ostensible "flexibility" on such issues. In short, Ukraine faces a situation very different from what is policy makers assume is the case. "Today there is no united front against Russia," Voloshin says. "Everyone is maneuvering and seeking points of contact. This by itself is a serious test" for Kyiv, and one more way that the Korean crisis is affecting outcomes in many other parts of the world.
Trump's tough-on-North Korea, toned-down-on-Russia Q&A session, annotated – The Washington Post
Everything he said, and what it meant.
Russia touts US-North Korea nuclear standoff solution with China to stop South Korea exercises, missile tests – CBS News
But the proposal calls for President Trump to call off long-scheduled joint U.S. military drills with South Korea
Beijing warns Pyongyang: You're on your own if you go after the United States – The Washington Post
China would still defend North Korea if Washington attacked first or tried regime change.
Chinese President calls for restraint over North Korea – CNNPolitics
Chinese President Xi Jinping called for restraint during a phone call Saturday with President Donald Trump over the escalating tensions with North Korea.
Donald Trump Is Giving North Korea Exactly What It Wants – The New York Times
Kim Jong-un needs a David versus Goliath narrative to justify his military program. Now he has it.
What Can North Korea Reach With Its Missiles? – The New York Times
North Korea's ballistic missile program has recently accelerated faster than expected.
How to Take Down Kim Jong Un – To Inform is to Influence
Stop saying there are no good options on North Korea. Here's how we can end the threat once and for all—without firing a shot. By Tom Malinowski July 24, 2017 At my Senate confirmation hearing a few years ago, I made a promise to the panel deciding my fate: never to use the phrase "there are…
How to Take Down Kim Jong Un – POLITICO Magazine
Stop saying there are no good options on North Korea. Here's how we can end the threat once and for all—without firing a shot.
James Stavridis | A plan for North Korea, before this spirals out of control – The Boston Globe
Think of it as two streams of danger approaching each other.
Deterring North Korea: The Next Nuclear-Tailoring Agenda
North Korea is marching toward full-fledged nuclear-armed status, having conducted its first test of intercontinental ballistic missile (ICBM) in early Jul
New York Times mocked for comparing threat of climate change and nuclear war | TheHill
The New York Times was mocked by social media users on Friday after the paper tweeted out a question asking which was the greater threat to Guam: a nuclear bomb threat from North Korea or climate change?
Former President Jimmy Carter releases statement on North Korea – Story | WAGA
Former United States President Jimmy Carter released a statement Thursday after the recent comments made back and forth between United States officials and North Korea.
Russia and Germany weigh in on North Korea war rhetoric | PBS NewsHour
Russia's foreign minister says the risk of a military conflict between the U.S. and North Korea is "very high," while Germany's chancellor says she doesn't see a military solution to the rising tensions.
Russia's Air Defenses on High Alert Over North Korea, Says Senator
The odds of a flawed launch are "high enough" to be on high readiness, Russia's ex-Senate Defense Committee chief said.
Tony Abbott and Kevin Rudd want Australia to develop a missile defence to protect against North Korea | Business Insider
Former Australian prime ministers Tony Abbott and Kevin Rudd believe its time for Australia to reevaluate its defences against nuclear-armed North Korea, following escalating tensions between the Hermit State and the US. Both former PMs — one Liberal, the other Labor — have called on the Turnbull government to develop a missile defence shield in response to North Korea's advancing nuclear program. "Of course we should be able to defend ourselves if they have missiles that can reach Australia," Abbott told Fairfax Media on Thursday. "We should be urgently investing in upgraded missile defences." His comments echo that made by Kevin Rudd last month when he also told Fairfax that Australia should be considering deploying such defence needs in northern Australia. Their calls for heightened defence measures come in response to the heated exchange between North Korea and US president Donald Trump. Trump issued a warning to North Korea on Tuesday, saying it was "best not make any more threats to the United States" or it would "be met with fire and fury like the world has never seen", to which the North responded by threatening strikes on Guam. While the Australian government has yet to indicate whether a missile defence system is being considered, foreign affairs minister Julie Bishop said on Wednesday that Australia was "not a primary target" for North Korea.
India adds troops in China border region | Fox News
India has deployed more troops along its eastern border with China as tensions continue to rise between the two countries over the long-disputed region of Doklam.
India Behaving Like Mature Power In Doklam Standoff With China: US Expert
India is "behaving like a mature power" in the Doklam standoff in the Sikkim section and making China look like an adolescent throwing a tamper tantrum, a top American defence expert has said.
India China Border Dispute: India pumping in more soldiers, weapons on entire eastern front | India News – Times of India
Sources said a top-level flag meeting between major-general rank officers from India and China was held at the Nathu La border personnel meeting (BPM) point in Sikkim for the first time on Friday, following failure of a similar meet between brigade commanders on August 8 to break the deadlock.
India Steps Up Alert Amid Heightened Tensions With China : The Two-Way : NPR
The neighbors have been in a weekslong dispute over Chinese road construction in the disputed region of Doklam. The plateau is claimed both by China and India's tiny ally, Bhutan.
Beijing Won't Let Indonesia's Chinese Burn Again | Foreign Policy
Beijing Won't Let Indonesia's Chinese Burn Again « | Foreign Policy | the Global Magazine of News and Ideas
Foreign Policy Reports
Siemens' Crimea sanctions break – a case of criminal negligence | #SiemensGate -Euromaidan Press |
Four gas turbines produced by German technogiant Siemens have been delivered to occupied Crimea in breach of EU sanctions. They are being installed in two power stations under construction. EU sanctions prohibit helping power the energy-reliant peninsula which Russia illegally annexed from Ukraine in 2014. Siemens says it has been duped by its Russian partners and the EU sanctioned three more Russian officials on Germany's initiative. But is Siemens really not guilty? Here are six facts indicating that Siemens knew its turbines are going to go to Crimea all along, from our investigation: How Siemens chose to ignore the obvious. An investigation into the Crimean sanctions break.
UAWire – Media: Authorities warn German policemen against visiting Russia
The Ministry of the Interior of the Federal State of Lower Saxony, located in the north of Germany, warned the local police about taking private …
UAWire – Polls shows that most Polish citizens support demanding reparations from Germany
Most Poles believe that Germany must pay compensation for the damage caused to Poland during World War II, as indicated by the results of a …
Trump Threatens Venezuela With Possible 'Military Option' | HuffPost
"The people are suffering and they are dying. We have many options for Venezuela including a possible military option if necessary."
With Trump 'Locked and Loaded,' Pence off to Latin America | Foreign Policy
With Trump 'Locked and Loaded,' Pence off to Latin America « | Foreign Policy | the Global Magazine of News and Ideas
Trump won't 'rule out a military option' in Venezuela – The Washington Post
As the crisis deepens in the country, the U.S. leader suggests getting involved.
Trump Warns of Potential U.S. 'Military Option' in Venezuela – Bloomberg
President Donald Trump said he's considering a military option in response to the political and economic crisis in Venezuela, raising the specter of a U.S. intervention in Latin America that could spread turmoil in the region.
Venezuela's hunted opposition magistrates flee by boat, on foot
Miguel Angel Martin says he knew he had to leave Venezuela when intelligence agents in black vehicles started tailing him, days after the opposition-run Congress named him a magistrate to an alternative Supreme Court in defiance of the government.
Peru Expels Venezuela Ambassador as Pressure on Maduro Grows | World News | US News
CARACAS, Venezuela (AP) — Venezuelan leader Nicolas Maduro said he wants a meeting with President Donald Trump, the same man he ridicules as a crass imperial magnate, as the U.S. weighs slapping crippling economic sanctions on his socialist administration.
Don't let democracy die in Venezuela – The Boston Globe
The US and its allies must quash an outrageous power grab in Venezuela.
---
Strategy / Capability Publications
---
Mattis: Pentagon should leverage artificial intelligence – Axios
The Pentagon isn't keeping up with the tech industry
SNAFU!: HMS Queen Elizabeth on sea trials
Ward Wilson | Russia Unveils First Stealth Fighter Jet Sukhoi-57 to Rival U.S. Military
The aircraft has another year of testing before units enter military service in 2019.
The Bomb Didn't Beat Japan … Stalin Did | Foreign Policy
Have 70 years of nuclear policy been based on a lie?
How Did Nazi Germany Respond to Allied Air Power?: Lethal Kamikazes | The National Interest Blog
German engineers developed new and unconventional methods of striking back at the enemy.
---
IW/IO/Cyber Reports
---
Russia-linked hackers targeted hotel guests across Europe: security firm
A cyber-spying group with suspected links to Russian military intelligence was probably behind a campaign targeting hotel guests in eight mostly European countries last month, researchers at security firm FireEye said on Friday.
Amid Washington Russia Frenzy, Kaspersky Faces Backlash | Foreign Policy
Amid Washington Russia Frenzy, Kaspersky Faces Backlash « | Foreign Policy | the Global Magazine of News and Ideas
The Morris Worm: Worms, Viruses, and Other Programmed Pests – To Inform is to Influence
Today, Eugene Spafford circulated an invitation to view a video he recently uploaded to the internet. Eugene Spafford is a legend in the cyber world. This video was released about six weeks after the Morris Worm was released by Robert Morris on November 2nd, 1988. It is a classic example of unintended consequences in the…
It's time for defensive worms – To Inform is to Influence
By Dave Aitel, Contributor, CSO | AUG 10, 2017 6:56 AM PT Sometimes your best defense is infectious… We're entering a new age of cybersecurity, where worms will be just as critical for defense as they are for offense. This is going to surprise many people in the security industry, who for many years have thought of worms as only…
Ukrainian police arrest suspect for spreading Petya malware | TheHill
Authorities in Ukraine arrested a 51-year-old man suspected of a criminal scheme that planned to take advantage of the chaos from a massive global malware attack. In a fast moving attack in June, the NotPetya malware caused massive damage to companies ranging from the Europe-based shipping giant Maersk to the American pharmaceutical firm Merrick and the Russian energy company Rosneft. Most of its victims, however, were located in Ukraine. It eventually emerged that NotPetya spread through a malware-laced update to Ukrainian tax accounting software, spreading to all computers connected to those networks worldwide. NotPetya encrypted files, ostensibly to charge victims for a key to decrypt them. But the decryption process did not work. In a press release, law enforcement said they arrested an unnamed resident of Nikopol, Ukraine, for allegedly offering copies of NotPetya to businesses looking for a excuse to lose potentially incriminating data. He also offered a video installation guide, authorities said. Police say around 400 businesses downloaded NotPetya from the arrested man.
Is Russia developing a GPS spoofing system? | Daily Mail Online
Speaking to New Scientist, experts have said that they think Russia has been carrying out the first documented use of GPS misdirection (stock image).
Ships fooled in GPS spoofing attack suggest Russian cyberweapon | New Scientist
A hack that manipulated the location of 20 ships in the Black Sea may be the first use of GPS spoofing, a form of cyberwarfare capable of widespread disruption
Todd Humphreys: How to fool a GPS | TED Talk | TED.com
Todd Humphreys forecasts the near-future of geolocation when millimeter-accurate GPS "dots" will enable you to find pin-point locations, index-search your physical possessions … or to track people without their knowledge. And the response to the sinister side of this technology may have unintended consequences of its own.
Research at the Radionavigation Laboratory
---
US Domestic Policy Reports
---
Recent US survey shows American public in favor of stronger sanctions on Russia -Euromaidan Press |
It appears the American Government' recent moves to toughen sanctions and penalize Russian Federation for its interference in US Presidential elections and continued aggression against Ukraine reflects the general public opinion of American people who in a recent poll carried out by New Chicago Council strongly favor not only maintaining the existing sanctions but consider it appropriate to raise the level and degree that would contain Moscow. The poll shows that a strong majority of Americans prefer toeing a tougher line over maintaining good relations with Russia. The survey revealed that 53 percent of Americans support an approach which should limit Russia's power, compared with 43 percent who are favor friendlier engagement. The poll figures of 2017 are a sharp reversal from last year when 58 percent of the respondents surveyed favored cooperative efforts. Also, more than 4 in 10 consider Russian influence in U.S. elections, a "critical threat" to the country.
Washington May Force Russia To Close Another Consulate
One of Russia's most important business dailies is saying that Washington will force Russia to close another consulate this year.
Trump Says Was Joking When Thanked Putin For Cutting U.S. Embassy Staff
U.S. President Donald Trump said he was joking when he thanked Russian President Vladimir Putin for ordering deep cuts in U.S. diplomatic staff in Russia in a move that saves the United States money….
Trump Thanks Putin For Ordering Expulsion Of Diplomats, Later Says It Was Sarcasm : NPR
After the Russian president moved to expel 755 U.S. staffers in response to sanctions, Trump said his administration needs to cut payroll anyway. A day later, he said he was being sarcastic.
Was Paul Manafort Flipped by the Russia Probe Special Counsel?
The president's former campaign manager told investigators about the now infamous Donald Trump Jr. meeting with the Russian lawyer in June 2016.
Paul Manafort Returns to the Center of the Russia Story | The New Yorker
Benjamin Wallace-Wells writes about the F.B.I. raid of Paul Manafort's home, and what it means for the ongoing investigation into Russian meddling in the election.
CNN: Manafort's Son-In-Law Gave Info, Documents To DOJ Investigators – Talking Points Memo
Democrats Renew Push to Probe Deutsche Bank Russia Scandal – Bloomberg
A handful of Democratic lawmakers have renewed their effort to get a powerful House Republican to investigate Deutsche Bank AG's loans to President Donald Trump and the bank's role in helping Russians move billions of dollars from Moscow to the west.
Marines Order Stand-Downs After Crash Deaths: What's Wrong? « Breaking Defense – Defense industry news, analysis and commentary
With 19 Marines killed in two aircraft crashes since July 10th, Marine Corps Commandant Robert Neller has ordered all aviation units to stand down for safety reviews. This summer's crashes come after months of rising accident rates, with a total of 22 deaths and 18 "Class A Mishaps" – incidents involving loss of life or $2 million in damages – since last spring, plus numerous lesser accidents. Neller didn't say what he thought was causing the problem, which has afflicted multiple types of aircraft all around the world. The deadliest crash, which killed 16 Marines on June 10th, occurred in Mississippi and involved one of the military's oldest aircraft, the propeller-driven KC-130 tanker/transport. But the most recent crash, which killed three Marines on August 5th, occurred in Australia and involved the much newer MV-22 Osprey, a helicopter-like tiltrotor. A previous stand-down last August was triggered by three crashes of aging F-18 Hornet fighter jets. House Armed Services chairman Mac Thornberry immediately blamed the deaths on a "readiness crisis." Thornberry and his allies have pushed to lift the spending caps created by the Budget Control Act of 2011, which they believe has dangerously shortchanged the military in multiple, interrelated areas: Insufficient funding for maintenance has left aircraft prone to breakdowns. Insufficient funding for training has left pilots out of practice. Insufficient funding for new equipment has left pilots flying aging, less safe aircraft like the KC-130 and the F-18C. With all three factors at work at once, the chance of fatal accidents increased exponentially.
WWII pilot laid to rest more than 70 years after being shot down in Germany
WWII veteran 2nd Lt. Charles E. Carlson's remains were finally laid to rest on Friday.