Yesterday I published a story about British national Benjamin Stimson being sentenced to more than five years in prison for fighting on behalf of the Russians in East Ukraine.
His friend Graham William Phillips is still at large.  When Phillips returns to the UK he will follow his compatriot's way straight to jail.
As a reminder, please allow me to reacquaint you with Graham William Phillips, in case you forgot.
On his Twitter account, @GrahamWP_UK, he describes himself as an Independent UK journalist. Therein lies the problem. He presents himself as neither independent, nor from the UK, nor as a journalist. He enjoys celebrity status with those associated with the Russian invasion of Ukraine. He liberally poses for pictures with Russian mercenaries, is presented Russian medals, and the stories he does publish, fully embrace a Russian perspective with nary an attempt at presenting all sides of the story, an opposing opinion, or the truth. In other words, if judged by a jury of his peers in the actual independent UK journalist community, he would be considered a shill, a sham artist, and a swindler. 
Graham William Phillips receiving a Russian medal.
Graham Phillips Network is notorious, so much so that it was written up as a graph. Note the Russian connections.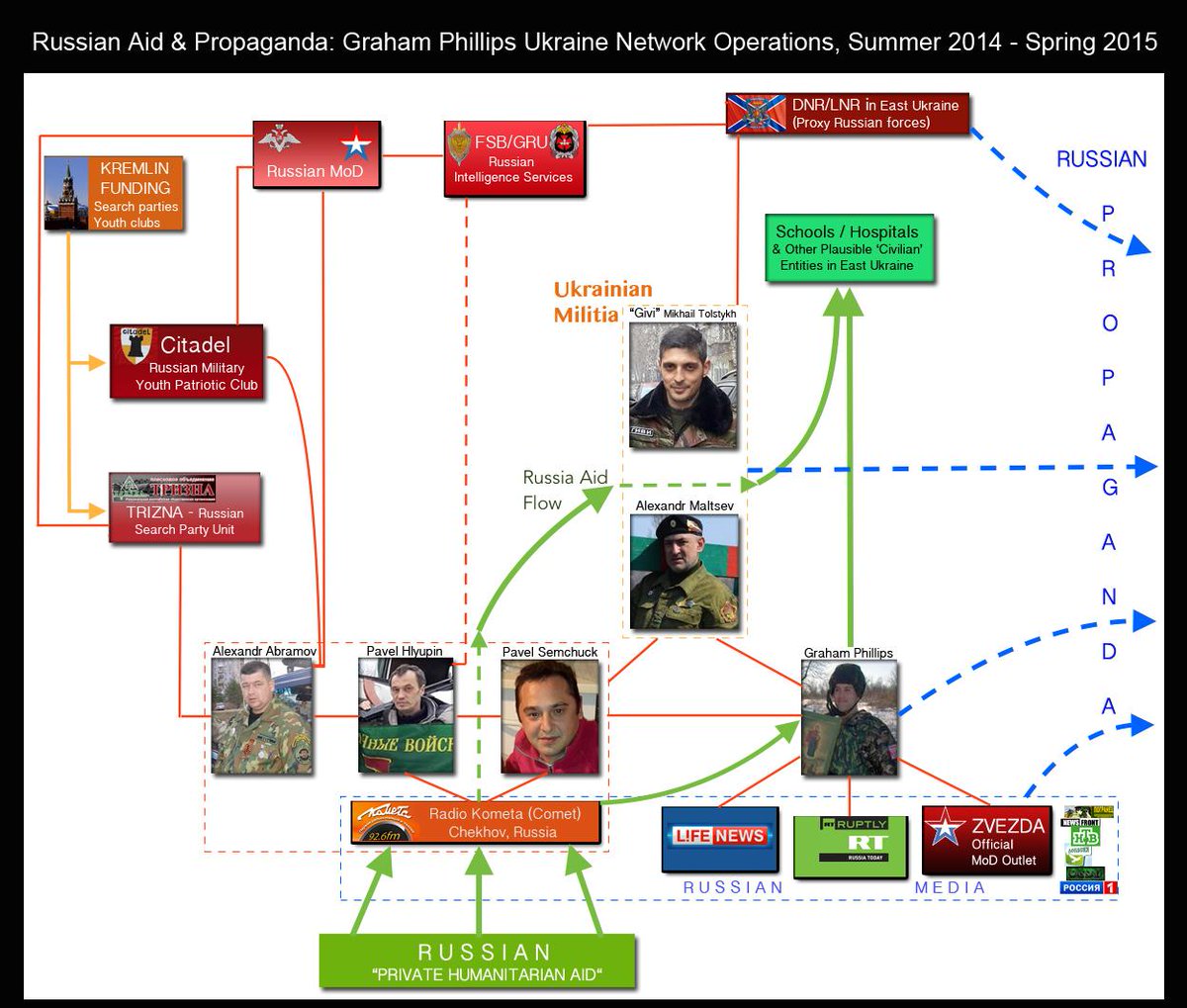 Graham Phillips drilling as a Russian soldier in East Ukraine
Graham Phillips weapons testing in East Ukraine
Graham Phillips weapons testing in East Ukraine by Russian sponsored soldiers.
Phillips received a Russian award for his work in East Ukraine.
Phillips receiving another Russian award for his actions in East Ukraine.
Graham Phillips wearing the insignia of Russian fighters in East Ukraine, training with a Russian weapon.
"Journalist" Graham Phillips posing with a Russian weapon in East Ukraine, surrounded by Russian sponsored soldiers.
Another Graham Phillips' Russian award.
Another Russian medal for Graham Phillips.
Another Russian medal being pinned on Graham Phillips.
Real journalists are condemning Graham Phillips' actions in East Ukraine.
A perfect example of Graham Williams Phillips' propaganda effort:
Journalists respect the dead, they do not go through their pockets.
Of course, Graham Phillips' response to another accusation was less than civil:
In case you want to contact him, here is his information.
Graham William Phillips
Born: January 26, 1979
Bank Account: Bank – Halifax 80-91-28 – Account – 00716272 – Graham Phillips.
Email: gwplondon@gmail.com
Mobile Phones (2011 info): 0966704932 (Киевстар), 0507500994 (МТС)
Skype: gwplondon / Skype Name: london.graham
Skype: Graham Phillips / Skype Name: grahamphillips
http://thetruthspeaker.co/
https://twitter.com/GrahamWP_UK
https://ua.linkedin.com/in/graham-william-phillips-26a00336
https://plus.google.com/u/0/+GrahamPhillipsFirstChannel/posts
https://www.youtube.com/user/gwplondon
https://www.facebook.com/GrahamWPUK
https://vk.com/grishawphillips
https://vk.com/graham_phillips
http://ok.ru/profile/565498701224
http://ok.ru/profile/578132208652
http://www.newsflare.com/profile/GrahamWP_UK
http://www.theclassifiedsplus.com/video/user/UCbwfUqs5Y6_jblWJwMIfRzA
https://gwplondon.wordpress.com/about/