Anonymous expert compilation, analysis, and reporting.
</end editorial>
---
---
Russian Deputy PM and Armaments minister Dimitry Rogozin wins today's COCW Award, for calling the Romanians "Gady" [гад i.e. reptiles / snakes / vermin / skunks / sods in Russian] and threatening retaliation, after Romanian ATC denied his flight access to Transnistria via Romanian airspace [Ukrainian airspace is off limits as he would be at risk of arrest]. Rogozin has threatened and insulted the Romanians before, so they were very restrained in simply telling him "get lost". Russia Direct closed down – well written propaganda evidently does not sell.  Shmulyevich and Akopov predict Russia will invade and annex Ukraine. Travin compares Putin's stagnation to that produced by Brezhnev, that lasted 20 years. Photoessay of wealthy Russian households is very revealing and illustrates the largest gap between rich and poor in any developed nation (NB many depicted servants are clearly ethnic minorities). More on Crimean power grid crash. Whitmore podcast on how Putin disenfranchised all ethnic minorities is very good.
Belarus details Russian units participating in Zapad-2017, while opposition complains about glow-in-the-dark mushrooms following boundary changes to previously quarantined Chernobyl fallout zones.
Moldovan reports dominated by the Romanians' ritual humiliation of Rogozin, and Dodon's ceaseless promotion of Russia, even more pronounced when he appears on Russian TV.
Malorossiya refuses to die.
No Ukrainian KIA yesterday despite 17 Russian attacks. Malcolm Rifkind sceptical of Ukraine's accession to NATO. Superb report by Fortune.com on "the millennials who started an epic flame war between Ukraine's and Russia's Twitter accounts". Ukraine to activate TV broadcasting into Crimea on Independence Day, August 24. New TUR (Aurochs) IFV proposed, based on uparmoured MT-LB hull. Iskra in Zaporozhiye announce full rate production of new Mandat / R-330 road mobile electronic warfare systems, and testing of new Counter Battery Radar (most likely updated 1L220U variant), as well as development of a new radar optimised for very low flying targets. Church Patriarch Filaret calls for unity against "Russian Aggressor". Latest addition to Ukraine's tourism industry – guided tours of ghost town Pripyat (Chernobyl) and neighbouring Duga 1 OTH-B, then the RVSN ICBM launch site at Pervomais'k in Mylolaiv Oblast – the WashPost article guarantees business will boom.
Iran dominates M.E. reporting.
DPRK reporting saturated by ICBM launch. SECSTATE fingers China and Russia as economic enablers of the DPRK. RoK accelerates its guided TBM program, and backpedals on THAAD restrictions. Beres discusses risks of accidental nuclear war. Elleman comments on the differences between Hwasong-14 tests. More on DPRK money making schemes. Smithsonian essay on Juche is excellent and thoroughly researched.
PLA test launches an ABM at night, and a Dutch 747 pilot produces some stellar photography. PLA test launches the HQ-16 (a VL derivative of the SA-11 GADFLY / SA-17 GRIZZLY systems). Sri Lanka leases the port of Hambantota to China, another pearl to the string.
EU's Juncker threatens retaliation over sanctions, Turkey and Venezuela reports of interest.
Ship-launched Long Range Anti-Ship Missile (LRASM) with Mk.114 booster finally tested.
Hulcoop et al on "tainted leaks". Half of Russia is being zombified by Kremlin TV.
US domestic debate remains dominated by sanctions and Russian meddling, more on Browder, while Gen. John Kelly replaces Priebus.
Russia / Russophone Reports
Putin decries 'anti-Russian hysteria' in US – CNN.com
Russian President Vladimir Putin said Thursday that he "very much regrets" the worsening of relations between Russia and the United States.
In Russia's Shadow, U.S. Military Bulks Up European Presence : NPR
Thousands of troops from 20 nations led by the U.S. have been carrying out essentially one-sided warfare for most of the past month in southeast Europe.
UAWire – Two Russians were convicted of illegally entering a Latvian military base
On July 27, the Latvian court issued a final judgment on case of two Russians who had infiltrated the Adazi military base, reported Mixnews.lv. …
Russia: Does Website Closure Indicate the Kremlin Is Feeling Economic Pinch? | EurasiaNet.org
It seems that Russia's economic troubles may be starting to hinder the Kremlin's use of electronic media to push its agenda.  With little fanfare, the Moscow-backed media outlet Russia Direct ceased operations this past March. Founded in 2013 and funded by the official government newspaper Rossiyskaya Gazeta, Russia Direct, according to former editor-in-chief Pavel Koshkin, strove for a more balanced, analytical approach than other Russian outlets, such as RT or Sputnik. "Russia Direct was launched four years ago as an attempt to create a platform for dialogue between Russia and the US," Koshkin told EurasiaNet.org, adding that the outlet "sought to build bridges between Russian and American expert communities and create a place that could convert these two monologues into one dialogue." "Ostensibly, the budgetary considerations and funding issues were the key and first reason [for the outlet's closure]," Koshkin added. "Probably, it was both money and politics." Where RT or Sputnik sometimes rely on conspiracy theorists and fringe voices to push narratives friendly to Moscow, Russia Direct emphasized more well-sourced analysis. As a 2016 article from The Washington Post noted, Russia Direct "has nothing like the Moscow-centric slant of the outlets usually associated with Kremlin propaganda," adding that each piece featured on Russia Direct "comes with a box directing the reader to another story that presents an alternative – if not always opposing – point of view." Still, despite the site's clean copy and analytical framework, those familiar with the Kremlin's English-language operations perceived Russia Direct to be another tool in Russian attempts to influence foreign audiences. "The Kremlin propaganda machine tailors its messages to its audiences," Robert Orttung, an assistant director of George Washington University's Institute for European, Russian, and Eurasian Studies and researcher who has written extensively about Russian media, told EurasiaNet.org. "Russia Direct focuse[d] on the Russia-expert audience, and provided a more sophisticated form of propaganda for audiences that are well informed about what is going on in Russia," Orttung added. "This is a relatively small audience and one that potentially could be influential in shaping the way people think about Russia." The outlet's closure comes at a time of flux for Russian state-supported media outlets. The Russian economy has been in the doldrums since global energy prices nosedived a couple of years ago. Russia registered ever-so-slight growth during the first half of 2017, but the country's "growth projections remain sensitive to oil prices," according to a World Bank report on the Russian economy. The lack of energy export revenue, in turn, is apparently forcing the Kremlin to make tough choices concerning its media campaign. Budgetary concerns aside, Kremlin-backed media outlets are starting to face much more international scrutiny and bad publicity. RT, for instance, has remained the focus of investigators examining Moscow's role in the recent presidential election, while Sputnik – which has expanded into Washington's radio market – experienced a publicly acrimonious split from its former White House correspondent earlier this year. The circumstances surrounding Russia Direct's closure are murky. According to the site's final post, written by Koshkin, Rossiyskaya Gazeta ended its financial support for the outlet in January. Rossiskaya Gazeta further barred a third party from taking over Russia Direct, with Koshkin writing that "a representative of [Rossiyskaya Gazeta] made it clear that the fact that Russia Direct was financially supported by Rossiyskaya Gazeta in 2013-2016 prevents any independent individual or organization from taking it over." For now, Russia Direct's content remains accessible on the web. Given Moscow's budgetary constraints, "it is not surprising that these outlets are facing cutbacks," Orttung added. Koshkin, meanwhile, is left wondering what might have been. "My goal was to make Russia Direct fully independent, yet this expectation didn't come true," he said.
Unlike the United States, Russia has few genuine allies. The handful of countries that enter Moscow-led organizations or engage in joint military exercises are either intimidated or enticed to participate. Washington needs to take a closer look at these fragile alliances to see where it can develop ties with countries that seek closer Western links and diminish Russia's onslaught on their sovereignty. Moscow projects its regional power through two main organizations – the Eurasian Economic Union (EEU) and the Collective Security Treaty Organization (CSTO). The EEU includes five states (Russia, Armenia, Belarus, Kazakhstan and Kyrgyzstan) and is depicted as an alternative to the EU. Its real purpose is to prevent neighbors from qualifying for the EU while intensifying Russia's economic dominance. The CSTO consists of six members (Russia, Armenia, Belarus, Kazakhstan, Kyrgyzstan and Tajikistan) and is portrayed by the Kremlin as an equivalent to NATO. Azerbaijan and Georgia withdrew from this body, as its actual goals are to increase Russia's military presence and prevent members from moving closer to the Alliance. Even current CSTO members remain wary of being trapped in a collective defense arrangement that would permit Moscow to station troops on their soil. After witnessing Russia's "brotherly assistance" to Ukraine and Georgia, three European countries – Belarus, Armenia and Azerbaijan — are now on the front line defending their sovereignty. In the economic realm, they are steadily reorienting toward China and other markets as Russia's economy steadily deteriorates. The United States and the EU have an opportunity to expand trade and investment links with all three states and help wean them away from dependence on Moscow.
Window on Eurasia — New Series: Putin Preparing to Reprise Stalin's Winter War in Finland Strategy Against Ukraine, Shmulyevich Says
Paul Goble Staunton, July 28 – One of the most important features of Moscow's behavior but one that at the same time Western leaders typically fail to recognize and incorporate in their responses is that the Kremlin employs regularly employs the same strategy and tactics again and again albeit in new times and in new locations. Indeed, it all too often seems to be the case that Russia's relationship with the West is best captured by what was said of the Bourbons two centuries ago: the Russians have never forgotten anything that they have done before and the West has never learned anything from that all too obvious and heinous historical record. That makes analyses which draw a parallel between what the Russian Empire and the Soviet Union did in the past with what Putin is doing now especially valuable because if the West recognizes the first steps of what is likely Moscow's strategy, it will be in a far better position to counter it. Avraam Shmulyevich, an Israeli analyst, provides just such an important insight in Tallinn's Postimees newspaper in which he suggests that the recent proclamation by Moscow's agents in Ukraine of plans to create the state of Malorossiya has some disturbing parallels with Soviet actions against Finland in the Winter War of 1940 (rus.postimees.ee/4192241/avraam-shmulevich-budet-li-nato-umirat-za-narvu-neyasno-za-ukrainu-ne-budet-tochno). This is something that at least some Ukrainian officials understand, Shmulyevich says, because they recognize that "Russia has frequently used such a scheme in the past," most prominently in the case of the Winter War. Now, he and they think, there is a strong possibility of another "Winter War" action but this time against Ukraine and in the summer. In 1940, "Stalin declared that a communist uprising against 'the Whites' had occurred." It then announced "the formation of 'the Finnish Democratic Republic,' headed by Finnish communist Otto Kukusinen." This republic, like Malorossiya, was "proclaimed on Finnish territories occupied by Soviet forces. "The USSR recognized it and to assist 'the Finnish brothers,' the Red Army launched an attack along the entire front from the Gulf of Finland to the Barents Sea," Shmulyevich reminds. Earlier, during the Russian Civil War, Moscow used a similar tactic against Ukraine and Georgia, ultimately incorporating them into the Soviet Union. Now, "the Donets Army created by Moscow is again trying to liquidate the independence of Ukraine," the Israeli analyst says. And "in exactly the same way." And that must be a matter of concern because in all previous cases, "when Moscow applied this strategy, the West did not provide real military and even diplomatic help to the independent states which had become the victim of Russian aggression." "Three Russian divisions were recently brought up to [Ukraine's] borders," and the question arises: "What could stop Putin from a full-scale attack?" NATO countries "certainly do not want to intervene militarily. [And] even the answer to the question 'Will NATO die for Narva?" up to now is not clear." But what is clear, Shmulyevich says, is that the Western alliance will not intervene on Ukraine's behalf not least because Ukraine is not a member of NATO. Moreover, its forces are much reduced from two decades ago, and the alliance would need "a minimum of 14 to 18 days" to introduce forces. "By that time, Russian forces would reach the Dnipr." Consequently, he continues, "even if NATO would like to intervene, it would not be able to stop the advance of the Russians." It might introduce more sanctions but that won't frighten the Kremlin or stop the Russian advance. Given that Kyiv is only about 300 kilometers from the Russian border, such a strike could allow Moscow to install a comprador regime there. "Putin – and he has said this himself – has an idee fixe about the restoration of the borders of the USSR," just as "his idol Stalin had a dream about the restoration of the borders of the Russian Empire of 1914." And thus "Malorossiya" should "disturb not only Ukrainians but all the neighbors of the Russian Federation." An article in the Moscow newspaper Vzglyad, Shmulyevich says, suggests what may be ahead and against which Ukrainians will have to fight with relatively few allies unless the scope of the danger is recognized in Western capitals and a more forceful policy is articulated and put in place. In that article, ominously titled 'Ukraine is Fated Again to Become Malorossiya," the author says that "Russia is conducting a struggle for Ukraine not with the West … [but] with Kyiv. No one knows how much time it will take to transform Ukraine into Malorossiya – three years, five or even ten. But it inevitably will become Malorossiya and htne part of a single Great Russia" (vz.ru/politics/2017/7/18/879201.html). Shmulyevich notes "history warns that the essence of the Russian Empire hasn't changed … Whether the proclamation of 'Malorossiya' will be the beginning of the realization of the tested old scenario of imperial expansion depends in the first instance on whether the states under threat … can mobilize and mobilize the support of the free world." In the first Winter War, the Finns supported by volunteers from Estonia and other countries fought the Soviet Union to a draw; in the second, Shmulyevich concludes, whose first "shots" have already been fired, the Ukrainians are likely to be forced to try to achieve the same outcome in the same way.
UAWire – Russian Ministry of Defense: Massive rearmament of Russian Army and Navy is underway
In April to June, 2017, defense industry enterprises supplied over six hundred new models of military and special equipment to Russian troops, said Sergei Shoygu, the Minister of Defense of the Russian Federation during "the Single Day for Military Goods Acceptance" event. "So far, 34.2% of the state defense order has been fulfilled with the delivery of new arms and 42.2% of the order has been fulfilled for repairs, which indicates satisfactory rates of smooth production flow of the defense industry enterprises," the Press Service of the Ministry of Defense quotes Shoygu as saying. Over the past quarter, Russian naval forces received 60 Kalibr cruise missiles, which are used by the Navy to strike at the positions of the Islamic State in Syria. Russian navy also received a Sovershennyy corvette, which was officially included in the Pacific Fleet on July 20, as well as two raid boats and the heavy duty floating stage for Borey-class submarines. During the same period, 11 planes and 6 helicopters of various classes and purposes were assigned to military pilots. On Wednesday, July 26, the Press Service of the Russian Helicopters Holding reported on the pre-scheduled transfer of six Mi-8MTV-5-1 military transport helicopters to the Ministry of Defense of Russian Federation. The troops received nine radar stations of various modifications and a brigade set of the Iskander-M short-range ballistic missile system, as well as a significant number of armored combat vehicles. "In the second quarter, the military representative offices received 35 new tanks and 155 refurbished tanks and armored combat vehicles from industrial enterprises," said Yuriy Borisov, the Deputy Minister of Defense of the Russian Federation, as quoted by RIA Novosti. In the first half of 2017, almost 60% of the state defense orders allocated for capital construction had been spent for this purpose. According to Shoygu, the main efforts were focused on the construction of special purpose facilities, which allowed the timely commissioning of facilities for the new weapons and for military equipment deployment. "The reconstruction of the home stations, stationary and mobile Yars strategic missile complexes, the airfield network facilities, the berthage and the landfill base continues. Housing for servicemen as well as medical and sanatorium facilities is being built," Shoygu concluded.
Window on Eurasia — New Series: Like Brezhnev's, Putin's Stagnation Could Last Decades but End in a New 1991, Travin Says
Paul Goble Staunton, July 28 – Continuing low growth or even complete stagnation in Russia will lead to dissatisfaction and growing apathy just as they did in Soviet times under Leonid Brezhnev, Dmitry Travin says. But in the absence of foreign or domestic shocks, these feelings are unlikely to prevent Vladimir Putin from remaining power for decades. In an interview with Galina Ostaapovets of Kyiv's Delovaya stolitsa, the St. Petersburg University economist says that this prediction is based on the fact that "in Russia politics is not directly connected with economics" (dsnews.ua/economics/-pochemu-putinskiy-rezhim-prosushchestvuet-do-2042-go-goda–26072017220000). Even though without reform, poverty and income inequality will continue to increase and the regions will have ever less month, he argues, but "the system could exist for a very long time, and in 2042, Putin would be 90" and could easily still be alive and in power in much the same way that Brezhnev remained in power "from the mid-1960s to the mid-1980s." Russians should remember, Travin continues, that Brezhnev's Soviet Unioin "was a country in which it was possible to live but it did not develop. And all the problems which existed at the start of the Brezhnev period were handed over to Gorbachev at its end. Nothing was decided, not a single problem." And today, he argues, "we have approximately the same situation, with only one difference: there is not the same deficit of goods, one can buy everything, and there is a market economy." But without development, the situation could end just as it did for Brezhnev's system, first with feverish efforts to reform and then with collapse and disintegration. "The Union collapsed when people in various regions felt that it was time to take power into their own hands because Moscow was blocking development." And there were enormous hopes that all regions and republics could replicate the success which the three Baltic countries seemed to promise. Now, "if the country will stagnate for many years, then the Russian leadership will find it difficult to struggle with the desire of particular elites and political forces to resolve [these problems] on their own." The country could come apart not into the existing oblasts but in ways that today are not predictable. Obviously, a new wave of disintegration would be tragic for many, especially if Moscow does not take care to plan for it because in that event "the collapse will occur with revolution and blood." No imperial demise is easy and most are not pretty for most of those involved, the economist says. Putin, Travin points out, is "an experienced manipulator." He has suppressed the opposition and even though he has driven the economy into stagnation, his regime could last for a very long time. But there are factors, both domestic and foreign, that could change that in rapid and unpredictable ways. Even now, the economist continues, "there is a strong opposition movement in Russia," and in five years, Aleksey Navalny could present a real challenge to Putin. "If oil prices fall significantly, then the economy could shift from stagnation to recession and then suffering in particular regions would be so strong that mass resistance would emerge." Again, the Brezhnev era is instructive, he argues. At home, "people then lived badly but over the course of 20 years there were no sharp declines. That is the way it is now: if things will be bad but without sharp worsening, then the regime can exist for a long time. But if suddenly that changes, then there could be problems." Young people aren't going to continue to support a regime that promises them now future, Travin says; but he adds that "from this it doesn't follow that young people will be able to overthrow the regime." Russia lacks the conditions for a Maidan. People may protest but this will either end in nothing or with mass arrests. The situation abroad will also play a critical role. Now, Putin uses the problems in Ukraine as the basis for generating support at home for himself. But if Ukraine proves successful, then "Putin will not have any arguments" in that regard. However, "if there will be a permanent crisis in Ukraine, that will be the best possible support for Putin." The same thing is true of the impact of the West. If Western countries can solve their problems and develop rapidly and in a stable fashion, "the Putin system may exist for a long time, but it will be impossible to reproduce itself permanently … But if the world around will be in crisis, then leaders like Putin will be produced continually – Putin I, Putin II" and so on. Nonetheless, Travin says, "even if the Putin regime exists until 2042, this will be the last authoritarian personalist regime in Russia. It will be very difficult to come up with some new Putin." But if Ukraine and the West are in crisis then too, "a new Putin could easily emerge" and the system continue. After Putin, Russia is likely to begin democratization, "but it is not obligatory that it will be successful. It could follow the scenario" of the successful Central and East European countries "or it could follow the scenario of Ukraine, where the crisis unfortunately has lasted longer than it did in Poland, Czechoslovakia or Estonia." "I fear," Travin concludes, "that Russia will be closer to the Ukrainian scenario," although he expresses the hope that Ukraine "will develop well and will catch up with the countries of Central and Eastern Europe. Then Russia too will choose the European example in all senses of the word."
Window on Eurasia — New Series: Paragraph 282 Becoming Article 58 of Putin's Time
Paul Goble Staunton, July 28 – Fifteen years ago this week, Vladimir Putin signed the law "On opposing extremist activity," a measure that is now Paragraph 282 of the Russian Criminal Code and one that as amended and applied over the years has become almost as terrifying as the notorious Article 58 that Stalin used against all and sundry to fill the GULAG. Initially, Yekaterina Bogdanova of the 7×7 news agency says, many human rights activists were skeptical of the measure but did not "massively criticize it" because it appeared to include certain protections. But those have been ignored by the regime and the courts and the constitutional rights of Russians are being trampled upon (7×7-journal.ru/item/97104). "The number of sentences under 'extremist' paragraphs has been growing at more than arithmetic progression, and the list of extremist materials has already grown geometrically. Defenders of freedom of speech now speak more often about the need if not for complete 'liquidation of 'the anti-extremist' law, then at least its major overhaul," she says. The Russian law has been criticized by international organizations who have pointed out that many of its victims now must be called political prisoners because they are being punished by the Kremlin not for criminal actions but because the regime does not approve of what they think or say. European countries have laws against extremism, but the number of cases there has been very small, but in Russia, "more than 650" such cases were brought last year alone, up from only 137 in 2011. This has happened, SOVA head Aleksandr Verkhovsky says, because "our Russian courts simply forget to assess the level of social danger" of any action – even though that is required by the law itself. Perhaps even worse, the SOVA chief continues, has been the compilation and expansion of lists of "extremist materials," including books, articles, and videos, and then banning them is "stupid." Nonetheless, the list continues to grow, from fewer than 80 in 2007 to more than 4,000 now. And in many cases, the term "extremism" has been applied to things that no international standard or even Russian law in general would justify and without any regard to the danger that this or that statement or picture represents. But everything is lumped together, and the term now means little more than something the authorities don't like at a particular moment in time. Banning publications is "a Russian innovation," Bogdanova says; but banning organizations is something done in many countries. But experts see a problem with the way in which Russia has done so. The application of this part of Paragraph 282 is so elastic that the number of organizations declared extremist has risen from eight in 2007 to 47 in 2015. And things are getting worse, not only with respect to the application of the law but also with respect to the law itself as ever more provisions are added not to provide new protections but to allow the authorities to apply it ever more widely. Perhaps Bogdanova's most useful contribution is to list these expansions of what she calls "the well forgotten old." In short, she demonstrates that at 15, Paragraph 282 is now vastly more dangerous than it was at its birth, with no sign that it will be reined in anytime soon.
Window on Eurasia — New Series: Russia's Leaders Announce Their Summer Vacation Plans
Paul Goble Staunton, July 28 – Where to take a summer vacation or even whether to take one at all is invariably a political question for a country's top leaders, all the more so when that country is suffering through an economic crisis and many of their citizens have been forced to curtail or cancel their plans for time away. Komsomolskaya Pravda has usefully provided a checklist of the vacation plans of Russia's top leaders (kp.ru/daily/26709/3734139/). They are listed below: · President Vladimir Putin has no plans for downtime given his full schedule, his press spokesman says. · Prime Minister Dmitry Medvedev will be making "many working visits to the regions," his office says, but hasn't announced his vacation plans. · Duma Speaker Vyacheslav Volodin says that he has no plans for taking any time off. · Federation Council Speaker Valentina Matviyenko says she will travel to St. Petersburg and to Crimea. · Just Russia Party head Sergey Mironov says for him Europe and the US are closed and so he plans to do some extreme tourism in the northernmost portions of the Russian Far East. · KPRF head Gennady Zyuganov says he plans to spend time in his "small motherland," Oryol Oblast. · LDPR head Vladimir Zhirinovsky plans a staycation at home, although he says he may make short trips to nearby locations. · Duma deputy Vitaly Milonov says he is taking his family to visit relatives in Greece. · Duma deputy Natalya Poklonskaya plans to go to Yalta in Crimea. · Duma deputy Iosif Kobzon plans to return to his native Transbaikal. · Senator Frants Klintsevich says he will visit his five grandchildren at his dacha.
Wealth inequality in Russia in photos – Business Insider
Just 111 billionaires control 19% of all the household wealth.
Brian Whitmore | Podcast: A Fictional Federation
This week, Russia's official name officially became a fiction. This week, the Russian Federation ceased to be anything remotely resembling a federation. This week, a decades-old agreemen…
The U.S. and Russia: A Lesson in Asymmetry – Stratfor Worldview
When it comes to responding to Washington's threats, Moscow has a back pocket full of creative options for retaliation.
FSB Detains Seven Central Asians On Suspicion Of Plotting Attacks
The Russian Federal Security Service (FSB) says it has detained seven people from Central Asia on suspicion of plotting terrorist attacks in St. Petersburg. In a July 28 statement, the FSB said th…
Reuters: Russia's TPE says Siemens declined to buy back turbines later sent to Crimea
Russia delivered Siemens turbines to sanctions-hit Crimea after the German company declined to buy then back from Russia's Technopromexport (TPE), a TPE official said in statement, according to Reuters. News 28 July from UNIAN.
Electric power supply to Crimea from Russia via energy bridge over Kerch Strait halted due to accident
The supply of electric power to Crimea via the energy bridge over the Kerch Strait has been halted due to an accident, the region's Energy Minister Vadim Belik said. "Four lines of the energy bridge are not working at the moment. The reasons are now being determined," Belik told Interfax by phone. The minister said the supply of electricity to Crimea was halted after an accident warning system went off on the routes leading to the energy bridge over the Kerch Strait on the Krasnodar side of the strait. There is currently no power supply in central Simferopol. Electric-powered transport and traffic lights are not working in the city.
Crimea blacked out as "energy bridge" shuts down (updated) – LB.ua news portal
On Friday, the cities of Simferopol, Kerch, Yalta, Sudak, Feodosia and Sevastopol in the annexed Crimea found themselves left without electricity, Crimea.Reality said with a reference to local residents. "There has been a shutdown of all four lines of the energy bridge over automatic emergency response in Russian Taman. The causes are being clarified," Crimean "fuel and energy minister" told Krymininform. Russia launched the first energy bridge to Crimea on 2 December, 2015, the second – on 15 December, 2015, the third – on 14 April, 2016, the fourth – on 11 May, 2016. On July 28, heavy storms left a number of settlements in seven regions of the annexed Crimea without electricity, the official website of Krymenergo reported. A number of settlements in Bakhchisaray, Saki, Simferopol, Razdolnensky, Krasnogvardeysky and Soviet districts of Crimea and also partially Yalta have been de-energized. Ukraine suspended energy supplies to Crimea in late 2015. Update: On 15:40, the United Energy Systems of Russia reported the partial resumption of enegy supplies to Crimea.
UAWire – Ukraine protests the statement by Italian Ambassador to Russia about 'Crimea's vote for independence'
Rome officially does not recognize the "annexation of the Crimea" and supports the integrity of Ukraine; however, the statement of Italian …
Forget Jeff Bezos, Putin Is World's Richest Man, Senate Told
Putin has $200 billion, according to a financier whose company was once the largest portfolio investor in Russia.
Vladimir Putin: 35 hilarious photographs of Russia's greatest adventurer – Travel
We look back at some of the Russian president's most adventurous and hilarious moments in the great outdoors
Belarus Reports
What Kind Of Russian Troops Inundate Belarus? – Charter'97 :: News from Belarus – Belarusian News – Republic of Belarus – Minsk
New details of West-2017 military exercises have been revealed. According to the official information, about 10,200 soldiers and officers of the Belarusian and Russian armies will take part in the West-2017 exercises, about 3 000 of whom will represent the Russian armed forces. The exercises will be held on September 14- 20. Joint Belarusian-Russian exercises caused great resonance in our region and in the media – suspicions were voiced about the possible Russian aggression against Ukraine through the Ukrainian-Belarusian border, the "Crimea scenario" against Belarus itself, as well as about the appearance of Russian military bases at the territory of our country, stated in the report by Belsat TV. Official representatives of Belarus and Moscow deny the possibility of such scenarios. Mixed bad The TV-channel's journalists talked with the military expert Aliaksandr Alesin about which Russian contingent could be presented in Belarus in September. The main part of the Russian military can consist of mechanized and tank units of the Russian 1st Guards Tank Army, the expert believes. "The Russian side is likely to transfer the units of the 1st Tank Army from near Moscow and Yelnia," – Alesin said. The 1st Tank Army, which was restored in November 2014, includes the 4th Tank Kantemirovskaya Division and the 2nd Motorized Rifle Tamanskaya Division, the 27th Independent Motorized Rifle Brigade, the 6th Independent Tank Brigade, the 96th Independent Intelligence Brigade, artillery brigades and sustaining units. The Russian units of the airborne forces will also participate. All this is part of the long-term development of the scenario for the transfer of the Russian troops to Belarus in case of a military threat. "This corresponds with the documents about the joint defense of the Republic of Belarus and the Russian Federation. According to them, at the beginning of the threat period the Belarusian troops will restrain the potential aggressor, waiting for the help of the Russian troops, " – the expert said. By airborne assault or by landing method, the most mobile airborne units will arrive at the airfields, and then "heavy" mechanized and tank divisions and brigades from the Western Military District of Russia will go by rail or on highways. The War Scenario As a result, these troops will create a common group to conduct a battle at the territory of Belarus. "The specific documents are classified, but the elements are worked out every year, not only at the West exercises. This is worked out during the joint exercises of smaller scale, including pontoon, aviation, air defense. Not only at the territory of Belarus – for example, at the Ashuluk fire ground, where the scenario of the exercises is actually about the territory of Belarus, " – Alesin said.At the previous exercises, the Belarusian-Russian group usually "fought against illegal armed groups." "The legend was about the penetration of groups of militants, terrorists and the like, I think now it can change to a more" regular "opponent. The NATO countries, for their part, are already transparently hinting at who they see as the enemy, " – Alesin said. During the exercise, the general group will be commanded by the Chief of the General Staff of the Armed Forces of the Republic of Belarus, Major-General Aleh Belakoneu, who earlier headed the Belarusian commandos – the Special Operations Forces – for almost three and a half years.
UAWire – Lukashenko invites observers to Russian-Belarusian Zapad 2017 exercises
Belarus is inviting "a large number of observers" to the upcoming Zapad 2017 joint military exercises with Russia which have been a cause for …
Radioactive Mushrooms In Every House – Charter'97 :: News from Belarus – Belarusian News – Republic of Belarus – Minsk
The protective zone of the Polesie State Radioecological Reserve to be opened. According to Lukashenka's press service, the ruler signed such decree. This means that it will be allowed to grow agricultural products, graze cattle close to the radioactive zone. Decree No. 259 provides for the cancellation of the protective zone of the Polesie State Radioecological Reserve, the abolition of its borders. The purpose is to remove restrictions on the use of land plots that are located on the territory of the protective zone. It is reported that signs of radiation hazard will be placed directly within the reserve. According to the Council of Ministers, this decree will facilitate the conduct of economic activities near the borders of the reserve. The press service informed that all state bodies concerned have agreed on the decree. It will not create obstacles to the legal regulation of relations, concerning the use of the territories adjacent to Polesie State Radioecological Reserve (PSRR), Lukashenka's press service informs. The protective zone of the PSRR is a kilometer of lands from the borders of the reserve on the lands of Brahin, Naroulia, Khoiniki, Mozyr and Kalinkavichy districts. It is needed to prevent the spread of radionuclides outside the reserve. It was forbidden to hunt and sow crops in the protected zone, which can attract wild animals from the reserve. The area of the Polesie Radioecological Reserve is now 216,093 hectares. It was created in the late 1980s, after the Chernobyl catastrophe. One third of the "Chernobyl heritage" that fell on the lands of Belarus is in these territories: 30% of cesium, 70% of strontium and 97% of plutonium. Let us remind, that Lukashenka visited the Polesie Reserve in mid-June. Then the media reported, that some of the lands could be deprived of the status of Reserve for "more active usage in the economy." In conversation with journalists, several interlocutors immediately assumed that it could be lands of protective zone. Brahin and Naroulia claimed that they had interest in those lands.
Transnistria / Moldova Reports
'You snakes' — Russia's deputy PM to Romanian authorities – POLITICO
Dmitry Rogozin was on a flight to Moldova that wasn't allowed into Romanian airspace. Russia's Deputy Prime Minister Dmitry Rogozin called Romanian authorities "snakes" after they refused to allow a plane on which he was a passenger to enter Romanian airspace as it flew to Moldova. "Romanian authorities endangered the lives of the passengers on board the S7 airline flight — women and children," Rogozin tweeted Friday. "Look forward to a reply, you snakes." He used the Russian word "Gady," which has no direct translation but can be variously interpreted as reptile, snake, vermin or skunk. The Romanian foreign ministry confirmed that the incident took place, according to local media. Rogozin is among the Russians hit by Western sanctions imposed after Russia's 2014 annexation of Crimea and military intervention in eastern Ukraine. He was on a commercial flight to the Moldovan capital, Chisinau, at the time of the incident. An online flight tracker showed the plane circled over northeast Hungary, then flew along the Romanian border, before heading through Polish airspace to Minsk, Belarus. Rogozin, who oversees the Russian defense industry, is known for making belligerent and controversial statements about the West. He suggested earlier this month that there were "Nazi remnants" within NATO. In a similar incident three years ago, Rogozin threatened to return to Romanian airspace in a Russian bomber, a TU-160, after his plane was forced to divert. At the time he was returning from Moldova to Russia after visiting the pro-Russian breakaway region of Transnistria. He accused Romanian authorities of blocking their airspace in response to a request from the United States. Western nations have often taken an inconsistent approach to enforcing sanctions, with some Russian officials permitted to travel on government-related business.
TASS: Russian Politics & Diplomacy – Rogozin demands tough measures on Romania, Moldova after disruption of visit
MOSCOW, July 29. /TASS/. Russian Deputy Prime Minister Dmitry Rogozin said on Friday the actions of the Romanian civil aviation authorities and the Moldovan government, which resulted in the disruption of his visit to Moldova, called for retaliatory measures. "The sharp tonality of my utterances reflects my emotions over the inconveniences over what happened to the passengers on our flight," Rogozin wrote in Facebook. "Most of them were returning home. I always traveled to Moldova by regular flights of Russian airlines. The shameful stunt of the Romanians and the Moldovan government requires careful analysis and precisely calculated stinging countermeasures." As reported earlier, Dmitry Rogozin's visit to Moldova was disrupted on Friday because of Romanian air navigation service refusal to let a regular Moscow-Chisinau flight of S7 airline through the Romanian airspace due to the presence of a 'person under sanctions' aboard. Rogozin is one of the Russian officials, whom the EU blacklisted after Crimea's reunification with Russia and the unfolding of the armed civil conflict in Eastern Ukraine. On flights between Moscow and Chisinau, Russian airlines use a long bypass route crossing the territories of Belarus, Poland, Slovakia, Hungary, and Romania after Ukraine closed its airspace for them. The S7 jet had to make a landing in the Belarusian capital Minsk, where from he left for Moscow by an Aeroflot flight. Rogozin said in connection with the incident that Western countries "will never reconcile themselves" to Russia's aspirations to being a free and strong country. "They were quite content with the tipsy Russia of the 1990's but they will never reconcile themselves with our will to be free and strong." "And being the way we want to be, that is, free and strong would be the best response to all these sanctions and dirty tricks," Rogozin indicated. "And we'll decide in the regular course of business how to knock the hell out of those vile creatures." He was heading for Chisinau at a personal invitation from President Igor Dodon, whom he planned to hold talks with. A spokesman for the Romanian Foreign Ministry confirmed to TASS the jet, aboard which Rogozin was traveling to Chisinau, had been denied entry to the Romanian airspace.
TASS: World – Dodon asserts Russian official's Moldova visit disrupted to harm ties with Moscow
Romanian authorities earlier refused permission to a civilian plane carrying a Russian delegation to Moldova for talks with President Igor Dodon
Romania Blocks Russian Deputy PM From EU Airspace
CHISINAU — Romania has confirmed that it blocked a commercial flight from its airspace that was transporting Russian Deputy Prime Minister Dmitry Rogozin on an official trip to Moldova. Rogozi…
Romania Prevents Russian Official Visit to Moldova :: Balkan Insight
Russia's Deputy Prime Minister was forced to cancel his visit to Moldova on Friday, after Romania banned his airplane from flying into their airspace, forcing it to land in Minsk instead.
Romania refuses entry to EU airspace for Russian deputy PM Rogozin
28.07.17 17:42 – Romania refuses entry to EU airspace for Russian deputy PM Rogozin Russian Deputy Prime Minister Dmitry Rogozin was forced to end his trip to Moldova after his plane was barred from entering Romanian and Hungarian airspace. View news.
Romania denies transit of plane with sanction-bound Russian Deputy PM Rogozin
Russian Deputy Prime Minister Dmitriy Rogozin's visit to Moldova on Friday failed because the Romanian authorities had refused to give overflight permission for a Russian airline's plane with Russian delegates on board, and the aircraft had to land in Minsk, Belarus, after which the Russian official returned to Moscow, according to the Russian news agency TASS. News 28 July from UNIAN.
Moldova president sees move towards Russia-led trade union in 2017
Moldova's Moscow-backed President Igor Dodon said on Friday he hoped the ex-Soviet nation would be granted observer status to a Russia-led customs union before the end of 2017, despite a government push for closer integration with the European Union.
Transnistria celebrates 25 years of Russian peacekeeping | Foreign Brief
Russian Deputy PM Dmitriy Rogozin visits the Moldovan breakaway province of Transnistria today to celebrate the 25th anniversary of Russian peacekeeping.
"Dangerous" Ukrainian journalists visit Transnistria, accompanied by militaries
At the invitation of the leader of the Transnistrian region, Vadim Krasnoselski, Ukrainian journalists could see how citizens from the left bank of the Dniester live. During the visit, however, they were controlled and accompanied by the military. In a video, made by Ukrainian journalists of OVVA TV, one of the military says the leadership asked them to keep under control any movement of the journalists. Additionally, the journalists say that the car, by which they arrived in the region, was subject to thorough examination. They were forbidden individual walks instead the region's leadership organized a joint trip for them. Ukrainian journalists also say that they could not make Vadim Krasnoselski say who owns the Crimea.
Excursion under supervision: Transnistria allowed Ukrainian journalists to see how the republic lives
The latest news for July 24 in TSN 19:30: Excursion under supervision: Transnistria allowed journalists of Ukraine to see how the republic lives Ukrainian journalists wanted to show life in the republic, but they could not move freely around the city. The President arranged a loud press conference, stated that he wanted to show his openness, but could not say, who is still Crimea. TSN never tires of informing viewers about what is happening in Ukraine and the world. Each issue of TSN provides the most complete, accurate and up-to-date information on events that occurred in different parts of our planet. Journalists of the television news service broadcast live from different regions and regions of our country. Keep the audience of course events – their main task, and they cope with it perfectly. Each issue of TSN for July 24 is a compilation of stories with interesting events.
Twenty-fifth anniversary of peacekeeping mission in Bender: Dodon and Rogozin invited by Krasnoselski
Twenty-fifth anniversary of peacekeeping mission in Bender: Dodon and Rogozin invited by Krasnoselski
Malorossiya Reports
UAWire – Zakharchenko: The discussion about the creation of the state of Malorossiya continues
The final decision to create the Malorossiya state hasn't been made yet, but the discussion will go on, according to a statement made by …
The Russian-Ukrainian conflict could be escalating | The Ukrainian Weekly
On July 18, Alexander Zakharchenko, the Russia-backed leader of the self-proclaimed and Moscow-supported "Donetsk People's Republic" (DPR), declared that a new state – "Malorossiya" or "Little Russia" – must be created to replace the present Ukrainian "failed state." According to Mr. Zakharchenko, the regime in Kyiv has failed, and the only way to stop the […]
Ukraine Reports
NATO membership for Ukraine could set off war between Russia and the West, warns former British defense secretary | KyivPost
LONDON — Western opinion makers have once again warned Ukraine off pursuing NATO membership, a prospect that could trigger war between the West and Russia. Speaking at the Chatham House "Ukraine's Transformation: Assessments and Solutions" Conference in London on July 5, former British Foreign and Defense Secretary Malcolm Rifkind said that, under the Article 5 mutual self-defense provision of the alliance's treaty, NATO member countries are required to defend a member state attacked by an outside power. "The only responsible way of allowing Ukraine to become part of NATO would be if the United States, France, Germany, Britain the other member states were quite literally prepared to go to war with Russia," he said. "If an application from Ukraine is made, what NATO has to consider is not just would the Ukrainians like to be members or NATO or have they met certain democratic standards, it's whether NATO itself would be able to deliver the commitment membership requires."
Russia Ukraine Relations Ignite Epic Twitter Battle | Fortune.com
Meet the millennials who started an epic flame war between Ukraine's and Russia's Twitter accounts.
Ukraine / Україна on Twitter: "Ukraine and Sweden: bromancing since Karl XII and Ivan Mazepa. Happy National Day, @Sweden! 🇸🇪🇺🇦 https://t.co/hTwCNxDMGm"
UAWire – Ukrainian TV channels to start broadcasting to Crimea on Ukraine's Independence Day
Five Ukrainian TV channels will start broadcasting to annexed Crimea on Ukraine's Independence Day – August 24, Serhiy Kostinsky, a member of the National Television and Radio Broadcasting Council, told Krym.Realii. "The National Council is supposed to issue licenses – this is a technical process. All of the necessary equipment for organizing digital TV broadcasting to Crimean territory has already been established, and is waiting for the broadcasters. Preparing the licenses will take some time, now the companies are supposed to make agreements with the companies who built the towers," Kostinsky said, referring to the process which would last until the end of the tender. He noted that the construction of another tower to be broadcast to the Crimea is planned for next year.There are also plans to increase the number of TV channels and radio stations which will be accessible in the territory annexed by Russia. On July 27, the National Television and Radio Broadcasting Council of Ukraine named the five Ukrainian TV channels which had won the tender and would soon begin broadcasting to annexed Crimea. They were: UA:Krym, Black Sea TV and Radio Company, ICTV, 5 Kanal, and Pryamiy (Tonis). The TV channels have an audience of more than 200,000 Crimeans. The National TV and Radio Broadcasting Council of Ukraine has been developing a project on the strategic development of TV and radio broadcasts in Kherson province and the organizing of broadcasts to annexed Crimean territory. The goal of the strategy is to improve the level of analog and digital broadcasting coverage in the Kherson province and also to exclude the reception of analog and digital broadcasts from the annexed territory in the southern regions of mainland Ukraine.
UAWire – Pentagon: US has not changed its position on weapons for Ukraine
The current US administration has not changed its position regarding the possibility of transferring weapons to Kyiv, and at present there are …
UAWire – The President of Finland spoke with Putin about Ukraine and called for the release of the prisoners
President of Finland Sauli Niinistö discussed the situation in Ukraine with his Russian counterpart, President Vladimir Putin, Helsingin Sanomat …
Militants launched 19 attacks on Ukrainian troops in Donbas in last day – 29.07.2017 11:14 — Ukrinform News
29.07.2017 11:14. Militants launched 19 attacks on positions of the Armed Forces of Ukraine in ATO area in Donbas over the past day.
No casualties reported in Donbas – 29.07.2017 13:51 — Ukrinform News
29.07.2017 13:51. Ukrainian troops suffered no casualties in the ATO area in eastern Ukraine over the past day.
Donbas militants preparing terrorist acts against OSCE to blame Ukrainian army – ATO HQ
The Russian-backed militants in Donbas in the near future are preparing a series of terrorist acts against OSCE representatives, according to the press service of the Anti-Terrorist Operation (ATO) Headquarters. News 29 July from UNIAN.
UAWire – Kyiv: Separatist republics owe Ukraine $96 million for electricity
The separatist-held territories of the Donbas owe about 2.5 billion hryvnia ($96.3 million) to Ukraine for electricity supplied since March 2015, …
OSCE calls for immediate release of detained Donetsk journalist Aseev
OSCE Representative on Freedom of the Media Harlem Desir on Friday expressed deep concern about the continued detention of journalist Stanislav Aseev in eastern Ukraine. News 29 July from UNIAN.
Ukraine special ops development continues – Shephard Media – Aerospace, defence and security news and analysis
Force elements from Ukraine's Special Operations Command have completed a joint training programme with the US Naval Special Warfare Command in the Black Sea as the organisation continues to develop its capabilities since its establishment in 2015. Conducted close to Odessa, the exercise ran from 10-21 July and involved maritime and land Special Forces personnel from Ukraine working in close cooperation with US Navy SEAL (Sea, Air and Land) platoons. Exercise Sea Breeze was co-organised by the US Special Operations Command Europe (SOCEUR) and Ukraine's Ministry of Defence (MoD) and followed high-level meetings of Ukrainian Navy Commander, VAdm Ihor Voronchenko, US Navy and Department of Defense (DoD) officials in the US just days before, aimed at establishing increased levels of bilateral collaboration in the future. Describing the main effort of the exercise to Shephard, service officials associated with the US Special Operations Command (USSOCOM) highlighted how training serials focused on the execution of joint operations in air, land and sea environments. Exercising troops conducted a mix of intelligence gathering, direct action and counter-terrorism (CT) serials with support from the US Air Force's 352nd Special Operations Wing which operates CV-22 Osprey tilt-rotor aircraft. Air frames were used to insert and recover assault teams across training areas, including fast-rope rappelling onto target vessels in the Black Sea as part of wider Personnel Recovery (PR) scenarios. Ukrainian and US operators were fully integrated into assault teams during the exercise with one official stating that the exercise 'is a perfect fit for special operations forces to train and exercise their capabilities'. Assault teams also conducted military freefall insertions and launched surface operations including visit, board, search and seizure (VBSS) from rigid-hull inflatable boats (RHIBs), supported by the Arleigh Burke-class destroyer, USS Carney. Another source described how the exercise had increased interoperability between participating force elements, with participating troops operating under the command and control of a Special Operations Maritime Task Group. 'We have combined with our Ukrainian colleagues to integrate their experience and capabilities within our key positions. Starting in the command team and further within our operations, communications, logistics, and intelligence departments, we were fully partnered,' SOCEUR officials concluded. Ukraine's Special Operations Command comprises maritime units including the 140th Special Purpose Centre and 801st Anti-Diversionary Detachment; with land units incorporating the 3rd, 8th and 10th Detached Spetsnaz Regiments.
Ukraine private company developing new infantry fighting vehicle | Defence Blog
Ukrainian Kort private company is developing a new infantry fighting vehicle, said the president of Association of Ukrainian Defense Manufacturers (AUDM) Vadym Kodachyhov, during a roundtable discussion in Kyiv. The new concept of infantry fighting vehicle (IFV) called TUR (Auroch) based on MT-LB multi-purpose fully amphibious auxiliary armoured tracked vehicle. The Tur IFV is fully tracked, a light armored vehicle that offers signification improvements over the MT-LB series armored vehicles. The Tur IFV will carry a crew of three (Commander, Gunner, and Driver) and an eight-man Infantry section into combat. The vehicle will to provide protected transportation and cross country mobility for crew and infantry. Armor of this vehicle provides protection against small arms fire and artillery shell splinters. The crew, a driver and a commander/gunner sit in a compartment at the front of the vehicle, with the engine behind them. The troops enter and leave via a door in the hull rear. The Tur IFV also can be equipped with a modern turret with 30mm automatic cannon and anti-tank missiles, to provide an enhanced level of survivability. The turret mounted in the center of the hull.
Iskra complex expands production of new electronic reconnaissance devices for Ukrainian Armed Forces
State enterprise Iskra Scientific and Production Complex (Zaporizhia) is expanding production of new electronic reconnaissance and radioelectronic warfare devices for the Ukrainian Armed Forces, the press service of State Concern Ukroboronprom has reported. "Taking into account the need of the Armed Forces in radioelectronic warfare devices, Iskra has started production of new military equipment – Mandat-B1E complex and R-330TRC radioelectronic warfare station," the press service said. "Currently the Mandat complex is being manufactured and will be handed to the armed forces in line with the schedule," the concern said. Today Iskra is working on production of an industrial prototype of the new counterbattery fire device. The new item will be tested in 2018. The enterprise also finished the first stage of designing a new radar able to track air objectives holding nap-of-the-earth. Iskra successfully implements all contract liabilities to the Defense Ministry. In Q2 2017 the enterprise handed an R-330TRC radioelectronic warfare station to the Armed Forces. According to Ukroboronprom, in 2014-2017 Iskra made and handed 32 military equipment units to customers, including foreign ones.
RADAR COMPLEXES 1L22OU 1L22OU-KC | SPETS TECHNO EXPORT
| | |
| --- | --- |
|   | |
| 1L220U / U-KC Counter Battery Radar | |
80K6T AESA – towed rather than mast mounted low level variant
AUTOMATED RADIOCOMMUNICATIONS JAMMING COMPLEX "MANDAT-B1E" | SPETS TECHNO EXPORT
Radio-communications jamming complex Mandat-B1E is an automated data acquisition and data procession system. It gathers data on emission sources and radiates aimed barrage jamming signals within an area of monitoring. The complex allows to reveal enemy grouping in operational and tactical depth, to define a disposition of military units, divisions, their terrain co-ordinates and relocation based on enemy radio command lines and radio networks. Within the whole controlled / covered area (60km depth and 90km front) and within the whole operating frequency range (1,5-1000 MHz) the complex effec­tively jams up to 80 fixed frequency radio links or up to 6 radio links with FH technique – that allows to ruin the enemy forces con­trol.
 
 
Mandat / R-330 EW suite
MTLBu host vehicle
About 80% of judges of new Ukraine's Supreme Court are acting or retired
According to the results of the contest for judges of the new Supreme Court of Ukraine, 80% of judges are active or retired, one in four of them received a negative opinion of the Public Integrity Council (PIC), Center for Combating Corruption (CCC) has said.
Fraud-charged judge gets boot – LB.ua news portal
Fraud-charged judge gets boot. Viktor Shvets is imputed of insurance fraud. Main – LB.ua news portal. Latest from Ukraine and the world today
UAWire – Savchenko announced her intention to run for President of Ukraine
People's Deputy Nadiya Savchenko declared her intention to run for the post of head of the Ukrainian state. In an interview with the Glavkom …
Surplus of Ukraine's balance of payments grows by 2.5 times
The surplus of Ukraine's balance of payments in January-June of 2017 grew by 2.5 times year-over-year, to US$1.049 billion, according to the National Bank of Ukraine (NBU). News 28 July from UNIAN.
Ivanna Klympush-Tsintsadze: "Ukraine would like to switch from loans to grants in relations with EU"
An exclusive interview of Ukrainian Deputy Prime Minister for European and Euro-Atlantic Integration Ivanna Klympush-Tsintsadze with the Interfax-Ukraine News Agency.
Nationalists announce blocking of Russian companies in Ukraine for Sept
KYIV. July 25 (Interfax-Ukraine) – A number of nationalist organizations have announced their intention to begin actions to block the activities of Russian companies in Ukraine since the fall of this year. At a press conference in the press center of the Interfax-Ukraine agency on Tuesday, non-factional Rada member Andriy Illenko said that the National Corps, Svoboda and Right Sector unite their efforts for the sake of such actions. "We will begin implementing the bulk of this action in September. And we are calling on all Ukrainians to finish this disgrace together. If the authorities do not want to do this, civil society should take everything in their hands," he said. "The war in underway for the fourth year, our heroes are dying every day on the front, and we see further violence of corrupt Russian business in Ukraine. Our government contributes to it and makes a profit of it. We are still not protected economically in the face of Russian aggression. This is not a normal situation," he said. Illenko also said that the campaign would be directed against Russian business, "we are not going to make Ukrainians hostages of the circumstance." "People should be ready for our actions. They will be absolutely peaceful," he said. The deputy recalled the actions of the National Corps on blocking the work of the central office of Sberbank. "Such actions are very often the only way out of the situation. Perhaps, because of this action the expansion of Russian capital into the Ukrainian banking sector has stopped today," he said. Ukraine's parliamentarian Oleh Petrenko said that today there is no clear list of companies activity of which the activists are planning to block. Speaker of the political party National Corps Oleksandr Alfiorov informed that the Black List page on Facebook is the platform for discussing blocking issues. "We are starting with discussion sites: There will be new technologies in September. Data on the activities of such companies will be collected and professionally systematized," he said.
Ukraine blocks sale of subsidiaries of Russia's Sberbank, VEB
The Ukrainian central bank said onFriday it had refused to approve the sale of the Ukrainiansubsidiaries of two Russian banks that had been put up for saleafter Kiev imposed sanctions on Moscow.
Minister Kubiv: Ukraine and South Korea may set up JVs, open R&D centers
Ukraine's Minister for Economic Development and Trade Stepan Kubiv has announced Ukraine and South Korea may set up joint ventures in engineering and metallurgy and start aerospace cooperation, which is expected to effectively realize both countries' potential. News 28 July from UNIAN.
Technical consultations to resume operations of Uzhgorod airport to continue
Technical consultations on the resumption of the operations of the Uzhgorod airport will continue. The press service of the State Aviation Service of Ukraine reported that the issue was discussed by its representatives at a meeting with representatives of the Ukrainian State Air Traffic Services Enterprise (UkSATSE) and local authorities of Zakarpattia region on July 25. The sides exchanged views on the necessity of certifying the Ukrainian provider of air navigation services in line with the European Aviation Safety Agency (EASA) rules. The situation is linked to the fact that Slovakia, which air space is crossed by planes when they take off and land the Yuzhgorod airport, is a member of the European Union (EU) and sticks to the EASA rules. The details of the certification will be discussed further in the near future. As reported, on June 16, 2016, the agreement between the governments of Ukraine and Slovakia on the transfer of responsibility for the servicing of air traffic and operating the Uzhgorod airport expired. It was decided to fly using the visual flight rules as a transitive option.
Ukrainian pilot awarded Order For Courage for landing damaged plane in Istanbul – 29.07.2017 13:28 — Ukrinform News
29.07.2017 13:28. President of Ukraine Petro Poroshenko has awarded Ukrainian pilot Oleksandr Akopov, who landed a hail-damaged passenger plane at the Istanbul Ataturk Airport in extremely difficult weather conditions, the Order For Courage.
Batkivschyna, Petro Poroshenko Bloc, Civil Position and Opposition Bloc lead parliamentary election ratings | KyivPost
The Batkivschyna party would lead in the Verkhovna Rada elections should they be held next Sunday, with almost 7.7% of the Ukrainian population willing to give their support to them, or 11.2% of those who are going to participate in the elections. These are the results of a nationwide population survey conducted by the Ilko Kucheriv Democratic Initiatives Foundation together with the sociological service of the Razumkov Center from June 9 to June 13, 2017 and published in Kyiv on Thursday. The Batkivschyna party will be followed by the Petro Poroshenko 'Solidarity' Bloc with 6.9% of respondents being ready to vote for it, or 9.3% of those who would participate in the elections, while Anatoliy Hrytsenko's Civil Position Party would get 5.9% and 8.3% respectively, and the Opposition Bloc 5.7% and 8.4%, respectively.
Ukrainian Patriarch Calls For Unity Against Russian 'Aggressor'
KYIV — Thousands of followers of the Ukrainian Orthodox Church of the Kyivan Patriarchate, led by Ukrainian Patriarch Filaret, performed a traditional cross-bearing procession in Kyiv on July 28 t…
Two thousand UOC-KP believers took part in Kyiv march – LB.ua news portal
Two thousand UOC-KP believers took part in Kyiv march. Previously, 15 thousand Moscow Patriarchate Orthodox faithful marched in downtown Kyiv. Main – LB.ua news portal. Latest from Ukraine and the world today
Ukrainian animated fairy tale wins praise from Disney Studios (VIDEO) | KyivPost
Walt Disney Studios, along with other major animation companies, has praised the Ukrainian animated feature movie "Mavka. The Forest Song" by Film.ua Group, which is in production and scheduled for release in 2019. The first teaser for "Mavka. The Forest Song" will appear on the screens of Ukrainian cinemas in late July. It is a fairy tale about a young female mystical forest creature from Ukrainian folklore, Mavka, who meets a boy who plays a Ukrainian musical instrument called the sopilka (reed pipe).
Friends, relatives welcome home Oklahoma National Guard soldiers from Ukraine | KFOR.com
NORMAN, Okla. – Friends and relatives gathered in Norman to welcome back Oklahoma National Guard soldiers returning from the Ukraine. Some waited for hours for their arrival. But all had been waiting six months for their spouses, and in some cases, parents to return from their deployment.
In Ukraine, a radioactive nuclear ghost town near Chernobyl is a hot destination – The Washington Post
Once unthinkable, guided tours of Pripyat — once a closed Soviet city for Chernobyl workers — and a former missile base are in growing demand. The button that could have started a nuclear holocaust is gray — not red. I learned this after climbing into a nuclear rocket command silo, 12 floors below ground, and sitting in the same green chair at the same yellow, metal console at which former Soviet officers once presided. Here, they practiced entering secret codes into their gray keyboards, pushing the launch button and turning a key — all within seven seconds — to fire up to 10 ballistic missiles. The officers never knew what day their practice codes might become real, nor did they know their targets. This base in Pervomaysk, Ukraine — about a four-hour drive from Kiev — once had 86 intercontinental ballistic missiles capable of destroying cities in Europe and the United States. Though the nuclear warheads have been removed, the command silo with much of its equipment, giant trucks that carried the rockets to the base and an empty silo were preserved so that people could see what had been secretly going on at nuclear missile bases in the former Soviet Union. The museum's collection includes the R-12/SS-4 Sandal missile similar to those involved in the Cuban missile crisis and the RS-20A/SS-18 Satan, the versions of which had several hundred times the destructive power of the bomb dropped on Hiroshima. "This is what the tourists come to see," said Igor Bodnarchuk, a tour guide for Solo East Travel, a Kiev company that specializes in tours of Soviet ruins. "What else do we have to offer?"
Duga 1 Chernobyl – Ingmar Runge Wikipedia
Ascending Reveal Of Duga, The Steel Giant, Moscow's Eye Near Chernobyl. This Is A Soviet Over-the-horizon Radar System Also Known As The Russian Woodpecker. Chernobyl Reactor In Background. Oct 2016. Stock Footage Video 22788787 | Shutterstock
Stock Footage of Ascending reveal of Duga, the Steel Giant, Moscow's Eye near Chernobyl. This is a Soviet over-the-horizon radar system also known as The Russian Woodpecker. Chernobyl reactor in background. Oct 2016.
The Aviationist » The Deadliest Air Show Accident In History: The Ukrainian Air Force Su-27 Flanker Crash At Sknyliv 15 Years Ago Today
The deadliest air show accident in history occurred on Jul. 27, 2002, at Sknyliv airfield near Lviv, Ukraine, when a Ukrainian Air Force Su-27 Flanker crashed during its display routine. The two pilots, Volodymyr Toponar and Yuriy Yegorov, ejected safely but as a consequence of the crash 77 people died and 545 were injured, 100 of whom were hospitalised. Several videos show the incident from different viewpoints. The Flanker can be seen performing a sort of split-S at low altitude, descend rapidly towards the apron and taxiway. The aircraft's left wing clipped a tree, struck the asphalt and dragged four rows of barbed wire that mowed down onlookers. The jet then hit some stationary aircraft, including an Il-76MD transport aircraft before beginning to explode and cartwheel into the crowd. Following the disaster, the pilots stated that the airbase map they had received differed from the actual layout they found at Sknyliv airfield, where they had been also denied an extra rehearsal flight before the show. Although the root cause of the crash was found into the pilots violating the plan and performing "difficult maneuvers they had not done before", other factors, including a small flying zone and inappropriate zoning by the show organizers who had allowed spectators to gather so close to the flight line were blamed for the tragedy. On Jun. 24 2005, a military court sentenced pilot Volodymyr Toponar (who has always claimed the crash was due to technical problems and a faulty flight plan) and co-pilot Yuriy Yegorov to 14 and 8 years in prison, respectively. Yegorov was released in 2008. Here's a video of the crash and aftermath. Beware, it's graphic content.
Crash & Aftermath of the 2002 Ukrainian air show disaster. – YouTube
This is the best complete video of the crash and aftermath of the 2002 air show crash at sknlyiv in the ukraine i can find. The accident happened when the pi…
The Ukraine air show disaster. – YouTube
This is the best complete video of the crash and aftermath of the 2002 air show crash at sknlyiv in the ukraine i can find. The accident happened when the pi…
Saakashvili intends to appeal with court against his Ukrainian citizenship's revocation
Former Georgian president and Odesa regional state administration ex-head Mikheil Saakashvili said he intends to appeal with an administrative court against the revocation of his Ukrainian citizenship.
Georgia ex-leader Saakashvili plans defiant return to Ukraine – BBC News
Georgia's ex-president vows to return to Ukraine despite being stripped of Ukrainian citizenship.
Ukraine strips Saakashvili of his citizenship, leaving the hero of the Rose Revolution without a country – LA Times
The Western-educated hero of Georgia's Rose Revolution is now a man with no state.
Ukraine strips one of its president's rivals of his citizenship
THEY were just students when they first met. Petro Poroshenko and Mikheil Saakashvili were two ambitious young men at Kiev's Taras Shevchenko University in the late 1980s. Mr Saakashvili went on to become president of Georgia in 2004, where he pursued an aggressive agenda of reforms before his party lost power in 2012.
Russia / Iran / Syria / Iraq / OEF Reports
U.S. slaps sanctions on Iran firms after satellite launch
The United States imposed sanctions on Friday on six subsidiaries of a company key to Iran's ballistic missile programme, citing continued "provocative actions" like Tehran's launch of a rocket capable of putting a satellite into orbit.
U.S. slaps Iran with more sanctions after rocket launch into space – CBS News
Treasury Secretary Steven Mnuchin cast the sanctions as part of an ongoing U.S. effort to aggressively oppose Iran's ballistic missile activity
Sanctions: Can Iran Avoid Taking the Bait?
Iran News
Western nations decry Iran space launch; US levies sanctions – The Washington Post
The United States punished Iran on Friday for launching a satellite-carrying rocket into space by hitting six Iranian entities with sanctions targeting the country's ballistic missiles program.
Iran says US Navy fired warning flares at its vessels – CNN.com
A US Navy aircraft carrier fired warning flares at Iranian vessels in the Persian Gulf, Iran's Islamic Revolutionary Guard Corps said, marking the latest aggressive encounter between the two nations
Iran, US Navies Engage in Second Encounter in One Week
IRGC says the USS Nimitz has fired warning shots at an armed Iranian patrol boat on Friday in the Persian Gulf in the second clash
Pakistan, Ousting Leader, Dashes Hopes for Fuller Democracy – The New York Times
Even as some celebrate the ouster of Prime Minister Nawaz Sharif over corruption charges, the event reveals weak spots in Pakistan's democracy.
Are American Jews Giving Up on Israel? | Foreign Policy
As the ultra-Orthodox pass new measures governing prayer at the Western Wall and religious conversion, a rift is growing between Israel and American Jews.
DPRK / PRC / WESTPAC Reports
The Latest: Tillerson says US won't accept nuclear N. Korea – The Washington Post
The Latest on North Korea's launch of its second intercontinental ballistic missile (all times local):
Rex Tillerson targets Russia and China for being 'enablers' of North Korea's ballistic missile launch
Secretary of State Rex Tillerson on Friday night charged Russia and China with enabling the latest missile launch by North Korea that was the second test of an intercontinental ballistic missile capable of reaching the United States. "As the principal economic enablers of North Korea's nuclear weapon and ballistic missile development program, China and Russia bear unique and special responsibility for this growing threat to regional and global stability," Tillerson said in a statement. North Korea's launch Friday of an intercontinental missile traveled about 600 miles before falling in the Sea of Japan. North Korea's first launch of an intercontinental missile on July 4 surprised the U.S. intelligence community, and caused it to revise its estimate of how soon Pyongyang might be able to threaten the mainland U.S. with nuclear weapons. Russia objected to the United Nations' condemnation of the July 4 test, and disagreed that North Korea had in fact launched an intercontinental missile. Rather, Moscow said it believes North Korea fired an intermediate range ballistic missile. After the July 4 test, Nikki Haley, the U.S. ambassador to the United Nations, said she would not allow China and Russia to limit efforts to corral North Korea. "[I]f you see this as a threat, if you see this for what it is — which is North Korea showing its muscle — then you need to stand strong and vote with the international community to strengthen sanctions on North Korea," she said. "And if you choose not to, we will go our own path." Tillerson stressed a similar message after Friday's missile launch. "All nations should take a strong public stance against North Korea, by maintaining and strengthening U.N. sanctions to ensure North Korea will face consequences for its relentless pursuit of nuclear weapons and the means to deliver them," Tillerson said
No plan, only anxiety, as the Trump administration stumbles toward a North Korea disaster | The Seattle Times
The advancing menace of a nuclear-armed North Korea is on course to be the Trump administration's first existential international crisis. Where is the plan, Mr. President?
South Korea's president made a move signalling a possible strike on North Korea | Business Insider
In the immediate aftermath of North Korea…
After North Korea Test, South Korea Pushes to Build Up Its Own Missiles – The New York Times
North Korea's launch of an intercontinental ballistic missile has spurred the South to seek arms talks with the United States.
Louis Rene Beres | Risks of accidental nuclear war with North Korea must be accounted for | TheHill
OPINION | The unprecedented war risks posed by accident could prove starkly different from the attendant hazards of any "deliberate nuclear war."
Early Observations of North Korea's Latest Missile Tests
Missile defense expert Michael Elleman offers observations on North Korea's July 4 and July 28 ballistic missile test
North Korea says missile test shows all US within range – BBC News
North Korea says its second test of an intercontinental ballistic missile is a warning to Washington.
North Korea launches second long-range ICBM missile – CNNPolitics.com
The US detected a ballistic missile launch out of North Korea at approximately 10:45 am. ET on Friday, the Pentagon confirmed to CNN.
Pentagon confirms North Korea tested ICBM – YouTube
Japanese officials say the intercontinental ballistic missile flew for approximately 45 minutes
North Korean ICBM Appears Able to Reach Major US Cities – Union of Concerned Scientists
Based on current information, today's missile test by North Korea could easily reach the US West Coast, and a number of major US cities. Reports say that North Korea again launched its missile on a very highly lofted trajectory, which allowed the missile to fall in the Sea of Japan rather than overflying Japan. It appears the ground range of the test was around 1,000 km (600 miles), which put it in or close to Japanese territorial waters. Reports also say the maximum altitude of the launch was 3,700 km (2,300 miles) with a flight time of about 47 minutes. If those numbers are correct, the missile flown on a standard trajectory the missile would have a range 10,400 km (6,500 miles), not taking into account the Earth's rotation.
North Korea Tests a Ballistic Missile That Experts Say Could Hit California – The New York Times
The missile flew on a high trajectory that, if lowered, may allow it to reach large American cities, a milestone for the North's weapons program, experts say.
North Korea tests missile that could threaten Los Angeles, Chicago or New York – CBS News
It was the second successful test of an ICBM in the past month, although it's unclear whether North Korea could arm it with a nuclear warhead
North Korea Says Successful ICBM Test Shows U.S. Is In Striking Distance : The Two-Way : NPR
The launch comes just weeks after Pyongyang tested its first intercontinental ballistic missile. The Pentagon says the missile, which landed in the Sea of Japan, was no threat to the U.S.
North Korea tests another ICBM, claims all of U.S. in strike range
South Korea's defense minister Song Young-moo said on Saturday Seoul would prepare independent measures to curb North Korea's nuclear threat after the North test-launched another intercontinental ballistic missile (ICBM).
What North Korea's Most Recent Missile Launch Means for America | The National Interest
Video Interview: This test may show that Pyongyang's re-entry vehicles are more capable than ever.
The North Korea threat: What can Trump do? – CNNPolitics.com
North Korea's latest intercontinental ballistic missile launch has raised alarm across Asia and in Washington.
North Korea suspected of having a biological weapons program – AOL News
The rogue nation may be getting attention with missile tests, but experts are also warning about the country's suspected possession of biological weapons.
North Korea Tries to Make Hacking a Profit Center – The New York Times
A new study says North Korea's army of hackers has formed new groups that are more intent on obtaining hard currency than on stirring up trouble abroad.
Countries where North Korea makes money despite sanctions – The Washington Post
Though facing tough international sanctions, North Korea uses an elaborate network of countries around the world to earn money.
Sanctions are the best option against a dangerous North Korea – The Washington Post
If the Trump administration works consistently, it could cut off the flow of hard currency into Pyongyang and make a real impression on the dictatorship.
Why North Korea Needs an Enemy Like America to Survive | History | Smithsonian
The nation's complicated history hinges on three words that explain the totalitarian regime's behavior
Adriana Cohen: No greater threat than a madman with nukes | Boston Herald
If you're not following the North Korea threat, you really should, because there's no greater threat to humanity than a madman with nuk
The Map of Death | Foreign Policy
What North Korea's missiles are really aimed at.
As North Korea intensifies its missile program, the U.S. opens an $11 billion base in South Korea – The Washington Post
A sprawling U.S. base south of Seoul has attracted Tex-Mex joints, a golf course and even a Hooters rip-off.
The Aviationist » Commercial Pilot Catches Remarkable Photos of Alleged Secret Chinese Anti-Missile Test
A commercial pilot flying a Cargolux 747 from Hong Kong to Baku has shot photos of what is believed to be a secret Chinese anti-ballistic missile test. Flying over the Himalayas on July 22nd the flight crew saw a series of unusual lights and vapor trails climb into the night sky. Photographer, blogger and commercial pilot Christiaan van Heijst of the Netherlands shot the photos seen here. They were posted to his own blog, JPCVANHEIJST.COM The alleged Chinese test is noteworthy because it is so close to the North Korean ballistic missile test over the Pacific confirmed by the United States today. China has not commented on the photos or verified any testing operations. "What started unexpectedly with an unusual bright spot on the horizon quickly changed into a droplet-shaped bubble that rapidly grew in size and altitude." First Officer Van Heijst wrote on his own personal blog published today. Normally missile tests and space launches are well documented in international NOTAMs or "Notices To Airmen" via a number of media outlets used by commercial and military flight crews and air traffic control. It is important information since it not only avoids the extremely remote possibility that an aircraft may be hit by part of a vehicle used in a launch test "It came as a total surprise for us and the only thing we found in the NOTAMs for our route was a 'temporarily restricted airspace' with a 100km radius somewhere south of Urumqi in north-west China with no mention of the nature of the closure, let alone a possible rocket/missile launch." One French language media outlet, EastPendulum.com, reported that the launch photographed by First Officer Van Heijst may have been a test of the Chinese Dong-Feng-21 or DF-21, an Intermediate Range Ballistic Missile (IRBM). One Chinese website, "liuqiankktt.blog.163.com", showed additional photos of the event from the ground. The images are consistent with the appearance of a launch vehicle test.
Anti-ballistic missile test over China
Last night, flying from Hong Kong to Baku over the Himalaya mountains, we witnessed something that was truly a once in a lifetime event. What started unexpectedly with an unusual bright spot on the horizon quickly changed into a droplet-shaped bubble that rapidly grew in size and altitude.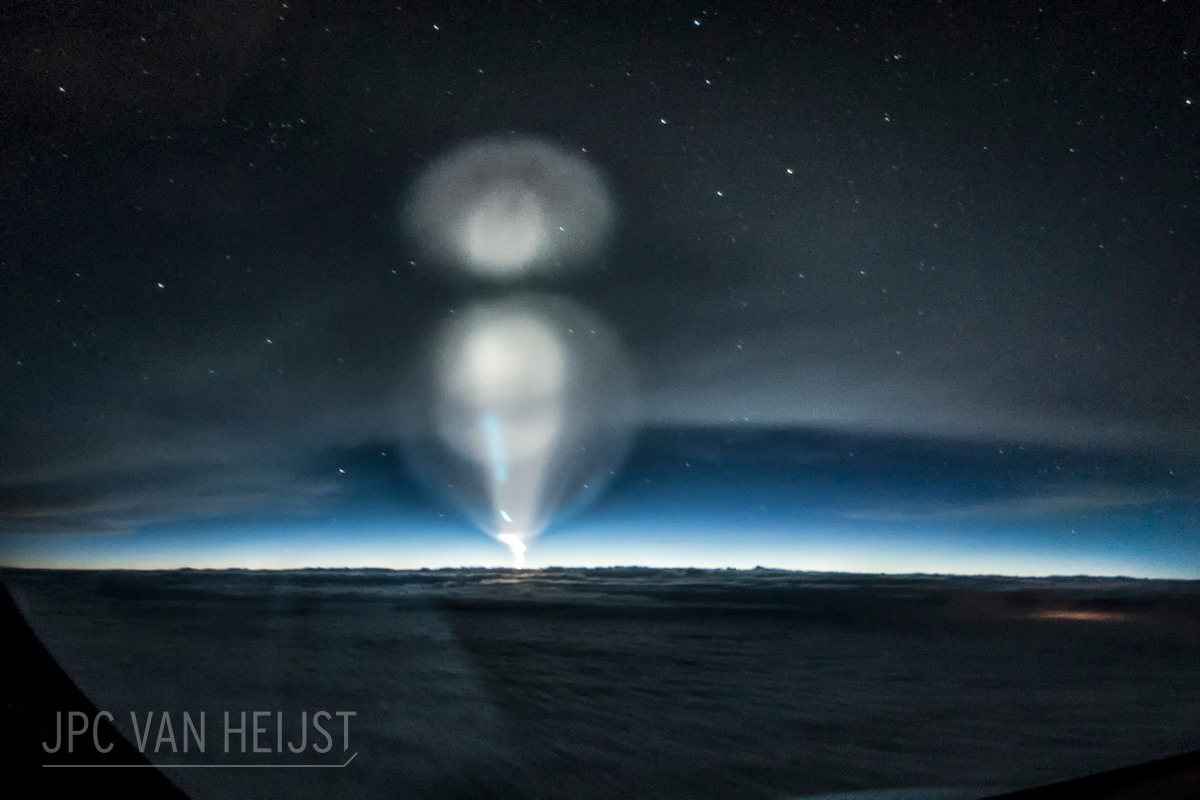 PLA ABM Test | 20170723NOTAM – kktt的日志 – 网易博客
China releases new images of HQ-16 medium-range anti-aircraft missile firings | Defence Blog
The Ministry of National Defense of the People's Republic of China has released new images of HQ-16 medium-range anti-aircraft missile firings. The images show that the HQ-16 medium-range anti-aircraft missile is launched in a field training exercise staged by an army air-defense brigade under the PLA Eastern theater Command in northwest China's desert area on July 25, 2017. The exercise is aimed to elevate the brigade's combat effectiveness in operations against the ultra-low flying target and target flying at a huge distance The is a newest Chinese medium-range air defense missile system developed by China Aerospace Science and Industry Corporation (CASIC). In Chinese armed forces the HQ-16 fits the gap between the short-range HQ-7 and medium- to long rande HQ-9. This air defense system is mainly used to protect stationary assets such as airfields, command posts, concentration of troops, bridges, and other important targets. According to the Jane's Defence Weekly, the HQ-16 SAM is similar to the 9M38E series of export missiles that form part of the Russian Almaz-Antey Shtil systems China purchased for use on its Sovremenny-class (Project 956E/956EM) and Type 052B destroyers.
Sri Lanka signs $1.1 billion China port deal amid local, foreign concerns
Sri Lanka signed a long delayed $1.1 billion deal on Saturday to lease its southern Hambantota port to China ignoring an appeal by opposition parties to debate the pact in parliament.
Cooperation based on mutual respect, benefit only right option for China, U.S.: Chinese ambassador – Xinhua | English.news.cn
Vietnam says others should respect its right to drill for South China Sea oil – NY Daily News
HANOI (Reuters) – Vietnam on Friday said other countries should respect its legitimate right to drill for oil in its waters amid growing tension with China over energy development in the South China Sea.
Foreign Policy Reports
Juncker: Ready to act 'within a matter of days' on Russian sanctions – POLITICO
'America first cannot mean that Europe's interests come last,' Commission President says.
Hamburg supermarket attacker 'was known Islamist' – BBC News
The man who killed one person and injured six in a knife attack was a "known Islamist", police say.
The New Turkey: One Nation, Divisible, Under God – War on the Rocks
On July 15, Turkey commemorated the anniversary of last year's failed coup attempt with a newly declared "Democracy and National Unity" day. Yet, as many c
Turkey Frees Journalists Detained for Nine Months – The Atlantic
Seven out of 17 newspaper staffers were released on Friday after being accused of having ties to terrorist organizations.
Erdogan: Turkey and Russia signed document on supplies of S-400 | Defence Blog
Turkish President Recep Tayyip Erdogan said Tuesday that Turkey and Russia had signed a document on supplies of S-400 missile systems. That was reported by Turkish TV channel Haber7. "Russia and we took necessary steps, signatures have been put, we hope to see S-400 in our country and will do joint production of them," Erdogan said speaking at a ruling party session. According to Erdogan, "Turkey has been unable for years to get what it wanted from the United States" with regard to the purchase of air defense missile systems and "has been forced to shop around." "And this [the accords on S-400 systems] is the result of such searches. Greece, which is a NATO member, has been using the S-300 systems for many years. So what is the US concerned about?" the Turkish leader noted. On July 18, the head of Russia's Rostec state corporation Sergei Chemezov said technical issues of the contract for the supply of the S-400 systems to Turkey had been resolved, with only administrative ones remaining. As of now, Russia has concluded a contract for the delivery of the S-400 systems with China alone. Negotiations are also being conducted with India. Earlier, US Department of Defense spokesperson Capt. Jeff Davis in a briefing on Monday said, that United States wants NATO allies to have the interoperable equipment, and Turkey would need to explain for itself the choice of the Russian S-400 air defence systems. The S-400 Triumf, previously known as the S-300PMU-3, is an anti-aircraft weapon system developed in the 1990s by Russia's Almaz Central Design Bureau as an upgrade of the S-300 family. It has been in service with the Russian Armed Forces since 2007.
As Venezuela Prepares to Vote, Some Fear an End to Democracy – The New York Times
President Nicolás Maduro's plan to create a new assembly is expected to give leftists virtually unlimited authority.
Strategy / Capability Publications
America Needs a New 'Dreadnought Strategy' | Foreign Policy
Why slow-rolling technology R&D can help the U.S. military prevent the rise of dangerous rivals.
Lockheed Martin conducted successful flight test of new anti-ship missile | Defence Blog
Lockheed Martin successfully conducted the first-ever launch yesterday of the Long Range Anti-Ship Missile (LRASM) surface-launch variant from a topside canister. The flight test, at White Sands Missile Range, New Mexico, proved the missile's ability to conduct an angled launch from the newly designed topside canister, replicating a ship-launched environment. During the test, the LRASM, its Mk-114 booster and booster adapter ejected cleanly from the topside launcher using the same launch control and launch sequencer software currently employed by the Mk-41 Vertical Launch System (VLS). "This successful flight test demonstrates Lockheed Martin's readiness to answer the U.S. Navy's call for lethal, longer range anti-surface warfare capabilities as part of the 'Distributed Lethality' concept," said Scott Callaway, Subsonic Cruise Missile director at Lockheed Martin Missiles and Fire Control. "This test also validates the flexibility and versatility of LRASM, as it proved it can be successfully fired from VLS and non-VLS surface platforms." Integrating LRASM onto surface ships enables distributed operations beyond enemy threat ranges. Along with the already proven VLS launch capability of LRASM, this topside canister with an angled launcher allows the LRASM surface-launch variant to be employed aboard various platforms in the Navy's surface fleet, providing the potential for a powerful new anti-ship role under the U.S. Navy's "Distributed Lethality" concept of operations. The LRASM surface-launch variant is built on the same production line as JASSM, JASSM-ER and LRASM air-launch weapons, delivering the same long-range, precision capability while benefiting from manufacturing efficiencies. LRASM is a precision-guided anti-ship missile that leverages the successful JASSM-ER heritage, and is designed to meet the needs of U.S. Navy and Air Force warfighters in a robust contested environment. The air-launched variant provides an early operational capability for the Navy's offensive anti-surface warfare Increment I requirement to be integrated onto the U.S. Air Force's B-1B in 2018 and on the U.S. Navy's F/A-18E/F Super Hornet in 2019.
Russian Military Plans Missile Killing Laser for Next-Generation Warplanes. Does It Work?
Russia's sixth generation of fighter jets is not even here yet, but are its onboard anti-missile defenses simply incredible?
Rheinmetall wins order for new air defence systems | Defence Blog
Rheinmetall has recently booked two important air defence orders, winning a new customer country in the process. Two foreign governments have ordered air defence hardware and related services for their air forces. Total value of the two orders comes to around €220 million. In both cases, Rheinmetall had to overcome stiff international competition. The orders were booked in June this year. Delivery will take place through to 2021. The new customer country has ordered two Skyguard 3 air defence systems. This is a third-generation system optimized for protecting critical facilities and infrastructure from current and future threats at very short ranges. Each system consists of a Skyguard 3 fire control unit as well as two 35mm Oerlikon Twin Gun GDF009 automatic cannons. The same country is expected to place additional orders in the medium term. Another nation – already a longstanding customer – has now opted to add 35mm Skyguard 1 fire units to its inventory. The order also encompasses 35mm ammunition, simulators, related test equipment as well as training on location. Here too, follow-on orders are expected to come within the next five years. Rheinmetall is one of the world's foremost makers of sophisticated air defence systems for short-range applications. The company is the market leader in gun-based air defence, and the sole single source supplier of fire control technology, guns, integrated guided missile launchers and special Ahead airburst ammunition. The Group's tried-and-tested 35mm Skyshield technology sets the unsurpassed global standard, particularly when it comes to protecting sensitive civilian sites and critical infrastructure from terrorist threats. Developed by Rheinmetall on behalf of the German Bundeswehr, the Mantis air defence system is the most advanced system of its kind anywhere. First deployed in 2014, it is able to protect military installations and forward operating bases from incoming rocket, artillery and mortar fire.
KTRV modifies Kh-38ME missile for improved PAK 50 fit | Jane's 360
Russia's Tactical Missiles Corporation (KTRV) has modified its Kh-38ME direct attack air-to-surface guided missile to enable improved integration with the internal weapons bay of the Sukhoi PAK FA fifth-generation fighter aircraft. The Kh-38-family of air-launched short-range modular guided
IW/IO/Cyber Reports
TAINTED LEAKS – To Inform is to Influence
Disinformation and Phishing With a Russian Nexus By Adam Hulcoop, John Scott-Railton, Peter Tanchak, Matt Brooks, and Ron Deibert May 25, 2017 "Every external operation is first and foremost a domestic one: the single most important role of the agencies is to secure the regime." — Mark Galeotti on Russian foreign intelligence Key Points Documents stolen from a prominent journalist and critic…
Majority of Young Russians Watch Kremlin-Funded News – To Inform is to Influence
The main target of Russian propaganda is domestic. It seems they are succeeding. </end editorial> July 28, 2017 — 11:48 State-run television is the principal source of news for a majority of young Russians, the independent Russian television channel Dozhd reported Friday. Fifty-four percent of Russians aged between 18 and 24 watch government-funded Channel One news casts, Dozhd reported citing a poll produced by the independent…
Russian Accused Of Illegal Bitcoin Scheme Moved To Greek Prison
A Russian man accused by U.S. officials of running a $4 billion money laundering scheme using the virtual currency bitcoin has been transferred to a Greek prison.  Aleksandr Vinnik, 38, wa…
US Domestic Policy Reports
Trump plans to sign new Russia sanctions bill, White House says – The Washington Post
The pledge follows an announcement of expulsions by Moscow, a blow to a hoped-for fresh start.
Trump to sign Russia sanctions, Moscow retaliates
Russia is ready to normalize relations with the United States and to cooperate on major global issues, Moscow's Foreign Minister Sergei Lavrov told U.S. Secretary of State Rex Tillerson in a phone call on Friday.
Trump will sign bill imposing stiff sanctions on Russia, Iran and North Korea | Fox News
The White House said Thursday that President Trump will sign legislation that levies new sanctions against Russia, Iran and North Korea.
White House Says Trump Will Sign Russian Sanctions Bill
The White House announced late on July 28 that U.S. President Donald Trump has decided to sign legislation approved overwhelmingly by Congress to strengthen sanctions against Russia over its allege…
Poroshenko welcomes adoption of new sanctions package against Russia by U.S. Senate
President of Ukraine Petro Poroshenko has welcomed the adoption by the United States Congress of a new package of sanctions against Russia.
After Retaliating Against U.S. Sanctions, Moscow Says Cooperation Still Possible
Russian Foreign Minister Sergei Lavrov told his U.S. counterpart on July 28 that Moscow was forced to respond to Congress's tough new sanctions legislation but is still willing to try to improv…
UAWire – Media: Russian companies cut spending on lobbying in the United States by one third
Spending by Russian companies on lobbying in the US declined by 34% in the first half of 2017, RBC reports, citing data from the US Senate's …
The War Over Who Controls U.S. Foreign Policy Has Begun | Foreign Policy
The unprecedented, massive new sanctions bill that Congress sent to President Donald Trump on Thursday is a statement of outrage by legislators over the president's failure to responsibly carry out foreign policy on Iran, North Korea, and Russia. Fundamentally, it is also an overt effort to seize the national security reigns from the president. Legislators are near unanimous in their support for a tougher U.S. policy stance on some of the gravest national security challenges. Many believe that Trump and former President Barack Obama have not acted strongly enough to check Iran's ballistic missile program, support for terrorism, and efforts to destabilize the Middle East, as well as North Korea's alarming race toward long-range nuclear weapons capabilities. Lawmakers took matters into their own hands and wrote the new sanctions legislation to address these threats. But the real target and virulence of their bill is the set of financial measures aimed squarely at Russia. A raft of new sanctions are designed to hold Moscow to account for its meddling in U.S. democratic processes and its continued aggressive actions in Europe and the Middle East.
Trump swallows a bitter pill on Russia – POLITICO
Moscow is furious as the White House complains of Congressional interference in foreign policy.
As Russia expels a large number of U.S. diplomats, Trump's hopes for better relations appear to crumble – The Washington Post
New financial sanctions imposed by Congress appear to sap Putin's patience with the administration.
Businessman Paints A Terrifying And Complex Picture Of Vladimir Putin's Russia : NPR
Allegations of murder, blackmail and hundreds of millions of dollars worth of corruption. William Browder's story has it all — and he shared it Thursday with a Senate panel investigating Russia.
D.C. police department reportedly dismisses BuzzFeed's allegations that Mikhail Lesin may have been murdered — Meduza
"After discussing the case with our murder investigations team, we have no reason to suspect that this was a suspicious death," D.C. police spokesperson Rachel Reid told the Russian news agency RIA Novosti, responding to a new report by BuzzFeed that claims "multiple U.S. intelligence and law enforcement officials" suspect Mikhail Lesin was "whacked" because he was preparing to cooperate with the FBI. Reid added that the case could be reopened, if any new evidence emerges.
Conservative Media Argue Russia Probe Is An Attempt To Discredit President Trump : NPR
"Trump voters are never going to fall for this collusion story and are never going to buy into this notion that the Russians rigged it with Trump," said talk radio host Rush Limbaugh this week.
The Memo: GOP in shock over White House drama | TheHill
"The White House is a snake-pit," GOP operative says following latest shakeup.
Kellyanne Conway on leaks hunt: 'West Wing is a very small place' – POLITICO
Senior Counselor to the President Kellyanne Conway criticized White House Chief of Staff Reince Priebus on Fox and Friends Thursday morning when asked if he was leaking information from the White House on newly minted Communications Director Anthony Scaramucci.
Anthony Scaramucci Called Me to Unload About White House Leakers, Reince Priebus, and Steve Bannon | The New Yorker
Ryan Lizza describes a telephone call he received from Anthony Scaramucci, the new White House communications director.
Anthony Scaramucci's wife files for divorce | Page Six
The White House's potty-mouthed new communications director has been dumped by his beautiful blond wife because of his "naked political ambition."
Reince Priebus Is Ousted Amid Stormy Days for White House – The New York Times
A six-month stint as President Trump's top aide failed to impose order on an unruly and fractious White House.
Trump ousts Priebus, announces John Kelly as new chief of staff – LA Times
President Trump announced via Twitter on Friday that he had named retired Gen. John Kelly, head of the Department of Homeland Security,…
Trump Taps Retired Marine General for White House Chief of Staff | Military.com
President Trump has named retired Marine Gen. John Kelly as his new White House chief of staff to replace Reince Priebus.
John Kelly, New Chief of Staff, Is Seen as Beacon of Discipline – The New York Times
President Trump's decision to bring the homeland security secretary to the White House could impose new order.
In John Kelly, Trump gets a plain-spoken disciplinarian as his chief of staff – The Washington Post
Friends of Kelly expect him to bring order to an often chaotic White House.
John Kelly recently broke with Trump on Russia election hacking
New chief of staff affirmed Russia interference despite Trump's denials