Anonymous expert compilation, analysis, and reporting.
</end editorial>
---
---
Russia's further expands its aerial harassment from the Baltics to the Black Sea. Multiple propaganda attacks on Lithuania – payback to Pres. Grybauskaite. Monuments war continues with more Russian threats.
Nezavisimaya Gazeta polling indicates Russin public confidence in Russian media, i.e. willingness to be zombified, declining strongly. With collapse of Tatarstan autonomy deal, Russia has lost all decentralisation introduced during Soviet and early post-Soviet periods, reverting to wholly centralised governance of the Tsarist era – Putin turned the clock back over a century (and further back in other areas of governance). Concerns about immigration of Han Chinese in Far East. Religious tension in Caucasus increasing. Russian optimism about economy demonstrably zombification – refer charts. Hybrid deportation of non-ethnic Russians from Crimea. Multiple meltdown reports.
Russian Jehovah's Witnesses seeking asylum in Belarus – as repressive as it is, it it less repressive than Russia. Belarusian government hopes trade with Ukraine will save its economy.
In Moldova, pro-Russian President Dodon starts a firestorm by stating he will decorate Russian troops and Transnistrian separatists with Moldovan state awards (i.e. medals awarded for acts of high treason and invasion from abroad). Three essays on recent changes to electoral laws favoring pro-Russian parties.
Amb Volker's visit and media comments on lethal aid to Ukraine are dominant themes in Ukraine MSM. Poltorak talks about getting Western military aid. Much more on Turchenov's visit to the Honcharivske training ground in Chernihiv region – some interesting prototype weapons that will offset Russian advantages in several areas – once deployed. Another Russian ethno-rent-a-crowd fake protest dismantled. Donbass fires continue, while Ukraine shuts down electricity to occupied areas as bills have not been paid.
Iran dominating MSM in M.E. with provocation at sea, threats of retaliation for new sanctions, hostage taking, and a predicted banking system collapse. Illicit alcohol becoming a major problem in Iran. Russian mischief in Syria continues.
Chairman of the Joint Chiefs of Staff states the DPRK has months left in diplomacy upon which force will be used. DPRK makes more threats of nuclear strikes against US, while DIA recalibrates assessment of IOC for nuclear armed ICBM to 2018. Pres Moon's party members openly debate an RoK nuclear deterrent capability. Many interesting backfill reports. A poor analysis of the KN19 ASCM (Kharpunski clone). India-China competition in Indian Ocean. Nuclear attack civil defence planning under way in US and Japan.
EU disagreements over sanctions continue. Concerns growing over Russian meddling in Balkans, and also Turkish meddling. More on Erdogan's escalation.
Good strategy essays on IO and Caucasus.
Two dozen articles on IO/IW/cyber spanning the full gamut of threads, with thanks to Harding for his finds and postings.
US Russia debate is interesting today. House passes "New Axis of Evil"  sanctions bill. Russia (and Iran) threaten payback for new sanctions, while Duma MP Vyacheslav Nikonov states: "Yes, Russia is harming U.S. interests and we'll continue to do so" – brazen and unrepentant as always. POTUS tweet on Ukraine colluding with DNC disputed by multiple parties. Manafort subpoenaed but then testifies in-camera to SIC. Russian MSM pranksters interview Rick Perry, pretending to be Ukrainian PM (done several time before in Europe as Russian audiences enjoy seeing foreign political figures embarrassed).
---
Russia / Russophone Reports
RAF Typhoon scramble in response to Russian aircraft over the Black Sea
A Royal Air Force Typhoon based in Romania has been launched as a response to Russian aircraft operating near NATO airspace over the Black Sea. Operating from the Romanian Mihail Kogalniceanu Air Base near Constanta on the Black Sea coast, the RAF Typhoon responded to Russian Federation Air Force Tu-22 Backfire strategic bombers heading south near NATO air space. The Russian military jets were flying over the western Black Sea and were monitored by the Typhoon in accordance with the NATO Enhanced Air Policing (eAP) mission the RAF are conducting in Romania. The Tupolevs were tracked as they departed south but the jets did not come within visual range of each other. Previously NATO's Air Surveillance and Control System had detected several tracks of non-NATO military aircraft flying over the Black Sea, which were later identified as the two Russian jets. The NATO Combined Air Operations Centre (CAOC) at Torrejon Spain, ordered a RAF Typhoon jet to scramble and shadow the Russian jets flying in international airspace in the vicinity of NATO airspace. Wing Commander Lewis Cunningham, Officer Commanding 3(F) Squadron said "It worked as we would have expected it to. We took down the details, ran to the aircraft and I took off within the prescribed timeline." He added: "It's satisfying. We spotted that there was something happening and then very quickly the 'phone call came and we were running out of the door." The RAF mission in Romania is part of NATO's Assurance Measures introduced in 2014. At the time, the Alliance started implementing these Assurance Measures with the goal to demonstrate the collective resolve of Allies, demonstrate the defensive nature of NATO and deter the threat of Russian aggression against NATO Allies. Wing Commander Andrew Coe, Commanding Officer of 135 Expeditionary Air Wing based in Romania said: "This was a routine operation and is no different to what NATO aircraft do in other areas on a regular basis". He added; "The RAF have a long tradition and experience of conducting such activities in the UK and it is a normal peacetime activity to monitor flights in airspace of interest".
UAWire – Russia: Deployment of Patriot anti-missile systems in Lithuania will destabilize the region
The words of Lithuanian President Dalia Grybauskaite about the appropriateness of deploying American Patriot missile systems in the Baltic can lead to an escalation of tension in the region, as relayed to RIA Novosti by Mikhail Ulyanov, Director of the Department for Nonproliferation and Arms Control of the Russian Ministry of Foreign Affairs. On Thursday, Grybauskaite attended Tobruq Legacy 2017, a NATO Air Force exercise in Siauliai. In her speech, the Lithuanian President stated the need for a permanent presence of American anti-aircraft missile systems in the Baltic region. According to her, this would ensure "a higher level of security for all of our countries." "This statement testifies to the continuation of Vilnius's line to escalate tension and increase armaments, and not even their own, but those belonging to third countries in close proximity to Russian borders," Ulyanov said. "It is unclear how this can contribute to the strengthening of security in the Baltic region, including the security of Lithuania itself. The effect of implementing such appeals would certainly be the opposite: after all, in international relations, including the military sphere, any action gives rise to counteraction. Apparently, those negative consequences for the state of affairs in Europe, which are caused by the creation of missile defense facilities in Romania and Poland, are not enough for Lithuanian leadership, and they would like to aggravate the situation even more," the diplomat added. According to him, the Vilnius's position "runs counter to that of Lithuania's allies in NATO and the European Union, who are seriously concerned about dangerous trends on the European continent and call for their elimination." "I would remind you that at the end of last year, at the OSCE Ministerial Meeting in Hamburg, at Germany's initiative there was a decision made to start a "structured dialogue" in the security sphere for this purpose. Although Lithuania joined this decision, Vilnius in its national policy, apparently, relies not on a dialogue, but on strengthening military confrontation," Ulyanov noted. In July 2016, at a NATO summit in Warsaw, a decision was made to "strengthen the eastern flank." To this end, the alliance intends to deploy an international battalion in Lithuania, Latvia, Estonia, and Poland. This battalion will be created by troops from Great Britain, Germany, Canada, and the USA.
Window on Eurasia — New Series: Moscow Finally Focusing on Ethnic Russians of Lithuania, Klaipeda Party Figure Says
Paul Goble Staunton, July 25 – The ethnic Russian minority in Lithuania – some 4.8 percent of the population of that Baltic country – has seldom attracted much attention from Moscow, a marked contrast to Russian propaganda efforts in Latvia and Estonia. But now, activists in the community say that is finally beginning to change. Such a development if true is especially worrisome given that it is coming on the eve of the Zapad-2017 military exercises in Belarus, when Russia will be introducing massive forces in that country and may want to promote problems elsewhere to cover what some fear may be a move toward regime change in Minsk. Consequently, the reports of the leadership of the Union of Ethnic Russians of Lithuania, a marginal group at best most of the time, may now be far more significant. At the very least they deserve to be noted as an indication that the Putin regime is prepared to play a Russian ethnic card in Lithuania even if that card is far from having the highest face value. (That other minority groups, including the Poles and the Belarusians, may be more important targets for Russian efforts in Lithuania was recently suggested by another Russian commentator. For a discussion of his remarks and what they may mean for Vilnius, see windowoneurasia2.blogspot.com/2017/07/there-may-be-ethnic-card-to-be-played.html.) Vyacheslav Titov, president of the Klaipeda section of the Union of Ethnic Russians of Lithuania and a deputy in the local council, told Denis Lepsky of the Rubaltic portal Moscow bears some of the blame for the resurgence of "aggressive Russophobia" and attempts at the rewriting of the history of World War II (rubaltic.ru/article/politika-i-obshchestvo/25072017-soyuz-russkikh-litvy-rossiya-dolzhna-zhestko-reagirovat-na-vypady-rusofobii/). "For long years," Titov continues, "Russia did not block the transformation of the Baltic region into 'a preserve of cultural Nazism' and ignored this process." Had it responded sooner and more harshly, many of the worst features of this trend might have been avoided, the Russian activist says. He continues: "In my view, the Russian Federation should more harshly defend the truth and not allow the falsification of historical events. Today, alas, we do not see an adequate and sharp reaction to attempts by the Baltic establishment to change and rewrite history" of the second world war. "We, the ethnic Russian residents of the Baltic region, have been living in this milieu already 25 years. We are constantly being told that we are the guilty ones who occupied" Lithuania and her neighbors, Titov says. And the ethnic Russians of the region have waited for Moscow to come to the defense of truth and of their community. Now, he continues, there is reason for optimism, even celebration. "I'm pleased," he says, "that Russia now is undertaking efforts to put everything in its proper place, to provide information support and to enlighten people. [As a result,] this theme isn't being ignored in the media If earlier, nothing was done, today we finally see that Russia has begun to react." It would have been better, Titov says, if Moscow had done so earlier, but the adage better late than never applies.
Russian Legislators Urge Sanctions On Poland Over Removing Soviet Monuments
Russia's upper house of parliament has asked President Vladimir Putin to start preparing sanctions on Poland over its plans to demolish Soviet monuments, Russian state media reported on July 25. …
Russian Senate Wants to Punish Poland for Removing Statues Honoring World War II Soldiers – To Inform is to Influence
Damien Sharkov, Newsweek Russian senators are calling on President Vladimir Putin to put sanctions on Poland for a law that could see Soviet memorials in the country torn down. Poland's new law demands the removal of dates, names and mentions on public monuments that seem to glorify Communism or "any other totalitarian" regime. This mostly…
Window on Eurasia — New Series: Two New Signs Russians are Ceasing to Trust the Kremlin's Messages
Paul Goble Staunton, July 25 – In a lead article today, the editors of Nezavisimaya gazeta say that for the first time fewer than half of all Russians say they trust government TV in large part because the economy and its problems are the primary focus of Russians in their everyday lives but the last thing the media attend to (ng.ru/editorial/2017-07-25/2_7036_red.html). And in a Rosbalt commentary, Lyudmila Semenova, a specialist on art, says that Russians are standing in line, often for long hours, to view the relics of saints at least in part because having something to believe in is important to them and "they no longer have any faith in the government" (rosbalt.ru/blogs/2017/07/24/1633097.html). These are the latest indications that despite the self-confidence Vladimir Putin projects about the trust and support he believes he has among the Russian people, in fact, as the economic crisis deepens and ever more Russian citizens are forced to confront declines in their standard of living, their faith in him and what his propagandists say is ebbing away. The editors of Nezavisimaya gazeta point out that surveys of Russian public opinion now present "a paradoxical picture." On the one hand, they find that Russians are agitated "above all by economic problems." But on the other, when Russians are asked what they want to see in the media, Russians say they are interested in economic issues least of all. There are several possible explanations for this divergence, the editors say. Russians may simply want to see something different in the media than they see in their daily lives. Or the media may not have figured out how to cover such things in an interesting way. Or "government propaganda may form the information agenda for Russians. But in addition, the editors say, Russians indicate now that they trust the media much less than they used to. "About 40 percent of Russians" are now certain that the media isn't objective, nearly twice as many as said this three years ago. And as a result, "the share of those who call the Russian media objective is only seven percent more than the share who have the opposite view." And as for television, the most important "mass informer" of the population, a June poll found "for the first time" that trust in its broadcasts had fallen before "the red line" of 50 percent of the population. In all earlier years, more than half of the Russian people trusted television; now, fewer than half do. In her commentary, Semenova suggests that Russians are ready to stand in line to see the relics of Orthodox saints because they want some form of entertainment and can't afford anything else or because they hope that the relics will provide them with some relief from this or that problem they are suffering with. But there is another reason which may be even more important, the specialist on art says. When the government doesn't support the population and can't even come up with an image of "a bright future," Russians begin to search for some basis independently – and in this case, by turning to religion." Consequently, while the authorities may continue to issue optimistic reports and upbeat television stories, "part of the people will stand in lines for many hours to view the remains of imported saints Some because they sincerely believe that this will bring them help, but some simply because that's what 'everyone is doing.'"
Russia's Parliament Went on a Censorship Binge – To Inform is to Influence
Posted 21 July 2017 20:51 GMT Russia's lower house of parliament approved a spate of censorship laws today, voting for legislation that will prohibit messaging services from allowing users to communicate anonymously, outlaw the use of Virtual Private Networks (VPNs), proxies, and other anonymizers, and require search engines to hide links to blocked sites. In the last week before its summer recess, the State Duma passed an…
The Daily Vertical: Federalize This! (Transcript)
Russia's official name is now officially a fiction. The Russian Federation has now completely ceased to be anything remotely resembling a federation. When an agreement allowing Tatarstan limited autonomy, including control over its resources and budget and special status for the Tatar language, expired this week, it marked the final death of any pretense of federalism in Russia.  When Vladimir Putin came to power 17 years ago, some 46 regions had similar agreements with Moscow, and regional leaders across the country were elected rather than appointed. But, one by one, they were brought tightly under the Kremlin's control. Tatarstan was the last holdout. But even as Putin effectively abolished federalism in Russia, he continues to insist that he is a big fan of decentralizing and devolving power. In fact, in recent years, Putin and other Russian officials have been quite fond of regional autonomy. They profess to be staunch opponents of an overbearing federal government imposing its will on diverse regions. They've been vocal advocates for the idea of protecting ethnic minorities. And they've continuously expressed deep concern about the fate of minority languages. Sure, Putin and his underlings remain big fans of federalism. That is, of course, as long as they are talking about Ukraine.
Oleg Kashin | The agreement between Moscow and Kazan has expired.
The Kremlin wants to correct the "mistake" of the 1990s and equalize Tatarstan with other regions. It is unlikely that there are aware of all possible risks
The Morning Vertical, July 26, 2017
ON MY MIND By allowing Tatarstan's special-status agreement with Russia's federal authorities to expire, depriving the republic of the semiautonomous status it has enjoyed for two decades, the Kremlin may facilitate the one thing it fears most. As long as Tatarstan enjoyed its limited autonomy — which included control over its resources and budget, special status for the Tatar language, and symbolic attributes of "statehood" such as being allowed to open representative offices abroad — it could be counted on to be loyal to the Kremlin. By effectively revoking the status Tatars value and have become accustomed to, Vladimir Putin's regime may end up provoking separatist sentiments in one of Russia's wealthiest and most important regions. As Oleg Kashin argues in a piece featured below, it is harder to have a privilege taken away from you than not to have been granted the privilege in the first place.
Residents Of Russia's Remote North Want Autonomy Back
Residents of the Taimyr Peninsula in a remote part of northern Russia are calling for a referendum that would restore the area's former status as an autonomous region. Activists who support the change lodged a formal request with the Electoral Commission of the Krasnoyarsk Krai — a huge region whose capital is more than 1,000 kilometers south of Taimyr — to stage a referendum on the issue. Activist Stella Kokh told RFE/RL on July 26 that representatives of another former autonomous region, Evenkia, had sent a letter to the Constitutional Court on July 25 urging it to "assess" the federal law under which Taimyr and Evenkia lost their autonomous status within the Krasnoyarsk Krai on January 1, 2007. Taimyr and Evenkia — whose residents include members of the indigenous, traditionally nomadic Nenets, Nganasan, Dolgan, and Evenk peoples — have been fighting to restore their status as autonomous regions since 2009. They say that local infrastructure, medical services, education facilities, and housing have been in decline because taxes from local industrial facilities go to central Krasnoyarsk Krai coffers instead of serving local needs. Russian President Vladimir Putin's 2003-2008 campaign to unite federal regions eliminated six out of 10 autonomous regions with indigenous populations, merging them into larger administrative areas.
Window on Eurasia — New Series: Russia's 'Jewish Autonomy Could Become Chinese,' Moscow Paper Says, as District Now has More Chinese than Jews
Paul Goble Staunton, July 26 – Under Moscow's Far Eastern hectare program, approximately 24,000 Russians have received on hectare each over the last six months, but in the same period, a single Chinese entrepreneur backed by Beijing has applied to take control of "more than 66,000 hectares" in the Jewish Autonomous Oblast alone. That fact, Anatoly Komrakov says in today's Nezavisimaya gazeta, is worrisome not only because of the history of Chinese agricultural practices and the failure of the Russian authorities to consult local people but also because as of now, there are more ethnic Chinese in the oblast than there are Jews (ng.ru/economics/2017-07-26/1_7037_china.html). Liu Xiao, the entrepreneur in question, has been active in the oblast since 2005 during which she has overseen the construction of "more than 20 apartment blocks, kindergartens, and administrative buildings." Last fall she helped the region recover from flooding and was awarded the Russian Order of Friendship. But in the last two years, she has shifted from the construction business into agriculture, the result of China's need for more food and Beijing's support for such activities as part of its "belt and path" foreign policy initiative. Liu Xiao says she is being helped financially and in other ways by the Chinese government. According to her, opening the Russian Far East to Chinese agriculture makes good sense all around. "The economies of the Chinese Peoples Republic and the Russian Federation to a significant degree fit together. China has great experience and good technologies in agriculture, and in Russia, there is a great amount of land lying fallow." Her "Sunlight" project, she continues, will be a "green" enterprise and produce vegetables, fruits, and medicinal herbs. China needs them: It has 19 percent of the world's population but only six percent of its water supply and 10 percent of its arable land. To feed its people, it must look abroad, and Russia is an obvious place. According to the Moscow journalist, "of the 70 Chinese enterprises working in the Jewish Autonomous Oblast now, agricultural enterprises form more than half." Many of them now operate large agro-centers, far larger and more efficient than the farms they could get in China itself. But the result, as local media point out regularly, is that "there are definitely more Chinese [in the Jewish AO] than there are Jews." And that trend appears likely to continue to grow given that the neighboring Chinese province has 38 million residents, "more than 200 times the entire population of the Russian oblast. The Jewish Autonomous Oblast is not the only place where Chinese agriculturalists are making inroads, a growth that is especially striking given the veritable collapse of farming in the Russian Far East earlier. Between 1990 and 2006, the Nezavisimaya gazeta journalist says, the area cultivated there fell by 60 percent. Perhaps the largest Chinese conquest in this regard has been in Trans-Baikal kray where the authorities agreed to hand over 115,000 hectares of land to Chinese entrepreneurs on a 49-year lease basis. Whether Liu Xiao's project will be approved or may even expand remains to be seen. Russian officials and experts are concerned. Mikhail Shapov, a Duma deputy, says that "Chinese citizens for a long time already have been active in the agricultural markets of Siberia and the Far East but earlier they did everything in a semi-legal way and more often in a completely illegal one." "In every region," he continues, "you hear stories" about how the Chinese have come in, poisoned the land with pesticides and fertilizers, and then departed, leaving the Russians with a mess to clean up. And Natalya Shagayda, head of the Center for Agricultural Policy at the Russian Academy of Economics, adds that many of the new Chinese projects are taking off without an adequate discussion of the arrangements. There is no standard contract, and the views of local people are simply ignored. Of particular concern, she continues, is the fact that many of these Chinese enterprises once they are registered in Russia qualify for and receive Russian government assistance even though they are also receiving Chinese government aid. That gives them competitive advantages which are driving many Russian producers out of business. "This is a new situation," Shagayda says. "It requires very attentive consideration."
Kadyrov's Evolving Role In A Chechen-Avar Standoff In Daghestan
Chechen Republic head Ramzan Kadyrov appears to have capitalized on Daghestani authorities' perceived failure to address grievances that led to a brawl between Chechens and Avars last month in order to cast Chechnya's controversial parliamentary chairman in the role of peacemaker.
Window on Eurasia — New Series: A Problem across the Post-Soviet Space — When Mullahs are Passive, Muslims are Radicalized
Paul Goble Staunton, July 26 – The tendency of post-Soviet governments to return to the Soviet pattern of keeping the activities of mullahs and imams restricted to mosque services and rituals is having the same consequence that it did in the USSR: reducing the importance of the "official" religious leaders and thus opening the way to the radicalization of the faithful by others. A comment by Tajik journalist Mukhibullo Shoyev for the Centrasia portal this week comparing the outcomes in Uzbekistan where the government has permitted the leaders of mosques to work outside their precincts and in Tajikistan where the regime has sought to block such activities is instructive on this point (centrasia.ru/news.php?st=1501008240). In Uzbekistan, he says, "one can see numerous publications of imams and other representatives of the official spiritual leadership about true Islam, about the interpretation of the Koran and about terrorism and extremism." These Muslim leaders moreover "organize regular conversations, roundtables, and other measures" to combat those ills. "But in Tajikistan," Shoyev continues, "the imams do not play an active role in the struggle with these evils. They act very passively. As a result, at present, some 1200 Tajiks have joined the militants in Iraq and Syria, and more than 300 of these have fallen in battle." The Tajik imams often don't know what their parishioners are thinking and are "practically indifferent to their personal problems which when they remain unresolved can lead to radicalization." What is most important for many believers is that someone pays attention to them and listens. If the imams and mullahs don't, then believers will turn to others. Tajik religious leaders are "practically not heard on radio, television and the Internet." As a result, young people turn to others because "the extremists use the information vacuum created by the religious. [The latter] do not understand that their voice could bring back dozens of young people who have gone to Syria and Iraq." If mullahs and imams go beyond the confines of the mosque and both listen to people and promote knowledge about the Koran and Muslim traditions, that alone will immunize many. After all, Shoyev says, "knowledge is the best weapon against extremism." And he concludes: "The likelihood of falling under the influence of extremist ideology will be many times reduced in an individual with a normal level of legal and religious literacy. The coordination of the activity of leading representatives of mosque leaders and the government can help counter extremist recruitment."
US sanctions have taken a big bite out of Russia's economy
As the U.S. steps up sanctions, Russia's shrinking economy is struggling with low oil prices, high inflation, a battered currency and capital flight.
Russia And Ukraine: Divided By Politics, United By Attractive Bond Yields? | Frontera News
Russia and Ukraine have attractive bond yields in common. But will they remain attractive in light of geopolitical risks?
Cooordinator Of Navalny's Volgograd Staff Charged With Desecrating Russian Symbols
The coordinator of Russian opposition politician Aleksei Navalny's election staff in the city of Volgograd has been charged with desecrating Russian military symbols. The Russia…
Bolotnaya Square Protester Ishevsky Released From Prison
Protester Dmitry Ishevsky was released from prison in Russia's Yaroslavl region after serving three years for fighting with police during a rally on Moscow's Bolotnaya Square in May 2012. Amnesty International has condemned the convictions of Ishevsky and other protesters, saying the cases were politically motivated. (RFE/RL's Russian Service)
'Bolotnaya' Protester Released From Russian Prison After Serving Term
Dmitry Ishevsky was freed from a prison in the Yaroslavl region northeast of Moscow on July 26. Ishevsky was one of more than 400 people detained after clashes erupted between police an…
'Failed Homeowners' Start Hunger Strike In Siberia
NOVOSIBIRSK, Russia — Dozens of would-be homeowners who made down payments a decade ago on apartments that were never completed have started a hunger strike in the Russian city of Novosibirsk. Th…
Hybrid deportation from Crimea
Unfortunately, there are no reliable statistics to tell us the exact number displaced as a result of Russian Federation's occupation. At first, statistics were captured by the State Emergency Services of Ukraine, a function that was subsequently transferred to the Ministry of Social Policy. Vitaliy Muschinin, a deputy minister, notes that while some 20,000 internally displaced persons (IDPs) from Crimea have been registered, this is only a subset of the total number. Another reason to be sceptical of this number is the fact that that Ukraine's border services have reported a net outflow from Crimea three times higher than the number reported by the Ministry of Social Policy. IDPs who fled Crimea are now scattered across Ukraine. To capture the experience of those displaced by the conflict, I carried out 125 interviews over a two-year period. My first aim was to explore the reasons why people left. The gross abuse of power by the new authorities created a situation in which many left in order to preserve their rights, freedoms or, in some cases, their very lives. Unfortunately, the areas that received the migrants were ill-equipped to accommodate them. Even though the government lacked experience and resources to address internal displacement, the Ukrainian people, inspired by the Revolution of Dignity, had both the will and desire to help those who arrived from Crimea. Two main findings from the interviews stand out: first, population displacement contributed to the development of a new civic identity that has the potential to unite Ukrainians and fill a void with regard to Ukrainian national identity. Second, there is deep disenchantment with the Ukrainian state that manifests itself most strongly in feelings of having been abandoned and betrayed by the government. The principal task ahead is to resolve the barriers and overcome challenges that stand in the way of IDP integration, so the state and society can function together. Asked why they left, my respondents stated plainly and unequivocally that they disagreed with the change in power and that they would not live under the occupational authorities. Whether it was to have a political opinion, profess a faith, feel safe in their home or avoid torture and death, all were seeking to preserve their fundamental rights. The right to a political opinion was violated by threats and the actual disappearance of many pro-Ukrainian individuals in Crimea. The right not to be tortured was violated with the beatings of those who were arrested. The right to have a private life was slipping away, as searches of homes and schools became routine. Religious organisations have been a primary target. For example, the Ukrainian Orthodox Church had to give up some of their premises, and police conducted sweeps of mosques, on some occasions arresting every single man emerging from Friday prayers for fingerprinting and DNA testing. Given these conditions it is not surprising that Crimean Tatars label the policies of the de facto authorities to be a "hybrid" or hidden deportation. This should not be surprising considering that very recently, flyers were distributed instructing them what to bring in the event of an "evacuation." Crimean Tatars draw parallels between their own experience and that of European Jews at the hands of the Third Reich. The traumatic past (both that of the Crimean Tatars and the European Jews) is in a sense haunting the present. A term that often used to express this notion is "hybrid deportation". The term communicates the feelings of vulnerability and historical injustice, and it captures the ways in which the choice to leave is a forced one. Second-class citizens The Ukrainian government was not prepared to deal with an influx of internally displaced persons. Ukrainian officials interviewed during this study readily admitted a lack of experience that resulted in notable policy and protection gaps. Corruption also undermined the government's ability to meet the needs of IDPs. The government's policy has in effect led to a situation where IDPs do not enjoy a full set of rights in what is called free Ukraine. One manifestation of the issue is voting privileges. In July 2015, for example, Ukraine's parliament approved a law that excludes IDPs from participating in local elections. And according to Ukrainian law, neither birth nor death certificates issued in the Russian-occupied territory are recognised. Families must go through time consuming and potentially costly court proceedings to legalise their stay. Banking is another example of a skewed policy response to the IDPs. One of the first activities of the Ukrainian authorities, after the occupation, was to freeze Crimeans' funds in Ukrainian banks in the occupied territory. Some were able to recover their funds through the painstaking intervention of NGOs, while others lost them irretrievably. What is more, Ukrainian citizens with Crimean documents could not open a new bank account in Ukraine proper.
Russian Terrorism Suspects Allege Torture At 'Secret' FSB Site
Lawyers for two men charged in a deadly subway bombing in St. Petersburg have asked Russian officials to investigate their claims of torture at a so-called black site outside Moscow.
Russian police arrest man carrying 'Putin lies' poster at freedom of speech demo – To Inform is to Influence
Officers detain Grigory Saksonov but later release him without charge Caroline Mortimer A man holding a placard saying "Putin lies" has been arrested at a free speech protest in Moscow. Hundreds of demonstrators took to the streets on Sunday to protest against the Russian government's increasing crackdown on online free speech. The protest, which was approved…
Rostransnadzor found it dangerous to travel on Moscow trains – To Inform is to Influence
Rather than find the cause and fixing the problem, Russia says traveling by train can be dangerous and leaves an investigation like that. </end editorial> MOSCOW, July 26 (Itar-Tass) – RIA Novosti. Rostransnadzor found that traveling on Moscow electric trains carrying about 540 million passengers a year can be dangerous, writes the newspaper Kommensant on Wednesday . The April…
Deceased Russian Minister Lesin's Former Mansions Up For Sale
WASHINGTON — A second luxury Los Angeles mansion formerly owned by Mikhail Lesin, the former Russian press minister who was found dead in a Washington hotel room two years ago, has been put up fo…
Westerners are Using Crowdfunding Sites to Join Fighting in Ukraine | Rare
Armed with a rocket-propelled grenade launcher, Russell Bentley is urging other Texans to join him in his Russian sympathizer movements.
Window on Eurasia — New Series: Fight over Alphabets Heating Up in Kyrgyzstan
Paul Goble Staunton, July 25 – Kyrgyzstan has become the latest post-Soviet country where a struggle has broken out between those who want to shift from the Cyrillic to the Latin alphabet in order to become more integrated with the Turkic and international community and those who oppose such a change, at least partially because of Moscow's opposition. Earlier this year, Kanybek Imanaliyev, a deputy in the Kyrgyzstan parliament, came out strongly in favor of having his country shift from the Cyrillic (Russian) script to the Latin alphaet as Azerbaijan, Turkmenistan, and Uzbekistan has done and as Kazakhstan has announced plans to do the same (zanoza.kg/doc/355638). Such a move will help preserve the national identity of Kyrgyz, he said, although he acknowledged that "now we don't have the money for it, but we must now begin to prepare specialists for the shift to the Latin script. It would be a good thing to plan to make the transition [to that common Turkic alphabet] in the 2030s and 2040s." Since that time, the issue has attracted some attention in the Bishkek media, but there is clear evidence that it is an idea that many Kyrgyz believe is one whose time has come. The clearest evidence of that is the passionate opposition President Almazbek Atambayev has expressed to such a step (zanoza.kg/doc/360590 andzanoza.kg/doc/355638). Atambayev says that "if in the period of good-neighborly relations between Turkey and the Soviet Union, the peoples of Turkestan shifted from the Arabic script to the Latin one in the 1930s, then after the cooling of diplomatic ties, there was a sharp turn [away from the Latin alphabet] to the Cyrillic one." As a result of each of these changes, he continues, "our peoples have lost unique portions of our written literature and history and even the possibility for simple people to read and understand that which their ancestors wrote, sometimes even their fathers and grandfathers in Arabic and Latin script." Any break "from an earlier alphabet means a break with the past of the people In Central Asia," this has now happened several times. Now, since 1991, "history is again repeating itself but already in reverse," with Turkic countries shifting away from the Cyrillic script to the Latin alphabet. The arguments people make for this shift keep changing, Atambayev says, and they are now all convincing. Alphabets alone don't determine economic outcomes, and they won't guarantee closer relations with one or another country. But changing them not only cuts people off from their pasts but also from those with whom they have had close ties Many aren't thinking, he argues, that if Kyrgyzstan shifts to the Latin script, it will lead to a break with "our brothers living in the Russian Federation. Do we want to forget about Tatars, Bashkirs, Altais, Khakases and many others? Because they will be using the Cyrillic script into the future." According to the Kyrgyzstan president, "a gradual transition to the Latin script will not unite but rather separate our peoples. And in fact, this transition under the influence of the ideas of pan-Turkism continues the 'divide and rule' method which has been used against our peoples both in the Russian Empire and in the USSR."
The problem with Georgia's political brand
All in all, while Georgia needs a brand that would help to promote its national interests, the local elite should not get deluded. The country is on the path to democracy, but one that is still far from the Western definition. Moreover, the situation in the region is fragile and Tbilisi must realise that an existing dichotomy of allies and enemies is no longer relevant. The neighbouring countries will continue to put pressure on Georgia to defend their authoritarian ends. This becomes clear, when the brand faces a reality check. Archil Sikharulidze is a co-founder of the Center for Systemic Political Research (CSPR), a Tbilisi-based research institute, and an editor of the Georgian Journal of Systemic Politics (GJSP). He is also a lecturer at Tbilisi State University.
Georgian Activists Warned Not To Patrol Contact Lines With Breakaway Regions
Georgia's Interior Ministry has urged an activist group not to patrol the "contact lines" separating government-held territory from land controlled by Russia-backed separatists in South Ossetia and Abkhazia.
Belarus Reports
Window on Eurasia — New Series: How Bad are Things in Putin's Russia? Jehovah's Witnesses There are Seeking Asylum in Lukashenka's Belarus
Paul Goble Staunton, July 25 – Now that the Russian Supreme Court has confirmed the government's notion that the Jehovah's Witnesses must be banned as "extremist" and that new polls show Russians overwhelmingly accept the Kremlin's line that they aren't even a religion, some Witnesses in Russia are planning to seek asylum in Alyaksandr Lukashenka's Belarus. That they should be doing so is perhaps the most appropriate indictment of Vladimir Putin's regime, given that Lukashenka's has a well-deserved reputation for oppression but has not banned the Jehovah's Witnesses although it has restricted their activities in the Belarusian capital (activatica.org/blogs/view/id/3705/title/svideteli-iegovy-ishchut-ubezhishche and facebook.com/notes/anton-chivchalov-blog/вопросы-и-ответы-о-белоруссии/245227352633572/). The Jehovah's Witnesses are now placing their hopes in an appeal to the European Court of Human Rights in Strasbourg, but their leaders recognize that is a long shot, not because they do not have a good case but because the Kremlin often ignores that body's decisions and in any case no decision will be reached before Moscow will have suppressed the Witnesses at home Indeed, their leaders warn that the sweeping and totally unconstitutional decision of the Russian Supreme Court opens the way to the suppression of any religious group that Vladimir Putin's regime does not happen to like, a reality that should be generating more protests in the West than it has so far What is especially disturbing is that most Russians back Putin's moves against the Jehovah's Witnesses. According to a new VTsIOM poll, 80 percent of Russians who have heard about them do not believe they are a religious group and 76 percent support banning them as extremist (ruskline.ru/news_rl/2017/07/25/rossiyane_odobryayut_zapret_deyatelnosti_iegovistov/).
Belarus sees no solution to Ukraine crisis without another summit | Daily Mail Online
LJUBLJANA, July 24 (Reuters) – Belarus sees no solution to the crisis between its neighbours Russia and Ukraine without another regional summit, the…
Semashko: Belarus can boost export of equipment to Ukraine
"If we combine the Belarusian and Ukrainian subsidies we will be able to increase the export of our tractors, combine harvesters, and other equipment (tractors, for instance) several times," Vladimir Semashko said.
Lukashenko backs production of articulated tractors in Belarus
The industry minister noted: "Belarus will have articulated tractors of its own. Amkodor and MTZ will find mutually acceptable cooperation options." Such tractors are in demand abroad and Belarus would be able to compete with foreign manufacturers. It means the project has great prospects.
Minsk process promoted, engaging the diaspora, export growth – Belarus state press digest | Belarus Digest – News and Analysis of Belarusian Politics, Economy, Human Rights and Myths
Minsk process promoted, engaging the diaspora, export growth – Belarus state press digest – Read on Belarusdigest.com
Belarus Central Bank Approves Blockchain Use For Bank Guarantees – CoinDesk
"The Village of Scientists" Rebelled against Officials – Charter'97 :: News from Belarus – Belarusian News – Republic of Belarus – Minsk
Residents of the Loshytsa micro district are asking the court to overturn the decision of the Minsk City Executive Committee on demolition.Owners of the private sector in Loshytsa, usually called the "village of scientists", made a complaint against the Minsk City Executive Committee. They ask to cancel the decision to seize their plots and demolish houses "for state needs", tut.by writes. – In May we received the decision on demolition. The decision is based on document No. 1130 "On Upcoming Seizure of Land Plots for State Needs and Demolition of Real Estate Objects on This Area" from 6 April 2017. We believe that this decision does not comply with norms of the current legislation and violates our legitimate rights and interests, residents of the private sector say. 12 owners of houses signed under the complaint. Other 15 owners plan to join the complaint in the near future. The Village of Scientists is a piece of the private sector within the boundaries of Chizhevskikh Street, the pass and Loshytski Passage, where the third generation of biology scientists, candidates of sciences in the field of chemistry, physics, economics, major software engineers of major campaigns, teachers of leading universities of Minsk live. According to the first developed project, the private sector in Loshytsa should have been "decontaminated" for the development of the Loshytsa-5 micro district with multi-apartment housing. "The Village of Scientists" -several dozen houses – was promised to be preserved. But two years ago, when a project for building a micro district was put up for public discussion, architects announced that the "village", which by the decision of the Ministry of Culture was of historical value, lost this value and would also be demolished.
Infamous American Blogger Marries Belarusian – Charter'97 :: News from Belarus – Belarusian News – Republic of Belarus – Minsk
The couple celebrated their wedding dressed in Belarusian national costumes. The infamous blogger and social activist Jack Posobiec married Ivatsevich's native Tatsiana Harbach, tut.by reports. "Can't believe after all these years the big day is finally here. I'm a ball of nerves, but also, the happiest guy in the whole world", – twitted Posobiec. The couple got married in the Orthodox Church, they were dressed in Belarusian national costumes. Jack Posobiec posted a picture of the Belarusian currency in his tweet, and pointed out that one of the bills had the Bible and the cross on it.
Transnistria Reports
Honours for Russian Troops Spark Anger in Moldova :: Balkan Insight
Moldova's pro-Russian President Igor Dodon sparked yet more controversy by announcing he intends to give state honours to Russian and separatist troops in breakaway Transnistria.
Vladimir Socor | Moldovan Court To Rule On Referendum On Expanding Presidential Powers
CHISINAU — The Constitutional Court of Moldova says it will announce its ruling on July 27 about a presidential decree calling for a referendum in September on whether to expand presidential powers….
Vladimir Socor | Moldova's New Electoral Law Could Be Fatal to Pro-Western Parties (Part One) | Jamestown
On July 20, Moldova's parliament changed the country's Electoral Code, with an eye to the 2018 parliamentary elections. The new legislation—the "Law for Amending and Completing Certain Legislative Acts [i.e. the Electoral Code]"—also applies to future presidential elections and future referendums (Moldpres, July 20, 21; Parliament.md, July 20; Monitorul Oficial al Republicii Moldova, July 21). The debate thus far concentrates on the impact of the new law on electoral procedures and the chances of various political parties. Most observers seem to overlook another set of implications of the new law: it establishes ethnic voting and ethno-political electoral territories for the first time in Moldova. The changes are illustrative of the informal political cartel operated by the billionaire Vladimir Plahotniuc and pro-Russia head of state Igor Dodon, leaders of the Democratic Party and the Socialist Party, respectively. Plahotniuc's and Dodon's teams negotiated the terms of the new electoral system during the last two months, and propagandized the change in parallel. Their parties ensured the passage of this legislation in the final reading, as an organic law, by 74 votes in the 101-seat parliament. Dodon promulgated the legislation on the same day. Technically, the new legislation transforms Moldova's system of parliamentary elections from a proportional system with party lists into a mixed system: proportional (country-wide voting by party lists) and uninominal system (single-mandate territorial constituencies, where individual candidates compete for one parliamentary seat) (see Part Two).
Moldova's New Electoral Law Could Be Fatal to Pro-Western Parties (Part Two) | Jamestown
Moldova's new electoral legislation—"Law for Amending and Completing Certain Legislative Acts [i.e. the Electoral Code]"—is the outcome of a bargain between the country's de facto leader Vladimir Plahotniuc, who controls the state apparatus, and the pro forma head of state, Igor Dodon, whose party tops all opinion surveys and is likely to take first place in any free elections. The legislation just enacted sets the stage for a post-election power-sharing agreement between Plahotniuc's Democratic Party and Dodon's Socialist Party (see Part One). The new legislation transforms Moldova's proportional system of voting by party lists into a mixed system: country-wide party lists (proportional) and territorial single-mandate constituencies (uninominal system), where individual candidates compete for one parliamentary seat. Each voter will cast two ballots: one for a party list and one for an individual candidate in the uninominal constituency. Moldova used the proportional system from 1994 until now. The entire country formed a single electoral territory (circumscription), within which the parties competed for the parliament's 101 seats. Under the new legislation, the country-wide proportional contest by party lists will adjudicate only 50 of the parliament's seats. This change correspondingly reduces the pro-Western parties' chances to establish themselves in parliament (while they have practically no chance in the uninominal constituencies—see below). The new law, moreover, practically invites Transnistria's residents to vote (see below), thus further diminishing the share of pro-Western parties in the proportional contest by party lists. The threshold for parliamentary representation remains 6 percent: a high threshold, favoring the large parties of Dodon and Plahotniuc in the proportional redistribution of votes cast for parties that failed to pass the threshold.
Plahotniuc: Moldova needs US and EU aid to get rid of Russian troops and armies on Transnistrian territory
Vlad Plahotniuc claims that Moldova needs US and EU aid to escape Russian troops and weapons from Transnistria. Such an opinion was expressed by the DP leader in a newspaper published in the American press. According to him, the presence of more than 2,000 Russian and separatist troops and more than 20,000 tons of Russian weapons on the territory of the left bank of Nistru river create a difficult situation for Moldova, but Russia's threats are not only military, speaking about embargo, the harassment of Moldovan diplomats and the influence that the Russian press exercised on the election of President Igor Dodon. According to his opinion, Plahotniuc accuses Dodon of attempting to cancel the EU's deal and strengthen relations with Russia, and praises DP's dedication to Western values. The DP leader also mentioned that Chisinau has repeatedly demanded the withdrawal of the Russian military forces and their arsenal, and the replacement of the peacekeeping mission with a civilian, under international mandate. Please note that last week, an official statement in this regard was approved by the Parliament.
Expelling Russian Troops From Transnistria May Worsen Conflict – Sputnik International
Transnistria's President Vadim Krasnoselsky said that without Transnistrian people's will none of the Russian servicemen will be expelled from the region.
Ukraine Reports 
Trump considers arming Ukraine against Kremlin-backed separatists – VICE News
The White House is considering arming Ukrainian government forces fighting Russian-backed rebels as a way of defending against further incursions into the country. Kurt Volker, new U.S. special representative for Ukraine, told the BBC that the move would not change the balance of power in the region, but the […] Volker claims sending defensive weapons to Ukraine would reduce the number of casualties in the region rather than increase it, an idea backed up by Keir Giles, associate fellow of the Russia and Eurasia programme at London-based think tank Chatham House, who believes the move will have a "cooling effect on the conflict both directly and indirectly." "This is not going to influence whether Russia escalates or not," Giles told VICE News. "Because they do it in their own time anyway, they turn up and down the military pressure on Ukraine like a dimmer switch to suit their own assessment of the political mood." Not everyone agrees. Vladislav Zubok, chair in international history at the London School of Economics, believes that sending arms to the Poroshenko government could see the relaunch of a Ukraine offensive against Luhansk and Donetsk – two major cities currently under Russian control – triggering possible Kremlin retaliation. "I do not see how sending so-called 'defensive weapons' to the Ukraine now will help all of us bring both sides to a negotiating table," Zubok told VICE News. "Unless the U.S. wants to have another little war, before peace can be brokered." Giles says the arrival of Volker is seen by most analysts as a positive step, because he is "highly experienced, knows the Russia problem and is not beholden to Russia in any way. He is an independent voice, and a realistic one." Given Trump's apparent reluctance to order new sanctions against Russia over its actions in Crimea and its interference in the 2016 presidential election, it remains unclear what actual chance Volker has of persuading the administration to provide arms. "The question now is how long Volker can keep up this realistic assessment of the situation for Ukraine, and whether he is going to be reigned in from DC," cautioned Giles.
Will U.S. Arms Resolve the Conflict in Ukraine? – The Atlantic
Washington's new special envoy to the country said it could help. More than just giving Ukrainian forces a means to defend themselves, Pifer said the arms could serve as a way to compel Moscow toward a political resolution to the conflict. "Nobody on the Ukrainian side suggests to us that they were going to use the force to drive the Russians and the separatists out of Donbass—they know they cannot beat the Red Army," he said, referring to the Russian military. "The advantage … is giving them better ability to raise the cost to the Russians and the separatists of further aggression." The Russians may not see it that way. Though Volker insisted that arming Ukrainian forces would not be seen as a provocation, Moscow is unlikely to look on the move as kindly either. "There is a risk the Russians choose to escalate, and I think it's a risk we have to acknowledge," Pifer said, noting that as long as the Russians are disinclined to resolve the conflict, it could remain at a standstill. "It hasn't yet reached the point where they're looking for a way out," he added. "We've got to somehow figure out a way to change the calculation in the Kremlin."
Kremlin warns US against supporting Ukraine with weapons | New York Post
MOSCOW – Any U.S. decision to supply Ukraine with lethal weapons would set back peace efforts and escalate tensions, the Kremlin said on Tuesday. The…
UAWire – The Kremlin: US weapons will hinder the peace process in the Donbas
The possible supply of US weapons to Ukraine would only postpone the settlement of the conflict in the Donbas, stated Dmitry Peskov, the press secretary for Russian President Putin while commenting on the statement of the US State Department's Special Representative for Ukraine Negotiations, Kurt Volker. "We have repeatedly said that any actions provoking tension on the line of demarcation and provoking the situation, which is already difficult, will only distance us from settling this intra-Ukrainian issue," Peskov said. He also spoke of the conditions for attracting observers to the line of demarcation in the Donbas. "Regarding the involvement of any monitoring forces to the demarcation line, in this case it is possible only upon the consent of the parties to the conflict. As you know, Russia is not a party to the conflict," the Kremlin representative repeated. Peskov added that the recent negotiations of the Normandy format can be considered successful, but only because they showed the readiness of politicians to work together further. Volker said they day before that Washington was actively considering the issue of a possible defensive weapons supply to Kyiv.The possible supply of US weapons to Ukraine would only postpone the settlement of the conflict in the Donbas, stated Dmitry Peskov, the press secretary for Russian President Putin while commenting on the statement of the US State Department's Special Representative for Ukraine Negotiations, Kurt Volker. "We have repeatedly said that any actions provoking tension on the line of demarcation and provoking the situation, which is already difficult, will only distance us from settling this intra-Ukrainian issue," Peskov said. He also spoke of the conditions for attracting observers to the line of demarcation in the Donbas. "Regarding the involvement of any monitoring forces to the demarcation line, in this case it is possible only upon the consent of the parties to the conflict. As you know, Russia is not a party to the conflict," the Kremlin representative repeated. Peskov added that the recent negotiations of the Normandy format can be considered successful, but only because they showed the readiness of politicians to work together further. Volker said they day before that Washington was actively considering the issue of a possible defensive weapons supply to Kyiv.
Trump May Arm Ukraine Against Russia, Says New U.S. Special Envoy
Kurt Volker blames the conflict in eastern Ukraine on Russia.
Ukraine calls for United Nations peacekeepers as fighting surges in east
United States seeks greater role in ending conflict as European leaders hold talks
Volker intends to talk with Russia's reps in Minsk process in next few weeks | KyivPost
Special Representative of the U.S. Department of State for Ukraine Kurt Volker has said about his intention to communicate with representatives of Russia in the Minsk process, noting that this is a strategically important conversation. I have to talk with the representatives of Russia in the next few weeks. We have not yet agreed on the day and place, but we will do it, and in my opinion, this is a strategically important conversation, Volker said in an interview with the BBC. In his opinion, the issue of security on the uncontrolled part of Donbas is more important to discuss with Mosco
No recognition of Russian activities in Donbas and Crimea ever possible, – US envoy Volker
26.07.17 11:08 – No recognition of Crimea annexation and Donbas "republics" is possible. This was announced by U.S. Special Envoy to Ukraine Kurt Volker in an interview to Nastoiashchee Vremia TV channel, Censor.NET reports citing Radio Svoboda. Volker said the issue of Crimea is no different from the issue of the Donbas: it's the territory that has been seized and occupied. In Crimea, Russia said it annexed the territory, and this is unacceptable, Volker said. No one can come and grab a region of another country, he said. So none of Russia's steps in Crimea and Ukraine can be recognized as legitimate, Volker said. Volker added that every time when Russians ask for lifting sanctions, this means there is a reason they want it, so it means something for Russia. If current sanctions are inefficient, it's not the reason to change the course, but a reason to think of another way to get to a point where the issues can be solved, he said. Volker believes that to stop the conflict in the east of Ukraine, more sanctions are needed.
UAWire – The US State Department doesn't discount the possibility of arms supplies to Ukraine
The United States has not provided defensive weapons to Ukraine yet, however they have not ruled out the possibility. The head of the US State …
U.S. State Dept comments on Volker's "Ukraine lethal aid" statement
The U.S. Department of State says the issue of potential provision of lethal defensive weapons to Ukraine is not on today's agenda but Washington does not rule out that the situation will change, that's according to Heather Nauert, the Department's spokesperson. News 26 July from UNIAN.
Department Press Briefing – July 25, 2017
QUESTION: Good. How are you? So Ambassador Volker was in eastern Ukraine on his first trip to that region. He gave some interviews to international media while he was there. Do you have any details on what was accomplished during his visit and any kind of timeframe for a decision on whether to provide lethal weaponry to the rivals there? MS NAUERT: So Special Representative Volker – I'm not sure where he is at this hour, right now, but – spent time in the eastern part of Ukraine. As many of you know, that's considered a fairly dangerous area. We've seen a real uptick in violence recently. Thirteen or more Ukrainian soldiers have been killed as a result of that Russian-led attacks on those soldiers. One of the things that our special representative did, he went out with the OSCE monitors. They are the people on the ground who are monitoring the situation. We have continued to have very serious concerns. We have talked about this from the podium about the monitors' ability to do their jobs. They are the eyes and ears on the ground to be able to assess and give us good reporting about the situation there. So he went out with the OSCE monitors to see, unfortunately, just how dangerous their job is right now. I know that's one of the things that he was doing. He wanted to start to get the ground truth. His job will be trying to bring the parties from the Normandy format back to trying to negotiate something so that we could get closer to adhering to the Minsk accords. I don't have any readouts for particular meetings with you, but when Mr. Volker comes back, I'll see if I can get him back in here to give you all a good – a better debrief. QUESTION: And on the arms for Ukraine? MS NAUERT: Yeah. So there was a BBC report headline. Sometimes the headline writers – you all would know this – will get ahead of the story. So there was a headline that implied that we were in the process of doing what you just described. We are not there yet. Let me take out the word "yet." We are not there. The United States has not provided defensive weapons nor have we ruled it out to provide to the Ukrainians. Okay. All right. Anything else on Ukraine?
American Diplomat Kurt Volker Observes the Front Line in Avdiivka – YouTube
US Special Envoy to Ukraine, Kurt Volker, has visited Donbas in eastern Ukraine to observe the situation in the conflict zone. _ Follow UATV English: Faceboo…
Ukraine expects positive decisions on provision of defensive weapons – Poltorak – 26.07.2017 12:30 — Ukrinform News
26.07.2017 12:30. Ukraine expects positive decisions of different countries on the provision of defensive weapons to the Armed Forces of Ukraine. Defense Minister Stepan Poltorak wrote this on his Facebook page. "Equipping the Armed Forces of Ukraine with modern weapons and military equipment is a key task of the defense reform. Support of foreign colleagues is very important for us. Since the beginning of the Russian aggression Ukraine has appealed to different countries around the world to provide the Ukrainian army with defensive weapons. Now we are waiting for the relevant decisions and we will positively accept this assistance," Poltorak said. As reported, the United State is not yet in the process of considering the issue of providing defensive weapons to Ukraine, but at the same time Washington doesn't rule out the situation may change.
Ukraine seeks defensive arms from different foreign partners – Poltorak
Ukrainian Defense Minister Stepan Poltorak says that since the beginning of the Russian aggression, Ukraine has appealed to different countries regarding the provision of defensive weapons to the Ukrainian army, and is now waiting for the relevant decisions by foreign governments. News 26 July from UNIAN. "Equipping the Armed Forces of Ukraine with modern weaponry and military equipment is a key task of our defense reform," Poltorak wrote on Facebook. "Since the beginning of the Russian aggression, Ukraine has appealed to different countries around the world regarding the provision of defensive weapons to the Ukrainian army. Now we are waiting for the relevant decisions and we will perceive such assistance positively," he said. As UNIAN reported earlier, Heather Nauert, the spokesperson for the U.S. Department of State, has commented on the new U.S. envoy for Ukraine Kurt Volker's statement regarding possible lethal aid for Ukraine. According to the official, The U.S. Department of State says the issue of potential provision of lethal defensive weapons to Ukraine is on today's agenda but Washington does not rule out that the situation will change.
Stepan Poltorak: Supply of modern armament and military equipment to the Ukrainian army is a key task of the defence reform | Міністерство оборони України
"Supply of modern armament and military equipment to the Ukrainian army is a key task of the defence reform," Army General Stepan Poltorak wrote on his FB page. The head of defence ministry remarked that since the beginning of the RF aggression Ukraine had asked many countries to supply defensive weapons to Ukraine. "Support of foreign colleagues is very important. We are waiting for appropriate decisions and will positively accept this assistance," General Poltorak said.
Stepan Poltorak: Cooperation between Ministry of Defence of Ukraine and US Department of Defence is mutually beneficial and effective | Міністерство оборони України
Minister of Defence of Ukraine Army General Stepan Poltorak held talks with US delegation chaired by Mrs Laura Cooper, Acting Deputy Assistant Secretary of Defence for Russia, Ukraine, Eurasia, Office of the Under Secretary of Defence for Policy, USA. "Cooperation between Ministry of Defence of Ukraine and US Department of Defence is mutually beneficial and effective especially regarding the training of the Ukrainian service members in Lviv oblast. The US instructors demonstrate high level of professionalism during joint operations. Currently we are improving the training field infrastructure there," General Poltorak stressed. Minister of Defence announced the opening of new simulation training module at International Peacekeeping and Security Centre and thanked the US party for provided equipment for this centre. The parties discussed the current situation in east of Ukraine. "Despite calls of world political leaders and international organizations regarding ceasefire, militants keep on shelling. They do not observe the so called bread ceasefire," stressed Poltorak. The Minister of Defence briefed the meeting participants on progress of defence reform, present and prospects of defence assistance provision to Ukraine, US-Ukrainian defence cooperation. Mrs Cooper underscored the necessity to continue reforming the Ministry of Defence and Armed Forces of Ukraine. "The most important is to invest in people, in training of NCOs, improvement of medical care and logistic support. The most important thing is people, their lives, health and security," Mrs Cooper said.
US Air Force representatives visit airfield of P.Franko Tactical Aviation Brigade in the framework of preparation of Rapid Trident 2017 | Міністерство оборони України
In the framework of preparation to Rapid Trident 2017 exercise a group of US Air Force representatives visited airfield of P.Franko Tactical Aviation Brigade. Foreign guests toured the infrastructure of airfield. They also met with Ukrainian English speaking colleagues because air component of joint exercise features flights from the brigade airfield. The parties defined future activities within preparation to Rapid Trident 2017.
Turchynov boasts new Ukrainian weaponry
Firing tests of new samples of Ukrainian weapons and military equipment were carried out at the Honcharivske training ground in Chernihiv region on Tuesday, July 25. News 26 July from UNIAN. Secretary of the National Security and Defense Council (NSDC) of Ukraine Oleksandr Turchynov posted on Facebook photos and videos from the scene. "Honcharivskiy. Testing new equipment and weapons. Pay your attention to the new Phantom-2 [modernized unmanned combat vehicle]. And how the Korsar [brand new portable anti-tank missile system] hits right on the target," said in a commentary to the video. As UNIAN reported earlier, on July 25, Turchynov paid a visit to the Honcharivskiy training ground of the Armed Forces of Ukraine where new models of weapons and military equipment developed by the Ukrainian defense industry were tested, including machine guns, sniper rifles, hand-held anti-tank grenade launchers, mortars, modern anti-tank missile systems and ammunition.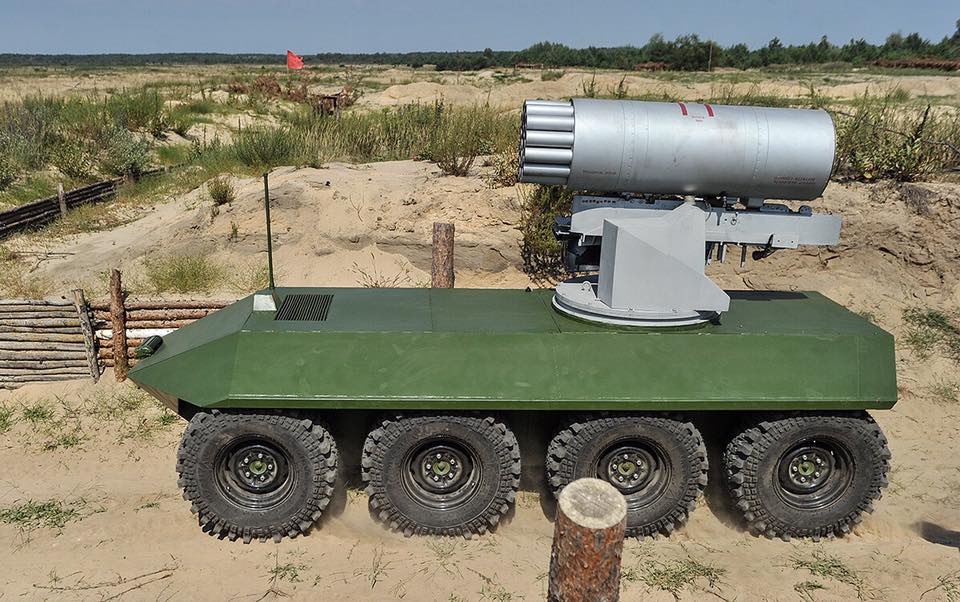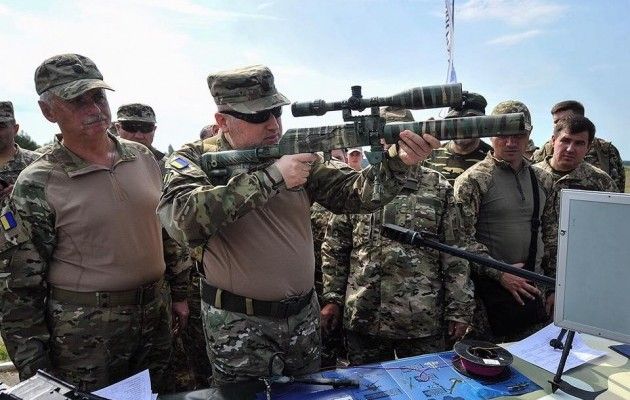 NSDC Secretary Turchynov attends Ukraine-made weapon testing at Honcharivsky shooting range. PHOTOS
25.07.17 17:20 – NSDC Secretary Turchynov attends Ukraine-made weapon testing at Honcharivsky shooting range. PHOTOS Weapons made by Ukrainian defense industry companies were tested by the Ukrainian military together with National Security and Defense Council Secretary Oleksandr Turchynov. View photo news.
Ukroboronprom goes six positions up in ranking of world's largest arms manufacturers – 26.07.2017 12:10 — Ukrinform News
26.07.2017 12:10. Ukraine's State Concern "Ukroboronprom" is ranked 62nd among Top 100 world's arms manufacturers in the Defense News ranking for 2017.
UAWire – Security Service of Ukraine suppresses pseudo-protest attempt of 'ethnic Bulgarians' orchestrated in Russia
The Security Service of Ukraine (SBU) suppressed attempts to organize the fake protest action of supposed ethnic Bulgarians in the Zaporizhia and Odessa provinces, the SBU's website reported. As it transpired, the organizer of the anti-Ukrainian events was Sergey Khizhnyak, one of the former leaders of the "Young Regions" public organization. "He is one of the former leaders of the 'Young Regions' public organization and is hiding in Russian territory. The 30 citizens hired to participate in the provocation were supposed to create an image for the Russian media, crossing the motorway with Bulgarian flags and banners with propagandist content," the SBU reported. The information about these fake protests was shared on social networks. "It has been established that the malefactors were financed by Russian intelligence through the Ukrainian citizen Anton Davidchenko, leader of the 'People's Druzhina' and the 'Youth Union' and coordinator of the 'People's Alternative' movement. The man is hiding in Moscow and in the temporarily occupied Donbas territory," the Security Service noted. "Russia's primary goal is to destabilize the social and political situation in Ukraine and discredit the Ukrainian authorities before the global community on account of the supposed oppression of national minorities. All of the fake protests are organized according to a similar script and are coordinated by specially appointed supervisors located in Russian territory. While these pseudo-protests were being held, the security service did not document any facts that real representatives of national minorities participated in them," the department stated. In spring 2015, the Odessa police suppressed a similar rally of the "People's Council of Bessarabia".
Militants launched 22 attacks on Ukrainian troops in Donbas in last day – 26.07.2017 09:36 — Ukrinform News
26.07.2017 09:36. Militants launched 22 attacks on positions of the Armed Forces of Ukraine in ATO area in Donbas over the past day.
Ukraine reports 22 enemy attacks in last day – War news | UNIAN
Russia's hybrid military forces attacked Ukrainian army positions in Donbas 22 times in the past 24 hours, according to the press service of the Anti-Terrorist Operation (ATO) Headquarters. The Russian occupation forces continued to violate peace agreements, firing on ATO forces mainly from small arms and grenade launchers. In turn, the Ukrainian military fired back, promptly assessing the degree of threat. From 18:00 to midnight, the largest number of attacks was recorded in the Luhansk sector. The enemy used small arms and grenade launchers against the Ukrainian fortified positions near the villages of Stanytsia Luhanska, Troyitske and Krymske. The village of Novozvanivka came under fire from infantry fighting vehicles and 82mm mortars twice. And at about 23:00 Kyiv time, an enemy 120mm mortar started working near the village of Novotoshkivske. Read also Ukraine army repels militant group near Triokhizbenka In the Donetsk sector, the militants carried out two attacks from small arms on Butivka coal mine at the end of the day. The villages of Luhanske and Kamianka were attacked with grenade launchers. Moreover, almost at midnight, the occupiers launched 19 mines from 82mm mortars on the Ukrainian defenders near the village of Pisky. In the Mariupol sector, the invaders used tank shells against the Ukrainian fortified positions near the town of Krasnohorivka. Given that the Ukrainian military immediately opened fire in response in threatening situations, the shelling was mostly short-term.
Situation in Donbas remains tense, no combat casualties in Armed Forces yesterday, – ATO HQ
26.07.17 11:31 – Situation in Donbas remains tense, no combat casualties in Armed Forces yesterday, – ATO HQ On July 25, no Ukrainian fighters were killed or wounded in combat in the anti-terrorist operation (ATO) in the east. View news.
Russia: Crossing In Plain Sight – To Inform is to Influence
Russia is openly and blatantly violating the Minsk Agreement on a daily basis and is increasing the volume of violations. No repercussions, no punishments, and there are seemingly no F's given. Russian military presence builds just east of Ukraine, now estimated at three Army's. Once again an agreement signed by Russia is not worth the paper upon which it is printed. </end editorial> OSCE sees Russian military equipment moving in both directions at checkpoint in eastern Ukraine
One Ukrainian fighter wounded in explosion in Luhansk region, – Defense Ministry
26.07.17 14:24 – One Ukrainian fighter wounded in explosion in Luhansk region, – Defense Ministry Over the past 25-hour period, on July 25, no military of the Ukrainian Armed Forces were killed in combat in the anti-terrorist operation (ATO) in the east of Ukraine, but one soldier was wounded as he triggered an explosive device. View news.
Kyiv Cuts Electricity Supply To Separatist-Held Parts Of Donetsk Region
Ukraine's state power company says it has terminated electricity supplies to the parts of the Donetsk region that are controlled by Russia-backed separatists.   Vsevolod Kovalchuk, actin…
Ukraine cuts power supply to occupied part of Donetsk region
Ukraine has completely stopped electricity supplies to the areas of Donetsk region, temporarily occupied by Russian terrorist forces, as reported by Vsevolod Kovalchuk, CEO of the country's united energy grid Ukrenergo. News 26 July from UNIAN. "From 00:00 on July 26, 2017, the flow of electricity into temporarily uncontrolled areas of Donetsk region was halted. ORDLO (militant-occupied areas) as of today do not consume electricity produced by power plants in the government-controlled part of Ukraine," Kovalchuk wrote on Facebook. Read also Ukraine boosts electricity exports by almost 60% in H1 According to Ukrenergo CEO, the demand for electricity in the occupied territories is covered by Starobeshevska and Zuivskaya thermal power plants, as well as at the expense of other producers in the temporarily occupied territory and supplies from the Russian Federation. Kovalchuk also noted that the lines used by Russia to supply electricity to the occupied areas of Donetsk region have been excluded from the list of interstate lines, and power flows along those lines are not accounted for in the general system of power flows between Ukraine, Russia, and Belarus. As UNIAN reported earlier, on July 25, Ukraine halted power supplies to the occupied parts of Luhansk region, citing debts for power already supplied. Read also Ukraine halts power supplies to occupied parts of Luhansk region According to energy minister Ihor Nasalyk, power supplies to the occupied part of Luhansk region can be resumed if payments are made and debts are paid back. As of April 1, the debts for the energy supplied from the Ukraine-controlled territory amounted to UAH 2.985 billion. In late June, chairman of the Donetsk Regional Military and Civil Administration Pavlo Zhebrivsky said that the debt of the occupied areas of Donetsk region amounted to UAH 3.9 billion.
U.S. Special Operations Forces train with Ukrainian counterparts
As the U.S. special operations forces were invited this year to participate in Sea Breeze-2017, the Ukrainian-U.S. military exercise in southern Ukraine, the U.S. Special Operations Command Europe's Naval Special Warfare Command operators were "eager to sign up for the mission," the U.S. Department of Defense reports. News 26 July from UNIAN.
Ukrainian, British sailors conduct exercises aboard NATO's destroyer. Photos – 26.07.2017 10:50 — Ukrinform News
26.07.2017 10:50. Ukrainian and British military sailors conducted joint exercises aboard HMS Duncan destroyer in the port of Odesa.
Monitors analyze evidence of Russia's Minsk deal violations, military buildup at Ukraine border
The latest observations by the OSCE Special Monitoring Mission (SMM) to Ukraine near Novoazovsk, Donetsk region, on numeroues "military type" vehicles moving near the checkpoint, along with statements from the Ukrainian Armed Forces and social media reports within a few days of the SMM's report, indicate a possible Russian military buildup along Ukraine's eastern border, the Atlantic Council's Digital Forensic Research Lab wrote in a report titled "Crossing In Plain Sight." News 26 July from UNIAN.
UAWire – Ukraine: pro-Russian separatists are testing a new kind of Multiple Rocket Launch system in the Donbas
Pro-Russian separatists used a new type of weapon while shelling the positions of the Ukrainian Armed Forces in the area of Krasnohorivka in the …
Tank engine procurement case: "SAP leadership not yet decided on passing indictment to court"
26.07.17 12:32 – Tank engine procurement case: SAP leadership not yet decided on passing indictment to court Major General Yurii Melnyk, who has been released from pre-trial detention center for the period of investigation, has been invited to Special Anti-Corruption Prosecutor's Office (SAP) under the case of tank engines procurement. View news.
Police colonel involved in Odesa May 2 events gets Russian citizenship
Former deputy chief of the Main Directorate of the Ministry of Internal Affairs of Ukraine in Odesa region Dmytro Fuchedzhi, who is a suspect in the case of mass riots in Odesa on May 2, 2014, was granted citizenship of the Russian Federation, Head of the Special Investigation Department of the Prosecutor General's Office (PGO) of Ukraine Serhiy Horbatiuk told UNIAN. News 26 July from UNIAN.
Security Service expels Russian journalist from Ukraine back to home country. PHOTO
26.07.17 13:41 – Security Service expels Russian journalist from Ukraine back to home country. PHOTO SBU has halted destructive activities of Russian journalist Mariya Knyazeva, who worked for Rossiya-1 and Rossiya-24 TV channels from Ukraine under fake name of Saushkina. View photo news.
Ex-Georgian President Saakashvili Reportedly Loses Ukrainian Citizenship
Reports say President Petro Poroshenko has revoked the Ukrainian citizenship of Georgia's former president, Mikheil Saakashvili, who had served as the governor of Ukraine's Odesa region fro…
Netherlands amending legislation to implement absentee justice in MH17 case
Ukrainian Deputy Foreign Minister Olena Zerkal says that the Kingdom of the Netherlands is amending its legislation to introduce the concept of trials in absentia in the case of MH17 passenger liner shot down from the skies over Donbas in July 2014. News 26 July from UNIAN.
UAWire – Media: Ukraine dismantles fiber optic lines to Crimea
Ukraine has dismantled the main fiber optic communication lines connecting it to Crimea, Kryminform reports with reference to a competent source. "Really, Ukraine has dismantled the infrastructure of the main fiber optic communication lines on the border with Crimea," the source said. According to Ivan Zima, general director of Miranda Media, one of the major internet providers in the Crimea, no internet traffic is currently coming to the peninsula from Ukrainian territory. "We cannot confirm the fact of the dismantling. We can only state the fact that since Wednesday, July 12, traffic has not been coming from Ukraine's side," he said. Dmitry Polonsky, Deputy Prime Minister of the Crimean government, Minister of Internal Policy, Information and Communication, said that the peninsula is part of united communications infrastructure with Russia and is "absolutely independent" of Ukraine. "We have a primary and a reserve channel of communication through the Kerch Strait, and so we are completely indifferent to what Ukraine does with its own fiber optic communication lines," he said.
UAWire – Ukrainian Ministry of Foreign affairs asked residents to report incorrect image of Crimea on maps
The Ministry of Foreign Affairs of Ukraine is again asking citizens to inform them when the "incorrect image" of the Crimea is found on world …
Mother of captured Russian army soldier calls on Russia to end war in Ukraine | KyivPost
Svetlana Ageyeva, the mother of Viktor Ageyev, a Russian soldier captured by Ukrainian forces in June, came to Ukraine on July 22 to meet with her son. He is being held in a pretrial detention center in Starobilsk, a Luhansk Oblast city of 18,000 people some 700 kilometers southeast of Kyiv. "My son didn't tell me he was going to serve in Ukraine. He hid it from me, I thought he was going to serve somewhere in Russia. Now I want to talk to him and ask, how he managed to end up here," Ageyeva said during video questioning published on the Security Service of Ukraine's website.
Balancing National Security and Freedom of Expression in Ukraine – YouTube
The Centre for Law and Democracy (Canada) tracks freedom of and access to information. Ukraine ranks 23rd out of 111 rated countries according to the legisla…
Irresponsible Journalists In Donbas – To Inform is to Influence
Today, near a UA Air Force military facility, Ukrainian journalists were detained as they tried to launch a quadrocopter. By every rule of warfare I know, the journalists could have been mistaken for Russian Spetsnaz or Russian Special Services and shot on sight as a preparation for an attack. Also, this took place in the Zhytomyr…
Police unveils names of attackers, shooting details in Dnipro City incident
25.07.17 14:31 – Police unveils names of attackers, shooting details in Dnipro City incident The names of participants and the details of yesterday's armed conflict in Dnipro that left two Donbas war veterans killed have been revealed. View news.
Criminal investigation into intended killing initiated regarding Dnipro City shooting, – police
25.07.17 13:17 – Criminal investigation into intended killing initiated regarding Dnipro City shooting, – police Five participants of the incident remain in the hospital. View news.
Anniversary of First Raising of Ukrainian Flag in 1990 – YouTube
Ukrainians celebrated the anniversary of the first modern hoisting of the Ukrainian flag with pride. Many believe that with the first rising of the blue and …
Ukrainian schoolchildren win medals at International Physics Olympiad – 26.07.2017 13:24 — Ukrinform News
26.07.2017 13:24. Roman Soletskyi, a graduate of Odesa Richelieu Lyceum, won gold at the International Physics Olympiad that was held in Yogyakarta-Indonesia on July 16-24 2017, Dumnskaya online publication reports.  Over 400 schoolchildren from 88 countries participated in the Olympiad. Apart from Roman Soletskyi, gold was awarded to a tenth-grader of Kharkiv Physics and Mathematics Lyceum № 27, Serhiy Kryhin. Silver medal was awarded to Viktoria Kovaliova from Kharkov Lyceum №61 "Impulse", and bronze medals – to Kyrylo Sovailo from Technical Lyceum of Igor Sikorsky Kyiv Polytechnic Institute and Oleksandr Khasai from Mariupol City Lyceum.
Going global: 600 volunteers from around the world teach kids English at summer camps in Ukraine -Euromaidan Press |
Kostiantyn Yanchenko During our interview, Canberk Bal, a young man from Turkey, is wearing a vyshyvanka – a Ukrainian national embroidered shirt. Canberk has just come back from the west-Ukrainian city of Lviv where he worked as a volunteer tutor assistant at one of the Lviv secondary schools. He got a vyshyvanka as a souvenir from Ukrainian children and then bought one more for his mom. Canberk is one of the 600 volunteers who arrived in Ukraine in Summer 2017 as part of the GoGlobal language camp initiative called GoCamps. The project is organized by the Ministry of Education and Science of Ukraine and Ukrainian NGO "Global Office" in partnership with British Council as well as a number of other international organizations and embassies. This is the second year of the project; last year, 117 volunteers from 38 countries came to work in summer camps across Ukraine.
Russia / Iran / Syria / Iraq / OEF Reports
An Iranian ship refused to heed the Navy's warning. Then shots were fired. – The Washington Post
It was the latest aggressive encounter between the two adversaries.
US Navy ship fired warning shots at an Iranian boat in the Persian Gulf – CNNPolitics.com
A US Navy ship fired warning shots at an armed Iranian patrol boat Tuesday in the northern end of the Persian Gulf, according to two US defense officials.
In other news, U.S. military has close calls with Iran and China.
Nothing to worry about.
'Iran, EU to Go Ahead with Nuclear Deal without US'
An Iranian lawmaker says given the US indecent stances towards the nuclear deal between Tehran and world powers
President Trump has reluctantly followed the advice of his national security advisers and certified that Iran is complying with the 2015 agreement to limit its nuclear weapons program for a second time.
Trump Blames Iran, Hizballah For 'Humanitarian Catastrophe' In Syria
U.S. President Donald Trump attacked Iran and the Hizballah militia that it backs in Syria and Lebanon, blaming them for creating a "humanitarian catastrophe" and threatening peac…
Trump warns Iran to stick to nuclear deal, but says he'll be 'surprised' if it does
President Donald Trump warned Iran on Tuesday to adhere to terms of a nuclear deal with world powers or "there will be big, big problems" for Tehran.
Trump warns 'emboldened' Iran to comply with nuclear deal
U.S. President Donald Trump issued a veiled threat against Iran on Tuesday, warning Tehran to adhere to the terms of a nuclear deal with world powers or else face "big, big problems."
Iran economy: Banking crisis could be coming
Lower inflation and severely high interest rates — sometimes as much as 25 percent — have the country's top banking officials warning of a crisis.
Son of American who disappeared in Iran pleads: 'Do something. Do anything.' – The Washington Post
Relatives of U.S. citizens imprisoned in Iran are urging the White House to step up its efforts to secure their freedom.
Iran's tech sector blooms under shield of sanctions
Hijab or Not: Iran TV Host, Unveiled and Beer-Drinking, Criticized as 'Hypocrite' After Leaked Images Appear Online
Azadeh Namdari has previously criticized women who do not cover up as "exposed."
Poisonings Put Spotlight On Iran's Alcohol Problem
Mass alcohol poisoning and related deaths have exposed an alcohol problem in the Islamic republic, where a ban introduced following the 1979 revolution has failed to prevent Iranians from drinking. …
UAWire – Lavrov suggested that Syrian opposition be excluded from Syrian negotiations
Russian Foreign Minister Sergey Lavrov proposed to leave the Syrian political opposition on the "roadside" of the political process, as he …
The UN Security Council blocked a statement by Russia on the bombardment of the embassy in Damascus – To Inform is to Influence
Yes, so? </end editorial> 03:37 07/26/2017 WASHINGTON, July 26 – RIA Novosti, Alexei Bogdanovsky. The statement on the shelling of the Russian embassy in Damascus is blocked by the UN Security Council, the permanent mission of Russia to the international organization said in a press release. "The Russian Permanent Mission to the UN has distributed to the…
Russia Looks to U.N. to Help It Profit From Syria Conquests | Foreign Policy
Critics suspect the Kremlin is looking to the West to pay the price to make Palmyra safe for Russian business.
DPRK / PRC / WESTPAC Reports
Top U.S. General Hints at Military Action Against North Korea in a 'Few More Months'
The chairman of the Joint Chiefs of Staff says the U.S. might use force against North Korea as early as this fall. Did you hear that, Pyongyang? How about you, Beijing?
North Korea could cross ICBM threshold next year, U.S. officials warn in new assessment – The Washington Post
"Alarming" advances in its missile program are forcing analysts to dramatically alter their forecasts.
North Korea could have nuclear-armed ICBM in 2018, US DIA intelligence agency assessment says – CBS News
Officials believe Kim Jong Un could have a nuclear-armed missile capable of reaching U.S. two years sooner than had been anticipated
Lee Jong-kul, a prominent lawmaker from President Moon Jae-in's Minjoo Party, last week told a seminar in Washington that South Korea may have to acquire nuclear weapons, an idea that until now has been confined to the conservative political fringes in Seoul. "If North Korea continues to conduct nuclear weapon and missile tests while the North Korean nuclear negotiations are sluggish, South Korea should decide whether to break the principle of denuclearization and start developing nuclear weapons," Lee said in a speech at a forum in the U.S. capital sponsored by several Korea-related religious groups. "An astronomical amount of money on armaments would be incurred to fight against nuclear weapons with non-nuclear weapons. It is clear that the most effective deterrent to nuclear weapons is a nuclear weapon itself," he stated. "Therefore, I believe that we need a phased strategy for nuclear armament. The first phase is to adopt highly effective weapon systems such as nuclear submarines, and the next phase is to promote the relocation of U.S. tactical nuclear weapons [to South Korea], and in the final phase, we should develop our own nuclear weapons."
U.S. says progress with China on North Korea U.N. sanctions, true test is Russia
The United States is making progress in talks with North Korean ally China on imposing new United Nations sanctions on Pyongyang over its latest missile test, but Russia's engagement will be the "true test," U.S. Ambassador to the U.N. Nikki Haley said.
North Korea said to be 'on brink of famine', UN claims | Metro News
North Korea is said to be on the brink of a catastrophic famine after suffering the worst drought in 16 years. Poor rainfall and ruined crops mean the isolated country…
North Korea's elite have really good internet access and use it for Facebook and porn – VICE News
North Korea may be one of the world's most isolated countries thanks to international sanctions and draconian domestic censorship, but that hasn't stopped its wealthiest citizens from enjoying a few modern luxuries, like checking Facebook or watching porn.    According to a new report by internet threat intelligence company […]
Qatar's North Korea connection is dangerous | TheHill
OPINION | The Doha-Tehran-Pyongyang brotherhood is a danger to us all. Qatar is helping North Korea, the brutal regime that killed University of Virginia honors student Otto Warmbier last month, by employing North Korean citizens and soldiers. How is this even possible? The North Korean regime, led by Kim Jong Un, is currently subject to international sanctions as it continues to defy calls to end Pyongyang's nuclear and missile programs. The foreign currency earned by North Korea's overseas workforce, which rotates every three years in Qatar, is a crucial tool for propping up the isolated country's fragile economy. ADVERTISEMENT Up to three thousand North Korean migrant laborers are working on the World Cup 2022 construction sites to this day despite the actions of the international community. Ever since FIFA awarded the World Cup 2022 to Qatar, a steady flow of workers have entered the country, now under scrutiny for its support of extremism and terrorism. Doha supports North Korea by allowing workers to come to Doha for work on Lusail City, the location of the World Cup Final.
North Korean defector: Time for intervention overseas | KING5.com
A North Korean defector says there's only one solution for peace on the Korean Peninsula.
North Korea Threatens U.S. Nuclear Strike Over Regime Change | Time.com
Pyongyang says it'll strike the U.S. with nuclear weapons "should the U.S. dare to show even the slightest sign of attempt" at regime change
North Korea threatens nuclear strike on US – CNNPolitics.com
North Korea threatened a nuclear strike on "the heart of the US" if it attempts to remove Kim Jong Un as Supreme Leader, Pyongyang's state-run media reported.
North Korea threatens 'merciless blow' to US as data shows Moscow aiding regime
Nuclear-armed North Korea vowed to "strike a merciless blow at the heart of the U.S." as new data showed Moscow helping to boost the hermit regime.
North Korea's New KN19 Coastal Defense Cruise Missile: More Than Meets the Eye | The Diplomat
North Korea's new coastal defense cruise missile is notable for more than its integrated all-terrain launcher.
North Korea still digging up unexploded bombs | News | santafenewmexican.com
Sixty-four years after it ended, the Korean War is still giving up thousands of bombs, mortars and pieces of live ammunition
North Korea Mysteriously Shuts Down Its Beer Festival : The Two-Way : NPR
A China-based tour agency says North Korea informed it of the cancellation. "We don't expect information to be forthcoming," the agency writes.
North Korea vacations: Here's who's visiting the dictatorship
Visitors aren't bothered by heightened military tension in the region, one tour operator tells CNBC.
U.S. Readies More Sanctions Against Chinese Entities Over North Korea – WSJ
The U.S. soon will issue new sanctions against Chinese entities for violating United Nations sanctions against North Korea, a senior State Department official said Tuesday.
Trump Needs to Confront Beijing: North Korean Missiles Fly on Chinese Technology
The administration needs to ask hard questions about how North Korea was able to develop an ICBM so quickly, and why it was riding on a Chinese-built vehicle.
China prepares for a security crisis along 880-mile North Korea border – MarketWatch
China has been bolstering defenses along its 880-mile frontier with North Korea and realigning forces in surrounding regions to prepare for a potential crisis across their border, including the possibility of a U.S. military strike.
China and Russia Hold First Joint Naval Drill in the Baltic Sea – The New York Times
As part of a budding military partnership, China and Russia hold joint military exercises in the strategic European sea for the first time, monitored by NATO.
Russia, China hold naval exercise in Baltic
Ships of the Russian and Chinese navies have begun exercises in the Baltic Sea, watched from afar by neighboring NATO countries uneasy about Russia's growing military assertiveness.
Russia and China are Sending Their Navies to the Baltic Sea: Is a Formal Alliance Next? | The National Interest Blog
No. And here's why.
From Doklam to Indian Ocean: New Delhi and China tensions grow
The rivalry between India and China is heating up as the two heavyweight economies face territorial tensions on both land and sea.
In Japan, the $18,999 Bomb Shelters Are Selling Like Crazy Now – SFGate
The popularity of the company's doomsday fortifications is no surprise, considering the state of the world in general and, specifically, Kim Jong-Un's pursuit of a missile that can hit the continental U.S. Curiously, though, the most furious surge of interest isn't in America but Japan, a country that's long been within North Korea's striking distance. While the Japanese have viewed North Korea as a menace for decades, the rogue regime's July 4 launch of an intercontinental ballistic missile raised the level of alarm among preppers, as some people serious about emergency preparedness call themselves. The company website lays out the many options — a decontamination area, a fitness center, a swimming pool, a gun range, a game room with pool tables, a garage for your Porsche. The government of Shinzo Abe takes it all seriously, regularly updating its civil-protection website with tips (stay inside, keep away from windows) and airing public-interest ads on TV about what to do in event a ballistic missile is en route and the country's early warning system successfully sounds the alert. In Japan and around the world, "people are getting off the fence — we've got thousands and thousands of applications," said Robert Vicino, founder and chief executive officer of Vivos, in Del Mar, California, maker of a luxury lineup that can withstand what its website calls "a future life-extinction event." Advertised features include nuclear-biological-chemical air-filtration systems, space to store enough food and toilet paper for a year, a diesel generator, an emergency exit shaft and, importantly, the ability to take a 500,000-pound blast without crumpling.
Duck and cover 2.0: How North Korea is prompting new efforts to prepare for a nuclear attack – LA Times
As North Korea makes stunning progress in its nuclear weapons program, local officials are assessing preparations for an attack.
Los Angeles preparing for nuke strike from North Korea – and THIS is how | Daily Star
MILLIONS of civilians in Los Angeles have been told to prepare for the terrifying possibility of a North Korea nuclear attack.
Hawaii rolling out preparedness plan for North Korean missile attack – The Washington Post
"We do not want to cause any undue stress for the public," Vern Miyagi, Hawaii's Emergency Management Agency administrator said in a statement reported Thursday.
US may replace top Asia diplomat as North Korea crisis grows more urgent | South China Morning Post
Ex-US Treasury official Olin Wethington may replace veteran Susan Thornton as acting assistant secretary for East Asian and Pacific Affairs, Buzzfeed reports
Foreign Policy Reports
E.U. Is Uneasy, and Divided, About U.S. Sanctions on Russia – The New York Times
The European Union is divided over proposed American sanctions on Russia that could affect the Nord Stream 2 pipeline for Russian natural gas to Germany.
EU to Update Poland Sanctions Stance After Court-Revamp Veto – Bloomberg
The Polish president's surprise veto of disputed judiciary laws will influence European Union deliberations on Wednesday about whether to punish the bloc's largest ex-communist member for backsliding on democracy.
District and appeals courts reforms signed into law amid political storm – National
Polish President Andrzej Duda has signed into law changes to district and appeals courts which had been protested throughout Poland amid a political storm over the country's judiciary.
UAWire – Ukrainian Minister of Foreign Affairs: Ukraine demands investigation of supply of Siemens turbines to Crimea
Ukraine will demand that the German government and the European Union investigate and punish all perpetrators involved in the delivery of …
UAWire – Media: Siemens to reshuffle staff following Crimea turbines scandal
Siemens management is discussing personnel changes in the company after the scandal resulting from power plant turbines being shipped to the …
Europe may see Russia-supported annexation in Balkans – media
At a recent closed think-tank meeting, a well-informed German official was asked what problem in Europe caused him the most worry. His answer came without hesitation: the Western Balkans, where a new crisis is brewing as Turkey and Russia stir the pot, Wall Street Journal reports. "In his worst-case scenario, Russia and Turkey would encourage their proxies in the Balkans, Serbia and Albania, to help them redraw borders," Walter Russell Mead wrote in his article "Europe's Next Crisis: The Balkans" published by WSJ. The Serbian government supported by Russia could annex a significant part of Bosnia and Herzegovina, populated by ethnic Serbs. Supported by Turkey, Albania could resort to a similar move – not only in Kosovo but also in Macedonia, where a major part of Albanian minority seeks to have parts of the neighboring country united to their ethnic Homeland. The expert notes that EU membership prospects until recently have been a deterrent against such developments for such countries as Serbia, Macedonia, Montenegro, Bosnia and Herzegovina, and Kosovo. Each of these Balkan states would like to become part of the European project instead of reaching a rapprochement with Moscow. But their hope for the EU accession in the near future is dying out as the Bloc shows no willingness to accept any new troublesome members who also need considerable financial support. Read also West must be aware of Russia fomenting crises in Balkans – expert Europeans believe that it is the United States who can deter Russia's destructive efforts. Strengthening their presence in Kosovo and increased diplomatic efforts in the Balkans could retain peace. However, the White House is skeptical about its role in international politics today. Old arguments, such as NATO solidarity, protection of values and freedoms, as well as Russia's aggression, are no longer convincing to Washington. President Donald Trump thinks in terms of deals. It is probably Europe, namely Berlin, who will have to think of the ways to persuade the new U.S. administration to intervene in the Balkans. Read also RFE/RL: EU leaders voice concern about Russia destabilizing Balkan states Earlier, the Macedonian counterintelligence in its classified reports said that the Kremlin, with the help of Russian intelligence and diplomats, as well as local pro-Russian politicians, is trying to hinder the NATO accession process in Macedonia and other Balkan states and instead to create in the Balkans a "belt of neutral countries."
Europe's Next Crisis: The Balkans – WSJ
Russia and Turkey stir up trouble, while the EU focuses on its own problems first.
Kseniya Kirillova | Russia will continue efforts to destabilize Montenegro, expert says | EUROMAIDAN PRESSEuromaidan Press |
We have written before about Russia's destructive influence growing in the Balkans and the Russian links of those suspected in organizing the coup in Montenegro. Nonetheless and much to Moscow's dismay, Montenegro officially became the 29th member of NATO last month. Does this mean that Russia's provocations will not be repeated in the future, and what does it say about the Kremlin's influence in the region currently? We spoke about these issues with Vesko Garčevič, former Ambassador of Montenegro to NATO and OSCE. Today he is Professor of Diplomacy and International Relations at Boston University's Pardee School of Global studies.
Erdogan's Anti-Westernism Picks Up Speed – The Atlantic
Turkey's proclivity for detaining foreigners bespeaks an ominous path ahead for the increasingly repressive nation.
It's Official, Turkey Is Getting Russia's S-400 Air Defense System – To Inform is to Influence
This is worrisome in that Turkey is appearing to be splitting with NATO. This warms Russia's heart on so many levels. Splitting up and weakening NATO. Russia gaining a trade partner. Foreign military sales for Russia, providing diversified income (other than oil). </end editorial>
Strategy Publications
Speed, Volume, and Ubiquity: Forget Information Operations & Focus on the Information Environment – To Inform is to Influence
Michael Williams  July 26, 2017 What is Information Operations (IO)? This short response to the question posed by The Strategy Bridge should be as short and simple as lifting a sentence from U.S. military doctrine. Alas, it isn't, and this paper could easily extend for hundreds of pages and be just a description of the debate itself.[1] Part…
Russian outpourings into the Caucasus -Euromaidan Press |
It is restless again on the Russian Federation's (RF) southern border. This unrest should not be a surprise for the readers of my articles, considering the articles on the march of Islamic extremism and its pursuit of a (virtual) connection between a North Caucasus and Khorasan emirate. The focus is now on the word again and, contrary to the north side, especially the south side of the Caucasus should lessen the concerns of the little Tsar. States on the Caucasus' south side In previous years, developments on Russia's western periphery been the center of attention. However, in the last couple of months, because of advancing Islamic extremism, the emphasis has shifted to the North Caucasus. This shift makes it seem as if it is calm in the south of the Caucasus. Putin attempts to restore the old relations from the Soviet period in the south as well. On the one hand to stimulate the unstable Russian economy, on the other hand, to use the former Soviet countries as a buffer against the Islamic violence in the Middle East and Central Asia,1 which could bring back peace to the northern part of the Caucasus. Looking at his successes in Georgia and Armenia, Putin seems to be well on his way to attaining this goal, and this should be a source of great concern to the West. Georgia: Turbulent times after the Rose Revolution After the by Saakashvili-initiated Rose Revolution of 2003, it has remained restless in Georgia. As in many former Soviet states, poverty, corruption, ethnic tension and rebellious regions are the most important push factors of this unrest. In 2008, this eventually culminated in attempts of South Ossetia to separate from Georgia. The Georgian army was deployed to restore stability in the region, without success. The ethnic Russians living in the region called out to Moscow for protection against the violence of the Georgian army. It took the Russian army two days to secure the whole province, to block the Georgian Black Sea ports and to advance on Gori, which is near Tbilisi, the capital. A hasty agreement between Russia and Georgia temporarily restored peace to that part of the country. Temporarily, because poverty and corruption keep further aggravating ethnic differences. In spite of the agreement, the RF kept interfering with Georgian domestic affairs. First, hybrid efforts in Abkhazia and South Ossetia were driven up to formalize the Russian occupation of these two regions. Russian passports were provided on a large scale to the population of both regions. The historically incorrect boundaries, decided upon in 1991 when Georgia became independent, were constantly brought up by Russian state-owned media, who said that this error must be set right. The dissatisfaction of both provinces' populations and their ultimate wish to join the RF were frequently emphasized in the news.
IW/IO/Cyber Reports
Fake News: DNC Leak Evidence By Skip Folden And Intel Experts – To Inform is to Influence
PURELY from my experience as a disinformation expert, I assess this to be fake. NSA Officials and Computer Expert: Forensic Evidence Proves DNC Emails Were LEAKED, Not Hacked I looked through the article and saw a lot of things that looked good and all likely possible. But the devil is in the details and none…
Lessons from Europe's Fight Against Russian Disinformation – To Inform is to Influence
Full disclosure, I was consulted on this article. Dana asks a very pertinent question, "Should professional journalism in the United States be considered a strategic asset, too?" She doesn't mention that information is considered an element of national power, which are Diplomacy, Information, Military, and Economic. We have entire Departments dedicated to each of the…
Kremlin Watch Monitor: Russian influence means more than cyber-attacks and fake news – To Inform is to Influence
Kremlin Watch Monitor ǀ July 26, 2017 Kremlin Watch Monitor: Russian influence means more than cyber-attacks and fake news Weekly Update on the Kremlin Disinformation Efforts While the question whether Donald Trump's administration colluded with the Russian government grows more serious and complicated every week, the Chairman of the United States' House Science Committee Lamar Smith and…
Why the US Keeps Losing the Fight against Disinformation – To Inform is to Influence
JULY 24, 2017 BY MAXIM ERISTAVI Journalists and activists in Eastern Europe have been fighting modern propaganda for years. It is time to deploy the lessons of those battles to newsrooms in Washington and beyond. I've been exposing organized lies professionally for years now. It started when propaganda took over the Russian-state newsroom in Moscow…
Why the US Keeps Losing the Fight against Disinformation
Journalists and activists in Eastern Europe have been fighting modern propaganda for years. It is time to deploy the lessons of those battles to newsrooms in Washington and beyond. I've been exposing organized lies professionally for years now. It started when propaganda took over the Russian-state newsroom in Moscow I was managing in 2013. When I left for Ukraine the same year, I wrongly thought disinformation would be contained in Russia. A year later, propaganda was fueling a brutal war in eastern Ukraine. That's when disinformation went global. That was 2014. These days I don't have to convince anyone that disinformation is a global phenomenon. In the United States, Congress and an independent probe are investigating possible cooperation between the Trump campaign and a state-funded army of Russian social media bots. Eastern Europe was a test ground for the same sort of interference three years ago. UAE reportedly orchestrated hacking of Qatari government sites to provoke a regional crisis? Eastern Europe, three years ago. Poland uses state-run broadcasting to manufacture propaganda in the pursuit of installing an illiberal democracy? Been there, done that three years ago. The main lesson we've learned, and it's one that many journalists don't seem to understand, is that disinformation exploits and thrives on the weaknesses of modern journalism. The creators of modern propaganda appreciate good storytelling, bringing light to untold stories and finding global trends in local stories, which creates strong bonds of trust with the audience. These are the same things that make real journalism socially valuable. But these days it is replaced by the much cheaper substitutes of opinion and aggregation. In the end, the sad irony is that modern propaganda uses the building blocks of journalism far better than real journalists. So, here are three tips that can flip the trends and enable the United States to start winning.
CFP: Pew Survey on the future of information ecosystems and reliable facts – To Inform is to Influence
The future of information ecosystems and reliable facts There are a few more days to be able to participate in this survey. The background: The Pew Research Center and Elon University's Imagining the Internet Center conduct surveys of important stakeholders like you to assess the likely future impacts of the Internet. We hope you'll take…
ISIS Turns its Guns—and Propaganda Machine—on Iran
With terror attacks, recruiting efforts, and slick, gruesome propaganda the so-called Islamic State is trying to take its fight to the ayatollahs.
Fake News: RIA – The court ordered the SBU to institute criminal proceedings against Poroshenko – To Inform is to Influence
Top story beside the headline about Sanctions, on the front page of RIA.ru, the flagship page of RIA Novosti, there is an attention grabbing headline that the President of Ukraine is being arrested for High Treason. According to RIA Novosti, Poroshenko personally financed the "Russian Army"/insurgency in Donbas. 07/26/2017 KIEV, July 26 – RIA Novosti. Pechersk…
How long until Ukraine is hacked again? – BBC News
A month on from the NotPetya attack, many in Ukraine are ready for further cyber-strikes.
Ukraine "playground" for Russian cyberattacks – media | UNIAN
When the latest major cyberattack hit Ukraine, it brought a screeching halt to many businesses across the country. Even now, almost a month after the so-called NotPetya strike, some companies inside and outside the nation are still facing disruption, the BBC reports. News 26 July from UNIAN.
Television of the future: How video bloggers are changing the media landscape | Intersection
The Internet is changing the form and content of political campaigning
'Keys to kingdom' leaked by Sweden exposing military secrets and EU secure intranet – To Inform is to Influence
Names, photos and addresses of air force pilots, people under witness relocation, SEAL team operators and more were leaked. By India Ashok July 24, 2017 10:47 BST The STA's leaked database remains under management of the two foreign firms, even as the Swedish government continues to investigate the scope of the leakiStock Sweden's government has exposed sensitive…
'Keys to kingdom' leaked by Sweden exposing military secrets and EU secure intranet
Names, photos and addresses of air force pilots, people under witness relocation, SEAL team operators and more were leaked.
Mistake by Swedish government contractor exposed 'citizens to harm'
A security leak in Sweden in 2015 is causing reverberations in the Scandinavian country two years later with Prime Minister Stefan Lofven saying it was "a disaster," exposing the nation to harm.
Accenture Security Report Identifies Top Cyber Threats of 2017 – To Inform is to Influence
July 25, 2017 08:59 AM Eastern Daylight Time ARLINGTON, Va.–(BUSINESS WIRE)–With recent large-scale cyber attacks signaling a growing front in destructive threats and business impact, a new midyear report from iDefense, part of Accenture Security (NYSE:ACN), reveals how threat actors are continuing to evolve their ability to avoid detection. Based on in-depth analysis, the report…
Iran-linked cyber spies use simple yet effective hacks: report
A cyber spying group with links to Iran and active for the past four years is targeting countries including Israel, Saudi Arabia, Germany and the United States, security researchers said on Tuesday.
Briton admits to router hack that DDoSed Deutsche Telekom – To Inform is to Influence
'It was unintentional'. Talk about ready, shoot, aim. The vast majority of cyber attacks are not approved because the carrier or the payload cannot be limited. This is a good example, if 'Peter Parker' aka 'Spiderman' is to be believed. What I'm dying to know is how and why a Liberian ISP hired a Brit to take out another ISP, supposedly also in Liberia. Also curious is how Liberia turned into Germany… </end editorial>
Counties Are on the Front Lines of Cyber War – To Inform is to Influence
BY MITCH HERCKISROUTE FIFTY SENIOR DIRECTOR OF PROGRAMS,ROUTE FIFTY John Allen, Marine general-turned-think-tanker, outlines how officials can protect voting machines and other vulnerable systems. Retired four-star Marine Gen. John Allen has seen the cyber threat in action and believes it's targeted at counties. That was his message to a roomful of county officials at the National…
Russia's Kaspersky Lab Launches Free Antivirus Software Worldwide – To Inform is to Influence
Free? Kaspersky? Methinks Kaspersky is ready to go belly up.  Russia is going to lose a cash cow. Russia is going to lose a backdoor where every sucker installed Kaspersky products. Russia is going to lose a huge intelligence collection tool/offensive weapon. This is Kaspersky's death knell, agonal respiration, the last gasp. Bye bye, Kaspersky. </end…
Russia's Kaspersky Lab launches free antivirus software globally
Moscow-based Kaspersky Lab on Tuesday announced it was rolling out a free version of its antivirus software across the globe, a product launch that comes amid mounting suspicion in the United States that the cyber firm is vulnerable to Russian government influence.
KL AV for Free. Secure the Whole World Will Be. | Nota Bene: Eugene Kaspersky's Official Blog
REF conducts 'Desert Burnoff' EW assessment – To Inform is to Influence
AZ, UNITED STATES 07.25.2017 Story by Dustin Gabus  Rapid Equipping Force – U.S. Army  YUMA PROVING GROUND, Ariz.—Against the stillness and quiet of the desolate Yuma desert, an invisible battle raged in the brutal summer heat. However, instead of bullets and bombs, these combatants harnessed the power of electromagnetic waves to disrupt their opponent. The U.S.…
B-52 testers complete leaflet bomb drops – To Inform is to Influence
By Kenji Thuloweit, 412th Test Wing Public Affairs / Published July 25, 2017 EDWARDS AIR FORCE BASE, Calif. –An important part of U.S. military operations overseas is communicating with the local population. This can be done in a number of ways including something as simple as distributing leaflets. In psychological operations, leaflets with messages are often…
iRobot Wants to Sell Mapping Data Collected by Roomba Vacuums to a Tech Company Like Apple – To Inform is to Influence
There are three concerns at issue here. Privacy Security Profit One is not like the other two.  IRobot wants to sell your privacy and possibly your security for profit. </end editorial> Monday July 24, 2017 4:42 PM PDT by Juli Clover iRobot CEO Colin Angle today told Reuters that he hopes indoor mapping data collected by Roomba automatic vacuum…
US Domestic Policy Reports
Russia lawmaker says US should expect 'painful' response to sanctions
Any Russian response to fresh sanctions from the U.S. is unlikely to cause any major harm for American investors and could merely be a symbolic gesture, according to one political analyst.
Russia Lashes Out Over U.S. Sanctions Legislation
Russian officials and lawmakers are sharply criticizing U.S. legislation that would impose new sanctions on Moscow and make it harder for President Donald Trump to ease or lift punitive measures. …
Russia condemns US Congress over new sanctions bill – CNN.com
Russia responded angrily Wednesday to a US congressional vote to impose new sanctions, saying they risked worsening the already poor relations between the two countries.
Vyacheslav Nikonov: "Yes, Russia is harming U.S. interests and we'll continue to do so." – To Inform is to Influence
Russian State Duma Committee Chairman Vyacheslav Nikonov: "Yes, Russia is harming U.S. interests and we'll continue to do so." Please tell me this statement by a Russian government leader cannot be construed as a statement or a declaration of war with the United States. It should be called out. Please tell me a state-owned and state-run television news network is not broadcasting incendiary statements across the air. It should be called out. Please tell me Russia is not acting like a belligerent nation, a rogue state, and should be treated as such.
News Wrap: House overwhelmingly approves new Russia sanctions | PBS NewsHour
In the our news wrap Tuesday, the House of Representatives voted overwhelmingly to impose new sanctions on Russia, partly over its meddling in the 2016 election, and bars President Trump from relaxing the penalties without congressional approval. Also, the State Department denied reports that Secretary Rex Tillerson is increasingly frustrated in his job and has told friends he may not last a year.
President says Iran will 'respond' if US missile law passes – The Washington Post
Iran's President Hassan Rouhani said Wednesday his country will respond if a bill in the U.S. Congress imposing sanctions on people involved in Iran's ballistic missile program becomes law.
House Approves Sweeping Sanctions Package Against Russia – The New York Times
The bill limits the president's ability to lift or suspend sanctions against Russia, North Korea and Iran.
U.S. House Approves Russian Sanctions Bill; White House Softens Objections
WASHINGTON — The U.S. House of Representatives voted overwhelmingly on July 25 to cement sanctions against Russia into law and curb President Donald Trump's authority to ease those sanctions. …
"Price for aggression shall keep rising!", – Poroshenko on US Congress vote on Russia sanctions
26.07.17 11:53 – Price for aggression shall keep rising!, – Poroshenko on US Congress vote on Russia sanctions Ukraine President Petro Poroshenko has commented on the House Representatives vote on the bill imposing sanctions against Russia, Iran, and North Korea. View news.
Former NATO Supreme Commander Backs New Russia Sanctions – To Inform is to Influence
July 25, 2017 4:30 PM Jela de Franceschi With U.S. lawmakers expected to finalize new sanctions on Russia this week, former NATO Supreme Commander James Stavridis told VOA that would be a positive move, since he believes President Donald Trump's administration has taken too weak a stance on Russia. In an interview Tuesday with VOA's…
New U.S. sanctions against Russia explained by Ukraine embassy
A new bill introducing more Russia sanctions, which passed the House of Representatives July 25, confirms the U.S. support for Ukraine's sovereignty and territorial integrity. The Bill says it is the policy of the United States— – to support the Government of Ukraine in restoring its sovereign and territorial integrity; – to condemn and oppose all of the destabilizing efforts by the Government of the Russian Federation in Ukraine in violation of its obligations and international commitments; – to never recognize the illegal annexation of Crimea by the Government of the Russian Federation or the separation of any portion of Ukrainian territory through the use of military force; – to assist in promoting reform in regulatory oversight and operations in Ukraine's energy sector, including the establishment and empowerment of an independent regulatory organization; – to continue to oppose the NordStream 2 pipeline given its detrimental impacts on the European Union's energy security, gas market development in Central and Eastern Europe, and energy reforms in Ukraine. The Bill also provides a legislative framework for the existing sanctions against Russia; sets up a mechanism for mandatory coordination with the U.S. Congress of any possible decision by a U.S. president to ease Russia sanctions; provides for the possibility of imposing sanctions against state-owned enterprises of Russia's steelmaking and mining industries and rail transport; strengthens sectoral sanctions against the Russian financial sector and Russian energy industry; provides for the imposition of sanctions in connection with the Russian government's efforts toward undermining cyber security, and in relation to persons responsible for violations of human rights in the territory occupied by the Russian Federation, who act in the interests of Russian defense and intelligence, contributed significantly to Russia's ability to privatize state assets, as well as in relation to foreign individuals and legal entities that Contributed to strengthening defense capabilities of the government of Syria. The draft law authorizes the U.S. president, in coordination with the United States allies, to impose sanctions against individuals and legal entities that promote the development and servicing of Russian export oil and gas pipelines. The draft law provides for the creation of a "Countering Russian Influence Fund" and allocates $250 million to its budget for FYs 2018-2019. The implementation of initiatives to support Ukraine's energy security provides for the allocation of $30 million. Supported by the House of Representatives, the Bill is yet to be approved by the Senate and signed by the President before it enters into force. As UNIAN reported, the US House of Representatives on July 25 voted overwhelmingly to slap a new set of sanctions against Russia, Iran and North Korea.
UKR Embassy in USA on Twitter: "We stand by our words that the government of Ukraine didn't help any candidate in Election. Ukraine is proud of bipartisan support in the US"
Ukraine denies Trump accusation it attempted to sabotage 2016 election
Ukraine's embassy in Washington rejected accusations from Donald Trump of sabotage in the 2016 presidential election.
Grassley Questions DNC-Ukraine Collaboration
Sen. Chuck Grassley, R-Iowa, wrote to Deputy Attorney General Rod Rosenstein on Monday questioning the Democratic National Committee's work with Ukrainian politicians. The senator cites a Politico article from January, which alleges that "Ukrainian government officials tried to help Hillary Clinton and undermine Trump" by "disseminat[ing] documents implicating a top Trump aide in corruption and suggested they were investigating the matter…" He singles out former DNC official Alexandra Chalupa, a Ukrainian-American activist, as being "at the center of this plan," for meeting with Ukrainian Embassy officials in Washington last year, "in an effort to expose ties between Trump, top campaign aide Paul Manafort and Russia," according to Politico. "Chalupa's actions appear to show that she was simultaneously working on behalf of a foreign government, Ukraine, and on behalf of the DNC and Clinton campaign, in an effort to influence not only the U.S voting population but U.S. government officials," Grassley wrote. "Aside from the apparent evidence of collusion between the DNC, Clinton campaign, and Ukrainian government, Chalupa's actions implicate the Foreign Agents Registration Act (FARA). As you know, the committee is planning a hearing on FARA enforcement. Given the public reporting of these activities in support of a foreign government, it is imperative that the Justice Department explain why she has not been required to register under FARA." He continues, "FARA requires individuals to register with the Justice Department if they act, even through an intermediary, 'as an agent, representative, employee, or servant' or 'in any other capacity' at the behest of a foreign principal, including a foreign political party, for purposes of engagement with a United States official."
The White House's facile comparison of the Trump-Russia and Clinton-Ukraine stories – The Washington Post
Here's why the analogy is rather thin.
UATV Examines Trump Tweet Calling for Investigation into Interference in 2016 Election by Ukraine – YouTube
US President Donald Trump has been embroiled in a scandal involving Russian interference in the US election since the start of his campaign. Now, more and mo…
5 Ways to Interfere in American Elections—Without Breaking the Law – To Inform is to Influence
To influence U.S. politics, foreign governments don't have to hack one party and collude with the other. Yuri Kochetkov / Reuters URI FRIEDMAN JUL 24, 2017 Russia's apparent interference in the U.S. presidential election is a big story, but it's part of an even bigger one: the ease with which foreign actors can insert themselves into the…
Robert Mueller team shows history of crossing ethical lines – Washington Times
President Trump's advisers and defenders in trying to undermine former FBI Director Robert Mueller's investigation of the Trump campaign's alleged pre-election "collusion" with Vladimir Putin's Russia are pointing out that Mr. Mueller and another former FBI director, James Comey, are longtime buddies.
Senate Judiciary Committee drops Manafort subpoena in Russia probe – POLITICO
Manafort and Kushner separately spoke to congressional investigators Tuesday.
Senate Judiciary Committee Drops Subpoena for Paul Manafort – The Atlantic
The Senate Judiciary Committee rescinded its subpoena for President Trump's former campaign chair to appear before lawmakers.
The Latest: Senate panel drops Manafort subpoena – NY Daily News
WASHINGTON (AP) — The Latest on probes into Russian meddling in the 2016 election and possible ties to the Trump campaign (all times local): 8:25 a.m.
Manafort agrees to speak with investigators after subpoena | TheHill
The Senate Judiciary Committee dropped its subpoena against Paul Manafort on Tuesday, just hours after it was issued. According to the committee, Manafort agreed to speak with investigators but is still not expected to appear before the panel Wednesday. The committee had subpoenaed Manafort earlier Tuesday to appear publicly before the committee on Wednesday. Committee Chairman Chuck Grassley (R-Iowa) and ranking member Dianne Feinstein (D-Calif.) announced Tuesday that they had subpoenaed Manafort, President Trump's former campaign chief, on Monday night. ADVERTISEMENT Manafort interviewed with the staff of the Senate Intelligence Committee Tuesday morning. Manafort and Donald Trump Jr. have been the subjects of close scrutiny in recent weeks following revelations about a meeting between Trump's eldest son and a Russian lawyer who was presented to Trump Jr. as someone with damaging information on then-Democratic presidential nominee Hillary Clinton. Manafort, as well as Trump's son-in-law and now senior adviser Jared Kushner, also attended the meeting.
U.S. Senate Committee Withdraws Manafort Subpoena; No Public Testimony
WASHINGTON – The U.S. Senate Judiciary Committee late on July 25 withdrew its subpoena compelling President Donald Trump's former campaign manager, Paul Manafort, to testify, saying he ha…
Manafort surprise: Uh oh, another set of contemporaneous notes? – The Washington Post
Trump's tweets suggest a threat from multiple witnesses.
Manafort Talks With Senate Investigators About Meeting With Russians – The New York Times
Paul Manafort met with Intelligence Committee investigators to discuss the June 2016 meeting between a Russian lawyer and members of President Trump's inner circle.
Trump's ex-campaign chief meets Senate investigators (From News Shopper)
US investigators are probing Russia's interference in the 2016 presidential election campaign.
Sen. Chris Coons On Russia Investigation And Paul Manafort : NPR
Steve Inskeep talks with Sen. Chris Coons about the latest on the Senate Judiciary Committee's investigation into Russian election influence and negotiations with Paul Manafort.
Chicago feds maintain pursuit of Ukrainian oligarch tied to Manafort
While U.S. President Donald Trump is doing his best to undermine an investigation of his campaign's alleged ties to the Russian government, his Department of Justice is not backing off its pursuit of a Kremlin-backed Ukrainian oligarch, according to The Chicago Tribune. Billionaire Dmytro Firtash — linked to former Trump campaign manager Paul Manafort — is fighting his extradition to Chicago on racketeering charges, according to The Chicago Tribune. Firtash has long argued that his 2014 arrest for allegedly running an international titanium racket involving Boeing was politically-motivated, claiming that the Obama administration was using him to punish Russian President Vladimir Putin for annexing Crimea from Ukraine. Currently free on bail in Austria after posting a $174 million bond, Firtash assembled an all-star team of U.S. lawyers to toss the case before Firtash is even brought to the U.S. Firtash's business dealings with Manafort — outlined in a separate civil case in New York — may be of interest to federal investigators probing ties between Russia and the Trump campaign. Read also Firtash released on EUR 125 mln bail on Friday – media So far, prosecutors in Chicago are not backing off. They filed a whopping 115-page brief this week arguing that Firtash should be made to face justice in the U.S. before he can try to have the case thrown out. Comparing Firtash's racket to the Mafia, prosecutors wrote, "Firtash and (his co-defendant Andras) Knopp have been identified by United States law enforcement as two upper-echelon associates of Russian organized crime; their prosecution will disrupt this organized crime group and prevent it from taking further criminal acts within the United States. Read also ACU accuses Firtash's plants of price inflation They added, "this prosecution also takes aim at the corruption of foreign public officials, a concern that the Congress has identified as a threat to global security."
Leonid Brezhnev Pledged Russia's Loyalty to Gerald Ford 42 Years Ago – The Atlantic
As the Cold War raged in 1975, a Russian leader promised his support for a president's re-election bid.
Why Did Russia Send Sergei Gorkov to Meet With Jared Kushner? | Foreign Policy
The laid-back head of a Russian state bank was an unusual choice of emissary — and brought an unusual present. What was he after?
Read the Full Text of Bill Browder's Testimony to the Senate Judiciary Committee – The Atlantic
"I hope that my story will help you understand the methods of Russian operatives in Washington and how they use U.S. enablers to achieve major foreign policy goals without disclosing those interests," Browder writes.
Democratic IT Staffer Arrested As He Tried to Flee the Country | Mediaite
On Tuesday, an IT staffer who worked for House Democrats, including former DNC chairwoman Debbie Wasserman Schultz (D-FL), was arrested at Dulles International
Donald J. Trump on Twitter: "Attorney General Jeff Sessions has taken a VERY weak position on Hillary Clinton crimes (where are E-mails & DNC server) & Intel leakers!"
Why Russia Revelations Never Seem To Change Anything | FiveThirtyEight
The Russia story has begun to follow an endlessly repeating cycle.
Trump announces ban on transgender people in U.S. military – The Washington Post
Trump reverses the Obama administration decision to allow transgender troops to serve.
Rick Perry Got Punked in a Fake Interview With Russian Pranksters – Bloomberg
Energy Secretary Rick Perry thought he was talking about cyberhacking and a biofuel breakthrough in a call with Ukraine Prime Minister Volodymyr Hroisman. Alas, the 22-minute phone call was actually conducted with Russian pranksters.
U.S. energy secretary duped into fake interview with Russian comedians
U.S. Energy Secretary Rick Perry optimistically discussed expanding American coal exports to Ukraine and other energy matters during a lengthy phone call this month with a Russian prankster who Perry thought was Ukraine's prime minister.
Rick Perry thought he was talking to a world leader about pig manure. It was a prank call. – The Washington Post
U.S. Energy Secretary Rick Perry was the latest victim of Russian pranksters Vladimir Kuznetsov and Alexei Stolyarov.
U.S. Doesn't Have Luxury of Choosing Challenges, Dunford Tells Aspen Crowd > U.S. DEPARTMENT OF DEFENSE > Article
Russia, North Korea, the fight against violent extremism and security in the Pacific are among the security challenges the United States faces concurrently, Marine Corps Gen. Joe Dunford, chairman of the Joint Chiefs of Staff, said at a security forum.,