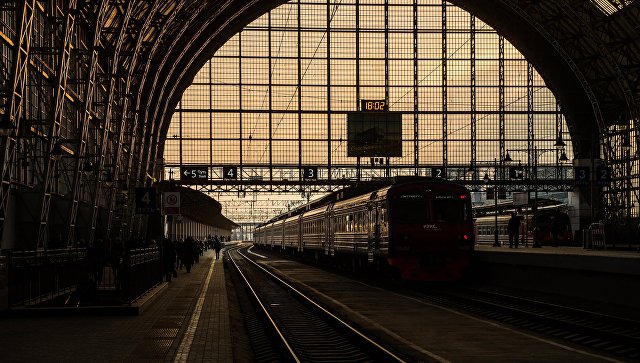 Rather than find the cause and fixing the problem, Russia says traveling by train can be dangerous and leaves an investigation like that.
</end editorial>
---
---
MOSCOW, July 26 (Itar-Tass) – RIA Novosti. Rostransnadzor found that traveling on Moscow electric trains carrying about 540 million passengers a year can be dangerous, writes the newspaper Kommensant on Wednesday .
The April accident in the Moscow region of Kuntsevo, during which an electric train and a passenger train collided, became the reason for a large-scale inspection of Rostransnadzor.
The agency analyzed the work of suburban trains at Moscow railway stations, and then, having discovered numerous violations, went on to check the motor-car depots Pererva, Domodedovo, Aprelevka, Nakhabino and Lobnya, the newspaper refers to a source familiar with the verification materials. According to him, numerous technical and technological disruptions to the operation of electric trains, including braking and fire fighting systems, have been identified.
In Rostransnadzor, the newspaper was confirmed by the fact of verification and the corresponding results. Another source familiar with the situation told the newspaper that the trains were being repaired formally: the acts were signed, but the repairs were poorly executed. According to him, according to the results of the inspection, all the rolling stock that passed repairs can potentially be left behind, the ways of the motor depots can be closed and repairs are prohibited. The service itself on the basis of the results of the inspection issued a warrant, which refers to the closure of repairs only in the motor-car depot TP-3 Pererva.
The CTC has its own trains, as well as leased from the Russian Railways. In the monopoly, the newspaper explained that the company repairs its own rolling stock itself, and leased – RZD. Another interlocutor of the newspaper specifies that the most difficult routine maintenance of the TP-3 motorcar wagons, at which their resource is restored, is being formally carried out at the RZD depot, the CPRK pays for it, but it turns out that repairs are improperly performed. The request was sent to the RZD in the CTC itself.
The monopoly confirmed receipt of Rostransnadzor's order and stated that "work is being done to eliminate violations, a plan of measures has been developed." The Prosecutor's Office for Transport, where the results of Rostransnadzor's inspection were also transferred, did not respond to the request of the newspaper. The Ministry of Transport informed that they did not receive official notifications about the situation. In the Moscow Department of Transportation, the request was redirected to RZD.
Source: https://ria.ru/society/20170726/1499166921.html