Anonymous expert compilation, analysis, and reporting.
A conventional Russia invasion is looking more likely.
</end editorial>
---
---
Unusually active day for Russia traffic, in no small part due to multiple concurrent events, almost 200 reports today. Zapad-2017 attracting attention in MSM, while the Intermarium debate gathers strength, to the extent of a debate over Turkey joining the joint  Lithuanian-Polish-Ukrainian (LITPOLUKRBRIG) Brigade.
Russian descent into the abyss continues. The resuscitated 2015 Meduza essay is a superb exposition of the bizarre beliefs adopted by much of the Russian leadership, and why. Multiple articles on all extant threads dealing with the Russian internal meltdown, and some are truly bizarre. Major effort under way to sell MiG-35 FULCRUM to India (again).
Russian troops start arriving in Belarus, while deal is signed for more (unspecified) air defence equipment.
Excellent OpEd on Moldova in The Hill, by Vladimir Plahotniuc, pleading for help against Russian interference.
Malorossiya matter refuses to die, good forensics on Surkov by Portnikov.
Three dominant Ukraine related themes today in the MSM. First, Amb Volker gives excellent interviews to BBC and RFE/RL, that are widely picked up by other MSM, he notes the Administration is reviewing the matter of supplying lethal aid to Ukraine, and he does adeptly sink many of the absurd notions propagated in 2014 by Rice and associates in a bout of Surkov-induced delusion. Peskov reply to Volker earns today's COCW Award. The second thread are weekend comments by Gen Muzhenko and his boss, DEFMIN Poltorak, on the Russian buildup of offensive land force formations along the Northern and Eastern border of Ukraine. Peskov earns a bar to his COCW Award for his reply. Finally, POTUS in a barbed tweet against his AG, blames Ukraine for colluding with DNC during the election, producing a deluge of argumentation. Amb Chaly denies government support for the DNC. Excellent OpEds by Whitmore on the Russian escalation, and his observation that  "today Ukraine can fairly claim to be the easternmost Western country  — as opposed to the westernmost Eastern country." appears to be accurate, noting that traditional Ukrainian culture was always more European than Russian by virtue of its deep Scandinavian roots. Donbass fires continue. More on SEA BREEZE 2017. Coffee argues for US-Ukraine FTA. NSDC Chair Oleksandr Turchynov describes new weapon types about to be deployed with AFU, including thermobaric grenades and RPGs, but provided no timelines.
Turkish S-400 procurement attracting interest.
PLA buildup along DPRK border initiated. DPRK makes more nuke threats against the US. PLA harasses EP-3C SIGINT bird. PLA threatens against continued drilling in SCS. Sikkim standoff continues.
EU arguing over how to deal with Siemens scandal, as well as arguing how to deal with latest US sanctions on Russia. Polish and Turkish disputes continue.
Four excellent strategy essays, noting the Stratfor geography piece does a great job of exposing Russia's perceived vulnerabilities, but does not qualify the absence of intent on the part of Russia's neighbours. Fedorenko and Umland Intermarium essay is good (refer above).
Russia dominates today's IO/IW/cyber reporting.
US domestic debate split between imagined and real divisions inside the Administration, Ukraine, Russia sanctions, and SECDEF's drive against fraud, waste and abuse.
---
Russia / Russophone Reports
Military Expert: Russia Is To Intensify Aggression At Exercises West-2017 – Charter'97 :: News from Belarus – Belarusian News – Republic of Belarus – Minsk
The Russian Federation will form a group at the exercises West-2017 that will allow launching large-scale military operations. Russia can involve up to 200,000 troops in the West-2017 exercises (instead of the declared 13 thousand). Military expert, Lieutenant-General Igor Romanenko said that in an interview to UNN. "The West-2017 exercises are aimed at Poland and the Baltic countries, they will involve, in addition to the armed forces of Russia, the armed forces of Belarus and Kaliningrad region, suggesting the concentration of about 13,000 troops declared to take part in the West-2017 exercises. But there is such a pattern, which they have adopted since 2014. That is, Putin, as the supreme commander-in-chief, declares a sudden check and under this check he gathers as many troops as he likes. In the past year, they declared 12,500 military men to take part in the Kavkaz-2016 exercises, but gathered about 200 thousand military men there," – the expert says. He adds that NATO has reacted to Russia's actions and deployed two battalions in the Baltic countries and Poland. But it is not enough, Romanenko says, since by September the Russian Federation will have formed a group of up to 200,000 servicemen, which will allow launching large-scale military operations. On July 21, Poltorak stated that the exercises West-2017 could be used to launch aggression not only against Ukraine, but against any country in Europe. On June 30, the Defense Ministry head said at a meeting with NATO Secretary General Jens Stoltenberg that conducting the West-2017 exercises on the border with Ukraine is a threat to the state. The commander of the US ground forces in Europe, Lieutenant-General Ben Hodges believes that the Russian-Belarusian exercises West-2017 can perform the role of a "Trojan horse." According to Minister of Defense of Estonia Margus Tsakhkhn, Russia can use West-2017 to deploy thousands of soldiers in Belarus as a warning to NATO. The West-2017 exercises will be held from September 14 to September 20.
How much of a threat does Russia pose, and to whom?
Nato defence ministers are reviewing progress in what's known as the alliance's "enhanced forward presence" – its deployment of troops eastwards to reassure worried allies, and deter any Russian move west. Nato has dispatched four battalion-sized battle groups, one deployed in Poland and one in each of the three Baltic republics: Latvia, Lithuania and Estonia. The US has also begun to bring back heavy armoured units to western Europe. The whole effort is prompted by the shock emanating from Russia's seizure and subsequent annexation of the Crimea, and its continuing support for rebel groups in eastern Ukraine. If Moscow could tear up the rule-book of security in post-Cold War Europe by carving off a slice of Ukraine (as it previously did in Georgia), many feared the Baltic republics – also territory of the former Soviet Union – could be next. Russia says that in response to these Nato moves, it is making new deployments of its own. But the reality is rather more complex. I've been speaking to some of the leading Western experts on the Russian military to get a sense of what is behind Russia's modernisation effort, and to determine what threat it really poses and to whom. "Russia would like us to think that its current militarisation and preparations for conflict are a response to Nato doing the same, but it's simply not true." That's the view of Keir Giles, director of the Conflict Studies Research Centre, and probably Britain's leading watcher of Russian military matters. "Russia's enormously expensive reorganisation and rearmament programme," he told me, "was already in full swing well before the crisis over Ukraine, while Nato nations were still winding down their militaries. "As late as 2013, the US withdrew all its armour from Europe – while Russia was already busy investing billions in upgrading its forces."
Ukraine's defense ministry comments on prospects of Turkish troops joining LITPOLUKRBRIG
The issue of the Turkish military joining the Lithuanian-Polish-Ukrainian (LITPOLUKRBRIG) Brigade or any other multinational brigade of which the Ukrainian Armed Forces are part will be addressed at the highest level, spokesman for the Defense Ministry Dmytro Hutsuliak said at a briefing in Kyiv on July 25, according "an UNIAN" correspondent. News 25 July from UNIAN.
The Kremlin's Manichaean delusion – To Inform is to Influence
How Moscow came to embrace fringe anti-Western conspiracy theories Meduza 11:28, 14 August 2015 What do the First World War, sparked by the assassination of Archduke Franz Ferdinand in Sarajevo in 1914, and the atomic destruction of Hiroshima and Nagasaki have in common? Both unfolded in August, and, according to Sergey Naryshkin, the Russian Duma's…
The Kremlin's Manichaean delusion: How Moscow came to embrace fringe anti-Western conspiracy theories — Meduza [2015 Original Essay]
What do the First World War, sparked by the assassination of Archduke Franz Ferdinand in Sarajevo in 1914, and the atomic destruction of Hiroshima and Nagasaki have in common? Both unfolded in August, and, according to Sergey Naryshkin, the Russian Duma's speaker, both were…
Ethnic Russians more likely than others in their countries to favor "strong Russia" | Pew Research Center
Ethnic Russians are a sizable minority in several former Soviet republics, and many are more favorably inclined toward Russia than are their fellow citizens. The Soviet Union came to a formal end in December 1991, leaving 25 million ethnic Russians living outside the borders of their nominal homeland. Today, ethnic Russians are a sizable minority in several former Soviet republics, and many are more favorably inclined toward Russia than are their fellow citizens, according to a recent Pew Research Center survey of countries in Central and Eastern Europe. In Estonia, Latvia and Ukraine – the three former republics in the survey that are home, proportionately, to the largest ethnic Russian populations outside of Russia – ethnic Russians are more likely than the rest of the population to agree with the statement, "A strong Russia is necessary to balance the influence of the West." At the same time, ethnic Russians in these countries are less likely to view Russia as a major military threat or to place most of the blame for violence in eastern Ukraine on Russia or pro-Russian separatists.
Window on Eurasia — New Series: Russians Less Attached to Ideology than Many Assume, Moscow Commentators Say
Paul Goble Staunton, July 24 – Analysts of all political persuasions tend to assume that this or that group of the population is deeply attached to a particular ideology and that the future depends on whether groups will maintain or shift their attachment from one to another. But three articles in the Moscow media today suggest that view is at least partially incorrect. More than that, they suggest that those political leaders who accept the primacy of ideology as an explanation for Russian behavior are failing to see what is really going on and often claim victory for themselves without understanding that they haven't won one or yield to their opponents who see more clearly that other factors are at work. The first of these three, by Moscow political scientist Vasily Zharkov, appeared in Novaya Gazeta. He argues that Russian liberals have been paralyzed by their acceptance of the view that the people (the "narod") are deeply attached to "red-brown" ideas and thus must be opposed rather than appealed to (novayagazeta.ru/articles/2017/07/24/73227-ne-boyatsya-sobstvennyh-grazhdan). That liberal view, he continues, not only has kept them from challenging the regime's tightening of the screws but from reaching out to the population and winning its support by speaking to what it is really concerned with. "The Russian voter," Zharkov says, "believes not in political values but in personal well-being and personal guarantees." That voter cares only that he be paid and paid on time. "All ideas, liberal or conservative or whatever are meaningless when he hears the clear signal 'you will be paid.'" As a result, the acceptance of much that the powers that be insist on has little or nothing to do with ideology, and if liberals were willing to offer something similar, they too would attract support. The issue then is how can the liberals find "a common language" with the narod. "To begin with, they must cease to be afraid of their own citizens" because their fears are rooted in a misconception. And "they must begin to respect them as genuine democrats do." If that happens, the liberals may find there are far more supporters for democratic change than they imagine. The second article by commentator Dmitry Sidorov of the Lenta news agency makes a similar point about the significance or in fact insignificance of ideology in Russian political life by focusing on an entirely different subject: the current purge of Russian nationalists by the Kremlin (lenta.ru/articles/2017/07/24/ourboys/). He argues that this effort to "cleanse" the Russian political scene of these figures and their media outlets has less to do with ideological differences – the usual explanation – than with something else entirely, the willingness even eagerness of such nationalists to form alliances with other political groups in the run-up to elections. "Nationalists," Sidorov writes, "are not the most influential group within the non-systemic opposition but they are persistent and ready for coalitions with others. They constantly try, although not always successfully, to conclude situational alliances with other forces," and the Kremlin isn't interested in the possibility that they might do so again. At various points in the past, Russian nationalists more than liberals and reformers have reached out in an attempt to form alliances, often with groups that have very different ideological agendas. That flexibility on their part suggests that they are more interested in gaining power than in realizing all the points of their ideological program. And the third article, by journalist Yekaterina Trifonova of Nezavisimaya gazeta, suggests that the civic activity of young people, something that many reformers have placed so much hope in, is far less stable than they imagine because participation in protests for many has more to do with fashion than commitment (ng.ru/politics/2017-07-24/1_7035_protests.html). She cites research by Aleksey Kudrin's Committee on Civic Initiatives to argue that many young Russians who recently have taken part in protest actions "in fact do not have a defined civic position." They are far more "apolitical" in ideological terms than their elders. And taking part in demonstrations is simply a matter of "fashion." Such attitudes, she suggests, explain why the youthful protesters can be usually divided into three groups: the smallest are those who support a particular leader, a bit larger are those who are attracted by the subject of the protest, but the largest of all are those who come to watch or "to make selfies" and then get "many likes" in social media.
Window on Eurasia — New Series: Daghestan Now Outstrips Capitals on Number and Intensity of Protest Activity
Paul Goble Staunton, July 23 – Daghestan, the most ethnically diverse and most Muslim republic within the borders of the Russian Federation, now is the location of more protests and demonstrations than anywhere else in that country, including the two capitals which in the past have been the leaders, according to a new study by the Federal Press portal. And precisely because far more of the conflicts in Daghestan reflect ethnic and religious conflicts, they are certain to be more intense and longer-lasting than the typically short-term demonstrations elsewhere, posing yet another problem for Moscow which has not yet figured out how to end or even manage such conflicts. The Federal Press portal, which routinely produces maps of protest in various parts of the Russian Federation, supported by the Institute for Strategic Communications and Social Projects, ranks the various federal subjects in terms of protest activity both by counting the number of demonstrations and asking a panel of 150 experts to evaluate them (fedpress.ru/article/1823323). According to the portal, "the number of conflicts is gradually increasing in the regions of Russia. In April, there were 285 such conflicts identified; in May, 302, and in June, 394, although the number of sizeable protests dipped in May to 126 from 157 the month before only to increase again to 222 last month. In the second quarter of 2017, the panel said, the most conflict-ridden federal subject was the Republic of Daghestan, a reflection of the deteriorating economic situation there and the way problems of that have become ethnicized given the extreme national diversity of that North Caucasus republic's population and the use of ethnicity in elite struggles for power. The experts divided the federal subjects into three groups, a "red" group where protests are most likely and to which most attention should be devoted; a "yellow" category where protests are somewhat less likely but nonetheless can be expected, and a "green" one where protests may happen but are least likely. In the "red" group are Daghestan, the city of Moscow, Moscow oblast, and Krasnodar kray. In the "yellow" are 20 federal subjects, including St. Petersburg, Vladimir, Nizhny Novgorod, Sverdlovsk and Volgograd oblasts, Perm kray, Tatarstan, Udmurtia, and the city of Sevastopol in occupied Crimea. In the "green" group are 47 others. Evaluating Russia as a whole, 16 percent of the experts suggested that the situation is positive, 24.1 percent said the social situation in Russia is "unsatisfactory," 46.7 percent gave it middle marks, and 13 percent found it difficult to give any answer. Perhaps most usefully, the experts identified 17 different types of conflicts, including "the authorities vs. society," "business vs. society," "business vs. business," "the authorities vs. political parties," "silovikis vs. business," "silovikis vs. society," and so on. They then ranked the eight federal districts: In first place in terms of conflicts was the Southern Federal District, where increases in conflicts in Krasnodar kray more than made up for a decline in occupied Crimea. In second place was the Siberian FD, where the most common kind of conflicts were between the government and society. In third place was the Volga FD there "the chief kind of conflicts involved the struggle of the population against the worsening of living conditions." In fourth place was the Urals FD, "one of the most politicized" in which civil society activists were able to mobilize the largest number of participants. In fifth place was the North Caucasus FD where "high levels of unemployment and low levels of industrial development" contributed to struggles over land "which routinely are politicized and taken on an ethnic coloration." In sixth place was the Central FD, where protests were about all-Russian issues more often than elsewhere. In seventh place was the Far Eastern FD "in which protest activity significantly declined in comparison to the first quarter" of this year. And in eighth and thus last place was the North West FD "in which the overwhelming share of conflict activity occurred in St. Petersburg. Also important were Murmansk oblast and the Komi Republic.
Window on Eurasia — New Series: Russia Lacks a Counterpart to Senator McCain, Amelina Laments
Paul Goble Staunton, July 25 – The nearly unanimous praise for Senator John McCain after he was diagnosed with brain cancer and the nearly unanimous condemnation of a lone article wishing him ill has prompted a leading Russian analyst to point out that her country lacks anyone like the American political leader. Yana Amelina, the coordinator of the Caucasus Geopolitical Club, says that she is far from being a support of McCain's views on Russia given that he "was and remains a consistent enemy of our country" but feels compelled to praise him for "the simple patriotism" he represents. Russia has no counterpart (kavkazgeoclub.ru/content/gde-nash-makkeyn) Had McCain been elected president, she continues, "it is completely possible that we would not be among the living." But what is impressive about him is "the universal respect even blessing which despite all the multiplicity of views which this politician elicits in America and the lack of such a figure in Russia." The source of the near universal respect and praise for McCain in America, Amelina says, is that he, in the words of US military analyst Ralph Peters, has always sought to be "a genuine patriot" and to serve the United States in his daily life (nypost.com/2017/07/20/the-everyday-patriotism-of-john-mccain). McCain took responsibility for his own life and did his job in an honest way, two things that he served as a model for and encouraged others to follow, the Russian analyst says. And importantly, she continues, the US senator insisted that "no one should ever permit politics to destroy a friendship." "These simple principles are well known to everyone," Amelina says. "The problem is that not all that many follow them. As a result, we have what we have both in the US and in Russia and in the entire world." And she concludes by asking "Is such an individual to be found in the political spectrum of Russia? Certainly not Gryzlov or Mironov or Zhirinovsky or, God forbid, some Strelkovs or Navalnys. Where is our McCain? Who is the politician who can be the role model for tens of millions of Russian patriots – hopefully without the extreme aspects of the American 'model' "Who is this 'Russian hero'? 'To make a life with'? And although the young patriotic camp is working all this summer, there is as before no answer to this question." But perhaps the most important thing about Amelina's comment is the person she doesn't even seem to consider a possibility in this regard – Vladimir Vladimirovich Putin.
Window on Eurasia — New Series: Russia Needs Whistleblowers But Doesn't Promote or Protect Them, Yezhednevny Zhurnal Says
Paul Goble Staunton, July 24 – The number of Russians who snitch on their neighbors or co-workers other has reached unprecedented levels (glavred.info/mir/v-rossii-ogromnoe-chislo-stukachey-specsluzhb-advokat-447842.html and obozrevatel.com/abroad/39586-oni-povsyudu-fejgin-rasskazal-grustnuyu-pravdu-o-rossii.htm).But the utility of such reports and the prospect that the authorities will get more of them on issues they care about is severely limited by the inability of the powers that be to protect or reward informants, according to an article in today's Yezhednevny zhurnal comparing Russian and international experience with whistleblowers (ej.ru/?a=note&id=31358). "Without the participation of a large swath of the population, the struggle against corruption" and many other social ills will be "impossible," the paper says, given that the police and the siloviki can't be everywhere at once. But getting Russians to be whistleblowers is going to be hard unless the law and public attitudes both change. At present, the paper continues, "even those Russians who say they are ready to report cases of corruption and abuse of power which they say most of the time remain silent. And that is hardly surprising: the collective memory about the horrors of Stalinism, widespread 'criminal' ethics, and the deeply rooted distrust in society" all contribute to that outcome. "To convert a Russian into an important will be possible only if he is motivated and at the same time protected." More than 30 countries now have whistleblower statutes on the books, but Russia doesn't have even one piece of such legislation. Indeed, Yezhednevny zhurnal says, "in Russia so far there hasn't been even a serious discussion" of this need. But there are some efforts being made in the public sphere. Aleksey Shlyapuzhnikov of the Vladimir oblast "Swan" public organization describes what his group has done and why its work needs to be replicated elsewhere. As he puts it, the current situation in which Russia doesn't have a whistleblower law is "absolutely unsatisfactory." Russian law does protect witnesses, that is, those who provide testimony in open court. But many who might want to report a crime to the authorities but not be identified fear that the procuracy will give their names to those who are committing the infraction and that they will suffer, the Vladimir activist says. And they have no protection or recourse other than silence. Shlyapushnikov says that everyone benefits when such a law is put in place, including the authorities who are then in a position to say that the business climate is better or at least less corrupt. He adds that for those like him in the provinces, the only allies are international groups like Transparency International.
Window on Eurasia — New Series: Putin's Promotion of 'Traditional Values' Behind Rise in HIV Infections, Sociologist Says
Paul Goble Staunton, July 24 – The Russian authorities have not been able to stop the HIV/AIDS epidemic, Iskander Yasaveyev says. Indeed, they appear to be making it worse because "the rhetoric of 'traditional values' … used by the Russian authorities not only hasn't restrained the growth of HIV but on the contrary has promoted it." That is because, the Kazan-based sociologist who is associated with the Higher School of Economics says, these "values" prevent "the sexual education of young people, the discussion of the use of condoms, and the widespread use of programs [such as needle replacement] to reduce the harm in the use of narcotics" (idelreal.org/a/28634666.html). Last year, there were 103,000 new cases of HIV infection in the Russian Federation, 5.4 percent more than the year before and not including those identified anonymously, Yasaveyev reports, concluding that "this means that protecting people against HIV infections in Russia is ineffective." Moreover, he reports, only 286,000 of the almost 900,000 residents of Russia who have been diagnosed with HIV/AIDS are receiving anti-retroviral medications. Some have even been forced to go to court to try to force government hospitals to provide them with these life-saving drugs. In this article, however, Yasaveyev focuses on two things: the overly bureaucratic and traditionalist approach to efforts to prevent the spread of HIV/AIDS and the continuing exclusion and mistreatment of those who have been infected. The researcher notes that films and other programs intended to fight HIV/AIDS never discuss safe sex in a serious way and never even mention the use of condoms, something many traditionally-oriented Russians oppose and that are either of low, domestically-produced quality, or of higher quality but imported and more expensive. But what is even worse, he suggests, is that government propaganda in this area reinforces a number of mistaken views about how HIV infections spread and thus gives aid and comfort to those who want to exclude anyone infected with the disease from any contacts with others. Indeed, Yasaveyev says, in the past few months alone, he has heard of several cases in Kazan alone where employers fired workers as soon as it was discovered that they were infected with HIV. Nothing happened to the employers who did this, thus sending a powerful signal to those infected that they must hide from others – and not risk getting treatment. That in turn means that as a result of the traditional values that inform this Russian government effort more people will die rather than receive the treatment they need.
UAWire – Russia intends to consider the possibility of cryptocurrency payments in the Crimea to secure the anonymity of foreign tourists
The Ministry of Finance of the Russian Federation has expressed its readiness to consider the issue of making payments using cryptocurrency in …
Russian Federation Council Votes To Tighten Internet Restrictions
Russia's Federation Council has approved a bill that would prohibit the use of Internet proxy services — including virtual private networks, or VPNs. The bill approved on July 25 would als…
Russian Police Disperse Rally In Support Of Navalny In Siberia
KEMEROVO, Russia — Police in the Siberian city of Kemerovo have dispersed a rally being held in support of opposition politician Aleksei Navalny, who is bidding to run in next year'…
The Moneyed Professor: Putin's Dissertation Adviser Reportedly Now A Billionaire
Add another name to the list of Russian President Vladimir Putin's associates who have reportedly become billionaires under his reign. Vladimir Litvinenko, a former Putin campaign manager and …
How the head of Putin's election headquarters became a billionaire | History of the richest rector of Russia
The rector of St. Petersburg Mining University Vladimir Litvinenko, who became famous as a man under whose leadership he once defended his Ph.D. thesis, Russian President Vladimir Putin, for the first time turned out to be the richest among the leaders of Russian universities: in 2016 he declared income in 195.7 Million rubles Against 277 million rubles A year earlier. For comparison: according to RBC, following the rector of RANHiGS Vladimir Mau in 2016, the income was three times lower – 64.5 million rubles. But Litvinenko's declarations reflect only a small part of his condition. This year the rector became a dollar billionaire, bringing his share in April to one of the world's largest fertilizer producer, Fosagro, to 19.35% of the shares. As of last Friday, the value of this package amounted to 59.9 billion rubles. ($ 1.01 billion). Litvinenko is the second largest co-owner of "Fosagro" after the founder of the company, ex-senator from the Murmansk region Andrei Guriev and his family: they control 48.48% of the shares. In the third place – former director general, member of the board of directors of the company Igor Antoshin with 7.07%, another 25.1% of free-circulation shares. At the same time, 62-year-old Litvinenko had spent all his life at the Mining University. Possibly, he had a business. But even if it is so, it is small: according to the SPARK-Interfax, the full bachelor of the rector of the mining university owned 20% in the company "Krebs", registered in the settlement. Tolmachevo Luzhsky district of the Leningrad region with a charter capital of 5000 rubles. The company existed from 1992 to 2009 and specialized in the production of lumber, rail and tram sleepers. "It was his business, I remember, he often took me with myself in a big shop, there were many different equipment, often" woodworking ", – recalls the 34-year-old daughter Litvinenko Olga. She once worked with her father, but later disillusioned. Partner Litvinenko on Krebs with 20% was Nikolai Proskuryakov – the same name was called the previous rector of the Mining University.
The search for the "secret prison" of the FSB | Republic.ru
In the evening of April 4, Abror Azimov, whom the FSB considers one of the organizers of a terrorist attack in St. Petersburg, left the subway on the southwestern outskirts of Moscow and sat down in a car found with the help of the BlaBlaCar service. Azimov planned to leave for Ukraine, and from there to Turkey or Syria, but about an hour, about 23:00, the car was stopped on the track by police officers and told to go to the Naro-Fomisk branch – this city was very close. Prior to the ATS, the figure of the case about the terrorist attack was not reached: he was landed on the road, searched, handcuffed, put on a head of a black bag, transplanted into another car, and carried about 40 minutes in an unknown direction. Then he was again taken out of the car and this time dropped into the basement. They took off the sack from their head only a week later, and then Azimov realized that he was in a real cell. For almost two weeks, unknown persons held him in a "secret prison" and tortured him, seeking evidence. In a complaint filed by Azimov to the Main Military Investigation Department (HVSU) of the SCR, he cites the terrible details of his imprisonment and claims that he was in the hands of the FSB operatives. There is no other confirmation, but we managed to find out a total of six prisoners' histories, of which five at various times were talking about abductions and torture before official detention. They sent complaints to the European Court of Human Rights or to Russian law enforcement agencies, and the description of the cameras contained in these documents, the details of the ill-treatment and the subjects used for torture, as well as the details of the abduction, allow us to assert that this is a single object – the same thing, Where Azimov was brought on the night of April 5th.
The US has expanded sanctions over Russia – but will it stop the torture in Crimea? -Euromaidan Press |
Last week, Trump moderately expanded sanctions on Russia in what many have deemed an 'encouraging' sign that it will continue to put pressure on the Putin regime for its illegal actions in Ukraine. Among the newly penalized is a Russia-designated state prosecutor and ten other individuals and entities based in Crimea. However, according to Irina Sedova of the Crimean Human Rights Group (CHRG) Crimea, no one has been held accountable for the illegal arrest and torture of Ukrainian citizens who are opposed to the Russian occupation. "I very much doubt that human rights conditions will change as a result of the increased sanctions," said Sedova Since August 2016, officers from the FSB, Russia's state security service, have detained ten Ukrainian citizens and accused them of planning to attack military sites and infrastructure in Crimea. The wave of arrests has been known as the 'Ukrainian saboteurs' case in Russian and Crimean mass media. On August 10 FSB claimed that it had prevented a series of terrorist acts in Crimea planned by the Ukrainian Defence Ministry's military intelligence. All ten suspects remain in custody or have been imprisoned.
House Arrest For Russian Math Instructor Accused Of Sharing Kanye West Video
A Moscow court has ordered a university instructor accused of trying to stoke mass disorder through anonymous Internet postings and republishing a Kanye West rap video be transferred from prison t…
European Court Orders Russia To Pay Compensation To Man Convicted In Nemtsov's Killing
The European Court of Human Rights (ECHR) has ordered Russia to pay 6,000 euros ($6,990) in compensation to a man convicted of involvement in Russian opposition politician Boris Nemtsov's killing…
Dissident Director Helped Trump's Russia Comrade Attack U.S.
How did the man behind a movie accusing Putin of bombing Moscow end up making a film attacking American sanctions? The mysterious story of Andrei Nekrasov.
Russia will cut spending on the promotion of the foreign policy agenda
Russia will reduce the support of organizations promoting its foreign policy agenda abroad. Such NGOs are a tool of "soft power", but officials themselves do not really use their analytics, says expert
Russian Officials Say Kidnappers Of Daghestani Minister Detained
Russian law-enforcement officials said two men suspected in abducting a top official in the troubled North Caucasus region of Daghestan have been detained. The Investigative Committee said July 2…
Russian Energy Minister Downplays Fallout From Siemens Turbines Controversy
Russia's energy minister downplayed any risk to the country's oil sector following the disputed delivery of gas turbines built by Siemens to the Crimea peninsula.
Russian Energy Chief Urges Oil Producers To Comply With Agreed Output Cuts
Russia's energy minister has called on oil producers to show greater discipline in adhering to agreed-upon output cuts designed to raise the price of oil. "Despite the high level o…
Russian, Kazakh, Iranian Warships In Baku For Caspian Competition
BAKU — Russian, Kazakh, and Iranian naval vessels are in Baku ahead of a four-nation "competition" that is to be held off Azerbaijan's coast in the Caspian Sea from August 1-11. Th…
Russia Keen On Selling The MIG-35 – Will India Buy It? – DriveSpark
Russia's RAC seems eager to sell the MIG-35 Jet to India, as an upgrade from the existing MIG-29 in service with the Indian Air Force.
Russia joins Iran and North Korea on US 'axis of evil' list, Kommersant says | EUROMAIDAN PRESSEuromaidan Press |
In his State of the Union address in January 2002, then-US President George W. Bush said Iran, Iraq and North Korea constituted "an axis of evil" because of their efforts to acquire weapons of mass destruction. Now, a Moscow newspaper says, the US Congress has dropped Iraq from the list and put Russia in its place. In an article today entitled "The US Congress has Included Russia in the World 'Axis of Evil' Together with Iran and North Korea," a group of journalists at Kommersant says that the House of Representatives has taken this step because of its opposition to a whole range of Russian actions. These include, the paper says, Russia's annexation of Ukraine's Crimea, its intervention in the Donbas and Syria, its attacks on the cybersecurity of the United States and other countries, a pattern of actions that House leaders say constitutes evidence that Moscow "by various means is threatening its neighbors and trying actively to undermine American interests." Not surprisingly, the Moscow paper speculates about how the Trump Administration will likely try to get around any measure the Congress passes and how Moscow may make use of this action, scheduled for a vote tomorrow, to exploit US-EU tensions and to bring a case against Washington at the World Trade Organization.
Armenian Molokans Keep An Old Faith Alive
In a small Armenian village, members of the Russian-speaking Molokan community practice their faith and work the land as they have for hundreds of years. These "spiritual Christians" are the descendants of a sect that was exiled from tsarist Russia for rejecting some Orthodox beliefs. (RFE/RL's Armenian Service)
The 1980s American Soap Opera That Explains How Russia Feels About Everything | Foreign Policy
A look at the peculiar obsession with "Santa Barbara" in the post-Soviet experience. Санта Барбара Форева! — Santa Barbara Forevah! — was stenciled boldly in tall purple-chalk lettering on the side of my parents' apartment building in the southwestern part of St. Petersburg, Russia, when I returned to the re-renamed city of my childhood and youth — Leningrad, USSR — in 1993. It was the first time I'd been back since immigrating to the United States seven years earlier. There were other signs of Santa Barbara's presence in the city — improvised tributes to the American soap opera in the historic downtown area: a hole-in-the-wall café called Santa Barbara here, a Santa Barbara strip joint there. On several occasions I was asked, typically by women, whether I'd been to Santa Barbara myself and, if so, what it was like. I hadn't, unfortunately. "You should go. That'd be the first place I would go if I could ever make it to America," a middle-aged salesclerk at the grocery store said to me with mild reproach. Santa Barbara certainly sounded nice. In Santa Barbara, people had manners. They had their self-respect about them. The men didn't urinate in hallways or write obscene words on the walls of elevator cabins. They didn't smash lightbulbs in entryways or drink cheap eau de Cologne first thing in the morning. They didn't occupy the only toilet in the communal apartment for a good half-hour or keep their dirty combat boots and homemade barrels of pickled mushrooms in the communal bathroom. And they certainly did not, out of pure malice, slip slivers of tar soap in other people's pans with soup boiling on communal kitchen stoves. Nor did they come home dead drunk past midnight and plop down on the couch face first with their shoes on and immediately start snoring. In Santa Barbara, men were men, real men, handsome and gallant, even if they were not necessarily very good people in all other respects. They didn't go through their entire lives without saying "I love you" once to their women, especially to their wives — on whom, admittedly, they cheated mercilessly nonstop, but … well, men would be men, wouldn't they? In Santa Barbara, men didn't die of cirrhosis of the liver barely past their mid-50s, and there did not appear to be millions more women than men there, in Santa Barbara, or in America on the whole. [PrivacyBadger has replaced this Soundcloud button.]
How Russia Won the Nuclear Arms Race Against the U.S.
"I think it's apparent that their rate of growth of military strength compared to ours has probably been fairly substantial," President Jimmy Carter said in 1977 of Russia.
Belarus Reports
UAWire – Russian soldiers start to arrive in Belarus to participate in Zapad 2017 exercises
Personnel from the Russian Armed Forces have begun to arrive in Belarus in order to participate in special exercises in anticipation of the Russian-Belarusian Zapad 2017 maneuvers, the Belarusian Defense Ministry reported. "Since July 23, logistic support divisions from the Western Military District of the Russian Armed Forces have been arriving to participate in special joint exercises," the Belarusian Defense Ministry noted. The Belarusian and Russian soldiers will have to jointly prepare command centers and resources which will ensure the control over the joint formations of troops, military units and will carry out the organization of the logistic support of both countries' armed forces, and also equip the regions for the forthcoming exercises. The Zapad 2017 Russian-Belarusian joint exercises are supposed to take place between September 14 and 20 in Belarusian territory. There are plans for the exercises to involve as many as 12,700 military personnel, including nearly 3,000 from the Russian Armed Forces, as well as up to 680 items of military equipment. This is the largest joint operational training event of Russia and Belarus. For comparison, the Ukrainian-American Sea Breeze 2017 exercises which ended on July 22 involved roughly 3,500 soldiers from all the participating countries, as well as roughly 150 units of automotive, armored vehicle, aviation and naval equipment. Ukraine and other neighbors of Belarus expressed their concern over Zapad 2017 exercises. Ukrainian Defense Minister Stepan Poltorak said on July 21 that they will be extremely powerful and could potentially become the basis of a Russian invasion not only into Ukraine, but also into other European countries. However, Belarusian President Alexander Lukashenko, who visited Ukraine on the same day, guaranteed that the territory of the "friendly republic of Belarus" would "never be used for aggressive actions against Ukraine".
Belarus Signed Contract With Russian Military Holding Almaz-Antey – Charter'97 :: News from Belarus – Belarusian News – Republic of Belarus – Minsk
It is about buying radar equipment for a Unified Air Defense System. According to Interfax, the agreement was concluded with BeltechExport, a Belarusian state-owned company. According to the agency, the contract for supplying the Belarusian side with radar equipment for the Unified Air Defense System was signed "within the framework of an international agreement on military-technical cooperation." It is interesting, that not so long ago, the Russian holding was in the center of the scandal, after it came up with its own version of the Boeing aircraft's crash, which took place in the Donbass in July 2014, gazeta.by writes. Contrary to the conclusions of the international investigation team, analysts of the holding suggested that the aircraft "could be shot down by the Ukrainian military, since only Ukraine could have an outdated model of Buk missile defense system in the arsenal.
PACE Makes Tough Statement On Belarus – Charter'97 :: News from Belarus – Belarusian News – Republic of Belarus – Minsk
"It's time to stop this," – it is said in the joint statement of the Parliamentary Assembly of the Council of Europe.
Belarus Athlete Walks Off Awards Podium As Wrong Anthem Plays
A gold-medal-winning Belarusian athlete walked off the awards podium after the wrong anthem was played during a medal ceremony at a European championship meet. Viyaleta Skvartsova, who won a gol…
Transnistria Reports
An East-West flashpoint that needs more attention | TheHill
OPINION | CHISINAU, Moldova — Local conflicts and crises in different parts of the world continue to threaten global and regional peace and security. Often, managing these conflicts leads not to cooperation, but to greater confrontation. In Moldova – where we have a 25-year-long, Russian-backed secessionist movement on our sovereign territory – we are trying to avoid that fate. And we need the help of our friends in the United States and Europe. It is a difficult predicament, because there are about 2,000 Russian troops, as well as a few thousand separatist paramilitary troops, in Transnistria – a thin strip of land that runs about 200 miles along our eastern border with Ukraine. The Russians also have more than 20,000 tons of weapons and munitions in this tiny breakaway region, located just 30 miles from our capital, Chisinau. But the threats to Moldova are not just military. Moscow has imposed a punishing trade embargo on many of our products, and they harass our government officials on trips abroad. Russia exercises a pervasive influence in our country and constantly vilifies the European Union and the United States of America. Last fall, the Russian media meddling in our national election helped deliver Moldova's presidency to a pro-Russian candidate, Igor Dodon. While Dodon wants to terminate Moldova's association agreement with the European Union and instead strengthen ties to Russia, our governing coalition, which is led by the Democratic Party of Moldova, is staunchly pro-EU and committed to Western values. This month, with the support of our governing coalition and over the objections of President Dodon, a NATO liaison office will open in Chisinau. Even though the Transnistria dispute is more than two-decades old, you might never have heard about it. But this "frozen conflict" scenario may sound familiar, because similar situations – each with their unique circumstances – exist elsewhere in former Soviet states, where Russia seeks leverage and influence over its newly independent neighbors by stoking separatist passions and political dissent. Crimea, South Ossetia and Abkhazia are all regions with simmering disputes that, like Transnistria, remain flashpoints not only within and between countries, but between East and West. I just returned home from a trip to Washington, and I was happy to find many allies in the U.S. Congress and the Trump administration who fully support Moldova in our struggle to maintain our sovereignty and territorial integrity. Negotiations to settle the Transnistria conflict have been on-again, off-again, including a six-year hiatus from 2006 to 2012. The talks are based on a so-called "5+2 format," with Moldova and Transnistria as the parties in conflict, Russia; Ukraine and the Organization for Security and Co-operation in Europe (OSCE) as mediators; and the United States and EU as observers. To date, the talks have failed to achieve their objective: the elaboration of a special status for the Transnistrian region within Moldova that respects our country's sovereignty and territorial integrity. With a population of just under 400,000 citizens, Transnistria is 11 percent of Moldova's territory. It is a self-proclaimed state that is not recognized by any other internationally-recognized country. Today, its residents remain cut off from the international community and the majority do not benefit from the positive changes and new opportunities afforded to Moldovan citizens. This "grey area" is beyond the control of Moldova's constitutional authorities and generates multiple risks. The conditions foster corruption, cross-border crime, a shadow economy, illicit smuggling and serious threats to regional security. Chisinau has repeatedly called for the withdrawal of Russian military forces and their arsenal, and for the replacement of the current peacekeeping mission with a civilian one, under an international mandate. Our goal is to bring all the people of Moldova together in a reintegrated country, in a way that respects both the legitimate rights of residents of Transnistria and the territorial integrity of Moldova. Two years ago, Moldova was faced with an economic and banking crisis. The Democratic Party heard the demand for accountability and good governance and implemented far-reaching reforms, in partnership with political allies, that have restored political, economic and social stability. We are determined to keep pushing to resolve other issues affecting Moldova, including the Transnistrian conflict. To our partners in Transnistria: As our record shows, there has never been a more pragmatic, results-oriented Moldovan government. We are open-minded, flexible, and ready to negotiate a solution. We really have only one precondition: that our country remain whole. Otherwise, we can consider economic incentives, security accords, autonomy agreements, social development programs and other inducements for peaceful reunification. To our partners in the P5+2: There are new leaders in both Moldova and Transnistria that present historic opportunities. Now is the time to lean in. And to our friends in Washington and Brussels: supporting Moldova so far has been an exasperating process, but we need you to redouble your efforts. If this problem remains a low priority, it will continue to fester, until one day, the Transnistria conflict forces itself to the top of the world's agenda for all the wrong reasons. We need your engagement now more than ever. Vladimir Plahotniuc is Chairman of the Democratic Party of Moldova, the main party in the nation's governing coalition.
Malorossiya Reports
Macron, Merkel Say Statement on Malorossiya 'Unacceptable' | Financial Tribune
French President Emmanuel Macron and German Chancellor Angela Merkel in a telephone conversation with Russian and Ukrainian presidents, Vladimir Putin and Petro Poroshenko, said the declaration about creating so-called Malorossiya [made by self-proclaimed leader of the so-called Donetsk People's Republic (DPR) Alexander Zakharchenko last week] is "'unacceptable," Poroshenko's press service said summing up the results of the meeting. "The French president and German chancellor said such declarations are inexcusable, as are actions against the territorial integrity of Ukraine, including the creation of Malorossiya," Interfax reported. Separatists in eastern Ukraine on Tuesday proclaimed a new state that aspires to include not only the areas they control but also the rest of the country. But Russia, their chief backer, sought to play down the announcement, saying it was merely part of public discussion. Donetsk separatist leader Alexander Zakharchenko said in comments broadcast on Russian television that rebels in Donetsk and Luhansk as well as representatives of other Ukrainian regions would form a state called Malorossiya. Most of the areas which are currently part of Ukraine were referred to as Malorossiya, or Little Russia, when they were part of the Russian Empire. Zakharchenko said they are drawing up a constitution that would be put up to a popular vote. "We believe that the Ukrainian state as it was cannot be restored," Zakharchenko said in remarks carried by the Tass news agency. "We, representatives of the regions of the former Ukraine, excluding Crimea, proclaim the creation of a new state which is a successor to Ukraine."
The Kremlin changes its Donbas war narrative -Euromaidan Press |
Vitaly Portnikov The Russian president's personal advisor Vladislav Surkov has stated that the insane declaration by the chieftain of the Donetsk militants Alexander Zakharchenko (regarding the creation of the "new country of Malorossiya"– Ed.) was due to the fact that "the Donbas is fighting not for separation from Ukraine but for its inseparability, for the entire Ukraine and not just for a part of it. In other words, there is a 'civil war' in Ukraine between people who see the future of their country differently." This is a completely new view of the events associated with Russia's attack on Ukraine. Because, at the beginning of the undeclared war, it was considered that the struggle was for "Novorossiya," which the Bolsheviks supposedly gave to Ukrainians. This is what Russian President Vladimir Putin talked about in the "Crimean speech." When it became clear that the Russian offensive in the east was faltering, (the Russians) moved to create some new "Donbas" nation with its own mentality that was different from the Ukrainian one. After all, it is not by chance, for example, that the word "Moldovan" appears in the name of Transnistria (Pridnestrovie) , the separatist enclave in Moldova. But the word "Ukrainian" is absent in the names of DNR (Donetsk People's Republic) and LNR (Luhansk People's Republic). The Pridnestrovian Moldavian Republic (PMR) was created as another Moldova. And DNR and LNR were created as the "anti-Ukraine" territory that had nothing in common with its own state and had only one dream — to join Russia under any conditions. Even when there was talk about territorial integrity it meant the "restoration" of the territorial integrity of DNR and LNR within the boundaries of the Donetsk and Luhansk oblasts. And now, suddenly, it turns out that Zakharchenko is fighting not for the detachment of the Donbas but for its reunification with Ukraine. Who would have thought! Interesting. Is Zakharchenko aware of it himself? Well, if he doesn't know he will soon find out. This is because Surkov's words testify to the Kremlin's desire to get rid of the "people's republics." Russian officials simply do not know yet how and under what conditions. Naturally, they really would like to return the occupied part of the Donbas to an "obedient" pro-Kremlin Ukraine, but for now they have begun to expound on the wholeness of the country, on the "civil war" between people who have different ideas about the future of this entire country. After all, in a civil war it is possible that the Ukrainians could win as well as the "Malorussians." And what would Surkov do in the event of such a victory? Well, nothing special — just shrug: the country's unity has been preserved. If there is no "Russian" Donbas, if there is no "Novorossiya" but only "Malorossiya," which is transformed into Ukraine with the wave of a hand, then what is there to argue about? As Surkov explained to his assistants, the main thing is that this is an "internal Ukrainian discussion." Simply put — prepare for the surrender of the occupied part of the Donbas. The same fate awaits occupied Crimea. Yes, today the peninsula is considered to be "an integral part of the Russian Federation," but this is true as long as an insane Putin sits in the Kremlin. And after the inevitable collapse of his regime, Crimea will likely become the only commodity that Russia can use to trade with the West, the only opportunity to prove its commitment to international law. And then suddenly, unexpectedly, it will turn out that "annexation" of the peninsula is against this very law and that everyone knew it but was afraid to say so. And if certain Crimean residents still have a different idea of their own future at that time, this will become part of the "internal Ukrainian discussion." Russia will have nothing to do with it.
Ukraine Reports
US considering arms to Ukraine, says envoy Volker – BBC News
Washington is reviewing whether to arm those fighting Russian-backed rebels, says a new envoy.
New Envoy Volker Says U.S. Considering Sending Arms To Ukraine
The new U.S. special envoy for efforts to end the conflict in eastern Ukraine, Kurt Volker, says Washington is considering sending Kyiv weapons to help government forces defend themselves against Russia-backed separatists.
U.S. Envoy Says White House Mulling Ukraine Arms Supplies
U.S. special envoy to Ukraine Kurt Volker has told Current Time TV that the White House is considering providing "defensive arms" to Ukraine. Speaking in Paris on July 25, he said such a move would enable Ukraine to defend itself "if Russia were to take further steps against Ukrainian territory."
Trump Wants to Arm Ukraine Against Russia, Says New U.S. Special Envoy
Kurt Volker blames the conflict in eastern Ukraine on Russia.
Special envoy: US may send arms to Ukraine – POLITICO
U.S. Special Representative for Ukraine Negotiations Kurt Volker said arming Ukrainian forces with defensive weapons could force Moscow to change its approach to the conflict.
US considering arms to Ukraine, says envoy Volker
US could send arms to Ukraine to change Russia's approach, envoy says – Daily Sabah
The U.S. is considering sending defensive weapons to Ukraine, Special Representative for Ukraine Negotiations Kurt Volker said Tuesday. According to…
US considering sending arms for Ukraine against Russia
The US is actively considering whether to arm Ukraine with defensive weapons in its fight against Russian-backed rebels, according to the new US special representative for Ukraine Kurt Volker. Volker
US may send weapons to Ukraine, new envoy tells BBC, Europe News & Top Stories – The Straits Times
WASHINGTON – The United States may arm Ukrainian government forces fighting against Russian-backed rebels, the new US special representative for Ukraine told the BBC.. Read more at straitstimes.com.
US to consider backing Ukrainian forces? – Radio Poland :: News from Poland
The US may consider sending arms to support Ukrainian soldiers in their fight against Russian-backed rebels, according to Kurt Volker, who was appointed to the newly created post of special US representative for Ukrainian negotiations earlier this month.
New US envoy for Ukraine: US considering issue of sending weapons for Ukraine – 25.07.2017 09:58 — Ukrinform News
25.07.2017 09:58. The US authorities are actively reviewing whether to send weapons to Ukraine so that to help fighting against Russian-backed militants.
U.S. Special Rep Volker supports providing defensive weapons to Ukraine
The new U.S. special representative for Ukraine has said Washington is actively reviewing whether to send weapons to help those fighting against Russian-backed rebels, the BBC news said on Tuesday.
U.S. envoy Volker: More Russian tanks in occupied Ukraine than tanks in Western Europe combined
"First off, Russia is already in Ukraine, they are already heavily armed," he said in Paris on July 25 in an interview with Current Time, the Russian-language network run by RFE/RL in cooperation with Voice of America (VOA). "There are more Russian tanks in there than [tanks] in Western Europe combined. It is a large, large military presence." Volker said he did not think arming Ukraine with lethal defensive weapons would "provoke Russia to do more than they are already doing, and it also isn't going to change any kind of balance that way." Read also U.S. 'may send arms' to Ukraine, says new envoy – BBC "I hear these arguments that it's somehow provocative to Russia or that it's going to embolden Ukraine to attack. These are just flat out wrong," Volker said. In his words, providing lethal defensive weapons would allow Kyiv to "defend itself if Russia were to take further steps against Ukrainian territory." "Russia says it won't do that and isn't doing that, so then there should be no risk to anybody, if that's the case," he said. President Donald Trump's administration "is now reviewing where the Obama administration left it, considering whether we should provide defensive arms to Ukraine or not," he said. "So that's the state of play." Volker was on a tour of Ukraine on July 23-24. In particular, he visited the Ukrainian-held towns of Avdiyivka and Kramatorsk in Donbas.
Kremlin: U.S. Arms Supplies to Ukraine Would Set Back Peace Efforts | Top News | US News
US News is a recognized leader in college, grad school, hospital, mutual fund, and car rankings. Track elected officials, research health conditions, and find news you can use in politics, business, health, and education.
Russian MP comments on opportunity for Ukraine to receive lethal weapons from USA – PravdaReport
Deputy Head of the State Duma Committee for Foreign Affairs, Alexei Chepa, commented on the statement from the United States Special Representative for Ukraine, Kurt Volker
US mulls sending arms to Kiev, doesn't view move as 'provocative' – US special envoy to Ukraine — RT News
Washington is considering sending "defensive" weapons to Ukraine, US special representative Kurt Volker says. He insists the potential move, long desired by Kiev, would not be "provocative." It comes as Moscow warns against fueling Ukraine's civil war.
Russian aggression to blame for Ukraine 'hot war' – Normangee Star
The Daily Vertical: Unstoppable Force, Meet Immovable Object (Transcript)
What happens when an unstoppable force meets an immovable object? We may be about to find out. Because it is becoming increasingly clear that the Kremlin is about to double down on its efforts to destabilize and dominate Ukraine. In the past day alone, according to Ukrainian press reports, pro-Moscow separatists have launched no less than 27 attacks in the Donbas. WATCH: Today's Daily Vertical Additionally, Russia just increased its troop presence on Ukraine's border, amassing three divisions of motorized rifle troops capable of conducting rapid offensive operations. Last month, two Ukrainian military intelligence officers were assassinated. And, of course, last week, the pro-Moscow separatist leader Aleksandr Zakharchenko called for Ukraine to be replaced with a new state called Malorossia, with its capital in Donetsk. Now, individually, all these things look like business as usual in a war that has dragged on for more than three years. But when you connect these dots, they seem to point to a coordinated and multipronged campaign. According to SBU chief Vasyl Hrytsak, in a meeting of top Russian officials in May, Vladimir Putin criticized efforts to destabilize Ukraine and ordered "a reset of the ruling regime" in Kyiv. And now that reset appears to be under way. After three years of war, after three years of Ukrainian society becoming increasingly and irreversibly pro-Western and surprisingly resilient, Russia is still not ready to give up its efforts to dominate a country that simply does not want to be dominated. Unstoppable force, meet immovable object.
The Morning Vertical, July 27, 2017
ON MY MIND Post-Soviet Russia and Ukraine were separated at birth. Both experienced identical political crises early on, in 1993-94. Ukraine resolved its crisis with early elections. Russia handled its crisis with the military shelling the parliament. Every Ukrainian election since independence has been competitive and in only one case has the incumbent been reelected. None of Russia's post-Soviet elections has been truly competitive. Ukraine has a vibrant civil society that consistently challenges the authorities. Russia's civil society has been persistently repressed or co-opted. The two countries have traveled such divergent paths for the past quarter century that, despite a shared Soviet past, today they are in entirely different places. Despite lingering problems with corruption and cronyism, today Ukraine can fairly claim to be the easternmost Western country — as opposed to the westernmost Eastern country. Yet despite this, Vladimir Putin's Kremlin clings to the myth that Ukraine's destiny is to be dominated by Moscow. As I argue on today's Daily Vertical, Moscow's continued efforts to dominate a country that has made its choice to move West is akin to an unstoppable force meeting an immovable object. It is also a recipe for a protracted conflict with no end in sight.
Mark Galeotti | STOLYPIN: Donbas continues to be as unpredictable as it is unloved
Declaration of a new state of 'Malorossiya' reflects conflicting agendas of local Donbas warlords and Moscow, as much as the struggle between Moscow and Kyiv. Mark Galeotti of the Institute of International Relations Prague July 25, 2017 Do the contested and confusing declaration of a new state of 'Malorossiya', an upsurge in fighting and the arrival of a new US envoy suggest something is moving in the Russo-Ukrainian Donbas war – or precisely that, behind all the sound and fury, it is business as usual? The OSCE and official sources on both sides of the front line have noted a distinct upsurge in clashes, over and above the usual summertime fighting season flurry. Speaking in Kramatorsk during his first visit to Ukraine in his new capacity, US envoy Kurt Volker characterised it in stark terms: "This is not a frozen conflict, this is a hot war, and it's an immediate crisis." Meanwhile, Alexander Zakharchenko, head of the self-proclaimed Donetsk People's Republic (DPR), announced the formation of 'Malorossiya' or 'Little Russia', a name inspired by the old tsarist province that contained much of eastern Ukraine, as both a new name for the rebel-held region and also a successor to the government in Kyiv. This rather bizarre and grandiose claim was greeted at once with suspicion from every side. Kyiv regarded it as a Russian-inspired provocation; President Petro Poroshenko placed it within a continuum of acts "from the beginning of the military aggression against my nation, [during which] the Russian Federation's goal has been to divide Ukraine into parts". Meanwhile Igor Plotnitsky, Zakharchenko's counterpart in the equally-unrecognised Lugansk People's Republic (LNR) said he had had no part in this, and the chairman of the LNR's legislature Vladimir Degtyarenko said that "at the moment the expediency of such a step raises big doubts". Even Moscow seemed nonplussed. Presidential spokesman Dmitry Peskov said that "the statement Zakharchenko made this morning about Malorossiya is his personal initiative. Moscow learnt about it from the press. We stay committed to the Minsk agreements." Of course, it is easy to discount this as so much disinformation and disingenuity, especially as top Putin adviser Vladislav Surkov, effective "curator" of the Donbas war, expressed a degree of indulgent enthusiasm, asserting that "overall, the whole hype regarding the declaration of the state of Malorossiya is useful" because it frames the war as a civil one within Ukraine rather than – as it really is – essentially an act of Russian aggression drawing in part on local clients and proxies. However, we should beware believing Moscow is always in the driving seat. Nationalist writer Zakhar Prilepin, one of Zakharchenko's advisers, said "We really wanted to make a surprise for Moscow, for Washington, and, of course, for Kiev in the first place." Surkov is notoriously too clever for his or the Kremlin's good at times, and he may simply be making the best of the situation. His reputation is on the line, after all, as otherwise this demonstrates again the limitations of Moscow's authority.
No end in sight to Ukraine fighting as Normandy format stumbles – EURACTIV.com
Germany, France, Russia, Ukraine Agree On 'Immediate Measures' To Push Cease-Fire
The German government says Germany, France, Russia, and Ukraine have agreed on a number of "immediate measures" to push forward with a peace deal brokered in 2015 to end the bloody fightin…
France, Germany urge cease-fire in Ukraine as violence flares – POLITICO
Following talks with Russian and Ukrainian leaders, Europeans warn of humanitarian catastrophe.
Merkel, Macron urge to resume movement of goods across contact line in Donbas – media
German Chancellor Angela Merkel and French President Emmanuel Macron claim they are in favor of restoring the movement of goods to the occupied part of Donbas through the demarcation line, Deutsche Welle reported, with reference to a joint statement following Monday's phone talks of the Normandy Four leaders. News 25 July from UNIAN.
Luke Coffey | Ukraine's Future Is Brighter Than You Think | The National Interest
Budget deficits have been reduced, budgetary discipline is being restored and there are finally signs of economic growth. The United States should not allow itself to be left behind—it should pursue a free-trade agreement with Kyiv. Donald Trump has demonstrated a preference for bilateral trade agreements, and for many economic and geostrategic reasons, Ukraine is a prime candidate. Ukraine still has a long way to go with its reforms, but the situation is not all doom and gloom, as is often reported. The country still faces many challenges on the political, economic and security fronts. But it is about time we start measuring Kyiv's success by its actual progress and not by unrealistic expectations. Ukraine finally appears to be heading in the right direction, and the Euro-Atlantic community should do all that it can to keep them on this path. Luke Coffey is Director of the Douglas and Sarah Allison Center for Foreign Policy at The Heritage Foundation.
Alexander J. Motyl | Twelve Myths about Change in Ukraine
Most Ukrainians will tell you that "nothing has changed" since the Euromaidan Revolution. Meanwhile, most Ukrainian analysts bemoan that Ukraine's elites are resisting change and that, unless Ukraine changes more quickly, the country will backtrack and be lost. And everyone seems to agree that no change is possible unless corruption is fully eliminated. These views rest on simplifications, distortions, and misunderstandings. Here are a few.
Diane Francis | The Only Winning Strategy for Ukraine
The Atlantic Council promotes Imagine if, on June 14, Ukraine launched its first independent anti-corruption court and began hearing dozens of cases against people in high places. Imagine if, by mid-July, several oligarchs and public officials were convicted of corruption, and their assets confiscated. Unfortunately, neither are true. A June 14 deadline for the court imposed by the IMF was ignored by Ukraine and instead President Petro Poroshenko and others bob and weave to avoid reforms in advance of the next election. But this represents an opportunity lost. The court will signal to the world that the rule of law will prevail in Ukraine. The IMF will send another $1 billion and the European Union, another 600 million Euros. Besides that, the court would comfort foreign investors who would begin to flood in to help build Ukraine's economy. The existence of laws would also create a steady flow of oligarchs, their minions, victims, and crooked public officials who would turn over evidence of wrongdoing about others or plea bargain on their own behalf. This would cleanse the system and result in back tax payments and confiscations. But that scenario looks impossible. The oligarchy has chosen instead to foot-drag on reforms, harass anti-corruption activists and opponents, and try to manipulate the European Union. Last week, for example, European Commission President Jean-Claude Juncker created a diplomatic flap by saying he was persuaded by Poroshenko that an anti-corruption chamber, rather than an independent court, would do the trick. He has since walked this back, but doubts remain.
UAWire – Russian court issues an arrest warrant for the Ukrainian prosecutor on Yanukovych's case
The prosecutor of the Main Military Prosecutor's Office of Ukraine, Ruslan Kravchenko, who is conducting the high treason case against former …
Russian Army Arrives at Ukraine Border as U.S. Fears Over 'Hot War' Simmer
At least nine Ukrainian soldiers have died in 72 hours.
UAWire – Ukrainian Military Command: Russia deploying three assault divisions on the border with Ukraine
Russia has augmented its military presence on the border with Ukraine, deploying three assault motorized rifle divisions, reported the General Staff of the Armed Forces of Ukraine (AFU) on Facebook page. "The organizational staff structure, armament and military equipment, which are coming in, is an evidence that these Russian divisions are essentially assault divisions, intended to carry out rapid aggressive actions," the post cites Viktor Muzhenko, Chief of the General Staff and Commander-in-Chief of the AFU as saying. In July 2016, during a speech at the College of the Russian Defense Ministry, Defense Minister Sergey Shoygu spoke about the escalation of the military and political situation in the south-west strategic area "in recent years". "This is primarily related to the increase in NATO's military presence in Eastern Europe, the situation in Ukraine and the activity of international terrorist groups, even in North Caucasus," Shoygu stated. "Under these circumstances we need to take the adequate reactive measures," the defense minister noted. He added that during recent times "four divisions, nine brigades and 22 regiments" had been formed, including two missile brigades armed with Iskander-M systems. Shoygu emphasized that this would make it possible to "enhance the capacity for destroying a potential opponent". In January 2016, Shoygu said that the Russian Armed Forces would create three new divisions in the western area. He then called it the "most important objective" and added that it would also be necessary to create new training grounds, equipment storage facilities and staff living quarters. Later in January 2016, Colonel General Oleg Salyukov, Commander-in-Chief of the Russian Ground Forces said that Russia was reinforcing the forces on the western and central regions with four new divisions. He said that this measure was a response to the increase in NATO drills. "Forming new divisions is one of the measures in response to the increase in the intensity of NATO-states' exercises which has been observed in recent times," General Salyukov said. He also noted that three of the divisions would be created in the western area and one in the central.
Генштаб: РФ стягнула до кордону 3 дивізії, призначені для швидких наступальних дій | Українська правда
Росія наростила військову присутність на кордоні з Україною трьома мотострілецькими дивізіями, які по суті призначені для ведення швидких наступальних дій.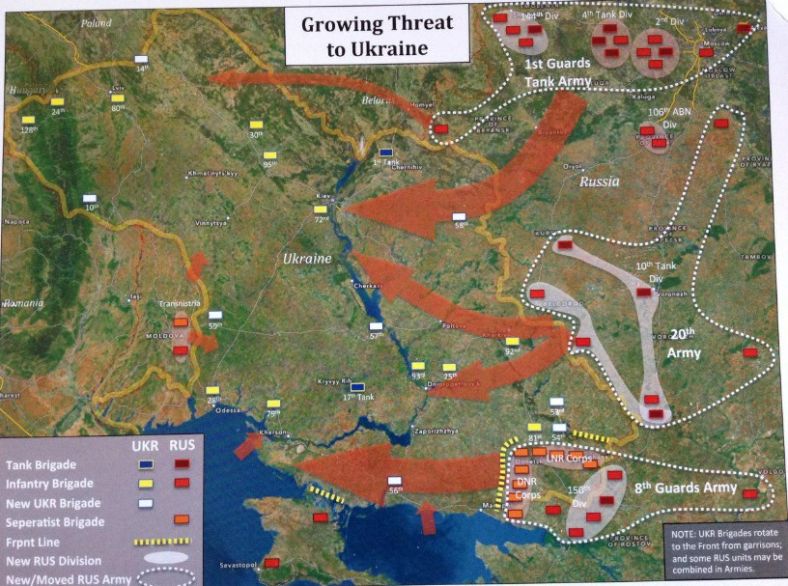 Viktoria on Twitter: "3 (newly formed) Russian divisions at the Ukr-RU border and the probable directions for the offensive https://t.co/zqYz6K9aHb"
Kremlin comments on statements about Russian troops on Ukraine border
Russian President's Press Secretary Dmitry Peskov, while commenting on reports on the strengthening of the grouping of troops on the Ukrainian border, said that Russia could change the configuration of the armed forces on its soil at its own discretion. He advised that the reporters apply to the Ministry of Defense of Russia for more detailed information, RIA Novosti reported. "Firstly, the Russian Federation is free to change the configuration of the armed forces on its territory, to the extent it considers appropriate. Secondly, with regard to specifics, in this case, it is better to address this issue to my colleagues from the Ministry of Defense," Peskov said, answering the question whether Russia is actually amassing forces at the border with Ukraine, as reported by the Ukrainian General Staff, and for what purpose. As UNIAN reported earlier, Chief of the General Staff of the Armed Forces of Ukraine Viktor Muzhenko on July 23 announced that Russia had recently increased its military presence on the Ukrainian border, having amassed three divisions of motorized rifle troops capable of conducting rapid offensive operations.
Militants launched 27 attacks on Ukrainian troops in Donbas in last day – 25.07.2017 09:44 — Ukrinform News
25.07.2017 09:44. Militants launched 27 attacks on positions of the Armed Forces of Ukraine in ATO area in Donbas over the past day.
Ukrainian army positions shelled 27 times, three soldiers wounded over past day
Over the past day, militants have fired on Ukrainian army positions 27 times in the Anti-Terrorist operation (ATO) area, as a result of which three servicemen of the Armed Forces have been injured, the press center of the ATO headquarters reported.
Three Ukrainian soldiers wounded in ATO zone in last day – 25.07.2017 14:30 — Ukrinform News
25.07.2017 14:30. Three Ukrainian servicepersons were wounded in the anti-terrorist operation (ATO) zone in eastern Ukraine over the past day.
Three Ukrainian military wounded in combat yesterday, – ATO HQ
25.07.17 11:46 – Three Ukrainian military wounded in combat yesterday, – ATO HQ On July 24, three Ukrainian military were wounded in shelling by the adversary of Ukraine Armed Forces' positions. View news.
Ukraine army repels militant group near Triokhizbenka | UNIAN
Russia's hybrid military forces attacked Ukrainian army positions in Donbas 27 times in the past 24 hours, with three Ukrainian soldiers reported as wounded in action (WIA), according to the press service of the Anti-Terrorist Operation (ATO) Headquarters. News 25 July from UNIAN.
Why did the Russian-militant forces attack Krasnohorivka? Latest flare-up in Donbas, explained -Euromaidan Press |
The last week in Ukraine was marked by a sudden announcement by the chief of the unrecognized "Donetsk People's Republic" ("DNR") Aleksandr Zakharchenko on the creation of a new fictional state "Malorossiya," which he described as a successor state to Ukraine, on 18 July. Krasnohorivka: the next hot spot This time was no different. The small town of Krasnohorivka, a tiny part of the Donetsk agglomeration, became the next hot spot on the Donbas war map. The Ukrainian Army liberated it from the Russian-backed militants in the beginning of August 2014. Since then, it is a constant target for their heavy artillery and sabotage and reconnaissance groups (SRG). Just two days after Zakharchenko's announcement, on 20 July, Ukraine suffered 4 soldiers KIA, 1 captured, 7 WIA, despite the "Harvest ceasefire" announced on 24 June. Of them, three soldiers from the 92nd mechanized infantry brigade were killed in a flare-up near Krasnohorivka. The enemy follows a well-known tactic: using the 120 mm mortars and a pair of tanks, weapons prohibited by the Minsk II Agreements, they gave an opportunity for an SRG consisting of 10-15 men to come close to the positions of Ukrainian infantry near Krasnohorivka. The concentrated shelling and the prohibition given to Ukraine's Armed Forces to use their artillery made repulsing the attack practically impossible. Taking into account the gravity of the situation, the commanding officer made the decision to retreat. Later, when a reinforcement unit came to the rescue, with concerted efforts, the 92nd mechanized infantry brigade regained control over the previously lost positions. Likely causes for sudden fighting There are two factors that could explain the escalation near Krasnohorivka. The fighting here needs to be considered in the context of the overall war situation in the Donetsk direction, that is from Kamianka to Slavne. The tactical success of the 72nd brigade at the Avdiyivka Industrial Zone and near Yasyniuvata worsened the situation for the militant forces, making their commanders search for other options on reinforcing their positions.
OSCE spots militant military equipment traveling to Novoazovsk
The OSCE Special Monitoring Mission (SMM) to Ukraine has said it saw multiple military-type vehicles traveling toward the town of Novoazovsk. Latest UNIAN news from 25 July.
Member of Rostov-on-Don city council exposed Russian armored vehicles convoy in Donbas. PHOTOS
25.07.17 12:52 – Member of Rostov-on-Don city council exposed Russian armored vehicles convoy in Donbas. PHOTOS Anatoly Kotlyarov, member of Russia's Rostov-on-Don city council, made a video showing a convoy of Russian military hardware redeployed next to the uncontrolled border between Ukraine and Russia. View photo news.
"DPR" militants test new mini-Grad systems near Ukraine's Krasnohorivka
Ukrainian members of the Joint Center for Control and Coordination (JCCC) on the settlement of the Donbas crisis claim they have proof that illegal armed formations of the self-proclaimed Donetsk People's Republic ("DPR") have tested a new type of prohibited weapons and are ready to use it, according to the press center of the Anti-Terrorist Operation (ATO) Headquarters. News 24 July from UNIAN.
UAWire – Mother of the Russian soldier detained in the Donbas went to visit Ukrainian President's office
Russian military contractor Viktor Ageyev's mother, Svetlana and their lawyer visited the Administration of the President of Ukraine. Afterwards, …
U.S. Special Operations Forces Train With Ukrainian Counterparts > U.S. DEPARTMENT OF DEFENSE > Article
ODESSA, Ukraine, July 25, 2017 — Across southern Ukraine, U.S. special operations forces trained with Ukrainian special operators and conventional U.S. and Ukrainian naval forces during Sea Breeze 2017, July 10-21. An annual fixture in the Black Sea region since 1997, Sea Breeze is a U.S. and Ukrainian co-hosted multinational maritime exercise. This year, Ukraine invited U.S. special operations forces to participate, and U.S. Special Operations Command Europe's Naval Special Warfare Command operators were eager to sign up for the mission. This is the first time that special operations forces have operated at Sea Breeze, said U.S. Navy Capt. Michael Villegas, the exercise's director. "[Their] capabilities are extremely valued by the Ukrainians and extremely valuable to the U.S." Naval Special Warfare Command operators were completely integrated into the various air, land and sea missions that required their unique warfighting skill set. Exercise Sea Breeze is a perfect fit for special operations forces to train and exercise their capabilities, the exercise's lead special operations forces planner said. "With the support of the [Air Force's] 352nd Special Operations Wing, we saw a prime opportunity to support [special operations] mission-essential training with our Ukrainian allies," he said.
NATO Shows Ukraine Support at Sea, But War in East Turns Bloody
The British and Turkish ships dock in Odessa as Kiev warns about a regression into deadly combat.
Ukrainian Navy Commander to visit the USA to discuss maritime cooperation | Міністерство оборони України
The Ukrainian delegation led by Vice Admiral Ihor Voronchenko, Commander of the Ukrainian Navy, left for the USA to discuss cooperation with US congressmen, US Defence Department representatives, US Navy Commander, politicians, and officials. Vice Admiral Voronchenko will brief them on present and prospects of development of the Ukrainian Navy, experience of participation of units in conflict in east of Ukraine, as well as the parties will discuss bilateral cooperation and development of training of the Ukrainian military and units. Press Center of the Ukrainian Navy Command
Sea Breeze-2017 significant step toward Ukraine's transition to NATO standards – Defense Ministry
The Sea Breeze-2017 multinational naval exercise in the Black Sea was a significant step for the transition of the Armed Forces of Ukraine to the standards of the North Atlantic Treaty Organization, press secretary of the Ukrainian defense ministry Dmytro Hutsuliak told a Kyiv briefing Tuesday, according to an UNIAN correspondent. News 25 July from UNIAN.
Ambassador Gough says Ukraine priority for UK's foreign policy | KyivPost
The arrival of the British Navy's HMS Duncan destroyer to Odesa demonstrates London's support of Ukraine, British Ambassador to Ukraine Judith Gough said. The HMS Duncan together with the Turkish Navy frigate Yildirim arrived in Odesa as part of the visit of NATO Standing Maritime Group N2 (SNMG2), the press service of the Defense Ministry of Ukraine reported. Gough expressed her hope that such visits will continue in the future. She said this is a sign of cooperation between the two countries, and shows the support from the UK.
Ukraine army to get new types of weapons soon – Turchynov
Oleksandr Turchynov paid a visit to the Honcharivskiy training ground of the Armed Forces of Ukraine where new models of weapons and military equipment developed by the Ukrainian defense industry were tested, including machine guns, sniper rifles, hand-held anti-tank grenade launchers, mortars, modern anti-tank missile systems and ammunition. Turchynov paid special attention to fuel-air [Ed: original states FAE or thermobaric] ammo, which the Ukrainian forces are lacking today, also noting excellent test performance by manual thermobaric grenades and a propelled infantry flamethrower. "The servicemen of the Armed Forces of Ukraine should get them in the near future," he said. Read also Turchynov offers alternative to Anti-Terrorist Operation in Donbas (Video) During the tests of mortars, the designers and manufacturers told NSDC secretary that the remarks of the military on 120mm mortars' performance had been taken into account, and the flaws had been eliminated. "A 60mm mortar, which is capable of effectively engaging targets and is not subject to the Minsk agreements, is a promising weapon to use in the Donbas conflict zone," Turchynov added. Horlytsia unmanned aerial system and Phantom-2 modernized unmanned combat vehicle, equipped with a powerful missile, were also tested. Turchynov noted that the latter unit "is capable to frighten the enemy by its sole appearance". He noted that in the context of continued military aggression, "our priority is to ensure production of ammunition, in particular, large-caliber shells." "This is why additional funding is provided by the amendments to this year's state budget," Turchynov added. Read also Russia deploys over 60,000 troops along Ukraine border, in Crimea, Donbas – Def. Ministry "Without using in combat the systems such as Stuhna, Russian tanks will continue to shell our positions with impunity," he said. At the same time, Turchynov noted that "despite the tasks set by the NSDC, the time has not been reduced significantly between the development of new weapons and military equipment and its effective use in combat conditions." Representatives of foreign military, interested in acquiring Ukrainian weapons, were also present at the training ground during tests. Read also Ukroboronprom strikes several deals at UAE's IDEX 2017 "Our task is not only to ensure reliable protection of Ukraine but also to defend our positions in the international arms markets, which in turn will provide an additional resource for the development of the defense industry and strengthening of capabilities of our army," Turchynov added.
War in Donbas: Ukraine wins first case in ECHR – 25.07.2017 15:54 — Ukrinform News
25.07.2017 15:54. The European Court of Human Rights (ECHR) delivered the first judgment in the complaint against Ukraine related to the loss of governmental control over the part of Luhansk region territory. The Court found no violation of the European Convention on Human Rights in the case Khlebik v. Ukraine.
Joining Ukrainian Separatists Brings Mixed Fortunes For Foreigners
A trio of Italians who joined Russia-backed separatists in eastern Ukraine in 2014 are all still at large — although the net has closed on other foreign militants. (RFE/RL's Ukrainian Service)
US soldiers save civilians in Ukrainian apartment fire – News – Stripes
Six off-duty Oklahoma National Guardsmen rushed into a burning building in a city in western Ukraine, raising the alarm and evacuating civilians before firefighters arrived.
Ukrainian court orders state-owned company to pay millions to militants – media
The Economic Court of Luhansk region has ordered the Ukrainian Luhansk Oblavtodor company to pay UAH 2.1 million to LLC Donkub, which is located in the territory occupied by the "LPR" militants and which was seized in 2016 by pro-Russian terrorists, according to Chetverta Vlada online media outlet. News 25 July from UNIAN.
Victims of Dnipro shooting incident identified as Donbas war veterans
Victims of a recent shooting incident in the city of Dnipro on July 24 have been identified as Donbas war veterans, according to the local news portal Dniprograd. News 25 July from UNIAN.
One shooter of ATO veterans in Dnipro arrested
One of a group of men who opened fire on Monday evening in Dnipro has been arrested after he checked himself into a hospital for treatment. Two veterans of Anti-terrorist Operations (ATO) in eastern Ukraine were killed in the shoot out, and five received injuries, according to the Dniprograd.org news website.
Does Georgia's Ex-President Risk Extradition From Ukraine?
In the run-up to Ukrainian President Petro Poroshenko's recent state visit to Georgia, there was a flurry of speculation about whether Mikheil Saakashvili might be extradited from Ukraine to fac…
Nazarenko resigns as head of State Border Service
Head of the State Border Service of Ukraine Viktor Nazarenko has filed in his resignation letter, a source told Interfax-Ukraine.
Viktor Nazarenko appointed as advisor to Ukrainian president – 25.07.2017 17:54 — Ukrinform News
25.07.2017 17:54. President of Ukraine Petro Poroshenko has dismissed Viktor Nazarenko as Head of Ukraine's State Border Guard Service and appointed him as presidential adviser.
Ukrainian agricultural exports totaled almost $9 bln in first half 2017 – 25.07.2017 14:53 — Ukrinform News
25.07.2017 14:53. In January-June 2017, Ukraine's agricultural exports totaled $8.77 billion, which is $2 billion (28%) more than in the first half of 2016.
Russia / Iran / Syria / Iraq / OEF Reports
Russia Military Ally Ditched U.S. Base After Missile Strike Threat
The country's U.S. base closed in 2014, as tensions between Russia and the West peaked over Ukraine's decision to topple the pro-Russian government in Kiev.
Trump blasts 'fabricated' Syria story, appears to confirm covert CIA program – The Washington Post
Trump tweet acknowledges secret U.S. program to aid Syrian rebels.
Russia Says Military Police Deployed To Monitor Syria Cease-Fire
A top Russian military official says military police have deployed to the eastern suburbs of the Syrian capital, Damascus, where they will monitor a cease-fire in the safe zone there. Colone…
Cooperation with Russia becomes central to Trump strategy in Syria – The Washington Post
Some argue that the Kremlin cannot be trusted to implement a deal that would allow the U.S. to focus on the Islamic State.
Putin Set To Meet With Iraqi Vice President Maliki In Moscow
Russian President Vladimir Putin will meet on July 25 with Nuri al-Maliki, the Iraqi vice president and former prime minister, Russian state-run media and Maliki's office say. Maliki'…
German jihadi schoolgirl could face jail in Iraq: journalist | News | DW | 24.07.2017
An Iraqi journalist who interviewed teenage IS bride Linda W. after she was found in Iraq says she might face several years in an Iraqi prison. Linda has said she regrets her decision to go to Iraq and wants to go home.
German girl who allegedly joined ISIS may be tried in Iraq – CNN.com
A 16-year-old German girl who ran away from home in 2016 and allegedly joined ISIS has been found alive in Iraq, the German government confirmed Monday.
UAWire – Pentagon demands explanation from Turkey over plans to buy S-400 missile systems from Russia
"Turkey is a NATO ally, and one of the cornerstone things we like to have with any of our allies…. is the ability to have equipment that interoperates," said Davis. "The reports of the S-400, and Turkey's purchase of that…Turkey would need to explain that for itself," he added. Turkish President Recep Tayyip Erdogan, in turn, said that he sees no reason for concern from the US in connection with the negotiations around the delivery of the S-400. "Why should this be a concern? Each country should take certain measures to ensure its security. On those sides where these measures can be ensured, steps are taken. How many times have we talked with America, but it did not work out? So whether we like it or not, we began to make plans concerning the S-400. Our relevant departments are negotiating, and this step will be taken," the Turkish leader said at a press conference in Ankara. The S-400 Triumph anti-aircraft missile system is designed for highly effective destruction of strategic and tactical aircraft, ballistic missiles, hypersonic targets and other means of air attack in conditions of electronic and other types of counter combat. To date, Russia has signed a contract for the delivery of S-400 Triumph systems with China, and is also negotiating on this issue with Turkey and India. Sergey Chemezov, the CEO of Rostec concern, said earlier that technical issues regarding the contract for the delivery of S-400 systems to Ankara have been resolved, and only administrative ones remain. The Chairman of the Joint Chiefs of Staff of the US Armed Forces, General Joseph Dunford, has expressed concerns about the possible supply of the S-400 to Turkey.
UAWire – Pentagon doubts that Turkey would purchase S-400 missile systems from Russia
The reports on Turkey's purchase of Russian S-400 air defense missile systems (ADMS) are false, according to General Joseph Dunford, the US Army Chairman of the Joint Chiefs of Staff, at a security conference in the city of Aspen. The video of the speech was posted on YouTube. According to Dunford, the US pays great attention to relations with Turkey. "I've been to Turkey about 12 times over the past year," he said. The General stressed that relations with Turkey are "critical" for the US, although the two countries have disagreements over the course of the military campaign in Syria. Despite Ankara's objections, the US supported the Kurdish forces in their fight against Islamists, Dunford explained. When asked about the sale of S-400 missile complexes to Turkey by Russia, Dunford said that the news was false. "This was reported by the media but this is not true. They hadn't bought the S-400 system in Russia," the General said. Dunford noted that the possible acquisition of Russian air defenses by Ankara would raise red flags with the United States. "This would be a cause for concern for us if they did, but this has not happened so far," Dunford stated. Negotiations on the supply of the latest S-400 missile systems to Turkey have been held at the highest level since 2016. In the spring of 2017, this topic was brought up at the meeting of Vladimir Putin and the Turkish President Recep Tayyip Erdogan in the Kremlin. In May, according to sources, Russia offered to sell missile complexes to Turkey at a price of $500 million per division. On July 14, Bloomberg agency reported that the two countries had reached an agreement on the transaction. According to the agency, Russia would supply two S-400 divisions to the Turkish army while two more divisions would be produced directly in Turkey under Russian license. According to Bloomberg's source in the Turkish leadership, the contract value will be $2.5 billion. On July 18, Alexander Mikheev, the head of Rosoboronexport confirmed that the contract for the delivery of the S-400 to Turkey has been agreed upon. Later, on July 15, the reports on the sale of the S-400 systems were commented on by James Mattis, the US Secretary of Defense. He said that the purchase of Russian systems is a "sovereign decision" of Ankara but he expressed doubts about their compatibility with the air defense system of NATO countries.
Videos suggest Russian government may be arming Taliban – CNN.com
The Taliban have received improved weaponry in Afghanistan that appears to have been supplied by the Russian government, according to exclusive videos obtained by CNN, adding weight to accusations by Afghan and American officials that Moscow is arming their one-time foe in the war-torn country.
DPRK / PRC / WESTPAC Reports
Why is China reinforcing its border with North Korea?
China is further fortifying its border with North Korea, new reports show, amid continued tensions on the peninsula and concerns over potential US military action against Pyongyang.
China Prepares for a Crisis Along North Korea Border – WSJ
China has been bolstering defenses along its 880-mile frontier with North Korea and realigning forces in surrounding regions to prepare for a potential crisis across their border, including the possibility of a U.S. military strike.
China preparing for potential crisis with North Korea – report
China is preparing for a potential crisis with North Korea by increasing its defences along their shared border, including establishing a new border brigade and building bunkers for civilians, the Wall Street Journal reported.
Why is China reinforcing its border with North Korea? – CNN.com
China is further fortifying its border with North Korea, new reports show, amid continued tensions on the peninsula and concerns over potential US military action against Pyongyang.
China reportedly preps for crisis along border with North Korea | Fox News
The Chinese military has reportedly been building up defenses along its border with North Korea, coinciding with warnings by President Trump that he is considering military action over Pyongyang's nuclear weapons push.
[Roundtable] N. Korea crosses red line, now into red zone
For the first time, there is a real danger with North Korea. It is no longer a game. South Korea should not be complacent. On the surface, the most important outcome of the summit between President Moon Jae-in and his U.S. counterpart Donald Trump was that the U.S. offered its support for South Korea to "take the lead" in dealing with North Korea; the unspoken real meaning was that the U.S. must not carry out preemptive military operations on North Korea without the prior full consultation and full consent from South Korea. Even then, however, South Korea should not be complacent. Don't forget it is dealing with Trump. In addition, for other countries to utter "support" for South Korea's playing a more major role in what is essentially an inter-Korean affair is the easiest diplomatic lip service they can freely offer. The "real" reason for Washington to "really" concede the initiative in handling the North Korean affair to Seoul is to divert possible U.S. preemptive strikes against North Korea, which is very likely to spin out of control, with grave consequences. North Korea is no longer an evening pastime entertainment story of a potbellied leader in a faraway exotic nation who plays with a nuclear toy. The coming few months is a critical time for North Korea watchers.
North Korea Threatens to Strike U.S. With 'Powerful Nuclear Hammer'
North Korea's response to the CIA Director's comments on regime change comes amid rumors of a new nuclear test scheduled for this week.
North Korea threatens to strike the 'heart of the US' – YouTube
Threats come after CIA Director Mike Pompeo comments
Dozens of American faculty members at North Korea university face diplomatic limbo – ABC News
The university says a new U.S. restriction may force it to suspend operations.
China Resorting to 'Coercive Practices' to Achieve Goals: CIA
China and Japan, a longtime US ally, have rival claims over a chain of islands in the East China Sea. Tensions have flashed several times over the Senkaku Islands, which Beijing claims as Diaoyu Islands.
Navy surveillance plane dodges Chinese jet with 'evasive action' – The Washington Post
The incident occurred in airspace along the edge of the East China Sea and Yellow Sea west of the Korean Peninsula and involved a Navy EP-3 aircraft and two Chinese J-10s.
Chinese jets intercept U.S. surveillance plane: U.S. officials
Two Chinese fighter jets intercepted a U.S. Navy surveillance plane over the East China Sea at the weekend, with one jet coming within about 300 feet (91 meters) of the American aircraft, U.S. officials said on Monday.
China fires back at US accusations over aerial encounter – The Washington Post
China on Tuesday denied its fighter jet pilots operated dangerously during an encounter with a U.S. surveillance plane in international airspace in which the American pilot took evasive action to avoid a possible collision.
China urges halt to oil drilling in disputed South China Sea
China's Foreign Ministry has urged a halt to oil drilling in a disputed part of the South China Sea, where Spanish oil company Repsol had been operating in cooperation with Vietnam.
China and India Locked in 'Eyeball-to-Eyeball' Border Standoff – Bloomberg
China and India, two nuclear-armed powers with a combined population of 2.7 billion, have been in an "eyeball-to-eyeball" military stand-off over territory in Bhutan, a kingdom in a remote area of the Himalayas, since mid-June. The flare-up, one of the most serious since China won a border war in 1962, comes as the two rising powers jostle for regional influence. The current dispute is near a three-way junction between Bhutan, China's Tibet and India's Sikkim.
AP Explains: India and China face off in border standoff – The Washington Post
It was the tiny Himalayan kingdom of Bhutan that sounded the alarm: Chinese soldiers had arrived with bulldozers and excavators, and were building a high-mountain road near India's border — in an area the two nuclear-armed Asian giants have disputed for decades.
Are China-India trade ties turning sour amid border standoff? | South China Morning Post
China has complained about India opening an anti-dumping investigation into Chinese solar cell products in the latest trade friction between the two Asian giants amid a border standoff in the Himalayas….
Philippines's Duterte keeps lashing out at the United States — over atrocities a century ago – The Washington Post
Duterte has repeatedly criticized the United States for killing thousands of Filipinos during the Philippine-American war.
Foreign Policy Reports
EU Readies For Transatlantic Fight Over New U.S. Sanctions On Russia
BRUSSELS — When it comes to Europe's energy security and dependence on Russia for natural gas, Brussels has a message in mind for Washington: don't make our business your business. Thi…
EU divided on how to answer Congress' sanctions bill against Russia
EU firms are likely to resist a U.S. sanctions bill against Russia, which itself could face resistance.
UAWire – Germany: Scandal with Siemens turbines in Crimea will lead to deterioration of Russian-German relations
The German government has said that Moscow's deception, bringing gas turbines made by the German company Siemens from Russia to the Crimea, …
How Siemens chose to ignore the obvious. An investigation into the Crimean sanctions break -Euromaidan Press |
The German concern Siemens has filed a lawsuit against two subsidiaries of the Russian industrial monopolist Rostec for transporting two gas turbines for electricity production from Russia to occupied Crimea, requiring it to return the turbines to their original destination, Taman. EU sanctions prohibit providing energy equipment to the peninsula which Russia occupied in 2014. Siemens is claiming that the transfer of turbines to Crimea happened against its will, that it had been misled by its Russian partners, did not intend to break sanctions, and is therefore a victim of Russian treachery. But how credible is the claim? This report investigates the open source evidence. Apart from providing the facts, we also offer our interpretation of the events in the boxes starting with "EP:".
EU ambassadors intend to discuss extension of sanctions against Russia due to Siemens scandal
Ambassadors of the European Union countries in Brussels on July 26 will discuss the expansion of the sanctions list against the Russian Federation due to the scandal with the turbines of Siemens, the Yevropeiska Pravda edition (the European Truth) reports with reference to Twitter of Radio Liberty's Brussels correspondent Rikard Jozwiak.
Row over Siemens turbines in Crimea: EU envoys to discuss Russia sanctions
Ambassadors of the EU member states on July 26 will discuss the expansion of sanctions against Russia amid the scandal with the supply of Siemens turbines to the occupied Crimea, Brussels-based RFE/RL journalist Rikard Jozwiak wrote on Twitter. News 25 July from UNIAN.
UAWire – Ukrainian Minister of Foreign Affairs: Ukraine demands investigation of supply of Siemens turbines to Crimea
Ukraine will demand that the German government and the European Union investigate and punish all perpetrators involved in the delivery of …
Polish PM pledges to 'repair' judiciary despite presidential veto – National
The Polish Prime Minister has said that the government would deliver on promises to "repair" Poland, adding that the president's decision to veto controversial legal reforms "may have been incomprehensible" to many.
Polish president's vetoes prompt questions about ruling coalition
Polish President Andrzej Duda ratified one of three judicial reform bills on Tuesday, but his veto of two others left the Law and Justice (PiS) party's flagship judicial reform plan in limbo and triggered questions about the ruling coalition.
Poland's President Vetoes 2 Proposed Laws Limiting Courts' Independence – The New York Times
The decision was a setback for the governing party, though a bill giving it more control over local courts was still set for approval.
President Erdogan ramps up rhetoric ahead of Turkey-EU talks – The Washington Post
Turkish President Recep Tayyip Erdogan ramped up his anti-Western rhetoric Tuesday ahead of a meeting between his foreign minister and top European Union officials, saying the era of a submissive Turkey bowing to every Western demand is over.
Strategy Publications
10 maps that explain Russia's strategy – Business Insider
An explanation of "Russia's difficult position since the Soviet Union collapsed and explain Putin's long-term intentions in Europe."
War By Other Means – To Inform is to Influence
THE ASPEN INSTITUTE ASPEN SECURITY FORUM WAR BY OTHER MEANS Thursday, July 20, 2017 LIST OF PARTICIPANTS: JEFF GREENE Senior Director, Global Government Affairs and Policy, Symantec BOB GRIFFIN CEO, Ayasdi JOSHUA SKULE Executive Assistant Director for Intelligence, Federal Bureau of Investigation CLINT WATTS Senior Fellow, George Washington University Center for Cyber & Homeland Security…
Active Measures: The Kremlin Plan To Beat The West Without Firing A Shot – To Inform is to Influence
THE ASPEN INSTITUTE ASPEN SECURITY FORUM Thursday, July 20, 2017 LIST OF PARTICIPANTS NED PRICE Former Senior Assistant to President Obama EVELYN FARKAS Former Assistant Secretary of Defense for Russia/Ukraine/Eurasia JULIA IOFFE Columnist, The Atlantic JIM SCIUTTO Chief National Security Correspondent, CNN Download document: http://aspensecurityforum.org/wp-content/uploads/2017/07/Active-Measures_The-Kremlin-Plan-to-Beat-the-West-without-Firing-a-Shot.pdf
How to embed Ukraine? The idea of an Intermarium coalition in East-Central Europe
Neither the European Union nor NATO will any time soon be able to fill the security vacuum they have left with their hesitant policies in the grey zones of Eastern Europe and the Southern Caucasus. Both organisations have, in the past, amply demonstrated their inadequacy as strategically thinking and geopolitically resolute actors. Against this background, some post-Soviet politicians, diplomats and intellectuals are starting to discuss alternative options to, at least partially, increase their countries' security. The most prominent among these concepts is the creation of a so-called "Intermarium coalition". The idea of an association or confederation that would encompass the lands of Central and Eastern Europe from the Baltic republics in Europe's north-east stretching to the former Yugoslav states in the Western Balkans, appeared first in the 19th century. Such an alliance would have been directed against the threats of Tsarist Russia in the east as well as of initially Prussia and, later, the German Empire, in the west. During the early 20th century the idea gained momentum in inter-war Poland. Having achieved independence after the end of the First World War, the newly constituted Polish state sought ways to survive and strengthen itself within the ongoing European turmoil of rapidly collapsing empires, newly emerging borders and changing international alliances. Its post-war leader Józef Piłsudski re-introduced and re-formulated the 19th-century concept of a Slavic union as Międzymorze (the land between the seas). The term became subsequently known under its Latinised form Intermarium which refers to some sort of alliance of Central-East and South-East European states located between the Baltic, Black, Adriatic and/or Aegean seas. In view of the continuing threats and risks in Eastern Europe and the unclear security situation of the Eastern Partnership countries, the Intermariumconcept has, since 1991, constantly remained in the air throughout the region. Reactivation of the idea by Ukrainian commentators, politicians and diplomats is driven by national security concerns as the country struggles to survive in its ongoing hybrid conflict with Russia. In Kyiv, Intermarium is seen as complementary, rather than antagonistic to other integration and co-operation schemes and driven by plain desperation, if not fear, rather than intra-European political games – a major motivation of such projects as the Visegrad Four or Three Seas Initiative. Within the logic of the Intermarium, Kyiv has already developed special ties with Moldova, Georgia and Azerbaijan, within the Organisation for Democracy and Economic Development known under its acronym GUAM. In the aftermath of the Orange Revolution, an equally loose organisation of nine East European countries by the name of Community of Democratic Choice was founded in 2005. Later, Ukraine began military co-operation with Lithuania and Poland, establishing a common military brigade. Lithuania and Poland are also among the top three countries that Ukrainians, according to polls, favour most. These and similar signs are an expression of the sense of common interests, perceptions, threats and, partially, even identity among Moscow's former colonies in East-Central Europe. So far, however, none of these or other similar projects properly revive the original Intermarium intention, namely to join the forces of smaller Central-East European nations against a geopolitically and militarily more powerful enemy. A functional Intermarium after the First World War might have been able to prevent the Second World War as it would have raised the stakes of Nazi Germany's actions in Czechoslovakia in 1938 and Poland in 1939, and of the Soviet Union's various European adventures in 1939-1940. To be sure, an Intermarium at that time might have still been militarily inferior to the Third Reich and the USSR. Yet, it would have meant a different geopolitical landscape in East-Central Europe that would have, at least, complicated Hitler's and Stalin's calculations when they divided up Eastern Europe in the Molotov-Ribbentrop Pact of August 1939. Paralleling somewhat the course of events after 1918 in East-Central Europe, the Intermarium ideas since 1991 recently too has remained within the realm of discussion and speculation. The non-inclusion of the grey zone countries continues to leave perceived costs and risks for Russian intervention in Georgia, Moldova and Ukraine low. Even after the fateful events of 2014, coalition-building in Eastern Europe has not taken off. The three EU associated Eastern Partnership countries now receive some political, economic and also military support from NATO and the EU. Yet, they are still left on their own by the West and their Central-East European neighbours in their military confrontations with the Kremlin. The lessons from both the interwar and early post-Soviet periods are that this is not a good state of affairs for the international relations of Eastern Europe. Kostiantyn Fedorenko is a Junior Research Fellow at the Institute for Euro-Atlantic Cooperation in Kyiv, and frequent commentator on current Ukrainian affairs for various European media outlets. Andreas Umland is Senior Research Fellow at the Institute for Euro-Atlantic Cooperation in Kyiv, and editor of the book series "Soviet and Post-Soviet Politics and Society" published by ibidem Press at Stuttgart and distributed by Columbia University Press. This text is part of the series titled: "Intermarium in the 21st century" based on the conference held on July 6-7 2017, Lazarski University in Warsaw.
Forget Sun Tzu: The Art of Modern War Can Be Found In A Chinese Strategy Book From 1999 – To Inform is to Influence
I recall reading Unrestricted Warfare when it was first translated, in 1999.  The concepts were stunning in their clarity and totality. Everything, from law to journalism to cyber to every facet of government to conventional military tools could be used in future wars. The title is better translated as War Without Limits and was numbing to those…
Forget Sun Tzu: The Art of Modern War Can Be Found In A Chinese Strategy Book From 1999 | Raddington Report
China's Indian Ocean Ambitions | Military.com
China's base in Djibouti is part of a broader dual strategy described by Beijing as "String of Pearls" and "One Belt, One Road."
IW/IO/Cyber Reports
Latvia's pro-Kremlin media spread obscene NATO disinformation – CEPA STRATCOM PROGRAM.
In June, pro-Kremlin media outlets in the Baltic states stepped up hostile disinformation actions against NATO. In Latvia, these outlets were particularly vicious, with the staging of the Saber Strike 2017 exercises and the arrival of Canadian troops—completing the formation of NATO's multinational battalion. On 14 June, a few days after the first wave of more than 450 Canadian military personnel arrived in Latvia, the local Russian-language website Imhoclub.lv published an opinion piece by Yuri Alekseev, an ardent advocate of Kremlin policy. The article mocked the battalion's professional capabilities, groundlessly claiming that NATO soldiers have no motivation to defend Latvia. Alekseev drew parallels between the deployment of NATO troops and the Nazi occupation—and even alluded to the alleged sexual perversity of Canadian troops. He illustrated the article with a photographic collage of a Canadian soldier in uniform wearing women's underwear. The caption identified the man as "the commander of the largest air force base in Canada, Col. Russell Williams." In fact, Williams is a murderer, rapist and former colonel in the Canadian military who was convicted in 2010. Moreover, the linguistically ambiguous and provocative title of the article—"The 'Blue Division' of NATO has reached Latvia; waiting for reinforcements"—sought to undermine NATO's presence in Latvia by suggesting that the alliance has deployed units of predominantly gay soldiers there. Latvia's pro-Kremlin news portal Vesti.lv republished this opinion piece with the same out-of-context photos; the Vesti.lv article, in turn, was actively shared on Facebook. On 20 June, Vesti.lv republished an article by Russian state-owned news agency RIA Novosti, based on the opinion of Russian journalist Anatoly Vasserman. That story insisted that "NATO soldiers on Latvian territory can behave in a loose manner—up to the point of committing rape. And their violations will be hushed up under the pretext of the 'Russian threat.'" On 28 June, it posted another article, this one claiming that four U.S. soldiers had raped two Ukrainian teenage girls in Kyiv. This fake story had appeared two years ago on an obscure pro-Kremlin website, but Vesti.lv republished it as current news and added a Latvian context, claiming that U.S. soldiers in Latvia will be allowed to circumvent local traffic rules, ensuring their privileged position. Vesti.lv did not identify any sources that could corroborate its claim. These different publications reflect the frequent pro-Kremlin media narrative that NATO soldiers will enjoy immunity from prosecution for breaking Latvian law. The escalation of disinformation shows that undermining NATO's authority may be a higher priority than in the past. Perhaps the attempts of pro-Kremlin media to foster insecurity in Latvia along with NATO's deployment of troops are having a limited effect on public opinion. The more vivid stories about sexual assaults against civilians also may be helpful to anchor and amplify the image of an aggressive NATO. Arguably, the summer season may also contribute to the publication of such stories, since this is normally a slow news cycle—which makes audiences more receptive to hardcore disinformation.
Russia's next fake news campaign could devastate the economy | WIRED UK
Technology has long been used to disrupt the flow of information – but its next focus could be the financial sector
Hackers undermine Russia's attempts to control the internet | World news | The Guardian
Authorities have blacklisted thousands of sites for political dissent since Putin's re-election in 2012 – but activists have subverted the system
What Might be the 2025 Equivalent of a 1980s CEWI Battalion? – To Inform is to Influence
What Might be the 2025 Equivalent of a 1980s CEWI Battalion? Journal Article | July 21, 2017 – 3:08am Tricia M. Clarke "One of the most important duties Army professionals is to think clearly about the problem of future armed conflict." — General David Perkins The integration of intelligence and electronic warfare (IEW) assets with maneuver…
Cybercrime Roundup: Russian-born US Citizen Sentenced for Committing Cybercrime Within the United States – To Inform is to Influence
By Sarah Tate Chambers Monday, July 24, 2017, 9:00 AM DayZero: Cybersecurity Law and Policy On July 10th, Alexander Tverdokhlebov was sentenced to 110 months (just over nine years) in prison based on his guilty plea to one count of wire fraud. Tverdokhlebov came to the United States from Russia in 2007. Within a year, he started posting…
The Resistance of VOA Newsroom and BBG Bureaucracy – To Inform is to Influence
I agree, 100%. By any standard, this is unacceptable. It is time to slash and burn. </end editorial> The Resistance US Government International Media Information War: Lost and Corrupted By The Federalist Do a Google search for the following: "Federal bureaucracy resist Trump." You will find an assortment of links including: Resistance from within: Federal workers…
Event: Doublespeak 101: "Free Speech Zones" and the Threat to Free Speech on Campus – To Inform is to Influence
July 25, 2017  Doublespeak 101: "Free Speech Zones" and the Threat to Free Speech on Campus Free speech is in peril on college campuses, and so-called "free speech zones" are anything but areas that allow for free expression. Tuesday, July 25, 2017 10:30 am – 11:30 am Live Streamed Add to Calendar + The Heritage…
Money is not always the answer. What do we know about latest cyber attack on Ukraine -Euromaidan Press |
Givi Gigitashvili On June 27, a wave of "unprecedented" cyber attacks hit Ukraine, targeting state institutions, banks, underground network, major firms, and airports, and causing disruptions on a massive scale. From the outset, the NotPetya virus seemed to be a typical ransomware attack, encrypting important files in infected computers and requiring victims to pay in exchange for decrypting their blocked files. However, it soon appeared that the attackers merely wanted to disguise their virus as a ransomware in order to mislead the public and media and hide their real intentions. What was the real rationale behind the attack? Although a full investigation will take months (and whether any definite results will be reached remains doubtful), two things are already certain:
US Domestic Policy Reports
Donald J. Trump on Twitter: "Ukrainian efforts to sabotage Trump campaign – "quietly working to boost Clinton." So where is the investigation A.G. @seanhannity"
Trump Attacks Sessions, Accuses Ukraine Of 'Sabotage'
U.S. President Donald Trump has criticized Attorney General Jeff Sessions, calling his former ally "very weak" in investigating intelligence leaks and for failing to probe former Democrati…
Trump blasts attorney general, questions Ukraine role in U.S. election with no evidence
U.S. President Donald Trump on Tuesday continued to blast the investigation into alleged Russian meddling into last year's U.S. election, slamming his attorney general for not investigating his presidential rival in the race and raising questions, without offering evidence, about Ukraine's role.
Ukraine denies Trump accusation it attempted to sabotage 2016 election
The Ukrainian embassy in Washington denied accusations from Donald Trump that Ukraine had attempted to sabotage his campaign. "We stand by our words that the government of Ukraine didn't help any candidate in (the) election," the embassy posted on Twitter. The Ukrainian embassy in Washington denied on Tuesday accusations from President Donald Trump that Ukraine had attempted to sabotage his campaign during the 2016 U.S. presidential race. "We stand by our words that the government of Ukraine didn't help any candidate in (the) election. Ukraine is proud of bipartisan support in the U.S.," the embassy posted on Twitter.
Democrats Worked With Ukraine To Smear Trump | The Daily Caller
The Senate Judiciary Committee is questioning whether the Democratic National Committee violated the Foreign Agents Registration Act regarding Ukraine.
Trump says Ukraine tried to "sabotage" his 2016 campaign
U.S. President Donald Trump in a tweet on Tuesday, July 25, has accused Ukraine of sabotaging his election campaign in favor of Hillary Clinton. News 25 July from UNIAN.
U.S. President Trump declares Ukraine attempted to sabotage his 2016 presidential campaign
U.S. President Donald Trump has said on his Twitter microblog that Ukraine attempted to sabotage his [2016] election campaign in favor of his rival Hillary Clinton.
Washington Post debunks claims DNC's contacts with Ukraine same as Trump campaign's with Russia
Amid the unfolding investigation of the so-called "Russia collusion" involving Donald Trump campaign members, the Washington Post refutes allegations that contacts between the Democrats and representatives of Ukraine were of the same nature. News 25 July from UNIAN.
Ukraine envoy asks U.S. Senate to recognize Holodomor as act of genocide
Ambassador of Ukraine to the United States Valeriy Chaly has called on the U.S. Senate to support the resolution recognizing the 1932-1933 Holodomor as an act of genocide against the Ukrainian people. News 25 July from UNIAN.
New Russian Sanctions: Countering Destabilizing Activities Act of 2017, HR 3203 – To Inform is to Influence
From an information perspective, this is a letdown. Two reports are initiated, tracking state-owned and operated media and Russian operations against European and Eurasian elections. The reports have no office to respond, no action office, and no monitoring capability.  The White House generates the reports, period.  There are two parts copied and pasted below. First,…
New U.S. Sanctions on Russia Are a Mixed Bag – Bloomberg
Europeans are rightly wary that promoting U.S. exports is an ulterior motive.
House expected to approve Russia sanctions bill limiting Trump's influence
The U.S. House of Representatives is expected to vote overwhelmingly on Tuesday for a bill that would slap new sanctions on Russia, Iran, and North Korea.
Senators Aim To Make It Harder For Trump Administration To Ease Russia Sanctions : Parallels : NPR
A new amendment strengthens existing sanctions and imposes new sanctions for human rights abuses, supplying arms to Syria's regime and "malicious cyber activity" on behalf of the Russian government.
What's in the Russia sanctions bill that Trump might veto – ABC News
What's in the Russia sanctions bill that Trump might veto
Leading Republican Says Russia Sanctions Bill Not Finalized
A leading Republican senator says a bill toughening sanctions on Russia has not been finalized, despite earlier announcements of a bipartisan agreement. Senator Bob Corker, chairman of the Senat…
Trump would be wise to sign Russia sanctions bill (Opinion) – CNN.com
If President Trump signs this sanctions bill against Russia, he will send a strong message to Putin, writes Julian Zelizer.
A chill across the executive branch – CNNPolitics.com
Talk of a potential "Rexit" for Tillerson, a "chill" across the White House and new tests for the President on immigration and tax reform. It's all in today's Forecast.
Trump leaves Sessions twisting in the wind while berating him publicly – The Washington Post
People close to the president are exploring other possible attorney-general candidates.
Exclusive: Trump ponders Rudy Giuliani for attorney general – Axios
Even before last week's blast at Sessions
Rex Tillerson is committed to staying on as secretary of state, his spokeswoman says – Washington Times
Secretary of State Rex W. Tillerson is committed to staying on the job, his spokeswoman said Tuesday on a nationally syndicated radio show.
Donald Trump is responsible for his own behavior but his presidency is the fault of the American people – Salon.com
Redemption for this country, for both revanchists and those who chose not to see clearly, lies in resisting Trump
McCain to return for pivotal Senate vote on healthcare
Senator John McCain will make a return to the U.S. capitol on Tuesday to play what could be a crucial role in keeping Republican efforts to repeal Obamacare afloat.
Jim Mattis is waging a war on waste
Purchase of Tropical Uniforms for Afghanistan Draws Mattis's Rebuke – The New York Times
In a scathing memo, Defense Secretary Jim Mattis called the purchase of uniforms for Afghan troops 'an example of a complacent mode of thinking.'
Mattis bristles at Pentagon waste of $28 million on Afghan uniforms
U.S. Defense Secretary Jim Mattis has criticized Pentagon officials for wasting as much as $28 million by making a questionable choice of forest camouflage-patterned uniforms for Afghan National Army soldiers.
Defense Secretary Mattis rips Pentagon for wasting money on Afghan army uniforms
Defense Secretary Jim Mattis is demanding answers after a report questioned the decision to buy the wrong camouflage for Afghan uniforms.
This Doc's No Dwarf: Flying Inside The Biggest Bomber Of World War II | Business Aviation content from Aviation Week
The world's second flying B-29 Superfortress completed a 17-year journey with its arrival at EAA AirVenture in Oshkosh, Wisconsin on July 22.