Anonymous expert compilation, analysis, and reporting.
</end editorial>
---
---
Russia's descent continues and may be gathering momentum. Multiple reports indicating the economy is diving, impacting socially, multiple reports on ethnic divisions growing, including diaspora community building, and over the last 6 months, the Putin regime has started actively persecuting the very same nationalist groups Putin hand fed for a decade, and then force fed into the Donbass meat-grinder under Ukrainian artillery and missile fire. Notably, multiple reports also show the regime has little understanding of the punishing conditions it has imposed on the populace. Lend-Lease P-39 fished out of lake near Murmansk.
Most interesting IO/cyber topics are Germany asking Poland for help in identifying Russian "agenty vliyaniya" in Germany, and Russian claimed to be also hacking UK electricity grid.
In Ukraine, NATO SEA BREEZE 2017 exercise producing major MSM effect. Donbass fires continue. While anti-corruption bureau arrests CEO and deputy CEO of Lviv Armour Plant, Poroshenko visits plant to announce that the plant will supply 72 refurbished and upgraded T-72 MBTs to AFU, speculation these employ Polish PT-91 upgrade kits, but photos show Ukrainian ERA employed. Kharkiv State Aviation Enterprise delivers first of 4-5 new build An-74T-K200 COALER airlifters to Kazakhstan Border Guards, this is a production restart and earlier reports suggest with zero Russian content employed.
Modestly heavy MSM traffic on the DPRK, most interesting report being the claim that the DPRK may have produced more Plutonium and HEU than earlier believed. Chinese state media continue to complain about deceased dissident Liu Xiaobo.
Nordstream 2 debate continues, with Ukraine offering its transit pipelines into an EU consortium, as a counter-offer to the Russian proposal. Moldova demands that Russia withdraw its garrison from Transnistria.
US domestic Russia debate ramps up again, with claims Ukrainian interests (incl. previous pro-Russian regime) spent US$2B on lobbyists in DC.
---
---
NATO-Russia Council Meeting 'Useful' Despite 'Fundamental Disagreements' BRUSSELS — NATO Secretary-General Jens Stoltenberg has characterized the latest session of the NATO-Russia Council as a "frank and useful discussion" of Ukraine, Afghanistan, and ris…
As Canadian troops arrive in Latvia, the battle for support lands at home – To Inform is to Influence Alicia Wanless · for CBC News As Canadian troops begin their mission in Latvia — a deterrence operation, intended to send a strong message to Russia about interfering in neighbouring NATO member countries — an invisible battle for hearts and minds will be happening back at home. The goal: destroy public support for the mission in Canada. Russia…
Window on Eurasia — New Series: Kremlin Suppresses, Drives Out Russian Nationalist Fellow Travelers Paul Goble Staunton, July 13 – Over the last six months, the SOVA Center reports, the Russian authorities have launched a full-scale attack on Russian nationalists who in many cases since the Crimean Anschluss had been its fellow travelers but who are now viewed as a destabilizing element given worsening economic conditions and the upcoming presidential campaign. As the human rights monitoring organization documents in a new study, Moscow has closed Russian nationalist websites, raided Russian nationalist organization headquarters, arrested numerous nationalist leaders, and forced others to seek safety in emigration (sova-center.ru/racism-xenophobia/publications/2017/07/d37459/). Official attacks on liberal groups and leaders, many of whom demonstrated against the regime in 2011 and 2012 and who opposed Vladimir Putin's aggression in Ukraine, have been going on longer and have attracted more attention than his more recent moves against right-of-center groups, many of whose ideas are so offensive that few others defend them. But now, as Ignat Kalinin notes in Gazeta, "the right flank of the opposition has begun to be subjected to a purge. The authorities are acting decisively and effectively, directing their attention on all possible sources of organized dissatisfaction," including Russian nationalist ones it had an unspoken alliance with (gazeta.ru/politics/2017/07/09_a_10779344.shtml#page1). Russian commentator Pavel Kazarin explains why Russian nationalism has always been a problem for the Russian state and especially in the wake of the Crimean Anschluss. "Russia was never a national state: its sense of itself always was imperial and super-national" and any nationalist who hoped to survive has been forced to submit to "a Procrustean bed" to fit in (ru.krymr.com/a/28614478.html). According to Kazarin, the Russian nationalists of what he calls "the entire 'illiberal' camp in Russia" split into three groups after Crimea. The harshest were the imperialists who "denied 'Ukrainians' existence as a phenomenon. The second camp included "'the Soviets'" who viewed Ukraine as a prodigal child and wanted Ukraine to be a second Belarus. And "the third camp" included "those who were prepared to acknowledge that Ukraine had been lost" but who still insisted on discussing its population as divided between ethnic Russians and ethnic non-Russians. The irony, Kazarin says, is that "before Crimea," these groups cooperated not only with each other but sometimes with the liberal opposition as well. "But," the commentator says, "the multi-headed dragon that is the Russian state doesn't need extra-systemic supporters. It doesn't even need the sincerity of allies, especially if they aspire to something, even symbolic, in return." Their very independent habits of mind make them, in the eyes of the Kremlin, a threat. That independence is what sets these Russian nationalists apart from someone like Aleksandr Prokhanov who shows no inclination to think on his own. He fits into "the official vertical" and is "ready to be a public advocate of any shifts by the powers that be," Kazarin argues. But "when the Kremlin gets tired of its fellow travelers" who are more independent, "it bans their sites," arrests their leaders, and drives others to emigrate. "Loyalty over the last three years doesn't count," and the much ballyhooed "post-Crimean consensus" is to be about anything the authorities do and not just the occupation of Crimea. This is "yet another confirmation" of something many have observed, Kazarin says: "Moscow does not have any ideology except loyalty. Obedience and subordination. Sincerity [on the other hand] is harmful and must be punished."
Window on Eurasia — New Series: Russian Jehovah's Witnesses Revive Soviet-Era House Churches but with Laptops and Kindles Paul Goble Staunton, July 14 – The Russian Supreme Court in April declared that the Jehovah's Witnesses were an "extremist" organization, prohibited its missionary activities, and declared that the Witnesses' 396 Kingdom Halls were to be handed over to the state. The Witnesses have appealed that decision and a final hearing on their case will be take place on Monday. Because of the appeal, the government has not yet implemented all the aspects of the original decision, and Russian Jehovah's Witnesses are hopeful for a positive result, either there or later at the European Court of Human Rights. But the Russian government action has already had a serious impact on the community. Taking their cue from the Russian government, Russians have attacked Witnesses more often—with the number of such attacks up by 750 percent between the month before and the month after the court decision — and expressed more hostility toward the Witnesses — almost 80 percent of Russians said they did not approve of the group according to one recent poll (watchtower.sharefile.com/share?#/view/s5b411ea64c64abcb andnovayagazeta.ru/news/2017/07/13/133434-bolshinstvo-oproshennyh-levada-tsentrom-rossiyan-podderzhali-zapret-svideteley-iegovy). Not all Russians have fallen victim to this official campaign. According to a report in Novaya gazeta today, for example, one policeman asked Witnesses who continue to engage in missionary activity to do so somewhere other than on his beat but then relented and allowed them to go ahead (novayagazeta.ru/articles/2017/07/13/73105-bog-prosto-esche-ne-doigral). More seriously, Jehovah's Witnesses deprived of access to their Kingdom Halls have created house churches that resemble in some ways the underground religious groups that existed in Soviet times. But they are doing so with many modern touches: many rely on laptops and even read the Bible on kindles. Some Russian Witnesses are thinking about emigrating given the crackdown against them in Russia today, but most say that they "do not want to leave the country because of the ban. We love Russia. We love the Russian language. [And] we love these people," the Witnesses say. In the words of one Russian Witness, "Witnesses don't take up arms, they do not participate in wars and meetings. We will struggle but by purely legal methods. I don't understand why they are banning us. But it seems to me," he said, "that those who are doing the banning don't know the answer either." What is obvious, however, is that Vladimir Putin has chosen to attack religious groups that he believes Russians won't defend and that the West will not stand up for, going after the Jehovah's Witnesses and the Pentecostals, and thus create precedents for moving against denominations as well. While some in Russia and in the West have spoken out in defense of the Jehovah's Witnesses, not enough have, perhaps because they do not yet fully understand how serious the challenge Putin is posing by his campaign against the Jehovah's Witnesses, first to members of that denomination, then to followers of other religions and finally to all people of good will.
Window on Eurasia — New Series: Russia Losing Out to China in Eurasian Economic Community Member States, Academy of Sciences Says Paul Goble Staunton, July 14 – According to a study by the Institute of Economics of the Russian Academy of Sciences, "almost all participants" in the Moscow-initiated Eurasian Economic Community "are rapidly reorienting their economic activity from Russia to China," with Chinese trade with them growing even as Russian trade falls. The 60-page report, The Chinese Strategy of Mastering the Post-Soviet Space and the Fate of the Eurasian Union by Svetlana Glinkina, Madina Turayeva, and Artem Yakovlev (in Russian) (inecon.org/docs/Glinkina_Turaeva_Yakovlev_paper_2016.pdf) is summarized today in Nezavisimaya gazeta by economics reporter Anastasiya Bashkatova (ng.ru/economics/2017-07-14/1_7029_china.html). "All members of the Eurasian Economic Community, except Kazakhstan, have a significant negative balance of trade with China. In Kyrgyzstan, it formers over the last three years 93-95 percent of the total; in Armenia, about a third; and in Belarus, "almost half," the report says. As a result, "in a number of post-Soviet countries, China hasn't simply joined the top three major supplies of goods but already occupies there first place, having displaced Russia" from that ranking. Moreover, it is increasingly the most important supplier of industrial equipment and loans and "is becoming the source of modernization" of these states. "The role of Russia in this regard in a number of states is shrinking," the Institute of Economics experts says. Moreover, they add, "the practice of exchange by China of its investments and credits for natural resources and a share of the market is continuing," further reducing Russia's role in those sectors as well. Moscow has tried, the economists say, to insist that cooperation between China and the Eurasian Economic community be on a bloc-to-bloc basis, "but China considers possible and even more effective cooperation with each of the members of the union on a bilateral basis." That pattern seems certain to continue with China's silk road undertakings as well.
Window on Eurasia — New Series: A Baker's Double Dozen of Neglected Russian Stories – No. 91 Paul Goble Staunton, July 14 — The flood of news stories from a country as large, diverse and strange as the Russian Federation often appears to be is far too large for anyone to keep up with. But there needs to be a way to mark those which can't be discussed in detail but which are too indicative of broader developments to ignore. Consequently, Windows on Eurasia each week presents a selection of these other and typically neglected stories at the end of each week. This is the 91st such compilation, and it is again a double issue with 26 from Russia and 13 from Russia's neighbors. Even then, it is far from complete, but perhaps one or more of these stories will prove of broader interest.
1. Is Putin 'De-Mining Russia' or about to Blow It Up? Many Russians welcome Vladimir Putin's decision not to extend the power-sharing accord between Moscow and Kazan, viewing that agreement as a threat to the territorial integrity of Russia. One commentator has even called Putin "a sapper" for what he says in the Kremlin leader's removal of a delayed action "mine" under Russia (newsland.com/community/7268/content/vladimir-putin-reshilsia-na-razminirovanie-rossiiskoi-federatsii/5914763). But others see what Putin is doing as likely to have exactly the opposite effect (kasparov.ru/material.php?id=596716654952B). Meanwhile, as the Putin cult continues to grow (newsland.com/community/8171/content/artemu-dreminu-iz-novocherkasska-v-den-rozhdeniia-podarili-portret-putina-s-ego-lichnym-avtografom/5914412), Putin displayed both his paranoia and his boorishness at the G20 meeting, his paranoia by having his plane avoid airspace over NATO countries on his way to and from Hamburg (charter97.org/ru/news/2017/7/8/255662/) and his boorishness by showing up too late to get in the G20 group photograph (business-gazeta.ru/news/350968). One thing his propagandists did do for Putin, however, was to insert him in another picture where he in fact was not present to try to make him look more important (ru.1492news.com/news/44228_1499526229). Meanwhile, he got some good news in China and some bad news at home. In China, officials said they would take down from the Internet any criticism of the Russian president (newsland.com/community/politic/content/putin-udostoilsia-nevidannoi-privilegii-v-kitae-knr-zapretilo-liubuiu-kritiku-putina-v-sotssetiakh/5912917), but at home, it was discovered that he had failed to list a motorcycle on his official declaration (spektr.press/news/2017/07/10/62456/).
2. Navalny Says He Believes Putin and Trump Colluded on US Election. Russian opposition leader Aleksey Navalny says that he thinks Vladimir Putin colluded with Donald Trump in the US presidential election (haaretz.com/us-news/1.800848), a view some other Russian outlets are echoing (forum-msk.org/material/news/13433175.html). Polls suggest Russians overwhelmingly think that Putin outplayed Trump at their Hamburg summit, although the share having a positive view of the US leader doubled as a result (egnum.ru/news/polit/2300481.html and svpressa.ru/politic/article/176827/). Government-controlled media outlets were unimpressed with Trump (themoscowtimes.com/articles/kiselyov-58347), but some analysts argued that Trump had provided Putin with an important form of legitimation among Russians (nr2.lt/blogs/Igor_Jakovenko/Trampozavisimost-125790.html).
3. At the Macro and Micro Levels, Russian Economy Continues to Deteriorate. Despite Kremlin claims, the Russian economy continued to deteriorate this week, with almost all basic indicators heading in a negative direction and human suffering as a result on the rise. Among the plethora of bad economic news were the following stories: Duma members want Russia to leave the WTO(svpressa.ru/omy/article/176814/), Russia's regions are losing jobs and population (regnum.ru/news/society/2300544.html), bad weather has led to a bad harvest and falling incomes in rural areas (iz.ru/617635/grigorii-kogan/agrarii-ne-smogli-zastrakhovatsia-ot-neurozhaia), capital flight rose by 70 times from two weeks ago (rosbalt.ru/business/2017/07/10/1629327.html), officials announced that there is no money in the government budget for roads or other infrastructure projects (nakanune.ru/news/2017/7/10/22475742/ andng.ru/omics/2017-07-11/4_7026_ways.html), inflation accelerated to 4.4 percent in June (rusk.ru/newsdata.php?idar=78502), expectations spread that the ruble will decline in value (profile.ru/omics/item/118393-rubl-soshel-s-relsov), many Russians say they won't live to see the end of the economic crisis (newsland.com/community/1003/content/grazhdane-ne-veriat-v-vykhod-iz-retsessii/5910672), housing prices fall by another 15 percent over the last month (kp.ru/daily/26702/3727786/), fewer Russians are being paid for overtime (newsland.com/community/5882/content/tolko-11-rossiian-poluchaiut-kompensatsiiu-za-pererabotku-zaiavili-v-rostrude/5911175), Russia's current trade balance goes negative (vedomosti.ru/omics/articles/2017/07/12/720821-schet-defitsitnim), troubles in banking sector prompt government to suggest bankers should be restricted from travelling abroad (newsland.com/community/7285/content/tsb-predlozhil-ne-vypuskat-za-rubezh-rukovodstvo-bankov-s-priznakami-vyvoda-aktivov/5913004), the finance ministry says 70 percent of the economy is "ineffective" (newsland.com/community/7285/content/minfin-priznal-neeffektivnost-70-rossiiskoi-ekonomiki/5912881), the Kudrin Center says the Russian economy is rapidly degrading (newizv.ru/article/general/12-07-2017/tsentr-kudrina-finansovyy-rynok-rossii-prodolzhaet-degradirovat), and to add insult to injury, Russian automobile manufacturers are talking about relocating plants from Russia to Zimbabwe (rusjev.net/2017/07/13/rossiya-pereneset-svoi-avtoproizvodstva-v-zimbabve-ne-shutka/). More seriously, Russian officials say that Moscow is leaving millions of tons of oil in the ground that it should be pumping (versia.ru/v-zabroshennyx-neftyanyx-skvazhinax-spyat-milliony-tonn-chyornogo-zolota), and top scientists are warning that methane explosions from the melting permafrost could disrupt gas pipelines to Europe (siberiantimes.com/other/others/news/gas-pipelines-supplying-europe-in-real-danger-from-exploding-tundra-top-scientist/).
4. Muscovites Buying Anti-Depressants at Record Rates. Faced with economic problems and bad weather, residents of the Russian capital are buying boots and anti-depressants at a record rate, experts say (newizv.ru/news/economy/12-07-2017/moskvichi-massovo-skupayut-dozhdeviki-rezinovye-sapogi-i-antidepressanty). Other bad news from the social front this week included: a finding that Putin and not Yeltsin destroyed Russia's rural schools (https://www.facebook.com/Yuriy.Bryansk/posts/1939241259696740), complaints that Moscow's policies are destroying higher education outside of the Russian capital (vomske.ru/news/3475-vladimir_razumov_federalnye_eksperty_igrayut_v_kaz/), vandals attacked a homeless animals shelter in Daghestan (kavkazr.com/a/28609991.html), gambling operations have returned to the shadow economy from which they had begun to emerge (profile.ru/economics/item/118394-azart-v-podpole), Muscovites have attacked their mayor for building churches while closing hospitals (newsland.com/community/politic/content/meru-sobianinu-vashi-200-khramov-ne-zameniat-i-odnoi-bolnitsy/5913283), officials report that all Russian theaters now are running deficits and many may not survive (rbc.ru/magazine/2017/08/5965fb039a79473c03d86af0?from=main), and 130 LGBTs have sought evacuation from the North Caucasus, of whom 60 have been helped to leave (kavkaz-uzel.eu/articles/306041/). Meanwhile, one Orthodox commentator (Andrey Kurayev) says that anti-gay propaganda has become a national idea, one in which Putin has exploited hostility to LGBTs in order to get Russians to support all his policies (echo.msk.ru/programs/personalnovash/2017126-echo/).
5. 'Russia's Greatest Healthcare Crisis is Denying There Is One.' Experts say that the situation in the health sector is so dire because of Putin's "optimization" program that "the greatest healthcare crisis in Russia today is denying that there is one" (kasparov.ru/material.php?id=59687860E3135). It is becoming increasingly obvious that the Kremlin leader hopes to balance the books by taking away healthcare from those who need it most (newsland.com/community/1841/content/lishionnye-nadezhdy-ekonomiiu-reshili-nachat-s-samykh-nezashchishchionnykh-m-panova/5913160) and that his approach is not only encouraging HIV/AIDS deniers (https://iq.hse.ru/news/207420524.html) but leading to more deaths among that subgroup as well (rosbalt.ru/russia/2017/07/12/1630183.html). Moreover, ever more evidence is growing that Russians are suffering and dying from environmental causes that the government is not addressing, including noise and radiation (politsovet.ru/55849-dve-treti-sverdlovchan-stradayut-ot-shuma-i-radiacii.html and newizv.ru/news/tech/07-07-2017/hirosima-u-murmanska-kak-razgruzyat-yadernoe-toplivo-s-plavuchey-bazy-lepse). Emblematic of the entire problem, some say, is that funeral agents are now arriving at the residents of the sick before ambulances do (newsru.com/russia/11jul2017/funeral.html).
6. Does Putin Now View Patriarch Kirill as 'Last Oligarch of the 1990s'? Some commentators are suggesting that Vladimir Putin views the head of the Russian Orthodox Church as "the last oligarch of the 1990s" and wants to either rein him in or force his ouster (dsnews.ua/world/posledniy-oligarh-iz-90-h-pochemu-putin-hochet-izbavitsya-10072017100000). But Kirill seems unafraid of any attack: he orchestrated the installation of an Orthodox deacon as head of a science center (politsovet.ru/55863-nauchnyy-centr-ran-vozglavil-diakon-rpc.html) and attracted praise and derision for calling on priests to restore the practice of casting out demons (sobkorr.ru/news/59647522C1823.html). Russia's Muslims also had some news: the opening of another mosque in the Russian capital brings the total there to six for the city's 2.5 million Muslims, if as officials like to, you count the mosque inside the Iranian embassy compound (islamio.ru/news/society/ekspert_v_moskve_deystvuet_ne_menee_shesti_mechetey_/). More seriously, the government announced that it would create a committee to help impose halal standards on food (ansar.ru/rfsng/v-rosstandarte-poyavitsya-komitet-po-halyalyu). And reflecting a trend Moscow doesn't like to talk about, some commentators urged that Russia begin to track religiously mixed marriages because they say these are increasing in number (snob.ru/selected/entry/126693).
7. Ethnic Issues Coming to a Boil in Many Places. Across the Russian Federation, ethnic issues from the smallest groups to the largest are intensifying, the result of the economic crisis and counter-productive official actions. The debate over whether the Russians are in fact an ethnic community or instead a socio-cultural one is spreading and growing with people on both sides of that argument staking out ever harder lines (newsland.com/community/politic/content/ne-nuzhno-meriat-cherepa-davaite-pogovorim-ob-etnicheskom-voprose/5911886). The Nogay ethnic crisis in Daghestan is becoming an all-Russian one now that leaders of that Turkic nation have appealed to both the presidential plenipotentiary and to Putin himself (nazaccent.ru/content/24720-nogajcy-obratilis-k-putinu-iz-za-vyborov.html and kavkaz-uzel.eu/articles/306064/). Russia's Northern peoples are protesting against new government policies restricting their ability to fish in traditional areas (nazaccent.ru/content/24713-korennye-malochislennye-narody-sahalina-provedut-piket.html), to which Moscow has responded by organizing a southern ethnographic complex in Sochi, thousands of miles from where the Northern peoples live (nazaccent.ru/content/24716-samyj-yuzhnyj-etnokompleks-narodov-krajnego-severa.html). Polygamy has reemerged in Chechnya as an issue with some saying the government is promoting it and others denying that (kavkaz-uzel.eu/articles/306000/ and kavpolit.com/articles/muftijat_chechni_nazval_lozhnoj_informatsiju_o_pri-34771/). And Moscow continues to display its nervousness about the Circassians, forcing some of them to celebrate the anniversary of something that the Circassians don't view as appropriate and trying to prevent them from moving toward a unified and non-Cyrillic alphabet (kavkazr.com/a/lzheprazdnik-dlya-naroda/28603430.html and onkavkaz.com/news/1766-strahi-moskvy-ot-obedinenija-kavkaza-s-cherkesami-turcii-do-sozdanija-edinoi-adygskoi-pismennos.html).
8. Immigration from Central Asia, Caucasus Continues to Fall. Rosstat says that immigration from CIS countries in Central Asia and the Caucasus continues to decline, something that Moscow has simultaneously sought to prevent and has caused (centrasia.ru/news.php?st=1499666160). On the one hand, it is now allowing workers from Kyrgyzstan, Belarus and Kazakhstan to use their own drivers' licenses in Russia because these countries include Russian as an official language (lenta.ru/news/2017/07/14/kirgiz/). But on the other, it has forcibly resettled Armenian refugees in Moscow sending fear through other communities as well (meduza.io/feature/2017/07/08/bezhentsev-iz-azerbaydzhana-pri-luzhkove-poselili-v-dome-na-yugo-zapade-moskvy-teper-ih-vyselyayut-bez-suda).
9. Non-Russian Diasporas inside Russian Federation Increasingly Active. Moscow talks all the time about ethnic Russians in the former Soviet republics, but few give much attention to the presence of non-Russian diasporas in the Russian Federation, both those from neighboring countries and those from non-Russian republics within Russia. The Ukrainian "wedges" are perhaps the best known, but others are becoming more active as well. A case in point this week involved the restoration of a Belarusian church in Irkutsk (nazaccent.ru/content/24693-v-irkutskoj-oblasti-vosstanovyat-hram-postroennyj.html).
10. Navalny Saturday Got More Attention, but Protests about Trash were More Widespread. Because the authorities arrested more than 130 participants in the Navalny "subbotnik" last weekend, they attracted more attention and more official repression (kasparov.ru/material.php?id=5961EC1F68132, spektr.press/shariki-vne-zakona-kogo-i-za-chto-zaderzhivali-na-bolshom-subbotnike-navalnogo/ and sobkorr.ru/news/5965CA123468C.html). But more widespread were Russian protests in various places about the authorities' failure to cope with mounting piles of trash and uncontrolled dumps (newsland.com/community/129/content/podmoskove-okhvatil-musornyi-bunt/5913427).
11. Putin Era Approach to Independent Art Recalls Black Hundreds Actions of Pre-1917 Russia. The Putin regime uses approaches to independent artistic and intellectual activities that all too often recall the way tsarist officials used the Black Hundreds before 1917 (ttolk.ru/2017/07/10/как-в-царской-россии-православные-и-че/). At the same time, of course, and reflecting Putin's commitment to a single uninterrupted stream of Russian history, his approaches in this area also reflect Stalin era actions as when officials arrest people and can't find a criminal code provision to charge them (sobkorr.ru/news/5967290964840.html) or when the GULAG becomes so large that economics rather than politics appears to be driving penal policy (newizv.ru/article/general/11-07-2017/raby-nemy-kak-ustroena-ekonomika-rossiyskogo-gulaga). In any case, repression continues to increase. Among the stories this week: a Russian was arrested for reading a Ray Bradbury novel (om1.ru/news/incident/115713/), Moscow wants to give mayors access to secrets so that it can restrict their right to travel abroad (politsovet.ru/55878-rossiyskih-merov-sdelayut-nevyezdnymi.html), an invalid was sentenced to 4.5 years in jail for supposedly attacking armed police (newizv.ru/news/society/11-07-2017/invalid-kolyasochnik-sel-na-4-5-goda-za-izbienie-spetsnazovtsa), the government wants to impose huge fines on those who don't take objectionable information off their webpages (themoscowtimes.com/news/united-russia-tries-to-fight-fake-news-58376), the interior ministry wants to hold those who invite foreigners responsible if the latter overstay their visa period (novayagazeta.ru/news/2017/07/14/133482-mvd-predlozhilo-shtrafovat-rossiyan-za-narusheniya-priglashennyh-imi-inostrantsev), the Russian government is releasing lists of demonstrators in order to try to frighten them and others (themoscowtimes.com/news/protests-58350), and some politicians want to force Russians to pay a tax to Moscow if they travel abroad (ura.news/news/1052296641). The big scandal of the week involved the pulling of a ballet about Nureyev because of his homosexuality and the efforts of officials to blame others and of opposition figures to demand ballets about Putin or Lenin instead (politsovet.ru/55861-glavred-eha-moskvy-za-sryvom-premery-nureeva-stoit-episkop-tihon.html, politsovet.ru/55859-premeru-nureeva-v-bolshom-teatre-otmenil-lichno-ministr-medinskiy.html, snob.ru/selected/entry/126782, kasparov.ru/material.php?id=59646A30411BA andnewsland.com/community/4765/content/kommunisty-prosiat-bolshoi-teatr-postavit-balet-o-lenine/5912211).
12. Fearing Attacks, Russian Guard Calls for Tighter Gun Control. Putin's Russian Guard, having discovered illegal arms caches and fearing that its forces may be attacked, is calling for significantly tightening Russia's gun control laws (rbc.ru/newspaper/2017/07/12/59648dd79a794719fe5ce272 and fedpress.ru/news/32/incidents/1816595). A first move in that direction is a Duma bill that would block those convicted of a crime from having access to guns (fedpress.ru/news/77/society/1817960). Four other domestic security issues this week: a Putin attacker has asked for a pardon (themoscowtimes.com/news/inmate-putin-citizenship-torture-58362 and themoscowtimes.com/news/putin-58359), radioactive leaks in St. Petersburg raise questions about security at Russian plants and research facilities (newsland.com/community/4765/content/radioaktivnoe-zarazhenie-v-peterburge-masshtaby-kotorogo-neizvestny/5913960 andnewizv.ru/news/incident/12-07-2017/nemirnyy-atom-utechku-yadernoy-vody-v-radievom-institute-skryvayut-pyat-let), serious problems have been identified in Russia's air traffic control system (ura.news/news/1052296756), and Russians are angry that spending on occupied Crimea is preventing Russia from building new infrastructure as in the case of a bridge planned for over the Lena River (newsland.com/community/4109/content/most-cherez-lenu-ne-postroili-iz-za-okkupatsii-kryma/5907412).
13. Without Modernization, Russian Navy Won't Be Able to Replicate Syrian Operation in 10 Years, IISS Says. London experts say that Russia must modernize its navy if it hopes to be able to replicate its Syrian support operation a decade from now (svpressa.ru/war21/article/176525/), but Russians experts say Moscow can't afford to build new ships at anything like the rate it needs (regnum.ru/news/polit/2300700.html and charter97.org/ru/news/2017/7/13/256203/). Moreover, it doesn't have the manpower and is even now casting about to find others, this week it was Belarus' turn, who might send forces to Moscow-led operations (belaruspartisan.org/politic/386726/). One bright spot for Moscow: it is selling more arms abroad but it is increasingly losing out to others at the high end of that market (lenta.ru/news/2017/07/13/rosoboronexport/).
14. A Quieter Week on the Monuments Front. Fights over monuments dwindled this past week as conflicts shifted from the streets to the court rooms about Orthodox Church efforts to seize property that it claims should belong to it. There were disputes about the Yeltsin Center and the remains of the Imperial Family as well, but the most prominent development were the erection of a Nicholas II bas relief in the railroad station in Vladivostok (ruskline.ru/news_rl/2017/07/14/napominanie_o_velichii_russkogo_samoderzhaviya/) and the vandalization of various monuments in Belgorod oblast (regnum.ru/news/accidents/2299342.html).
15. Putin Seen Using World Cup to Repress Opposition, Orthodox Church. Commentators are expressing concern that the 2018 World Cup will be used by the Kremlin leader to crackdown on opposition politicians and even set the stage for clashes with the Orthodox church over religious processions (sobkorr.ru/news/5965E466A1CF5.html and nakanune.ru/news/2017/7/14/22476265/). Russians have another worry as well: Moscow says that the Confederation Cup competition, just completed, led to a spike in inflation (gazeta.ru/business/2017/07/11/10782446.shtml). Russians also are upset that Moscow isn't doing more to prepare a Russian team for next year (rosbalt.ru/russia/2017/07/05/1628429.html). Others are worried that Moscow continues to be very casual about doping: one Russian sports doctor said that "using cocaine isn't doping" (lenta.ru/articles/2017/05/07/doctorinterview/).
16. Putin's 'Gangsta-Populism' Displacing Romantic Russian Nationalism. Igor Eidman argues that Vladimir Putin's "gansta-populism" has replaced the romantic Russian nationalism of the past (kasparov.ru/material.php?id=5963A9716D83D), an earlier nationalism that was symbolized by the painter Ilya Glazunov who died last week (echo.msk.ru/news/2015158-echo.html andecho.msk.ru/blog/echomsk/2015166-echo/).
17. Making 'The Motherland Calls' a Beer Advertisement Outrages Russians. A beer factory has put the iconic "The Motherland Calls" on its factory and labels, outraging Russians who feel that demeans an important national symbol (regnum.ru/news/society/2298785.html).
18. Krasnoyarsk Deputies Talk about Raising Pay for Doctors and Librarians but Do So Only for Themselves. The decision of the Krasnoyarsk parliament to raise salaries for its members after discussing but deciding not to raise the pay of doctors and libraries has outraged many in Russia (http://www.rbc.ru/politics/14/07/2017/5968bf799a79473746fa1822).
19. Youngest Politicians Now Have No Memory of USSR. Politicians younger than 40 have no real memories of the Soviet Union, simultaneously reducing their inclination to want to restore its conditions while increasing the likelihood that they will accept rose-colored nostalgia about what life was like 30 and more years ago (lenta.ru/articles/2017/07/11/youth/).
20. North Koreans Now Happy to Be in Russian Concentration Camps. The Russian authorities are keeping some North Korean workers on Russian territory in concentration camps, but conditions are so bad in North Korea that the inmates are reportedly happy to be there (novayagazeta.ru/articles/2017/07/10/73071-ray-na-shestoy-chasti-sushi). Meanwhile, Russian tourists are going to North Korea to ski (meduza.io/feature/2017/07/11/kurorty-severnoy-korei).
21. Stalin Selected Quotations Being Republished in Russia. Activists are republishing selected citations from the works of Joseph Stalin as well as the Stalinist alphabet book used at the end of his rule (znak.com/2017-07-04/aktivisty_iz_ekaterinburga_sobrali_sredstva_dlya_pechati_kalendarya_s_citatami_iosifa_stalina and nakanune.ru/news/2017/7/13/22476117/). Meanwhile, some Russian commentators are arguing that Moscow should be publishing more children's books about Stalin's crimes so that young Russians won't be tempted by the current rival of the Stalin cult (https://republic.ru/posts/84917 and novayagazeta.ru/articles/2017/07/14/73112-skrepa-kolyma).
22. Russia Should Welcome and Ally Itself with Islamicized Europe, Nationalist Says. A Russian nationalist says that Russia shouldn't fear but rather welcome and ally itself with an Islamicized Europe but avoid doing so with the continent as long as it is dominated by Protestants or Catholics, the latest iteration of Alexander Nevsky's decision to ally with the Muslim Mongols to fight the Catholic Church (proza.ru/2017/07/11/1036).
23. Sverdlovsk Oblasts Builds Houses and Roads Out of Trash. Officials in Sverdlovsk are seeking to kill two birds with one stone: they are trying to defuse Russian protests against the mishandling of trash while improving roads and housing. To those ends, they are now building houses and roads with trash (politsovet.ru/55888-v-sverdlovskoy-oblasti-doma-i-dorogi-stroyat-iz-musora.html).
24. Rosstat Predicts Working-Age Russians Will Fall 400,000 Annually by mid-2030s. The Russian state statistical agency says that the size of the Russian working-age population will decline by 400,000 or more beginning in the mid-2030s and extending as far into the future as its experts can predict (ng.ru/economics/2017-07-13/4_7028_starenie.html).
 25. Medvedev Now So Unpopular He Doesn't Campaign for Others. Prime Minister Dmitry Medvedev is now so deeply unpopular that he is not campaigning for any governors, quite likely at their request, Moscow papers say (echo.msk.ru/news/2017644-echo.html).
26. Matviyenko Challenges Medvedev in Marie Antoinette Race. One of the reasons Medvedev is so unpopular is his propensity for making "let them eat cake" comments. But now Federation Council speaker Valentina Matviyenko appears to be challenging the prime minister in that competition. At a time when housing is hard to come by even for working Russians, she has advised university students who can't find places in dormitories to simply go out and buy an apartment. Such rooms won't be large, she says; but they will be sufficient (bbc.com/russian/features-40583317).
And 13 more from countries in Russia's neighborhood:
1. Half of 900 Terrorist Incidents in Ukraine have been in Russian-Occupied Donbass. Kyiv says that there have been approximately 900 incidents that classify as terrorist since the beginning of Russia's invasion and that more than half of these have been in the Donbass region (apostrophe.ua/news/society/accidents/2017-07-13/sbu-raskryila-dannyie-o-teraktah-v-ukraine-s-nachala-agressii-rossii-eksklyuzivnyiy-dokument/101361 900), but officials warn that there are numerous Russian sleeper agents elsewhere in the country ready to launch such attacks on orders from Moscow (gordonua.com/news/war/na-territorii-ukrainy-nahoditsya-ryad-rossiyskih-agentov-kotorye-zhdut-signala-na-sovershenie-teraktov-voennyy-ekspert-starikov-197336.html).
2. Russian-Backed Separatists in Ukraine Open Labor Camps. Faced with resistance and the need for workers in key industries, the Moscow-backed separatists have opened a series of labor camps across the regions they control (deutschlandfunk.de/ostukraine-separatisten-betreiben-netz-von-arbeitslagern.1939.de.html?drn:news_id=767929).
3. 100,000 Ukrainians have Already Made Use of Visa-Free Travel to EU. Ukrainian officials say that 100,000 Ukrainians have already taken advantage of the new visa-free travel arrangements to visit European Union countries (segodnya.ua/politics/pnews/poroshenko-bezvizom-vospolzovalis-100-tysyach-ukraincev-1037982.html). But surveys show that 57 percent of Ukrainians have never been abroad (lb.ua/news/2017/07/11/371128_57_ukraintsev_nikogda.html). In a related development, the Ukrainian Orthodox Church is opening a representation office to the EU (aif.ua/society/people/upc_idet_v_evropu_zachem_ukrainskoy_cerkvi_predstavitelstvo_v_evrosoyuze).
4. Despite Russian Invasion and Occupation, Ukraine Opens 60 New Factories in Last Three Years. Despite the Russian invasion and continuing instability because of the fighting in the east, Ukraine has succeeded in opening 60 new industrial facilities over the last three years (112.ua/obshchestvo/za-tri-goda-v-ukraine-otkrylos-60-novyh-zavodov-poroshenko-400754.html).
5. Only 5.5 Percent of Ukrainian Citizens Now Identify as Ethnic Russians. A new survey finds that only 5.5 percent of Ukrainian citizens, just over four million people, now identify as ethnic Russians, an indication of an ethnic identity shift away from Russia and toward Ukraine that has accelerated since the invasion and occupation (unian.info/society/2022811-only-55-of-ukrainian-citizens-consider-themselves-russian-survey.html).
6. Will There Be a Russian Base in Belarus? Analysts say that Minsk is again considering whether to yield to Moscow's pressure to allow the opening of a permanent Russian military base on Belarusian territory (nmnby.eu/news/analytics/6377.html). But despite or perhaps even because of that, Belarus has backed Ukraine rather than Russia on an important vote at the OSCE (ng.ru/cis/2017-07-10/2_7025_belorus.html).
7. Central Asian Gastarbeiters Sent Six Billion US Dollars Home in 2016. Russian banks say that Central Asian workers in the Russian Federation sent six billion US dollars back to their homelands last year, a measure of just how important this group is for their economies and for Russia's as well (banki.ru/news/lenta/?id=9864314).
8. Kazakhstan Falls in Line with Russia on Jehovah's Witnesses. A disturbing new trend is the increasing inclination of post-Soviet states to fall in line with Moscow on some of its most repressive policies. The latest example: a Kazakhstan court has now banned the Jehovah's Witnesses from operating in that country (fergananews.com/news/26602).
9. Conditions in Turkmenistan Army Deteriorating Rapidly. Turkmenistan, one of the countries now threatened by Islamist forces from Afghanistan, faces serious problems in its armed services with reports of corruption, desertion, and draft avoidance increasingly widespread (http://www.chrono-tm.org/2017/07/o-zhizni-soldat-turkmenskoy-armii/). Jiihadists who had been fighting in the Middle East are reportedly returning home (rus.ozodi.org/a/28609661.html). To counter them or at least make them easier to identify, the Tajik president has asked his citizens not to wear beards or hijabs (centrasia.ru/news.php?st=1499862420). But the biggest consequence of that may be to spark more outmigration to Russia (nsn.fm/in-the-world/zapret-na-borody-v-tadzhikistane-privedyot-k-nashestviyu-migrantov-v-rossiyu.html).
 10. Security in Russia's Client State of Abkhazia So Bad that Russian Embassy Cautions Visitors. In what is anything but an advertisement for Moscow's policies, the Russian embassy to the unrecognized state of Abkhazia has warned Russians visiting that breakaway republic to be careful because of the danger of violence (kavkaz-uzel.eu/articles/305945/).
11. Kyrgyzstan Calls on Mosques to Turn Down Volume of Calls to Prayer, but Haj Demand in Central Asia Remains Strong. Kyrgyz officials have called on mullahs and imams to reduce the volume of calls to prayer so that they do not disturb their neighbors (ansar.ru/rfsng/mechetyam-rekomendovali-umenshit-gromkost-azana). At the same time, however, Central Asians continue to sign up for the haj in record numbers despite economic difficulties which have sent haj applications plummeting in Russia (ansar.ru/rfsng/v-tadzhikistane-zavershilsya-priem-dokumentov-na-hadzh).
12. Moldovans are Orthodox But Don't want Church to Interfere in Politics. Most Moldovans identify as Orthodox but tell pollsters that they oppose the kind of interference in public life by the church as an institution frequently on public view in Russia (euroradio.fm/ru/5-mirskih-zabav-moldavskoy-cerkvi).
 13. Estonian Public Sector One of Most Effective in World. The International Civil Service Effectiveness Index, prepared by the Blavatnik School of Government in Great Britain rates Estonia's public sector as among the most effective in the world (estonianworld.com/business/estonia-one-effective-public-sectors-world/).Kadyrov Verbally Attacks Homosexuals In TV InterviewThe Kremlin-backed leader of Chechnya has verbally attacked homosexuals in an interview with a U.S. TV channel, saying those who have accused authorities in the southern Russian region of torturin…
What the Nureyev story tells us about today's Russia – BBC News What does the postponement of a ballet about Rudolf Nureyev reveal about Russia?
Episode 784: Meeting The Russians : Planet Money : NPR That meeting between Donald Trump Jr. and a Russian lawyer was two decades in the making. It began in 1996, when an adventurous American went to Russia, trying to make a buck.
Georgians Protest Moving Of South Ossetia Boundary There were protests in the Georgian village of Bershueti after Russian troops in the breakaway South Ossetia region allegedly moved the administrative boundary line deeper into Georgia. (RFE/RL's Georgian Service)
Tensions Rise In Navalny Camp Over Police Beating Of Volunteer Over the course of a week, Aleksandr Turovsky became a cause celebre among Kremlin opponents after he was severely beaten by police who raided opposition leader Aleksei Navalny's presidentia…
Loren Thompson | How America Could Lose a Land War in Europe to Russia (Thanks to Old Tanks) | The National Interest Blog What will Washington do? 
World War II Fighter Recovered From the Bottom of a Lake After 72 years, the P-39 Airacobra is back on the surface.
---
---
UAWire – Polish Defense Minister: Germany asked Poland for information about Russian influence in German politics and media Germany has asked Poland to provide information about Russia's influence on politics and the media in the Federal Republic of Germany, said the Polish Defense Minister Antoni Macierewicz on a broadcast on TV Republika. "At some point, Germany asked me to provide the German authorities with an in-depth analysis of the agents of influence, ways that the Russians have to influence the political scene and media in Germany," said Macierewicz. He noted that he did not doubt that the Germans had information about the activities of Russians in Germany. "However, they value – and rightly so – our knowledge of Russia's sabotage methods," the Polish minister stressed. According to him, the Polish Ministry of Defense has for a long time had a group that deals with the problems of the Polish secret service and has reliable information about the sabotage methods of Russia. In September, Germany will hold parliamentary elections.
Email chains and other Russia's propaganda tools in central and eastern Europe -Euromaidan Press The messages of pro-Kremlin disinformation may differ from country to country, as may the tools and channels for spreading it. But one aspect is common: the negative approach towards the EU and NATO. Such is one of the conclusions of the recent study "Information warfare in the Internet: Countering pro-Kremlin disinformation in the CEE countries" published by the Warsaw-based Centre for International Relations. The paper covers the information space in the Czech Republic, Hungary, Moldova, Poland, Slovakia and Ukraine. Firstly, the channels used for spreading pro-Kremlin disinformation in each country are analysed. Whereas in the Czech Republic there are around 40 websites involved, and in Hungary even 80 to 100, in Poland the authors highlight the use of the comments sections of news outlets. Among less analysed, but extremely influential tools, email chains are mentioned. They are very hard to track, but they spread widely among the elderly population in particular. In this study, Hungary is mentioned as the country where this channel is used most. The Czech online daily Aktualne.cz recently mentioned this tool, too.
Russia-backed hackers try to hijack Britain's power supply | News | The Times & The Sunday Times Hackers backed by the Russian government have attacked energy networks running the national grid in parts of the UK, The Times has learnt. The hackers, who targ….
---
---
Klimkin on lack of UA-EU summit declaration: "Who needs another piece of paper?" Minister of Foreign Affairs of Ukraine Pavlo Klimkin believes that the statements of any Ukraine-EU summits should fix new important agreements and breakthroughs in relations, while there is no sense in signing declarations, which will simply repeat the ideas voiced and laid out earlier. News 15 July from UNIAN.
EU clarifies Juncker's position on anti-corruption court in Ukraine President of the European Commission Jean-Claude Juncker speaks out for the creation of the necessary authority to fight against corruption in Ukraine, and he did not deny the idea of creating a separate anti-corruption court, having supported the formation of a special anti-corruption chamber as part of the existing judicial system. News 14 July from UNIAN.
Klimkin announces telephone conversation of "Normandy Four" leaders – 15.07.2017 12:42 — Ukrinform News 15.07.2017 12:42. The next phone conversation of the leaders of the "Normandy Four" (Ukraine, France, Germany, Russia) can be held in a week.
Ukraine's draft law on reintegrating Donbas finally says it's under Russian occupation -Euromaidan Press Alya Shandra A draft bill on reintegrating Donbas, created by Ukraine's National Security and Defense Council (NSDC)l, recognizes that the territories under the self-proclaimed Luhansk and Donetsk "People's Republics," until now officially called "certain areas of the Luhansk and Donetsk Oblast (ORDLO)," or the "Anti-Terrorist Operation zone" as being under Russian occupation, and outlines the measures Ukraine will take to regain control over them. The bill was published by the Ukrainian media outlet hromadske.ua. The first news of the preparation of such a bill appeared on 13 June, when NSDC Secretary Oleksandr Turchynov stated that Ukraine needs to move to a new format for protecting the country from Russia's hybrid war and that this requires legislative cancellation of the "anti-terrorist operation" status that Ukraine has been in since the start of Russian-backed aggression against the country in 2014. The NSDC was supposed to consider the document for approval at a meeting on 19 July 2017, but this has been postponed for consultations with strategic partners, according to Turchynov. Hromadske's sources suspect that the document will be considered only in autumn after the Verkhovna Rada returns from vacation. The outlet has published a copy of the draft law "On the peculiarities of state policy on the restoration of the state sovereignty of Ukraine over the temporarily occupied territory of the Donetsk and Luhansk regions of Ukraine," along with a summary. "DNR" and "LNR" on a map. Image: Euromaidan Press
Ukraine v. Russia: Kyiv has enough materials for ICJ trial – 14.07.2017 16:35 — Ukrinform News 14.07.2017 16:35. Ukraine is actively preparing a memorandum within the framework of the lawsuit against Russia to submit it to the International Court of Justice (ICJ) in June next year. Ukrainian Ambassador to the Netherlands Vsevolod Chentsov said this in an interview with Ukrinform. "It may seem at the first glance that we have a significant period of time. However, if we take into account the requirements for such documents, there is really little time. The Ukrainian side has enough materials to submit and they are being actively prepared. Nevertheless, much remains to be done for careful selection of evidence, their systematization and quality presentation," the Ambassador said. The diplomat recalled that the document would state in writing Ukraine's standing on the nature of Russia's violations of its obligations under the International Convention for the Suppression of the Financing of Terrorism and the International Convention on the Elimination of All Forms of Racial Discrimination. As reported, March 6, the International Court of Justice in The Hague started the consideration of the lawsuit of Ukraine seeking to punish Russia for support of terrorists in eastern Ukraine and discrimination in Crimea. April 19, the International Court of Justice in The Hague did not indicate provisional measures against Russia in accordance with the International Convention for the Suppression of the Financing of Terrorism (ICSFT) but ruled to apply provisional measures against Russia under the International Convention on the Elimination of All Forms of Racial Discrimination (CERD). Later, the Court determined the dates for submission of the memorandum by Ukraine (June 12, 2018) and the counter-memorandum by the Russian Federation (July 12, 2019). ol
Fourth day of "Sea Breeze-2017": countries demonstrated aviation power (PHOTOESSAY) On July 14, within the framework of the Ukrainian-American exercise "Sea Breeze-2017", the military demonstrated more than 20 aircraft that are used to carry out the assigned tasks. The correspondent of the Ukrainian Information Service returned from Nikolaev, where the media day of military aviation of international exercises was held, from which he brought a lot of impressions and a photo report with the types of modern airfot devices. During the exercise, the military demonstrated tactical air passages on the examples of the "P-8 Poseidon", "Mi-14" and "An-26", imitation of the Mi-24 attack, the landing of marines and the rescue parachute group with An -2 ", and much more. Recall that in addition to Ukraine and the United States, participating countries of military exercises are also Belgium, Bulgaria, Britain, Greece, Georgia, Italy, Canada, Lithuania, Norway, Poland, Romania, Turkey, Sweden and France.
"Sea Breeze-2017": in the Mykolaiv region were held exercises with the use of aircraft. Photoessay 14.07.17 23:59 – July 14 in the framework of international exercises "Sea Breeze-2017″ military demonstrated whiter 20 aircraft, which are used to perform tasks. Reported Tsenzor.NET citing to the " Ukrainian information service ." During exercise military demonstrated tactical passages aviation Examples of "P-8 Poseidon", "Mi-14" and "An-26", simulated strike "Mi-24" landing marines and rescue parachute group "An -2 ", and more. Look at the "Tsenzor.NET: In Odessa, launched international exercises Sea Breeze-2017 PHOTO. See also: Ships Navy Romania and Turkey entered the port of Odessa to participate in the exercises." Sea Breeze-2017 "photo essay Recall that in addition to Ukraine and the US . participating countries military exercises are also Belgium, Bulgaria, Great Britain, Georgia, Greece, Italy, Lithuania, Norway, Poland, Romania, Turkey, Sweden and France Watch: tiltrotor Osprey US Marines arrived in Ukraine for participation in international exercises .
US CV-22B Osprey and P-8 Poseidon aircraft join the Sea Breeze 2017 exercise in Ukraine | Defence Blog The Sea Breeze 2017 international naval exercise, involving the United States and Ukraine, kicked off on Monday in the northwestern part of the Black Sea and in the regions of Odessa and Mykolaiv. US CV-22B Osprey and P-8 Poseidon aircraft join the Sea Breeze 2017 exercise in Ukraine Sea Breeze is a U.S. and Ukraine co-hosted multi-national air, land, and maritime exercise designed to strengthen the collective security, stability, and safety in the Black Sea. One of the unique aspects of this Sea Breeze 2017 was the first time participation of the CV-22B Osprey tiltrotor aircraft of U.S. Air Force and P-8 Poseidon aircraft of U.S. Navy, attached to Patrol Squadron (VP) 16 and deployed to Sigonella. The exercise is organized in the free play format and commanded by a headquarters established in accordance with NATO standards. From the Ukrainian side in the exercises participated Ka-27, Mi-14, Mi-24 and Mi-8 helicopters and An-26, MiG-29 and Su-25 aircraft. Total over 30 ships, boats, and service vessels, more than 25 aircraft and helicopters, as well as personnel from 16 countries in the total amount of above 3,000 servicemen, will participate in the exercises. The exercises will take place in the Odesa and Mykolaiv regions, as well as northwestern part of the Black Sea, on July 10-23.
Militants launched 35 attacks on Ukrainian troops in Donbas in last day – 15.07.2017 11:11 — Ukrinform News 15.07.2017 11:11. Militants launched 35 attacks on positions of the Armed Forces of Ukraine in ATO area in Donbas over the past day.
ATO report: 35 shellings, direct clash, 1 KIA Over the past 24 hours, pro-Russian militants in Donbas violated the ceasefire agreement 35 times, the press center of the Anti-Terrorist Operation Headquarters reports. Three Ukrainian troops were wounded in action, while another Ukrainian soldier was killed. The press center noted that illegal armed groups continued their provocations practically along the entire line of contact. "After 18:00 on the Mariupol line the enemy attacked Ukrainian positions outside Hnutove, Pavlopil, Vodiane, and Kamenka, using grenade launchers and 82 mm mortars st. From 20:00, for almost two hours, militants fired 120mm mortars, anti-aircraft guns, and heavy machine guns on Shyrokine. As a result of the shelling, two Ukrainian soldiers were wounded," the report said. Also, the enemy fired from 120mm mortars and a tank on Ukrainian-controlled Krasnohorivka. Residential blocks of Maryinka were once again shelled from enemy grenade launchers overnight. " Read also Putin's dangerous new Ukraine doctrine – WSJ "In the Donetsk direction, the enemy engaged the Butivka coal mine and the town of Avdiyivka from small arms and grenade launchers at around 21:00. Another Ukrainian soldier was wounded in a shelling of Kamenka," the report notes. Also, a sharp increase in fire provocations late Friday was recorded in the Luhansk direction. "At about 23:00, militants fired at villages of Donets and Novozvanivka, using small arms and grenade launchers. Krymske was mortared with 82mm shells. This night, a clash took place between the Ukrainian troops and the enemy forces. Starting midnight until 02:00, a group of militants tried unsuccessfully to approach our positions in the area of Novotoshkivske. Unfortunately, a Ukrainian defender was killed in action," the report said. In general, ATO forces returned fire 15 times over the past day.
One Ukrainian soldier killed, three wounded in Donbas over past 24 hours – 15.07.2017 12:59 — Ukrinform News 15.07.2017 12:59. One Ukrainian soldier was killed and three were wounded in the anti-terrorist operation (ATO) zone as a result of hostilities in Donbas over the past 24 hours.
Ukraine reports de-escalation in Donbas – War news | UNIAN The number of violations of the ceasefire on Donbas decreased to nine incidents on Friday, July 14, according to the press center of the Anti-Terrorist Operation (ATO) headquarters. However, Russia's hybrid military forces continued using the types of weapons banned under the Minsk peace deal on Donbas. Read also Pro-Russian militants breach ceasefire 29 times in past 24 hours – ATO HQ In particular, the enemy lobbed six 120mm and sixteen 82mm shells into areas near the town of Krasnohorivka where Ukrainian troops are stationed in the Mariupol sector in Donetsk region at about 06:00 local time on Friday morning. Grenade launchers were used to fire on Ukraine's Shyrokyne, Pavlopil, and Hnutove. The village of Staryi Aidar came under mortar fire twice. At midnight, a 120mm mortar was used to shell the village of Novotoshkivske. The village of Luhanske was a hot stop in the Donetsk sector – Russian-backed fighters used cannons of infantry fighting vehicles, grenade launchers and small arms to fire on the village. Ukrainian positions at Butivka coal mine came under fire from large-caliber machine guns.
Militants in Donbas beat and disarmed Russian officer – intelligence Also, according to the intelligence department, in the units and units of the Russian occupation forces there is growing distrust of personnel to officers of the Russian armed forces and cases of open manifestations of disobedience and failure to comply with orders are spreading. War 12:07, July 15, 2017 ПРОЧЕСТЬ ПОЗЖЕ фото УНИАН The command of the occupiers recommended limiting the stay of the Russian military in a 10 km zone from the collision line / photo UNIAN The command of the occupying forces recommended that the stay of regular Russian military personnel in the ten-kilometer zone from the contact line in the Donbass be limited. The Main Intelligence Directorate of the Ministry of Defense of Ukraine reports this on its Facebook page. "The Russian command continues the measures aimed at concealing the stay of servicemen of the Armed Forces of the Russian Federation in the temporarily occupied territories of the east of Ukraine and preventing the loss of regular Russian military personnel. Command 1 (Donetsk) and 2 (Lugansk) of the Armed Forces of the Russian Armed Forces have separately recommended that the maximum stay of regular servicemen of the Russian Armed Forces in the ten-kilometer zone from the contact line be limited, "it was reported. Read also The Russian command recommends the militants to reduce the cost of the wounded – intelligence Also, according to the intelligence department, in the units and units of the Russian occupation forces there is growing distrust of personnel to officers of the Russian armed forces and cases of open manifestations of disobedience and failure to comply with orders are spreading. "In particular, the servicemen of one of the units of the 9 separate assault motorized infantry regiment of the Marine Corps (Novoazovsk) 1 AK disarmed and beat their commander – an officer of the RF Armed Forces who, being in a state of intoxication, threatened the personnel to use weapons in connection with the refusal to comply with his orders ", Reports the Ministry of Defense. At the same time, according to him, according to the results of the official investigation of the incident, the Russian officer was acquitted, and three servicemen who actively participated in his beating were arrested.
MP Deydey wounded in Avdiyivka – LB.ua news portal MP Deydey wounded in Avdiyivka. The Donetsk regional prosecutor's office has opened the case. Political – LB.ua news portal. Latest from Ukraine and the world today
UAWire – Security Service of Ukraine detained the head of the Yavoriv military training area on suspicion of working for Russian intelligence The Security Service of Ukraine (SBU) suspects the head of the Yavoriv training range of working for the Main Intelligence Directorate (GRU) of the General Staff of the Armed Forces of Russia. This is evidenced by the June 21st decision of the Shevchenkovsky district court of Kyiv, where, at the investigator's request, a laptop, mobile phone, three DVD-ROMs, a flash drive were seized as evidence, along with a piece of paper with the inscription "quarto xmail.net" and the phrase "on the order of the commander of Military unit A4150 dated 30.12.2015, № 755" printed on the other side. These items all belong to the suspect. The document states that during 2015 and 2016, the suspect, while occupying the post of the head of the military training area of the International Peacekeeping and Security Center, military unit number A4150, fulfilled tasks for the GRU, by collecting military information about the activities of the center. "While giving explanations to the staff of the Security Service of Ukraine about his confidential cooperation with the Russian GRU, he voluntarily handed over to the SBU officers a piece of paper with the inscription, a laptop, DVD-ROMs and passwords to the program, and a flash drive with the help of which he used to communicate with the representatives of the GRU," the court's decision says. The case is being investigated in accordance with Part 1 of Article 111 of the Criminal Code (high treason). According to information on the website of the Hetman Petro Sahaidachnyi National Army Academy of Ukraine, the head of the International Center for Peacemaking and Security since 2011 has been Colonel Ihor Slisarchuk. The head of the training site at the beginning of 2017 was Roman Ogur.
Over 10,000 units of military equipment, arms to be bought for Ukraine's army in 2017 Ukraine's General Staff plans to supply over 10,000 units of weaponry and military equipment this year in keeping with the determined demand.  "New and modernized models, including those from state-run Ukroboronprom Concern and other enterprises are planned to be purchased," Ukrainian Deputy Defense Minister, Major-General Oleh Shevchuk said at a briefing on Friday. Read also Ukraine test-fires brand new anti-tank missiles (video) He also said that 10 models of weapons and military equipment had been put into service. Over 6,400 units of weaponry and military hardware have been repaired by the army's repair teams, he added.
NABU detains director of Lviv Armour Plant, his deputy – LB.ua news portal NABU detains director of Lviv Armour Plant, his deputy. Poroshenko was supposed to visit the company today. The National Anti-Corruption Bureau detained the director of the state-owned company Lviv Armour Plant, Roman Tymkiv, and his deputy Oleh Tkachenko, press secretary Iryna Mykoltsiv told Zaxid.net on Friday, 14 July. She said she did not know the reasons for detention. The detainees were taken to the NABU territorial office in Lviv. LBTZ is engaged in major repairs of tanks, tank tractors, and engineering machines. They also manufacture armoured cars Dozor-B. The detention happened on the day when President Petro Poroshenko was planned to visit the company. Tymkiv was appointed in September 2015 after his predecessor was dismissed for disrupting plans for the production of military equipment for the ATO.
President: I will not let anyone plunder from the army and line one's pockets on deliveries to the Armed Forces — Official website of the President of Ukraine "I would like to emphasize that as Supreme Commander-in-Chief, as President I will not allow to plunder from the army and line one's pockets on deliveries to the Armed Forces," President Petro Poroshenko noted in the tank plant of Lviv. The Head of State emphasized that it is his position and the position of the law enforcement bodies that demonstrate decisive steps and achievements in the fight against corruption. "This week you saw how the Parliament abolished the immunity of several people's deputies. It is an unprecedented case in the history of Ukraine when the decision to abolish the immunity and announce suspicion was made, inter alia, as regards the deputies from the coalition factions," he said. "Nobody will have protection if he is corrupt. And this is also related to the management of the plant," Petro Poroshenko emphasized. The Head of State expressed gratitude to the internal security service of Ukroboronprom. According to him, 41 criminal cases were initiated under the materials of the security service, submitted to the prosecution and most of them are already in the courts. "Theft of 631 million hryvnias has been prevented," he noted. The President informed that 25 executives of state-owned enterprises were dismissed as a result of inspections. The Head of State instructed to encourage the leadership of the internal security service of the State corporate group.. "We will further demonstrate resoluteness in the fight against corruption. Criminal proceedings against misappropriation, embezzlement, abuse of power will meet my strong reaction," Petro Poroshenko emphasized. The Head of State thanked the Prosecutor General's Office, the National Anti-Corruption Bureau, the Specialized Anti-Corruption Prosecution for their coordinated struggle against corruption.
Ukraine's army to receive new main battle tanks and armoured vehicles | Defence Blog Ukrainian President Petro Poroshenko has announced that the Armed Forces of Ukraine will receive the new and modernized tanks, military vehicles and equipment by the end of the year."According to my instructions, 72 modernized T-72 tanks should be sent to the Armed Forces this year. We're buying the newest vehicles manufactured in Lviv, we saw the potential of a new fire engine based on the T-72," he said during his visit to Lviv armored plant on Friday, July 14. Also Ukrainian military will receive the new batch of Dozor-B (4×4) armoured personnel carriers and new Oplot main battle tanks. "Lviv armor vehicle factory will be paid UAH 920 million, and this is not only for the tanks and the fire engines. The 20 Dozor-B cars that are now behind my back will also be ready to go to the army," Poroshenko said. According to the Interfax-Ukraine, the Defense Ministry will be given USD 23 million (UAH 600 million) for the development of modern weapons and military equipment, namely missile weapons (USD 11,5 million or UAH 300 million), and USD 11,5 million (UAH 300) million for the purchase of Oplot main battle tanks. Ukrainian President Petro Poroshenko stressed that the Ukrainian army should be equipped with the best technology, both combat and auxiliary, "as it is forbidden to use tank brigades without evacuation vehicles."
In 2017, the army will will take delivery of 72 modernized T-72 tanks, – Poroshenko in Lviv. VIDEO 14.07.17 16:44 – The President of Ukraine Petro Poroshenko said that before the end of this year the troops will be delivered 72 units of modernized T-72 tanks. As reported Tsenzor.NET, with reference to Interfax-Ukraine, about it he said, speaking on Friday at "Lvov armored plant" in Lviv.
Above: Lviv Armour Plant; Below: Polish PT-91 Twardy MBT based on T-72M1


The Kharkov aircraft factory has transferred to Kazakhstan the An-74 [COALER] aircraft The Kharkov state aviation enterprise at the exhibition KADEX-2014 handed over to Kazakhstan an An-74 plane, Tengrinews.kz reports . "The first An-74TK-200 aircraft built by Kharkov aircraft builders for Kazakhstani partners was handed over to the Internal troops of the Ministry of Internal Affairs of Kazakhstan on April 26, 2013 at the Astana International Airport." The representatives of Kazakhstan's security agencies visited the ceremonial transfer of the aircraft, Now within the framework of "KADEX-2014", Kharkov aircraft builders are transferring the new An-74T-200A to the customer.This aircraft is manufactured for border troops of the National Security Committee of Kazakhstan, "the Kharkov air Avodah. The AN-74 aircraft are equipped with modern flight-navigation equipment and are suitable for carrying out humanitarian missions, guarding the state border and peacekeeping operations. This aircraft allows you to transport up to 10 tons of cargo, transport up to 67 personnel, medical evacuation of 40 patients and wounded on stretchers. In addition, the exhibition featured the C295 and C400M aircraft of AIRBUS Defense & Space Millitary Aircraft. Aircraft S295 is already in the aviation park of the armed forces of Kazakhstan. "At the static exposition, you could see the C295 already under the signs of the Armed Forces of the Republic of Kazakhstan, a contract was signed and two planes were already delivered to the air force, and this year two more planes will be delivered," he said. , Senior vice president of the company Antonio Rodriguez Barberan. In addition, Barberan noted that the company also has an agreement of intent with the Kazakh side, which determines the supply of another 8 aircraft. And about 3-4 years the company is going to deliver them. In addition, the company also plans to develop cooperation with Kazakhstan in the organization of a service center for servicing Airbus aircraft here in Kazakhstan.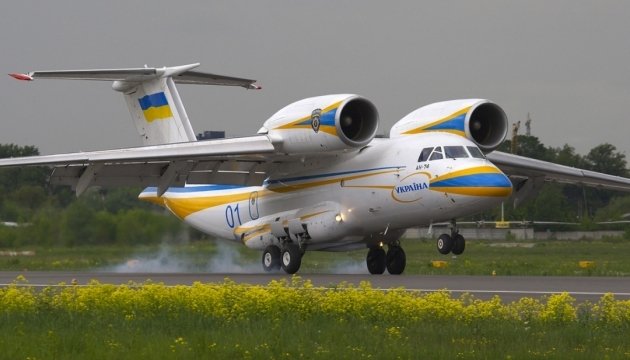 stailker | Kharkiv Aircraft Plant will issue an An-74 aircraft for Kazakhstan.
           Kharkiv Aircraft Plant will issue an An-74 aircraft for Kazakhstan. This was announced on July 13 at the press center of the Status Quo by the general director of the aircraft plant Aleksendr Krivokon. According to him, the customer has already paid $ 15 million for the plane, but the car has not yet received. According to Krivokon, he met with representatives of the recently established Ministry of Military Industry of Kazakhstan. "We have finalized a contract and agreed that the aircraft will be produced on a toll-free basis, with UkrSpetsExport being the guarantor of completion." It is expected that the NSDC in Kazahstan will allocate the money for the next year for the contract. "We will start the gathering from the end of the summer, and in September 2018 it is planned The plant is expected to be commissioned for four more machines for Kazakhstan, "Krivokon said. He also stressed that the plant has two not yet sent to the customer An-140. "If they can not sell them, we plan to complete them with the help of a domestic carrier and launch them on flights," Krivokon said.

Kazakhstan purchased Ukrainian AN-74 aircraft – PM – 15.07.2017 14:21 — Ukrinform News 15.07.2017 14:21. Kazakhstan has purchased the Ukrainian AN-74 plane, the ordering customer already paid $15 million.
Ukrainian An-74 sold to Kazakhstan for $ 15 million, – Groysman 15.07.17 14:44 – Kazakhstan purchased the Ukrainian transporter An-74 for $ 15 million and has already fully paid for it. This was written in Facebook, Prime Minister of Ukraine Vladimir Groisman, reports Censor.NET. "Good news, the Ukrainian An-74, made in Kharkov, will leave for Kazakhstan, the customer has already paid $ 15 million for the plane," he said. According to the prime minister, there are plans to continue working on new markets, develop export potential. "I'm glad that our cars will fly all over the world!" – summed up the Prime Minister. Google Translate for Business:Translator ToolkitWebsite Translator
British Man Imprisoned For Fighting With Separatists In Ukraine A British man was sentenced to prison after a court in Britain ruled he illegally entered eastern Ukraine in 2015 to fight alongside Russia-backed separatists against the central government. …
Kyiv Raids Properties In $800 Million Ministerial Graft Probe Ukrainian law enforcement agents on July 14 raided property allegedly controlled by a former official under toppled pro-Russian President Viktor Yanukovych as part of an $800 million corruptio…
---
Russia / Iran / Syria / Iraq / OEF Reports
---
Egyptian Beach Resort Attack Leaves Two Foreigners Dead Two foreign women tourists were killed on July 14 and four others were wounded when an attacker stabbed them at the Egyptian Red Sea beach resort of Hurghada, officials and media said. The governo…
US raid killed leader of ISIS in Afghanistan – CNNPolitics.com The Pentagon said Friday that US forces have killed Abu Sayed, the leader of ISIS-Khorasan, the terror group's Afghanistan affiliate.
Pentagon Says ISIS Leader in Afghanistan Is Dead – The Atlantic U.S. forces reportedly killed Abu Sayed during an airstrike earlier this week.
---
---
North Korea may have more bomb fuel than thought: US think tank Pyongyang may have reprocessed more plutonium than previously thought that can be used to enlarge its nuclear weapons stockpile.
North Korea's Kim Jong Un: The Hardest Intelligence Target – The Atlantic The most dangerous nuclear threat to the United States requires understanding the intentions of just one man.
House moves to bar Pentagon contracts with firms backing North Korean cyberattacks | TheHill Rep. Pittenger positions bill as way to crack down on China's support for Pyongyang.
North Korea latest – Kim Jong un biological attack and weapons for world war three | World | News | Express.co.uk NEWLY unearthed papers show Kim Jong-un's troops could launch a deadly biological attack on the West armed with poisonous gas and bacteria as tensions grow between the US and North Korea.
Why the World Should Fear North Korea's Biological Weapons | The National Interest Blog Strong evidence suggests that Pyongyang could possess anthrax weapon—and more.
To Topple Kim Jong Un, Expel Chinese Children From U.S. Universities Bringing pressure to bear on Chinese elites through visa restrictions is preferable to a military strike on North Korea.
How to deter North Korea – The Washington Post Charles Lane's July 7 Washington Forum essay, "The North Korean advantage," and Charles Krauthammer's July 7 op-ed, "North Korea: The Rubicon is crossed," recognized that North Korea will not abandon…
Ways to Maneuver on North Korea – The New York Times Foreign affairs specialists offer concrete proposals.
Letter: 'The Art of the Deal needs to meet with Kim Jong-un' | Opinion | montgomerynews.com To the Editor:
North Korea: What Next for Kim Jong Un's Nuclear Gamble? | Time.com Kim Jong Un's rule has actually seen North Korea's economy improve, and he has shown a hardline stance when it comes to the nuclear drive
Kim Jong Un and his wife host banquet for ICBM developers – ABC News The celebration included a rare appearance from the North Korean leader's wife.
Kim Jong Un sends North Korean slaves to Russia to earn cash for regime | Fox News Brutal North Korean dictator Kim Jong Un is shipping tens of thousands of poor citizens to Russia to generate hard currency for his cash-strapped regime, Fox News has found.
North Korea ban lifts coking coal price | MINING.com Met coal hits 2-month high Friday as Chinese imports of steelmaking coal from totalitarian state drops 75% during first half of the year.
BANK OF AMERICA: Here's how to trade 'escalating tensions' with North Korea | Business Insider North Korea launched an intercontinental…
china north korea: China, North Korea: 2 repressive systems, 2 prisoners, 2 deaths North Korea released 22-year-old American student Otto Warmbier in mid-June after 17 months in detention, but in a coma. He died a week later at a hospital in Ohio.
China cremates body of jailed Nobel laureate Liu Xiaobo – ABC News China cremates body of jailed Nobel laureate Liu Xiaobo
Deification of Liu Xiaobo cannot negate his crimes – Global Times Global Times Published: 2017/7/15 0:28:39 [PrivacyBadger has replaced this AddThis button.] The West is abuzz with the fervor of deifying Liu Xiaobo. A raft of laurels such as "a great freedom fighter," "a giant of human rights," and "the Mandela of our age" have been conferred by the West on Liu, a Chinese convicted criminal, who just died of liver cancer. Liu seemed to have become a Chinese intellectual mostly praised by the West for the past decades. However, the compliments for him from the West are a far cry from the judgment of the Chinese mainstream society on him. The conviction of Liu under the Chinese law is what the Chinese society believes he deserved. There might be some people who feel sympathy for him because he had been thrown in prison for so many years. But people who have a similar view with the West and regard him as "a great martyr" or even compare him with Mandela are only a tiny minority. What Liu had been engaged in was not constructive criticism widely recognized by the Chinese society. He had advocated overthrowing the political system prescribed by the Chinese Constitution and replacing it with the Western political system. He had been flattering the Western society politically. His remarks that China needs to be colonized for 300 years were extremely notorious in China. He was paranoid, naive and arrogant. He had been divorced from the main theme of the Chinese society and therefore became a man of the past, a political agitator and opponent. The Chinese society is not ignorant. When the ideological weapon of the West is activated, supporting a man convicted under the Chinese law could not be done out of pure and sincere goodwill. The West has never shown such generous "goodwill" to China in any other areas and issues. The public opinion in the West has shown complete selfishness and zero-sum attitude toward China in various disputes and conflicts involving China such as Taiwan, South China Sea and economic issues. The West uses Liu as a card to play with China and in doing so it attempts to increase the costs for China to improve the internal governance and build cohesion. Liu threw himself into the lap of Western forces and Western support had become a key source of his influence. However, his influence has breached the fundamental moral principle of Chinese patriotism and posed a challenge to China's stability and national security. This is why the Chinese society opposes and despises him. "Human rights" is a wonderful notion but it has been spoiled by Western forces in a process of playing against China. The "human rights" that the West talks about today implies interfering in China's internal affairs, setting up obstacles to China's development and demonizing China as it continues to develop and prosper. Whenever the West talks about human rights, they always relate it to those who act against the Chinese law and institutional system. The term, to some extent, has become a tool in their bid to play dirty diplomatic tricks and launch political attacks against China. The harder the West tries to deify Liu, the more it will alert the Chinese society that the outside world is unfriendly or even hostile to China. Those who actively cooperate with the West and become their chess piece will by no means win true respect of the Chinese mainstream society. Liu's case can only help the Chinese society better understand the complexity of the world and allow us to recognize the challenges China is confronted with in its rise as a global power. Liu's memorial tablet cannot find a place in China's cultural temple. Deification of Liu by the West will be eventually overshadowed by China's denial of him. No matter what was the motive behind Liu's behavior, he was actually a disruptive player to China's development theme during the country's reform and opening-up and a destructive element in China's rise. There are quite a many such followers of the West in China. But can they count on earning a good name in history?
---
---
UAWire – Kyiv: Ukraine offered the EU an alternative to Nord Stream-2 Kostiantyn Yelisieiev, the Deputy Head of Presidential Administration of Ukraine stated that Ukraine offers to create an international consortium based on the Ukrainian gas transmission network as an alternative to the Nord Stream-2 pipeline project, reported Ukraine's Channel 5 TV. "With regard to energy, we clearly expressed our position on the inadmissibility of the Nord Stream-2. They have reacted with understanding to our reasoning and we will continue our dialogue because this project should not be carried out without our consent. Moreover, we don't simply criticize and block this politically motivated project. We also offer options. We offered the possibility of creating an international consortium based on our gas transmission network," Yelisieiev said. The Deputy Head confirmed that the European party supported the initiative of President Petro Poroshenko to hold a major international conference at the beginning of next year on the prospects of the Ukrainian gas transmission network to enhance the security of Europe and Ukraine. "The EU listens to our initiatives. It is very important that the EU welcomed our steps towards energy security and energy reforms. We will continue to move along this path," he stressed. The Nord Stream-2 gas pipeline construction project has a projected capacity of 55 billion cubic meters running from Russia to Germany via the Baltic Sea. It is assumed that the route along the seabed, as well as the entry point into the German gas transmission network in Greifswald will be similar to the first Nord Stream launched in 2011. Earlier, Witold Waszczykowski, the Minister of Foreign Affairs of Poland said that Russia would use Nord Stream-2 as a political weapon.
UAWire – Moldova demands that Russia withdraws its soldiers and weapons from Transnistria The Republic of Moldova is demanding that Russia comply with its international obligations and withdraw its troops and weapons from Transnistria, reported the press service of the ruling Democratic Party in Moldova after a speech by the party leader Vlad Plahotniuc at the Council Meeting of Socialist International in New York. "At this forum I would like to recall the legitimate demands of the authorities of the Republic of Moldova: We insist that Russia complete the withdrawal of their troops and weapons from the territory of our country. I remember that this decision [on the withdrawal of troops] was adopted at the OSCE summit in Istanbul in 1999. I am convinced that it is in New York, where the UN headquarters is located, that we can once again express our position in the hope that we will be heard and supported," said Plahotnuic. The leader of the Moldovan Democrats also reminded his listeners that Moldova insists on replacing the Russian peacekeepers in the security zone on the Dniester River with a team of international civilians, who will monitor the situation. A small group of Russian troops (about 1,600) is stationed in the territory of the unrecognized Transnistria, and more than 20,000 tons of ammunition are stored at military depots in the village of Cobasna in the area of Rîbniţa. The Pridnestrovskaia Moldavskaia Respublica (PMR) declared its independence in 1990. However, no UN member state recognizes the TMR as a sovereign state. The "authorities" of the republic have repeatedly asked Moscow to incorporate it as part of Russia. For example, in 2006, a referendum was held in the republic, where 97.2% of local residents voted to join Russia, but the vote was recognized as legitimate only by Russia. In July, Moldova closed the roads for cars with Transnistrian registrations. In case of non-compliance, drivers risk losing their vehicles.
'Thank you, dear Donald': Why Macron invited Trump to France – The Washington Post The new French president positions himself to become Trump's principal interlocutor in Western Europe.
Fugitive Pilot Resurfaces At Rally Just Days From Venezuela's Referendum : The Two-Way : NPR As a symbolic vote nears on President Maduro's plan to replace the constitution, protesters greeted a surprise guest: the police officer who attacked government buildings from a helicopter last month.
The Venezuelan Dilemma: Progressives and the "Plague on Both Your Houses" Position | venezuelanalysis.com
---
---
Space Corps Moves Forward Despite Opposition – James Mattis Opposes Space Corps The White House and the Air Force oppose a Space Corps, while most of the House Armed Services Committee supports it.
Russia Warns U.S. It Could Expel Americans Over Diplomatic Dispute – The New York Times Russia wants the United States to reverse its decision to expel 35 Russians and block access to diplomatic sites over accusations of Russian meddling in the 2016 election.
House mulls adding North Korea to Russia sanctions bill – CNNPolitics.com House Republicans are considering combining a North Korean sanctions bill with the Senate's Russia sanctions legislation, an idea that drew sharp criticism from Democrats.
Private Email of Top U.S. Russia Intelligence Official Hacked | Foreign Policy Private Email of Top U.S. Russia Intelligence Official Hacked « | Foreign Policy | the Global Magazine of News and Ideas
Dear red-state friends: Embracing Russia is not an act of patriotism – The Washington Post How can we be "friends" with a country that has us under attack?
Kremlin Warns U.S. Must Return Diplomatic Compounds Without Conditions The Kremlin warned on July 14 that it would reject any preconditions for the return of Russian diplomatic property seized by the United States. The warning was in response to comments made on CN…
Top U.S. Democratic Congresswoman Wants Independent Commission On Russia U.S. House of Representatives minority leader Nancy Pelosi (Democrat-California) has renewed calls for an independent commission to investigate Russia's interference in the U.S. electora…
Ex-Soviet Intelligence Officer, Now Lobbyist, Confirms Being At Trump Jr. Meeting The Russian lawyer who met with the eldest son of U.S. President Donald Trump and other officials of his presidential campaign in June 2016 was accompanied by a Russian-American lobbyist who is …
Russian Gave Trump's Son Folder With Information Damaging To Clinton: Report The Associated Press is reporting that a Russian lobbyist who met with U.S. President Donald Trump's son last year gave him a portfolio of information she said was damaging to his Democratic riva…
Who Is Rinat Akhmetshin, The Russian-American Lobbyist Who Met With Trump's Son? WASHINGTON — As recently as last year, Rinat Akhmetshin could be seen regularly pedaling through downtown Washington, D.C., nattily dressed, with a pocket square and heavy-framed thick glasses…
FBI to investigate Ukraine's meddling in US presidential race – LB.ua news portal FBI to investigate Ukraine's meddling in US presidential race. The Ukrainian Embassy is accused of passing dirt on Trump. Main – LB.ua news portal. Latest from Ukraine and the world today
UAWire – Media: Ukrainian politicians paid $2 billion to American lobbyists Ukrainian politicians have paid $2 billion to US-based lobbyists over the past three years, which can be seen from reports of lobbying companies that regularly disclose their contacts. The most active customers of overseas lobbying services are the Ukrainian Presidential Administration and the Yulia Tymoshenko's Batkivshchyna (All-Ukrainian "Fatherland") Party, writes Novoe Vremya news website, citing an investigation by journalist Tatiana Kozyreva. At the same time, the fact that both the Presidential Administration and Tymoshenko's team hired lobbyists had been concealed by working with the American professionals through various funds or public organizations. Thus, in recent reports to the US Department of Justice, two large lobbying companies, Wiley Rein LLP and MKW Group LLC, recorded a working relationship with Aveiro LP. "This is a British structure, but its director, Yulia Belousova, is Ukrainian. And the office listed as the legal address of Aveiro LP is a mass registration site, where dozens of other companies are registered. And Belousova's company was registered offshore in Belize, with bank accounts in Latvia," the newspaper writes. Aveiro LP made arrangements with Wiley Rein LLP for a meeting between Grigory Nemyri, one of the top People's Deputies of the Batkivshchyna Party, and representatives of the U.S. Senate Foreign Affairs Committee. The company paid $410,000 for the services of lobbyists. Lobbyists are also used by politicians other than Tymoshenko. For instance, contracts for $90,000 in 2015 and $30,000 in 2016 was found in reports by American lobbying firm Barbour Griffi & Rogers Group (BGR) for "advisement on issues of relations between the United States and Ukraine relating to political, economic, defense and anti-corruption Reforms". The customer was the non-governmental organization Ukraine Investment Alliance. It was created in the autumn of 2014, and its founders are employees of the lobbying firm BGR, who confessed that they met with Deputy Head of the Presidential Administration of Ukraine, Dmytro Shimkiv, and "a friend of the president." "In 2014, the Ukraine Investment Alliance received $2 million, most of which went to pay for a project related to research for the defense complex. It was ordered from RAND, an American strategic think tank. The rest of the finances of Ukraine Investment Alliance went to pay for work by lobbyists", wrote the publication.
Russia, Ukraine, and the Trump scandals -Euromaidan Press Vitaly Portnikov Ukraine has been thrust into the US political arena again in connection with the scandal surrounding the publication of the email correspondence of the US president's older son Donald Trump Jr. and his meeting with Natalia Veselnitskaya, a lawyer close to the Russian government. Lindsey Graham, known for his tough stance on the Kremlin, asked the nominee for FBI director, Christopher Wray, about the possible "interference" by Ukraine in the presidential election campaign. The same article on the Politico online portal that was mentioned by Senator Graham is being cited by conservative commentators sympathetic to the Trump family. The essence of these comments is about the same as in the article — to prove that "everyone is doing it." Even if Republicans have resorted to questionable Russian sources to receive compromising information on the former Secretary of State Hillary Clinton, the Democrats have sought the help of Ukrainians to compromise Trump. I have no doubt that such tactics may be important in shaping public opinion. Even though it is not at all clear why this public opinion needs to be shaped under conditions of such obvious polarization in the United States. In any case, supporters of Donald Trump are not going to pay attention to any allegations against their idol — even if these allegations are supported by concrete, undeniable facts. Furthermore, I would argue that even if the accumulation of these facts led to the impeachment of Trump, his fans would be convinced that the real estate tycoon was the victim of the "conspiracy of the Washington elite," not simply against Trump but against the "little guy" whose interests, for some unknown reason, the eccentric billionaire has decided to defend. As for Clinton's supporters, they do not need to prove anything. They are already convinced that Trump is a Russian agent and that Putin has indisputable compromising material on the billionaire. This is why the American president acts like a fool in front of his Russian colleague and calls meetings with him "a great honor." He is simply afraid, and no proof is needed here. Therefore, the exchange of allegations and reports on sympathetic TV channels will add little. But from a legal point of view, the attempt to equate Russian and Ukrainian "contributions" to the elections may turn out to be another trap for the US president and his entourage — especially if the circumstances that were outlined in the notorious Politico article attract the interest of the FBI. It is obvious that the Embassy of Ukraine in the United States and other officials in Ukraine would refute any possibility that Kyiv participated in the US election campaign. But let's take a look at what Ukraine is accused of. The Ukrainian diplomatic mission is accused of cooperating with Alexandra Chalupa, an American of Ukrainian descent and a "contractor" with the Democratic National Committee, who helped collect compromising information on Paul Manafort, who was Trump's campaign manager at the time. But the fact that Ukraine was providing such information was not a secret even during the election campaign. Information that Manafort's name appeared in the so-called "secret ledger" of the Party of Regions could not have been made public without the knowledge of government officials. The press conference where allegedly compromising information on Manafort was made public was also held by an official person — Verkhovna Rada Deputy Serhii Leshchenko, who is believed to have good relations with Viktor Pinchuk, one of the friends or even sponsors of the Clinton family in Ukraine. But Leshchenko did not hold his press conference in a mask. He spoke about his accusations against Manafort openly. And, by the way, it was under the pressure of these allegations that Manafort had to leave the Trump campaign, since even then the political consultant turned out to be toxic for the future winner of the presidential election. But, at the same time, no one in Ukraine spoke about Manafort's possible connections with Moscow, only about his professional and informal relations with Viktor Yanukovych, Rinat Akhmetov, and the leadership of the Party of Regions. Ukraine did not have and could not have had any information about Manafort's contacts with Russians. From the presented facts it was possible simply to reach the empirical conclusion that Manafort's contacts with the "Regionals" must have brought him closer to communication with the Kremlin. Most of all, the information provided did not touch the person of Donald Trump; at most, it pointed to negligent staffing by a businessman engaging in grand politics. Therefore, if the FBI really takes up the "Ukrainian trail" in the matter of the US elections, in the best case scenario for the Trump team, it may or may not reveal Manafort's contacts with Ukrainian "Regionals," but in the worst case, it may reveal the former campaign manager's contacts with the Kremlin. That, in fact, is the extent of Ukraine's role — real or imaginary.
Peter W. Smith, GOP operative who sought Clinton's emails from Russian hackers, committed suicide, records show – Chicago Tribune Republican donor and operative from Chicago's North Shore who said he had tried to obtain Hillary Clinton's missing emails from Russian hackers killed himself.
Kellyanne Conway: We didn't need the Russians to feed us dirt on Clinton because she's 'a treasure box of negative' information | Business Insider Kellyanne Conway, the president's top White…
Fox News: Bill Clinton gave a stinging criticism of Hillary's failed campaign – TheBlaze Even during the 2016 presidential campaign many supporters of Hillary Clinton would compare her to her husband, saying that she just didn't have the political skill he had to engage every individual voter. There were reports that her campaign was trying to keep the former president from upstaging her at events.
Hillary Clinton lost the presidential Twitter war, study shows An analysis of viral tweets in the run-up to the presidential election showed tweets favoring him nearly doubled that of challenger Hillary Clinton, who was three times as likely to be criticized than praised on Twitter.