Anonymous expert compilation, analysis, and reporting.
</end editorial>
---
---
Commentary on the G20 meeting remains divided, but notably, most European commentators view it favorably, unlike the US MSM, the degree of negativity inversely proportionate to their grasp of Russia. Russians complaining loudly now about US position on Nordstream 2, evidently losing the means of corrupting EU politics is seen as a bad thing in Moscow. Patriots deployed to Lithuania. Moldovan President lauds Russia, Moldova notably being a province of Romania annexed by Russia during the Tsarist period. Russia causing more mayhem in Georgia again.
The social meltdown continues. Excellent interview with Prof Zubov on infighting over Putin succession, and the breakdown of Russian society and culture. Shaburov commenting on the Fuhrerbunker state of Putin. Nemets on Russia as a gigantic 'Island of Dr. Moreau' – he is extremely pessimistic about Russia's ability to correct its internal cultural and political collapse. Concerns about returning ISIS foot soldiers in Russia. Excellent essay by Tuchkov on the S-500 Prometey, the new SAM/ABM system.
Three interesting IW/IO/Cyber reports.
NATO SECGEN address to Kyiv parliament. Amb Volker well received in Ukraine. EU leadership visiting Kyiv this week. EU/NATO membership survey published. Donbass fires continue, while GRU SOF teams observed with bogus LNR insignia. Russians try to drive OSCE out of Donbass. Moscow disowns EPW Ageyev. Ukraine charges 84 detained foreign nationals, 66 of whom are Russians, with war crimes. Sea Breeze 2017 ramps up in Odessa. Russians threaten to expel up to 4 million Ukrainians working in Russia as tit-for-tat following Ukraine's decision that visiting Russians must be registered. Choke on Coffee Warning – a close encounter between Colonel Gratov of the Russian VDV and Ukrainian border officials.
Mosul remains primary MSM focus. SECSTATE mediates Qatar dispute. A US Army sergeant first class arrested for aiding ISIS in Honolulu.
China objects to being held responsible for the DPRK – regardless of the position of the current leadership in Beijing, in the past the DPRK was propped up repeatedly by Beijing. RoK NIS says DPRK still unable to build working RVs. China bans VPNs. China-India dispute continues.
In DC argument continues over the new Russia sanctions bill.
---
---
Why President Trump's Europe Trip Was a Success President Donald Trump's Europe trip was a firm rejection of the disastrous "leading from behind" approach of his predecessor in the Oval Office.
Trump made no concessions to Putin – media – News about politics | UNIAN Many courteous gestures were seen during the first meeting of U.S. and Russian leaders in Hamburg on the sidelines of the G20 summit, however everything suggests that Donald Trump has not in fact made any concessions to Vladimir Putin, which would have worried the countries of Central and Eastern Europe, Jerzy Haszczyński wrote for Rzeczpospolita, according to zn.ua. The article notes that there is no trace left of the much-feared plans for building a "new world," of which Trump had spoken during his campaign. That is, the plans on the creation of the new so-called "spheres of influence," such as set out in the Yalta agreement of 1945, zn.ua reported with the reference to rp.pl. Just a few months ago, many in Poland and other countries of Central and Eastern Europe feared that in exchange for Russia's help in the war against the Islamic state in Syria, Trump would allow the Kremlin to seize control over Ukraine, and that it would all boil down to a big "geopolitical deal." But during the meeting on Friday, Ukraine was mentioned only casually. Putin realized he could not hope for anything significant during the Hamburg talks. And just ahead of his meeting with Trump, he learned of the appointment of a new special representative on Ukraine, Kurt Volker, a diplomat with a tough stand against Russia and close ties with the influential Republican John McCain, who does a lot to preserve American support for Ukraine's sovereignty. Read also Russia sanctions to remain until settlement of Ukraine, Syria conflicts – Trump The observer notes that it was only Sergei Lavrov and Rex Tillerson's statements that shed a little light on the actual contents of the talks between the two presidents. That is why, the meeting's assessments often see expressions such as "probably" and "everything indicates that …" The U.S. president repeatedly caused mood swings in Central and Eastern Europe. But this time, optimism prevails in the region. Read also American "hawk" for Donbas As UNIAN reported earlier, the Trump-Putin meeting was held on July 7, on the sidelines of the G20 summit in Hamburg. The meeting lasted almost 2.5 hours. The two leaders were reported to have discussed the creation of de-escalation zones in Syria, the situation in Ukraine, Russia sanctions, and cyber security.
Michael Carpenter | Putin Played Trump Like a Fiddle at G20 – Foreign Policy In sum, it does not appear that Trump got any concrete results out of his meeting with Putin, aside from the agreement on a ceasefire in southwestern Syria — but gave Putin everything he could have wished for by agreeing to move on from Russia's interference in the 2016 election without further consequences. Thus undeterred, why would the Kremlin stop now?
Why deciding to 'move forward' with Putin is a big mistake – The Washington Post Putin has been the major source of problems in the U.S.-Russia relationship, not Washington.
Russia Decries 'Sabotage' Of Gas Projects In Europe For 'Political' Reasons Russia decried the "sabotage" of its Nord Stream 2 gas pipeline and other energy projects in Europe on July 10. Speaking at the World Petroleum Congress in Istanbul, Russian Energy Minister Aleksandr Novak said energy demand is set to grow in the coming years and it is essential that supplies not be hampered by politics. "We have often in recent times encountered artificial limits on the development of infrastructure, an artificial preference for certain sources of energy and suppliers," he said. "We see an open sabotage of infrastructure projects…that are economically well founded and attractive for consumers, like for instance Nord Stream 2," he said. The project funneling Russian gas to Germany through a pipeline under the Baltic Sea has been welcomed in Berlin but met with hostility from Poland and other EU members worried about dependence on Russian energy. U.S. President Donald Trump recently offered to sell eastern European states liquified gas from the United States, saying it was a more secure energy source than Russian gas. Novak charged that these "political considerations" amount to a kind of "protectionism" which violates world trading rules. "Russia is a guarantor of energy security. We see a colossal unrealized potential for cooperation and investment," he said.
UAWire – President of Ukraine: US has promised to prevent the construction of Nord Stream 2 Ukrainian President Petro Poroshenko thanked Secretary of State Rex Tillerson for cooperation in preventing the construction of the Nord Stream 2 project. The Head of State made a related statement on Sunday during a joint press conference with Tillerson in Kyiv. "I'd like to particularly thank you for our cooperation in the energy sector, and its very important part in the prevention of the construction of the politically oriented Nord Stream 2 project," said Poroshenko. Energy cooperation between Ukraine and the United States, according to the President, is expressed "through the purchase of American coal, in the construction of a plant for nuclear waste, in ensuring the supply of nuclear fuel to the Ukrainian Energoatom, and by providing US investment in the gas sector." The construction of the Nord Stream 2 gas pipeline is expected to begin in 2018 and be completed by the end of 2019. The 1220-km pipeline will run along the bottom of the Baltic Sea from the Russian coast to the coast of Germany. The capacity of each of the two lines is 27.5 billion cubic meters per year. The new gas pipeline will double the capacity of the first Nord Stream, the route of which it will basically repeat.
US deployed Patriot missiles to Lithuania for multinational war games – Europe – Stripes The U.S. military deployed Patriot missiles to Lithuania on Monday to take part in upcoming war games, marking the first such deployment of the sophisticated missile defense system to the small Baltic nation, Lithuania's defense ministry announced.
UAWire – Media: Russia intends to recall its Permanent Representative to NATO Russia is considering the possibility of reducing its representation at NATO from a permanent attorney to a temporary one, as reported by …
A New Cold War? Yes And No – To Inform is to Influence There are parallels, but a key difference is that the West today doesn't seek to bring Russia down. By Katherine Humphries July 7, 2017 Shirley Bassey reminds us all that sometimes eventually we come full circle: The word is about, there's something evolving Whatever may come, the world keeps revolving They say the next big thing is…
Russia Will PNG 30 US Diplomats And Seize Property If… – To Inform is to Influence Apparently, Moscow feels the need to increase tensions between themselves and the US, after the G20 summit.  Perhaps Moscow does not feel they won and they must now retaliate for actions taken by President Obama in December 2016.  </end editorial> 07/11/2017 MOSCOW, July 11 – RIA Novosti. Moscow plans to send some 30 US diplomats and seize…
UAWire – President Dodon: Moldova will never be anti-Russian Igor Dodon, the President of Moldova assured that Chisinau would never pursue an anti-Russian policy, RIA Novosti reports. "I am absolutely against Moldova considering even the possibility of joining NATO… If someone tries to use Moldova as cannon fodder in the fight against Russia, I mean the goals of NATO. We see what they want and achieve in this region. We see what some Western forces in Ukraine have achieved unfortunately… We do not need such scenarios," Dodon said in an interview on Belarusian television. He noted that Chisinau does not want to interfere in "geopolitical battles" and stressed that "we will definitely never be anti-Russian." "We will be anti-Western for some positions, you know," said the Moldovan leader and explained that he especially did not agree with the West on the issue of sexual minorities. "If at some stage the Moldovan authorities decide to integrate politically into the EU, it will blow up the country. There won't simply be such a state as Moldova. There will be something different: some regions will be attached to Romania and there will be some other territorial association. We categorically cannot allow this", he stressed. Concerning the association agreement with the EU, Dodon said he still does not see any results and believes that it has to be reviewed. Earlier, Dodon stated that joining NATO was categorically unacceptable for Moldova and said that the signing in 2014 of the Association Agreement with the EU was a mistake.
The Daily Vertical: Strategic Salami Tactics In Georgia (Transcript) With everything else going on, it was easy to miss. But while our attention was elsewhere, Russia effectively just seized a little bit more Georgian territory. According to media reports, last week Russian troops in the occupied South Ossetia region moved the administrative boundary line 700 meters deeper into the rest of Georgia. Additionally, the troops erected new green signs marking the so-called "border." As a result, Georgian farmers in the villages of Bershueti and Sobisi now have their land divided between two sides of a Russian-manufactured frozen conflict. Now these salami tactics have, of course, been going on for years and they clearly serve a strategic purpose. WATCH: Today's Daily Vertical Russian troops are now less than half a kilometer from the highway linking Baku to Tbilisi and the Georgian ports of Poti and Batumi, one of the main transportation arteries in the South Caucasus. But this little trick of moving the conflict line is also part of a psychological game aimed at legitimizing Russia's occupation of one fifth of Georgia's internationally recognized territory. Because every time Moscow moves the boundary line, every time they put up one of those green signs, we all start talking about how Russia is moving the "border" with South Ossetia. But words matter and language has consequences. Georgia and South Ossetia don't have a border. And every time we refer to one, even inadvertently, we help legitimize the occupation of Georgian territory.
Georgia's Dilemma – The American Interest Georgia is caught between Russia's destructive designs and the West's lukewarm regard.
Russia Again Intensifies Military Pressure on Georgia – Jamestown Russian Deputy Foreign Minister Grigory Karasin and Ambassador Zurab Abashidze, the special envoy of the prime minister of Georgia, held a special meeting in Prague, on July 7 (Agenda.ge, July 7). In the absence of regular diplomatic relations between the two countries since Russia's aggression against Georgia in 2008, the "Prague dialogue" remains the only regular channel of communication between Moscow and Tbilisi. Judging by their official statements, the two parties failed to reach a final agreement on the establishment of "trade corridors" between Russia and Armenia via Georgia and its occupied territories of Abkhazia and South Ossetia. Moscow is extremely interested in creating such transit "corridors" as conditions gradually "heat up" between Armenia and Azerbaijan around Karabakh (Kommersant, April 2). The idea behind establishing these "corridors" across the Russian-occupied territories of Georgia dates back to 2011, when Moscow had to seek Tbilisi's consent for Russia to join the World Trade Organization (WTO) (Civil Georgia, November 18, 2011). Georgia, a preexisting WTO member, was one of the final obstacles before Russia would be allowed to join this organization (Idfi.ge, November 25, 2016). But today, Russia is no less interested in seeking overland connections with the entire South Caucasus—and first of all, with Armenia, a fellow member of the Moscow-led Eurasian Economic Union (EEU). However, the Georgian government's position is that this issue should be decided strictly bilaterally by Moscow and Tbilisi, while Russia does not want to leave out Abkhazia and South Ossetia, whose "independence" the Kremlin recognized in 2008—after invading Georgia and occupying these regions. Ambassador Abashidze remarked, in an interview with this author, that the 2011 agreement on "trade administration," which paved the way for Russia's WTO accession, was concluded between Tbilisi and Moscow. The separatist regions are not mentioned in it (Author's interview, April 12). Nonetheless, Russia has persistently tried to force Georgia to agree to Abkhazia and South Ossetia's participation in this deal.
Vladislav Kudric | Fighting for a position as Putin's successor is escalating, there are a few players – Andrei Zubov The Russian historian believes that Ukraine should become an example for the Russian Federation. Andrei Zubov – well-known Russian historian and politician. In an interview with "apostrophe", he explained why Iosifa Stalina the Russians are still considered the most prominent figure in the history, and also talked about the lost to Russia XX century, the inevitable social explosion in modern Russian, if Moscow does not fundamentally change their policies, and the fight surrounded Vladimir Putin.
 – According to a recent sociological study, Stalin for the Russians – is still the most outstanding historical figure. Why is that?
 – Stalin now really is in first place. In 1989, when the survey was conducted also in the entire Soviet Union, Lenin was in the first place, which received 75% of respondents' votes. Now Lenin lost much in popularity – 32%. But Stalin … Following Stalin are, as you know, Putin and with the same level of votes (34%) – Pushkin. This suggests that the Soviet mentality and Soviet ideology is largely present in our society. That's too bad, of course. Soviet – this means, of course, and totalitarian, irresponsible, do not understand the meaning of democracy … Still, we see that the number of people supporting the Soviet values sharply decreased. Say, 75%, three quarters, up to one third. Apparently, Lenin and Stalin is more or less the same people mentioned, but not different. As for Putin, the previous figures in 2012 suggest that while it does support fewer people. But it supported by virtually the same amount in 2008 – 32%. 2008 – this, as you may recall, the war with Georgia. She stressed imperial ambitions among Russians. But I am sure that in 2015 Putin's support has been more than 34%. The annexation of the Crimea and the war in Donbas if supported by two-thirds or even three-fourths of Russians. Accordingly, support for Putin was supposed to be a lot more. Now we see that it has fallen to 2008 levels. This is also a good sign. Yes, Putin is considered a great many, but not most. Only 34% – a lot, but still not a lot zashkalivayusche. The number of people who support the writers, poets (Lermontov, Yesenin, Pushkin, Tolstoy), scientists (Mendeleev, Lomonosov), foreign scientists (Einstein, Newton). In general, society is slowly, but recovering. Sadly, that among these twenty most popular people only three people not from Russia: in addition to Newton and Einstein, this is Napoleon. It is very sad: Russian history isolated, rescued from the world and see all by itself. It is not even named such undeniably great names, like Iisus Hristos, Prophet Mohammed, Siddhartha Gautama (Buddha), Aristotle, Pythagoras, Plato, Confucius, whose names even if they know almost everything. This is a sign of obsession with her as the only. With this it is very difficult to integrate into the world, Europe. A positive aspect is that all generals – Zhukov, Kutuzov, Suvorov – are now much less support than during 1989-1993. That is too militaristic component weakens. So that the picture is far from unique.
– Presenting the book. "The history of Russia of the twentieth century", you said that the people become the people when perceives its history is subjective. But many in Russia still live in Soviet history that the government is trying to impose. And in order to become a normal people, the Russians need to understand its history. What is the probability that there will be this awareness? That it prevents at the moment the most?
– Most of it, of course, interfere with Putin and the education system, based on the Soviet, as you rightly said, the patterns. Now more and more accepted way of Soviet history. And not just the Soviet – say Khrushchev – a pozdnestalinsky – the kind of historical consciousness, which was after the war and up to the XX Congress [Party]. When the Russian Empire was recognized, and the Soviet Union recognized as her successor, her best. And all that was against the Russian Empire, inside it (the struggle for national liberation, for example) and the world ( "machinations" of England, America, and so forth), perceived very negatively. That is now effectively recovers pozdnestalinsky historical project. This is an extremely bad. But it wants power. Here we are just put Stalin memorial plaque. And not just anywhere, but in Moscow Law Academy. It would seem that the right to the best knows what Stalin. And yet… But, on the other hand, our book "History of Russia. XX century" diverges, print more and more runs. And there is just a different approach to the story. My lectures on the history, which I read in the "Novaya Gazeta", listens to a huge number of people. So that there is an alternative query. Of course, this request – from the most advanced part of society.
– At the time you call the Russian period of the Holocaust, there are many events in which it is difficult to understand, and that falsified and rewritten. What is the period of the most mutilated for the sake of propaganda and political situation?
– You know, almost the entire Soviet period, starting from 1918, from the beginning of the Cheka action until the end of the Soviet regime. Oddly enough, many units archiving is not opened or re-closed. Another thing is that the second half of the Soviet period was less bloody. Therefore, there may be less need to hide. But, again, there are a lot of terrible things. Do not forget that the same Bandera and his followers, in particular, [Leo] Rebet, killed in Germany on the orders of Khrushchev, not on the orders of the same Stalin. A cruel suppression of the uprising in Novocherkassk, fighting with dissidents under Brezhnev and Andropov – kept secret very much. Because the people who run Russia, feel, and are in fact the successors and heirs of the Russian and Soviet regime. And so try the most terrible its pages, including, for example, the Holodomor, hide. In this sense, of course, I must say a big thank you to Ukraine, which consistently opens its historical archives, and thus allows you to see the entire history of our country that time. Since it is clear that Ukraine's archives cover in many situations and in other parts of the former Soviet Union.
 – What events of the twentieth century in the history of Russia have become critical, but are not considered?
 – I must say that most watershed event in the history of Russia – it is certainly a revolution of 1917. She especially October Revolution was anti-democratic, anti-liberal. The seizure of power in October 1917, the Bolsheviks had great influence on the whole world, and positive, in the sense that on the Russian experience, many have learned how not to act; and negative – because these fluids Bolshevik spread around the world (the Comintern, intelligence, subversion) and, unfortunately, give recurrences (say Assad regime in Syria) to this day. The second very important event in the history of Russia – it is certainly in 1991 and the entire period of the late perestroika, I would say, from 1988 until the end of 1991 – a single period. This is the period of anti-communist counterrevolution. It was unsuccessful because it was not possible to uproot all these tenacious roots of communist, and now, as you know, they gave new, very strong growth. The third very important point in the history of Russia – is, of course, the victory in the composition of the anti-Hitler coalition over Nazi Germany. But, again, we see that for Russia this victory did not mean liberation from totalitarianism. It meant only one thing: the Nazi totalitarianism could not impose on Russia. But communist, Bolshevik totalitarianism managed to preserve and strengthen after 1945. And no one is better than another. Therefore, it is also a significant date, but, unfortunately, not entirely positive. I also do not want to forget another important date – the introduction of parliamentary government in the Russian Empire: A Manifesto October 17, 1905 and the Basic Laws of the Russian Empire, April 26, 1906. They formed the basis for the development of parliamentary democracy in the Russian Empire, and I'm sure that if Russia went further this way if handled with the Revolution of 1917, it would now be a completely different country. But the revolution has crossed all of these important events the beginning of XX century. So XX century Russia lost totally, oddly enough. Because people in Russia as a result of these four great events become no better than to live, and worse, not only in material terms, but in terms of dignity, their freedom, and this is most important.
– The last chapter of your book is called "The search for a new Russia." How long Russia will look for yourself? And whether it is moving towards, if you remember your words that Russian society is gradually coming out of the state, imposed by him power?
– This is a good and intelligent question. Of course, to predict any timing, it is impossible to date. But you can see the trend. When in 1989-1991 the Soviet Union began to shake off the Communist past, for most people, it was very strange, most people do not understand what is happening in the capital. They were absolutely Soviet people. The end of communism – it is not hard to gain people, but a gift of fate. So agreed facts of history: Gorbachev turned out to be mild and the inner spirit liberal leader, the Soviet Union was extremely weakened economically – and all together it has led to the fact that the Communist regime collapsed, although its almost nobody in the country (there were, of course, people type Sakharov, Solzhenitsyn) are not destroyed. This distinguishes Russia from, say, Poland, Czech Republic, Hungary, where there were strong anti-communist movement. Therefore, in Russia, the advance of freedom was not accepted. And Russia is gradually under Yeltsin – and Ukraine in many respects with the then ruler of your – is rolled back in the Soviet. Albeit with a number of features: private property of the oligarchs, some nationalist phraseology. However, in the nearly thirty years that have passed since the end of the Soviet regime, a new generation is already very different looking at the world, wishing to be a part of the world and, first of all, of course, the Western community. Right now, when a senior in this generation are already 35-40 years old, it is the most dynamic: it came on March 26 the streets of Russian cities to protest against corruption, it supported the action June 12, before that it was against the falsification of election results in December 2011, of the year. I am sure that this wave is gaining momentum. The path in the same direction, which is freed from the Communist Central Europe, begins in Russia and other CIS countries. And Ukraine, with all the complexities of the current Ukrainian life, it is, of course, an example for such an anti-communist Russian Liberation. I really like the name of your Revolution 2014 – Revolution of Dignity. You may not have gained so much economically, rather – lost, as well as geographically, but, of course, Ukraine gained its dignity. And it is not Ukraine, but the people, the people they feel citizens. Here it is – the most important thing, and I hope that this will happen in Belarus, and the Caucasus, and Russia. – In one of your lectures you say that "for Germany, Hitler is better than Lenin to Russia." In Ukraine, as you know, is Decommunization. In Russia, such a policy is not carried out. Why is Russia so strongly clings to the communist past and trying to preserve the memory of him in the neighboring countries? – And in the Ukraine and in Russia a considerable part of society resists decommunisation. Only in Ukraine that part of society that resists, removed from power after the Revolution of dignity, and manage just decommunisation supporters, but are struggling very hard with the enemies. And in Russia, yet manages the FSB, the KGB – that is, people who, apart from communism, nothing at all can justify itself. They can justify itself only if the communist, Stalinist – is "good." Otherwise, their fathers – simply criminals (and they do), because voluntarily choose to serve the communist regime and had to "work" under Brezhnev, Andropov, Chernenko. Not that Ukraine is in this sense other than Russia: just in Ukraine in power opponents of communism, and a large part of society against them, and in Russia – on the contrary. The Russian supporters decommunisation, which also, incidentally, a lot are in opposition. I am sure that, if you change the situation in Russia, and, say, our People's Freedom Party [Parnas] comes to power (and we have a very broad Decommunization CET pattern is registered in the program), we will implement the de-communization. But I know that we will experience tremendous resistance to a large part of society. In this sense, to say that the Russian – such as Ukrainians or, say, Belarusians – the other is wrong. You took an incredibly important revolution in February 2014. And we do by hook or by crook, mostly hold the power supporters of the communist past, only decorated democracy and, if anything, the name of the new Russia. And in fact, rub a little tricolor flag – and under it will, unfortunately, the red Soviet flag and the white and blue colors disappear.
 – The Russian leadership is also doing its best to connect the history of ancient Russia, and Russia together. Is this the current government help?
– No, of course it does not help. I must say, the current Russian government continues to not only the tradition of the late Soviet, which was exactly the same, but the pre-revolutionary tradition that came through Soloviev Kliuchevskoi, Karamzin: that was the first Kyiv and Kievan Rus, then Muscovy, then Petersburg Empire. Stalin added to it only the fourth element – the Moscow Soviet Union. This line is historically absolutely wrong. This does not mean that Moscow is not the successor of Kievan Rus, but it is one of the successors. And say what the main and which is not important – it is simply impossible.
– Recent rallies have shown that people are now less and less consolidated trusts "good king", although the level of confidence is still high. Where it leads? Should we expect a tightening mode, trying to find a basis for a new social contract? – Firstly, you have correctly grasped the trend: Of course, as long as confidence in the great Putin, but it is clear that it is reduced, just like shagreen leather in Balzac's story, with each passing month. And the government knows it, by the way, better than the company, and is afraid of scary. And it takes a variety of efforts, from strengthening of repressive measures to attempts to enter into really any new agreement with the company. And it has begun and intensifies with each passing month struggle within the government. While not against Putin, and "under Putin" – for the second person, the person's successor. And we know these players: FSB, Sobyanin, Volodin, Kadyrov … That is, there is a big fight that breaks the Russian political field. In this situation, I think, may be a variety of outputs, but least plausible crackdown – for this there are no opportunities. Because the country is impoverished. People are already experiencing a much higher standard of living than they are now happy. the poverty rate is growing constantly. In this situation it is necessary to do only one thing – to restore the connection to the world, to take sanctions. The methods that are now trying to achieve Putin and Lavrov, it does not work and never will. The only way – is to return to the position it was in before the war in the Donbass, Ukraine to resolve the situation in Syria, to return the occupied territories, to resolve the situation with Georgia. If this does not happen, Russia from under the sanctions will not work, and it will be further and further slide into a social catastrophe. Because the positive power resource is exhausted: it was used when joined Crimea (as a result of the annexation of 2014 – "Apostrophe"). There was a great enthusiasm, but there is nothing to connect more and effort to attach no more. It will only increase frustration. We need to find that part of the Russian elite, which is willing and able "razrulit" out of the impasse in which Putin drove Russia and which will enjoy the confidence of the West. It should be the people, known for their principled position on combating crimes and outrages of recent years. If these people find Russian elite, it is possible, of course, Russian recovery. And the other way – is the way of a social explosion from below, as in the Ukraine. Of course, as you know, this is heavy, destructive path, and creation begins far not soon. We can not say that this social explosion is inevitable, but it will be very likely. Is important not so much poverty: there is a certain revolution theory proposed more Alexis de Tocqueville on the analysis of the French Revolution. In general, it is quite true, and we, political scientists, all these things are well known – the most dangerous for the regime, when, after the relative prosperity comes a sharp deterioration in life. And this situation is particularly dangerous when at the same time deterioration close the so-called social lifts: that is, people are not only poor, but also can not expect an honest way to make a career, to become richer, more prosperous, and that is what is happening in Russia. That's why young people who are our future regime deprives the country, dissatisfied. In this situation, if not quickly implement broad reforms a social explosion is practically unavoidable. – And your forecast for the anti-corruption protests? Obviously, the rallies will continue, but will shift the focus from corruption in the wider problems of the country? – Do not forget that the fight against corruption led Brezhnev, and even planted some of his ministers. The fight against corruption is carried out in China. The fight against corruption does not necessarily imply the abolition of totalitarian rule. Our society does not lead the fight against corruption, because candid thieves are in power. Therefore, the fight against corruption and not because of what society is very quickly destroyed. But the fight against corruption – have not yet given evidence, because it may just be evidence of attempts of improvement within the system than Brezhnev and Andropov, the Soviet Union tried to do, it must be said, to no avail. Like the unsuccessful fight against corruption in the PRC, as well as generally hopeless struggle with thieves stealing. Unfortunately, people who now heads the anti-corruption protest – first, Alexei Navalny – does not attempt to fundamental changes in the system. They do not set a goal, say, decommunisation. On the contrary, Navalny says plainly that it is not necessary and only the costs of extra money – to remove the statue of Lenin, and so on. He does not understand that Lenin – is the only mushrooms and mycelium – under the ground, and one of its manifestations is precisely the corruption. He does not understand due to international politics: for example, it is necessary to change the policy in respect of Ukraine, to stop the war, to return captured. He is afraid to say it, afraid of losing popularity. And without this, no sanctions are lifted, and corruption will continue. Anti-corruption, so to speak, the premise is good, but only as a first premise. Almost immediately be followed by a much more profound things related to the reform of the political system, failure of presidential rule, restoration of self-government, an independent judiciary, which is the current protesters say little. And, of course, international politics and decommunisation. I do not want to discuss Alexey Anatolyevich, but it seems to me that, if he wants to remain a leader, he must dramatically deepen their appeals to the public, and only then he will find new supporters.
Window on Eurasia — New Series: In Yekaterinburg Today, Putin Betrays His Ignorance of Russia Beyond the Moscow Ring Road Paul Goble Staunton, July 10 – During less than half a day's visit to Yekaterinburg, Vladimir Putin displayed his almost complete ignorance of the officials he himself has appointed, the state of medicine and other public services there and the real reason a firm hasn't paid back wages rather than the one he or those around him have chosen to suggest. These would be small matters, Aleksey Shaburov says, given that Putin can't possibly know everything about everywhere. But his approach, directly intervening without attention to institutional arrangements, and compelling officials to treat his words as the highest truth are worrisome (politsovet.ru/55852-putin-v-ekaterinburge-o-chem-ne-znaet-prezident-rossii.html). That is because Putin's mistakes highlight "the crisis in the system of administration" in Russia, a crisis, the Yekaterinburg commentator says, everyone "can see with his or her own eyes." It was all too clear today, Shaburov continues, that Putin views Sverdlovsk oblast not as it is or as its people know it to be but in a unique and highly distorted way. To make his case, the commentator points to the following instances that appeared in the regional media:
First, Putin mispronounced the last name of the head of the oblast, Yevgeny Kuyvashev, even though he has served in that post for five years and before that was presidential plenipotentiary for the Urals Federal District. The Kremlin leader quite distinctly and quite incorrectly put the stress on the wrong syllable.
Second, Putin couldn't remember the name of the person who heads the fourth largest city of the country and confused the titles and names of those in charge, obviously mixing up in his own mind the real city head – it has no mayor – and the head of the oblast, Yevgeny Royzman, an independent politician whom the Kremlin leader didn't name.
Third, Putin told city officials to improve medical care for the population given complaints about it that the Kremlin has received from the population. But there is one problem he doesn't seem to be aware of: "There are almost no municipal medical institutions in Sverdlovsk anymore." His own optimization program has closed all but one and transferred authority to the oblast.
And fourth, Putin told officials to press the managers of a local factory to pay the backwages of workers, again on the basis of complaints he has received. But he doesn't appear to know that the firm, pressed by his own siloviki, has been driven into court-approved bankruptcy and thus has no funds to do so.
Putin likes to style himself "an effective manager" just like he has referred to Stalin. But in less than four hours in a single city, the Kremlin leader was able to prove conclusively that he is neither effective nor a manager but rather someone with enormous power who acts with little or no information and thus is not someone in whom anyone should be placing confidence.
Window on Eurasia — New Series: Putin has Transformed Russia into a Gigantic 'Island of Dr. Moreau,' Nemets Says Paul Goble Staunton, July 10 – In his 1896 novel, The Island of Doctor Moreau, H.G. Wells describes how a doctor on a small and isolated island in the Pacific manages to create "human-like hybrid beings" by doing surgery on animals. British critics at the same suggested Wells' book was a commentary on what had happened in their country over the two preceding decades. They suggested, Moscow commentator Aleksandr Nemets says, that Wells was a kind of fictional retelling of what happened in England after the social upsurge of the 1880s when in his words "Englishmen were almost converted into people and then again returned to their 'primitive state'" (kasparov.ru/material.php?id=5962B4127864B). Russia over the last 30 years appears to have moved along the same trajectory. "How often people shouted at the end of the 1980s and the beginning of the 1990s: 'The former slaves of the Soviet system are being transformed into free people! Unheard of flourishing is ahead!' But in fact, a new herd appeared, actively supported and directed by the authorities." "We now see the final results," Nemets says, with polls showing that the share of Russians who oppose Putin and want change "doesn't exceed 13-14 percent of the population" and 10 percent of the total, some 14 million people, including many who would be in the first category – say they want to leave Russia altogether. Twenty-five percent of those aged 18 to 25 say they want to leave, eight million of those Russia most needs for development. But "the rest, both the young and those older support the FSB-Russian Orthodox Church bloc or even demand that it act "more harshly" than it has up to now, the commentator continues. "It is thus easy to make the conclusion that the quality of the population of the Russian Federation has fallen sharply and does not correspond at all to the demands of high-technology modernization of the economy and society." The Russians have the equipment one would need but "not the qualified cadres." On the other hand, Nemets points out, "there are cadres and resource for 'electronic evils' like trolling and hacker attacks on Ukraine, Europe and America." And there is no indication that things are going to get better anytime soon. "Not a single Russian university" ranks in the top 100 of the world. "Unfortunately," he says, "a significant part of the readers of Kasparov.ru [and other liberal outlets] still maintain the illusion that 'a leader will be found, a Navalny or someone else, a bright new personality, who will take power in the Russian Federation by legal or other means and everything will turn out well!'" "Alas, the share of those who want serious changes in the Russian Federation is not large and is even contracting," Nemets says. And that reduces the chances that Russia will be able to change itself by itself anytime in the coming years.
Dreams Of A Kinder, Gentler Russia RFE/RL asked people in several Russian cities to describe the ideals they wish for in their country. Citizens described a Russia that would be more peaceful, more prosperous, and more honest than it is today. Or as one respondent put it, "Norway." (Current Time TV)
Window on Eurasia — New Series: ISIS Defeats in Iraq and Syria Seen Leading to New Islamist Attacks in Former Soviet Space Paul Goble Staunton, July 10 – The occupation of ISIS strongholds in Iraq and Syria in recent days does not end the threat that Islamist activists pose. Indeed, according to some observers, it may open a new phase in which ISIS supporters no longer having a territory to defend will instead turn to terrorist actions outside of the Middle East and in particular in the former Soviet space. A commentary on the Lenta.ru news agency suggests that some of the likely targets of now-dispersed ISIS fighters will be in Central Asia and especially in Tajikistan (lenta.ru/articles/2017/07/10/isis_next_step/). But perhaps the most alarming prediction comes from Yana Amelina, coordinator of the Russian Caucasus Political Club. In a speech to a Chelyabinsk conference on Islam this week, she says that in the wake of ISIS defeats in the Middle East, there is a growing danger of Islamist suicide bombings in the Russian Federation whose executors may piggyback into that country as Central Asian migrants (ruskline.ru/news_rl/2017/07/10/rasulevskie_chteniya_islam_v_istorii_i_sovremennoj_zhizni_rossii/). Some of these attacks may be delivered by those approximately 4,000 Russian Muslims who decide to return to their own country, but far more are likely to come from immigrant workers from Central Asia or the south Caucasus who have been inspired by jihadist ideas. According to her, the only way to block these attacks is to restrict immigration. In addition, the researcher who specializes on the North Caucasus argues that "social networks which initially were created for virtual communities are gradually being transformed into a technology for approving the mechanism of the preparation of young people for suicide bombings and other aggressive activities." According to Amelina, this reflects the fact that what is going on is "not the radicalization of Islam but the Islamization of radicalism. That is, an individual who commits himself to jihad selects that path because he is attracted to destructiveness." Were the Islamists not so committed to destructive activity, radicals would look elsewhere. Further, she warned as he has before, that young women are increasingly part of this subculture and choose Islamist paths precisely because it corresponds to their radicalism rather than becoming radical after choosing Islam. The "hooliganism" and violence of youthful female subcultures in Russia is thus a breeding ground for the next generation of terrorists.
Siemens Says Delivery Of Gas Turbines To Crimea Breaches Deal, Sanctions German industrial conglomerate Siemens says that two of its gas turbines originally destined for Russia had been diverted to Crimea without its knowledge. Crimea has been subject to Europea…
Siemens to press charges after turbines moved from Russia to Crimea | Reuters Germany's Siemens (SIEGn.DE) said on Monday at least two of its gas turbines had been moved "against its will" from Russia to Crimea, a region subject to sanctions barring EU firms providing it with energy technology.
The Morning Vertical, July 11, 2017 ON MY MIND It should come as no surprise that Russia's political party system is in crisis. According to a report by the Committee of Civil Initiatives (reviewed in a piece featured below), parties in the so-called "systemic opposition" are having trouble fielding candidates and are barely conducting campaigns. At some point this was inevitable. The sham of Russia's party system, in which pro-regime parties like the Liberal Democrats, the Communists, and A Just Russia, play the role of a fake and domesticated opposition was bound to hit a point of diminishing returns at some point. Sooner or later the mask was going to come off. And it appears that time has come. And it comes as Aleksei Navalny is mounting something Russia hasn't seen for a long time: an actual opposition force that has real public backing and is serious about taking on Vladimir Putin's Kremlin.
Crackdown On Navalny Election Bid Continues As Krasnoyarsk Activist Detained KRASNOYARSK, Russia — Police in the Siberian city of Krasnoyarsk on July 11 detained a local coordinator of opposition politician Aleksei Navalny's presidential election campaign and confiscate…
Russian Anti-Doping Plan Approved In Push To Lift Global Sporting Bans Russian Prime Minister Dmitry Medvedev on July 10 approved a plan designed to eliminate doping, part of Moscow's push to rehabilitate its tarnished sporting image and overturn a global ban on mos…
Fourteen Injured In Moscow Shopping Center Blaze A huge fire at a Moscow shopping center on July 10 injured 14 people. More than 200 firefighters and 60 trucks were needed to put out the fire.
Vladimir Tuchkov | S-500 Prometey: Almaz-Antey will create order in space The latest Russian complex has an arsenal of antimissiles – "for all occasions". Concern "Almaz-Antey" will begin serial shipments of the S-500 "Prometey" anti-aircraft missile system in 2019. This was stated by Alexander Vedrov, deputy general director for production and technology policy of the concern. The innovative policy of the concern is based on an immutable principle: if you do not constantly move forward, sooner or later you will be overtaken by weaker competitors. That is why Almaz-Antey is the world's "fashion trendsetter" in the field of air defense systems. Moreover, the complexes of the latest developments largely solve the tasks of missile defense. That is why the next year the concern starts developing a new generation air defense system. The S-500 and its predecessor the S-400 system, which is already operating in the troops, is a grandiose project. For the release of these systems, as well as promising developments of air defense / missile defense complexes, the Nizhny Novgorod machine-building plant named after the 70th anniversary of the Victory was specially built. Construction of the plant cost 45 billion rubles. When developing air defense / missile defense systems, the Almaz-Antei concern goes, as they say, in its own way, which is different from what American designers are doing in this area. The newest modification of the American SAM Patriot PAC-3 uses only one missile, which should intercept both aerodynamic (aircraft and cruise missiles), and ballistic targets. Such universalism does not benefit the combat characteristics. Warsaw with the help of the United States intends to acquire its own "Iskander" Therefore, the probability of destruction of a ballistic missile by the Patriot anti-missile system does not exceed 10-15%. And this is not taking into account the work of the electronic warfare station, which can be equipped with a missile. And the lower threshold of destruction of aerodynamic targets is too large, that is, the anti-missile does not work well for low-flying targets. True, relatively recently the highly specialized mobile complexes THAAD began to arrive in the US ground forces. They are designed for an over-atmospheric interception of ballistic missiles. And in them the presence of a single missile is fully justified. That's just to this complex it is necessary to put also the "Patriot" in order to be able to defend itself against air raids, as well as from the attack of cruise missiles. Incidentally, it is precisely this attacking set that has the Russian Iskander OTRK, capable of simultaneously attacking both ballistic and cruise missiles. The S-500 has a significant arsenal of anti-missiles – "for all occasions." At the same time, strictly divided anti-missiles for aerodynamic purposes and for ballistic. Moreover, the S-500 is, in fact, two different complexes that have a common, perhaps, only power supply system. Each subsystem has its own radar with an active phased array antenna, maximally adapted to detect and maintain its class of targets. Each new air defense / missile defense complex created in the Almaz-Antey concern is a development of the previous ones, from which he inherits the most effective means of control, detection and defeat. Prometheus uses missiles designed to intercept aerodynamic targets from the S-400 Triumph. They have different range, height of interception, high-speed and dynamic qualities. Each missile is most adapted to defeat its class of targets. Three missiles are designed specifically for Prometheus. The most powerful, which is designed to combat aerodynamic targets, is the 40N6M, which has a range of 600 km. The range of the THAAD missile is 3 times smaller – 200 km. Two more new missiles were developed at the CB "Fakel" for ballistic purposes. These are 77N6-N and 77N6-N1. Their characteristics were not disclosed. It is only known that they manage not only ballistic missiles of medium range, but also with ICBMs in the middle and final sections of their trajectory. And not only with the missiles themselves, but also with detachable warheads of low visibility, whose effective scattering area does not exceed 0.1 square meters. At the same time the speed of the targets can reach 7 km / s. There is information coming from competent sources in the defense ministry, according to which these two new missiles can be used in the prospective modification of the missile defense system in the Moscow region and the Central Industrial Area A-235 Nudol. This means that with the introduction of the S-500 mobile SAM in various regions of Russia, an equally reliable anti-missile umbrella will appear, as well as the one that now defends the capital region. The capabilities of the new missiles can be judged by comparing them with the THAAD anti-ballistic missile, the maximum speed of which reaches 2800 m / s. Russian missiles designed to destroy ballistic missiles are 3600 m / s. In terms of range, the excess is fourfold: 800 km against 200 km. (According to some reports, the farthest missile of "Triumph" can fly to 1500 km). At the height of the interception, the winnings are not so significant: 200 km against 150 km. All this refers to the increment in the quality of the system in relation to the S-400. The radar capabilities also increased. The detection range of a ballistic missile is 2000 km, a combat unit with an EPR of 0.1 square meters. – 1300 km. At THAAD these indicators are twice worse. All missiles are homing. The GOS uses the radar principle of target acquisition. Long-range missiles also use an inertial flight control channel. In the US anti-cancer works infrared GOS. The C-500 has the highest universalism. In comparison with the capabilities of the S-400, it was possible to intercept hypersonic targets, as well as to destroy military satellites in low orbits. It is in these orbits that most of the space military factions are located, since this allows more efficient operation of reconnaissance and communication equipment. Prometheus is capable of repelling massive missile attacks. The ZRS-500 division accompanies 160 targets and simultaneously fires 80 of them. The merits of the system also include the integration of the complexes into a single information system, capable of operating as drones, as well as aircraft iSR and powerful radar warning of a missile attack of the Voronezh family with a range of 6000 km. Compared with the previous SAM systems, the capabilities of not only radar and interceptor missiles, but also the whole complex of radio electronic equipment, have increased. The newest communication equipment related to the sixth generation excludes the possibility of radio interception, as well as completely protected from external interference. At the same time, the latest electronic warfare equipment used in mobile complexes located on five-axle wheeled platforms allows to neutralize enemy anti-radar missiles with high efficiency. Also, the S-500 missiles are equipped with EW suppression equipment for destructive targets. The imminent arrival of Prometheus in the VKS is evidenced by the fact that training of officers for work on these air defense / missile defense complexes began at the Military Academy of Air and Space Defense named after Marshal G. Zhukov.
New Aircraft in Service With Russia's Veteran Air Wing – Sputnik International New Su-30SM Aircraft in Service With Russia's Veteran Air Wing. For more great photos, visit the Sputnik International website
PARIS: Superjet confident of securing orders fast A larger and improved Superjet is coming after 2020, but the new head of civil aircraft at United Aircraft Corporation is not waiting to restock the programme's order backlog.
PARIS: How Russia and China plan to work together on a new widebody Russian president Vladimir Putin traveled to Beijing in June last year to meet with Chinese Premier Li Keqiang about facilitating the transfer of Russian space technology to the Chinese government, but the trip served a larger purpose.
PARIS: How MC-21 realised years of Russian hopes At the moment the MC-21 rotated to take off into the southern Siberian sky on 28 May, an elated Irkut chief executive Oleg Demchenko reached forward and with both hands gripped the shoulders of his boss, United Aircraft CEO Yuri Slyusar.
ANALYSIS: Russia's turbofan renaissance As commercial aircraft programmes enjoy a surprising renaissance in Russia, so too are the makers of turbofan engines.
Shipbuilding updates from Russia's naval salon (МВМС-2017) – Russian Military Analysis Last week Russia concluded its annual international naval salon in St. Petersburg. Below I offer some quick takes on the likely implications for Russian shipbuilding, new classes, modifications to current ship classes, etc. First the shipbuilding illness that Russia's Navy inherited from the USSR, which I call 'distributed classality,' looks set to continue. This is a procurement disease whose symptoms include building numerous ship classes, in small batches, with similar missions and displacement. Project numbers are produced in series of 2-4 ships prior to radically changing the ship design, or launching a new ship class of similar type. The Russian Navy's frigate and especially corvette construction program has honorably continued this tradition. Russia's corvettes and frigates are set to get bigger in order to accommodate larger magazines and more weapon systems. The general direction is heavier corvettes and frigates, with modifications in existing designs and some new 'heavy' variants afoot.
---
---
Revisionism In Russia Praised By PBS – To Inform is to Influence Another pro-Putin piece by PBS. This is an ongoing work by Putin to redefine what it means to be Russia, the heritage, and the composition. Nevermind that much of what he claims to be Russia is not.  Revisionism in Russia is rampant.  The truth does not matter.  </end editorial> Pride, patriotism and how Putin helped…
Russia causing mayhem in cyberspace, says former GCHQ chief Russia's cyber subversion is a threat to Britain's democratic process a former head of GCHQ has warned.
A Trader So Secret They're Only Known by a Number Just Made Over $200 Million in One Month – Bloomberg An unknown cryptocurrency trader turned $55 million of paper wealth into $283 million in just over a month.
---
---
Kostyantyn Honcharov | American "hawk" for Donbas – news about politics | UNIAN Freshly appointed U.S. Special Envoy on Ukraine settlement Kurt Volker wasted no time and took on a visit to Ukraine as part of the delegation led by State Secretary Rex Tillerson, to familiarize himself with the situation on the ground. Obviously the challenges he will be facing differ from those which his predecessor Victoria Nuland had to deal with. Six months after the inauguration of U.S. President Donald J. Trump, the United States resumed the separate communications channel on Donbas. First reports of Kurt Volker's appointment came July 7, on the first day of the G20 summit in Hamburg, the same day when President Trump and his Russian counterpart Vladimir Putin met for their first time on the summit's sidelines. Actually, the latter event totally eclipsed the news on the appointment within the State Department. Although the Trump-Putin meeting should in no way be considered much more important of the news. "As you've acknowledged recently appointed Ambassador Kurt Volker as the special representative on Ukraine, and I appreciate the accommodation you have made that will allow him to spend the next couple of days here becoming much more deeply familiar with the perspective of yourself and other members of your government and the Ukrainian people regarding this very challenging issue [the Donbas conflict]," U.S. Secretary of State Rex Tillerson said at a joint press conference with Ukrainian President Petro Poroshenko in Kyiv. The decision to deploy Mr Volker in the early days of his appointment is no surprise given Washington's high expectations that the new special representative will be aware as soon as possible of the processes taking place within the framework of the Normandy meetings, and will also engage in a dialogue with Russian presidential aide Vladislav Surkov, as Assistant Secretary of State Victoria Nuland did in the Obama administration. However, there is reason to believe that, unlike Nuland, Volker will give out no cookies. No more "cookies" Kurt Volker is a professional and experienced diplomat, former U.S. Permanent Representative to NATO and former head of McCain Institute in Arizona. Experts say Volker is someone who is well versed in U.S. foreign and national security policy, in particular, on the European and Russian lines. According to the political consultant, president of the National Strategies Foundation, Taras Berezovets, several facts from Volker's CV are in favor of this opinion. "He is a professional diplomat who has worked as U.S. Ambassador to NATO, and this is one of the key diplomatic posts, the second most influential, actually, after the U.S. Envoy to the UN Security Council. Recently, he worked as an executive director at John McCain Institute … Tillerson took a man from the wing of the "hawks" of the Republican Party," he said. Political scientist, director of the Institute of Global Strategies Vadym Karasyov shares this opinion. According to the expert, this is a rather good sign that an experienced diplomat with an acclaimed background and knowledge of NATO, military-political, not just diplomatic, issues, has been appointed to such a responsible post. The political scientist believes that, in contrast to Nuland, who would often be deployed to tackle specific challenges and issues, Volker's job will mean a constant consultations process. In other words, the intensity of the contacts will be much higher. And this, in turn, can contribute to a more intensive diplomatic process and, as a result, progress in the implementation of Minsk Agreements, as well as the resolution of the Donbas conflict in general. "Volker's appointment is in the interests of Ukraine. He can get the Minsk wheels off the slip as well as the issue of a diplomatic resolve in Donbas," he says. Besides, Karasyov suggests Volker is someone who will be able to compensate for the underestimation of Russia's role in the Donbas conflict by the U.S. top leadership.Small battles of a big war At the same time, experts note that consultations for the conflict settlement would be impossible without a dialogue with the Russian side. Taras Berezovets recalls that on behalf of Russia the negotiator was and remains the presidential aide, Vladislav Surkov. And Volker, obviously, will have to communicate with him personally. "This will be a very important, yet complicated, dialogue, it is impossible to work with Surkov as he is a world-class scam," the political consultant said. Of course, the very fact of the appointment of the U.S. Special Representative on Ukraine will resume the boost of relations, meaning a more active U.S. engagement in the Donbas conflict settlement. "Moscow is not negotiable, it does not fulfill its obligations, and the arrival of such a soberly thinking diplomat is a signal that real professionals are coming to the State Department," Berezovets is convinced. "When it comes to resolving the situation in the east of Ukraine, he [Volker] expressed some criticism regarding Minsk agreements from the point of view of Ukraine's interests. That's in the sense that in some aspects they fail to take into account the position of Kyiv," says Volodymyr Fesenko, a Ukrainian political analyst and head of Penta Center for Applied Political Studies. "It is important for us that in the negotiation process Volker not give any bonuses and advantages to the Russians, and not get carried away with his game with Surkov, as was the case with Nuland," he said. On the other hand, this is unlikely to mean any significant progress in the implementation of Minsk Agreements. "Everything is stalled by Russia's unwillingness to fulfill its obligations. And the appointment of any U.S. representative will change nothing in this process until Putin decides to withdraw from Donbas or reach some compromise," Berezovets said. Information against provocations Fesenko also notes that Volcker is a negotiator, he is supposed to accept proposals, while leaving important foreign policy decisions to be made by U.S. Secretary of State and the country's President. Indeed, rejoicing in the appointment of a "hawk" for Donbas, it is worth considering that Trump uses the Ukraine issue as a kind of balance in his relations with Russia. At the moment, this is actually working in favor of Kyiv. But Trump wants to reach deals with the Russian Federation. Therefore, tough pro-Ukrainian rhetoric can be compensated by agreements with the Russians on other issues. According to Fesenko, Trump and Tillerson choose priorities slightly different from resolving the Ukrainian-Russian conflict: "The shuttle mission is being restored when the U.S. special representative visits both Kyiv and Moscow. In parallel lines with the Normandy Four negotiations and the Minsk format, Volker will try to speed up the settlement process, seeking options for compromise… But there is no need to get delusional about Washington's possible direct involvement in the negotiating process on Donbas, that is, the U.S. joining the Normandy format. Trump doesn't want that." On the other hand, according to political analyst Taras Chornovil, Volker's subjective anti-Russian stance suggests that Trump's team will be very widely informed about every provocation by the Kremlin. And it is unlikely that the "hawks" will miss the opportunity to take advantage of this information.
Ukraine sees Volker's appointment as positive signal from United States – 11.07.2017 12:35 — Ukrinform News 11.07.2017 12:35. United States Special Representative for Ukraine Kurt Volker is well informed and understands the situation in Ukraine, in particular, in Donbas.Oleksandr Motsyk, a diplomat and a member of the political subgroup at the talks in Minsk, said this live on Radio Liberty on Monday. Therefore, according to him, Volker's appointment is a positive signal for Ukraine from the United States. "We are well acquainted with him. I met him more than once, informed him of the situation in eastern Ukraine and that this is not a 'civil war,' but an external aggression on the part of Russia. And he is very familiar with all the details of the events that are taking place in and around Ukraine. This is a good signal – his appointment to this post," Motsyk said. The diplomat added that the appointment of the former U.S. ambassador to NATO as a special representative for Ukraine was a desire of the U.S. administration to give a new impetus to the negotiation process in Minsk. On July 9, U.S. Secretary of State Rex Tillerson said during his visit to Ukraine that the U.S. side was disappointed with the lack of progress in the Minsk negotiation process. He added that the U.S. side hoped for more active talks after Volker's appointment. Last week, Volker was appointed U.S. special representative for the settlement in eastern Ukraine. The U.S. Department of State reported that Volker would coordinate "all State Department efforts to bring a resolution to the conflict created when Russia invaded Crimea and later eastern Ukraine." Volker's appointment was announced shortly before a meeting between U.S. President Donald Trump and his Russian counterpart Vladimir Putin as part of the G20 summit in Hamburg on July 7.
Tillerson Reassures Ukraine After G20 Trump-Putin Meeting: Analysis – YouTube Yevgeniy Yaroshenko, a political analyst at the International Centre for Policy Studies joins UATV _ Follow UATV English: Facebook: https://www.facebook.com/…
NATO Secretary General address to Parliament of Ukraine, 10 JUL 2017, Part 1/2 – YouTube Speech by NATO Secretary General Jens Stoltenberg to the Ukrainian Rada, 10 July 2017. SUBSCRIBE to this channel http://bit.ly/NATONewsSub…
NATO – Speech by the NATO Secretary General Jens Stoltenberg to the Ukrainian Rada, 10-Jul.-2017 Chairman Parubiy, Members of the Rada, Excellencies, It is really a great pleasure and a great honour to be here today. And I am very happy to be back here in Ukraine, back in Kyiv. And I am deeply honoured to address the Rada today. The first NATO Secretary General ever to do so. And as a member of the Parliament for 25 years myself, I fully recognise and fully understand the importance of parliaments in our modern democracies. As the great Ukrainian poet, Taras Shevchenko, wrote: "It makes great difference to me That evil folk and wicked men Attack our Ukraine, once so free, And rob and plunder it at will. That makes great difference to me." It makes great difference to NATO too. That is why we have stood with your country since you regained your independence. Today, I am joined in Kyiv by all members of the North Atlantic Council. We are here to mark the 20th anniversary of our Distinctive Partnership with Ukraine. Even before we stepped up our cooperation in 2014, we had long been a strong supporter of Ukraine, helping you to strengthen your institutions and armed forces and to implement critical reforms. We are also marking twenty years of Ukraine's strong support to NATO. Ukraine has taken part in NATO missions and operations around the world, even while facing major threats at home. Training officers in Iraq, patrolling ships in the Mediterranean and tackling piracy off the coast of Somalia. Supporting our Resolute Support Mission in Afghanistan and with a heavy engineering unit in Kosovo. So we in NATO are really grateful for you and Ukraine for everything you've done in support of our Alliance, thank you so much. Today we are here to show solidarity with Ukraine and to underline our support for Ukraine's sovereignty and territorial integrity. Russia's annexation of Crimea dealt a terrible blow to Ukraine. It also has serious implications for all the free countries of the world. It was the first time since the end of the Second World War that one European country had annexed part of another by force. It undermined the decades of progress that all nations – including Russia – had made to establish a rules-based international order, where borders are respected and where all nations reject the idea that one country should be beholden to another, within a 'sphere of influence'.
Ukraine's accession to NATO may take 10-12 years – diplomat – LB.ua news portal The NATO umbrella should open eventually over Ukraine but the process of the country's accession to the Alliance may take 10-12 years, the coordinator of the Justice movement, Ambassador Markiyan Lubkivsky stated on the Public Radio on 10 July. "Ukraine's accession to NATO is perhaps the most long-lasting process among the known European countries, a record or an anti-record of a kind. Unfortunately, Ukraine wasted all the chances that it was given on more than one occasion both in the days of Leonid Kuchma and Viktor Yushchenko," he said. "Meanwhile, Croatia and Montenegro, where I once worked as a diplomat, have not lost their chance. The process of accession of these countries into NATO since they received the Membership Action Plan (MAP) took 7 and 9 years, respectively." Ukraine is a victim of Russian aggression, so membership in the North Atlantic Alliance is the issue of our survival and our future, he said. "I do not see any other defence from the aggressor except NATO membership, because Ukraine, for a number of reasons, is incapable of resisting such a powerful country as the Russian Federation. Therefore, the NATO umbrella should be disclosed over Ukraine and this should really be a priority issue for the Ukrainian government," Markiyan Lubkivsky said.
Ukraine Recommits To NATO Membership Over Moscow's Objections : The Two-Way : NPR After a meeting in Kiev between President Petro Poroshenko and NATO's secretary general, the Ukrainian leader pledged reforms aimed at qualifying his country for the western alliance by 2020.
Kremlin: Possible NATO Membership for Ukraine Won't Boost Stability | World News | US News US News is a recognized leader in college, grad school, hospital, mutual fund, and car rankings. Track elected officials, research health conditions, and find news you can use in politics, business, health, and education.
Pledging Reforms by 2020, Ukraine Seeks Route Into NATO | World News | US News US News is a recognized leader in college, grad school, hospital, mutual fund, and car rankings. Track elected officials, research health conditions, and find news you can use in politics, business, health, and education.
Stoltenberg: Ukraine needs move closer to NATO through Comprehensive Assistance Package – 11.07.2017 10:05 — Ukrinform News 11.07.2017 10:05. Ukraine needs move closer to NATO through the substantial Comprehensive Assistance Package.
Ukraine wants membership plan talks, says Poroshenko – BBC News Ukraine's president says the will of the people is to join the alliance, a move opposed by Russia.
Ukraine's NATO Membership Aspirations: 'Defence and Security are Number 1 Priority' – YouTube In June 2017, Ukraine revived its goal of joining NATO by making future membership a foreign policy priority. During a recent visit to Kyiv by NATO Secretary…
OSCE PA adopts resolution defending Ukraine's territorial integrity and condemning Russia's hybrid warfare – To Inform is to Influence 11.07.2017 In a document adopted at its annual meeting in Minsk, the Parliamentary Assembly of the Organization for Security and Cooperation in Europe has urged the Russian Federation to free all Ukrainian political prisoners and to stop sponsoring terrorist activities in Ukraine by sending militants, money and weapons across the uncontrolled section of the Ukraine-Russia border. The…
EU Formally Approves Ukraine Association Agreement BRUSSELS — The European Union's 28 member states on July 11 formally endorsed the EU-Ukraine Association Agreement. This is the final step in the ratification process, and the deal will ente…
EU finally ratifies Association Agreement with Ukraine – 11.07.2017 13:13 — Ukrinform News 11.07.2017 13:13. The European Union has finalized the procedure for ratifying the Association Agreement with Ukraine.
Tusk, Junker and Mogherini to attend Ukraine-EU summit in Kyiv – LB.ua news portal President of the European Council Donald Tusk, President of the European Commission Jean-Claude Juncker and EU High Representative for Foreign Affairs and Security Policy Federica Mogherini will attend the 19th EU-Ukraine Summit on July 12–13 in Kyiv. Vice-president of the European Commission Valdis Dombrovskis and EU commissioners Johannes Khan and Cecilia Malmström will also take part in the summit. The Ukrainian side will be headed by President Petro Poroshenko. "During the summit, the leaders of EU states and institutions will note the completion of the process of ratifying the Association Agreement and the recent entry into force of the visa-free regime for Ukrainian citizens. These are concrete results and important steps in deepening the partnership between the EU and Ukraine," EU representative office in Ukraine said. Also on the agenda will be the issues related to the conflict and crisis in the east of Ukraine, as well as regional and foreign policy issues. The adoption of a joint statement at the end of the summit has been in jeopardy because of the position of the Netherlands.
52% of Ukrainians favour rapprochement with EU – LB.ua news portal 52% of Ukrainians favour rapprochement with EU. Every tenth wants to integrate into the Russia's Customs Union. Main – LB.ua news portal. Latest from Ukraine and the world today

Blue is EU oriented, Orange Russian CSTO, Yellow -Difficult to answer, Grey neither.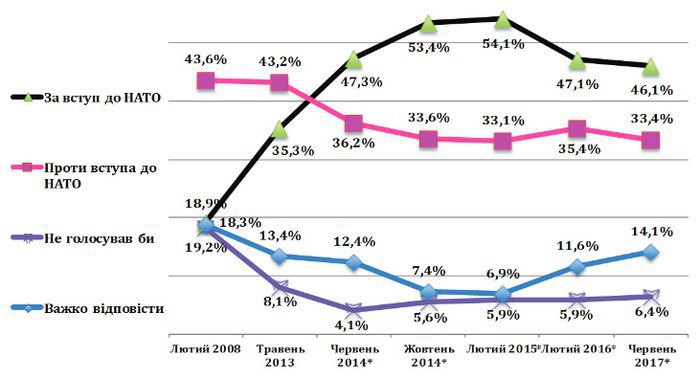 Black – pro-NATO, Magenta – anti-NATO, Blue – Difficult to answer, Purple – No opinion

UAWire – Chairman of the Ukrainian Parliament: Russia should be deprived of its veto right on Ukrainian issues in the UN Chairman of Verkhovna Rada Andriy Parubiy said that it is necessary to deprive the Russian delegation to the UN Security Council of the right of …
---
Death toll rises in Donbas as Russian aggression continues Within the past 24 hours Russian-backed militants violated ceasefire 22 times, according to a report by the press center of the ATO Headquarters as of 06:00 Kyiv time on July 11. At about 19:00 on Monday, July 10, a Ukrainian soldier was killed in a landmine explosion outside Stanytsia Luhanska. Enemy provocations were recorded into the late hours of Monday and overnight Tuesday. The greatest number of shellings was reported in the direction of Mariupol direction where the Ukrainian positions were attacked 12 times. After 18:00, militants fired propelled grenades at Novomikhailivka and Berezovyi. About 22:00, Shyrokine was fired at from large-caliber machine guns and arms installed on infantry fighting vehicles. Also, enemy machine guns engaged in the direction of Talakivka and Maryinka. Responding to provocations, the Ukrainian troops mainly returned fire using large-caliber machine guns. Read also ATO report: number, intensity of enemy attacks almost doubles On the Luhansk line, in the late hours Monday and overnight Tuesday, the enemy fired 82mm mortars at the villages of Malynove and Katerynivka. Provocative fire from large-caliber machine guns was also reported against Ukraine's positions in Novotoshkivske and Novozvannivka. In the Donetsk direction, illegal armed groups fired grenade launchers, large-caliber machine guns and small arms on Avdiyivka from the area of Yasinovata around 18:00 and 22:00.
IS: special forces of the Russian GRU have become active in the Donbass. The invaders are particularly active in the coastal area and along the Severnaya Donets River. According to the operative data of the "Information Resistance" group, there is a sharp activation of enemy sabotage and reconnaissance groups at certain sites, including regular DRGs of the Special Forces of the GRU GSH RF Armed Forces. Apparently, at once in several sectors the command of the invaders "rolls" the "fresh" DRG from servicemen of units and subdivisions of the Russian Armed Forces Spin-fighting Forces, especially actively – in the seaside direction and along the Seversky Donets River. "The use of such DRGs -" traditionally "with observance of all camouflage and disinformation measures: the servicemen of the RF Armed Forces are disguised as" uniform "military uniforms (sometimes they bear the" insignia "of the formations" 1st AK DNR "and" 2nd AK LNR ", there are punctures – strips and chevrons of already disbanded or destroyed formations are being sewn), contacts with the local population and representatives of other occupation groups are minimized, autonomous material and technical systems are organized S supply, "the IP said.
Russia trying to oust OSCE monitors from Ukrainian territory – Poroshenko President of Ukraine Petro Poroshenko says Russia is doing everything possible to make the OSCE Special Monitoring Mission (SMM) to Ukraine leave the territory of Ukraine. "We do not accept Russia's attempts to create extremely dangerous security conditions for the OSCE Special Monitoring Mission, trying to create the condition [for them] to leave the occupied territory. No, we do not accept that," Poroshenko said at a joint press conference with NATO Secretary General Jens Stoltenberg in Kyiv on Monday. According to him, the work of the OSCE monitors is important in the context of providing objective and independent information about the situation and should be done 24/7. "I am absolutely confident that our efforts and the results reached at the G20 summit for the next phone conversation and a possible summit in the Normandy format will give a very careful optimism about progress in the next months," the president said.
Russian Military Says Fighter Detained In Ukraine Was Discharged In 2016 The Russian military has denied that a Russian man who was detained by government forces in eastern Ukraine in June is an active-duty serviceman.
Moscow disowns contracted serviceman Ageyev – News about politics | UNIAN The Russian Ministry of Defense has dismissed as "lies" claims that Russian citizen Viktor Ageyev, who was captured by the Ukrainian forces in Luhansk region, was in fact a contracted serviceman on active duty in the Russian armed forces, that's despite Ageyev's own confession, Radio Svoboda reports referring to the press service of Russia's Southern Military District. News 11 July from UNIAN.
"Givi" and "Motorola's" Friend: the border guards told the details of the detention of Russian colonel Border guards confirmed the arrest of Russian Colonel Gratov / facebook.com/andriy.tsaplienko Border guards confirmed the detention of Russian Colonel Gratov / facebook.com/andriy.tsaplienko Border guards detained a Russian colonel who was a friend of terrorists "Givi" and Motorola. The assistant to the chairman of the State Border Service, spokesman for the department Oleg Slobodyan said today in Facebook. According to his information, the man was detained in early June. "Around midnight, a citizen of Ukraine Valery G. Voitenko, 54, who submitted a citizen's passport of a citizen of Ukraine for inspection, arrived to leave Ukraine. During the control of the second line, the senior shift of border patrols had doubts about the purpose of the trip of the citizen (he provided a telegram with the PMR about his mother's grave state of health and was confused with the data of his passport). For a detailed survey of a suspicious citizen, the officers of the operational divisions of the State Border Service arrived at the checkpoint, "Slobodyan wrote. Operatives offered the man to show the contents of pockets and luggage. "A little resisting, the latter took everything out of his pockets mobile phone (slider), which contained photographs of separatist rallies, money, bus tickets," added Slobodyan.  According to him, as a result of a detailed inspection of things in the jacket of a man, an internal secret pocket was found, from which a sheet of paper with setting data And telephones of the first persons of the PMR and people from the Russian Federation, the Order "Red Star", smartphone, flash media (they found pictures of the detained with terrorists "Motorola", "Givi", Zakharchenko, video of shelling Ukrainian territory; "DNR" and "LC"; photo from the field of combat operations from Debaltsevo, Donetsk airport, Gorlovka, snowy, brandishing documents official documents with his signature; methodological materials for conducting reconnaissance and sabotage activities and lots of other interesting information). Later it was possible to establish the true identity of the detainee. They turned out to be Colonel of the Russian Federation Gratov Valery, 52, whom Russian special services planned to make "Deputy Minister of State Security of the PMR." Previously, journalist Andrei Tsaplienko reported that counterintelligence of the Security Service conducted a special operation and detained a friend of "Motorola", "Givi" and Zakharchenko.
PGO: 84 foreigners, incl. 64 Russians, charged with war crimes in Ukraine The Prosecutor General's Office (PGO) of Ukraine has been conducting pretrial investigations as part of criminal proceedings against foreign citizens on charges of waging an aggressive war against Ukraine, and 84 foreigners have already been charged with committing crimes against national security and territorial integrity, 64 of them are Russian citizens, according to the PGO press service. News 10 July from UNIAN.
84 foreign mercenaries from Russia and other countries held in Ukrainian prisons after fighting in Donbas 11.07.17 11:18 – 84 foreign mercenaries from Russia and other countries held in Ukrainian prisons after fighting in Donbas 64 of them are citizens of Russia. These former Donbas war fighters have been charged with crimes against national security of Ukraine. View news.
Carney and Hue City Enter Black Sea, Arrive Odessa – To Inform is to Influence The United States, through its military, is following President Trumps' words with action in this show of support to Ukraine. </end editorial> News Release Headquarters, United States European Command Media Operations Division Unit 30400, Box 1000, APO, AE  09128 Tel: +49 (0)711 680-6868/6618 E-mail:  eucom.media@mail.mil Release: 17-51 July 10, 2017   Carney and Hue City Enter Black Sea, Arrive Odessa, Ukraine Ships…
US sends warships & SEALs to stage huge operation off Ukraine coast | World | News | Express.co.uk US WARSHIPS and a team of elite Navy Seals have arrived in the Black Sea to embark on an international 12-day war games near Ukraine.
U.S. deploys warships, Navy Seals for massive drills off Ukraine coast – media U.S. warships and a team of elite Navy Seals have arrived in the Black Sea to embark on international 12-day war games in Ukraine, The Express reports. News 11 July from UNIAN.
Russia threatens to retaliate against Ukraine's entry rules for Russians Moscow will take measures in response to tightening by the Kyiv government of the border crossing regulations for Russian citizens, "which can be considered a visa regime," first deputy head of the Defense and Security Committee of the Council of Federation Franz Klintsevich said Monday, RIA Novosti reports. "The introduction of a system of preliminary electronic registration for Russian citizens entering Ukraine, or the so-called biometric control is, in fact, the establishment of a visa regime between our countries, and its 'packaging' is of no fundamental difference," Klintsevich said. He stressed that, judging by the latest statements, Kyiv has already decided on the introduction of such measures, and therefore Russia's "duty is to warn that reciprocal steps will necessarily follow." "It's very difficult to talk about, but they can to some extent affect four million Ukrainians working in Russia," the Russian legislator said. Read also Turchynov: Russian citizens will have to register before entering Ukraine Klintsevich did not rule out that some of them "will politely be asked to leave the Russian Federation." "Russia must first of all defend the interests of its citizens," the official concluded. Read also Ukraine to introduce biometric passport control for foreigners by 2018 As Secretary of the National Security and Defense Council Oleksandr Turchynov said on July 10, Russians will be required to pre-register during their trips to Ukraine.
NSDC launches compulsory registration for Russians on Ukrainian territory – 11.07.2017 11:20 — Ukrinform News 11.07.2017 11:20. Russian citizens who are in Ukraine will have to undergo compulsory registration at the place of their temporary stay, and they will also have to information on their movement through Ukrainian territory.
Ukraine to introduce biometric control for foreign citizens crossing its state border, – Poroshenko at NSDC meeting 11.07.17 09:39 – Ukraine to introduce biometric control for foreign citizens crossing its state border, – Poroshenko at NSDC meeting Ukraine's National Security and Defense Council chaired by President Petro Poroshenko considered yesterday the issue of enhanced control over Ukraine state border crossing. View news.
Ryanair Cancels Plans To Start Flights To Ukraine Irish low-cost airline Ryanair has canceled plans to start flying to destinations in Ukraine, saying the main airport in the capital, Kyiv, had not honored terms agreed earlier this year. …
---
Russia / Iran / Syria / Iraq / OEF Reports
---
Mosul Back in Iraqi Hands, But Still 'Tough Fight Ahead' | Foreign Policy As airstrikes continue to shake the ground and small, sharp firefights pulse between Iraqi forces and the few dozen remaining Islamic State holdouts in a shrinking pocket of west Mosul, Iraqi Prime Minister Haider al-Abadi declared victory on Monday. Wearing the black uniform of the U.S.-trained Counter-Terrorism Service — which spearheaded much of the fighting in Mosul — Abadi announced "the end and the failure and the collapse of the terrorist state of falsehood" in the city where ISIS leader Abu Bakr al-Baghdadi just three years ago proclaimed a new caliphate. The historic al-Nuri Mosque, where Baghdadi made his July 2014 proclamation, is now a pile of rubble, destroyed by his fighters as Iraqi forces pressed closer in recent days. Much of the western half of Mosul is in ruins, the product of weeks of house-by-house fighting and hundreds of U.S. airstrikes that dropped bridges and flattened apartment blocks.
Tillerson Praises Turks For Standing Up To Coup Plotters, Delivers Blunt Message To Russia On Ukraine U.S. Secretary of State Rex Tillerson, arriving in Istanbul after a trip to Ukraine, praised the courage of the Turkish people who "defended their democracy" by standing up against cou…
Russia Hopes To Build On Success Of Truce Brokered With U.S. In Syria: Lavrov Russia will build on the success of a cease-fire in southwest Syria and seek further opportunities to cooperate with the United States in resolving the Syrian conflict, Russian Foreign Minister Serge…
As Mosul battle neared end, anti-ISIS airstrikes reached new peak As the battle for Mosul entered its final stage and the Raqqa battle heated up, the number of weapons released by coalition aircraft against the Islamic State last month reached new records.
Maliki salutes Iranian 'martyrs' in liberation of Mosul from ISI ERBIL, Kurdistan Region – Former Iraqi Prime Minister Nouri al-Maliki thanked the Iran for its "martyrs" to liberate Mosul from ISIS militants and praised the Islamic Republic for its arms, supplies and advice to the Iraqi armed forces during the nine-month long offensive. "We thank all those who … stood with Iraq in the face of the most severe terrorist attack," Shiite strongman Maliki said in a Facebook post on Tuesday, "first and foremost the Islamic Republic of Iran." The current Vice President also praised Iran for supplying advice and arms to Iraqi forces. He also sent his "salute to their martyrs" who mixed their "blood with the blood of their Iraqi brothers." Maliki, who stills wields immense power through the Dawa Party and State of Law Coalition, also thanked the US-led global anti-ISIS coalition forces who "supported our military effort." He urged that the war against terror must be "a global war." Surrounded by Iraqi and Kurdish Peshmerga military commanders on Monday evening, Abadi declared "the end, the collapse, and the failure of the false terror state of ISIS." ISIS militants controlled Mosul from June 10, 2014, until July 10, 2017. ISIS militants were at the gates of Baghdad in the summer of 2014 and controlled Iraq's second-largest city of Mosul. Iraq's highest Shiite cleric Ayatollah Ali Sistani issued a fatwa in June 2014 calling on all able-bodied men to take up arms against ISIS leading to the formation of the Hashd al-Shaabi. Maliki's term as Prime Minister of Iraq ended in September of 2014, when he was replaced by Haider al-Abadi. The Shiite-led Hashd were formally brought under the command of the Iraqi armed forces by vote of parliament in December 2016. They played a deciding role retaking areas surrounding the city of Mosul from ISIS. The Kurdish Peshmerga also halted ISIS advances in northern Iraq in 2014 and played a key role in the Mosul offensive by punching through ISIS lines west of the city and controlling outlying areas.
Rex Tillerson: Qatari position in Gulf row 'reasonable' | Qatar News | Al Jazeera US secretary of state, while visiting Doha, says Qatar's views in Gulf crisis have been clear and 'very reasonable'.
Tillerson arrives in Kuwait as part of shuttle diplomacy to ease Qatar crisis – The Washington Post The secretary of state is trying to mediate amid an impasse in negotiations among Qatar and the Arab nations allied against it.
Trump Aides Recruited Businessmen to Devise Options for Afghanistan – NYTimes.com WASHINGTON — President Trump's advisers recruited two businessmen who profited from military contracting to devise alternatives to the Pentagon's plan to send thousands of additional troops to Afghanistan, reflecting the Trump administration's struggle to define its strategy for dealing with a war now 16 years old. Erik D. Prince, a founder of the private security firm Blackwater Worldwide, and Stephen A. Feinberg, a billionaire financier who owns the giant military contractor DynCorp International, have developed proposals to rely on contractors instead of American troops in Afghanistan at the behest of Stephen K. Bannon, Mr. Trump's chief strategist, and Jared Kushner, his senior adviser and son-in-law, according to people briefed on the conversations.
U.S. Soldier Arrested in Hawaii, Accused of Trying to Support ISIS – NBC News The active-duty soldier was arrested Saturday and accused of trying to provide military documents and training to ISIS, according to court documents.
FBI: US soldier pledged allegiance to Islamic State group HONOLULU (AP) — An active duty soldier based in Hawaii pledged his allegiance to the Islamic State group, helped purchase a drone for it to use against American forces and said he
---
---
Don't hold us responsible for solving N. Korea, China says – The Washington Post China says it shouldn't be held responsible for resolving the North Korean nuclear standoff alone and is accusing other countries of shirking their responsibilities in the effort to reduce tensions.
China Says 'China Responsibility Theory' on North Korea Has to Stop | World News | US News US News is a recognized leader in college, grad school, hospital, mutual fund, and car rankings. Track elected officials, research health conditions, and find news you can use in politics, business, health, and education.
The Uneasy Partnership Between North Korea And China : NPR China "continues to walk on eggshells" when it comes to North Korea, says historian Jonathan Pollack. NPR's Rachel Martin asks Pollack about about North Korea's fraught relationship with its neighbor.
U.S. Prepares to Act Alone Against North Korea – WSJ The Trump administration is moving toward unilaterally tightening sanctions on North Korea, targeting Chinese companies and banks Washington says are funneling cash into Pyongyang's weapons program.
US successfully tests THAAD missile defense system – CNNPolitics.com A United States-built missile defense system successfully intercepted its target during a test run Tuesday, the US Missile Defense Agency said in a news release.
North Korea Missile Program: Who Is the ICBM Expert Promoted and Hailed As Hero by Kim Jong Un After Successful Test? Jang Chang Ha was elevated by the North Korean leader from Lieutenant General to Colonel General.
North Korea missile not fully operational, South Korean intelligence says – CNN.com Despite its long range, the North Korean missile fired on July 4 is not capable of a key process that would allow a nuclear weapon atop the projectile to hit its target, South Korea's intelligence service told lawmakers Tuesday.
North Korea yet to master re-entry technology for ICBM: NIS North Korea has yet to master re-entry technology for its recently tested intercontinental ballistic missile, though it has been making "faster-than-expected" progress, Seoul's spy agency said Tuesday. At a closed-door parliamentary briefing, the National Intelligence Service assessed the launch on July 4 as an "initial-level" flight test using a fixed launcher, instead of a road-mobile system set for actual deployment, lawmakers said.Although the North is progressing faster than expected, it is likely to still be working on the re-entry technology, the agency said. The assessment runs contrary to Pyongyang's assertion that it had verified the reliability of late-stage guidance and heat resistance for a nuclear warhead under the maximum hostile re-entry conditions. "It has not been confirmed whether it succeeded in re-entry, and given that it does not have a related testing facility, it appears to have not yet secured the technology," Rep. Yi Wan-young of the Liberty Korea Party told reporters after the session. "Despite North Korea's claim, the late-stage guidance technology, which is used to get the missile to precisely hit the target, is not yet fully developed because you would have to have the re-entry technology first."
How a North Korean Missile Could Accidentally Trigger a U.S.-Russia Nuclear War America's missile defense system could knock a North Korean ICBM out of the sky—and potentially start World War III.
China bans VPNs to further tighten internet controls says report China's government is tightening its reins on internet control by baring the usage of VPN, says report.
China trial paves way for 'unhackable' communications network Success of Jinan project points to commercial application for quantum communications
Sikkim border dispute: Indian Army deploys 2,500 more soldiers to site while China hints at Kashmir unrest The Sikkim border dispute between India and China is showing no signs of letting up.
In A Remote Himalayan Corner, Tensions Rise Between India And China : Parallels : NPR The area in dispute is a plateau where three countries — Bhutan, India, and China — converge. India and China have a complicated history of boundary disputes and fought a 1962 war near this stretch.
India, China can handle border differences: India's foreign secretary India and China can manage the differences that are likely to arise from time to time over their contested border, India's Foreign Secretary S. Jaishankar said on Tuesday, commenting on recent tension sparked by Chinese road-building.
Malabar Naval Exercise: Wary China calls war games a 'security concern' as India, US and Japan come closer The three-nation Malabar Naval Exercise involving India, Japan and the United States maritime forces began in the Bay of Bengal on Monday.
India, U.S. and Japan Begin War Games, and China Hears a Message – The New York Times The Indian Navy also announced a plan to station warships to monitor movement through the Strait of Malacca, where many Chinese vessels enter from the South China Sea.
America's Secret Plot to Nuke Japan's Fleet | The National Interest Blog The Pacific atoll once known as Truk might have been the atomic bomb's first target
---
---
Benjamin Netanyahu accused of supporting antisemites over Soros campaign – Israel News – Jerusalem Post Meretz chief Zehava Gal-On accused the prime minister of furthering antisemitism when his foreign ministry criticized Soros.
Hungary vilifies financier Soros with crude poster campaign – BBC News The government spends €19m on posters attacking George Soros but denies it is anti-Semitic.
Spyware Sold to Mexican Government Was Used to Target Experts Investigating Missing Students | Foreign Policy Revelations that the Mexican government has been using spyware intended to track terrorists to instead target journalists, opposition politicians, activists, and others escalated Monday when a report disclosed evidence the tools had also been aimed at international officials investigating the high-profile 2014 disappearance of 43 students. The surveillance technology used appears to be Pegasus, a software created by the NSO Group, an Israeli arms manufacturer. It uses phishing links to hijack smartphones — once a device is infected, the software can monitor a person's every move through access to phone calls, emails, and texts, rendering encryption useless. It also can take over the phone's microphone and camera to record conversations and surroundings.
Don Thieme | The Historical Resonance of Trump's Speech in Poland – War on the Rocks There is an old saying in Poland, that the country represents the walls of Christianity. Certainly Jan Sobieski III met this standard in 1683, defeating th
---
---
White House Seeks Changes In Senate's Russian Sanctions Bill The White House is seeking to change a Senate bill imposing tough new sanctions on Russia so it doesn't constrain the president's authority to impose or waive sanctions, a top White Hous…
White House criticizes Russia sanctions stalled in House – The Washington Post A new package of economic sanctions on Russia and Iran unacceptably constrains the president's authority, the White House said Monday as Democrats complained that the Trump administration was trying to weaken the penalties.
U.S. Administration supports new Russia sanctions – media White House backs the introduction of new economic sanctions against Russia and Iran, at the same time claiming that the corresponding bill constrains unacceptably presidential powers, according to The Washington Post. News 11 July from UNIAN.
Trump's Trolls Are Waging War on America's Civil Servants | Foreign Policy On June 11, alt-right blogger Mike Cernovich published an article attacking an assistant to National Security Advisor H.R. McMaster, claiming the previously low-profile civil servant wanted to "sabotage" President Donald Trump. The piece described Eric Ciaramella as "pro-Ukraine and anti-Russia" and alleged, with no evidence, that he was possibly responsible for high-level leaks. The response to the piece included online threats of violence against Ciaramella, which contributed to his decision to leave his job at the National Security Council a few weeks early, according to two sources familiar with the situation. Although the harassment was not the only factor, one of the two sources said they "distinctly got the impression" that the departure was premature, partially because of "right-wing" harassment. Ciaramella is not alone. Cernovich, who claims his Twitter feed receives over 100 million views every month, has been relentless in his criticism of McMaster and those around him. Cernovich's writings and tweets have included false information, but sometimes they include details that only someone on the inside could know. For example, his tweets about Ciaramella were so specific that they documented meetings and lunches the NSC staffer had with certain people.
Report Claims Trump's Son Was Told Kremlin Provided Damaging Information About Clinton Donald Trump Jr. was told that the Russian government was the source of information damaging to former Democratic presidential candidate Hillary Clinton before meeting with a Russian lawyer about it…
Russian Lawyer Raised Alarm Bells In U.S. Before Meeting Trump's Son  Prior to her controversial meeting with U.S. President Donald Trump's son, Russian lawyer Natalya Veselnitskaya drew the attention and ire of American officials over her alleged lobbying agains…
An absolutely damning paragraph about Donald Trump Jr.'s Russia meeting – CNNPolitics.com This paragraph, from The New York Times' latest scoop on a meeting between Donald Trump Jr. and a Russian lawyer, is completely and totally damning:
The Daily 202: Email to Donald Trump Jr. could be a smoking gun, as Russia connections deepen – The Washington Post One degree of separation to the Kremlin.
Trump Admires Putin, But He Doesn't Understand Him – POLITICO Magazine American presidents have been getting Russia wrong for years. But Friday's fiasco was different.
It's more obvious than ever: Trump doesn't care a whit about the national interest – LA Times The reason Trump ignores a real scandal (Russia) and pursues a phony one (voter fraud) is simple: Self-interest.
Sharp Partisan Divisions in Views of National Institutions | Pew Research Center Republicans and Democrats offer starkly different assessments of the impact of several of the nation's leading institutions – including the news media, col
In dramatic shift, most Republicans now say colleges have negative impact In dramatic shift, more than half of Republicans now say colleges have a negative impact on the U.S., with wealthier, older and more educated Republicans being least positive.
---
A Fictional Story of PTSD That is All Too Real – Modern War Institute Recognizing that PTSD has become an integral part of the fabric of our military culture, Luft created something unique that will strike a chord with readers, both military and civilian. By leveraging fiction to tell the story of Hugh Dégaré, he embraces a literary freedom that allows for a much more vivid and edgy tale, adding a sense of realism that can prove elusive even in nonfiction works. Personalizing the issue through the trauma of Dégaré bring the story to life with a sense of tragedy that is as difficult to read as it is to forget. The pain, suffering, and helplessness consuming Dégaré seem all too real, all too familiar. The Battle Within is nothing short of phenomenal: a book that will keep readers engaged from cover to cover, and leave them thinking long after turning the final page. The book itself is not a long read, but a necessary one. The Battle Within is the kind of book that sparks a professional dialog that we all need to have.