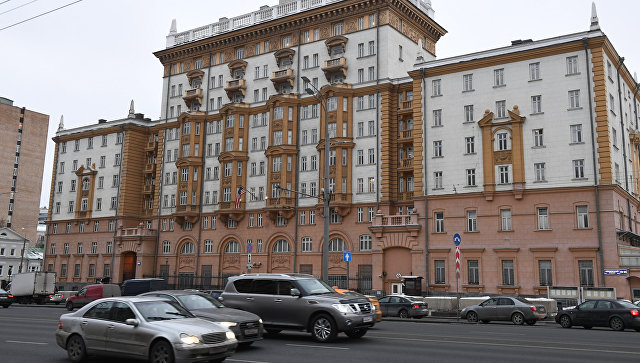 Apparently, Moscow feels the need to increase tensions between themselves and the US, after the G20 summit. 
Perhaps Moscow does not feel they won and they must now retaliate for actions taken by President Obama in December 2016. 
</end editorial>
---
---
07/11/2017
MOSCOW, July 11 – RIA Novosti. Moscow plans to send some 30 US diplomats and seize several pieces of United States property in Russia, wrote on Tuesday the newspaper "Izvestia" referring to an informed source in the Russian Foreign Ministry.
According to the publication, such measures the Russian side has pushed Washington's decision not to return the embassy property in custody since December 2016. This issue also remains unresolved following the last meeting of the first Russian President Vladimir Putin and US President Donald Trump.
"Izvestia" wrote that after the talks between the two leaders at the G20 summit, where dipsobstvennosti topic was also raised, it became clear that the United States failed to provide any plan to resolve the current crisis. Under these conditions, the newspaper sources, the Russian Federation had to answer a mirror – to send the order of 30 working in the Russian American diplomats and impose retaliatory sanctions against US property in the Russian Federation. At the same time in Moscow say that would not want to take such measures, but left unanswered the hostile US actions also can not, the newspaper said.
"There is a preliminary agreement to hold the meeting in St. Petersburg, Russian Deputy Foreign Minister Sergei Ryabkov and First Deputy State Secretary of the USA Thomas Shannon. If a compromise is not found, we will have to take such measures." – said "News" the situation representative of the Russian Foreign Ministry.
Earlier, another source of "Izvestia" in Russian diplomatic circles noted that, as a mirror of measures under arrest can get US-owned dacha in Serebryany Bor and a warehouse in Moscow, while the US Ambassador's residence at Spaso House and ambassadorial Anglo-American school in St. .Petersburg will not be affected.
US President Barack Obama at the end of December 2016 adopted a package of anti-Russian sanctions because of "interference in the elections" and "pressure on US diplomats" working in Russia. Among other things, the United States shut down access to the two residential complexes – the so-called rustic "dachas" Russia's permanent mission in New York and the Russian Embassy in Washington, who are Russian diplomatic property. Russian presidential aide Yuri Ushakov, commenting on the arrest of Russian property in the US, said that Moscow considers the internal difficulties of US President Donald Trump, but with no response it will not leave if Washington does not do anything.
Source: https://ria.ru/politics/20170711/1498249867.html