Anonymous expert compilation, analysis, and reporting.
</end editorial>
---
---
Much of the MSM treatment of the POTUS-Putin meeting is of abysmal quality, if not speculative bunk, or simple T3 (Ed. Note: Toxic Trump Trolling, also TTT or T3 ). This was to be expected. Notably, the Russians have been spinning the meeting every which way, and contradicting SECSTATE on multiple points – this indicates the meeting did not go in the manner the Russians intended, and they are trying to milk it any which way they can so as not to appear to have failed to assert Russian dominance for the eager domestic audience. Interpretations of the footage and photos fail mostly fail to observe that Putin was presenting his best PR bluster, and that is very different to his demeanor during the 2014-2015 Minsk meetings, where he held the upper hand and played the gullible Hollande and Merkel for what it was worth. Two hours of discussion is sufficient to get a good mutual calibration, and the assessment of some observers that the broken trust relationship persists appears correct. Hopefully, Putin has formed an accurate assessment and now understands that playing this Administration in the manner of the previous Administration is not a smart play.
Included are some of the more thoughtful commentaries on the Warsaw speech, and some of its ramifications.
Russia's internal meltdown continues. A very wicked little essay by Stirewalt, noting that Russia separated from the "West" during the period of its vassalhood to the Mongol-Tartar Horde, and despite repeated opportunities to rejoin the West, has persisted in maintaining the delusion that it is the inheritor of the Byzantine and Roman Empires, and the true defender of the West's civilizational roots, despite its rejection of most of the cultural practices and values that define the West. Until Russians collectively become enlightened with the understanding that Ivan IV's delusion was and remains a delusion, they may indeed remain beyond help. Nice commentary by Harding on Finland and NATO. Corruption in the ROC becoming an issue.
Brantly et al essay the best today on IW/IO/Cyber, covering all three in parts.
In Ukraine, Donbass fires continue, while MSM are mostly preoccupied with G20 events, and the upcoming NATO visit. Russian false flag attack on Polish Consulate interdicted, and 29 rent-a-crowd players arrested. Yanukovych releases propaganda speech, and also says he would like to see Crimea returned, curious as he facilitated its capture.
ISIS collapse continues, photoessays of civilians are truly heartbreaking. In the UK, new report points to Saudi funding of Islamists, which is hot news on Qatar's Al Jazeera.
SECSTATE warns on DPRK, while USAF Bones exercise over the RoK. More on the Hwasong-14. China tirade over Bone flights through the South China Sea, while the Liaoning CV visits HK. A poorly informed if not naive debate on BMD starts in Canberra.
UN anti-nuclear vote producing major MSM coverage.
US domestic debate remains toxic.


---
---
U.S., Russia Offer Differing Explanations On Trump-Putin Talks HAMBURG, Germany — Russia and the United States are taking pains to describe the much-anticipated talks between U.S. President Donald Trump and Russian President Vladimir Putin as "constructive…
Trump, Putin Hold Extensive First Talks On Sidelines Of G20 U.S. President Donald Trump and Russian President Vladimir Putin held their first face-to-face meeting on the sidelines of the G20 summit in Hamburg, Germany. Their discussion came amid a deepening rift between the countries over the conflicts in Syria and Ukraine, as well as alleged Russian meddling in the U.S. presidential election. (AP, Reuters)
News Analysis: Beyond The Trump-Putin Handshake While all meetings between leaders from Moscow and Washington are weighted by history, military might, and competing visions of world order, it wouldn't be an understatement to call the July …
Tillerson: Trump and Putin had 'positive chemistry' | TheHill President Trump and Russian President Vladimir Putin had "positive chemistry" and "connected very quickly" in their first-ever face-to-face meeting in Germany on Friday, Secretary of State Rex Tillerson said. The meeting was scheduled to last for 30 minutes but went on for more than two hours, Tillerson said, because "there was just such a level of engagement and exchange that neither one of them wanted to stop." At one point, Tillerson described how first lady Melania Trump stuck her head in the door "to see if she could get us out of there."
TILLERSON: Trump 'pressed' Putin on Russian election meddling | Business Insider US Secretary of State Rex Tillerson said Friday…
Rex Tillerson says Trump's meeting with Putin took so long, the First Lady was called in to 'get us out of there' | Business Insider US Secretary of State Rex Tillerson said…
Lavrov gives Moscow's version of Trump-Putin talks | Fox News While Secretary of State Rex Tillerson emerged from the sit-down between President Trump and Vladimir Putin claiming the U.S. president confronted the Russian leader on election meddling, it didn't take long for Tillerson's counterpart to provide Moscow's version of events.
Reading Putin in Hamburg – The American Interest Putin is no businessman, ready to make a good deal. He is a manipulator, through and through.
Trump and Putin have 'robust' talk about election interference – POLITICO Secretary of State Tillerson says Putin again denied that Russia meddled in last year's election.
Trump totally changed his tune on Russian hacking today. Why? – CNNPolitics.com The first thing President Donald Trump raised with Russian President Vladimir Putin in their meeting Friday at the G20 in Germany was Russia's interference in the 2016 election.
Krauthammer: 'KGB Agent,' 'Liar' Putin Would Never Admit to Election Meddling | Fox News Insider Charles Krauthammer said Russian President Vladimir Putin is a "KGB agent" and a "liar," and would never admit to meddling in the U.S. presidential election.
Trump and Putin find chemistry, draw criticism in first meeting | Reuters In a meeting that ran longer than either side had planned, U.S. President Donald Trump and Russia's Vladimir Putin discussed alleged Russian meddling in the U.S. election on Friday but agreed to focus on better ties rather than litigating the past.
The Russian-American relationship is no longer about Russia or America – The Washington Post It's about Putin and Trump.
Trump, Putin Talk Ukraine During 2-Hour Marathon Meeting – YouTube US President Donald Trump has finally had his first formal sit-down conversation with Russian President Vladimir Putin. _ Follow UATV English: Facebook: http…
5 Takeaways From the 'Very Robust,' 2-Hour Meeting Between Trump and Putin | Foreign Policy 5 Takeaways From the 'Very Robust,' 2-Hour Meeting Between Trump and Putin « | Foreign Policy | the Global Magazine of News and Ideas
Putin 1, Trump 0 – Vox At their first meeting, Trump bought Putin's lies about Russian election meddling.
Putin Adviser: He's a 'More Powerful Alpha Male Than Trump' From the Kremlin leader's record as a KGB agent to his body language in Hamburg the signs were there, in Russian eyes, that Trump is his baby.
Putin set a trap and Trump fell into it (Opinion) – CNN.com Jen Psaki says a lack of preparation and focus by the American side allowed the Russians to score an easy victory when the presidents met.
Trump Handed Putin a Stunning Victory – POLITICO Magazine From his speech in Poland to his two-hour summit in Hamburg, the president seemed determined to promote Russia's dark and illiberal view of the world.
Trump Caves to Putin | The Weekly Standard If Secretary of State Rex Tillerson's readout of Donald Trump's meeting with Vladimir Putin is a preview of the Trump administration's approach to Russia, it's going to be a rough three and a half years. In a diplomatic depantsing that will have repercussions far beyond Russia, Tillerson's comments did more to further Russia's interests than Russian propaganda outlets could have possibly hoped to accomplish themselves. Tillerson told reporters that Trump and Putin "acknowledged the challenges of cyber threats and interference in the democratic processes of the United States and other countries." Well then. Vladimir Putin acknowledged generic "challenges" of unspecified "cyber threats" related to U.S. elections and those in other countries? Who cares? What Putin wouldn't acknowledge was far more important: The Russians were the source of the cyber threats.
Experts: Trump Made a Significant Mistake in his G-20 Meeting With Putin | Politics | US News High-level meetings between heads of state usually have a procedure to prevent misunderstanding, experts say. That didn't happen here.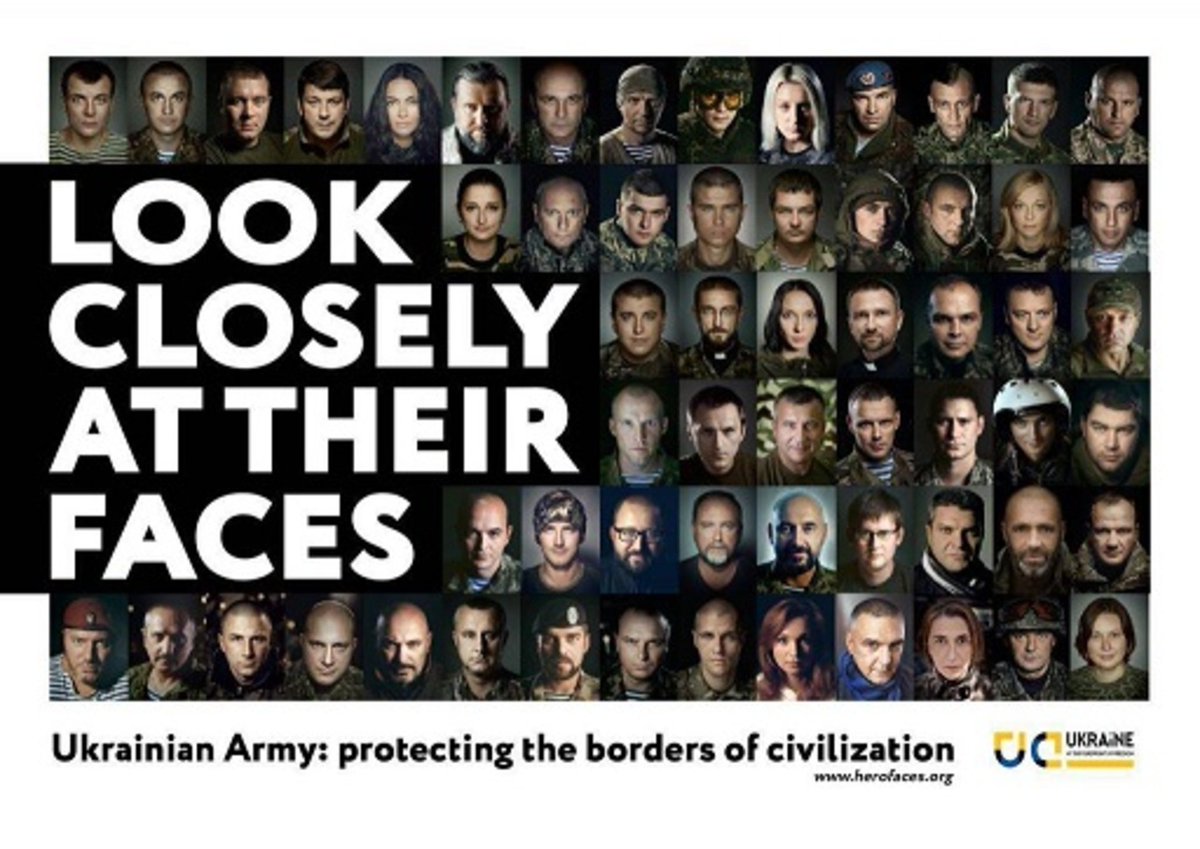 Hamburg billboard promoting Ukraine.
First Lady Makes Cameo Appearance at Trump-Putin Meeting | Political News | US News HAMBURG, Germany (AP) — First Lady Melania Trump, sidelined for part of Friday's international summit events by anti-globalization protesters, had a cameo appearance at her husband's closely watched meeting with Russian President Vladimir Putin.
---
A Body Language Expert Analyzes President Trump And Russian President Putin's First Meeting | TIME – YouTube TIME spoke with Patti Wood, a body language expert, to read between the lines of President Donald Trump and Russian President Vladimir Putin's first meeting …
Trump 'won' Putin handshake: body-language expert | New York Post President Trump literally put the squeeze on Vladimir Putin during their first meeting on Friday — giving the Russian strongman a bone-crunching handshake as…
Trump-Putin meet, Weber professor gives body-language edge to Trump | KUTV (KUTV) President Trump and Vladimir Putin's first meeting was hyped and highly anticipated, and when it was over, a Weber State communication professor said, based in body language, Trump appeared to emerge the most dominant.Dr. Colleen Packer, Ph.D., has
Body language experts see reserve, deference, power plays in Trump-Putin meeting – The Boston Globe After months of anticipation, President Donald Trump and Russian President Vladimir Putin finally met in person Friday at the G-20 Summit. Body language experts got an eyeful.
---
Trump speech in Poland — Reagan is nodding | Fox News Ronald Reagan is nodding. If anyone doubted President Trump's grasp of history, doubt no more.
Trump's Poland Speech — Western Values Trump Universalism | National Review Trump's speech in Poland was a ringing affirmation of Western values and a rebuke of universalism …
Trump's Poland Speech — Western Civilization's Grand Sweep | National Review In his speech in Poland, Trump recalled the West to its impressive history, civilization, and identity …
What Trump Gave Poland | The New Yorker Elisa Gonzalez reports on the crowd reaction during Donald Trump's speech at Krasinski Square, in Warsaw, Poland, this week, where the President is visiting before the G-20 summit.
Trump's visit to Poland and the incoherent media Trump's second major overseas trip as president started Thursday with a moving speech in Poland championing the spread of Western democracy and calling on European nations to defend their sovereignty. He complimented America's allies while calling on Russia to "cease its destabilizing activities in Ukraine and elsewhere and its support for hostile regimes." And Trump said the U.S. "will always welcome new citizens who share our values and love our people" but that "our borders will always be closed to terrorism and extremism of any kind." Any sane person might hear those words and call it at least an O.K. speech. But because the subject doesn't relate to Russia stealing the election from Hillary Clinton or to an erosion of press freedom by way of Trump tweeting insults at cable news, the media are left sputtering for novel ways to hate the president.
Is Trump actually popular in Poland? A historian who studies Poland witnesses the president's visit to Warsaw, and casts a skeptical eye at the crowd that took in the president's speech.
---
---
Chris Stirewalt | Is Russia part of the West? | Fox News But first, how do we define the West? President Trump called on Western nations to unite in the spirit of self-preservation and in defense of civilization itself. A pertinent question: Does that include Russia? If we understand "the West" as the secular successor to Christendom, then maybe. Russia and its leader, Vladimir Putin, very much see themselves as not just part of that sphere but as protectors of the true Eastern Orthodox faith. In fact, even as people in America and Western Europe look upon Russia as some benighted backwater, Putin and his fellows embrace the concept of Moscow as the "third Rome." In this telling, the true faith and the rightful seat of Christendom was driven from both Roman capitals as they fell – first Rome itself then Constantinople – to be salved and succored in Moscow and at St. Basil's. It may sound silly to post religious Western ears, but it is along with a paternal protectionism of all Slavic peoples a central part of Putinism. So in that sense, that would make Russia part of "the West." But despite what Trump's critics have claimed, the president wasn't talking about the West as the Christian world. He seemed to be more plainly invoking those ideas laid out by Samuel Huntington and others that see "the West" as the philosophical descendants of the ancient Greeks. In this version, enlightenment and the understanding of the individual's inherent humanity and rights flowered in the city-states of Greece, expanded along with the Roman Empire, absorbed the religious humanism of the teachings of Jesus and exploded across the world during the Enlightenment. Looked at this way, America is the culmination of a long, often uneven, but relentless march toward liberty, in which human beings possess inalienable rights by the gift of their creator and are to be afforded the greatest degree of personal freedom and self-determination possible. And if that's what we're talking about then, no, Russia is most decidedly not part of "the West." And in that sense, Russia would be quite fine with that since what Putin and his followers see when they look across to Europe and the United States is a decadent, immoral and ever-weakening culture. As we discussed above, Russia does not see itself as a backward Western power but rather as a colossus bestride two continents and the defender of a culture which will preserve humanity. They are every bit as convinced that their hard-bitten, collectively oriented culture is humanity's saving hope as Westerners are that their enlightened individualism is the only way to go. Yes, relentless propaganda, government dishonesty and fear of reprisals keep Russians behind strongman Putin. But so also does a collective cultural belief that Russia is not only great, but has a great role to play in the world. Remember also that much of Putin's appeal comes from the way the Cold War ended. The culmination of the decades-long conflict for Americans was balanced budgets and new business opportunities around the world. For Russians, the end meant humiliation, privation and an era of lawlessness. Putin, like every good authoritarian, knows that the way to consolidate power is to focus on what people find shameful and frightening and promise to restore pride and strength. So if Russia isn't part of the West – sorry Peter I and Catherine II – then what shall the West do about Russia? Despite onetime dreams of Russia joining the American sphere of influence and even becoming part of NATO, deep alliance with a power as secretive and mistrustful as Russia is probably not the case. The avoidance of conflict? Certainly. Conditional cooperation? Yes. A brotherhood of nations? Not a chance.

Finland would be a great NATO member state – To Inform is to Influence A great friend, an esteemed Finnish scholar, and a leader in Finland's defense community wrote this on 5 July 2017: Suomi olisi hieno Naton jäsenvaltio which, according to a Facebook translation, means Finland would be a great NATO member state My initial gut reaction is, yes, this would be a great idea!  Finland beat the snot…
Window on Eurasia — New Series: Kremlin Now Views Moscow Patriarchate as 'Source of Turbulence' and May Seek Kirill's Ouster Paul Goble Staunton, July 7 – The Kremlin now views the Moscow Patriarchate of the Russian Orthodox Church as "a source of turbulence" in Russian public life, sources close to the Presidential Administration are telling journalists, and some observers even believe Putin may even orchestrate Patriarch Kirill's ouster in favor of Bishop Tikhon, Putin's spiritual advisor. Given that neither the Kremlin nor the Russian church are ever likely to publicly criticize one another, it is surprising that officials close to Putin are now saying such things. But anger in the population and in the government over the recent behavior of the Russian Church in general and Kirill in particular have forced their hand. In an extensive article this week on the Federal Press portal, Georgy Maksimov notes that "society is condemning the church and its appetites openly," and the Kremlin is following course. As a result, Patriarch Kirill is under pressure both 'from below' and 'from above." And many are now acknowledging that he has "many enemies" (fedpress.ru/article/1813720). (Not unimportantly under these circumstances, the arguments of the Federal Press journalist have been echoed by experts on Russian church affairs in two other articles this week at portal-credo.ru/site/?act=comment&id=2189 and philologist.livejournal.com/9443103.html.) Relations between the Kremlin and the Patriarchate have certainly cooled in recent months, in response to negative publicity concerning the fate of St. Isaac's Cathedral in St. Petersburg and about corruption in the upper reaches of the church. And this has mean that Bishop Tikhon now has greater access to and influence in the Kremlin than does Kirill. The "source close to the Presidential Administration" told him, Maksimov continues, say people in the Kremlin "understand that the church has become a factor of political turbulence." It is roiling society and making requests that, if fulfilled, could "deepen the political crisis in Russia." For "pragmatic" reasons, the Kremlin has decided to put the brakes on such demands. Kirill knows he is in trouble and that is why he convened the closed meeting with political analysts on June 12 to discuss how to improve the image of the church and his person, Maksimov says. Of especial concern to the patriarch is that both Russian society and the Russian president are more favorably inclined to the Old Believers than to the Patriarchate. The reasons are simple: the Old Believers aren't making demands while the Patriarchate is, and the former has not been the source of constant scandals while the latter increasingly has. Still worse, the patriarch has done little or nothing to crack down – and has even featured in some of the scandals himself. Kirill's own position, Maksimov argues, "is now under threat and a campaign against him has been launched." The leader of the opposition his Bishop Tikhon who successfully lobbied the Kremlin for his favored candidates to be education minister and children's ombudsman. The source near the Presidential Administration points out that "Bishop Tikhon is considered Putin's spiritual advisor. He has more or less automatic access to the president. But Kirill now longer does. Indeed, the patriarch recently complained to the PA by asking "why does the president meet with Tikhon and not with me?" But Tikhon is not the only threat to Kirill, Maksimov says. There is significant opposition to the current patriarch in the regions as a result of the scandalous behavior of some of Kirill's appointees and his failure to discipline them when their odious actions have been exposed. Two places where such feelings have risen to fever pitch are in Tatarstan and Yekaterinburg. Despite this, Putin is unlikely to try to remove Kirill before the presidential elections. But such stories are an indication that the current patriarchate may be retired shortly thereafter. At the very least, they are a sign that for all the talk about "a symphony" of church and state in Russia, the Kremlin is anything but happy with the supposed state church and its leader.
Window on Eurasia — New Series: Will Russian Regions Seek Their Own Plato Fees? Paul Goble Staunton, July 7 – Many Russians are unaware that in Russia, only five percent of all highways are federal or that the Plato fees are collected only when long-haul truckers make use of them (ura.news/articles/1036271393), but there is one group of people who is very much aware of this reality: Russia's governors. On the one hand, they have lost a major source of revenue as a result of the federal Plato system which is intended to be a substitute for taxes and fees that the federal subjects have been collecting for road repair. And on the other, truckers are using non-federal roads more heavily in order to avoid having to pay the hated Plato fees. And so it was perhaps inevitable that a regional leader would declare that Russia's regions need their own Plato fee systems to pay for the upkeep of the 95 percent of the country's roads. That has now happened: Igor Vasilyev, the transportation minister for Stavropol kray has called for precisely that (newstracker.ru/news/society/07-07-2017/regionam-nuzhen-svoy-platon-mindor-stavropolya). But his proposal will not only outrage truckers who will view it as another tightening of the noose around them but also local delivery companies who presumably would have to pay any such fees as well. As a result, such an idea, if adopted, would almost certainly trigger a far larger strike, one including not only long-haul truckers as in the past but also local drivers as well. Moreover, there are two additional "unexploded mines" underneath such ideas: They would cost the regions dearly because the latter would have to create their own system of weigh stations and the like, and they would highlight the absence of fiscal federalism in the country, not at issue Vladimir Putin wants raised in this pre-election season. In another development concerning the continuing long-haul truckers labor action and political protest, officials in many regions are reporting an upsurge of bribes given by drivers to highway police in order to get around the Plato system. Moscow faces a Hobson's choice as a result (newstracker.ru/article/general/06-07-2017/stavropolskih-dalnoboyschikov-oblozhili-danyu-be8b2865-beeb-4960-93d5-de902303b9f8). If the central government doesn't crack down, it will lose much or all of the revenue it hoped to gain from the Plato system and will stand exposed as a hypocrite as far as opposition to corruption is concerned. But if it does crack down, it will spark resistance both among the truckers and among the highway police who are the chief beneficiaries of the new order.
Window on Eurasia — New Series: Russia's Municipalities to Lose a Most Important Prerogative – Local Control over Schools Paul Goble Staunton, July 7 – Russian education minister Olga Vasiliyeva says that she wants to transfer control over schools from the municipalities who have been responsible for them since 1992 to the regions and the center in order to ensure more money goes to the schools and Moscow has move control over academic programs. When the schools were given to the localities in 1992, she told a Duma committee earlier this week, "this was one historical period, but now is a completely different historical period which naturally requires – I will allow myself to speak the term – 'state schools'" rather than local ones (kommersant.ru/doc/3344415). Vasiliyeva complained that as long as the 40,000 plus primary schools were under local administration, her ministry lacked almost all "levers" for influencing them. By moving away from the 1992 law – and this will be done at least initially only for a period of less than three years, she said – Moscow will recover that power (iz.ru/615321/2017-07-05/vasileva-upravlenie-shkolami-pereidet-na-uroven-regionov-za-tri-goda). Such a shift will allow the country to save money by cutting down the number of educators now employed and by consolidating schools, two developments known under the euphemism "optimization" that are extremely unpopular in many places where the school is the center of public life. Many experts even in Moscow are less than pleased by this idea. Tatyana Klyachko, head of the Center for Economics of Education at the Russian Academy of Economics and State Service, says that the current economic situation may have forced Vasiliyeva's hand but that local control is of great value (polit.ru/article/2017/07/07/school/). "International practice shows that schools should be controlled at the municipal level," she argues, and "in the end, we also will return to this, possibly after having made a step toward greater state influence on the schools" in the name of ensuring that they get more resources given that some local governments are now spending on other things money that should go to schools. But it remains to be seen whether this shift away from local control will in fact lead to more financing for public education or simply be the occasion for stripping yet more rights from localities and destroying more of the already hard-pressed villages and towns in the periphery and concentrating power in this sector as in so many others in Moscow once again.
Window on Eurasia — New Series: More than Half of Russians Reject Putin's Tactic of Talking about Local Issues Rather than National Ones Paul Goble Staunton, July 7 — In order to avoid discussion of systemic issues, Vladimir Putin via his Direct Line program and otherwise has made a fetish out of being the good tsar who can reach down to solve the most petty and local problems. But a new poll shows that more than half of Russians don't think he should be addressing such issues. Instead, a majority says he should be focusing on bigger issues, something he has been loath to do because those would involve either a change in direction of his policies or discussions that would almost inevitably deepen rather than paper over existing divisions among Russians about past, present and future. According to a new Public Opinion Foundation poll, 52 percent of Russians do not think that the president should occupy himself with the solution of local problems. Those problems should be dealt with by local officials (29 percent). The president should deal with bigger ones (32 percent) (znak.com/2017-07-07/bolshe_poloviny_rossiyan_schitayut_chto_prezident_ne_dolzhen_reshat_mestechkovye_problemy). But this is a narrow majority: 44 percent of the sample said that the president should solve local problems. Of these, 12 percent said local officials aren't solving them, eight percent say that the president has to intervene to solve them, seven percent that this is the responsibility of the president, and six that "the president should control the work of bureaucrats" in this way. Dspite this, there seems little likelihood that Putin will change his approach: Not only is he going to four regions where gubernatorial elections will occur in the next two weeks (newsru.com/russia/06jul2017/runelect.html), but he has included how governors deal with citizen appeals part of the Kremlin's rating system for them (kp.ru/daily/26701/3725947/).
Russia's imperial crackdown on the memory of indigenous victims of deportations -Euromaidan Press | Ihor Vynokurov In restricting the right of Crimean Tatars to commemorate their greatest national tragedy, the Kremlin-installed administration of Crimea follows the steps of the Chechen leadership, which crossed out the very day of the Stalinist deportation of Chechens from the calendar. For many reasons, the policing of remembrance in Crimea may lead to more serious consequences—as it is an integral part of the Crimean occupation authorities' policy of incitement to ethnic hatred and repression of Crimean Tatars. Not just the occupiers restrict the rights to respect tradition and freely assemble but also cynically persecute for laying flowers in memory of ancestors.
Siemens says investigating reports its turbines sent to Crimea | Reuters German firm Siemens said on Friday it had set up a task force to investigate reports that its turbines had been delivered to Crimea for use in Russian-built power plants.
Powering the Anschluss. How Siemens turbines ended up in Crimea despite sanctions -Euromaidan Press | On 5 July 2017, Reuters wrote, citing three of its own sources with knowledge of the delivery, that two turbines of the German technology company Siemens were delivered to occupied Crimea. One of Reuters' sources told the outlet that two of the turbines of the SGT5-2000 type, produced only by Siemens and its subsidiaries, had been delivered from Russia by sea to Crimea and were destined for use in a power plant in the Crimean city of Sevastopol, where preparatory work at the plant was under way. Another source said that the turbines had come in from the Taman peninsula in southern Russia. However, photos of objects looking similar to turbines had surfaced a week earlier, on 29 June 2017, on the "Construction, Trucks, and Machinery" page in the Russian social network VKontakte, which covers construction news in Crimea.
Russian Court Pardons Two Men Convicted Over Death Of French Oil Firm Boss A Russian court has pardoned two men convicted over the 2014 death of the former boss of the French oil giant Total, who was killed when his jet collided with a snow plough at a Moscow airport. …
---
---
Aaron F. Brantly, Nerea M. Cal, Devlin Winkelstein | Don't Ignore Ukraine: Lessons From the Borderland of the Internet – Lawfare What developments in Ukraine signify for the future of hybrid warfare.
DIA Reveals New Details of Russian Information Warfare Russian military forces are using information warfare tools to confront the United States, according to a new Defense Intelligence Agency report.
Russians Are Suspects in Nuclear Site Hackings, Sources Say – Bloomberg

Hackers Target U.S. Nuclear Facilities, Russia Is Suspect They may be looking for ways to disrupt the U.S. electric grid, but DHS and the FBI said there is "no indication of a threat to public safety."
Feds Suspect Russians Behind Cyber-Attacks on Power Plants – NBC News Hackers targeted a dozen facilities, including the Wolf Creek nuclear plant in Kansas.
---
---
Kremlin: Trump, Putin agree to create "special channel" for settlement of Ukrainian crisis – 08.07.2017 13:57 — Ukrinform News 08.07.2017 13:57. U.S. President Donald Trump and Russian President Vladimir Putin discussed Ukraine during their first meeting in Hamburg on the sidelines of the G20 summit. Russian Foreign Minister Sergey Lavrov said this to journalists after a meeting between Trump and Putin, an Ukrinform correspondent reports. "While discussing Ukraine, the American side said that they appointed a special representative for the settlement of the Ukrainian crisis. We expect him to arrive in Moscow in the near future," Lavrov said. According to him, the parties decided to create a "channel between the representative of the Russian Federation and the representative of the United States in order to use the opportunities that the United States has and to promote the settlement on the basis of the Minsk agreements, taking into account the potential established in the contact group and "Normandy format." ish
Ukraine says U.S. special representative will help end Russian aggression | Reuters Ukrainian President Petro Poroshenko on Friday welcomed the appointment of Kurt Volker to serve as Washington's special representative to Ukraine, saying it would help end what he called Russian aggression and restore Crimea to Ukraine.
Merkel, Macron, Putin agree on importance of ceasefire in Donbas – media German Chancellor Angela Merkel, French President Emmanuel Macron, and Russian President Vladimir Putin noted the importance of implementing a ceasefire in eastern Ukraine's Donbas region at a meeting on the sidelines of the G20 summit in Hamburg, according to Reuters. News 08 July from UNIAN.
Trudeau, Merkel speak about Ukraine on the sidelines of G20 summit – 08.07.2017 12:20 — Ukrinform News 08.07.2017 12:20. Prime Minister of Canada Justin Trudeau and Chancellor of Germany Angela Merkel on the sidelines of the G20 summit in Hamburg discussed the situation in Ukraine.
NATO chief Jens Stoltenberg: "We cannot isolate Russia. Therefore, we believe in deterrence, defense and predictable approach but, at the same time, open channels for political dialogue" Ahead of the Ukraine visit of the North Atlantic Council, NATO Secretary General Jens Stoltenberg in an exclusive interview with UNIAN spoke about the reason for an eight-year pause since the NAC's latest visit, about his vision of Ukraine's prospects of joining the Alliance, and why NATO, despite having halted practical cooperation with Russia, retains political channels open. An influential permanent body of NATO, the North Atlantic Council, has last time visited Ukraine back during Viktor Yushchenko's presidency. In eight years, they are coming to Kyiv, again. On July 10, a number of events will take place with the NAC's participation. In particular, a meeting will be held of the Ukraine-NATO Commission, chaired by NATO Secretary General Jens Stoltenberg and Ukrainian President Petro Poroshenko. The NAC will also meet the government, while the Alliance chief will for the first time in history of bilateral relations between NATO and Ukraine address the Ukrainian parliament. The visit is of a special political significance as the partners celebrate the 20th anniversary of Distinctive Partnership set up between them (20 years ago in Madrid, former Ukrainian President Leonid Kuchma and NATO Secretary General Javier Solana signed a then-unique document- for the first time in the history of the Alliance, a so-called Charter on Distinctive Partnership emerged). Since then, the relations has gone through different phases: from equal but ineffective, to the actual break-up during the Yanukovych period. At the same time, the attitude of Ukrainian society to NATO has been changing as well. Thanks to Putin, who almost "pushed" Kyiv into the Alliance, today's public support for the accession to this organization is higher than ever. Moreover, joining NATO has officially become one of the priorities of Ukraine's foreign policy. Ahead of the Ukraine visit of the North Atlantic Council NATO Secretary General Jens Stoltenberg in an exclusive interview with UNIAN spoke about the reason for an eight-year pause since the NAC's latest visit, about his vision of Ukraine's prospects of joining the Alliance, and why NATO, despite having halted practical cooperation with Russia, retains political channels open.
Stoltenberg speaks of goals of North Atlantic Council's visit to Ukraine The upcoming visit of the North Atlantic Council to Ukraine will mark the 20th anniversary of the Distinctive Partnership between the Alliance and Kyiv, that's according to NATO Secretary General Jens Stoltenberg, who will lead the delegation and spoke with UNIAN ahead of the visit. News 07 July from UNIAN.
Law enforcers foil Russia-plotted provocation outside Polish Consulate In a preventive effort by the SBU Security Service and the National Police, 29 people were detained in Kyiv ahead of their attempt to stage a provocation, upon instructions by Russian intelligence, outside the Consulate of the Republic of Poland, apparently for a UAH 1,000 cash reward. News 07 July from UNIAN.
OSCE PA recognizes Russia hybrid forces in control of occupied Donbas The OSCE Parliamentary Assembly at its annual summer session in Minsk has adopted a resolution supporting Ukraine, despite Russia's protests, noting that the areas of Donetsk and Luhansk regions beyond Kyiv's control are in fact controlled by Russian hybrid forces. In the Resolution titled "Restoration of the Sovereignty and Territorial Integrity of Ukraine," OSCE PA calls for an end to military hostilities in Ukraine, the full withdrawal of heavy caliber weaponry by both sides, and full access to the OSCE's Special Monitoring Mission and humanitarian aid organizations. The Parliamentary Assembly "condemns numerous serious incidents of pressure, harassment and intimidation of the SMM monitors combined with the cases of deliberate destruction of the OSCE assets taking place in certain areas of the Donetsk and Luhansk regions controlled by the Russian hybrid forces, and urges the Russian Federation to take practical measures to ensure the necessary security conditions for the SMM, which will prevent further escalation of the situation."
Ukraine reports 22 enemy attacks, 4 WIA's in last day | UNIAN Russia's hybrid military forces attacked Ukrainian army positions in Donbas 22 times in the past 24 hours, with four Ukrainian soldiers reported as wounded in action (WIA), according to the press service of the Anti-Terrorist Operation (ATO) Headquarters. The situation remains tense in the ATO zone. Russian-backed illegal armed groups continue to neglect agreements on the de-escalation of the conflict in eastern Ukraine and attempt to discredit Ukrainian soldiers, cynically provoking the ceasefire violations. In particular, 14 enemy attacks were recorded in the Mariupol sector. The militants fired mortars on the Ukrainian strongholds near the villages of Shyrokyne, Vodiane, and Novotroyitske, while small arms, grenade launchers, cannons of infantry fighting vehicles, and anti-aircraft guns near the villages of Lebedynske, Hnutove, Pavlopil, and the town of Krasnohorivka. Read also Relative calm in Donbas: 13 enemy attacks, 2 WIA's in last day In the Donetsk sector, the Kremlin-backed mercenaries refrained from using weapons almost all day. "However, at about 20:00, the militants opened fire from 82mm mortars, hand-held anti-tank grenade launchers, and small arms on our positions in the southern outskirts of the town of Avdiyivka. Subsequently, the occupiers were shelling the Ukrainian positions near the village of Pisky for an hour, using 120mm mortars, tanks, and light infantry weapons. Moreover, at the end of the day, the enemy mounted another attack on ATO strongholds near Avdiyivka, using heavy machine guns and small arms. A total of three enemy attacks were recorded in this direction," the report said. In the Luhansk sector, the invaders opened fire on the Ukrainian army positions five times yesterday. The ATO strong points in the area of Donets came under enemy fire from grenade launchers, heavy machine guns, and small arms three times. The militants also used small arms against the Ukrainian strongholds near the villages of Stanytsia Luhanska and Krymske.
SBU Counterintelligence identified Russian mercenaries and soldiers killed and captured at Zholobok. PHOTOS+VIDEO 07.07.17 15:41 – SBU Counterintelligence identified Russian mercenaries and soldiers killed and captured at Zholobok. PHOTOS+VIDEO The fighters from Russia were killed and taken prisoners on June 24, 2017, at Zholobok village of the Luhansk region. View photo news.
1 dead, 5 wounded in bombings in eastern Ukraine – National | Globalnews.ca One person is dead and five other wounded after two explosions in an eastern Ukrainian city.
Groysman and British MPs discuss reforms in Ukraine, situation in Donbas Ukrainian Prime Minister Volodymyr Groysman during his meeting with British MPs said Kyiv and London have reached a new level of cooperation, the Ukrainian government's website said on Thursday evening.
Ukraine, the Netherlands sign deal on MH17 probe jurisdiction Ukraine and the Netherlands, both part of the joint investigation into the downing of MH17, have signed off an agreement aiming to create legal grounds for bringing to justice by the Dutch court of those involved in the shooting down of the Malaysian Airlines Boeing 777 from the sky over Donetsk region in July 2014, that's according to Ukraine's Justice Minister Pavlo Petrenko. News 07 July from UNIAN.
UAWire – Yanukovych says he would like the Crimea to return to Ukraine Former Ukrainian President, Viktor Yanukovych, who fled to Russia, said he would like the Crimea to return to Ukraine. Interfax news agency …
Fugitive Ukraine's President Yanukovych recalls his lawyers from treason trial, files motion over "coup d'état" -Euromaidan Press | On July 5, former Ukrainian President Viktor Yanukovych who stands charged with high treason in Ukraine said he will not participate in the in-absentia treason trial. The hearing was scheduled to resume in Kyiv on June 6 while the former president has been at large in Russia since 2014. "I don't want to participate in the alleged adversary trial, the outcome of which was determined in advance," Yanukovych said in a statement, adding that his lawyers are "powerless" to argue his case "in the country of obliterated justice." The video address by the ousted president was published by the Russian state-owned Channel 1 on 5 July under the title "Former Ukraine's president spoke to the journalists." However, the video shows no journalists while former President Yanukovych speaks. There is nothing but a short anchor's lead, and one and a half minute Yanukovych's speech he reads from a teleprompter as judged by his repeated left-to-right and back eye movement.
In memoriam of fallen Donbas war hero. "I am ready to fight for 15 centimeters of our land" -Euromaidan Press | Ukrainian serviceman Volodymyr Samoilenko, fallen hero of the war in Donbas was commemorated in Kyiv, on Ploshcha Maidan Nezalezhnosti on 6 July 2017. He died during the fights for Debaltseve two and a half years ago. Because of different bureaucratic procedures, his body was identified only now, thanks to a DNA test. During these 2 and a half years, his wife and daughter were in a state of uncertainty as his body was temporarily buried in Dnipro. Now, he was buried in Kyiv. Volodymyr (call-sign Vovan) joined the volunteer battalion Donbas from its very first days. He went through the battles near Ilovaisk, one of the most tragic events of the de-facto war with the Russian Federation. The official number of the killed that time is 366, wounded — 429, missing — 158, and 128 were taken captive. During the events near Ilovaisk, Vovan was injured, but did not want to go to the hospital because he thought that the injury was light and he had to stay and to fight: "How can I leave? There are our guys!" Only his comrades persuaded him to go for treatment. Still he had only one thought in mind – to come back to the front line to finish the war as soon as possible and to see everybody alive.
---
Russia / Iran / Syria / Iraq / OEF Reports
---
U.S.-Russian Cease-Fire Deal Touted As Start Of Syrian Peace Efforts The United States and Russia have announced a cease-fire deal in southwestern Syria in their first attempt at peacemaking in the war-torn country since President Donald Trump took office. Th…
US-Russia agreement calls for cease-fire in southwest Syria – The Washington Post The United States and Russia struck an agreement Friday on a cease-fire in southwest Syria, crowning President Donald Trump's first meeting with Russian President Vladimir Putin. It is the first U.S.-Russian effort under Trump's presidency to stem Syria's six-year civil war.
U.S., Russia and Jordan Reach Deal for Cease-Fire in Part of Syria – The New York Times Moscow has assured the United States that the government of President Bashar al-Assad of Syria will abide by the agreement, a State Department official said.
Iraqi Federal Police declare mission accomplished in Old Mosul They "have concluded their missions assigned to them in Old Mosul,"
After Breakthrough In Raqqa Kurdish Forces Warn Of Possible Turkish Aggression The US-led forces in the Levant are making progress in the fight against the Islamic State. Nevertheless, this alliance is made of several, sometimes antagonistic, parts, being the Kurds and the …
'Victory' over Islamic State in Mosul imminent as insurgents lines collapse: Iraqi military | Reuters Iraqi security forces expect to take full control of Mosul in the coming hours as Islamic State's defensive lines collapse in its former de facto capital in Iraq, state television reported on Saturday.
Turkey's high stakes in post-ISIL Syria – SELİN NASİ The Islamic State of Iraq and the Levant (ISIL), which has been a continuing nightmare since 2014, is now finally on the road to perdition
These mind-blowing photos from Mosul reveal the horror of the Islamic State war – The Washington Post Looking at the damage, it is astonishing that anyone has survived.
In Battle Against ISIS in Syria and Iraq, Civilians Suffer Most – NBC News In U.S.-led coalition fight against ISIS in Mosul and Raqqa, civilians are the biggest victims.
Coalition forces target Islamic State oil in latest salvos – UPI.com Forces engaged with the so-called Islamic State terror group in Iraq and Syria hit militant-controlled oil installations in the latest salvo, a coalition said.
ISIS, Battered but Still Potent, Returns to Its Insurgent Roots – The New York Times The Islamic State's state-building project is crumbling, but it still has an international reach and an ideology that motivates attackers around the world.
Saudi Arabia 'foremost' exporter of UK extremism, report says Saudi Arabia has been described as the "foremost" financier of Islamist extremism in the U.K. by a thinktank in a damning report.
Qatar rejects Saudi-led group's allegations | Qatar News | Al Jazeera Accusations by Saudi Arabia and allies are baseless and amount to defamation, foreign ministry source says.
Are the Saudis funding extremism? | Europe | Al Jazeera Report in the UK points to Saudi Arabia, and Theresa May's government is under pressure to reveal inquiry findings.
Is America Headed Toward World War III? | The National Interest Blog The Syrian mess is not merely a modern spin on an old Cold War habit. It is a dramatic escalation of tension between two powerful adversaries with a long history of mistrust and mutual suspicion. 
Israel's Forthcoming Security Dilemma In recent weeks Israel and Hizballah continued a time-honored tradition that tends to flare up in the hot months of summer: exchanging harsh words and thre
---
---
Tillerson Backs Policy of 'Peaceful Pressure' on North Korea – The Atlantic But the U.S. secretary of state warned "we don't have many good options left" if it fails.
On North Korea, Trump's on the Right Track – The New York Times Sanctions, diplomacy and threats have failed. How about regime change?
The Latest: Russia says didn't block UN statement on NKorea – The Washington Post The latest on the response to North Korea's missile launch (all times local):
How 'isolated' North Korea managed to build an ICBM that could reach Alaska – The Washington Post The country's got experts, and willing trading partners too.
[Reporter's notebook] Just what can North Korea's ICBMs do? : North Korea : News : The Hankyoreh Despite being one of the world's poorest countries, North Korea is close to being able to reach the contiguous United States with ICBMs North Korea is an astonishing country. The CIA World Factbook's estimate of North Korea's 2015 GDP (based on purchasing power parity) is US$40 billion. This is 1/48 of South Korea's US$1.929 trillion and ranks the North as the world's 115th-largest economy. The per-capita GDP comes to a mere US$1,700, making North Korea one of the world's poorest countries. During the severe drought of the mid and late 1990s, deaths by starvation are estimated to have reached hundreds of thousands or perhaps even millions. The country survived that terrible time, but even now its children suffer from malnutrition and the North depends on support from the international community. Yet just a few days ago, a country like that somehow managed to launch a state-of-the-art ICBM that can travel thousands of kilometers. That makes North Korea the sixth country in the world to possess such missiles. We would be at a loss to find another example of such extreme incongruity. Is it possible to fill such a huge gap with just the strong will of a "supreme leader" who says he will "fight head-to-head against American imperialism"? North Korea's history of developing ballistic missiles goes back to the early 1980s. It is said that when the Soviet Union refused to provide the needed technology, the North Koreans bought old Soviet-made Scud-B missiles from Egypt, took them apart, analyzed them, and reverse engineered their own Scud-Bs. There is another theory that the Soviets actually did directly transfer the Scub-B technology. The North's missile program took a new turn after the Soviet Union collapsed in the early 1990s. Pyeongyang was able to recruit technicians from Soviet research centers that had lost funding from the central government and with their help, developed a variety of missiles, including the Rodong, Musudan, and Taepodong. Recently, however, the North's missile program has been changing rapidly. It seems that it has dropped the old Soviet connection and started to develop its own new technology. The Pukkuksong-1 submarine-launched ballistic missile (SLBM) successfully test-launched last year and the Pukkuksong-2 use solid-fuel rockets rarely seen in North Korea before. The Hwasong-12 intermediate-range ballistic missile (IRBM) and the Hwasong-14 ICBM fired this year have liquid-fuel rockets, which are more commonly seen in the North, but their engines appear to be of a completely new design. Since March 2016, North Korea has publicly conducted four tests of rocket engines, all of which seem to have been developed with its own technology. Jeffrey Lewis, head of the East-Asia Program at the James Martin Center for Nonproliferation Studies, was quoted in the Washington Post on July 4 as saying that North Korea's new rocket engines were "the real thing," made with their own technology and not some copies or combinations of outdated Soviet engines. All of this shows that missile development in the North is going through a transformation in quality, but the change is still in its early stages. The Pukkuksong missiles, the Hwasong-12, and the Hwasong-14 have been test-fired only once or twice each. It has not yet been confirmed that the North's ICBM can successfully reenter the atmosphere. Because ICBMs travel such long distances, even the slightest divergence in their early course can send them dozens of kilometers away from their target, and the level of North Korea's technology for high-precision missile guidance is another unknown at this point. Several more test launches will be needed. Nevertheless, it does not appear that it will be a very long time before the North has the capability to reach the contiguous United States with its ICBMs. This is not to say that there is no way to stop it. The North has always conducted its missile tests openly, in contrast to its usual secrecy about the development of strategic weaponry. This seems to indicate that the missile program is not just a military program but also has a political purpose. It is a way of unifying the will of the people, and it sends a message to the outside world that North Korea will not surrender to sanctions imposed against it. At the same time, it hints at a willingness to compromise if the conditions are right. Now the ball is the the United States' court. By Park Byong-su, senior staff writer
S. Korean and US militaries have differing claims on North Korean ICBM re-entry : North Korea : News : The Hankyoreh US Defense Department said Hwasong-14 included a re-entry vehicle, while S. Korea said re-entry was not verified The US Defense Department said North Korea's Hwasong-14 missile included a re-entry vehicle (RV). The claim is igniting controversy, as it differs from the assessment the day before by the South Korean Ministry of National Defense, which said the missile's re-entry had "not been verified." Reuters reported Pentagon spokesperson Capt. Jeff Davis as saying at a July 5 press briefing that North Korea's Hwasong-14 missile was fired from a mobile launcher and confirming the presence of an RV at the missile's tip. Davis's claim differs from what was reported by the South Korean Ministry of National Defense the same day to the National Assembly National Defense Committee. At the time, the ministry said the missile was "fired from a fixed launcher, and re-entry, which requires advanced technology, was not verified, which means we can't conclude that [North Korea's] ICBM development has been successful." "Clearly we watch North Korea very closely," Davis said of North Korea's missile launch activities. Fox News quoted a US government official as saying the US had watched North Korea fuelling the rocket prior to launch. It also reported that while the Pentagon could have made the decision shoot down the ICBM down through its missile defense system, it did not attempt to do so because it concluded the missile posed no threat to North America. The South Korean Joint Chiefs of Staff refrained from commenting on July 6 on the discrepancies between the accounts of South Korean and US militaries, saying it needed to confirm Davis's claims. "I've seen the report, and the mention of a 're-entry vehicle being present' was not a direct quote," said Joint Chiefs of Staff public affairs office director Roh Jae-chun. "So we need to confirm in what sense and based on what assessment standards the statement was made," he added. Roh also said an RV "could have been attached to an ICBM," explaining that the inclusion of an RV was a different matter from successful re-entry. On the question of whether the Hwasong-14 was fired from a mobile or fixed launcher, Roh echoed the ministry's previous conclusion that the launcher was fixed. "We confirmed that a fixed mobile launcher was used to temporarily fix [the missile] in place before firing," he said. By Park Byong-su, senior staff writer
U.S. Bombers Carry Out Exercise in South Korea in Show of Force to North – NBC News Two B-1 bombers and American and South Korean fighters carried out an exercise in a show of force to North Korea following this week's ICBM test.
US bombers fly over Korean Peninsula in response to N. Korea ICBM test – CNN.com For the second time in two days, US Air Force bombers put on a show of force in East Asia.
US bombers fly over South China Sea amid tensions – CNNPolitics.com Two US B-1 bombers flew over disputed waters in the East and South China Seas on Thursday, conducting a joint military operation with Japanese fighter jets amid escalating tensions with North Korea and souring relations with China.
U.S. bombers challenge China in South China Sea flyover | Reuters Two U.S bombers have flown over the disputed South China Sea, the U.S. Air Force said on Friday, asserting the right to treat the region as international territory despite China's claim to virtually all of the waterway.
China Tells U.S. Not to 'Flaunt Military Force' After U.S. Bombers Fly over South China Sea – Breitbart The U.S. Air Force confirmed that two American bombers flew over disputed territories on Friday, where China has illegal military facilities.
US setting 'its own standard' in sea – Global Times Chinese experts said that the US has been self-centered in setting its own standard of ….
Hong Kong public flocks to view China's Liaoning aircraft carrier | South China Morning Post A total of 2,000 tickets were handed out, while 1,600 were given to designated organisations
Beijing needs to listen to and engage HK's radicals, East Asia News & Top Stories – The Straits Times While reaching out to the moderate pan-democrats of Hong Kong, Chinese President Xi Jinping has declared war on the mostly young, more radical pro-democracy activists seen as separatists or pro-independence.. Read more atstraitstimes.com.
Vietnam And India To Spoil China's South China Sea Ambitions Vietnam and India are teaming up to tame China's ambitions to control the South China Sea and the riches that are hidden beneath.
Australia should consider missile defence to counter North Korea: Kevin Rudd Australia needs to consider deploying a missile defence system to defend against attack from nuclear-armed North Korea, according to former prime minister Kevin …
Malcolm Turnbull says US antimissile system not suitable for Australia Australia is developing defences against missile attack but the US THAAD anti- missile system is not really suitable for Australia, Prime Minister Malcolm Turnbull says.
---
---
West must engage with Russia, but can't be 'business as usual,' says U.K. defense secretary | PBS NewsHour President Trump plans to meet with British Prime Minister Theresa May at the G20 summit, where they'll likely discuss the fight against the Islamic State, the role of NATO and more. U.K. Defense Secretary Michael Fallon joins Judy Woodruff to discuss Russian election meddling, the promise of a Syrian cease-fire and how to counter the threat of North Korea.
G20 Reaches 'Breakthrough' In Summit Statement, But Discord Persists HAMBURG, Germany — World leaders have reached a "breakthrough" on a draft communique of the Group of 20 (G20) summit in Hamburg, Germany, but the section on climate change remains dispute…
UN Approves Treaty To Ban Nuclear Weapons Despite Boycott By Nuclear Powers The first-ever treaty to ban nuclear weapons has been approved by 122 countries despite a boycott by all nuclear-armed states. The vote was announced on July 7 by Elayne Whyte Gomez, president o…
Nations take a step away from the threat of nuclear annihilation (opinion) – CNN.com A majority of the world's nations voted for nuclear disarmament and now the US and other nuclear-armed countries should sign on, write Ira Helfand and Matt Bivens
A Treaty Is Reached to Ban Nuclear Arms. Now Comes the Hard Part. – The New York Times None of the world's nine nuclear-armed countries participated in the negotiations, but proponents of the treaty hope to eventually pressure them into signing.
---
---
Obradovich: An uneasy anniversary: 30 years in journalism I hope the Trump era will inspire a return to core standards of accuracy and ethics. I hope we can fuel debate with facts, not feed partisan fires.
Trump and other changes over my 30 years in journalism I hope the Trump era will inspire a return to core standards of accuracy and ethics. I hope we can fuel debate with facts, not feed partisan fires.
CNN faces backlash over handling of doctored Trump video NEW YORK (AP) — CNN says safety concerns led to its decision not to reveal the identity of the man behind a doctored anti-CNN video. Yet the way the decision was explained and deep distrust of the network among President Donald Trump's supporters provoked a backlash Wednesday.
Clapper: No evidence others besides Russia hacked U.S. election – POLITICO "It was only the Russians," Clapper told MSNBC's Andrea Mitchell.
Top Democrat: Working with Russia on cybersecurity is akin to 'inviting the North Koreans' to discuss nuclear proliferation | Business Insider Adam Schiff, the ranking Democrat on the House…
Quora: Why Didn't Obama Share Russia Info? If Obama had come out with what he knew, it would have been seen as a partisan move.