Anonymous expert compilation, analysis, and reporting.
</end editorial>
---
---
MSM reporting on the POTUS-Putin meeting today is so far largely substance-free. We may have to wait until the White House comments for a more substantial readout. The Warsaw speech has been lauded by Conservative MSM, and bagged by Left MSM, largely reflecting the ongoing bias patterns in US MSM. Key points from the speech have been widely propagated across the MSM. Russophone MSM yet to produce substantial discussions, possibly waiting for the fallout from the POTUS-Putin meeting.

Russia's internal meltdown continues, permafrost and social, unabated, while Russia ramps up espionage in the US. Homeless statistics and immigration policy are being challenged. Military analyst Golts discusses Putin's fear of even the Russian NatGuard refusing to follow orders to shoot at the public in the streets, as the VDV and KGB SOF refused to do in 1991. Volkava and Eder spell out the ugly realities of gender discrimination in Russia, which is closer to the Third World than a nation claiming itself to be developed – the Femen movement and Pussy Riot reflect this.
A good batch of essays on IW/IO/Cyber, notable commentaries by Harding, excellent historical analysis of Russian disinformation over the centuries by Mihkelsoni, and Russia suspected in attempted hacking of US nuclear powerplants.
Amb Kurt Volcker reported to be appointed as a special envoy for Ukraine, to deal with Minsk negotiations (… and arguably keep German and French negotiators honest). Lithuanian Foreign Minister Linkevicius promoting Marshall Plan for Ukraine. Curiously contradictory reports emerging from the Russian LDNR puppet republics – DPR politician Zavdoveev publicly claiming Russia will within months absorb Donbass into the Russian Federation, while Ukraine's GUR reports via the MoD that the the resident Russians and leadership of the puppet republics have been destroying records, and planning for rapid evacuation of selves from the Donbass, going as far as conducting evac drills for dependents and families. If the latter is indeed true, and it does reflect the Russian predilection for "every-man-for-himself", then there is little confidence in the LDNR puppet republic leadership or the senior echelons of the Russian proxy force that Moscow will not throw them under the bus, or in this case to the "Bullfinch-eating, child crucifying Ukrops". Gen Dmitry Karpenko, Commander of the AFU Air Defence Forces, briefs media on Ukraine's force structure buildup and training intended to  "… prepare anti-aircraft missile units to repel a series of massive air strikes, which has not been done since 1992." If the AFU is indeed able to get most of their Patriot-like S-300PT/PS (SA-10A/B) and SM2-like Buk M1 (SA-11 GADFLY) batteries fully operational and combat ready, the AFU IADS would be far more formidable than any IADS the West has ever defeated. Liberation of Sloviansk and Kramatorsk commemorated. Polish Foreign Minister chastised over Bandera comments (Portnikov actually chews him out thoroughly). Two more installments in the SurkovLeaks series.
Good essay on Turkey's broken foreign policy.
Much on the DPRK. Gen Clark points out some ugly ground truths about conducting a military campaign against the DPRK. Amb Vershbow discusses the political dimension. Multiple essays and comments by catastrophisers and appeasers. China objects loudly to USAF flying two B-1Bs from Guam over the South China Sea – this is clearly PLA "JASSM Jitters" in action. Interesting report on weaponised leaks and infighting in Chinese domestic politics.
Transparency International report exposes Russia's network of active lobbyists across Europe – long overdue, but deals with overt rather than covert  "agenty vliyanniya".
ODNI release "Assessing Russian Activities and Intentions in Recent US Elections". Rachel Maddow briefs on bogus anti-Trump documents sent to her office – lame attempts at forgeries, authors unknown. A sampling of the MSM spat over the Warsaw speech.


---
---
Trump, Putin Handshake Sparks Twitter Reaction After Back-Pat | International Business Times Social media users were quick to comment on what they called "the handshake the world has been waiting for."

Trump to Putin: 'It's an honor to be with you' – POLITICO "We look forward to a lot of very positive things happening for Russia, for the United States," Trump says at opening of highly anticipated meeting.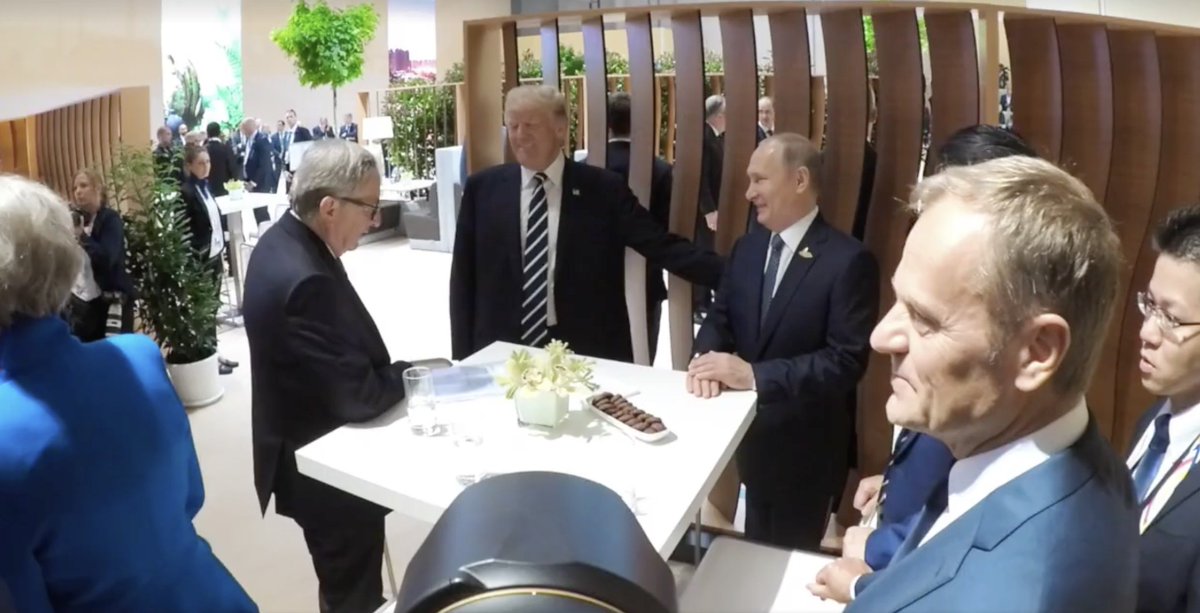 Vladimir Putin Says He Was Delighted to Meet Donald Trump in Person | Politics | US News Putin says he was 'delighted' to meet Donald Trump in person.
Trump, Putin Sit Down for Closely Watched G-20 Meeting – NBC News  Trump and Putin delivered brief joint remarks and exchanged a second handshake on Friday ahead of their sit-down at the G-20 summit.
Trump and Putin Meet at G-20 in Hamburg, as Protests Resume – The New York Times "It's an honor to be with you," President Trump said as he met with his Russian counterpart, Vladimir V. Putin, at the Group of 20 summit meeting.
Gorbachev Urges Trump, Putin To Restore Trust Between U.S., Russia Mikhail Gorbachev has urged U.S. President Donald Trump and Russian President Vladimir Putin to restore trust between their two countries and said their upcoming meeting should emulate the 198…
Reading Putin in Hamburg – The American Interest Putin is no businessman, ready to make a good deal. He is a manipulator, through and through.
Is Moscow falling out of love with Trump? – BBC News "More dangerous than Kim Jong-un": How Russia's view of Donald Trump has transformed in six months.
At long last: President Trump to meet Putin | Fox News President Trump will finally get to meet the man he's often claimed to already know.
Trump and Putin are meeting, and the Americans are diplomatically outgunned – The Washington Post The U.S. side is diplomatically outgunned
Here's what's at stake when Trump finally meets Putin – The Washington Post The U.S. and Russian presidents to meet for a much anticipated chat at the G-20 summit.
Does Trump have what it takes to stand up to Putin? – LA Times Don't be politically correct with Putin, Mr. President.
With U.S.-Russia Relations Plummeting, Trump Set To Meet Putin For First Time U.S. President Donald Trump is set to hold the most consequential meeting of his 6-month-old presidency: a face-to-face sit-down with Russian leader Vladimir Putin in an effort aimed at stemmin…
Inside the Trump-Putin meeting – Axios There will likely be 6 people in the room.
Russia's Expert Advice: How Putin Should Tackle His First Trump Meeting At the same time, there are certain steps Russia could take to send a clear signal that it's not an anti-American player, and present those steps as a certain symbolic victory for Trump. For example, to commit to never violate the airspace of NATO countries or allow dangerous situations to emerge there, put more pressure on the Syrian regime and make completely clear the impermissibility of the use of chemical weapons or military force in this conflict. It could focus on the fight against Islamic State* instead of the opposition in Syria, and take up a harsher position towards North Korea. That would make it easier for Trump to sell [the idea] of a constructive cooperation with Russia at home.
Tips for President Trump Ahead of His First Meeting With Putin How should the U.S. president approach his first face-to-face with Putin?
For Russia, Trump-Putin Meeting Is a Sure Winner – The New York Times In Moscow's view, whatever Mr. Trump does, whether cooperating with the Russian leader or stonewalling him, he will come out looking the weaker party.
Trump and Putin Meet in Testosterone-Fueled Face-Off – The New York Times Two leaders who have staked their appeal on projecting masculinity will cross paths on Friday with the whole world looking on.
Putin Calls On G20 Nations To Unite Against Terrorism Russian President Vladimir Putin has called on the Group of 20 nations to create a "united antiterrorist front" with the UN playing a central role. Putin made the statement at a meeting of the BRICS grouping of Brazil, Russia, India, China, and South Africa on the sidelines of the G20 summit in Hamburg. (AP)
---
Polish leader says other nations envy Trump visit to Warsaw – ABC News Polish leader says other nations envy Trump's Warsaw visit
Trump, in Poland, Asks if West Has the 'Will to Survive' – The New York Times He said Western civilization was at risk of decline, bringing a message about "radical Islamic terrorism" and "the creep of government bureaucracy" to Warsaw.
Donald Trump joins battle for the soul of the West – CNNPolitics.com President Donald Trump delivered a battle cry to defend Western civilization on Thursday — but his political vision for the alliance in the West is one that few of its other major leaders would recognize, far less embrace.
Trump's dangerous thirst for a clash of civilizations – The Washington Post In Poland, the president cast himself as the crusader in chief.
Trump's "remarkable" speech in Poland Some observations on what Matthew Continetti rightly calls Donald Trump's "remarkable" speech in Warsaw, Poland. (1) This was a speech filled with remarkably apt references to Polish history, a subject surely few people suspected the president came to office familiar with. There were multiple references to Pulaski and Kosciusko, the Poles who crossed the Atlantic to fight for American independence, and to the Miracle of Vistula in 1920, when the Polish army under General Pilsudski repelled a Soviet invasion. Trump recounted Pope John Paul II's 1979 sermon before 1 million of his fellow Poles and how they responded by chanting, "We want God." "Poland is the story of a people who have never lost hope, who have never been broken, and who have never, ever forgotten who they are." It's interesting that a president who proclaims he serves "America first" should make a point of hailing Polish nationalism. It provides credibility to Trump appointees who say that "America first" does not mean "America alone." It shows that an American nationalist can appreciate and admire another nation's nationalism.

Trump Calls For Coordinated Efforts Against 'New Forms Of Aggression' U.S. President Donald Trump spoke to the Polish people in Warsaw's Krasinski Square on July 6, praising the country for being "among the most committed members" of NATO. Trump said that Western allies must now adapt to face new challenges, including propaganda and cyberwarfare, and called on Russia to "cease its destabilizing activities in Ukraine and elsewhere." (Reuters)
Trump says US 'stands firmly' behind NATO mutual defence – Radio Poland :: News from Poland President Donald Trump said during a visit to Poland on Thursday that the US "stands firmly behind" NATO's mutual defence commitment.
Donald Trump in Poland Takes on North Korea, Russia – NBC News WARSAW, Poland — President Donald Trump vowed Thursday to "confront very strongly" the issue of North Korea for test-launching missiles and he took a shot at Russia for "destabilizing" actions in Ukraine and other countries.
Duda, Trump discuss situation in Ukraine – 06.07.2017 14:36 — Ukrinform News 06.07.2017 14:36. The situation in Ukraine and the West-2017 military exercise have been discussed at a meeting between the U.S. and Polish presidents, Donald Trump and Andrzej Duda.
Presidents Trump and Duda discussed situation in Ukraine and Belorussian-Russian Zapad-2017 drills. PHOTOS 06.07.17 14:30 – U.S. President Donald Trump and his Polish counterpart Andrzej Duda held talks in Warsaw on July 6, during which the parties discussed Poland's security and economic independence, as well as Russia's aggression against Ukraine. Censor.NET reports citing Interfax-Ukraine. Polish Presidential Administration wrote on Twitter the two presidents talked about the U.S. troops in Poland, strengthening security in this part of Europe, about the situation in Ukraine, as well as the upcoming Zapad-2017 drills of Russian and Belorussian troops in Belarus, Liga reported. Trump reiterated his country's commitment to maintaining peace and security in Central and Eastern Europe. Read more: Trump, Putin to meet on July 7, – aide to Russian president "Our strong alliance with Poland and NATO remains critical to deterring conflict and ensuring that war between great powers never again ravages Europe and that the world will be a safer and better place. America is committed to maintaining peace and security in Central and Eastern Europe. We are working with Poland in response to Russia's actions and destabilizing behavior," the U.S. president said. Trump said there were 5,000 U.S. servicemen in Poland now. The U.S. President also welcomed Poland's important role in the issues of bilateral military cooperation, as well as the fight against terrorism, in particular against ISIS.
Trump administration to sell Patriot missiles to Poland Antoni Macierewicz made the announcement Thursday as U.S. President Donald Trump kicked off a day of meetings on defense and energy initiatives.
---
---
Russia steps up spying efforts after election – CNNPolitics.com  (CNN)Russian spies are ramping up their intelligence-gathering efforts in the US, according to current and former US intelligence officials who say they have noticed an increase since the election. The officials say they believe one of the biggest US adversaries feels emboldened by the lack of a significant retaliatory response from both the Trump and Obama administrations. "Russians have maintained an aggressive collection posture in the US, and their success in election meddling has not deterred them," said a former senior intelligence official familiar with Trump administration efforts. Russians could also be seeking more information on Trump's administration, which is new and still unpredictable to Moscow, according to Steve Hall, retired CIA chief of operations.

Russia is believed to be ramping up an 'aggressive' spying campaign in the US | Business Insider Russia is believed to be stepping up its…
Window on Eurasia — New Series: Russia has as Many as Five Million Homeless, Not the 64,000 Rosstat Reports Paul Goble Staunton, July 6 – Sergey Mironov, head of the Just Russia Party, says there may be as many as five million homeless people in the Russian Federation. Moscow experts say that may be too high, but all agree that the official figure Rosstat gives – 64,000 – is vastly too low and the real number is somewhere in between. Milonov offered his estimate, one based on his survey of the expert community, in support of a package of measures his party has proposed to deal with rising poverty levels in Russia. Rosstat's number is from the 2010 census: the official agency hasn't collected any data on this issue since that time. In reporting this, Anastasiya Bashkatova, an economics journalist for Nezavisimaya gazeta, points out that gathering information on the homeless is difficult for any government, but she suggests that the Russian authorities are deliberately understating the size of the problem in this case (ng.ru/economics/2017-07-06/1_7023_russia.html). Instead of trying to reach out to the homeless, she says, Russian census takers often have made use of records about residences or housing payments that by definition would not include the homeless. (See ng.ru/economics/2010-10-27/1_perepis.html and ng.ru/economics/2017-06-08/4_7005_rosstat.html.) The 2010 Russian census listed 34,000 homeless households, "in which," it said, "were included about 64,000 people;" and officials stressed that their number had fallen since the earlier enumeration in 2002. But now that poverty has increased, Rosstat has made no effort to try to find out just how many Russians are homeless. The Russian statistical agency has a long history of understating problems that the regime wants understated, Bashkatova says. For example, and she provides detailed from an Audit Chamber accounting, Rosstat has routinely offered figures that undercount the number of orphans in the Russian Federation. One way that Rosstat often inaccurately describes a phenomenon is by changing the years to be compared. When it announced earlier this year that 22 million Russians were poor, it pointed out that a year earlier, although it had not announced this then, 23.4 million had been. Thus, one could say that the situation had even "improved." But if one takes a longer period, then it turns out that "the level of poverty in Russia has fundamentally increased," something the authorities don't want to admit but must focus on if the situation of those at the bottom of Russian society is to have any chance of improvement.
Window on Eurasia — New Series: Russian Immigration Law Promotes Segregation Not Integration of Immigrants, Prokhorova Says  Paul Goble  Staunton, July 6 – Russian laws governing the rights of immigrants "promotes not their integration but rather their segregation," a problem that is going to become ever more acute as Moscow uses immigrants to compensate for declining numbers in its domestic population and labor force, according to Anna Prokhorova. In a new book (An Assessment of the Effectiveness of Immigrant Integration Policies in Russia (in Russian), Moscow, 2017, 109 pp., a complete text of which is available at fergananews.com/archive/2017/Book_Prokhorova.pdf), the demographer who has been working on migration issues for the World Bank lays out the reasons for that conclusion. Employing the MIPEX integration index that was developed for EU countries, Prokhorova says that immigrants to Russia have vastly fewer rights than Russian citizens and only half as great an opportunity to rise in the labor market as do Russian citizens, the result she says of Russia's lack of a strategy for integrating immigrants. What that means, she continues, is that Russia "doesn't recognize the possibility of transforming such migrants into its own constant residents or citizens." Instead, it drives them into ghettos, forces them to live in semi-legal conditions, and ultimately drives them out of Russia back to their homelands. She gives as an example of just how out of step Russia is with European norms. Most immigrants in Europe now are allowed to enter because they have relatives in this or that country. Those relatives need not be citizens, but their application can be the basis for admission. In Russia, such arrangements are lacking: Only citizens can invite relatives to enter.

Window on Eurasia — New Series: Putin's Greatest Fear is the FSB Refusing to Fire on the Russian People, Golts Says Paul Goble Staunton, July 6 – Aleksandr Golts, a Moscow specialist on military affairs and the deputy chief editor of Yezhednevny zhurnal, says that Vladimir Putin's greatest fear is that the FSB will refuse to open fire on Russians who may seek to overthrow his rule and thus he has created the Russian Guard as a last line of defense. But that organization despite its size – 400,000 men – and leadership – its commander is Putin's former bodyguard may prove an unreliable force because while the order to fire may come down from the top, mid-level and junior-level officers may ultimately refuse to carry it out (dsnews.ua/world/-putin-pokinet-kreml-tolko-vpered-nogami–04072017220000). In an interview given to Galina Ostapovets of Kyiv's Delovaya stolitsa, Golts says that Putin is not afraid of a war with NATO. Instead, "Putin's paranoia consists of the fact that he supposes that the West and NATO may at some moment organize a 'color' revolution in Russia" and that he will be ousted from power. One must understand, the military analyst says, that "people who have usurped power never say to themselves that they have usurped power. They tell themselves that the Russian people is special, with a very difficult fate, and its simply not ready for democracy." Hence the need for "administered democracy." Even more to the point, Golts continues, "the experience of 1991 hangs over Putin, when Soviet paratroopers having held conversations with the KGB special forces replied that 'no, we will not shoot'" at the population. That fear explains why the Kremlin leader created the National Guard which he believes will "fulfill any order." But the reality is that when "a critical situation arises," it won't be his old bodyguard who "comes running with a pistol. Decisions will be taken by specific individuals," Golts continues. "When the order comes to open fire, this means that inside the country the situation has become critical." In such a situation, Putin and Zolotov, the commander of the Russian Guard, may give orders, but no one can know in advance whether it will be obeyed. "Everything depends on the specific situation and on the level of motivation of these people. In 1991, the forces refused to shoot, but in 1993, they did." Golts made a number of other noteworthy observations during his interview. The five most significant are the following: Russia and NATO have entered a new cold war as a result of Russian aggression in Ukraine, and an arms race has begun as well. Both are certain to last a long time. NATO has already proven its worth by putting forces in the Baltic countries and Poland. After the Western alliance did that, Putin stopped talking about his "Novorossiya" project. Putin has not and indeed cannot choose a successor. The system he has established precludes that. He is the only one who holds things together. "If he disappears, chaos will ensue." Thus those around him will work to ensure he doesn't disappear. When he finally exits the scene, "he will leave chaos behind." "Putin is not the chief problem. Yes, he is a manipulator, but to a much greater degree he is an expression of the prejudices and misconceptions of the Russian people which still hasn't digested the disintegration of the Soviet Union." When Putin does leave, it is far less likely that any democrat will take over than someone who will "play on these prejudices" and more Russia "further along the path of oligarchy and authoritarianism. The Arctic region is going to the site of intense competition military and otherwise between Russia and the US. Once Moscow and Washington do return to conversations, among the first subjects they must address is cyberwar, something few understand and no one yet knows how to counter.
Window on Eurasia — New Series: Middle Volga Muslim Fighters for 'Russian World' in Donbass Divided on Its Meaning, Suleymanov Says Paul Goble Staunton, July 6 – Muslims from Russia's Middle Volga region who went to fight for the DNR and LNR in Ukraine were motivated by their sense of belonging to the Russian world Vladimir Putin has talked so much about, according to Rais Suleymanov, editor of Musulmansky mir and someone long rumored to be close to Russia's security agencies. But in a preservation to the 12th Congress of Anthropologists and Ethnologists of Russia in Izhevsk this week, the often controversial specialist on Islam in Russia says that those Muslims who went defined the concept of "'the Russian world'" in two very different ways (ruskline.ru/news_rl/2017/07/05/chto_est_russkij_mir/). "For one group of Muslim volunteers," Suleymanov says, "the ideology of 'the Russian world' was conceived as a return to a model of the Soviet Union,, to be sure in a renewed format (the conception of 'USSR 2.0') and the war in the Donbass was seen as a struggle with fascism." Thus, these Muslim volunteers had "Soviet ideological convictions." According to the speaker, "the second group of Muslim volunteers from the Middle Volga view 'the Russian world' as the reunification with Russia of territories populated by ethnic Rusisans, the ideal for whom is the Russian Empire, and the battle in the Donbass is seen as a Russian irredenta." Suleymanov says that "for the majority of Muslim volunteers from the Middle Volga is characteristic a double ethnic identity: while not denying their Tatar or Bashkir origin, they consider themselves [ethnic] Russians and such self-identification peacefully exists in their consciousness." Many of those who did choose to volunteer, however, chose to do so in order to escape from their everyday life and to change it, something that affected their own "self-assessment and gave rise to a sense of serving a noble goal and being useful," he argues. Intriguingly, Suleymanov says that "Muslim volunteers from the Middle Volga have not always remained Muslims. Some of them decide that their Russianness means they must become Orthodox or neo-paganist. Which of these they actually chose, he says, depended on what the Russian volunteers around them practiced. The reason that they could change their religious affiliation, he argues, is "their own weak Muslim religiosity, the influence of their military comrades, and the emotional boost from participating in 'the Russian spring.'" Nonetheless, Suleymanov acknowledges, many Tatar volunteers have remained Muslim. Some of them, he says, inscribed their weapons with the words "Allah is With US!" "In their understanding," he argues, "the Muslims of Russia, fighting for Novorossiya are fighting for the interests of Russia where traditional Islam is triumphing over anti-Russian directions of radical tendencies of foreign Islam." Suleymanov's argument is one that many in Moscow security community would find congenial, but the sample size for his conclusions was very small. Some Tatars and Bashkirs did in fact go to the Donbass to fight for Moscow's agenda, but their number was too small to make sweeping conclusion about the attitudes of Muslims, Tatars, or anyone else.
Russian Opposition Leader Navalny Released From Detention MOSCOW — Russian opposition leader Aleksei Navalny has been released from a Moscow detention center after 25 days under administrative arrest. Navalny's spokeswoman Kira Yarmysh said o…
Trial Of Crimean Journalist Set To Resume In Simferopol Russia-appointed judges at a court in Ukraine's occupied Crimea region were scheduled on July 7 to resume the trial of Mykola Semena, an RFE/RL contributor who is fighting what he says is …
Russia Accuses U.S. Of 'Hunting' And 'Kidnapping' Its Citizens After Latest Arrest – To Inform is to Influence More evidence that Russia is a criminal society. Russia is fully aware that Yury Martyshev that the US had a warrant out for him for cyber fraud, yet did nothing. Later, when he is legally arrested elsewhere, Russia objects.  Russia is much like an old sexist joke. If Russia can't bitch it's going to have to…
Elena Volkava and Teresa Eder | Russia needs a feminist revolution | Pittsburgh Post-Gazette The tip of the iceberg: Domestic violence was just decriminalized.Earlier this year, the Russian legislature decriminalized domestic violence. Russia is one of only three countries in Europe and Central Asia (along with Armenia and Uzbekistan) that does not have specific laws addressing domestic violence. Although President Vladimir Putin signed the bill into law in February, it took effect July 1. The law releases husbands from criminal responsibility — with some minor exceptions — for acts of physical violence against their spouses. In theory, an anti-sexual harassment law adopted in 2014 should protect women from physical harm. In practice, discrimination and violence against women are widespread. The Russian Ministry of Internal Affairs says that 40 percent of violent crimes against women in Russia are committed by spouses or intimate partners, but an independent study found that the figure was closer to 80 percent. Now activists warn that decriminalization will legitimize further abuse. Small cuts and bruises will be seen as "minor harm," punishable by a fine of up to $500 or up to 15 days in jail. Patriarchy is the rule, not the exception. A government directive passed in 2000 prohibits women from driving tractors or changing sewer pipes in homes. There are 456 jobs that Russian women are banned from holding.
Estonia opens tender for supply 11 000 new assault rifles | Defence Blog The Estonian Centre for Defence Investment has announced a tender for the purchase of new automatic 5.56 mm and 7.62 mm calibre small arms and associated equipment for the country's 1st and 2nd infantry brigades. That was reported by err.ee. Under the tender, the Estonian armed forces are planning to sign a five-year framework agreement (which could be extended) for the manufacture and delivery of around 11,000 new rifles and associated accessories worth an estimated EUR 75 million (USD85 million). Between 2018 and 2021, some 11,000 automatic weapons are anticipated to be acquired, with the envisioned purchase of an additional 18,000 units up to 2024.
---
---
Marko Mihkelsoni | Disinformation across ages: Russia's old but effective weapon of influence -Euromaidan Press | Andropov said that "disinformation is like cocaine—sniff once or twice, it may not change your life. If you use it every day… it will make you an addict."
Russian Propaganda Hits Local DC Airwaves – To Inform is to Influence A pro-Putin outlet is now broadcasting full-time on the FM dial in the nation's capital—and it's as bad as you might expect. 6:00 AM, JUL 05, 2017 | By MARK HEMINGWAY As wealth has poured into the nation's capital and the city has largely redeveloped over the last two decades, one of the last reminders that Washington,…
Russia Still Diligently Skewing The Truth Via 'The Real News Network'  – To Inform is to Influence I just reviewed the latest news reports regarding Russia, before turning in for the night. I noticed an intriguing title. Trump Tells Russia to Stop 'Destabilizing' Ukraine, But What's Really Going On? The Real News Network  The article contains a video and a transcript (below) of an interview between Aaron Maté of The Real News Network and Nicolai…
Macron's Russia Reset – To Inform is to Influence This is a clear example of one of the unintended consequences to Russian Information Warfare.  Prior to the French election, Macron was considered pro-Putin.  He was markedly less so than Le Pen, but he was still regarded as favoring Russia and reducing sanctions against them.  Then, in an effort to support Le Pen, Russia's propaganda…
Russians Are Said to Be Suspects in Nuclear Site Hackings – Bloomberg Hackers working for a foreign government recently breached at least a dozen U.S. power plants, including the Wolf Creek nuclear facility in Kansas, according to current and former U.S. officials, sparking concerns the attackers were searching for vulnerabilities in the electrical grid.
Hackers Target U.S. Nuclear Facilities, Russia Is Suspect  They may be looking for ways to disrupt the U.S. electric grid, but DHS and the FBI said there is "no indication of a threat to public safety."
Head of Russian hacker group sentenced to 2 years – Fifth Domain | Cyber MOSCOW (AP) — A Moscow court has imposed a two-year prison sentence on the leader of a hacker group that some reports have suggested was connected with the arrest of two top officials of Russia's national security service. Vladimir Anikeyev was sentenced Thursday on a conviction of hacking the accounts of several prominent Russians, including the spokeswoman for Prime Minister Dmitry Medvedev. The trial was conducted behind closed doors. Details of the proceedings were unclear. Anikeyev headed a hacker group called Shaltai-Boltai (Humpty-Dumpty). He was arrested last November, but the arrest became known only after Russian news media reported that two officials of the Federal Security Service's cybercrime unit had been arrested on treason charges. Some news reports suggested the officials had connections to the hacker group or had tried to control it.
'Cracka' sentenced for hacking top federal officials – Fifth Domain | CyberA ndrew Boggs pleaded guilty to conspiring with a hacking group looking to gain unauthorized access to government computer systems as well as the accounts of government officials, according to the Department of Justice. Boggs, also known as "INCURSIO," pleaded guilty on Jan. 10, four days after his co-conspirator, Justin Liverman, also known as "D3f4ult" pleaded guilty. The two conspirators were a part of a group that called themselves "Crackas With Attitude." For four months, from October 2015 to February 2016, the group used social engineering to access the accounts of senior government officials, their families, and U.S. government computer systems. They successfully managed to infiltrate a confidential database where Boggs gained access to several government employee documents and personal information. He later chose to post this information. In all, the conspiracy targeted more than 10 victims who lost over $1.5 million. Boggs, 24, has been sentenced by U.S. District Judge Gerald Bruce Lee to serve two years in prison. Liverman, also 24, is scheduled to undergo sentencing on July 28. Other members of the group are located in the United Kingdom and undergoing prosecution by the Crown Prosecution Service.
Ukraine official: Worm likely hit 1 in 10 state, company PCs | News & ObserverA Ukrainian government official estimates that as many as one in 10 personal computers at companies and government offices across the country may have been compromised in the cyberattack that erupted on June 27.
Every tenth Ukrainian PC hit by worm – LB.ua news portal Every tenth Ukrainian PC hit by worm. Half of the infected computers are "bricks". Main – LB.ua news portal. Latest from Ukraine and the world today
New KONNI Malware Campaign References North Korean Missile Capabilities – To Inform is to Influence THURSDAY, JULY 6, 2017 This blog was authored by Paul Rascagneres Executive Summary We recently wrote about the KONNI Remote Access Trojan (RAT) which has been distributed by a small number of campaigns over the past 3 years. We have identified a new distribution campaign which took place on 4th July. The malware used in this campaign has…
In TV Ratings Game, Networks Try to Dissguys Bad Newz from Nielsen – To Inform is to Influence They misspell shows to fool the firm's automated system into ignoring broadcasts on nights with few viewers; "NBC Nitely News" Joe Flint July 6, 2017 10:22 a.m. ET Boosting TV ratings is easy for networks that don't mind playing dumb. In a game largely sanctioned by TV-ratings firm Nielsen, television networks try to hide their…
Hundreds Of Apps Can Listen For Marketing 'Beacons' You Can't Hear – To Inform is to Influence THERE ARE PLENTY of privacy-invading marketing ploys to worry about in life. Some examples are in your face, some are more subtle. And a relatively new kind manages to be outright invisible. In the most inconspicuous hustle of all, apps have increasingly incorporated ultrasonic tones to track consumers. They ask permission to access your smartphone microphone, then listen for inaudible…
---
---
Here's Why the Trump-Putin Meeting Is Crucial for Ukraine – YouTube US President Donald Trump and Kremlin leader Vladimir Putin will meet for the first time on the sidelines of the G20 summit in Germany. _ Follow UATV English…
Trump, Merkel discuss Minsk peace plan implementation | UNIAN U.S. President Donald Trump on Thursday met with German Chancellor Angela Merkel to discuss, among other things, the implementation of the Minsk peace agreements on Donbas, eastern Ukraine, according to the White House. News 07 July from UNIAN.
President of Ukraine held a phone conversation with the Chancellor of Germany — Official website of the President of Ukraine The parties discussed the situation in Donbas and coordinated the implementation of the Minsk agreements in the context of preparations to the G20 Summit in Hamburg and the meeting of the leaders of France and Germany with the President of Russia. Angela Merkel assured Petro Poroshenko that during the meeting nothing would be decided about Ukraine without Ukraine. Petro Poroshenko and Angela Merkel stressed the need for continuing active contacts in the Normandy format with a view to return Russia to the logic of the Minsk agreements' implementation.
U.S. Taps Ex-NATO Ambassador As Special Ukraine Envoy KYIV — Kurt Volker, a former U.S. ambassador to NATO, has been appointed to be the new U.S. special envoy to negotiate over the fate of war-racked Ukraine, two State Department officials confirmed t…
US said to appoint special envoy to Ukraine – LB.ua news portal Washington will apparently appoint a special envoy to Ukraine, an informed source in diplomatic circles told LB.ua on 7 July. Kurt Volcker is a former US ambassador to NATO. Since 2011, he leads the McCain Institute (Arizona, USA). "It is possible that he will be in Tillerson's team when he comes to Ukraine on 9 July," the source said. "We are very pleased with this appointment," the source said and noted that the Ukrainian side had already had "productive contacts" with Volker. "We hope he will actively join the Minsk process," the source said. "He knows Ukraine, he's a serious figure in the US establishment, and he has been directly involved to the Ukrainian case in recent years," he added. According to the interlocutor of the publication, Volcker's appointment is one of the results of President Petro Poroshenko's visit to the United States. In Barack Obama's administration, Ukraine was overseen by Victoria Nuland.
Trump Administration Has Not 'Ruled Out' Providing Lethal Aid to Ukraine | The Weekly Standard The Trump administration is not ruling out providing Ukraine with defensive weapons in its fight against Russian-backed separatists, a State Department official told THE WEEKLY STANDARD, though the administration is focused on a diplomatic solution to the conflict. The Kremlin has provided the separatists with military support in the face of the 2015 Minsk ceasefire agreement. The Trump administration, in turn, has vowed to maintain Ukraine-related sanctions on Russia until it implements the agreement. But even as Trump officials are advocating for a diplomatic solution, whether through Minsk or other means, the administration is leaving the potential for lethal defensive aid on the table.
Trump: Russia must stop 'destabilizing activities in Ukraine and elsewhere' – POLITICO Trump spoke at Warsaw's Krasinski Square, near a monument to the Warsaw Uprising.
Trump tells Russia to stop 'destabilising' Ukraine – BBC News The US leader says Russia should "join the community of responsible nations" in a speech in Poland.
Trump in Warsaw calls on Russia to cease destabilization of Ukraine In a keynote address in Warsaw, U.S. President Donald Trump has called on Russia to "cease its destabilizing activities in Ukraine and elsewhere." News 06 July from UNIAN.
Ukraine – NATO Commission will take place in Kyiv under the presidency of the Head of State — Official website of the President of Ukraine The event will be held within the visit of the NATO delegation to Ukraine dedicated to the 20th anniversary of the Charter on a Distinctive Partnership between Ukraine and NATO.
President to meet with the UN Secretary-General — Official website of the President of UkraineThe parties will discuss the prospects of further cooperation within the UN, the opportunities of greater involvement of its toolkit in the peaceful settlement in Donbas, as well as the fulfillment of the UN GA decisions as regards Crimea.
"Marshall Plan" for Ukraine: Lithuania calls on international donors for support Lithuanian Foreign Minister Linas Linkevicius says Kyiv needs large-scale funding, following the example of the Marshall Plan, given the relevant reforms are made, according to the Ukrainian media outlet Europeiska Pravda. News 06 July from UNIAN.
Ukrainian Deputy PM: 'Russia not willing to implement Minsk' – DW Two years after the Minsk agreement was signed, the agreement is still having little or no effect on the ground. Ukraine's Deputy Prime Minister Klympush-Tsintsadze blames Russia on Conflict Zone. News 06 July from UNIAN.
UAWire – Separatist Republics in the east of Ukraine believe they will soon become part of Russia According to Commander of the separatist Legion battalion and "Member of Parliament" of DPR Sergey Zavdoveev, the self-proclaimed DPR (Donetsk People's Republic) and the LPR (Luhansk People's Republic) will be incorporated into Russia in the near future, separatist media reports. In his opinion, only Russia is preventing Kyiv from realizing the "Croatian scenario" in the Donbas. "I think that no one is taking on Russia. The LPR and DPR – this is Russia. We are now legally being integrated into Russia. And after the elections next year, we will achieve integration into the Russian Federation. In the course of three years, a lot of work has been done, at the political level as well as at the military and economic levels. Therefore we will 100% be part of the Russian Federation, and they will support us 100%," Zavdoveev said. The "MP" noted that if the Ukrainian military go on the offensive, then "as usual, Russia will help with humanitarian aid and medicine, as it has helped thus far, but it will not get involved in the conflict itself." "If Ukraine crosses this Rubicon, by doing so, they will dissolve all agreements. There is an unofficial agreement between the US, Europe and Russia, that whoever is the first to go on the offensive is the aggressor, and is to blame for this war. Honestly, if the Armed Forces of Ukraine decide go on the offensive, then the very same America and Europe will turn against them, and will give us the ability to act openly," the "MP" stressed, adding that "the separatist army will have enough strength to repel the attack of the Ukrainian Armed Forces. " According to Zavdoveev, separatists would only be happy about Ukraine's offensive, as this would allow the war to end. On March 2, the Head of DPR, Alexander Zakharchenko, expressed the belief that "Ukraine [would] not exist in 60 days." This period ended on May 2, 2017.
"Russia not to let them in:" Escape drills held in occupied Donbas – Ukraine intel A spokesman for the Ukrainian Defense Ministry says that Russian-backed militants in the occupied Donbas conduct drills to work out an escape plan, according to Channel 5. News 06 July from UNIAN. "Russia will not let them in, we know this – and they are well aware of this too. They practice escape drills. For example, they are conducting exercises in Donetsk to evacuate command personnel by buses," ministry speaker for Anti-Terrorist Operation issues Andriy Lysenko said, Channel 5 reported. In his words, routes are being developed to evacuate fighters' families.  "The documentation and everything that can be used as evidence of this hybrid war is being removed. Routes are being or have already been developed to evacuate the families of the leaders of the so-called self-proclaimed republics and the Russians as well. The Russians will learn this first – they will be given a command. As soon as the Russians flee, Donetsk will be released without engaging the Ukrainian Armed Forces," Lysenko added.
UAWire – Ukrainian Ministry of Defense: Ukraine preparing to repel massive air strikes For the first time, Ukraine has begun preparing anti-aircraft missile units to repel a series of massive enemy air strikes, stated Dmitry Karpenko, head of air defense missile forces of the Armed Forces of Ukraine, as reported by the press service of the Defense Ministry. "The important thing in the current process of combat training is that we have begun to prepare anti-aircraft missile units to repel a series of massive air strikes, which has not been done since 1992," Karpenko said. He said that this year about 120 command staff, tactical, and anti-aircraft missile exercises are planned. There will also be three tactical exercises with live fire. In July, at the Shabla training ground in Bulgaria, joint Bulgarian-Ukrainian air defense unit drills with combat shooting will be held. Also, controlled flight tests of anti-aircraft guided missiles as well as tactical exercises with live firing of Buk-M1 air defense system units will be held this year in the Kherson region. Karpenko gave assurances that Ukraine is now sufficiently protected from enemy air strikes. According to him, a powerful group of anti-aircraft missile units, capable of repelling a massive attack of enemy aircraft and cruise missiles, is now stationed in the Donbas. Earlier, NSDC (National Security and Defense Council) Secretary Aleksandr Turchynov said that Ukraine has regained its position as a missile power. On December 1, 2016, Ukraine conducted rocket firing tests in the Crimean region. In all, 16 rockets were launched. The military said that all the missiles hit their targets.
Ukraine reports 1 KIA, 1 WIA amid 25 enemy attacks in last day Russia's hybrid military forces attacked Ukrainian army positions in Donbas 25 times in the past 24 hours with one Ukrainian soldier reported as killed in action (KIA) and one as wounded in action (WIA), according to the press service of the Anti-Terrorist Operation (ATO) Headquarters. News 07 July from UNIAN.
Over 30,000 Russian military deployed in Donbas – Muzhenko – 07.07.2017 13:03 — Ukrinform News 07.07.2017 13:03. The head of the General Staff and the commander-in-chief of the Ukrainian Armed Forces, Army General Viktor Muzhenko, said this at a joint meeting of the Military Science Council of the Ukrainian Armed Forces and the National Academy of Sciences of Ukraine, an Ukrinform correspondent reports. "According to military intelligence, this group currently includes more than 30,000 troops, including those deployed in Crimea," Muzhenko said. He also noted that military groups in the occupied territories of the Donbas were controlled by the Russian command. "The 1st and 2nd army corps numbering over 30,000 people are currently deployed in the occupied territories of Donetsk and Luhansk regions. They are managed by the newly formed 8th military army of the Southern Military District of the Russian Federation," Muzhenko said. He said that there was still a serious threat that Russia might begin full-scale military operations. "The main threat is the militarization by the Russian Federation of the temporarily occupied territories of Donetsk and Luhansk regions through the deployment of full-scale military groups," he said. Muzhenko added that Russia supplies 5,000 tons of fuel and 500,000 rounds of ammunition every month for the needs of these military groups.
Ukraine tests Korsar portable missile system (Video) | UNIAN The brand new portable anti-tank missile system Korsar, or Corsar (from French Corsairs), has been tested at one of the military grounds of the Armed Forces of Ukraine, according to Kyiv's Luch State Design Bureau. News 07 July from UNIAN.
New batch of Akatsiya and Gvozdika self-propelled artillery successfully tested in Khmelnytskyi region. VIDEO 06.07.17 13:34 – Shepetivka Maintenance Depot has successfully tested a new batch of self-propelled artillery, Akatsiya and Gvozdika, before transferring them to the Ukrainian army. As reported by Censor.NET, the engineers tested road performance of the hardware and conducted test shots at a shooting range in the Khmelnytskyi region.
Railways refurb cars for Ukrainian army – CEO – LB.ua news portal Railways refurb cars for Ukrainian army – CEO. Old cars are relegated to side tracks. Ukrainian railway operator Ukrzaliznytsya is set to convert cars for the Ukrainian army, the CEO of the state-owned company, Wojciech Balczun, said on 7 July. The railway chief said that the Refrigerator Wagon Company on the instructions of the president and the government re-equipped a pilot car from a refrigerated car for their own money. "We plan to demonstrate this modernized car to the officers of the Armed Forces of Ukraine soon. Provided the military give the green light, we are ready to convert another eight such cars… In addition, we will refurbish 102 more couchette cars for the transport of personnel," Balczun wrote on Facebook. According to the Ukrzaliznytsia chief, the modernized car is equipped with sleeping compartments, a guardroom, a bathroom and a kitchen. It is equipped with a stove for cooking hot dishes and cooking utensils. All premises are heated in winter. The water supply system is arranged similarly to the passenger car system and contains everything necessary: a shower, a washbasin and a toilet. In addition, the special car has a armoury safe, barred windows, and everything in accordance with regulations of the guard service. In addition, 102 more couchette are planned to be used for the transport of personnel. Balczun stated the desire that the government will update in the near the Soviet-time normative and technical documentation related to the terms of transportation of military personnel and equipment, and Ukrainian plants will receive an order for the manufacture of such cars.
UK trains over 5000 members of Ukraine's Armed Forces | Defence Blog The Defence Secretary made the announcement following a meeting between him and his Ukrainian counterpart, Stepan Poltorak in London earlier today. This comes as the UK prepares to refine Operation Orbital's training model. Through increasing the focus on Train-the-Trainer as well as mentoring and advising, we expect this change to increase the operation's impact on the Ukrainian Armed Forces' training sustainability over the coming year. British personnel have been in the country since 2015 on Operation Orbital, training the Ukrainian Armed Forces in a number of defensive skills such as the identification of mines and IEDs, medical care and logistics. Last year, Sir Michael confirmed that the training mission will continue until at least early 2018. Defence Secretary Michael Fallon said: We have now trained over 5,000 Ukrainian service personnel, sending a clear message that we are committed to supporting the country's sovereignty and territorial integrity.As the UK is stepping up across the world, we are standing side by side with our Ukrainian friends. During the meeting, the Defence Ministers also discussed how the UK can support defence and security reform in the Ukraine. Mr Poltorak is in the UK to discuss his country's progress in implementing reforms and the way forward to 2020 at the Ukraine Reform Conference in Lancaster House, along with other senior Ukrainian ministers. The major international conference will see the UK government and international partners reinforce their support for reform in the country.
Britain will continue to provide Ukraine with non-lethal military aid – Boris Johnson – 06.07.2017 17:44 — Ukrinform News 06.07.2017 17:44. The United Kingdom is ready to continue to provide non-lethal military assistance to Ukraine in the future.
The Liberation of Sloviansk And the Road to Take Back Ukraine – YouTube This week marks an important anniversary here in Ukraine. Three years ago, the Ukrainian army liberated the city of Sloviansk. Russian-backed militants occup…
President to the residents of Sloviansk and Kramatorsk: Despite occupation you always believed in victory and today you are free citizens of Ukraine and owners of the native land — Official website of the President of Ukraine President Petro Poroshenko congratulated the residents of Sloviansk and Kramatorsk on the third anniversary of liberation of their cities from the Russian mercenaries. "My sincere congratulations on the third anniversary of liberation from the Russian mercenaries. Three years ago gangs of armed criminals were knocked out by our warriors from your native cities, over which the Ukrainian blue-and-yellow flag was hoisted," the President said. According to the President, everyone remembers those dramatic events and gratitude and respect of local residents when they met our warriors-liberators. "Despite occupation, fear, panic, death and tears you have always believed in victory and today you are free Ukrainian citizens and owners of the native land," Petro Poroshenko emphasized. The Head of State noted that Ukraine would always remember the Ukrainian warriors and civilians fallen during the ATO and liberation of Sloviansk and Kramatorsk. The President wished peace, strong health and inexhaustible energy to the local residents.
Polish FM called out by Ukraine over historical comment – Radio Poland :: News from Poland The Polish ambassador to Kyiv has been called into the Ukrainian foreign ministry after Poland's foreign minister questioned Ukraine's attitude towards an anti-Polish WWII nationalist. In an interview with Poland's W Sieci weekly, Witold Waszczykowski said "Ukraine will not enter Europe with Bandera," referring to Ukrainian nationalist leader Stepan Bandera, who fought against Poland's underground army. The Ukrainian foreign ministry said Kyiv was disappointed by Waszczykowski's words and that comments relating to "sensitive matters of shared history" should be more weighed. Kyiv also said that Ukraine is protecting Poland and the European Union from the Russian army by fighting against Russia in the Donbass region. (vb/pk)
Why Poland should support Ukraine -Euromaidan Press | Vitaly Portnikov Support for Ukraine is not only in the interest of Ukraine but above all it is in the interest of Poland. And the refusal to provide this support is not the betrayal of Ukraine; it is the betrayal of Poland. In one careless interview Polish Minister of Foreign Affairs Witold Waszczykowski has questioned the main capital of Polish-Ukrainian relations of the last 25 years. And this core capital is not even based on trust and mutual understanding. It is based on a sense of reality. The minister of foreign affairs used a Polish publication to convey a message from the Polish leadership: "You will not enter Europe with Bandera." It is a loud, striking, and meaningless slogan. I will not engage in polemics with the high-ranking diplomat regarding the historical role of Stepan Bandera. It is primarily a task for historians and not for politicians and publicists. I am much more interested in Ukraine's advance to Europe. The Association Agreement with the European Union, which was signed three years ago, will enter into force only in the fall of this year. Facing our country are the years needed for its implementation. It will be necessary to carry out a whole range of important reforms, to achieve the restoration of the territorial integrity of the country, to meet the Copenhagen criteria (rules defining if a country is eligible to join the European Union — Ed.), to obtain the prospect of membership. All this will require not one year, not two, and not ten. Nobody knows what the European Union will look like then. Nobody knows whether Poland will be a member of this association. Nobody knows if Ukraine will want to apply to the European Union at that time. All this is a matter for the distant future. Therefore, it is clear that ultimatums concerning this distant future are complete nonsense. The one thing I can guarantee Witold Waszczykowski with complete clarity is that he will no longer be the minister of foreign affairs of Poland when Ukraine knocks at the door of the European Union. The future of Polish-Ukrainian relations then will be determined by people who now may still be in grade schools and universities. Even more striking is the example that the Polish foreign minister cited as a positive example of pressure on a sovereign state — the behavior of Greece towards the Republic of Macedonia. The refusal by Greece to recognize the name of a neighboring country and to block Macedonia's entry to NATO has resulted in negative consequences for the alliance itself due to the growing influence of Russia in the region and the destabilization of the situation in Macedonia.
Enhancing Ukraine's defence capacity crucial for whole world – PM – LB.ua news portal Prime Minister Volodymyr Groysman believes that increasing the defence capacity of Ukraine, which opposes Russia's hybrid aggression, is in the interest of the entire democratic world. "I am deeply convinced that increasing the defense capacity of our state is in the interests of the entire democratic world. It's a challenge that touches everyone, regardless of the country. This is a matter of values," Groysman He told a conference on reform in Ukraine. "If we close our eyes to [Russia's] aggression, it will not disappear anywhere, moreover, it will spread," he added. Groysman heads the Ukrainian delegation during a visit to the UK. In London, the Ukrainian prime minister will hold a series of meetings, including with Nathaniel Jacob Rothschild, a banker and politician. In April, Groysman suggested to increase the defense budget of Ukraine by half.
What It's Like to Be a Young Ukrainian in a War Zone Local youth build their lives and continue to thrive despite the nearby conflict.  
Ukraine's international reserves grow to almost $18 bln as of July 1 Ukraine's international reserves were estimated at US$17.97 billion as of July 1, 2017, which was 2% up from June 1, 2017, according to the website of the National Bank of Ukraine (NBU). News 07 July from UNIAN.
UK Concerned at 'Faltering' Ukraine Reforms: Foreign Minister Johnson | World News | US News US News is a recognized leader in college, grad school, hospital, mutual fund, and car rankings. Track elected officials, research health conditions, and find news you can use in politics, business, health, and education.
Boris Johnson: Ukraine's Progress 'Astounding' but More Needs to Be Done – YouTube The United Kingdom has applauded Ukraine's progress on implementing reforms. UK Foreign Secretary Boris Johnson called it 'astounding' but went on to stress …
Ukraine and the UK reaching new level of cooperation – PM Groysman – 07.07.2017 11:03 — Ukrinform News 07.07.2017 11:03. Ukraine and the United Kingdom reach a new level of cooperation, and Kyiv feels support both at governmental and parliamentary levels.
If Gazprom fails to abide by Stockholm Arbitration ruling, it will lose foreign assets, – Naftohaz 07.07.17 11:18 – If Gazprom fails to abide by Stockholm Arbitration ruling, it will lose foreign assets, – Naftohaz Russian gas monopolist Gazprom will be forced to abide by the Stockholm Arbitration ruling, otherwise it will lose its foreign assets, including gas delivered to Europe. View news.
UAWire – Security Service of Ukraine opens case against detained Russian border guards The Security Service of Ukraine (SBU) initiated criminal proceedings according to article 110 of the Criminal Code (infringement of territorial …
Boryspil airport signs deal with Ryanair – Ryabikin Ukraine's largest state-owned international airport Boryspil has signed a cooperation agreement with Europe's largest low-cost airline Ryanair, according to Boryspil Airport CEO Pavlo Ryabikin. News 06 July from UNIAN.
Latvian foreign minister: Ukraine has every chance of becoming EU member – 06.07.2017 15:24 — Ukrinform News 06.07.2017 15:24. Ukraine will still have support for the reform process, and the state should stimulate the interest of the business community in cooperation by ensuring the absolute rule of law.
Ukraine's membership of NATO to contribute to global security – Czolij – 07.07.2017 10:25 — Ukrinform News 07.07.2017 10:25. The world will be more secure and more stable if Ukraine becomes a full member of NATO. Such an opinion was expressed by President of the Ukrainian World Congress Eugene Czolij, an Ukrinform correspondent reports. "The Ukrainian World Congress supports Ukraine's decision to seek NATO membership which will significantly contribute to peace and stability in the world," he said. In this way, Czolij welcomed the signing by Ukrainian President Petro Poroshenko of the law on Ukraine's membership of the North Atlantic Alliance. As reported, on June 8, 2017, the Verkhovna Rada adopted draft law No. 6470 introducing amendments to certain legislative acts regarding Ukraine's foreign policy course. The law amends the laws of Ukraine on the principles of domestic and foreign policy and on the basics of Ukraine's national security aimed at restoring Ukraine's purposeful pragmatic course for gaining membership of NATO as a strategic foreign policy priority of the state. The law will also contribute to the expansion and deepening of Ukraine's cooperation with NATO, strengthening of the country's national security, and consequently guarantee its sovereignty and territorial integrity.
Ukraine Transport Maker Seeks US Partnership – Avionics Ukrainian aircraft maker Antonov has told visiting U.S. members of Congress that it wants to cooperate with America in developing a new medium-weight, short-takeoff-and-landing aircraft based on its four-propfan An-70 tactical military transport, the company said. A delegation of members from the U.S. House of Representatives' Committee on Transportation and Infrastructure visited Antonov in Kiev Monday, where they heard a call from company leaders for cooperation between Ukraine and the U.S. aviation companies. Specifically, the Antonov officials said they proposed joint development of the An−77, an upgraded version of the An-70 that they said fill a gap between Lockheed Martin C−130 (which has a payload of 44,500 pounds) and the Boeing C−17 (with a payload of about 171,000 pounds). The An-77 would have a payload of about 103,000 pounds, they said.
Trump Hands a Trade Victory to Putin at Ukraine's Expense The U.S. Commerce Dept is about to to sever an important lifeline for Ukraine to the West
Ukrainian leadership congratulates Ukrainians of Australia on 70th anniversary of settlement – 07.07.2017 14:47 — Ukrinform News 07.07.2017 14:47. Senior officials of Ukraine have congratulated Ukrainians of Australia on the 70th anniversary of the settlement on the Green Continent.
---
How the Kremlin tried to change Ukraine's Constitution | #SurkovLeaks, P.3 -Euromaidan Press | Ukraine was the first country to be hit by the tidal wave of disinformation engulfing the West today. But the stream of fake news was only one manifestation of something endlessly more sinister – a hybrid war, one that is conducted secretly while pretending that the perpetrator is the victim. A hacked mailbox of Russian senior official Vladislav Surkov sheds light on the operations of Russia's hybrid war against Ukraine, the ultimate goal of which was to gain opportunities to influence Ukraine's internal politics. In this article, we offer you Chapter #3 from Euromaidan Press' report "The Surkov Leaks: Annals of the Kremlin's hybrid war in Ukraine" which gives a glimpse at how the Kremlin attempted to secure a permanent possibility to interfere in Ukrainian political life by passing amendments to Ukraine's Constitution which would have granted a "special status" for the puppet republics it set up in Donbas.
Kremlin soft power: understanding how Russia manipulates audiences in Ukraine |#SurkovLeaks, Part 5 -Euromaidan Press | Ukraine was the first country to be hit by the tidal wave of disinformation engulfing the West today. But the stream of fake news was only one manifestation of something endlessly more sinister – a hybrid war, one that is conducted secretly while pretending that the perpetrator is the victim. A hacked mailbox of Russian senior official Vladislav Surkov sheds light on the operations of Russia's hybrid war against Ukraine. And the operations wouldn't be possible without the dedicated people behind them. In this article, we offer you Chapter #5 from Euromaidan Press' report 'The Surkov Leaks: Annals of the Kremlin's hybrid war in Ukraine' which gives a glimpse at the people helping Surkov and the Kremlin wage its hybrid war against Ukraine.
---
Russia / Iran / Syria / Iraq / OEF Reports
---
Russia Sees U.S. Offer Of Cooperation In Syria As 'Step In Right Direction' Russian Foreign Minister Sergei Lavrov said Washington's offer to cooperate in Syria is a "step in the right direction" but further information is needed about the U.S. proposal t…
France, Russia Vow To Set Aside Differences, Fight Extremism Together The French and Russian foreign ministers vowed on July 6 to put aside their countries' differences and fight extremism together. "International terrorism is our No. 1 enemy an…
Are America and Russia Headed for a Tragic Showdown in Syria? | The National Interest Blog Maybe not.  
ISIS Hits Iran | Foreign Affairs After three years of trying to strike Iran, the Islamic State (ISIS) finally succeeded in June
Turkey's Patchwork Foreign Policy | Foreign Affairs The tension between Erdogan's Islamist zeal and his forced pragmatism helps explain Ankara's patchwork foreign policy in the Middle East and beyond.
---
---
Retired Gen. Clark: Military Action Against NKorea 'Off the Table' Retired Gen. Clark: Military Action Against NKorea 'Off the Table'
US has no military options for North Korea: Ret. Gen. Wesley Clark 'There really are no good military options with Korea,' former NATO Supreme Allied Commander Wesley Clark tells CNBC.
Ambassador Vershbow joins "Kilmeade & Friends" on Fox News Radio – YouTube 7/6/2017
North Korea War Would Be Catastrophic, Pentagon Says | Time.com Pentagon chief Jim Mattis says the U.S. would prevail in a war against North Korea, but the results would be "catastrophic"
Pre-emptive US strike on North Korea could be 'catastrophic' A pre-emptive military strike may be among the "pretty severe things" President Donald Trump says he is considering for North Korea, but it's a step so fraught with risk that it ranks as among the unlikeliest options.
A Summit Without Fireworks Over North Korea | 38 North: Informed Analysis of North Korea Leon V. Sigal discusses the recent Trump-Moon summit in DC and appeals to a shift from the sanctions-heavy approach toward one of engagement with the DPRK.
North Korea crisis: US not interested in giving anything to Pyongyang The U.S. will likely exercise options including pressure, sanctions and isolation against North Korea, said Eurasia Group
North Korea: The Rubicon is crossed – Chicago Tribune Can America dismantle North Korea's nuclear program?
Russia Objects To U.S.-Drafted Measure Condemning North Korea At UN Russia on July 6 objected to a U.S.-drafted resolution at the UN condemning North Korea's first-ever launch of an intercontinental ballistic missile. Russia contends that the missile was mediu…
THE LATEST: UN DIPLOMATS SAY RUSSIA BLOCKED N KOREA STATEMENT – To Inform is to Influence Russia loves being the child among adults.  </end editorial> SEOUL, South Korea (AP) — The Latest on the response to North Korea's missile launch (all times local): 11 p.m. U.N. diplomats say Russia has blocked U.N. Security Council approval of a statement that would strongly condemn North Korea's launch of an intercontinental ballistic missile and…
Russia claims N. Korea launch not ICBM, objects to condemnation statement – CBS News Tensions between U.S. and Russia have hit such fevered pitch that statement circulated to condemn ICBM launch is now "dead," U.N. Security Council diplomat says
North Korea can strike Alaska. What can the U.S. do? – The Washington Post Kim Jong Un's intercontinental ballistic missile traveled higher and remained in the air longer.
Only one question remains for Trump after North Korea's ICBM launch | Business Insider After North Korea's groundbreaking test of a…
What are the non-military options in North Korea? – CBS News After North Korea successfully tested an intercontinental ballistic missile on the Fourth of July, the situation is graver than ever
China hits back on Trump N Korea trade claim – BBC News Beijing says US president's claim about growing trade with Pyongyang does not give full picture.
North Korea assassination sheds light on chemical weapons arsenal Amid North Korea's recent flurry of provocative missile tests, Kim Jong Nam's killing by liquid VX now looks to many experts like a proving exercise for a chemical-weapons stockpile that Pyongyang is thought to have built over decades and kept carefully under wraps. – Joby Warrick, Philadelphia Washington Post
South Korea's Moon: I'll meet Kim anywhere, any time – CNN.com South Korea's president has doubled down on diplomacy at a time when tensions all around him are rising.
Analysis: Despite test, North Korean ICBM likely years away Despite North Korea's claim its intercontinental ballistic missile launch shows it can attack targets anywhere it wants, experts say it will probably be years before it could use such a weapon in a real-world scenario.
South Korea fires missiles in drills following North's ICBM launch In a show of force, South Korea and the United States staged "deep strike" precision missile firing drills as a warning to the North.
The Global Web That Keeps North Korea Running | Fox Business North Korea may be one of the world's most isolated countries, but the tightening sanctions regime it has lived under for the past two decades is anything but impermeable.
Today: North Korea's Achilles Heel – LA Times Sign up to get today's top news delivered to your inbox.
How (Not) to Kill Kim Jong Un | Foreign Policy The history of failed attempts on the lives of Pyongyang's leaders shows if you come for the Kims, you better not miss.
Japan nuclear boss sorry for 'better if North Korea hits Tokyo' remark The regulator says he was only joking when he said he would prefer Pyongyang aimed its missiles Tokyo rather than a reactor.
North Korea: there is only one acceptable endgame The geopolitical reality is that North Korea is committed to being a nuclear state.
Taibbi: North Korea Isn't the Only Rogue Nuclear State – Rolling Stone Nuclear weapons are about to be made illegal worldwide, but good luck hearing about it at home.
Moon, Abe at odds over wartime sex slavery deal HAMBURG, Germany — President Moon Jae-in and Japanese Prime Minister Shinzo Abe on Friday confirmed a rift over a disputed settlement on wartime sex slaves, but agreed to work together to move toward future-oriented relations and rein in North Korea. Moon and Abe met in their first bilateral summit on the sidelines of the 12th annual Group of 20 summit taking place in Hamburg.South Korean President Moon Jae-in (rig…
US flies two bombers over contested South China Sea Two U.S. bombers flew over the contested South China Sea on Thursday, a show of force in light of China's insistence that it controls much of the international waters, the U.S. Air Force told one outlet Friday. The Air Force directed two B-1B Lancer bombers from Guam to make the flight, following a similar flight they made over the same sea last month. The move was directed as President Trump prepares for his meeting with Chinese President Xi Jinping while at the G-20 summit in Hamburg, Germany. Chinese Foreign Ministry spokesman Geng Shuang told Reuters his government did not view the flyover as an issue. Trump has previously met with Jinping at his Mar-a-Lago resort in Palm Beach, Fla. Trump had hoped China could broker a sort of peace deal with North Korea, which has sharply ramped up its missile tests in the past year. This week's North Korean intercontinental ballistic missile test put the world on notice and drew international condemnation. Trump is expected to discuss the situation with Xi, even as he criticized China's continuing trade relationship with North Korea on Wednesday.
US Strategic Bombers Fly Over Chinese-claimed Territory in South China Sea – YouTube US Strategic Bombers Fly Over Chinese-claimed Territory in South China Sea Two US strategic bombers have flown over Chinese-claimed territory in the disputed…
China opposes use of freedom of navigation to harm its sovereignty – Global Times China firmly opposes any individual country using freedom of navigation and overflight as an excuse to harm its sovereignty and security, a Foreign Ministry spokesperson said Friday.
China slams US after bombers fly over disputed South China Sea : PTI feed, News – India Today China slams US after bombers fly over disputed South China Sea
What Guo Wengui Means for the Future of China Guo Wengui's allegations have signaled the emergence of a new tool in Chinese politics: weaponized leaks.
China Uses Political Warfare to Influence US Politics – To Inform is to Influence By Joshua Philipp, Epoch Times  | July 6, 2017 Terms commonly used during the Cold War have again emerged amid allegations that Russia tried to interfere with the 2016 U.S. elections. These words and phrases, which were all but forgotten in recent history, include "active measures," "agents of influence," and "disinformation," and they are tied to campaigns meant to…
---
---
UAWire – Transparency International names lobbyists on behalf of Russian interests in Europe Anti-corruption advocates from Transparency International – Russia have prepared a report on Russian corporate lobbying abroad. "The report describes the principles of the work of public registries of lobbyists from 13 European countries and the European Union, available on the websites of government authorities or self-regulating organizations of lobbyists," the report states. Employees of Transparency International reviewed the lobbying initiatives of Russia's Gazprom in Austria, France, Great Britain, Lithuania, the Netherlands, Poland and Slovenia. "The study does not claim to be complete and inclusive: registries do not work in all EU countries, and it is impossible to assess the overall degree of influence of Russian companies and corporations on the adoption of government decisions throughout the EU," the authors of the report said. According to them, the document mentions lobbying organizations and the names of lobbyists working in the EU countries. "A relatively small amount of declared lobbying expenses of Russian companies attracts attention: the 'champions' are Gazprom and the Joint Institute for Nuclear Research, whose annual spending is less than 1 million euros. At the same time, the report gives examples of how some European business associations actually take on the functions of lobbying for the interests of Russian companies, as well as use some other practices that are not formally lobbying, but in fact serve the same purposes," the organization said. To date, the legislation of the Russian Federation does not define and regulate lobbying, although various lobbying practices exist in Russia and abroad. "It seems obvious to us that such lack of transparency and lack of legal regulation can contribute to the emergence of corruption," Transparency International-Russia said.
Balance of Power: Spoiling For a Brawl in Hamburg as G-20 Splits – Bloomberg Most summits of global leaders are predictable, anodyne affairs. Not this year. Thanks mainly to President Donald Trump, this week's Group of 20 summit in Hamburg is the most keenly anticipated in years.
Trump Stumbles Into Europe's Pipeline Politics | Foreign Policy Before reveling in a new clash of civilizations in his Warsaw speech Thursday, President Donald Trump cannonballed into energy geopolitics, committing the U.S. to combatting Russian energy bullying — at the possible expense of European unity. During a lightning visit to Poland, Trump gave public backing to a new, 12-country plan to tie together Central-Eastern Europe, framing his support as a ploy to counter the Kremlin's penchant for using supplies of natural gas as a cudgel against its neighbors. "America will be your strongest ally and steadfast partner in this truly historic initiative," he proclaimed. The so-called "Three Seas Initiative" (TSI), dreamed up last year by Poland with an assist from Croatia, aims to take advantage of the Baltic, Adriatic, and Black Seas to break Central-Eastern Europe's isolation, especially on matters of transport and energy. Ukraine's dismemberment at Russia's hands helped jumpstart the plan, which parallels other U.S.-backed approaches to knit north- and southeastern Europe together into a bulwark against Moscow. Trump likes the idea because he thinks it's an opportunity to sell more liquified natural gas, or LNG, from America's shale patch.
Japan and Europe counter Trump with colossal trade deal – The Washington Post Leaders from Japan and the European Union announced their agreement in principle on a trade deal that will cover nearly 30 percent of the global economy.
Trump Holds Talks With Merkel As Police Clash With Protesters Ahead Of G20 Summit U.S. President Donald Trump has held talks with German Chancellor Angela Merkel in the city of Hamburg, a day before the start of the Group of 20 summit. Trump's visit came as police an…
Himalayan Stand-Off Makes It an Awkward G-20 for Xi and Modi – Bloomberg Things might have been a little awkward when Chinese President Xi Jinping and Indian Prime Minister Narendra Modi saw each other on the sidelines of the Group of 20 meeting in Germany.
The UN Needs a "Red Team" | Foreign Affairs In order to alter its entrenched bureaucratic culture, the UN needs a tectonic shift in the way it thinks: a "red team" that can challenge the organization's own assumptions, its groupthink, blind spots, political and institutional complacencies, and aversion to challenging the ideas of senior leaders.
The Risks and Rewards of Thucydides' History of the Peloponnesian War For a man so long dead, Thucydides is rarely out of the news. A recent Politico article discusses the influence of Thucydides and the Peloponnesian War on
---
---
Assessing Russian Activities and Intentions in Recent US Elections – Office of the Director of National Intelligence "Assessing Russian Activities and Intentions in Recent US Elections" is a declassified version of a highly classified assessment that has been provided to the President and to recipients approved by the President.
Maddow To News Orgs: Beware Of Forged Donald Trump Russia Documents! | Rachel Maddow | MSNBC Maddow To News Orgs: Beware Of Forged Donald Trump Russia Documents!
Linda Sarsour calls for Muslims to wage 'jihad' against Trump "Our top priority … is to please Allah, and only Allah."
Trump hangs out some dirty laundry in Poland, targeting Obama, US media and spy agencies | South China Morning Post Most US presidents use their foreign trips to promote the virtues of American democracy. President Donald Trump did some of that, too. But he didn't hesitate to use his quick visit to Poland to air some pointed grievances, blasting his predecessor…
Gutfeld on Trump's speech in Poland – YouTube Does the West have the will to defend civilization?
Trump defends Western civilization – and media call it racist | Fox News President Trump spoke proudly of the Western world pursuing innovation, cherishing art and writing symphonies – but the only instrument a Washington Post writer heard was a dog whistle.
What the idea of civilization does (and doesn't) mean to Trump – The Washington Post Trump's idea of the West would be contested by many Western leaders.
Poll On Russia, Trump Actions: Republicans And Democrats Deeply Divided : NPR An NPR/PBS NewsHour/Marist poll finds that 54 percent of people believe something untoward has gone on, including a quarter who believe the president has done something illegal in regards to Russia.
Ivanka Trump Targeted by Knife-Wielding Man Claiming to Be a Senator Authorities tell Newsweek the man said he was at Trump Tower to speak with Ivanka Trump about her "dresses."
Jason Bordoff | What Is Energy Dominance? True energy dominance comes not just from energy supply but from new technologies, global cooperation, and environmental protection.
---
American Special Operations: Past, Present, and Future – Modern War Institute But as author Mark Moyar describes in his new book Oppose Any Foe, special operations hasn't always enjoyed the notoriety it has today. In fact, by reading his book you will soon learn the opposite is true, that American special operations forces of today were born out of failure and adversity. It's a true testament to the perseverance of the proponents of special operations that they are even available to be so heavily relied on today. In the first half of the book Moyar discusses the beginnings of US special operations in World War II. The stories of the Army Rangers, Navy Frogmen, Marine Raiders, and a combined United States and Canadian element known as the Forcemen have a similar feel. Except for the Navy Frogmen, each of these forces were used in both successful unconventional and less-than-successful conventional roles and were ultimately disbanded.
Mitchell Hour: State of Electronic Warfare in the DOD – YouTube A Discussion with: Dr. William Conley, (SES) Deputy Director, Electronic Warfare Office of the Secretary of Defense Thursday, June 22, 2017 Air Force Associa…