Anonymous expert compilation, analysis, and reporting.
I must also draw attention to the excellent article by Sue Curry Jansen.  I believe it is going to kick off a firestorm of discussions in our community.
</end editorial>
---
---
Russia's leadership seems determined to drive their nation down the abyss. Trying to outlaw Internet anonymizers, despite domestic advice this is futile if not inane, extending counter-sanctions on Western food hurting ordinary Russians, a broken maternal capital program, and no funds to pay for inflation adjustments in military salaries or pensions, all while the nation haemorrhages a self-inflicted death of a thousand cuts. Treating Russian troops sent to Donbass as expendable human"myaso" [meat = cannon fodder], then diddling widows out of benefits, and denying troops and vets decent salaries and benefits explains why the new Russian National Guard (Praetorian) has 400,000 personnel.  Roxburgh's Guardian essay on Russian media"orchestrated hate and xenophobia" is not surprising to Russia analysts, but will be to Western MSM. Yukos lawsuit essay is positively fascinating.
The IO/IW/Cyber domain is busy this weekend. The fake-ransomware DoS attack on Ukraine continues to generate MSM interest, notable is the UATV interview detailing the immense damage done across Ukraine's economy by the attack, Ukraine's SBU declares the attack to be Russian in origin, and reports on seizing Russian operated server systems inside Ukraine set up to facilitate Russian penetration of Ukrainian and other networks. PrivatBank in Ukraine was immune to the attack, as it employs Linux throughout its infrastructure, and is offering to help the Ukrainian government to convert from vulnerable Windows to safer Linux. In the propaganda/influence area, Atlantic Council DisinfoWeek conference detailed, excellent essay by Jansen, while Germany creates a firestorm with hate-speech legislation proposed for social media.
Ukraine MSM dominated by reports on new US-Ukraine defence cooperation treaties, and speculation on the supply of lethal aid by the US to Ukraine – Ukraine does indeed have immense potential for outsourcing defence sector manufacturing that cannot be done affordably in the US, or EU, and of course cannot be outsourced to China or India. SECDEF Mattis invited to visit Ukraine, and all NATO leadership invited to Kyiv Independence Day parade in August. The Russian Zapad-2017 exercise is a major topic, the Ukrainians discussing risks at length with NATO leaders in Brussels. Russian attacks in Donbass continue, while the Deputy Minister for Temporarily Occupied Territories raises the alarm on the ecological catastrophe about to hit Donbass due to the contamination of the water table and Severo-Donetsk river with toxic and in places radioactive waste, arguing that Donbass is now beyond saving and plans should be produced to resettle the population elsewhere (notably the river flows into Russia's Rostov Oblast, which will also become poisoned, yet another toxic Putin legacy that Russia will no doubt again blame on the "fascist Ukrainians" ).
In Syria, ISIS collapse continues, while Russia denies Syrian CW use. Qatar dispute continues.
POTUS declares that strategic patience policy for DPRK is over, while China lambasts US over Taiwan arms sale and sanctions on Chinese bank supporting the DPRK, and also lambasts the UK over Hong-Kong, after publicly reneging on its agreements with the UK when Hong Kong was returned to China.
Nordstream 2 debate continues, fascinating essay by Nicola on the dollar outlays to skew an election by manipulating social media. Le Pen charged. In the UK, a Briton who joined the Russian proxy force in Donbass has been charged with terrorism offences, and properly so as there is little to differentiate between a Russian proxy force that has been proven to have murdered and mutilated POWs, and ISIS that does much the same (notably much of ISIS is Russophone).
Upcoming G20 meeting between POTUS and Putin has rebooted US Russia debate.
---
---
NATOSource on Twitter: "#Mattis on #Russia: "to the nation choosing to challenge this secure & peaceful order… Enemies of freedom will be frustrated or defeated" https://t.co/f27G5d7mWU"

Do Americans want to fight with Russia / Geopolitics / Nezavisimaya gazetaWashington's intention to withdraw from the Treaty on the Elimination of Intermediate-Range and Shorter-Range Missiles is a Strategic Provocation.

Vladimir Putin: inside the Russian leader's inner sanctum This is an odd book: informative, intelligent, punchy, but decidedly odd. On one level it is a traditional history of Vladimir Putins dominance of Russia since being appointed prime minister in 1999. However, it goes much further, as Mikhail Zygar, former editor-in-chief of independent Russian TV station Dozhd, infuses his narrative with invective. He seeks to undermine Putin by showing him as fallible, an emperor without clothes:
Trump and Putin meet next week. Guess which one has an agenda? – Vox Putin will bring a specific list of demands. Trump, not so much.
Kremlin nuclear bunkers 'show Vladimir Putin is preparing for Armageddon' | World | The Times & The Sunday Times President Putin maintains two "enormous" nuclear bunkers 300 metres beneath Moscow that could accommodate 10,000 people in time of war, the Pentagon says. Th
No more VPNs: Kremlin mulls limiting anonymising software -Euromaidan Press | The greatest challenges to government-sponsored disinformation campaigns are strong independent media and critical debates among members of civil society. This is the conclusion that can be drawn from observing how Russian authorities crack down not only on independent media, but also on internet resources that can be used for discussing politics, such as social media platforms and online communication tools. Over the past week, two new initiatives surfaced in Russia, both of which put online free speech in Russia under additional pressure. As reported by Moscow Times, Russia's Parliament is now drafting new laws, which will substantially limit use of VPN services and other kinds of anonymising software and put an end to the opportunity of not revealing one's identity when signing up for messenger services. Interestingly, if the laws are approved, Russia's media and internet watchdog, Roskomnadzor, will have to change its views on these kinds of resources. A year and a half ago, Roskomnadzor director Alexander Zharov was quoted as saying that "it is technically possible to start blocking anonymizers, but I consider it absolutely pointless. New ones will pop up to replace the ones we block." Experts quoted by Moscow Times side with Roskomnadzor's previous line, calling the new legislative initiatives "incompetent, unimplementable laws"
Putin Extends Russia's Countersanctions On Western Food President Vladimir Putin has extended Russia's embargo on food products from the West until the end of 2018, continuing Moscow's policy of retaliation for Western sanctions against Russia fo…
Window on Eurasia — New Series: Putin's Maternal Capital Program Not Boosting Birthrates but is Limiting Rise in Poverty Paul Goble Staunton, June 30 – Vladimir Putin's maternal capital program has done little to boost birthrates in Russia, but that should not have come as a surprise as pro-natalist programs even far better funded in other countries have not succeeded in doing so either. But the program is valuable, Aleksey Mikhailov says, because it has limited poverty among Russian children. International experience shows, the Moscow analyst says, that governments can have an impact on demographic behavior but more on the negative than the positive side. Thus, China's one-child policy worked, but well-funded European programs to boost birthrates have not (profile.ru/economics/item/118170-kupit-rebenka). Indeed, Mikhaylov says, there are almost no examples of successful programs to boost birthrates. Instead, there are two common trends: "the better people live, the fewer children they have" but at the same time, if people become poorer, they also will have fewer children. In short, to influence demographic behavior in a positive way is almost impossible. But that doesn't mean that Moscow should, as some are now suggesting, eliminate or severely cut the maternal capital program. Instead, the analyst argues, Russians should see it as helping to address "the traditional tasks of social policy, the reduction of the level of poverty and inequality." Indeed, understood in this way, the maternal capital program should be expanded because while it does not do enough, it can prevent many children and their parents from falling into poverty. That is a noble goal, and it is one that far too few Russian government programs are now focused on.
Window on Eurasia — New Series: Putin in Fiscal Bind on Military Pay and Retirement Benefits Paul Goble Staunton, June 30 — After ignoring the issues of military pay and benefits for both serving and retiring personnel for five years, during the course of which pay and pensions stagnated and medical services were cut, Vladimir Putin last week said he wanted to boost pay and provide more benefits to uniformed personnel and retirees. But budgetary stringencies seem certain to get in the way, making it difficult to raise pay or pensions significantly and especially to provide the housing and medical care that soldiers and sailors are promised both while in uniform and after they retire, according to Vladimir Mukhin (ng.ru/kartblansh/2017-06-30/3_7019_kartblansh.html). Increasing the capacity of the military and special services has been a central goal for Putin, but he has focused more on equipment than on personnel. Last week, however, he indicated that improving the siloviki will require "the further improvement of the material and social stimuli" they receive. "We will continue to be concerned about he strengthening of social guarantees for military personnel, officers of the law-enforcement organs and special services. We will further guarantee worthy pay, offer housing, and raise the quality of medical services for military personnel and members of their families," the Kremlin leader said. But since last making such declarations five years ago, Putin has done little in this sector. Military pay hasn't been indexed to inflation even once, housing remains in critically short supply for officers, and having cut the military medical system to the bone, the government now wants to reduce spending on that function as well, the Nezavisimaya gazeta journalist says. Putin has begun to focus on these issues not only because he is about to take part in another political campaign but also because he wants to shore up support for himself among the siloviki, Mukhin continues, convinced as he is that the United States is seeking to achieve "regime change" in the Russian Federation. But the question arises: Can the Russian budget support such things given the continuing economic crisis? Neither the 2017 nor the 2018-2019 budgets call for raising pay of soldiers and officers of law enforcement agencies and special services. In fact, the budget calls for cutting back spending on defense overall. To boost pay would require shifting funds from somewhere else, and there are too few places where that could happen, the journalist suggests. At the same time, the uniformed services have many social needs which aren't now being met and which could be addressed only if more money were directed at them. Duma deputies have already expressed concerns that the absence of pay increases and problems with benefits has led many in the uniformed services to leave their positions early, something that adds to training costs and makes it more difficult to maintain unit cohesion and readiness. A major problem is medical care. As a result of cutbacks in recent years, there is not a single military medical facility in 47 of the country's federal subjects "where live more than 350,000 military pensioners." And the number of hospitals, polyclinics, and other treatment centers for serving military personnel has been cut dramatically. The number of military clinics has been reduced from 173 to 41 and the number of military medical personnel has been cut from 13,000 to 2500 in recent years. Obviously something needs to be done, but the finance ministry maintains that spending on military medical needs is still too high. "Vladimir Putin has promised 'to raise the quality of medical services for military personnel and members of their families,' Mukhin says. But how can he deal with military pensioners in this regard "who also have the right to be treated in military medical facilities?" The answer to that is "unknown."
Britain, U.S. Urge Russia To Bring All Responsible For Nemtsov Murder To Justice  WASHINGTON — British and U.S. officials on June 30 urged Russian authorities to ensure that all people involved in organizing or ordering the murder of vocal Kremlin critic Boris Nemtsov are brough…
U.S., Britain urge Russia to bring Nemtsov murder perpetrators to justice | Reuters The United States and Britain urged Russia on Friday to bring to justice all those responsible for the murder of opposition politician Boris Nemtsov.
I thought nothing in Russia could shock me. Then I went to a television broadcast | Angus Roxburgh | Opinion | The Guardian I was interrogated for seven hours and saw random people arrested. But the orchestrated hate and xenophobia I witnessed at Channel One was truly chilling
Russian TV channel offers gay people one way plane ticket out of country | The Independent Gay people in Russia have been asked to compete for a one-way plane ticket out of the country by an Orthodox Christian television channel. "If you are gay and wish to emigrate from Russia, channel Constantinople will buy you a one way ticket with great pleasure", Tsargrad TV writes in the video's description, complete with emojis of a plane and a sick face. The channel said anyone interested should have a "medical certificate" confirming "sodomy or other forms of perversion."
Russia Needs Thaw With West To Achieve Strong Growth, Putin Adviser Says Russia will not be able to achieve strong economic growth unless ties with the West, which have been frozen by economic sanctions, begin to thaw, a top Kremlin economic adviser said on June 30. …
In U.S. Court, Yukos Shareholders Try New Tactic: Go After The Lawyers WASHINGTON — Shareholders of defunct Russian oil giant Yukos, which was dismantled and absorbed by a state-owned rival in contentious legal actions, are taking a new tack in their multibillion-dolla…
To Compare Russia and Ukraine, Look in the Trash – Bloomberg Russia and Ukraine are drowning in waste, but they have strikingly different approaches to the problem.
Russia may launch the brightest 'star' in the sky | Fox News Russia is set to launch potentially the brightest artificial object in the night sky, which could outshine everything except for the Moon, starting next month.
---
---
Ashish Kumar Sen | Here's How to Deal with Russian Propaganda Fighting fake news—no, not the kind US President Donald J. Trump has made it a habit of railing against—has been the subject of a weeklong series of meetings and public events co-hosted by the Atlantic Council and Konrad-Adenauer-Stiftung from June 26-30. The disinformation campaign being waged by various state and non-state actors seeks to "undermine the legitimacy of objective truth," said Sen. Chris Murphy (D-CT). "It demands a response and whether we like it or not that response has to be led by the United States," he added. Murphy and Sen. Rob Portman (R-OH), both members of the Senate Foreign Relations Committee, have overcome the increasingly bipartisan nature of Washington to work together in the fight on disinformation. They co-authored the Countering Disinformation and Propaganda Act, signed by then US President Barack Obama in December of 2016. The act seeks to improve the United States' ability to counter propaganda and disinformation from countries such as Russia and China, and help US allies do the same. Murphy and Portman delivered keynote addresses at the DisinfoWeek conference at the Atlantic Council's headquarters in Washington on June 29. Events were also held at Stanford University in Palo Alto, California. Stanford, along with the National Democratic Institute, FirstDraft, the McCain Institute for International Leadership, the University of Oxford, Jigsaw, and Demokratizatsiya, is a DisinfoWeek partner.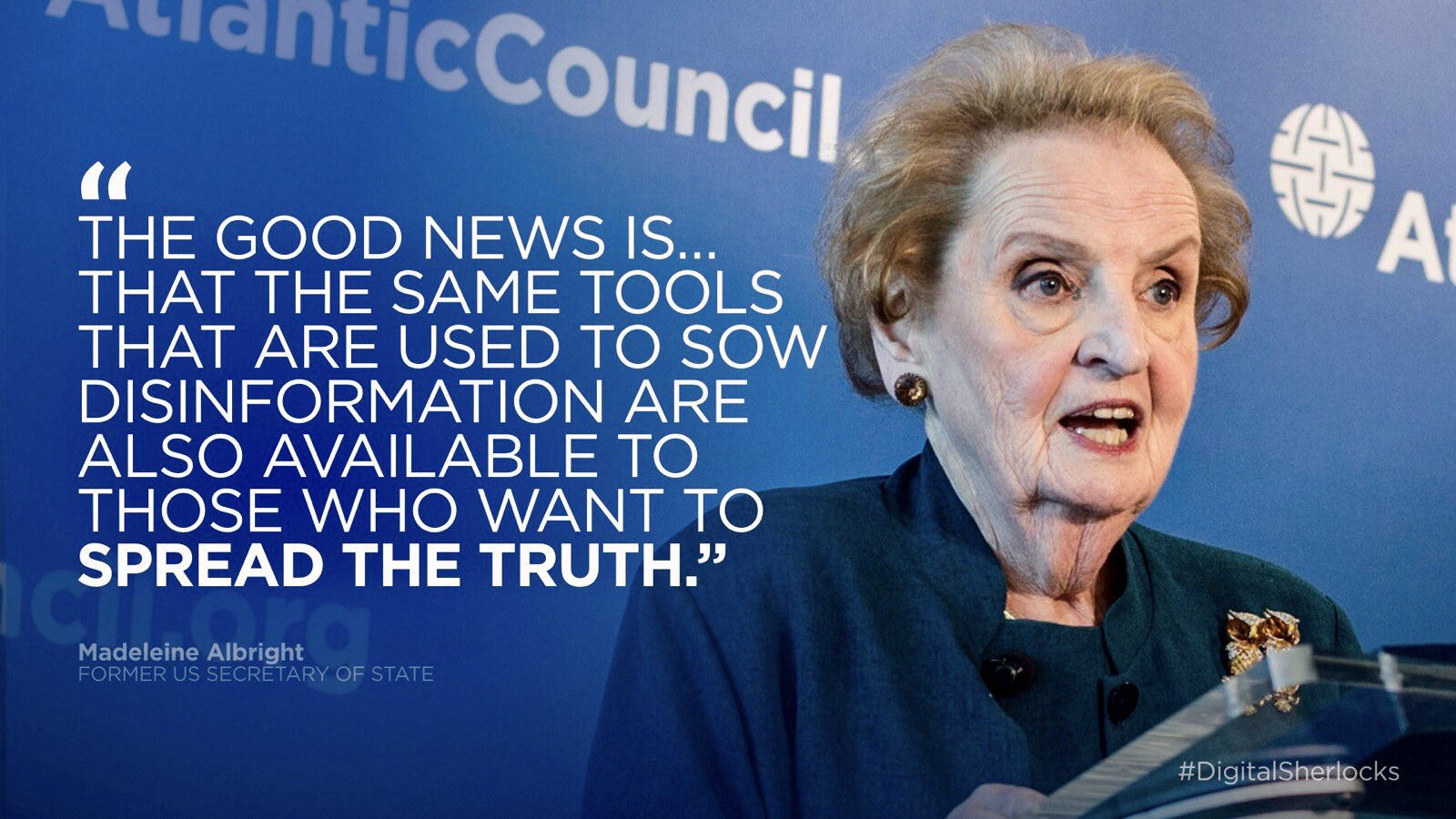 Countering Pro-Kremlin Disinformation In The CEE Countries – To Inform is to InfluenceCOUNTERING PRO-KREMLIN DISINFORMATION IN THE CEE COUNTRIES Teaching children to distinguish fake news from the real ones as early as at primary school;  naming & shaming the authors of disinformation stories; regular meetings between the Ministry of Foreign Affairs, the Ministry of Interior and the Ministry of Defence with journalists so as to expose disinformation…
How Russian Journalists Dealt With Fake News – The Atlantic  It seems new to the U.S. But the Russians have been dealing with it for years.
NATO Stuck in Ineffective 'Cold War' Model, Unable to Combat Terrorism: Russian Foreign Minister – To Inform is to Influence I was sent this link by a trusted friend. As I read through the article I just couldn't shake the feeling that it was skewed and biased, almost like *gasp* Russian propaganda. When Russian FM Lavrov is quoted as an authoritative source and is accusing NATO of "greedily acquiring geopolitical space", my suspicions grew stronger. …
Sue Curry Jansen | Vladimir Putin's flacks: Russia's stealth public relations war – To Inform is to Influence Full disclosure, I attended Muhlenberg College following high school.   Excellent article and it properly illustrates how Russia pushes its image, the problems with the FARA and workaround solutions. </end editorial> By Sue Curry Jansen, Muhlenberg College   |   June 30, 2017 at 11:17 AM June 30 (UPI) — The Russian attempt to influence the 2016 American…
Delete Hate Speech or Pay Up, Germany Tells Social Media Companies – The New York Times A new law will impose fines on companies like Facebook and Twitter if they fail to swiftly remove illegal or hateful content on their platforms.
Germany: Will 30 June be the day populism killed free speech? – EDRi

Global coalition from five nations demands "Five Eyes" respect encryption – To Inform is to Influence 30 June 2017 | 9:23 am https://www.accessnow.org/83-organizations-experts-5-nations-demand-five-eyes-respect-strong-encryption/ Today, 83 organizations and individuals from Australia, Canada, New Zealand, the United Kingdom, and the United States sent a letter to their respective governments insisting that government officials defend strong encryption. The letter comes on the heels of a meeting of the "Five Eyes" ministerial meeting in Ottawa, Canada earlier…
ACCS in Media Coverage of New Information Warfare Division – To Inform is to Influence Australian Centre for Cyber Security 1.07.17 Oz When the Australian government announced on 30 June 2017 the creation of a new information warfare division in the Australian Defence Force, ACCS figured prominently in the news coverage of it. We offer the only Master's degree in Australia on cyber war and peace, and we have published academic…
---
Ukraine's PrivatBank Proposes Linux to Replace Compromised Microsoft Platforms – To Inform is to Influence The NotPetya cyber attack didn't affect the largest bank in Ukraine, PrivatBank. The bank's entire computer infrastructure, from ATMs and workstations to servers, is built on Linux operating system. In the wake of the last attack, Privatbank now proposes to help state bodies, institutions, enterprises migrate to Linux.

Ukraine Says Seized Equipment Used by Russia to Launch Malware Attacks – The New York Times KIEV — Ukraine's state security service (SBU) seized equipment it said belonged to Russian agents in May and June to launch cyber attacks against Ukraine and other countries, the SBU said in a statement on Friday. "Law enforcement officers seized server equipment that was involved in the cyber attack system by Russian secret services," the SBU said, adding that investigations were ongoing. A cyber attack that began in Ukraine spread around the world on Tuesday, knocking out thousands of machines, shutting down ports, factories and offices as it hit around 60 countries.
Ukrainian politicians were quick to blame Russia, but a Kremlin spokesman dismissed "unfounded blanket accusations". (Reporting by Pavel Polityuk; writing by Matthias Williams, editing by Ed Osmond)
SBU says Russian special services involved in Petya.A virus attack The special services of the Russian Federation are involved in the malicious software Petya.A attack on computer systems of Ukrainian public and private institutions and companies, which began on June 27, 2017, the Security Service of Ukraine has said.
Ukraine Security Service Blames Russia For Recent Cyberattack Ukraine's state security service (SBU) says that the Russian security services were involved in a recent cyberattack that hit Ukraine. The SBU said on its website on July 1 that the cyberattac…
Ukraine's ransomware attack was a ruse to hide culprit's identity, researchers say – The Washington Post Most of the victims were in Ukraine, a country repeatedly targeted by Russian hackers.
Ukraine points finger at Russian security services in recent cyber attack | Reuters Ukraine said on Saturday that Russian security services were involved in a recent cyber attack on the country, with the aim of destroying important data and spreading panic.
Cyber Attack Impact – YouTube Andrii Bezverkhyi, the CEO of SoC Prime a cyber security management company, explained to UATV the impact and scope of the global cyber attack which hit on J…
Finger points at Russian state over Petya hack attack Tactics of those behind malware match Kremlin playbook, say analysts
Everything you need to know about the massive Petya cyberattack which started from Ukraine  -Euromaidan Press | The NotPetya cyber attack didn't affect the largest bank in Ukraine, PrivatBank. The bank's entire computer infrastructure, from ATMs and workstations to servers, is built on Linux operating system. In the wake of the last attack, Privatbank now proposes to help state bodies, institutions, enterprises migrate to Linux.
Global cyber attack likely cover for malware installation in Ukraine: police official – Business Insider The attack hit more than 60 countries, crippling countless companies — and it might just have been a smokescreen.
Nolan Peterson: Whose Cyberattack Brought Ukraine to a Shuddering Halt? A cyberattack, an assassination and a war without end. All fingers point to Putin
TeleBots are back: supply-chain attacks against Ukraine  This blogpost reveals many details about the Diskcoder.C (aka ExPetr or NotPetya) outbreak and related information about previously unpublished attacks.
Ukraine Power Supplier Hit by WannaCry Lookalike Malware As the count of NotPetya victims grows, Ukraine warns that it's also being targeted with a new WannaCry lookalike that hit state power distributor Ukrenergo.
Ukraine Power Company Hit by a Second Cyber Attack | Fortune.com Ukrainian state power distributor Ukrenergo was hit by another cyber attack, which used a computer virus different from one that hit earlier
Ports Recover, but Ukraine Still Disrupted by Cyberattack Bank branches remain closed in Ukraine, but Danish shipping giant says operations are "close to normal."
The NSA's inadvertent role in Petya, the cyberattack on Ukraine. The Petya attack wasn't just about money, like WannaCry. It was far more insidious.
New ransomware, old techniques: Petya adds worm capabilities – Windows Security
---
---
U.S. army gear could be 'Made in Ukraine' under new defence deals | Reuters Defence agreements announced during a visit by the Ukrainian president to Washington this month will provide Ukraine with access to defensive military equipment of the sort needed to combat Russian-backed separatists in the east.
U.S. Army Gear Could Be 'Made in Ukraine' Under New Defence Deals | World News | US News US News is a recognized leader in college, grad school, hospital, mutual fund, and car rankings. Track elected officials, research health conditions, and find news you can use in politics, business, health, and education.
U.S., Ukraine Near Agreement On Increasing Military Equipment Sales, Ties Ukraine and the United States are close to signing new defense agreements enabling Kyiv to purchase more defensive U.S. military equipment and play a role in manufacturing such equipment, a Ukrainia…
Trump's Opportunity to Arm Ukraine – WSJ How to promote freedom, advance U.S. interests, and show strength to Russia.
Pentagon chief to visit Ukraine in near future – LB.ua news portal Pentagon chief to visit Ukraine in near future. Ukraine's defence minister met with Mattis in Brussels. Main – LB.ua news portal. Latest from Ukraine and the world today
US Senate committee approves draft military budget with Assistance to Ukraine and Russia sanctions – LB.ua news portal US Senate committee approves draft military budget with Assistance to Ukraine and Russia sanctions. Senators offer to allocate $ 500mn in assistance to Ukraine, including lethal weapons. Main – LB.ua news portal. Latest from Ukraine and the world today
Fmr. Lithuanian Defense Minister: Ukraine is 'Frontline' Defending Western Democracies From Kremlin Ukraine is on the frontline of defending western democracies against Russia's global disinformation campaign, Lithuania's former defense minister said Wednesday. Rasa Jukneviciene, who serves as deputy chair of the national security and defense committee in the Lithuanian Parliament, said the European Union and NATO need to step up multilateral economic and military operations to weaken the Kremlin's grip over eastern Ukraine. "The only way to help Russia be different is to help Ukraine," Jukneviciene said during an event in Washington, D.C. "Without that, Ukraine will lose and Russia will gain influence in Ukraine and other countries. We will lose a lot and Russia will prolong its authoritarian, imperialistic existence longer than we would like." Jukneviciene said Ukrainian success would deal a major blow to Russian President Vladimir Putin, who has taken advantage of corruption in Kiev and a sluggish economy to push the narrative that the country is on the brink of collapse. The Lithuanian government recently put forth a long-term assistance strategy to stimulate Kiev's economy and upend Putin's claims. The so-called "Ukrainian Marshall Plan" pursues government and economic reforms intended to trigger greater foreign investment and offers military assistance to be used in defensive operations. Though Putin has been most active in Ukraine, the Kremlin is also orchestrating a propaganda campaign aimed at rewriting the history of Lithuania to undermine the small Baltic state's sovereignty. Russia frequently denies its 50-year occupation of Lithuania and claims that Lithuania's freedom fighters were gangsters and fascists. Jukneviciene said the effort draws alarming similarities to the Kremlin's justification for annexing Crimea three years ago. "Of course we are not the main target, the main target is western democracies, the United States," Jukneviciene said. "Baltic states are used as a tool to test NATO [to see] if we would speak about possible military intervention, or to restore the influence of the former Soviet Union to keep countries like the Baltic states more pro-Russian." Jukneviciene is in Washington for the week to discuss Russian disinformation with U.S. government officials.
Podcast: The Hot And Cold War Don't look now but Russia's war in Ukraine is heating up again. Listen to The Power Vertical Podcast to find out why.
Ukrainian defense minister discusses armed forces reform with NATO's Stoltenberg The ongoing reform in Ukraine, including that in the Defense Ministry and the armed forces, enjoy NATO's full understanding and support, Defense Minister Stepan Poltorak said.
"Zapad-2017 exercise near the Ukrainian border is a threat and we will respond to it as appropriate" Stepan Poltorak | Міністерство оборони України Minister of Defence of Ukraine General of the Army of Ukraine Stepan Poltorak held talks with NATO Secretary General Jens Stoltenberg in Brussels. The parties discussed global security situation and situation in Ukraine. They focused on upcoming large-scale Russian-Byelorussian exercise Zapad 2017. General Poltorak said about it to the media representatives. "Upcoming Zapad 2017 exercise planned by Russian Federation is large-scale. It can be used to launch aggression not only against Ukraine but against any European country having joint border with Russia. NATO Secretary General told me the NATO presence in the Eastern Europe would be increased. Surely, we will respond to this exercise as appropriate", the Minister said. Accordingto General Poltorak, Ukraine will be ready to repel any possible aggression against Ukraine.
Ukrainian defense minister calls Russian-Belarus Zapad-2017 drills a threat, to which Kyiv will respond accordingly During today's meeting of Ukrainian Defense Minister Stepan Poltorak with Alliance Secretary General Jens Stoltenberg at the NATO Headquarters, the two discussed the security situation in Ukraine and worldwide. They spoke about the upcoming large-scale Russian-Belarusian exercises West-2017, the press service of the Ukrainian Defense Ministry reported on Friday. "The upcoming West-2017 exercise planned by the Russian Federation will be extremely extensive, and can be used to launch aggression not only against Ukraine, but against any country in Europe that has a common border with Russia. NATO secretary general spoke about the threats they see, and said that the NATO grouping in Eastern Europe will be stepped up. Of course, for our part, we will also adequately respond to the conduct of the exercises," the Ukrainian Defense Minister said. He noted that Ukraine will be ready to repel possible aggression. "Large-scale troop movements and maneuvers are planned. Some 4,000 train cars have been ordered for the transfer of personnel. This is a very large grouping and naturally the conduct of such exercises on the border with Ukraine is a threat," Poltorak said.
Ukraine should bring troops into combat readiness in response to the Zapad-2017 exercise, – Gerashchenko 30.06.17 23:16 – Ukraine it is necessary to bring troops into full combat readiness in response to the Belarusian-Russian exercise "Zapad-2017". As informs Цензор.НЕТ, such opinion was expressed by the People's Deputy of People's Front Anton Gerashchenko in the comments "112 Ukraine". "What should Ukraine do as a state that has been subjected to aggression by Russia in response to these exercises? Our troops must be brought to full combat readiness and for this we must in turn organize our exercises that would show that we are also preparing ourselves The repulsion  of an attack of a possible, probable, or, to be more exact, an opponent already known to us, "Gerashchenko said. Read on "Censor.NET": Conducting exercises "West-2017" on the border with Ukraine is a threat to which we will adequately respond – Poltorak Recall, in September 2017, joint exercises of Russia and Belarus "Zapad-2017" are planned. NSDC Secretary Alexander Turchinov said that joint Russian-Belarusian exercises could be preparations for an offensive operation. Later, President of Belarus Alexander Lukashenko assured the President of Ukraine Petro Poroshenko that the West-2017 exercises will not turn into preparations for an invasion of Ukraine.
Militants launched 35 attacks on Ukrainian troops in Donbas in last day – 01.07.2017 11:05 — Ukrinform News 01.07.2017 11:05. Militants launched 35 attacks on positions of the Armed Forces of Ukraine in ATO area in Donbas over the past day.
Ukraine reports 35 enemy attacks, 1 KIA, 9 WIA's in last day Russia's hybrid military forces attacked Ukrainian army positions in Donbas 35 times in the past 24 hours, with one Ukrainian soldier reported as killed in action (KIA) and nine as wounded in action (WIA), according to the press service of the Anti-Terrorist Operation (ATO) Headquarters. News 01 July from UNIAN.
One Ukrainian soldier killed, nine wounded in ATO over past 24 hours – 01.07.2017 12:56 — Ukrinform News 01.07.2017 12:56. One Ukrainian soldier was killed and nine were wounded over the past 24 hours in the anti-terrorist operation (ATO) area in Donbas, eastern Ukraine.
Militants attempt to take new positions in 'gray zone' near Kamyanka fail Illegal armed formations, which on Friday attempted to take new positions in the so-called "gray zone" near the village of Kamyanka, Yasynuvata district, Donetsk region, have moved to their original positions, the press center spokesman, Anton Myronovych, told the ATO headquarters.
Avdiivka left without water due to hostilities – State Emergency Service – 01.07.2017 12:00 — Ukrinform News 01.07.2017 12:00. The Donetsk filtering station that supplied water to Avdiivka stopped its work because of hostilities.
Official: Donbas cannot be saved. It is time to resettle the people. – LB.ua news portal Official: Donbas cannot be saved. It is time to resettle the people.. Ukraine must "yell about the ecological catastrophe in Donbas". Main – LB.ua news portal. Latest from Ukraine and the world today
Ecological catastrophe in Donbas inevitable; resettlement of people necessary – Tuka It is necessary to develop an urgent program for evacuation of people from Donbas because of the approaching ecological catastrophe there and the processes that can not be localized, Deputy Minister for Temporary Occupied Territories and Internally Displaced Persons Heorhiy Tuka has said.It is necessary to develop an urgent program for evacuation of people from Donbas because of the approaching ecological catastrophe there and the processes that can not be localized, Deputy Minister for Temporary Occupied Territories and Internally Displaced Persons Heorhiy Tuka has said. "This is not an issue of saving Donbas. It can not be saved. It is about the gradual liberation of this region from people, because people will not be able to live there for ten years," Tuka said on the air of the program 'Results of the Day' on 5 TV channel on Thursday evening. According to him, a number of contaminated mines have been flooded in Donbas, including those containing radioactive materials. Water from them will spread to uncontrolled territories and the Russian Federation in the near future. The total area of pollution can reach 15,000 square kilometers. In addition, according to the deputy minister, massive subsidence and ground failures are expected in the region. "There are a lot of problems that do not recognize borders and do not know what it is. The laws of physics equally act in the territory of Ukraine, and in the territory of the United States and elsewhere. As a result of the report [National Academy of Sciences], Donbas is already doomed for a maximum of ten years. Such processes have already begun, which can not be localized," Tuka said.According to him, now the difference in the mineralization of the river Siversky Donets in the place where it enters the territory of Ukraine and in the place where it leaves is eight times. In 2016, according to the State Emergency Service, 88% of the reserve sources of drinking water in the government-controlled part of the Luhansk region were found unfit for use in everyday life. According to the deputy minister, it is necessary to begin international discussions on the solution of the issue of environmental disaster in Donbas. "The problem should be raised to the highest level and international discussions with the search for a solution to this problem are also necessary … We must shout at the top of our voice to the whole of Europe about the possible consequences," Tuka said.
Russian border guards "lost" in Ukraine arrested for 15 days Spokesman for the Ukrainian State Border Guard Service Oleh Slobodyan has reported that Kherson region's Kalanchak court has sanctioned the 15-days arrest of two Russian border guards, who "got lost" in Ukraine, according to the Ukrainian Service of Radio Free Europe/Radio Liberty (RFE/RL). News 30 June from UNIAN.
Detained Russian FSB officers cannot be released as long as Ukrainian captive Panov is tortured in Crimea, – journalist 30.06.17 18:26 – Detained Russian FSB officers cannot be released as long as Ukrainian captive Panov is tortured in Crimea, – journalist The two Russian FSB border guards, who had been detained in the Kherson region on June 30, cannot be sent back to Russia as long as FSB tortures Ukrainian prisoner, ATO participant Yevhen Panov in Crimea. View news.
Russian Agents Detained in Ukraine After Getting 'Lost at Sea' During Crimea Training Exercise, Says Kiev It is not the first time Russians have turned up in Ukraine under suspicious circumstances.
Ukraine Detains Two Russian FSB Agents Who Came Ashore From Black Sea Ukrainian authorities have detained two men identified as Russian security agents after they came ashore in a small boat on Ukrainian-government controlled territory along the Black Sea, officials of both countries say.
In Kiev, assassinations are becoming commonplace | Public Radio International A car bomb this week killed Col. Maksym Shapoval, a top Ukrainian military intelligence official. It wasn't the only high-profile assassination that's struck Kiev lately — nor is it the only one Ukraine is blaming on Russia.
President bid farewell to the fallen Ukrainian heroes – reconnaissance officer Maksym Shapoval and official of the Security Service of Ukraine Yuriy Voznyi. — Official website of the President of Ukraine The farewell ceremony took place in Kyiv, in the House of Officers and the House of Culture of the Security Service of Ukraine. The Head of State expressed condolences to the families of the deceased and their brothers-in-arms.
President bid farewell to the fallen Ukrainian heroes — reconnaissance officer Maksym Shapoval and official of the Security Service of Ukraine
Yuriy Voznyi. | Міністерство оборони України

President: Honoring our heroes we must appreciate our freedom, independence and common European choice — Official website of the President of Ukraine "We grieve over every our loss. Every drop of blood shed by our defenders. There is war. It leaves frightful reminders every day," the Head of State said in the speech during the nationwide assembly of the Association of Ukrainian Cities recalling the heroes fallen for Ukraine.
"On Independence Day Kyiv will host military parade. Partner nations troops will participate in it", Stepan Poltorak | Міністерство оборони УкраїниAccording to the Presidential Decree "On celebration of the 26th Anniversary of the Independence of Ukraine" Kyiv will host a military parade in August. "The Armed Forces of Ukraine are currently preparing for the parade. In addition to this parade, we want to open an exposition of state-of-the-art weapons. These weapons have been developed over the past three years. During my travel to Brussels, I have invited my foreign counterparts to participate in festivities on the occasion of the Independence Day. We have also invited the representatives of our partner nations to participate in this parade. In my opinion, the representatives of other countries will also participate in the military parade on the occasion of the 26th Anniversary of Independence", General Poltorak said to the media representatives in Brussels.

'We appreciate friendship and would like to develop comprehensive cooperation', Poltorak to Minister of Defence of Australia | Міністерство оборони України Minister of Defence of Ukraine General of the Army of Ukraine Stepan Poltorak held bilateral talks with Minister of Defence of Australia Ms Marise Payne. The Ukraine's Defence Minister stressed Ukraine praised the support provided by Australia and the Australians to Ukraine. "We appreciate this friendship and would like to develop and enhance comprehensive cooperation such as political support, experience and information, and educational programs sharing," Gen. Poltorak said. General Poltorak also briefed on current security situation in Ukraine and reforms within the Armed Forces of Ukraine and Ministry of Defence of Ukraine, as well as invited Ms Payne to Ukraine to see all changes and reforms. "We stress the global order should be defined by international law and nobody is allowed to break it. The Australian Government and the Australians share this opinion, that is why we use all available tools to deter the Russian aggression against Ukraine," Ms Marise Payne underlined.
Модернізація ЗСУ-23-4/Modernization ZSU 23 4 – YouTubeМодернізація ЗСУ-23-4/Modernization ZSU 23 4
MH17 int'l tribunal may be set up in Netherlands | UNIAN The Netherlands will soon make a decision to set up an international tribunal into the crash of the MH17 passenger liner downed over Ukraine's Donbas in the summer of 2014, Rtlnieuws.nl reports. News 30 June from UNIAN.
Poll: 51% of Ukrainians do not support possible introduction of visa regime with Russia – 30.06.2017 16:42 — Ukrinform News 30.06.2017 16:42. More than 50% of Ukrainians do not support the initiative of introducing visa regime with the Russian Federation.
Yanukovych, his law enforcement chiefs face new charges in 2014 Maidan probe The Ukrainian Prosecutor General's Office (PGO) has notified ex-president Viktor Yanukovych and former high-ranking officials of his law enforcement agencies of change in earlier announced suspicions and new suspicions regarding crimes against protestors on Kyiv's Maidan Nezalezhnosti, or Independence Square, on February 18-20, 2014, according to Ukrainian Prosecutor General Yuriy Lutsenko. News 30 June from UNIAN.
Ukraine struggles with culture of pervasive cheating in universities Survey of undergraduates finds that nearly half have paid bribes and almost all admitted to cheating on exams.
Ukraine is interested in Israeli educational experience Minister of Education of Ukraine Lilia Grinevich visited Izrael. Within a few days she managed to hold a series of meetings with specialists in the field of education and science of Israel. "It is important for us to establish cooperation in several areas in which Israel has interesting results, in particular, in secondary education there are lots of opportunities for children with special needs. Israel has a successful experience in inclusive education that we can borrow. The second important issue is the commercialization of results of scientific researchs, because Ukraine currently does not have such a powerful experience in creating space for the implementation of startups, the establishment of technological and industrial ties. " – the minister said. Also, along with the Ambassador of Ukraine to Israel Gennadiy Nadolenko and the Honorary Consul of the State of Israel in the Western region of Ukraine Oleg Vyshniakov, Grinevich spoke with Israeli deputies and ministers. Among the priority topics for discussion were the latest methods in Israeli education, ways of integrating of children with special needs into the general education, methods for identifying gifted children, introducing innovations and startups in education. "These meetings once again proved that Israel is a model for Ukraine, the experience of this young state can easily be borrowed and implemented into Ukrainian realities. We learned a lot about interesting perspectives and steps to improve Ukrainian education. I hope that they will be implemented soon, "said Oleg Vishnyakov, Honorary Consul of the State of Israel in the Western region of Ukraine. In particular, on the first day of the visit, Lilia Grinevich visited one of Tel-Aviv schools – "ORT Singalovski", where advanced approaches to learning are applied. Representatives of the school administration introduced the Minister of Education of Ukraine with their methods that help develop the children's creative abilities and, in general, reveal their potential. An important conversation was between Lilia Grinevich and her colleague – Minister of Education of Israel Naftali Bennett. He said: "The peculiarity of Israeli education lies in the fact that it is "informal "and focuses on the responsibility of the child. For example, an important role is played by teenage movements. At the age of 15, I have already led large groups of peers to campaigns, took responsibility for their welfare. Also, the army plays an important role, after which the Israeli men and women are formed as persons, who are sure that everything is in their force. And this confidence turns into \the basis for the creation of unique technologies and inventions."
Proud to be Canadian; From Ukraine to Port Arthur, a family story of triumph over adversity – Chronicle Journal: Opinion Call it fate, call it luck, but if it wasn't for two immigrants who decided to come to Canada from the Ukrainian (Ivan in 1912 and Annie in 1926), I and the rest of my family would not be Canadian and I would not be telling this story.
Crimea turned out to be a trap for us / CART-Blanch / Nezavisimaya gazeta Settlers from Ukraine were trapped in Russia in a legal trap.
Teenage beauty queen and her friend die as they live stream on Instagram during drunken high-speed drive in Ukraine A TEEN beauty queen live streamed her own tragic death on Instagram during a drunken high-speed joy ride in Ukraine.
Teenager live streamed her own death in fatal car crash | Metro News A teenage beauty contest winner live streamed the moment her and her friend were killed in a fatal car crash. Sofia Magerko, 16, was with her friend Dasha Medvedeva, 24, when…
Golden Gate of Kiev – Kiev, Ukraine – Atlas Obscura Discover Golden Gate of Kiev in Kiev, Ukraine: A reconstructed medieval gateway that was the magnificent entrance to the capital city dating back to 1037.
Take a Tour of Kyiv's Astonishing Oceanarium – YouTube Predatory piranhas, crocodiles, moray eels, sea rays and puffer fish, the most poisonous fish in the world, as well as colourful corals. It is far from a com…
---
Russia / Iran / Syria / Iraq / OEF Reports
---
Russia Calls Watchdog Report On Sarin Gas Attack In Syria 'Doubtful' And 'Biased'  Russia's Foreign Ministry said on June 30 that a report by the world's chemical weapons watchdog concluding that the banned nerve gas sarin was used in an April attack in Syria was based o…
Russia says it found nothing suspicious at Syrian airbase – CBS News The Russian commander in Syria sent the anti-ISIS coalition a letter saying Russians have found nothing to indicate the presence of chemical weapons at a Shayrat airfield
U.S.-Backed Syrian Forces Encircle Islamic State In Raqqa Stronghold U.S.-backed forces have completely encircled the Islamic State extremist group's self-proclaimed capital in northern Syria after cutting off the last remaining escape route, a monitoring group an…
ISIS fighters employ new tactic in Raqqa Besieged ISIS fighters launched a desperate counterattack, disguised as Syrian Democratic Forces, in the al-Sinaa and al-Mashlab neighborhoods of Raqqa 
Iraqi troops in mop-up operations in Mosul after key gains Iraqi troops were clearing up a key neighborhood in Mosul on Friday, commanders said, a day after making significant gains against Islamic State militants in the city and after the country's prime minister declared an end to the extremist group's self-proclaimed caliphate.
Court Rules U.S. Can Seize Manhattan Tower From Iranian-American Charity A New York jury has ruled that the U.S. government can seize a Manhattan skyscraper worth as much as $1 billion from an Iranian-American charitable foundation accused of violating sanctions agains…
Erdogan, Trump talk amid dispute over arms to Kurd fighters Turkish President Recep Tayyip Erdogan spoke with President Trump amid tensions over Washington's decision to arm Syrian Kurdish forces fighting the Islamic State group, a Turkish official said Friday.
U.N. Human Rights Chief: Demand for Qatar to Shut Down Al-Jazeera 'Unacceptable' – Breitbart The United Nations High Commissioner on Human Rights says demands for Qatar to shut down Al-Jazeera are "unacceptable."
Gulf crisis: Qatar FM meets UN Security Council members | Qatar News | Al Jazeera Foreign minister asks non-permanent members of UN Security Council to call for an end of the blockade on Qatar.
Qatar confrontation is a test for Tillerson (opinion) – CNN.com The dangerous divide in the Middle East urgently needs attention from America's top diplomat, writes Nic Robertson
A-10 pilot who braved 'hailstorm of anti-aircraft fire' to save soldiers receives Silver Star A retired A-10 pilot will receive the Silver Star Friday for his role supporting soldiers attempting to cross the Tigris River and surround Baghdad in the opening days of the Iraq war.
---
---
Trump Takes More Aggressive Stance With U.S. Friends and Foes in Asia – The New York Times The president pressed South Korea on trade and made moves that angered China, posing a test of whether he can keep campaign promises while also cooperating on security.
With South Korean president, Trump denounces 'reckless and brutal' regime in North Korea – The Washington Post The president also pressed South Korea's Moon Jae-in for a more balanced trade deal to help U.S. automakers
Full script of joint news conference of Presidents Moon Jae-in and Donald Trump Trump: Thank you very much. Melania and I are honored to welcome President Moon of South Korea and his lovely wife Madam Kim to the White House. Mr. President, let me be the first to congratulate you on your election, tremendous election people, and also people of South Korea for providing such an incredible example of democracy for the world to see. It was very exciting I must see and congratulations. This morning President Moon and Vice President Pence laid a wreath at the Korean War Veterans Memorial to commemorate the 67th anniversary of the Korean War. It's a beautiful ceremony. We will never forget that Americans and Koreans bravely fought and died together for a free Korea. To the Korean and American veterans of that war, great people, we are eternally grateful for your service and for your sacrifice. More than six decades after our partnership was forged in the fires of war, the alliance between the US and South Korea is the cornerstone of peace and security of a very very dangerous part of the world. The link between our countries cemented in battle is now also tied together by culture commerce and common values. Together we are facing the reckless and brutal regime of North Korea The nuclear and ballistic missile programs of that regime require a determined response. The North Korean dictatorship has no regard for the safety and security of its people or its neighbors and has no respect for human life — and that's been proven over and over again. Millions of North Korea's own citizens have suffered and starved to death. And the entire world just witnessed what the regime did to our wonderful Otto Warmbier. I thank President Moon for expressing his condolenes on the travesty of Otto's death. Our thoughts and our prayers remain with his wonderful family. The era of strategic patience with the North Korean regime has failed. Many years and it has failed. And frankly, that patience is over. We're working closely with South Korea and Japan as well as partners around the world on a range of diplomatic security and economic measures to protect our allies and our own citizens from this menace known as North Korea. The US calls on other regional powers and all responsible nations to join us in implementing sanctions and demanding that the North Korean regime choose a better path and do it quickly and a different future for its long-suffering people. Our goal is peace, stability, and prosperity for the region. But the US will defend itself. Always will defend itself. Always. And we will always defend our allies. As part of that commitment, we are working together to ensure fair burden sharing in support of the US military presence in South Korea. Burden sharing is a very important factor. A factor that is becoming more and more prevalent, certainly in this administration. We are also working to create a fair and reciprocal economic relationship. For when the U.S.-Korea trade deal was signed in 2011 to 2016, you know who signed it, you know who wanted it, our trade deficit with South Korea has increased by more than 11 billion dollars. Not exactly great deal. I was gratified to learn about the new investments South Korean companies are making in the US. This month, Cheniere is sending its first shipment of American liquefied natural gas to South Korea in a deal worth more than 25 billion dollars. It's great. We will do more to remove barriers to reciprocal trade and market access. We talked last night and today about some tough trade issues. Like autos and steel. And I'm encouraged by President Moon's assurances that he will work to create a level playing field so that American workers and business and especially automakers can have a fair shake at dealing with South Korea. South Korean companies sell cars in America. American companies should have that same exact privilege on a reciprocal basis, and I'm sure we'll be able to work that out. In addition, I've called on South Korea to stop enabling the export of dumped steel. These would be important steps forward in our trading relationship. Very important steps. They have to be made. Not fair to the American workers if they're not and they will be. Our team are going to get to work on these issues. And they're going to sign a deal that's great to South Korea and great to the US. Mr. President' I'm thrilled that you're here today and deeply honored you choose to go to the U.S. us as your first foreign trip as President. I greatly enjoyed dinner and the many producitive discussions we've already started having today had today. I look forward to working with you for many years to come to strengthen our alliance, protect our citizens from common threats, and deepen the enduring bonds of friendship, between Americans and the great people of South Korea. Thank you very much President Moon. Thank you.
Taiwan arms sale, North Korea sanctions outrage Beijing in test of U.S.-China ties under Trump – The Washington Post The Mar-a-Lago honeymoon is over as a White House win on beef is overshadowed by other moves.
With bank sanctions and arms sales, US hardens line on China The Trump administration hardened its approach to China on Thursday, blacklisting a small Chinese bank over dealings with North Korea while approving more than a billion dollars in military sales to Taiwan.
China lashes out at US as Trump-Xi honeymoon ends US-Beijing relations sink over trade, weapons sales and North Korea-linked sanctions
London should stop attempting to influence HK affairs – Global Times Saturday marks the 20th anniversary of Hong Kong's return to China. British Foreign Secretary Boris Johnson, the US Department of State, US lawmakers as well as some Western media outlets have made indiscreet remarks about Hong Kong's democracy in order to create some noise ahead of the celebrations of the anniversary.
China's Dismissal of U.K. Treaty Renews Doubts About Its Word – Bloomberg China's dismissive critique of the U.K. treaty governing the return of Hong Kong raised new doubts about its commitment to the city's autonomy and other international agreements.
Once a Model City, Hong Kong Is in Trouble – The New York Times When the British left 20 years ago, Hong Kong was seen as a rare blend of East and West that China might seek to emulate. Now, increasingly, it's a cautionary tale.
Xi Jinping tells Hong Kong people to believe in China and respect its might – The Washington Post China stages Hong Kong's largest-ever military parade to mark anniversary of handover from British rule.
Incoming leader Carrie Lam leads handover anniversary flag-raising while police remove protesters | South China Morning Post Nearby, large pro-Beijing crowd thwarts pro-democracy marchers as police remove activists from scene
US Approves First Arms Sale to Taiwan Under Trump The State Department has approved arms sales to Taiwan worth a total of $1.4 billion, the first such deal with the self-governing island since President Donald Trump took office, officials said Thursday. The sale will anger China, which regards Taiwan as part of its territory. It comes at a delicate time for relations between Washington and Beijing over efforts to rein in nuclear-armed North Korea. The sale to Taiwan comprises seven items, including technical support for early warning radar, anti-radiation missiles, torpedoes and components for SM-2 missiles, according to a U.S. official who requested anonymity to discuss the details before they were formally announced. State Department spokeswoman Heather Nauert said the Trump administration had notified Congress of its intent to approve seven proposed deals now valued at around $1.42 billion. Nauert said the approvals did not violate the Taiwan Relations Act that governs U.S. contacts with the island. "It shows, we believe, our support for Taiwan's ability to maintain a sufficient self-defense policy," Nauert said. "There's no change, I should point out, to our 'one-China policy."' Lawmakers, which are generally strongly supportive of such sales, have 30 days to object. The U.S. is legally obligated to sell weapons to Taiwan for its self-defense. The U.S. official said the sales represented upgrades, converting existing systems from analog to digital. The last U.S. arms sales to Taiwan, worth $1.8 billion, were announced in December 2015. They included two decommissioned U.S. Navy frigates, anti-tank missiles, amphibious assault vehicles and Stinger surface-to-air missiles, and was the first sale for four years. China objected strongly, but it did not notably set back U.S.-China relations and military ties, which has happened after past arms sales to Taiwan. However, relations across the Taiwan Strait have deteriorated since then, as Taiwan last year elected a leader from an independence-leaning party, Tsai Ing-wen. China has increased diplomatic pressure, cut off its contacts with the island's government and discouraged travel there by Chinese tourists. (ends)
Man held in kidnapping of Chinese scholar who is feared dead – The Washington Post A man was charged Friday with kidnapping a visiting University of Illinois scholar from China who authorities believe to be dead after she disappeared three weeks ago. A federal criminal complaint alleges the suspect's phone was used to visit an online forum in April called "Abduction 101."
---
---
Trump nominates former Texas senator as NATO ambassador President Donald Trump says he has nominated Kay Bailey Hutchison, a former Republican senator from Texas, to be the U.S. ambassador to NATO.
Nord Stream 2 sanctions could yet assist Ukraine From Dr Alan Riley, London, UK
Ukraine Solicits Help From EU Parliament In Hopes To Block New Russian Pipeline Naftogaz said that the European Parliament will closely monitor the Commission's agreement to go ahead with Nord Stream II, a controversial pipeline in the Baltic Sea.
How much does it cost to influence an election? About $400,000 – To Inform is to Influence By Stefan Nicola | Bloomberg Posted Jun 29, 2017 at 5:58 PM That's how much it costs to buy followers on social media platforms, hire companies to write and disseminate fake news postings over a period of 12 months, and run sophisticated web sites to influence public opinion, according to Udo Schneider, a security expert. Want to influence an election?…
Kremlin Says Putin, Merkel Discuss G20 Summit By Telephone The Kremlin says Russian President Vladimir Putin discussed the upcoming Group of 20 (G20) summit with German Chancellor Angela Merkel in a phone call on June 30. In a statement, the Kremlin sai…
Marine Le Pen charged in inquiry into misuse of EU funds | World news | The Guardian French far right leader has previously denied any wrongdoing in a case that she says is politically motivated
Oldham socialist Benjamin Stimson faces jail for fighting in Ukraine | News | The Times & The Sunday Times A British socialist was facing life in prison for terrorist offences after he travelled to Moscow to help Russian-backed rebels fighting government forces in eastern Ukraine.
---
---
Trump nominates top Senate staffer, former F-15 pilot to be Air Force undersecretary  President Trump on Thursday nominated Matt Donovan, a former F-15C pilot and member of the Senate Armed Services Committee professional staff, as the next undersecretary of the Air Force.
Republicans are risking becoming the party of Putin – The Washington PostThe GOP controls the White House and Congress, so ultimately its leaders must step up to prevent future Russian attacks on American democracy.
Donald Trump goes gift shopping for Vladimir Putin

Trump Meeting Format Not a Top Priority for Putin, Kremlin Says How and when the meeting goes ahead depends on Putin's already busy schedule, the Kremlin asserts.
Long anticipated Trump-Putin meeting raises worries – POLITICO Russia hawks and national security experts worry talk of friendship, unclear agenda might make Trump too eager to please.
Despite hacking charges, U.S. tech industry fought to keep ties to Russia spy service | Reuters As U.S. officials investigated in January the FSB's alleged role in election cyber attacks, U.S. technology firms were quietly lobbying the government to soften a ban on dealing with the Russian spy agency, people with direct knowledge of the effort told Reuters.
Russia Threatens Retaliation If Pentagon Bans Kaspersky Software – Bloomberg Russia may retaliate if the U.S. Congress bans the Department of Defense from using Kaspersky Lab's cybersecurity software, Communications Minister Nikolay Nikiforov said.