Anonymous expert compilation, analysis, and reporting.
Apologies for being late. 
The embedded chart shows the huge disparity of the NotPetya/Goldeneye pretend-ransomware attack, absolutely making the case this was an attack on Ukraine, and the rest of the globe was simply collateral damage. 
</end editorial>
---
---
The descent of Russia into the abyss continues, four essays on the re-Stalinisation of Russia being a good illustration of a nation that has well and truly lost its way in the 21st century information age. Of course, it is all attributable to meddling by the evil and hostile West, with its sole purpose being in the Moskal narrative, to dismember Mother Russia, never mind escalating internal disputes inside Russia over minority languages vs. Russification, or as eloquently put, the "Potemkin village" of economic optimism as Russia's post-Soviet economy melts down without petro-dollar subsidies. Russian exceptionalism radiates for all to see – Russia is incapable of being at fault: "the evil outsiders did this, we are but innocent victims, awaiting the new Saint Alexander Nevskiy, to vanquish the marauding hordes from the West with their wicked social media poisoning the souls of helpless Russians with unclean thoughts …. ". Excellent digest of the Rosbalt article about Belarusian planning for extremely rapid mass mobilisation of the whole country, to defeat a Russian hybrid invasion as conducted in Ukraine three years ago – with the Belarusians' formidable track record as partisans during WW2, this might convince the Russians that Minsk is not Donetsk city.
The NotPetya/Goldeneye pretend-ransomware DoS attack remains the leading topic in IW/IO/cyber, with final tally stats showing Ukraine suffered around 75% of the attacks, globally. In Kyiv, NSDC Chair Turchenov threatens criminal prosecution for civil servants who ignored the NSDC directives to cease the use of Russian hosting and Internet service providers, and other Russian services that expose their networks and systems to Russian penetration.
Ukraine today laid to rest its prodigal son, MGen Maksym Mikhailovich Shapoval of the GUR, with full military honours and a gun-carriage procession through Kyiv, Shapoval was posthumously promoted by Pres Poroshenko in recognition of his outstanding service and sacrifice to the nation. The collective anger in Ukraine is palpable – Moscow seems determined to poison relations with the Ukrainians for at least another century. Donbass fires continue, while two more Russians blunder into a Ukrainian patrol and end up EPWs. Ukraine signs to join its electricity grid with that of the EU. POTUS publicly declares intent to export energy products to Ukraine: "Ukraine already tells us they need millions and millions of metric tons [of coal] right now … and we want to sell it to them…", with Ukraine also seeking United States LNG and nuclear fuel rods, Russia loses Ukraine as an energy market, and the United States gains a stable long term export client. Eurovision argument flares up again, as the EBU seeks to fine a Ukrainian broadcaster for complying with the law in Ukraine – amazing what Russian money can buy in EUrope.
In Syria, while ISIS unravels, the Russians accuse the US of attempting to provoke a clash as an excuse to mount attacks against the Assad regime. Qatar dispute continues.
CNN report that POTUS will be given updated and revised military options for dealing with the DPRK, while Gallington argues the US should set hard boundaries for the Kim regime, and never appease for appearances. FA essay on China's bloating corporate debt is interesting, moreso given the known problem of government bad debt.
NATO and EU Military debates continue in Europe, while the Schulz essay on problems in the Bundewehr summarises the issue previously argued – he sees these problems as blowback from the publicly popular but irresponsible "Giant Switzerland" notion. Reuters report that"Drawing inspiration from Ukraine's 2013-14 revolt, Venezuela's young protesters are donning Viking-like shields in battles with security forces and eagerly watching a film on the Kiev uprising." – will we see the Kremlin allege a Ukrainian conspiracy to destabilise and topple another Putin client, this time in Latin America? The long armed global reach of Kyiv in its quest to dismember Mother Russia and its alliances? [Photogallery of Venezuelan shields].
Domestic Russia debate continues in the US.
---
---
Russia's Milestones Are Gravestones The Moscow jury decision finding five Chechen men guilty of murdering opposition leader Boris Nemtsov is the latest chapter in a series of high-profile killings that have punctuated Vladimi…
Putin Says Foreign Agencies Attacking Russia – To Inform is to Influence Putin is blameshifting again. Russia is most likely behind the most recent global cyber attacks that focused on Ukraine, but Putin is trying to deflect the blame to someone else, anybody else. Putin has been doing this since he was first elected President. Russia is never at fault. It's a foreign provocation. Outsiders are attacking us. Ukraine shot down MH17. Enough. </end editorial> CHICAGO NEWS 06/28/2017, 12:18pm PARIS — Russian President Putin said foreign intelligence agencies are conducting cyberattacks against Russia. Speaking at the headquarters of the Russian foreign intelligence agency SVR, Putin said in comments carried by Russian news agencies on Wednesday that Russia is "witnessing a hike in activities by foreign intelligence agencies aimed against Russia and its allies." He singled out cyberattacks as one of the ways other countries try to gain sensitive information about Russia. Ukraine and Russia appeared hardest hit in a new strain of malicious software that froze computers around the globe on Tuesday and Wednesday. Russia's biggest oil company, Rosneft, said Wednesday it has faced some problems but added that it was too early to assess the damage from the malicious software. The day after a particularly virulent strain of ransomware burst across the globe, the mysterious Shadow Brokers group has re-emerged to taunt the U.S. National Security Agency. It's a possible hint at the shadowy spy games being played behind the scenes of the cybersecurity crisis.
Window on Eurasia — New Series: Few in Kremlin Expected US-Russian Relations to Deteriorate After Trump Was Elected, Putin Aide Says Paul Goble Staunton, June 29 – Yury Ushakov, an assistant to Vladimir Putin, told the Primakov forum this week that few in Moscow else expected US-Russian relations to deteriorate following the election of Donald Trump as US president but that is exactly what has happened, an indication of just how badly the Kremlin understands the American political system. He said that the failure of the US to move in the direction of cooperation with Russia that Trump had signaled during his election campaign was "impermissible" from Moscow's point of view and a threat both to the two countries themselves and, because of their importance, to the world as a whole (nakanune.ru/news/2017/6/29/22474635/). "There are a number of problems which the world simply won't be able to deal if the US continues to conduct itself in an openly challenging and anti-Russian manner," the Putin aide continued. And if it does, the international community will not benefit from this at all. Ushakov's remarks reflect the failure of the Kremlin to understand the nature of the American political system. First, because Putin has dictatorial powers, the Kremlin leader and his staff tend to project that on others and expect that any new leader of the US will be able to radically change direction simply because he wants to. In fact, in mature democracies like the one in the US, there are numerous institutions involved in any decision; and the ability of one individual, even the president, to turn the ship of state in a very different direction quickly are quite limited. At best, he can signal where he wants to go, but he has to work hard to take others with him. Trump hasn't done that. Second, Russia's involvement in the US election, widespread suspicions that there was some form of cooperation between Moscow and the Trump campaign, and the resulting investigations have tied Trump's hand. Any step he makes toward cooperation with Russia will be read by many as confirmation that he is in Putin's pocket. Consequently, Trump has to avoid that lest he provoke the kind of political crisis at home that could lead to a further mobilization of opinion against him or even his impeachment. Thus, paradoxically, Moscow has no one besides itself to blame for the fact that in the near term, there is likely to be less rapprochement between it and Washington than it hoped for. And third – and this may be the most aspect of the US that the Kremlin has failed to understand – Americans as a group are increasingly horrified by the aggressiveness of Putin in Ukraine and Syria as well as by Moscow's involvement in Western elections both overtly and covertly. As a result, many Trump supporters are turning against Putin. According to one Moscow analyst, Americans who a year ago said "I'm for Trump and for Putin" are now saying "I'm still for Trump but now against Putin" (kasparov.ru/material.php?id=5953EFD731CE5). That sea change is likely to affect both Trump and the US-Russian relationship longer than anything else.
A brief report from the Trump and Putin front But what about Putin? The consensus (armed truce) on the "Trump front" is compensated by active offensive actions on the "Putin front". These actions are conducted by at least 90% of the members of both chambers of Congress, at least 90% of the US media, all the Intelligence community. And no less than 70% of Americans (my assessment) support these actions. Over the past two weeks, at least four individuals in our Twin Cities (I know them well) who in November 2016 – April 2017 were not shy about declaring "I am for Trump and for Putin," suddenly changed their colors and now say: "I For Trump, but I'm against Putin. " Either they came up with their own ideas, or they were instructed … They smelt, the pogans, what the fried smelled.
Russia Suspends Payments To Council Of Europe  Russia says it is suspending its financial contributions to the Council of Europe over a dispute regarding Russian delegates who were stripped of their authority following the annexation o…
Window on Eurasia — New Series: The Real Reason the Kremlin Will Never Completely Disown the Molotov-Ribbentrop Pact  Paul Goble Staunton, June 30 – For Moscow, the 1939 Molotov-Ribbentrop Pact and its secret protocols which divided Eastern Europe between Hitler and Stalin remains far more important than many believe because it was the first time a major power recognized that the USSR had "legitimate" interests beyond that country's borders. Thus, that accord between the two totalitarian powers represents for Moscow far more than just an assertion of its control over the Baltic countries, Moldova and the western portions of Ukraine and Belarus. It serves as a surety of what Moscow leaders think is their right to intervene and control other places as well. That conclusion follows from a comment by former Soviet spymaster Pavel Sudoplatov in his 1994 book, Special Tasks, that has been picked out by a Moscow blogger now to explain the course of Russian history in the 20th century and by implication even in the 21st (users.livejournal.com/vba-/561405.html). Citing Sudoplatov's book, the Moscow blogger, with the screen name of VBA, writes the following: "The Molotov-Ribbentrop accord was extremely highly valued by the Soviet leadership brecause this was the first treaty with the participation of the USSR where one of the leading world powers (Germany) officially recognized the Soviets having a right to its own interests beyond its own borders. Nothing similar had occurred in the entire history of the USSR." With the revival of Stalinism in Vladimir Putin's Russia, such recognition is if anything even more important; and consequently, it is extremely unlikely that any Putin government will ever disavow the Molotov-Ribbentrop Pact as Mikhail Gorbachev did in 1989 as much as that might help its image in the West.
Window on Eurasia — New Series: 'Stalin's Second Coming Will Require Victims,' Moscow Paper Says Paul Goble Staunton, June 29 – Stalin is enjoying a rebirth in the Russian Federation, one that enjoys the support of the population, according to polls, but that has generated anger or even fear among the intelligentsia, the editors of Nezavisimaya gazeta say. And if the former gain the upper hand, there are likely to be victims among the latter. In a lead article today, the Moscow paper's editors say that putting up a memorial plaque at the Moscow State Legal Academy represents a particular challenge to the intelligentsia because Stalin so thoroughly violated his country's laws and constitutions as he built his totalitarian state (ng.ru/editorial/2017-06-29/2_7018_red.html). Efforts by the academy's leadership to defend their decision by referring to a 1960 directive concerning "the preservation of historical heritage" are less than convincing and indeed even offensive to all those who care about the rule of law and the erection of a law-based state. Unfortunately, as new polls show, many in the population don't appear to care much about that. The memorial plaque at the legal academy, the editors continues, "is not the only event in the chronicle of creeping re-Stalinization. Only in the course of the last several days, activists in Barnaul and Novosibirsk have appealed to the authorities to set up memorials to the communist leader." And "even in Kyrgyzstan, integration with Russia has reached the point that there people are demanding that the central street of Bishkek be renamed in honor of the onetime fighter for the single ideology of the USSR," Nezavisimaya gazeta points out. "The posthumous return of Stalin is accompanied by the restoration in the country of the corresponding atmosphere," the editors continue, with proposals for restoring political instruction in the schools, "preparing black lists of enemies of the Russia people," and for opposing all efforts to do away with "the common communist heritage." According to the paper, "Stalin arose from the grave under the pretext of preserving memory about victory in the Great Fatherland War, but certain activists have openly thrown Stalin's jacket onto the shoulders of the new Russia," including Orthodox Christians who have come out in support of the godless Bolshevik. Today, the editors say, "the supporters of such a historic path have the chance to create a hybrid out of Stalinist and statist Orthodoxy, albeit in the form of an imitation. The possible appearance of priests and political information in schools, theology in institutes of nuclear physics, and churches for chekists," something unthinkable under Stalin, are becoming realities. "If the people like such a future," Nezavisimaya gazeta concludes, "then the means of struggle against internal enemies won't have to be invented." They can be taken directly from the Stalin playbook.
Former spokesman for the Russian Orthodox Church says Stalin was God's way of punishing the Bolsheviks — Meduza Commenting on recent scandals involving Joseph Stalin, Russian Orthodox archpriest Vsevolod Chaplin wrote on Facebook this Wednesday that the infamous Soviet leader was actually a divine servant sent to punish the men responsible for the Bolshevik Revolution and the Red Terror.
Window on Eurasia — New Series: The Worse Things Become, The More Russians Look to the State and to Putin Paul Goble Staunton, June 28 – In most countries when the economic situation deteriorates or the government behaves in ways that fail to help the population out, an increasing number of people turn against the government and its leadership and demand either changes in policies or even changes in the leadership itself. But in Russia, the relationships between the economy and the state, on the one hand, and the population, on the other, is very different. There polls and analysts suggest, the worse things become in the economy and in government policy, the more Russians look to the state and especially to the supreme leader for salvation. A Gazeta commentary suggests this represents "a paternalistic scheme in action: the worse Russians live – and a new VTsIOM survey finds 40 percent of them do not have enough money even for food and clothing – the greater the hopes they place in the state" (gazeta.ru/comments/2017/06/29_e_10754009.shtml#page3). "For officials," the paper continues, "such a state of affairs is natural: they in general consider the social sphere their undivided possession, while citizens fear rather to lose the little that they still have and believe in a miracle" worked by the state, as a new study by the Higher School of Economics confirms (gazeta.ru/business/2017/06/28/10741787.shtml). And Russians feel this way even when most Russians think the state is not doing its job because they are certain that any change could end by making things worse. And that explains the pattern of public activity: 50,000 people in Russia as a whole protest corruption, but 250,000 in Moscow alone pray at Ramadan and almost a million stand in line to see a saint's relics. A Russian blogger, Anatoly Nesmiyan, supplements this observation in a post entitled "Total Poverty in a Stable Putinist Russia" in which he suggests that the authorities are successfully deploying lies to suggest that there are no general problems but only a few specific ones in a few places (krizis-kopilka.ru/archives/42204). That was what Putin's "Direct Line" program was all about: showing that the president could address very specific problems. But that in turn shows that neither he nor his regime intend either to analyze the situation as a whole or to adopt policies designed to ameliorate the impact of it on the population as a whole. And what that means, Nesmiyan continues, is that the population is going to become ever poorer even as it listens to the government's message that everything is somehow getting better and better. When that becomes unsustainable is anyone's guess, but it is certainly far further in the future in Russia than it would be in other countries.
Window on Eurasia — New Series: Parliamentarians Worry about Linguistic 'Discrimination' Against Russians in Non-Russian Republics Paul Goble Staunton, June 29 – Five non-Russian republics have either introduced or plan to introduce fines against officials who do not know the language of the titular nationality and cannot conduct business in it, actions that some Russian parliamentarians view as a form of discrimination against Russians and Russian speakers and others say is a threat to the territorial integrity of the country. But at the same time, most of the deputies and senators whom the Regions.ru portal surveyed for their reaction indicated that language issues are extremely sensitive and potentially explosive if they are not approached with delicacy and extreme care and warned against any attempt to apply a single cookie cutter approach to them (regions.ru/news/2606762/). Valery Rashkin, the first deputy chairman of the Duma's nationality affairs committee and a member of the KPRF, says that any approach to this question must be taken with extreme care. At the same time, however, he warned against "any discrimination against the Russian language and Russian cultural traditions" given that they hold the country together. History shows, he continued, that promoting one language at the expense of others if done incautiously "always leads to mutual distrust" and can lead to "the appearance of attempts to leave the Russian Federation." There must be a balance between the languages but everything must be voluntary and not by compulsion. Aleksey Didenko, chairman of the Duma's federalism committee and a member of the LDPR, said that his party "considers that any use and dissemination of national languages in the subjects of the Russian Federation in which the state language is Russia must take place exclusively on a voluntary basis." "No one has the right to force anyone" to use a language he or she does not voluntarily choose. At the same time, however, Didenko continued, "today there is no need to adopt a law on the defense of the rights of Russians to the free use of Russian because corresponding legislative norms have already been adopted at the federal level." Vladimir Poletayev, deputy chairman of the Federation Council Rules Committee from the Altay Republic, said that the issues involved with language use are "very delicate." In many republics, people need to speak two or more languages but this should be achieved gradually and by encouragement rather than out of fear of punishment by the state. Sergey Katanandov, first deputy chairman of the Federation Council's Federalism Committee and a member of United Russia, said that any use of fines to force officials to use this or that language was a mistake but that it was perfectly proper to encourage young people to learn languages and then use them when they grow up and take jobs. At the same time, Katanandov continued, it is important to remember that "precisely the Great Russian People speaking in Russian is responsible for the fact that our multi-national country with its linguistic and cultural multiplicity has been preserved." Ignoring that reality by promoting non-Russian languages is "dangerous for the integrity of the country." And Aleksey Aleksandrov, first deputy chairman of the Federation Council's Constitutional Law Committee and also a member of United Russia, concluded the survey by suggesting that in his view, republics could introduce administrative rules and fines to promote languages. Perhaps, he said, there ought to be a federal framework law to guide this process.
Open Russia Deputy Head Leaves Country, Citing Police Pressure Ilya Novikov, a deputy head of the Open Russia civic movement, says he has "temporarily" left Russia amid what he describes as "large-scale persecutions against those engaged in an…
5 found guilty in Russian opposition leader's murder – The Washington Post A Moscow jury convicted five men on Thursday in the assassination of opposition leader Boris Nemtsov on a bridge near the Kremlin two years ago, ending a nine-month trial that his supporters said had failed to bring the true masterminds of slaying to justice.
Five Chechen men were just convicted of killing a Putin critic. Here's what's really going on

Window on Eurasia — New Series: Kremlin's Claims about Economic Growth Rest on Three Weak Reeds, Russian Experts Say Paul Goble Staunton, June 29 – Independent Russian economists say that claims by Moscow officials concerning the supposed growth in Russia's GDP do not correspond to reality, Russian experts say. Instead, they reflect some statistical sleight of hand, the low base from which any change is calculated, and even the anomalously cold weather of recent months. Olga Solovyeva of Nezavisimaya gazeta has surveyed these experts who say that the increasing impoverishment of the population, the continuing decline in retail trade, and the collapse of housing sales should warn off anyone inclined to believe in this latest example of "Potemkin village" thinking (ng.ru/economics/2017-06-29/1_7018_rost.html). First of all, independent experts in Moscow point out, Rosstat disaggregated production into goods production and retail sales. By doing that, it could point to higher production in the goods sector without that being overwhelmed as it has been in the past by declines in consumer spending and hence sales. Second, they note, the Russian economy has declined so much over the last decade that the base against which any growth is to be measured is much smaller than before. As a result, any increase expressed in percentages – and that is Moscow's favorite approach – may be large while the actual production underlying them may be quite small. And third, Moscow was helped by the extremely cold temperatures in Europe over the last months. That allowed Russia to sell more oil and gas abroad than would otherwise be the case; and its earnings from such sales all added to GDP, even though there was no fundamental change in the nature of the economy. Moreover, as several of the experts with whom Solovyeva spoke said, if the weather warms up in the coming year, Russia will sell less and GDP will fall by that amount. As one put it, next winter may be warmer than usual, and Russia's GDP will thus fall as a result of that alone. In short, the growth Moscow is so proud of is the product of these three things rather than any underlying improvement in the country's economic situation, and that fact should be remembered whenever the Kremlin trumpets numbers that it hopes will suggest otherwise.
Desperate Families Camp Out At Russian Building Site Families are camping out at a building site in Kazan, Russia, where their new homes have not been finished on time. They say they've nowhere else to go. (Current Time TV)
Window on Eurasia — New Series: Events in Ukraine Behind Minsk's New Plan for Mass Mobilization in Belarus Paul Goble Staunton, June 29 – Minsk's military plans, including the introduction of new rules that will allow it to mobilize the entire adult population of the country in case of need, are being developed by the Belarusian government on the basis of its analysis of what has gone right and wrong in Ukraine, according to Defense Minister Andrey Ravkov. Minsk's focus on what has worked and not worked in Ukraine suggests that Belarus is more focused on the risk of Russian hybrid intervention than on working together with Russia in some sort of common military program of the now "more dead than alive" union state between the two (rosbalt.ru/world/2017/06/29/1626810.html). As the Belarusian parliament has approved changes in the country's military law, Ravkov says that he and his colleagues have been studying "the experience of our southern neighbor which, after rejecting short-term service, fell into a situation in which it had to carry out partial mobilization" (bbc.com/russian/features-40436015). "In Ukraine, in the course of fulfilling partial mobilization, there were many problems," he says; and Belarus has decided to avoid those by putting in place rules governing mass mobilization before it may be necessary, allowing the government to call to the colors almost all citizens between the ages of 18 and 65.Belarusian analysts, like Yegor Levedok of the Belarus Security Blog, point out that many of the features of these new arrangements are obviously "adapted to conditions of hybrid war" like the one Russia has been conducting against Ukraine and will thus allow the Belarusian military to "conduct operations analogous to the Ukrainian one without introducing martial law." On the one hand, this latest Belarusian move reflects Minsk's desire not to have a Russian base on its territory. It is a way of signaling to the Russians that such a facility isn't necessary. But on the other, it is also likely to give pause to any Russian leader thinking about engaging in a hybrid war against Belarus. To be sure, the Russian military given its technological advantages could seize Belarus; but if the Belarusian population rises in armed revolt afterwards, Moscow would almost certainly be unable to hold it – and would suffer an ideological black eye internationally by having to engage in increasingly vicious punitive actions against the Belarusian nation.
---
---
Kremlin says its computers not affected by hacker attack – To Inform is to Influence MOSCOW, June 27. /TASS/. Neither the Kremlin website nor its computer systems have been affected by today's hacker attack, Russian president's press secretary Dmitry Peskov told TASS on Tuesday. "Everything is operating routinely," he said. Group-IB, a company dealing with prevention of and investigation into cybercrimes, said on Tuesday a Petya ransomware virus attacked a…
UATV's Romeo Kabir Reviews World Reactions to the Petya Ransomware Attack – YouTube Follow UATV English: Facebook: https://www.facebook.com/UATVEN Twitter: https://twitter.com/UATV_en Instagram: https://www.instagram.com/uatv.en Medium: http…
Ukraine Cyberattack Was Meant to Paralyze, not Profit, Evidence Shows – To Inform is to Influence  By ANDREW E. KRAMER JUNE 28, 2017 KIEV, Ukraine — The day started like most for Roman N. Klimenko, an accountant in Kiev who had just settled in at his desk, typing at a computer keyboard and drinking coffee. He was unaware that concealed within his tax preparation software lurked a ticking bomb. That bomb soon…
Global cyberattack may have aimed for havoc, not extortion – Fifth Domain | Cyber PARIS (AP) — The cyberattack that has locked up computers around the world while demanding a ransom may not be an extortion attempt after all, but something more sinister: an effort to create havoc in Ukraine, security experts say. "There may be a more nefarious motive behind the attack," Gavin O'Gorman, an investigator with U.S. antivirus firm Symantec, said in a blog post . "Perhaps this attack was never intended to make money (but) rather to simply disrupt a large number of Ukrainian organizations." The rogue program initially appeared to be ransomware, a fast-growing and lucrative breed of malicious software that encrypts its victims' data and holds it hostage until a payment is made. But O'Gorman was one of several researchers who noted that any criminals would have had difficulty making money off the epidemic given that they appear to have relied on a single email address that was blocked almost immediately and a single Bitcoin wallet that, to date, has collected the relatively puny sum of $10,000. Others, such as Russian anti-virus firm Kaspersky Lab, said that clues in the code suggest the program's authors would have been incapable of decrypting the data in any case, adding further evidence that the ransom demands were a smoke screen. Ransomware or not, computer specialists worldwide were still wrestling with its consequences, with varying degrees of success.
Cash, confusion or cyber-warfare: what really motivated NotPetya attack? – To Inform is to Influence by Davey Winder June 29, 2017Monetising a global ransomware attack on the scale of NotPetya is all but impossible without getting caught. So if not cold cash, what was the motivation behind it? There's a lot we do know about the 'Petya' global ransomware attack, not least that it's NotPetya, the latter being the currently accepted…
Petya.A ransomware map: Ukraine falls under most massive attack Most cases of infection of computers with Petya.A virus were recorded in Ukraine, according to the data of ESET, the developer of anti-virus software. News 30 June from UNIAN.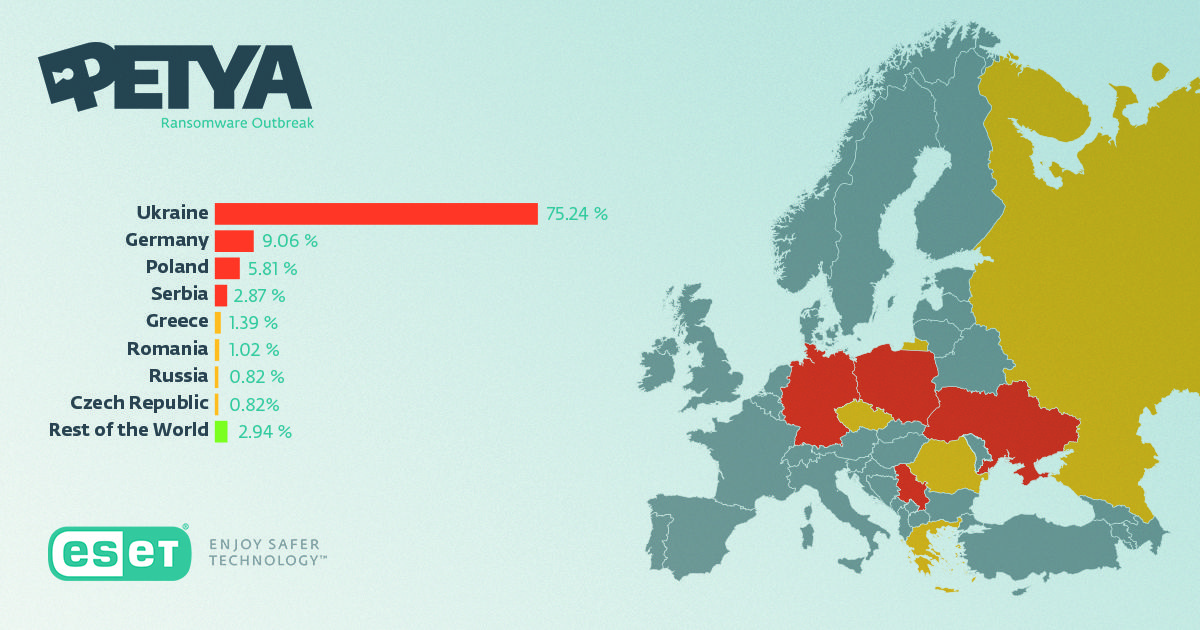 Hacks Raise Fear Over N.S.A.'s Hold on Cyberweapons – The New York Times Hackers in two global attacks have used cyberweapons stolen from a dangerous collection that had been amassed by the agency.
NYT: Hacks raise fear over N.S.A.'s hold on cyberweapons Twice in the past month, National Security Agency cyberweapons stolen from its arsenal have been turned against two very different partners of the United States — Britain and Ukraine, according to The New York Times. News 30 June from UNIAN.
Pro-Putin bots are dominating Russian political talk on Twitter – To Inform is to Influence By Andrew Roth June 20 MOSCOW — Bots airing pro-Kremlin views have flooded the Russian-language portion of the social media platform Twitter, in what researchers from the Oxford Internet Institute say is an effort to scuttle political discussion and opposition coordination in Russia. In a new study of "political bots" on the social media platform, the sheer scale…
Disinformation — Part 1: Strategic deception to undermine the Church, the West, and America as revealed by Romanian defector Ion Mihai Pacepa (2013) – To Inform is to Influence BY MIGUEL A. FARIA SPECIAL TO THE TELEGRAPH This is an extended book review of "Disinformation — Former Spy Chief Reveals Secret Strategies for Undermining Freedom, Attacking Religion, and Promoting Terrorism" (2013) by Lt. Gen. Ion Mihai Pacepa and Prof. Ronald J. Rychlak. Disinformation is a revealing exposé of evil Soviet history as well as…
Cyber, electronic warfare blur tactical, strategic lines – Fifth Domain | Cyber One of today's frequently emerging adages is that the character of war is changing. The rapid pace of technologies and nascent domains of war such as cyberspace are turning what used to be tactical issues into issues of strategic importance. "If we don't win the cyber/[electronic warfare] fight, then the maneuver fight may not matter because we may not get to it," Maj. Gen. Wilson Shoffner, director of operations at the Army's Rapid Capabilities Office, said in early June, noting that the decisive fight may well be the electromagnetic spectrum as opposed to maneuver. Moreover, if communications are disrupted via jammed radios — which are increasingly more susceptible to cyber and electronic attacks as demonstrated in Ukraine — then campaign plans could be significantly affected. To help close operational gaps and harness the evolution of commercial technology, the Army recently held its second Cyber Quest exercise, which is a cyberspace and electronic warfare experimentation and collaboration event held at the Army Cyber Center of Excellence in Fort Gordon, Georgia. It involves a search for emerging technology, ideas and concepts that could yield solutions for future requirements in realistic and replicated operational environments.
---
---
Ariev in PACE spoke about Russia's terrorist activity in Ukraine – 29.06.2017 14:49 — Ukrinform News 29.06.2017 14:49. Chairman of the Ukrainian delegation to the Parliamentary Assembly of the Council of Europe Volodymyr Ariev spoke during a speech in Strasbourg about a new round of Russian terrorist activity in Ukraine.
Turchynov: Many state institutions suffered from cyberattacks because of their systematic failure to implement NSDC decision – 30.06.2017 11:05 — Ukrinform News 30.06.2017 11:05. One of the mechanisms for spreading a dangerous computer virus was a system for updating the accounting software. Secretary of the NSDC of Ukraine Oleksandr Turchynov said this during a meeting of the National Coordination Center for Cybersecurity, the press service of the National Security and Defense Council reported. "The spread of this computer virus and analysis of the breakdown of information systems allow us to say that this is an element of the hybrid war waged by the Russian Federation against us," the NSDC Secretary noted. According to Turchynov, we can already speak about how the cyberattack was spread. "First of all, this was due to the system of updating the software for accounting and document circulation. Also, the hosting site of one of the Internet providers was used to which the SSU had already had some questions regarding cooperation with Russian secret services," he said. "At the same time, the "gray Internet" systems were actively used, including VPN, TOR, etc., which are actively advertised on Russian social resources, access to which was prohibited by the NSDC decision," he added. Oleksandr Turchynov stressed that many state institutions suffered because of their systematic failure to implement the NSDC decision and follow the instructions of the National Coordination Center for Cybersecurity. "I want to emphasize that this is not just a lack of discipline. This inaction is a crime for which those officials who failed to ensure information security of their institutions should bear responsibility, including the criminal one," he said. At the same time, the NSDC Secretary informed that all information resources that were connected to the protected circuit, namely to a secure Internet access node of the State Service for Special Communications and Information Protection, were not affected by the attack.
Defense Minister Poltorak on killings of officers Shapoval and Voznyi: Russian secret services destroy law enforcers able to counteract aggression 30.06.17 10:53 – Defense Minister Poltorak on killings of officers Shapoval and Voznyi: Russian secret services destroy law enforcers able to counteract aggression Russia's secret services are killing Ukrainian law enforcers able to counteract the Russian aggression. View news.
Farewell ceremony for killed intelligence chief Maksym Shapoval in Kyiv. PHOTO Family, friends, comrades, state officials, and Kyiv residents came to bid their last good-bye to killed head of special reserve department of Main Intelligence Directorate (HUR) of Ukraine's Ministry of Defense Maksym Shapoval. Shapoval was killed in a car blast on June 27 in Kyiv. Censor.NET correspondent reports. The memorial service was held in Kyiv Officers' Club. After the ceremony, the funeral cortege walked along Hrushevskogo Street from the Officers' Club to the Cabinet of Ministers building. There, the coffin with Shapoval's body was put on a hearse.  Shapoval will be buried at Baikove cemetery in Kyiv. Top state officials came to pay their respects to Shapoval, including President Petro Poroshenko, NSDC Secretary Oleksandr Turchynov, SBU Head Vasyl Hrytsak, Chief of the General Staff Viktor Muzhenko, State Security Guard Service Valerii Heletei, acting Health Minister Ulana Suprun, Deputy Minister on Temporarily Occupied Territories and IDPs Heorhii Tuka. President of Ukraine Petro Poroshenko has promoted Shapoval to the rank of major general posthumously.
Maksym Shapoval promoted to major general posthumously, – Poroshenko 30.06.17 15:05 – Maksym Shapoval promoted to major general posthumously, – Poroshenko The president says the killed military hoped to be promoted on Independence Day. View news.
Lying-in-state of killed intelligence officer Shapoval held in Kyiv on Friday 30.06.17 11:23 – Lying-in-state of killed intelligence officer Shapoval held in Kyiv on Friday The farewell ceremony is currently underway in Officers' Club in Kyiv's Pechersk district. View news.
Two Russian border guards detained in Kherson region at night, – State Border Guard Service Head Nazarenko. PHOTOS 30.06.17 13:33 – Two Russian border guards detained in Kherson region at night, – State Border Guard Service Head Nazarenko. PHOTOS At night of June 30, Ukrainian border guards and Armed Forces fighters detained two border guard officers of Russia's Security Service (FSB). View news.
Militants launched 22 attacks on Ukrainian troops in Donbas in last day – 30.06.2017 09:23 — Ukrinform News 30.06.2017 09:23. Militants launched 22 attacks on positions of the Armed Forces of Ukraine in ATO area in Donbas over the past day.
Escalation in Donbas: Ukraine reports 1 KIA, 6 WIA's in last day Russia's hybrid military forces attacked Ukrainian army positions in Donbas 22 times in the past 24 hours with one Ukrainian soldier reported as killed in action (KIA) and six as wounded in action (WIA), according to the press service of the Anti-Terrorist Operation (ATO) Headquarters. News 30 June from UNIAN.
One Ukrainian military killed, six soldiers wounded in combat yesterday, – ATO HQ 30.06.17 12:58 – One Ukrainian military killed, six soldiers wounded in combat yesterday, – ATO HQ One fighter of Ukraine Armed Forces was killed, six were wounded and traumatized in anti-terrorist operation (ATO) in the east of Ukraine on June 29. View news.
Withdrawn tank units in Donbas train and compete in Ukraine's rear. VIDEO 30.06.17 14:07 – Withdrawn tank units in Donbas train and compete in Ukraine's rear. VIDEO Tank units of the Ukrainian Armed Forces conduct competitions at their permanent location in the anti-terrorist operation (ATO) area in the Donbas. View video news.
Environmental Catastrophe Looming Upon Occupied Donbas Territories – YouTube Olesya Tsibulko evaluates the environmental situation in Donbas. _ Follow UATV English: Facebook: https://www.facebook.com/UATVEN Twitter: https://twitter.co…
Ukrainian Security Service colonel killed, three wounded in car blast in Donbas -Euromaidan Press | A car explosion at 19:00 on 27 June 2017 took the life of Yuriy Voznyi, a colonel with Ukraine's Security Service (SBU), and wounded three others in the vehicle. The explosion took place in the village of Illinivka in Donetsk Oblast, 25 km from the frontline in Donbas. The incident has been classified as a terrorist act and is being investigated by Ukraine's military prosecutor's office. The cause of the explosion has not yet been disclosed. Anton Herashchenko, advisor to Ukraine's Minister of the Interior, said that Voznyi served in the counterintelligence. On the same day in the morning, a car explosion in central Kyiv killed Maksym Shapoval, also a colonel, who served as a special forces commander at the Defense Ministry's Main Intelligence Directorate. The main version of the assassination is a Russian trace. On 31 March 2017, the SBU colonel Oleksandr Kharaberiush, said to be one of the most productive counter-intelligence officers in Ukraine, had been killed by a car bomb in the south-Ukrainian city of Mariupol. Anton Herashchenko has made claims that Russia had opened a terrorist center with the goal of sending killers and saboteurs to Ukrainian territory to organize murders and terrorist acts. Herashchenko does not offer any proof to support that statement, but it is one worth taking seriously, the security expert Yuriy Kostiuchenko told RFE/RL: there are indeed Russian agents working in Ukraine and weapons and equipment are being passed on to saboteurs. Kostiuchenko opines that Ukraine has proof of Russian-organized terrorist attacks, but it is not assembled in a systematic manner.
Ukraine, NATO to strengthen jointly cyber defense through platform on countering hybrid war – expert – 29.06.2017 15:56 — Ukrinform News 29.06.2017 15:56. A common platform founded by Ukraine and NATO on countering the hybrid war is a potential tool for strengthening of the cyber defense of the parties.
Poltorak invites Canadian defense minister to visit Ukraine in August – 29.06.2017 17:50 — Ukrinform News 29.06.2017 17:50. Defense Minister Stepan Poltorak has invited Minister of National Defense of Canada Mr Harjit Sajjan to visit Ukraine in August.
NATO supports democratic aspirations of Ukraine – Defence Minister Poltorak – 30.06.2017 12:37 — Ukrinform News 30.06.2017 12:37. NATO demonstrates full understanding and support for Ukraine's aspirations for the reforms and democratic development.
New law on reintegration of Donbas must ensure effective fulfillment of Armed Forces' tasks – Poltorak – 30.06.2017 12:57 — Ukrinform News 30.06.2017 12:57. A new legislation on the state policy for the restoration of Ukraine's sovereignty over the temporarily occupied territories in Donbas should maximally ensure the effective fulfillment of military mission by the Armed Forces of Ukraine.
Defence Ministry: Ukraine to get assistance worth $127 mln from US – 30.06.2017 11:50 — Ukrinform News 30.06.2017 11:50. The United States of America will provide Ukraine with assistance worth about $127 million this year.
SBU blocks cyber attacks by Russian special services | UNIAN The SBU Security Service of Ukraine says it has stopped the spread of malicious software by the Russian special services, the SBU's press service reports. "From May 25 to June 6, the Ukrainian Security Service, in close cooperation with foreign partners, has stopped the use of the Ukrainian network infrastructure for targeted dissemination of malicious software by the Russian special services in order to destroy information networks of the critical infrastructure facilities of our state and other countries of the world," the report says. t is noted that, together with foreign partners, the work of the extensive international network infrastructure, which was built by the special services of the Russian Federation, has been stopped. Targeted cyber attacks (the so-called APT-attacks – Advanced Persistent Threat), as well as the infecting of critical infrastructure objects of Ukraine and other countries with special types of malicious computer programs were secretly carried out with the help of this infrastructure and with the use of server equipment, including the Ukrainian hosting. "During the searches, the law enforcement officers have seized server equipment that was involved in the cyber attack system by the special services of the Russian Federation. The investigation is underway. Those involved in illegal activities are being identified, as well as information that circulated in the cyber infrastructure," the press service said. As UNIAN reported earlier, on June 27, Ukrainian banks, energy companies, state-owned Internet resources and local networks, as well as Ukrainian media and other large enterprises underwent a mass hacker attack spreading the Petya.A ransomware, which blocked the operation of computer systems. The virus was also spreading in Russia, England, India and other countries of Europe and Asia.
Global Cyber Attack – YouTube Alexey Baranovskiy, Dean of the Kyiv Cyber Academy, explained to UATV the severity of the global cyber attack which disrupted businesses and governments arou…
Kyiv Cyber Academy Trains New Cybersecurity Force – YouTube With cybersecurity the trend, it seems every university offers courses, many with little or no value. But the Kyiv Cyber Academy, on the other hand, partners…
Prosecution witnesses in case against Yanukovych's high treason will include top officials like Avakov, Turchynov, Chubarov, and 140 others. DOCUMENT (in Ukrainian) 30.06.17 09:29 – Prosecution witnesses in case against Yanukovych's high treason will include top officials like Avakov, Turchynov, Chubarov, and 140 others. DOCUMENT (in Ukrainian) The list of witnesses that the prosecution wants to question in the high treason case against fugitive president Viktor Yanukovych includes 143 persons. View photo news.
Ukraine's chief prosecutor expects completion of Maidan investigation by year-end Prosecutor General of Ukraine Yuriy Lutsenko forecasts that an investigation into the mass killings of protesters on the Maidan, Kyiv's Independence Square, during the Revolution of Dignity will be completed by the end of the current year, according to the RFE/RL's Ukrainian Service. News 30 June from UNIAN.
Trial in MH17 case might be held in the Netherlands, – media 30.06.17 12:36 – Trial in MH17 case might be held in the Netherlands, – media The lawsuit against those guilty of the MH17 disaster will be held in the Netherlands. View news.
Australian MH17 class action restricted | The West Australian Only representatives of MH17 passengers who bought their ticket in Australia, were flying here or lived here will be allowed to join a Federal Court case.
FTA with Canada is another victory of Ukraine on path of reforms – Poroshenko – 29.06.2017 12:52 — Ukrinform News 29.06.2017 12:52. The Free Trade Agreement with Canada is another victory of Ukraine on its way of reforms.
Boryspil Airport to sign agreement with Ryanair within two weeks – Omelian – 29.06.2017 17:11 — Ukrinform News 29.06.2017 17:11. The State Enterprise "Boryspil International Airport" must conclude an agreement with the Ryanair airline within the next two weeks.
Nearly a third of Ukrainians supports blocking of Russian social networks – 30.06.2017 14:53 — Ukrinform News  30.06.2017 14:53. Nearly a third of Ukrainians supports blocking of Russian social networks VKontakte, Odnoklassniki, Mail.ru postal service, Yandex search engine and others.
Ukraine signs deal on integrating into European energy grid -Euromaidan Press | Ukraine's energy system has a chance to dump its dependency on Russia and synchronize its work with the European energy market. On 28 June 2017, Ukraine's national energy company Ukrenergo signed an agreement on the conditions on which Ukraine can connect to the European continental network. If Ukraine will uphold these conditions, the Ukrainian energy system will be able to synchronize its work with the EU system in 2025 and isolate itself from the power grids of Russia and Belarus, which it works synchronously with from Soviet times. Moldova, which is largely dependent on imports of Ukrainian energy, plans to sign a similar agreement with ENTSO-E in the nearest time. The document was signed at the General Assembly of the European Network of Transmission System Operators for Electricity (ENTSO-E) in Brussels. It sets out a reform framework for Ukraine's energy grid over the next five years. Ukraine must modernize its energy system and bring its power stations in accordance with European standards, many of which are using obsolete equipment. Another requirement set before Ukraine is to reform its energy market and make it transparent. One of the benefits of such an integration for Ukraine is energy security and energy independence from Russia. Ukraine's energy grid is one of the largest in Europe, with a total generating capacity of 55,331 MW. 96% of it works synchronously with Russia, Belarus, and Moldova, and only 4% is exported. Right now, only one power station is connected to the EU power grid – the Burshtyn TES. The EU energy space includes 34 EU countries and 42 transmission system operators.
Ukraine Faces 'Substantial Fine' Over Russia Eurovision Row, Organizers Say Ukraine's national broadcaster is facing a "substantial fine" after Russia's contestant in May's Eurovision Song Contest in Kyiv was barred from entering the country, organizer…
Eurovision organizers preparing sanctions against Ukraine – National TV Company head Director General of the National Television Company of Ukraine (NTU) Zurab Alasania says the organizers of the Eurovision Song Contest are preparing sanctions against Ukraine for not allowing a Russian singer who violated Ukrainian laws when performing in the city of Kerch in occupied Crimea to participate in the contest. News 29 June from UNIAN.
Poroshenko rejects petition to lift ban on Russia's VKontakte Ukrainian President Petro Poroshenko considers it is "impossible" to support the petition regarding the cancellation of Russia's VKontakte social network blocking, which was signed by 25,359 people out of 25,000 required, according to the presidential website. News 30 June from UNIAN.
---
Russia / Iran / Syria / Iraq / OEF Reports
---
Syria, Russia accuse US of plotting 'provocation' Syria's government and its ally Russia accused Washington on Thursday of concocting a "provocation" in Syria, which would then be blamed on President Bashar Assad's government as alleged use of chemical weapons to justify an attack.
ISIS Reverts to Insurgent Roots to Pose Long-Term Threat, Study Says – The New York Times Islamic State militants have carried out nearly 1,500 attacks in cities in Iraq and Syria that were liberated from its control, according to a new study.
Iraqi prime minister declares end to ISIS caliphate Iraq's prime minister is declaring an end to the Islamic State group's self-proclaimed caliphate after Iraqi forces captured the compound of a landmark mosque in Mosul that was blown up last week.
Iraq Reclaims Historic Mosul Mosque, Saying ISIS 'Caliphate' Has Fallen : The Two-Way : NPR Though the mosque now lies in ruins, the moment marks a symbolic victory for Iraqis, who watched three years ago as ISIS declared a "caliphate" from its pulpit. But the fight is by no means over.
Battle for Mosul: Ruins of Great Mosque of al-Nuri retaken – BBC News Prime Minister Haider al-Abadi says recapturing the site marks "the end of the fake Daesh state".
U.S. Kurdish allies in final push to encircle Raqqa amid increasing threats from Turkey U.S.-backed Syrian Democratic Forces are in a final push to completely encircle the city of Raqqa — ISIS' self-proclaimed capital.
There's No Space for Qatar to Save Face | Foreign Policy As the crisis in the Gulf heats up, the impossible demands made by the Saudis and Emiratis virtually ensure that things will get ugly.
Try as it may, Trump administration can't avoid Qatar crisis It's the geopolitical crisis the Trump administration just can't quit.
Russia: US sent 'invitation' for terrorists to stage gas attack in Syria – To Inform is to Influence The US picked up intelligence that Syria was about to launch another chemical attack on its civilians.  The US said "no, no, no, don't do that."  The author, Joel Gehrke, sent me this link from the Russian Ministry of Foreign Affairs: Comment by the Information and Press Department on White House Press Secretary's statement about Syrian authorities' alleged preparations for a chemical attack
Newest version of MQ-9 Reaper flies first successful combat mission The Reaper will fully replace the MQ-1 Predator by 2018.
---
---
Trump presented with military options for North Korea – CNNPolitics.com Revised US military options for North Korea have been prepared and are ready to be presented to President Donald Trump, two US military officials told CNN.
How to Put the U.S.–South Korean Alliance Back on Track | Foreign Affairs This week's summit between Trump and Moon Jae-in, South Korea's new president, offers the chance to mend the two countries' neglected ties and develop a more effective policy toward North Korea.
North Korea nuclear aggression requires clear U.S. line drawing – Washington Times By Daniel Gallington – – Wednesday, June 28, 2017 ANALYSIS/OPINION: Now that North Korea has a bunch of nukes and is testing ways to deliver them by ballistic missile, we need to address the stark realities of what this new threat really means for us. And just as important — what it should mean for them. However, before we begin, it should now be a reality for us that negotiations with fat boy Kim Jong-un's regime are a total waste of our time, energy and money, just as they were with his stroked-out father's crew. Politically, of course, this result was the collective failure of our State Department, the Clinton, Bush and Obama administrations, together with the defective concept of the "Six Party Talks." The only "accomplishment" was to provide the time and diplomatic cover for the Democratic People's Republic of Korea's nuke program, plus give the regime lots of oil and money in the process. In short, the Six Party Talks enabled North Korea's nuke weapons program. If this sounds familiar, Barack Obama and John Kerry made the same mistakes with Iran. So, North Korea is now a dangerous nuclear rookie and we must develop — and articulate — policies that reflect, in the words of Defense Secretary James Mattis, the "clear and present danger" they represent. What should our new policies look like? What should be the "red lines," and what North Korean behaviors should cause virtually automatic responses from us? As this is a whole new ball game, what should be the thresholds for our responses and what should we be telling the Russians and Chinese about it? This because nothing we do in response to North Korean aggressive behaviors should come as a surprise to anyone. It also seems clear we need both short- and longer-term strategies. Along with this approach, we should rule out a number of troublesome scenarios for possible armed conflicts with North Korea — in other words, let's also define those situations in which we simply will not "play."

North Korea is nearing its goal: A thermonuclear bomb that can hit the US | Business Insider North Korea has spent decades developing…
Beijing's Debt Dilemma | Foreign Affairs China's ballooning corporate debt remains the number one systemic risk to global economic recovery.
China 'outraged' by $1.42 billion planned U.S. arms sales to Taiwan | Reuters China urged the United States to revoke immediately its "wrong decision" to sell Taiwan $1.42 billion worth of arms, saying it contradicted a "consensus" President Xi Jinping reached with his counterpart, Donald Trump, in talks in April in Florida.
It's Too Late To Stop China From Becoming An AI Superpower – To Inform is to Influence LAST THURSDAY, TEXAS senior senator John Cornyn stood before an audience of wonks at the Council on Foreign Relations in Washington, DC, and warned that America's openness to investors looking for new ideas in technologies like artificial intelligence was putting it in danger. "Most of what China wants to invest in these days is leading-edge US…
Why India's 'Leaky' Submarines Matter | The National Interest Blog After the DCNS Scorpene debacle, it is clear that confidentiality and information security will be important factors in determining the outcome of future military tenders.
---
---
French delegation vows to open "DPR" office in Marseilles – NGO The so-called "Ministry of Foreign Affairs" of the Donetsk People's Republic ("DPR") has announced the signing of a protocol on cooperation in the field of culture, information and international relations with the delegation from France, according to Information Resistance, a non-governmental project on information security. News 30 June from UNIAN.
Trump set to meet NATO leaders again next summer NATO's chief says U.S. President Donald Trump and the leaders of other nations in the world's biggest military alliance will meet in Brussels next summer.
NATO Secretary General Previews Defense Ministerial in Brussels WASHINGTON — On the eve of the Defense Ministerial in Brussels, NATO Secretary General Jens Stoltenberg said the alliance is evolving and growing in funding and capabilities. The secretary previewed the issues the ministers will deal with during a press conference in Brussels this morning. Defense Secretary Jim Mattis is in Brussels for tomorrow's meeting at NATO headquarters.
Opinion: Keep Defense Well Away from the EU's Clutches PARIS — Having made a mess of immigration, international trade, taxation and banking, the European Union is now looking to extend its reach to the field of defense, which until now has been able to escape from its clutches thanks to the belief that a nation's defense is the main prerogative – and main duty – of national governments. In immigration, the EU has failed to control its external borders, despite having set up several agencies and ad-hoc organizations for this specific purpose. In international trade, it has dismantled all barriers and obstacles to imports, while negotiating no equivalent access to foreign markets for its own exporters as a counterpart. In taxation, it has attacked and black-listed foreign tax havens while ignoring its own, such as Luxemburg, Malta, the Isle of Man, Ireland, and the Netherlands, and so notably allowing Internet giants (Google, Amazon etc.) to pay virtually no taxes on the billions of euros of business they do within the European Union, and encouraging large multinational groups to locate their headquarters in the Netherlands to escape at least one level of corporate tax. By insisting that the two main Maastricht Criteria for financial stability (maximum 3% annual budget deficit, and public debt of less than 60% of GDP) be strictly enforced at the behest of Germany, the EU has impoverished Portugal, Spain and Greece, and threatened Italy's financial stability, at the very time when the latter two countries have to cope with hundreds of thousands of Europe-bound immigrants and refugees, with precious little help from the richer EU members. All of these policies were perfected and enforced by senior European officials who would not qualify for top public employment in many advanced countries because of divided loyalties or conflicts of interest. Many of them worked for Goldman Sachs — the bank that helped Greece fudge its national accounts to sneak into the euro zone – or, like Jean-Claude Juncker, the current President of the European Commission, negotiated corporate tax-avoidance schemes while he was Prime Minister of Luxembourg, his previous job. More EU absurdities and failures Alone, one particular absurdity of the European Union should suffice to keep it well away from defense: its incomprehensible willingness to hand over its rotating presidency to countries that are small and newly-independent, with no experience of an independent defense, or of large, international organizations.
Mario Schulz | Germans Should Accept What a Military is For, or Get Used to Disappointment A band of Neo-Nazi officers allegedly conspiring to commit a false-flag terrorist attack was only the most bizarre of the scandals that has rattled Germany's military in the past year. Other allegations include sadistic practices in training, sexual harassment, and revelations about World War II memorabilia on various Bundeswehr bases. At the root of such scandals is a wide gap between Germany's military and German society. The military is sent into combat, but society often refuses to acknowledge that preparedness to fight and to make sacrifices requires heroism — a term Germans are deeply uncomfortable with. Society's failure to understand the military profession opens the door for right-wing ideologues in the Bundeswehr to lay exclusive claim to military values and to commit abuses in their name. Where extremism and excessive violence occur, the Bundeswehr regularly turns a blind eye to misconduct within its own ranks, expecting blanket condemnation of their profession if failures come to light. Germans need to understand what sets the military apart: the readiness to serve, kill, and die for society. Otherwise, the Bundeswehr will retain the painful sense of rejection that lies behind the cowardly failures of its leadership to prevent and prosecute criminal acts and breaches of honor. With the flurry of media attention over the Bundeswehr's failures and an election coming up in September, Ursula von der Leyen, the minister of defense, recently picked a fight with the officer corps, diagnosing "weak leadership at various levels" and an "attitude problem." Von der Leyen may lose that fight: Her approval ratings have suffered, and active personnel have been unusually vocal in critiquing her, causing her to rescind her sweeping condemnation and lauding the service of an "overwhelming majority of soldiers," while still pointing out systemic deficits. Both her critique and retraction are justified: Whereas most soldiers have a spotless record, the Bundeswehr's problems reach beyond those garrisons presently in the spotlight. A sharp increase in reported incidents in recent weeks, often alleging wrongdoing going back years, testifies to a pattern of misconduct in the German armed forces. While completing basic infantry training in the Bundeswehr in 2015, I was shocked by much of what I heard and saw: comments playing down the evils of World War II and Hitler's Wehrmacht, drunk superiors, a drill instructor sleeping with recruits, and more.


Russia and the UK are in a war of words over their aircraft carriers The UK's newest and most powerful warship, the aircraft carrier HMS Queen Elizabeth, sailed…
Pride of Britain? No, HMS Queen Elizabeth Is A £6bn Blunder That Should Be Scuttled (excerpt) By Max Hastings What a glorious photo opportunity: the new pride and joy of British sea power, HMS Queen Elizabeth, largest warship ever built for the Royal Navy, this week sailed from the Firth of Forth for sea trials. Here is a 21st-century 'castle of steel' to strike terror into the nation's enemies. Except the ship is nothing of the sort. HMS QE and its half-built sister, Prince of Wales, are giant embarrassments. They are symbols of almost everything that is wrong with British defence policy. Their principal promoter 15 years ago was the First Sea Lord, now Admiral Lord West of Spithead, who went on to become a Labour security minister, and more recently an enthusiastic writer of letters to newspapers, explaining why 'his' carriers are wonderful. He urged that, if Britain was to be a modern sea power, a worthy ally of the U.S., we needed giant platforms to carry the American F-35 fighter then under development. Some of us said from the outset that the new carriers reflected delusions of grandeur, and that the F-35s looked like becoming much too pricey for Britain's status as a medium-sized nation. How much smarter it would have been to build a couple of cheap 'n' cheerful naval platforms from which to launch drones and low-tech aircraft. For that, one could almost have welded steel plates on top of tanker hulls, to create acceptable flight decks. Anyone could have seen that defence was destined to remain under huge pressure. And it should have been taken into account that the cost of the ships and their planes would soar, as it always does. What the Navy urgently needed was a large flotilla of small, simple ships to guard our shoreline and look after our interests overseas in regard to piracy, illegal immigration, terrorism and so on. But no, the admirals — West and his successors — were insistent: only the behemoths would do. There were still enough sensible people in the Ministry of Defence to prevent this lunacy coming to pass, but for one misfortune: in 2007, Gordon Brown became Labour prime minister. In case you failed to notice, he was, and remains, a Scot. I doubt Brown would have spent sixpence on the aircraft carriers, except for one fact: he cared passionately about Scottish shipyards, and creating jobs in marginal constituencies. When contracts were signed for the new ships, Rosyth on the Firth of Forth became their birthplace. For the past decade, convoys of dumper trucks filled with Scottish currency, almost all provided by English taxpayers, have headed north to fund the carriers' construction. The original budget was £4 billion, and the monsters were scheduled to enter service in 2015.
Russian Military Hits Back Over Fallon's Jibe (excerpt) By Dmitry Solovyov Russia's defense ministry snapped back on Thursday over comments by British Secretary of Defense Michael Fallon who mocked Moscow's aircraft-carrying cruiser and said the Russians would look with envy on Britain's new warship. Fallon's comment exposed his "utter ignorance of naval science," ministry spokesman Igor Konashenkov said, and dismissed Britain's HMS Queen Elizabeth carrier as "a convenient oversized target at sea". "When you saw that old, dilapidated Kuznetsov sailing through the Channel a few months ago, I think the Russians will have looked at this ship with a little bit of envy," British media quoted Fallon as saying this week. Fallon was referring to Russia's Soviet-era Admiral Kuznetsov and comparing it to HMS Queen Elizabeth, Britain's most advanced and biggest warship which set out on its maiden voyage from its dock in Scotland on Monday. "These ecstatic statements … about the supremacy of the beautiful exterior of the new aircraft carrier over the Russian aircraft-carrying cruiser Admiral Kuznetsov expose Fallon's utter ignorance of naval science," Konashenkov said in a statement. Fallon unnerved Russia's military in January by dubbing the mammoth Russian cruiser "a ship of shame" as it passed through waters close to the English coast on its way back from bombing raids in Syria. (end of excerpt) Click here for the full story, on the Reuters website. (EDITOR'S NOTE: Given that the UK doesn't have any fixed-wing aircraft to put on the HMS Queen Elisabeth, and that none will be available before 2023 unless the US Marine Corps decides to ship aboard, Russia's response to Fallon's jibe was remarkably civil, given that many have derided Britain having spent £6 billion on what are, for now, the world's biggest helicopter carriers.)
Study: Basing soldiers in Europe, South Korea would be cheaper than rotations – News – Stripes The downsizing of the Army overseas has cost more money than expected because of a reliance on expensive rotational forces when forward-based units can perform the same roles more cheaply, according to a new U.S. Army War College report.
Venezuela's shield-bearing protesters inspired by Ukraine | Reuters Drawing inspiration from Ukraine's 2013-14 revolt, Venezuela's young protesters are donning Viking-like shields in battles with security forces and eagerly watching a film on the Kiev uprising.
---
---
Why the Military's Nonpartisan Ethic Has Eroded, and What to Do about it – Modern War Institute On June 12, during a hearing before the House Armed Services Committee, Secretary of Defense James N. Mattis stated, "I think it's important that we make clear not just what the military stands for, but what it absolutely will not stand for." His statement came in response to Rep. Niki Tsongas's question about the recent nude photo scandal surrounding the Marines United Facebook page. But with the growth of social media over the past decade, and the failure of military directives aimed at governing servicemembers' online behavior to keep pace, Sec. Mattis could have been describing any in a range of issues. Among these, another form of inappropriate behavior by members of the military on social media deserves heightened attention, as well—the abandonment of the nonpartisan ethic.Last month, National Defense University Press published a study I conducted that examined the nature and extent of political expression by members of the military on social media. Centered on a December 2015 survey of more than 500 US military students attending the National Defense University and cadets attending the United States Military Academy, the project asked respondents for their observations of their military friends' political activity on social media. Some of the findings were unsurprising: nearly half of respondents reported that both their active duty and retired military friends often talk about politics on social media networking sites. Other observations were less sanguine: roughly two in five respondents indicated their military friends encourage others to take action on political issues or "friend" or follow political figures. And some findings were downright disturbing: over one-third of respondents reported their active duty military friends used or shared insulting, rude, or disdainful comments on social media directed against elected leaders, including the president. The results suggest we need to take Sec. Mattis up on his pledge: now more than ever, we must better articulate what the military profession simply cannot tolerate.

White House could offer to roll back sanctions in first Trump-Putin meeting | US news | The Guardian First meeting of two presidents could see Russia regain access to diplomatic compounds blocked after interference in 2016 US election, say former officials
Senate revises Russia sanctions bill, sends it to House | Reuters The U.S. Senate resolved a technical issue on Thursday that had stalled a new package of sanctions on Russia but the measure faces opposition in the House that could mean more delays, lawmakers said.
U.S. Senate Committee on Armed Services okays military budget, includes aid to Ukraine – To Inform is to Influence This sentence is most important: Senators propose $500 million for assistance to Ukraine, including lethal military equipment. Lethal military aid to Ukraine. Finally. FGM-148 Javelin are sorely needed, a ton of them, quickly, to blunt the buildup of three Russian "Armies" outside Ukraine.  <End Editorial> U.S. Senate Committee on Armed Services okays military budget, includes aid to…
Kaspersky Banned in Draft NDAA – To Inform is to Influence The thread on this is actually hilarious.  Congress, apparently, must be hit in the face by not one baseball bat, but a logging truck, in order to pay attention to the obvious. No, really?  It's 2017, Senator Shaheen.  Where have you been for the past two decades? Senate draft of NDAA bans use of Kaspersky…
White House Confirms Trump To Meet Putin On Sidelines Of July G20 Summit The White House has confirmed that U.S. President Donald Trump and Russian President Vladimir Putin will meet for the first time on the sidelines of the Group of 20 (G20) summit in Hamburg, Germany…
White House: Trump to meet Putin at G-20 summit President Donald Trump will convene a high-stakes meeting with Russian President Vladimir Putin at the summit of industrial and emerging-market nations in Germany next week, the White House said Thursday, amid swirling allegations about Moscow's role in the 2016 elections.
Pentagon: Russia Very Much a Threat to the United States | Foreign Policy Pentagon report released Wednesday warns of a rising military threat from Russia and says the Kremlin believes the United States is seeking regime change, an assertion that could color the already fraught relationship between the two powers. The Defense Intelligence Agency's 116-page report, "Russia Military Power: Building a Military to Support Great Power Aspirations," sketches a picture of a Russia that sees itself in opposition to the United States and with a leadership that harbors a strong desire to make the country again the prominent power it was during the Cold War era. "The Kremlin is convinced the United States is laying the groundwork for regime change in Russia," the report says. Moscow started worrying about Washington's hand in regime change during the so-called Color Revolutions in Eastern Europe in the early 2000s. Russia also sees the United States as responsible for the Arab Spring revolutions of 2010 and 2011, and the ousting of former Ukrainian President Viktor Yanukovych in 2014.
Ukraine needs millions and millions of metric tons of coal; and we want to sell it to them and to everyone else all over the globe who need it, – Trump 30.06.17 10:26 – U.S. President Donald Trump announced plans to offer coal exports to Ukraine, as well as lift restrictions on U.S. lending for coal projects overseas. He said at an event at the Department of Energy on Tursday, Censor.NET reports citing Reuters. In what he called a policy of "energy dominance," Trump re-branded efforts to export liquefied natural gas (LNG) to markets in Eastern Europe and Asia that had been set in motion during the previous presidential administration. The United States also will offer to export coal to Ukraine, where energy consumers often have suffered from cuts in natural gas supply by Russia. "We are here today to unleash a new American energy policy," Trump said at an event at the Department of Energy attended by oil and coal executives and union members who build pipelines. "We will export American energy all around the world."
Trump seeks to project global power through energy exports | Reuters President Donald Trump on Thursday promoted a "golden era" of the U.S. energy business by seeking to assert power abroad through a boost in natural gas, coal and petroleum exports.
GOP lawmaker: State Dept cuts would hurt counter-disinformation efforts – To Inform is to Influence BY MORGAN CHALFANT – 06/29/17 12:55 PM EDT A Republican lawmaker warned Thursday that drastically reducing the State Department's budget would hurt efforts to counter disinformation worldwide. Rep. Will Hurd (R-Texas) argued during a panel discussion on disinformation that the department's budget cannot be cut because U.S. diplomats need to be engaging with their partners abroad to counter disinformation,…