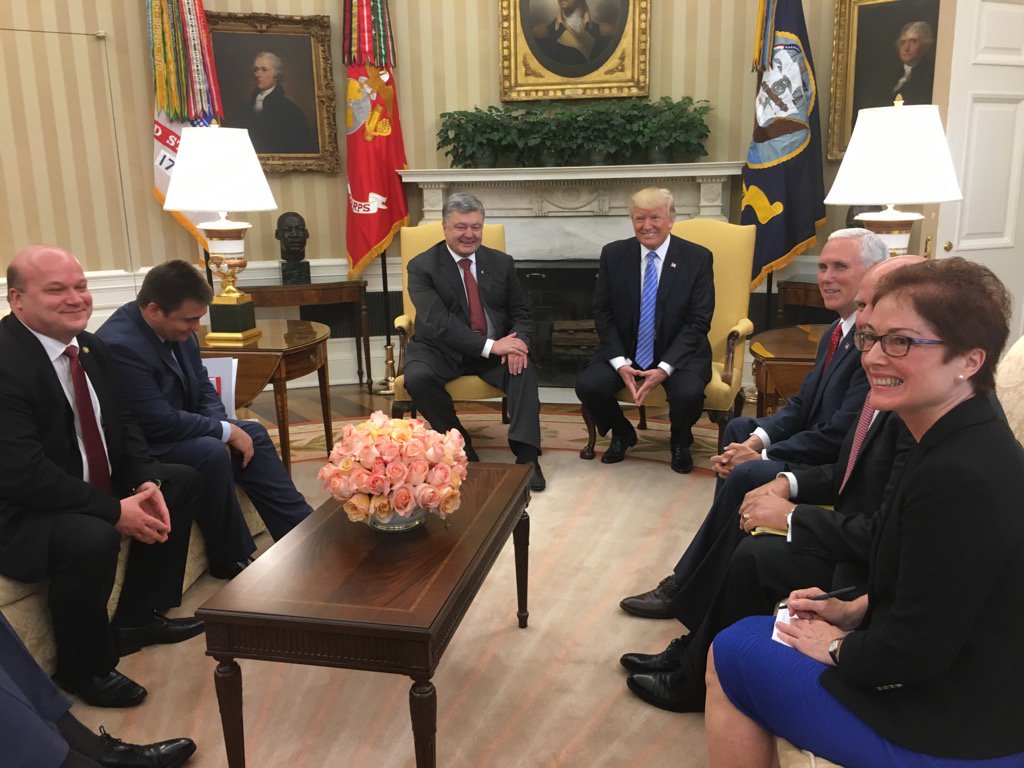 Anonymous expert compilation, analysis, and reporting.
</end editorial>
---
---
Russia and Iran both playing escalation games in Baltics and Syria, and we should expect this to continue as they try to maximise domestic propaganda payoff from being seen to be standing up to the Great Satan / US / West / Whatever …

POTUS, VPOTUS and Pres Poroshenko meet, and the photoop is evidently an exercise in mutual flattery, which will no doubt send the Muscovy leadership apoplectic. Neither the Ukrainians nor the White House were especially detailed on what had or had not been agreed, but we have yet to see reporting from the meeting with SECDEF.
The "optics" of the meeting will produce good effect in Eastern Europe, and even better effect in Muscovy. Peskov, Zakharova, Kiselyov, et al will have a busy week.

---
---
A Russian jet came within feet of a U.S. reconnaissance plane, the Pentagon says – The Washington Post The Russian pilot approached at a high speed and had poor control of the aircraft, a U.S. official said.
Russian fighter jet flies 5 feet from US plane – CNN Video A Russian Su-27 fighter jet flew within 5 feet of a US Air Force RC-135 reconnaissance aircraft in the Baltic Sea area, according to a US official.
War Of Words In Syria, Baltic: Russia Confrontational – To Inform is to Influence Russia and the US are squaring off in both Syria and the Baltic Sea in the air and with words. Two incidents have occurred so far today and it's only 10 am here in Washington DC. An armed Syrian drone was shot down as it approached SDF (US coalition) forces on the ground in Syria.…
New Russian Sanctions – To Inform is to Influence Russia/Ukraine-related Designations and Identifications Source: https://www.treasury.gov/resource-center/sanctions/OFAC-Enforcement/Pages/20170620.aspx 6/20/2017 OFFICE OF FOREIGN ASSETS CONTROL Specially Designated Nationals List Update   The following individuals have been added to OFAC's SDN List: BABAKOV, Alexander Mikhailovich (a.k.a. BABAKOV, Aleksandr Mikhailovich; a.k.a. BABAKOV, Alexander Mihajlovich), Serbia; DOB 08 Feb 1963; POB Chisinau, Moldova; nationality Russia; Gender Male; Special Presidential Representative for…
Russian News Agency Publishes Alexievich Interview Without Her Authorization Nobel Literature Prize laureate Svetlana Alexievich says Russia's Regnum news agency has published an interview with her without her authorization. The interview published on June 19 contain…
---
---
A Republican voter data firm probably exposed your personal information for days — and you don't have much recourse – LA Times A GOP data firm left detailed, personal information about 200 million voters unprotected on the Internet, setting off all manner of security and privacy alarms.
'The mother lode of all leaks': A massive data breach exposed 'information that can be used to steal an election' | Business Insider A data analytics firm hired by the Republican…
---
---
Trump Meets Ukraine's Poroshenko At The White House [VIDEO] U.S. President Donald Trump met with his Ukrainian counterpart Petro Poroshenko in what White House officials called a "drop-in" visit to the Oval Office. The two posed together after Poroshenko's meeting with Vice President Mike Pence and Trump's national security team. Poroshenko said he was "confident that our effective coordination can bring peace" to his nation, which has been fighting Russia-backed separatists in eastern Ukraine since 2014. (AP)
Meeting between the Presidents of Ukraine and USA: USA to prolong the validity of sanctions against Russia — Official website of the President of Ukraine The validity of the U.S. sanctions against Russia will be prolonged. It was stated by President Petro Poroshenko in the course of the briefing following the meeting with U.S. President Donald Trump within the working visit to this country.
President met with U.S. Secretary of Energy — Official website of the President of Ukraine President of Ukraine Petro Poroshenko had a meeting with U.S. Secretary of Energy Rick Perry.
Donald Trump meets Ukraine president Petro Poroshenko as Treasury sanctions Russia President Petro Poroshenko says he wanted to warn Trump about Russia President Vladimir Putin.
Ukraine's Poroshenko says discussed military cooperation in … UKRAINE-TRUMP/POROSHENKO (URGENT):Ukraine's Poroshenko says discussed military cooperation in White House talks
Poroshenko meets with Trump as US toughens Russia sanctions (DEVELOPING, VIDEO) | KyivPost During a two-minute White House video and photo opportunity this morning in Washington, D.C., U.S. President Donald J. Trump shook hands with Ukrainian President Petro Poroshenko (more than he did with German Chancellor Angela Merkel on an earlier visit). It's still not clear what Poroshenko will get for Ukraine from the June 20 Oval Office meeting with Trump. But Ukraine's leader can already claim victory because he scored a personal meeting ahead of Russian President Vladimir Putin, whose nation has been waging war against Ukraine since 2014 at a cost of more than 10,000 lives and control of the Crimean peninsula and parts of the eastern Donbas. The U.S. signaled substance behind the symbolism as well, with the U.S. Treasury Department's Office of Foreign Asset Control announcing they have added new Russian individuals, including two officials, and other companies to its sanctions list. The expansion of sanctions, along with the U.S. Senate's near-unanimous vote to toughen sanctions on Russia, signals a harder line with the Kremlin than many people expected from America under Trump, whose ties to Russia are under investigation and who has spoken glowingly about Putin. The U.S. and Russian leaders will have a chance to discuss their differences at the upcoming G20 meeting in Hamburg, Germany on July 7-8.
Trump meets Poroshenko for brief 'drop-in' visit – FederalNewsRadio.com

Ukraine's Poroshenko Meets With Trump, Pence at White House – WSJ Ukraine's president met Tuesday with President Donald Trump and Vice President Mike Pence in a U.S. visit that comes as he pushes for more U.S. pressure on Moscow, which backs pro-Russian separatists in eastern Ukraine.
Poroshenko on meeting with Trump: We've received strong support from U.S. Ukrainian President Petro Poroshenko has said that he has received a signal of strong support of Ukraine at his meeting with U.S. counterpart Donald Trump. "A meaningful, thorough meeting with U.S. President Donald Trump took place. We received strong support from the U.S., support for the sovereignty, territorial integrity, and independence of our state," Poroshenko told journalists after a meeting with Trump in Washington, D.C., on Tuesday.
Poroshenko says Trump orders expanding U.S. military-technical cooperation with Ukraine U.S. President Donald Trump has given instructions to expand cooperation with Ukraine in the defense industry, Ukrainian President Petro Poroshenko said. "Our cooperation in the military and technical sector was emphasized separately. We're going to discuss it in greater detail with U.S. Secretary of Defense [James] Mattis now, but the president gave clear instructions to expand our cooperation," Poroshenko said following negotiations with Trump at the White House in Washingtonon Tuesday
Poroshenko assured of U.S. assistance in freeing Ukrainian hostages held in Donbas and Russia Ukrainian President Petro Poroshenko has handed a letter to U.S. Vice President Mike Pence from relatives of Ukrainian hostages and received assurances of the U.S. assistance in their release. "I handed Trump's vice president a letter from relatives of the hostages who are illegally held in prisons in the occupied territories [of Donetsk and Luhansk regions] and in the Russian Federation, and we received assurances that the U.S. administration will take efforts to help Ukrainians and in bringing our lads and girls home," Poroshenko told reporters in Washington on Tuesday, after the talks in the White House.
Trump, Ukraine's Poroshenko Discuss How to Resolve Conflict in Eastern Ukraine | Top News | US News US News is a recognized leader in college, grad school, hospital, mutual fund, and car rankings. Track elected officials, research health conditions, and find news you can use in politics, business, health, and education.
Ukraine leader, a Russian adversary, gets low-key presidential welcome at White House | GantNews.com When Petro Poroshenko visited the White House on Tuesday, the Ukrainian president wasn't greeted by the traditional pomp and circumstance that comes with a foreign leader meeting with the President of the United States. Poroshenko — who is viewed as an enemy to Russian leaders in Moscow — will "drop by" a meeting with President Donald Trump and national security adviser H.R. McMaster during his previously scheduled visit with Vice President Mike Pence, according to the White House schedule. Arriving at the West Wing on Tuesday morning, Poroshenko wasn't greeted by Trump — as the President has been known to do with other leaders — and walked into the West Wing quietly and without fanfare. Poroshenko will primarily meet with Pence, who advisers say has a close relationship with the Ukrainian leader. In a nod to Poroshenko, the Trump administration announced more sanctions against separatists, including some Russians, involved in the conflict in Ukraine as the president arrived at the White House. Treasury Secretary Steven Mnuchin said the sanctions against 38 individuals are designed to "maintain pressure on Russia to work toward a diplomatic solution." Poroshenko's treatment is noteworthy given Trump's tendency to roll out the red carpet for almost all foreign leaders who visit the White House — even those from small countries with few pressing issues in the United States. Romanian President Klaus Iohannis stood next to Trump for a bilateral press conference earlier this month. And Monday, Panamanian President Juan Carlos Varela was greeted by Trump and first lady Melania Trump on the South Portico of the White House, enjoyed a long walk along the colonnade and a one-on-one bilateral meeting with the President in the Oval Office. Despite the less-than-warm welcome, Trump and Poroshenko — on paper — would seem to have a lot in common. The duo are both new to politics and built sizable empires in business. Poroshenko, a billionaire, owns Roshen, a large candy company, and 5 kanal, a Ukrainian broadcast company and Trump regularly touts his business acumen, his wealth and the fact he is new to politics. Critic of Putin Most notably, the muted welcome is striking given the Ukrainian leader's reputation a vocal critic of Russian President Vladimir Putin, whose meddling in the 2016 election and subsequent investigations into the Trump campaign's ties to Russia have largely overshadowed the first few months of the Trump presidency. Close ties between Trump and a Ukrainian leader like Poroshenko would likely anger leaders in Russia, who have blamed the United States for conflict in Eastern Ukraine, where fighting between Ukrainian forces and Russian backed groups continues. Poroshenko, who was elected in 2014, told CNN in 2016 that Putin wants "the whole Ukraine" to be part of the "Russian Empire." Trump also has personal ties to anti-Poroshenko Ukrainians. Paul Manafort, the former head of Trump's campaign, did lobbying work with President Viktor Yanukovych, the former president of Ukraine who has been critical of Poroshenko's handling of Russia's efforts to annex Ukrainian territory. The pseudo-snub is a dramatic break from the Obama administration, too. Former President Barack Obama and Vice President Joe Biden were close with Poroshenko during their two overlapping years, as Russia's actions in the area drew strong condemnations from Obama. Biden even made Poroshenko part of his swansong foreign trip, visiting Ukraine days before Trump was inaugurated. In addition to meeting with Trump, Poroshenko will meet with Secretary of State Rex Tillerson and Secretary of Defense James Mattis on Tuesday.
U.S. sanctions 38 individuals, entities over Russian actions in Ukraine – The Globe and Mail Ukrainian President Petro Poroshenko meets with Donald Trump, Mike Pence at White House
Poroshenko meets with U.S. energy secretary Ukrainian President Petro Poroshenko during his working visit to the United States has met in Washington, D.C., with U.S. Department of Energy Chief Rick Perry, according to Poroshenko's spokesman Svyatoslav Tsegolko.
Poroshenko, Perry discuss possible liquefied gas supplies from U.S. to Ukraine During his working visit to Washington, Ukrainian President Petro Poroshenko and U.S. Energy Secretary Rick Perry have discussed the possibility of supplying alternative fuels to Ukraine.
---
Computational propaganda in Ukraine: caught between external threats and internal challenges – To Inform is to Influence Oxford Internet Institute revealed a comprehensive study of the use of political bots worldwide. StopFake team is proud of its contribution to the reserach on Ukraine June 19, 2017 Social media being used by governments to spread fake news and manipulate public opinion, finds first comparative study of automated political propaganda worldwide Social media platforms…
Russia uses money and threat of prosecution to hide Russian soldiers' deaths in Ukraine – To Inform is to Influence On Facebook, StopFake also posted: And gives its military personnel sent to Donbas fictitious names and documents </end editorial> June 20, 2017 – 15:50 By Halya Coynash, Human Rights in Ukraine While whole villages, sometimes regions, come out to bid farewell to slain Ukrainian soldiers, Russians killed are likely smuggled back in Moscow's supposed 'humanitarian…
---
Russia / Iran / Syria / Iraq / OEF Reports
---
US continues to 'stab Russia in the back' with Syrian offensives — RT Op-Edge The US claims its downing of a Syrian jet to be self-defense. But imagine some country taking over part of Washington State, and denying the US Air Force from flying there, Syria Solidarity Movement member Rick Sterling explained to RT.
American Warplane Shoots Down Iranian-Made Drone Over Syria – The New York Times The downing of the drone was the latest indication that the air war between the United States military and forces loyal to the Syrian government is likely to continue or even escalate.
US military shoots down Iranian-made drone in southern Syria – The Washington Post The U.S. military said it shot down an Iranian-made, armed drone in southern Syria on Tuesday, marking the third time this month that that the U.S. has downed aircraft affiliated with Syrian President Bashar Assad's government.
Trump Is on a Collision Course With Iran – POLITICO Magazine The United States can't defeat ISIS without first reckoning with Iran's nefarious role in Syria.
The Growing U.S.-Iran Proxy Fight in Syria – The Atlantic The scramble for Islamic State territory is raising the risks of escalation.
US signals involvement in Syria could escalate | TheHill The United States is inching closer to involvement in the Syrian civil war after U.S. forces shot down a Syrian fighter jet on Sunday.
Russia v. U.S. in Syria. Who Holds the Legal High Ground? Russia says the downing of the Syrian warplane was 'a cynical violation of Syria's sovereignty.'