Anonymous expert compilation, analysis, and reporting
</end editorial>
---
---
An eventful day in the MSM, with Russia contributing on multiple fronts, while its ongoing internal meltdown continues. Suwalki Gap achieves MSM visibility, finally. Good essays by Kirillova and Solovey. Unexpected Crimea protest in St Petersburg. Prof Goble's "Baker's Double Dozen of Neglected Russian Stories – No. 87" presented in its entirety, as so many of the reports are so grotesque it was impossible to choose! General Choke on Coffee Warning. Russian sources report Russian social media being abandoned en masse by Ukrainian users. Jehovah's Witness sentenced without trial.
Google prominent in today's IW/IO/cyber reports.
In Ukraine, focus is on Poroshenko's meeting with POTUS this week, while Russian fires continue across Donbass. Russian essay on illegally owned firearms in Ukraine surveys Ukrainian media reports, but misses one key point – most of these weapons were bought to provide means of shooting Russian occupation forces should they successfully overrun AFU defences.
In Syria, a US Navy Rhino kills a Syrian AF FITTER H/K, eliciting threats from the Russians to engage and destroy any Coalition aircraft in their claimed airspace. IRGC shoots multiple TBMs into Eastern Syrian, arcing over Iraq, speculation on whether TBMs were Shahab-2/Hwasong-6/SCUD C or Zolfaghar (which appears remarkably like a KN-17). Israeli MSM report covert aid to Syrian rebels. Kissinger essay is a most interesting read, far be it for this author to comment. Anti-Muslim hate crimes in Finsbury Park, UK, and Fairfax County, Reston, USA.
Much argumentation over the DPRK, good survey of immense mineral resources in DRPK, while it appears the DPRK is trying to extort ransom from Russia after impounding a civilian yacht – Vlad does indeed know how to pick his friends. RoK NIS briefs on Kim's paranoid fears of assassination on the ground or by US air attack.
Macron election tsunami dominating foreign policy debate, and opinion polls producing unexpected shifts in public attitudes in Europe.
Debate over Russia sanctions continues. Toxicity in domestic political debate extremely high.
---
---
NATO War Games Focus on Defending Suwalki Gap From Potential Russian Attack The border between Poland and Lithuania is strategically important because its seizure would cut off the Baltic states from the rest of the Western alliance.
NATO war game defends Baltic weak spot for first time | Reuters Lithuanian border (Reuters) – U.S. and British troops have carried out the first large-scale NATO defensive drill on the border between Poland and Lithuania, rehearsing for a possible scenario in which Russia might try to sever the Baltic states from the rest of the Western alliance.
Nato shields its weak spot in first ever large scale defensive drill in Lithuania amid fears of a Russian assault In the driving rain, the men from 45 Commando jumped from their Chinooks and made for the cover of a small wood on the Polish-Lithuanian border.
NATO's nuclear war games put Kremlin on defensive Russias western exclave of Kaliningrad was surrounded on three sides by NATO forces at the weekend at the start of an unprecedented set of summer war games.
What Is The Suwalki Gap – And Why Is NATO Worried About It? – Newsy Story NATO soldiers practiced defensive drills in the Suwalki Gap, an area near the border of Poland and Lithuania.
Kseniya Kirillova | Russia Day as a symbol of propaganda schizophrenia – LB.ua news portal Russia Day as a symbol of propaganda schizophrenia. On 12 June, Russians marks a holiday known as Russia Day, possibly the most controversial date in the country's recent history. The Declaration on State Sovereignty (independence) adopted by Russia this day 27 years ago formally did not formally signify a collapse of the Soviet Union but became one of significant episodes of this process in practice. However, after Vladimir Putin called the Soviet Union breakdown "the biggest geopolitical catastrophe" and the Russian propaganda has for years used the images of the Soviet past, it is getting increasingly more difficult to fit this holiday into the general propaganda narrative. Political – LB.ua news portal. Latest from Ukraine and the world today
Igor Solovey | Aftertaste of the protest – LB.ua news portal Hopes that the internal pressure in Russia will make Putin and his authorities to change are utopian. So the only chance is the external pressure. It is in the interests of the West and the world civilization (and Ukraine as anyone else) to do the same with Putin's Russia as was done earlier with the Soviet Union. The Kremlin has to go around the world with a stretched hand. Only then will it be possible to discuss anything with him. And thus, with only one stroke, a lot of problems with security in many parts of the world will be solved.
40 Crimean Tatars kidnapped, 11 killed, 17 arrested, 64 kids orphaned: people protest in St. Petersburg in support of Crimean Tatars. PHOTOS 19.06.17 13:16 – 40 Crimean Tatars kidnapped, 11 killed, 17 arrested, 64 kids orphaned: people protest in St. Petersburg in support of Crimean Tatars. PHOTOS Residents of Russian city of St. Petersburg on Sunday, June 18, held one-person protests in support of Crimean Tatars, initiated by activists of Strategia-18 group. View photo news.
Window on Eurasia — New Series: A Baker's Double Dozen of Neglected Russian Stories – No. 87 Paul Goble Staunton, June 16 — The flood of news stories from a country as large, diverse and strange as the Russian Federation often appears to be is far too large for anyone to keep up with. But there needs to be a way to mark those which can't be discussed in detail but which are too indicative of broader developments to ignore. Consequently, Windows on Eurasia each week presents a selection of 13 of these other and typically neglected stories at the end of each week. This is the 87th such compilation, and it is again a double issue. Even then, it is only suggestive and far from complete, but perhaps one or more of these stories will prove of broader interest.
1. Putin Increasingly Authoritarian at his 'Direct Line' Session. While some Western commentaries suggested that the Kremlin leader had assumed his preferred role as Mr. Fix-It, someone Russians could turn to in order to get their problems solved, in fact, Vladimir Putin used his annual session with the Russian people to take out an ever more authoritarian and even neo-Soviet position on a variety of issues – when he wasn't openly lying or being contemptuous of the suffering the Russian people are experiencing because of his policies. He said that NATO countries are US "vassals rather than allies" (polygraph.info/a/-claims-nato-members-are-vassals-not-allies/28538577.html), that the US supports Chechen terrorists and Al Qaeda against Russia (graniru.org/Politics/Russia/President/m.261696.html), that the demonization of Stalin represents an attack on Russia (novayagazeta.ru/news/2017/06/16/132561–rasskazal-ob-izlishney-demonizatsii-stalina), that Moscow doesn't control the Russian media (newsland.com/user/4297864731/content/-zaiavil-chto-gosudarstvo-ne-kontroliruet-smi-v-rossii/5875151), that Russians and Ukrainians are "almost one people" (newsland.com/user/4297864731/content/-zaiavil-chto-gosudarstvo-ne-kontroliruet-smi-v-rossii/5875151), that Russia's demographic losses in the 1990s were comparable to those of the Soviet population during World War II (nakanune.ru/news/2017/6/15/22473226/), that a Russian cancer victim shouldn't complain because "there are problems with health care everywhere" (newsland.com/community/4109/content/bolnaia-rakom-devochka-zadala-u-neudobnyi-vopros/5875459), that the repressive Yarovaya package is good for the country (rbc.ru/rbcfreenews/5942089e9a7947f39ed5ef70?from=main), and that the economic crisis was over even though more Russians are becoming poor (politsovet.ru/55610–krizis-preodolen-bednyh-stalo-bolshe.html). When cornered with issues where there is no easy answer, Putin generally punted in the best political tradition: Concerning the dispute about St. Isaac's cathedral in St. Petersburg, he essentially said both sides have a case and some "compromise" needs to be found (portal-credo.ru/site/?act=monitor&id=25687).
2. Will Russia's Cemeteries Come In for Putin in 2018? Proposals to allow the dead in World War II to vote in next year's presidential election continue to swirl in Moscow. Were these corpses, which some now estimate at 42 million, be allowed to vote, Vladimir Putin would have no trouble reaching the 70-70 level he hopes for, given that he and no one else could say for sure how these people would vote (newsland.com/community/4852/content/professor-iz-ran-predlozhil-dat-pravo-golosa-pogibshim-v-velikoi-otechestvennoi/5867336 and lenta.ru/news/2016/05/20/golosa/).
3. Trump's Pro-Russian Positions Said Blocked by US Establishment. Russian commentators who have had to struggle with their earlier expectations that Donald Trump would open the way to warmer ties between Washington and Moscow and the reality that the situation is going in the opposite direction have now come up with a more-or-less settled position. Trump they say wants to have close ties with Putin but the US establishment won't let him (ng.ru/world/2017-06-16/1_7009_crisis.html). But that is far from the only thing Russian writers are saying: Some insist that Trump will be "the last US president" (newsland.com/user/4297827813/content/pochemu-imenno-tramp-stanet-poslednim-prezidentom-ssha/5871190), and others continue to have fun with his statements and tweets. One favorite concerns the way in which Smirnoff Vodka, a product with origins in Russia but that now is produced in the US, has launched a new advertising campaign based on the slogan "Made in America. But we will be happy to talk about our links with Russia under oath" (znak.com/2017-06-14/brend_vodki_smirnoff_v_svoey_reklame_potrollil_administraciyu_trampa_iz_za_svyazey_s_rf).
 4. Inflation in Food Prices Ten Times Overall Rate. Moscow has been proud that it has kept inflation under control, but the figures it gives ignore sectoral differences. Prices for food are now going up at a rate ten times that of the overall figure, and because food is such a major component in the budgets of poorer Russians, they are suffering more not only because they have lower incomes but because they are victims of growing wage arrears across the country (svpressa.ru/society/article/174342/, newsland.com/community/6437/content/rossiiane-otdykhaiut-ot-edy-srednii-chek-rossiianina-umenshilsia-do-512-rublei/5872141, nakanune.ru/news/2017/6/14/22473090/ and regnum.ru/news/economy/2287917.html). But there are also macroeconomic figures that show the Kremlin's optimism to be false or misplaced: more than 2.2 trillion rubles in construction has been stopped or left incomplete at the present time (1prime.ru/consumer_markets/20170615/827570275.html 2.2), capital flight has doubled in recent months (newsland.com/community/politic/content/tsb-chistyi-ottok-kapitala-iz-rossii-vyros-bolee-chem-v-dva-raza/5866929), and Russian experts now say that projected declines in Russia's production of oil mean that the country can never again rely on the sale of petroleum to save it (finanz.ru/novosti/aktsii/rossiya-bez-nefti-dlya-ekonomiki-nachinaetsya-obratny-otschet-1001862462).
5. How Bad are Things in Russian Society? Even the Moscow Patriarchate is Complaining. Many are upset by the condition of Russian society today, but its problems are now so great that even the Russian Orthodox Church is complaining about the situation (newsland.com/community/4765/content/dazhe-rpts-zagovorila-o-nishchete-i-sotsialnoi-nespravedlivosti-v-rossii/5868009). Among the most horrific problems reported this week are the following: Moscow has defunded an HIV/AIDS prevention center (meduza.io/en/news/2017/06/13/russian-health-ministry-defunds-federal-aids-prevention-center), Moscow has acknowledged that the country faces a shortage of doctors of all kinds (newsland.com/community/4788/content/v-rossii-narastaet-defitsit-vrachei/5874889), experts say that new construction is so shoddy that it often threatens the lives of those who live or work in it (iz.ru/606225/bogdan-stepovoi-aleksandra-krasnogorodskaia/sotcialnye-obekty-sdaiutsia-s-brakom), the OMON raided a gay club in Yekaterinburg (momenty.org/city/i173893/?big), major industrial plants are shutting down or moving away from places where they are the economic anchor of entire regions (thebarentsobserver.com/en/industry-and-energy/2017/06/apatit-moves-out-murmansk), officials say 34,000 Russian villages have ceased to exist over the last 20 years (newsland.com/community/129/content/vladimir-kashin-za-poslednie-dvadtsat-let-34-tysiachi-rossiiskikh-dereven-ischezli-s-litsa-zemli/5867353), Russian deputies want to limit the number of pets Russians can keep (newsland.com/community/8111/content/deputaty-khotiat-ogranichit-kolichestvo-zhivotnykh-v-kvartire/5867226), and the Moscow Kultura television channel has had to let go a third of its employees because of economic problems (echo.msk.ru/blog/echomsk/1997318-echo/). Two other developments this week are especially noteworthy: Ever more regions are the subject of articles detailing all their social problems (for an example, see regnum.ru/news/society/2286118.html), and there are increasing complaints about how expensive the 2020 census will be, an indication that Moscow may be planning to cut back or even cancel that enumeration to save money (newsland.com/community/5325/content/vse-rossiianskie-perepisi-grazhdane-i-spetsialisty-nazyvaiut-narisovannymi/5867376).
6. North Caucasus Would Need 114 New Schools Just to End Three-Shift Schedules. Many, having heard that the birthrate in the North Caucasus has been declining, forget that larger increases earlier mean that there are more women and hence more children even with those declines. One measure of that is that while schools are closing throughout most of the Russian Federation, in the North Caucasus federal district, the government would have to build 114 new schools just to end the three-shift schedules in some of them. Meanwhile, hundreds of others are operating on double shifts (kavpolit.com/articles/kavkaz_izbavjat_ot_trehsmenki-34311/). Other "ethnic" news this week includes: the head of Ingushetia said that Slavs, including Russians, will never be Europeans (newsland.com/user/4297710442/content/glava-ingushetii-evkurov-zaiavil-chto-slaviane-nikogda-ne-budut-evropeitsami/5869209), the kind of statement that inevitably inflames interethnic attitudes in the country (ura.news/articles/1036271228), many in Moscow appear to have lost confidence that the Cossacks can hold the Russian community in the North Caucasus as the center had expected (kavpolit.com/articles/vtsiom_obsudit_potentsial_kazachestva_kak_faktor_o-34260/), Tatarstan deputies want to put criminal teeth in their law protecting the Tatar language from Russian encroachments (nazaccent.ru/content/24394-v-tatarstane-predlozhili-nakazyvat-za-narushenie.html), football players in Chechnya oppose renaming their team as Ramzan Kadyrov wants (kavkaz-uzel.eu/articles/304396/), Moscow has banned illegal immigrants from working in Russian cemeteries (nazaccent.ru/content/24345-nelegalnym-migrantam-zapretili-rabotat-na-moskovskih.html), the wife of ousted Mari El governor turns out to be extremely wealthy (ch.versia.ru/byvshaya-supruga-yeks-glavy-marij-yel-irina-markelova-i-ego-machexa-raskryli-sekrety-blagosostoyaniya), and Ingria is emerging as a republic in the thinking of many in northwestern Russia (afterempire.info/2017/06/09/ingria-future/).
7. Putin's Authoritarianism at New Level: Verdict Against Jehovah's Witnesses Announced without Trial. A Russian verdict against the Jehovah's Witnesses was published in a Moscow newspaper before any trial took place, an indication of the meaninglessness of Russian courts in politically sensitive cases (portal-credo.ru/site/?act=comment&id=2188). Other indications of increasing repression in Russia today this week alone include: the continuing disbanding of local self-government institutions in Moscow oblast (afterempire.info/2017/06/11/msu-moscow/), parliamentary recognition that the special services should take the lead in fighting foreign influence (iarex.ru/articles/54086.html), a court ruling that calling someone a foreign agent isn't an insult (sobkorr.ru/news/5941268F6FA4D.html), a Russian government ban on the Uzbek organization in Russia like the one it earlier imposed on the Azerbaijani counterpart (fergananews.com/news/26521), accusations by one government agency that another has blocked sites that haven't been banned (echo.msk.ru/news/2000488-echo.html), an AGORA study showing how freedom of speech has been restricted in Russia since the Crimean Anschluss (ru.krymr.com/a/28538339.html), and a new blogger campaign suggesting that those who join Aleksey Navalny's anti-corruption campaign will become gays or lesbians (https://ura.news/news/1052293480).
8. 'Better to Sit in Jail 15 Days than Live in Putin's Russia 20 Years.' That remark by a participant in the anti-corruption demonstrations on Monday summarized the feeling of many about protests that overwhelmed the Western media coverage of Russia this week although they were largely ignored by Russian outlets (vedomosti.ru/politics/video/2017/06/13/694083-strashno-sest-strashnee-prozhit). But in their coverage of the Navalny demonstrations, most Western outlets downplayed the amount of repression the Putin regime brought to bear on those who might or did demonstrate against the Kremlin and the increasing anger of the so-called Putin majority to those who do so (znak.com/2017-06-09/rossiyane_stali_neterpimee_otnositsya_k_yavnomu_proyavleniyu_nepatriotizma). Also generally neglected were other protests, including gastarbeiter strikes against Russian companies for failing to pay wages in a timely way (newsland.com/community/8171/content/v-voronezhe-gastarbaitery-massovo-ovali-protiv-zaderzhki-zarplat/5869204), debtors strikes in Volgograd (kavkaz-uzel.eu/articles/304110/), and the occupation of the office of the central bank when Putin refused to take a question from mortgagees (sobkorr.ru/news/5943940646744.html). Also generally ignored were the continuing truckers' strike and the continuing protests about St. Isaacs and the planned destruction of the khrushchoby in Moscow and other Russian cities (kasparov.ru/material.php?id=59423CCD7454F). Perhaps the most interesting article of the week was one speculating on the growth and limits of social solidarity among Russians with regard to protest activity (ng.ru/blogs/pozharsky/v-rossii-otsutstvuet-natsionalnaya-solidarnost.php).
9. Oligarch Gets First Statue to Living Russian. The erection of a statue to oligarch Iosif Kobzon in the Transbaikal breaks a hitherto effective ban on monuments to living Russians (newsland.com/community/8171/content/pervyi-v-rossii-prizhiznennyi-pamiatnik-kobzonu-ustanoviat-v-zabaikale/5873874). But that was only one battle on the monuments front this week. Others include: a call to eliminate all toponyms in honor of those who killed a grand duke a century ago (ok.ru/novosti.russia/topic/67010257444948), fights over building an Orthodox church in Daghestan and a Protestant one in Chita (chernovik.net/content/lenta-novostey/patriarha-kirilla-prosyat-ostanovit-stroitelstva-sobora-aleksandra-nevskogo-v and sova-center.ru/religion/news/community-media/communities-conflicts/2017/06/d37280/), the announcement of plans for a museum of Stalinist propaganda art in Moscow (newsland.com/community/6207/content/muzei-dlia-latentnykh-stalinistov/5875523), and the erection of a monument to Internet users in Samara (newsland.com/community/5807/content/pamiatnik-internetchiku-v-samare/5869486). Meanwhile, Moscow expanded the monuments war to Armenia by complaining about Yerevan's decision to put up a monument to a less than pro-Russian Armenian hero (ru.aravot.am/2016/06/14/212893/). In the past, Moscow has complained mostly about the dismantling of Soviet statuary in the non-Russian countries.
10. Moscow Using Slave Labor to Build World Cup Venues, HRW Says. Human Rights Watch has documented Moscow's use of slave labor to build venues for the 2018 World Cup competition, yet another reason why Moscow should be stripped of the right to host that event (hrw.org/report/2017/06/14/red-card/exploitation-construction-workers-world-cup-sites-russia and change.org/p/bureau-of-the-fifa-council-relocation-of-the-2018-world-cup-to-poland-and-ukraine?source_location=minibar). But there are many others: Moscow's continuing unwillingness to come completely clean on drug use has now put its hosting of an international figure skating competition at risk (newsland.com/community/4765/content/rossiia-mozhet-lishitsia-eshche-odnogo-krupnogo-mezhdunarodnogo-sorevnovaniia/5872071), racism has broken out at Russian competitions in the Federation Cup (segodnya.ua/sport/football/kubok-konfederaciy-v-rossii-eshche-ne-startoval-no-uzhe-obros-rasistskim-skandalom-1030146.html), the Federation Cup meets have shown just how unprepared Moscow is for the World Cup (regnum.ru/news/sport/2288473.html, kasparov.ru/material.php?id=594108DEEEAC5, newsland.com/community/4765/content/khiuman-raits-votch-pokazal-rossii-i-fifa-krasnuiu-kartochku/5873373 and profile.ru/obsch/item/117864-svet-v-kontse-areny). But Moscow continues to make plans for the 2018 competition, announcing that it will ban the sale of alcohol where games are scheduled (svpressa.ru/society/article/174354/ and may introduce visas on Belarusians who want to attend (belaruspartisan.org/politic/383746/ and gazetaby.com/cont/art.php?sn_nid=126951).
11. Military Personnel May have to Serve 25 not 20 Years to Get Pensions. Faced with budgetary stringencies, the Russian government is considering requiring Russian officers to serve 25 years before getting a pension, not the 20 they now must, an extremely unpopular move (kommersant.ru/doc/3325573). Also this week, the media reported serious problems in the country's shipyards and with corruption in the military high command (lenta.ru/articles/2017/06/14/rakhmanov/ and thebarentsobserver.com/en/civil-society-and-media/2017/06/editor-booted-news-agency-after-story-about-bribes-military). In another move suggesting the authorities are worried about the loyalty of noncoms, the defense ministry has now limited the use by professional soldiers of social media (znak.com/2017-06-14/minoborony_obyazhet_kontraktnikov_otchityvatsya_o_svoey_internet_aktivnosti). And in an indication of what is likely a far broader problem, a Russian news agency is reporting that hunting clubs in Russian-occupied Crimea are illegally handing out weapons to the civilian population (regnum.ru/news/society/2289010.html).
12. Russian Courts Begin Trying Russians who Fought for Ukraine. A Russian court has brought in the first sentence against a Russian who fought in Ukraine against Moscow (newsland.com/community/437/content/dva-goda-na-fronte-pervyi-prigovor-rossiianinu-voevavshemu-za-ukrainu/5867535). Other foreign security items this week include: Russia's Baikonur space facility is dying even before its Vostochny one can overcome its building problems (meduza.io/feature/2017/06/11/kosmodrom-na-chemodanah, meduza.io/feature/2017/06/14/kosmodrom-na-chemodanah and newsland.com/community/4765/content/kak-kosmodrom-vostochnyi-stal-chernoi-dyroi-dlia-roskosmosa/5871117), discussion has begun about the possibility that Moscow will build a new navy port in Daghestan for its Caspian flotilla (chernovik.net/content/novosti/reshaet-admiral), and Moscow has succeeded in expanding the Shanghai Cooperation Organization but only by gutting it of any real meaning, Russian commentators say (http://carnegie.ru/commentary/71212) as evidenced by the fact that China has stopped buying Russian natural gas (asiarussia.ru/news/16628/). But some Russians celebrated as a triumph of Russian foreign policy the shipping link between Vladivostok and North Korea (beregrus.ru/?p=9494).
13. 33 Million Russians Now Paid Directly from State Budget. One of the greatest levers the Kremlin has over the population and its electoral behavior is the current arrangement in which 33 million workers – nearly one Russian in four — are paid directly by the government, all people who know that they could lose their incomes if they oppose the regime (rosbalt.ru/blogs/2017/06/09/1622279.html).
14. Soviet Archives have Been Stripped. Many assume that once the Soviet archives are open, everything will become known. But that ignores two things: many of the most important documents have been removed and destroyed, and others have been falsified in the expectations that many will believe anything that is described as archival. Both of these problems can be seen in the case of materials about the mass murder of Russian Orthodox churchmen under Stalin at the Butovo polygon near Moscow (newsland.com/community/1003/content/v-moskve-utratili-dokumenty-rasstreliannykh-na-butovskom-poligone/5860670).
15. Russia's Roads Really May Become 'Shitty.' Russians and others have long complained about the horrors of Russian roads and used a variety of negative words to describe them, "shitty" being perhaps the least offensive. But now there is evidence that such a designation may be entirely appropriate: Given that spending cutbacks mean that roads won't be fixed as often (echo.msk.ru/blog/nikolaev_i/1999062-echo/), some people in Ryazan have decided to pave some roads there with human excrement (newsland.com/community/politic/content/v-riazani-otremontirovali-dorogu-navozom/5869462).
16. Calendars Become Latest Political Advertisements in Russia. Calendars have now joined graffiti and regular posters as political advertisements in Russia, with the penal system putting out one showing various forms of execution, even though such things have been ended or suspended in Russia today (newsland.com/community/4765/content/fsin-izdala-kalendar-s-shutkami-o-smertnoi-kazni/5869411 and qha.com.ua/ru/obschestvo/raspyatie-gilotina-kol-v-rf-sozdali-simvolichnii-kalendar/174940/), and with democratic activists issuing another with pictures of some of Russia's most notoriously corrupt figures on it (kasparov.ru/material.php?id=593F9A5E0C16A).
17. Can Russophiles and Russophobes Find Common Ground? According to one Russian commentator, the two groups, despite their differences, can find common ground in that they both recognize just how important Russia is (newsland.com/community/7268/content/rusofoby-i-rusofily-mirnoe-sosushchestvovanie-vozmozhno/5872395).
18. Efforts to bring Reds and Whites Together Seen as Dangerous. Moscow's current effort to promote reconciliation between those who support the Bolsheviks and those who back the anti-Bolshevik Whites are dangerous not only because they call into question the values of each but because they distract attention from the far more important task of talking about the future, according to one Russian commentator (regnum.ru/news/polit/2286188.html).
19. Can Moscow Transform Far East into a Klondike? Moscow has changed the rules governing prospecting in the hopes of attracting gold seekers to Siberia and the Far East, but the program, intended to have positive demographic consequences for that region, instead is likely to lead to a boom and bust pattern that ultimately will do no one any good (versia.ru/stanut-li-dalnij-vostok-i-sibir-russkim-klondajkom).
20. Russia to Load Nuclear Fuel onto Floating Atomic Power Station in St. Petersburg. To the despair of environmental activists who warn of disaster, the Russian government is going ahead with plans to load nuclear fuel onto its new floating atomic power station within the city limits of the northern capital, an action that could put millions of people at risk if there is any accident. Such dangers are in addition to all those that a floating atomic power station presents on its own (newizv.ru/news/tech/14-06-2017/plavuchaya-aes-v-tsentre-peterburga-gotovitsya-k-zagruzke-yadernogo-topliva).
 21. KPRF Organization Disbands in Karelian City. A communist party committee in Karelia has voted to disband itself, a reflection of changing political winds and one that has its counterparts in the actions of other party organizations across Russia (forum-msk.org/material/news/13335197.html).
22. Federation Council Blocks Plan to Establish Registry of the Corrupt. A Duma proposal for establishing a registry of all Russians convicted of corrupt has been blocked in the Federation Council (ura.news/news/1052293312).
23. US Sends National Day Message to Russia – Three Days Late. After questions were raised about the failure of Washington to send traditional national day messages to Moscow this year, the US Department of State announced that it had done so but only three days after the event itself (versia.ru/gosdep-opozdal-na-tri-dnya-s-pozdravleniem-rossiyan-s-dnem-rossii).
 24. Kirill Meets with Commentators Behind Closed Doors. In the hopes of winning over at least some Russian commentators to the side of the Russian Orthodox Church, Patriarch Kirill held a closed-door meeting with some of them to describe his policies and call for support (vedomosti.ru/politics/articles/2017/06/15/694418-patriarh-kirill).
25. Moscow Recognizes Theology as a Science and Gives It More Budgetary Support. The Russian government has officially recognized theology as a scientific discipline and given those studying it more financial support (rusk.ru/newsdata.php?idar=78277 and politsovet.ru/55596-minobrnauki-uvelichit-chislo-byudzhetnyh-mest-dlya-teologov.html).
26. USSR May Not have Been a Colonial Empire but Russia Suffers from Post-Colonial Symptoms. Many Russians react angrily to any suggestion that the USSR was a colonial empire, but some of those who do are now at least acknowledging that the Russian Federation suffers from the kind of post-colonial problems that other empires have, an implicit acknowledgement of what they have long denied (polit.ru/article/2017/06/14/ps_abashin/).

And twelve more from countries in Russia's neighborhood:
1. Three Million Guns Illegally in Private Hands in Ukraine. As a result of the Russian invasion and the breakdown in order along the front, there are now three million guns held illegally by private citizens in Ukraine, according to some estimates, a figure that increases the potential for violence and instability in various parts of that country and one that the Russian aggressors are likely to exploit (nvo.ng.ru/polemic/2017-06-16/2_952_red.html).
 2. Ten Percent of Ukrainians Now have Dual Citizenship. Including Russian occupied Crimea, one in every ten Ukrainians now has dual citizenship, a situation that is open to exploitation by Russian forces (qha.com.ua/ru/politika/10-ukraintsev-imeet-dvoinoe-grajdanstvo-vklyuchaya-2-mln-krimchan/175038/).
3. Ukrainians Overwhelmingly Turn to Western Social Networks. Following Kyiv's ban on Russian social networks, Ukrainians rapidly and overwhelmingly have turned to international social networks instead (newsland.com/community/5652/content/novaia-sotsialnaia-set-ukrainians-zamenit-polzovateliam-vkontakte-i-odnoklassniki/5867489 and rusmonitor.com/facebook-v-ukraine-operedil-vkontakte-uzhe-v-pervuyu-nedelyu-posle-blokirovki-infografika.html).
 4. Ukainians in Occupied Crimea Refuse to Move to Russian Far East. Despite Moscow's blandishments, the residents of Russian-occupied Crimea are overwhelmingly refusing calls to resettle in Russia's Far East (qha.com.ua/ru/obschestvo/v-rf-jaluyutsya-krimchane-ne-hotyat-pereezjat-na-dalnii-vostok/174972/).
5. Moscow Engaging in Systematic Looting and Cultural Geocide in Crimea. The Russian occupiers are looting and thus engaging in cultural genocide in Ukraine's Crimea (euromaidanpress.com/2017/06/09/russia-methodically-destroys-and-removes-cultural-treasures-from-occupied-crimea-euromaidan-press/).
6. China May Become a Major Backer of GUAM. Initially, the United States and the EU were the primary external backers of the alliance of non-Russian countries that has positioned itself in opposition to the Russian-dominated CIS. Now, China is moving to fill that role (fpri.org/article/2017/06/can-china-help-guam-diversify-away-russia/).
7. Belarus Stops Using Ruble as Reserve Currency. In yet another indication that Minsk is pursuing an independent course from Moscow, the Belarusian government has stopped using the Russian ruble as its reserve currency of choice (rufabula.com/news/2017/06/14/belarus).
 8. Aleksiyevich Says Religious War Possible in Belarus. Nobelist Svetlana Aleksiyevich says that a religious war could break out in her native Belarus between Orthodox and Catholic groups as stand ins for pro-Moscow and pro-Western forces, a claim that has been denounced by leaders of both denominations (rusk.ru/newsdata.php?idar=78260).
9. Tashkent Registers Medrassah as Higher Educational Institution. For the first time, the Uzbek authorities have registered an Islamic medrassah as a higher educational institution in their country and granted it the right to give recognized degrees to its graduates (islamio.ru/news/education/v_uzbekistane_zaregistrirovano_pervoe_medrese_imeyushchee_status_vuza/).
10. Kyrgyzstan Blocks Fergana Agency Site. Bishkek has blocked the independent Fergana news portal because of its critical coverage of developments in Kyrgyzstan (meduza.io/news/2017/06/09/v-kirgizii-zablokirovali-sayt-agentstva-fergana).
11. Moscow Focuses on Lithuania's Russian Community. The Russian government has traditionally focused on the state of the ethnic Russian community in Estonia and Latvia in its efforts to blacken the reputation of these countries and to promote its own influence there. Now, it is turning its attention to the situation of the much-smaller Russian community in Lithuania to do the same things (regnum.ru/news/polit/2288023.html).
 12. Activists Replace Wooden Crosses at Kuropaty Mass Graves with Metal Ones. As part of their effort to ensure that Kuropaty, the site of mass graves from Stalin's times in Minsk, will remain forever as a monument to the crimes committed against the Belarusian people, activists there are moving to replace the wooden crosses that had marked the site with more permanent metal ones (charter97.org/ru/news/2017/6/10/252758/).Court as atavism. The official body of the Russian government announced the verdict of the court in the case of the Dane-Jehovah's Witness arrested in Orel, although there was no court at allIn connection with the fact that the campaign against Jehovah's Witnesses in Russia is gaining momentum, recently one very telling story occurred. As already reported, Dennis Kristensen, a Danish citizen, languishes in the Eagle prison in the city of Orel, whose entire guilt is that he prayed and read the Bible with his friends. Valorous FSB masked men blocked women and children, and Christensen was tied up and put in an isolation ward (for some reason, even having posted a video that captured their own violations). The Soviet district court of the city of Orel elected the Dane a preventive measure in the form of custody for two months as a "dangerous extremist". This is exactly what is being done today with some believers only because they profess the "false religion of Jehovah's Witnesses". And then amazing things happen. Mr. Christensen and his lawyers Irina Krasnikova and Anton Bogdanov will appeal against the decision to detain the Orel Regional Court. The meeting of this court was to be held on June 7 – and did not take place. The reason: it was not possible to find an interpreter for the accused, who finds it difficult to participate in the case in Russian. The hearing is postponed indefinitely, the date of the new meeting is still unknown. However, on June 10, not someone, but the official organ of the government of the Russian Federation, Rossiyskaya Gazeta, reports, I quote: "The Oryol regional court upheld the decision of the district court to arrest a Danish citizen." But there was no trial! The government body writes about the failed court as having taken place and even calls its decision. What's the matter? The reason is obvious to anyone who understands how such things are fabricated. The court's decision was prepared in advance by one influential organization (maybe even the most influential in modern Russia), which coordinates all operations against Jehovah's Witnesses, whether it's throwing compromising materials, tapping phones, "mask-shows" in prayer houses, etc. In the same place, apparently, they wrote the corresponding news for the "WG", wrote in advance and already with the necessary verdict. And some employee, whether by negligence or fatigue after a hard day of hunting for "extremists", handed over this "news" to the newspaper (perhaps before June 7), and she published it as if nothing had happened, Without even checking. As a result, the state newspaper, which owns the right to officially publish laws and government acts, has not just published a fake, news of a non-existent fact in the style of the tabloid press. She also set up the FSB, and at the same time, the Oryol regional court. Now we know that the verdict of the court was written in advance, and if the trial was held on June 7, he could only be as the "WG" wrote, and no other. It is not so important, it is correct to leave Christensen in custody or not (although no one from Jehovah's Witnesses in Russia has done that since the 1980s). Indicative is the very fact that all decisions are taken alone in the department, seeking (and more often – inventing) "extremists", and the courts assigned the role of dummies. The fake hangs on the site of "RG" for several days as if nothing had happened. No one is interested in the reputation of the main state edition. By the way, is this not a superfluous reason to believe that the "historic" decision of the Supreme Court of the Russian Federation on April 20 was taken by the same algorithm? However, the lie of the "Russian newspaper" and its correspondents in plain clothes does not end on the written. In the same sentence, we read that Dennis Christensen "heads the local religious organization of Jehovah's Witnesses." And this is a direct lie: the Dane not only does not lead this organization, but never was its member. Obviously, Orel Dane was interested in the FSB only for the reason that he is a foreigner. What happens in Orel really? Dennis Christensen has been living in Russia for more than 10 years. Friends know him as a sympathetic and peaceful person, infinitely far from extremism. He was never involved in extremist articles, did not distribute forbidden literature, did not belong to banned religious organizations. All his "fault" is that he came from Europe, where Jehovah's Witnesses have a reputation for law-abiding citizens, to Russia, where they suddenly became equated with criminals – to help their coreligionists, and then married a Russian woman. For almost a month he languished in jail without trial and investigation, on a completely fabricated case, based on false facts invented in the FSB and distributed by state means of disinformation. Anton Chivchalov, For "Portal-Credo.Ru"
Window on Eurasia — New Series: Protestant Churches Now Outnumber Russian Orthodox Ones in Kazakhstan Paul Goble Staunton, June 16 – The religious activity of people is seldom best captured by statistics, but some aspects of religious life, including the number of religious organizations and even the ones that a government or other organization uses to categorize them can nonetheless provide important details about this aspect of social life. A new article on the Regnum news agency provides comprehensive data on the numbers of various religious denominations in Kazakhstan in 2011 before Astana adopted its current law on religion and now, almost six years after it did so. They are extremely instructive about developments and especially state policy there (regnum.ru/news/society/2288695.html). "In 2011," the article reports, "32 confessions and more than 20 denominations were registered in Kazakhstan. They formed a total of 4430 religious groups, 3839 of which were registered as legal persons or branches and 559 as small groups. Together, they used 3369 religious facilities." The list also includes the number of small, missionary-led groups. At the end of that year, Kazakhstan adopted a new law on religious organizations at least partially in response to a number of terrorist acts there. The state tightened its restrictions on religious life. Among the results achieved in 2012, the Regnum article reports, were the following: The number of religious organizations and the number of confessions declined to 3088 and 17 respectively. The Old Believers and the Armenian Apostolic Church were folded into the Orthodox category. Protestant denominations were reregistered with their number falling from 666 to 462, Charismatics from 48 to 16, and the Scientologists entirely liquidated. But almost immediately, the number of organizations in each category began expanding again. According to a survey taken at the end of April 2017 by the Kazakhstan religious affairs and civil society ministry, there are now 3679 religious organizations (2570 Muslim, 333 Orthodox, 85 Catholic, 668 Protestant, seven Jewish, and 17 others. What is most striking is that the Protestant now outnumber the Russian Orthodox by more than two to one. Last October, the same ministry published figures on the number of religious buildings in the country. At that time, there were 3436 "cult" facilities, including 2528 mosques, 294 Orthodox churches, 108 Catholic churches, 490 Protestant facilities, seven synagogues, two Buddhist shrines, three Krishna consciousness centers, and four Bahai houses. At present, Regnum says, there are 495 missionaries in Kazakhstan, 238 of whom are Catholics, 175 Protestants, and 87 Orthodox.
Oil prices slip as U.S. rigs rise, demand growth falters | Reuters Oil prices edged lower on Monday, weighed down by an expansion in U.S. drilling that has helped to maintain high global supplies despite an OPEC-led initiative to tighten the market by cutting production.
Russian fighter jets compete in aviation tournament | Daily Mail Online The Aviadarts tournament is designed to test flight skills and precision shooting and is being held this year at the Pogonovo range in the Voronezh region, south of Moscow.
---
---
The theory of influence – a systematic approach, which is essential in the promotion of – To Inform is to Influence The translation is rough, unusually rough for Russian. The author is in Ukraine, however. I'm not certain I agree with everything he is saying but I also don't disagree. </end editorial> (Translated from Russian by my Chrome browser) The theory of influence – a systematic approach, which is essential in the promotion of 18 chervnya 2017 Georgіy…
Google: Four steps we're taking today to fight online terror – To Inform is to Influence Kent Walker GENERAL COUNSEL GOOGLE Editor's Note: This post appeared as an op-ed in the Financial Times earlier today. Terrorism is an attack on open societies, and addressing the threat posed by violence and hate is a critical challenge for us all. Google and YouTube are committed to being part of the solution. We are working…
German court lashes out at Google over the 'right to be forgotten' A German court doesn't believe Google knows what it means to be "forgotten."
Governments to declare war on mathematics and dumb criminals | ZDNet Rules of encryption be damned, Western governments are looking to put the genie back in the bottle.
The weaponization of words and conversations The connected world in which we live has transformed words and conversations into weapons.
Megyn Kelly asked Putin about the 'toll' of leading Russia | Daily Mail Online The video, published on Saturday, shows Kelly speaking about the controversial figure's high approval among Russians before asking if his 17-year reign had taken a 'personal toll'.
Oliver Stone on His Son Working For RT: He's Not a 'Russian Agent or Something Like That' | Mediaite "There's no connection there. He's not an agent — a Russian agent or something like that."
---
---
Poroshenko leaving for U.S. to meet with Trump | UNIAN Ukrainian President Petro Poroshenko, who is leaving for the United States for his first meeting with U.S. President Donald Trump, is expected to arrive in Washington, D.C., on the evening of June 19, according to the Ukrainian TV news service TSN. News 19 June from UNIAN.
Poroshenko leaves for the United States – 19.06.2017 14:30 — Ukrinform News 19.06.2017 14:30. President of Ukraine Petro Poroshenko has left on Monday for a working visit to the United States.EU Foreign Ministers Extend Crimea SanctionsEuropean Union foreign ministers have prolonged the bloc's investment ban against Crimea for another year.
EU sanctions over occupied Crimea, Sevastopol extended for another 12 months The Council of the European Union has extended the restrictive measures in response to the illegal annexation of Crimea and Sevastopol by Russia for another 12 months, according to an UNIAN correspondent in Brussels. News 19 June from UNIAN.
Ukraine Leader Confident Of Support From Trump Against Russian Aggression Ukrainian President Petro Poroshenko is expressing confidence that U.S. President-elect Donald Trump will support Ukraine in its struggle against Russian aggression despite his desire to mend ties with Moscow. In interviews with The Wall Street Journal, Bloomberg, and Reuters at the Davos economic summit in Switzerland on January 18, Poroshenko said supportive statements from Trump's cabinet nominees in confirmation hearings in the past week have given him reason for optimism. "We are enjoying the strong bipartisan support" in the United States, Poroshenko told the Journal. "I am absolutely sure that the continuation of our cooperation with the United States will be very effective." Poroshenko said that he plans to visit Washington next month and he hopes to meet with Trump. He added that he respects the choice of voters in Western democratic elections and "is ready to work with any leaders." In the Journal interview, he warned against lifting sanctions against Russia — something Trump has suggested he might do — saying it would be "dangerous" for the security of the West. In the Reuters interview, he said Trump's backing of the sanctions would show the United States is "great again."
Militants launched 47 attacks on Ukrainian troops in Donbas in last day – 19.06.2017 09:26 — Ukrinform News 19.06.2017 09:26. Militants launched 47 attacks on positions of the Armed Forces of Ukraine in ATO area in Donbas over the past day.
Donbas war update: 6 Ukraine soldiers wounded in almost 50 attacks on Sunday Russia's hybrid military forces attacked Ukrainian troops 47 times in the past day, using proscribed 120mm weapons 10 times, as a result of which six Ukrainian soldiers have been wounded, according to the press service of the Anti-Terrorist Operation (ATO) Headquarters. News 19 June from UNIAN.
OSCE SMM: Truck with civilians hits anti-tank mine near occupied Horlivka A truck with local residents on June 12 hit an anti-tank mine near the village of Bairak on the outskirts of the town of Horlivka occupied by military forces of the self-proclaimed Donetsk People's Republic ("DPR"), resulting in two injured civilians, according to a report released by OSCE Special Monitoring Mission (SMM) to Ukraine on June 17. News 19 June from UNIAN.
Oleksandrivka remains without water, Avdiyivka without gas in war-torn Donbas As of June 18, all settlements of five districts in Donetsk region, which were left without water as a result of shelling by militants on June 10, have been connected to the centralized water supply, except for Oleksandrivka, while the town of Avdiyivka remains without gas, according to Ukraine's State Emergency Situations Service. News 18 June from UNIAN.
Electronic warfare systems in Donbas. Specialists from EW company of Russian 19th Motorized Rifle Brigade detected – To Inform is to Influence Anybody who denies Russia has invaded Ukraine is denying reality.  Some are saying Russia is preparing to invade Ukraine, in the meantime, Russia is rotating units in and out of Ukraine.  </end editorial> By vasgri | on 06/17/2017  Russia has been actively deploying electronic warfare (EW) systems in the Donbas war. Russian EW specialists supported…
Security, Defense Council to consider bill on Donbas reintegration – LB.ua news portal Ukraine's National Security and Defense Council will soon consider a bill on the de-occupation and reintegration of Donbas, First Vice Speaker Iryna Herashchenko said 19 June on Facebook. She said work on the draft law "On the peculiarities of the state policy for the restoration of Ukraine's state sovereignty over the temporarily occupied territory of Donetsk and Luhansk regions of Ukraine" has practically been completed and will be submitted to a meeting of the National Security and Defense Council. "We have been working for several hours finalising some debatable aspects of the bill. An NSDC meeting slated to be held in the near future will consider the legislation and take a final decision on it. I have also suggested that the informal Minsk platform, which has been created and is successfully working in the Rada held a discussion on the bill shortly," Herashchenko wrote. "On the instructions of the president, we are working on this project along with experts and the NSDC Secretariat. Important: Ukraine remains committed to the political and diplomatic way of settling the war in Donbas, that has been inspired by the Russian Federation, while we are fighting for the de-occupation and return of territories. This is the philosophy behind the bill," Herashchenko added. The NSDC secretary Oleksandr Turchynov told the media said that Ukraine must complete the antiterrorist operation and move ahead to a new format of protecting the country from a hybrid war with Russia. According to him, the revised bill "of recovering the sovereignty of Ukraine on the temporarily occupied territory of Donetsk and Luhansk regions," will be presented to the president, after which he promptly gives it over to the parliament.
Occupied areas in Donetsk region owe $150 mln for electricity Chairman of Donetsk Military and Civilian Administration Pavlo Zhebrivsky says that electricity arrears of the occupied areas in Donetsk region are estimated at UAH 3.9 billion, or US$150 million, with the total debt of the region owed to Ukraine being UAH 5.6 billion, or $215 million. News 19 June from UNIAN.
Антонов – #An132D taking off in Paris Le Bourget airport for the…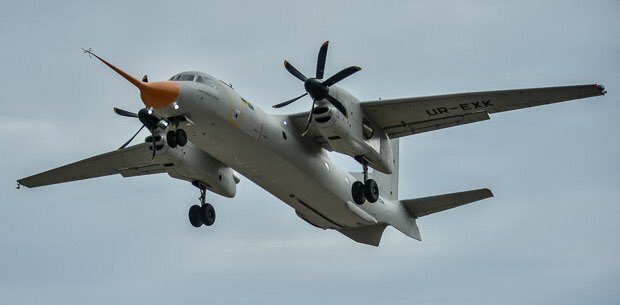 Ukraine showcasing its brand new plane at Paris Air Show 2017 (Photo, video) Ukraine is showcasing its brand new multi-purpose transport aircraft An-132D at the 2017 International Paris Air Show in Le Bourget, France.  Latest UNIAN news from 19 June.
Attacker of Osmaev and Okueva safe, can cooperate with investigation, – Interior Ministry 19.06.17 11:59 – Attacker of Osmaev and Okueva safe, can cooperate with investigation, – Interior Ministry The person who attacked Adam Osmaev and Amina Okueva on June 1 in Kyiv has been questioned by investigators. View news.
In ambush – the armed people / Polemic / Nezavisimaya Gazeta [Russia – Полемика / Независимая газета] Three million illegal guns are in the hands of residents of Ukraine. In the south-east of Ukraine in June, according to official reports, the number of losses has sharply increased. However, Ukrainians perish in the back of the Nezalezhnaya. A resident of Vyshgorod died in his own apartment. "In the kitchen, a man probably dabbled with a grenade, as a result of which it exploded and the man was killed," said police spokesman Nikolai Zhukovich. The question is: where does the grenade come from? Found! In Kiev, the janitor found a RGD-5 grenade in the bushes near the apartment building. In Kramatorsk, a child in the school found a box with 14 grenades – 7 RGD-5 and F-1. In the schoolyard in Mariupol, F-1 was found in the grass. Weapons are taken by vacationers, passed on to friends, sent by mail. A 19-year-old fighter from the Volunteer Ukrainian Corps (DUK) of the "Right Sector" (a prohibited organization in the Russian Federation) from the village of Novogrodovka tried to send a parcel with grenades to the home by express mail. In Kharkiv, border guards were detained, carrying grenades RGD-5, F-1 and other weapons from the ATU zone. Employee of the State Service for Emergency Situations from the village of Verbovka, Kharkov region, who participated in the clearance of the Balakleya territory after the explosions at the military artillery warehouses, took with him 12 sacks of ammunition. In early May, an underground trading network was opened in Odessa, Khmelnitsky and Chernivtsi. In its arsenals were machine guns, grenade launchers, pistols, grenades, about 5 thousand rounds and other ammunition. The hit of the spring-summer season in 2017 was undoubtedly the anti-personnel defensive F-1 and the offensive RGD-5. Hand-held anti-tank grenade launchers are often used, which have become indispensable in everyday life when clarifying relations. In the Kharkov region, an unknown person threw grenades at the F-1 courtyard of a private house. A similar case is in the central region of Mariupol. Arms trade is a common phenomenon. He is bought on the market as a potato. A 46-year-old resident of the village of Zhoravka, Yagotinsky district of the Kiev region, bought RGD-5 in the Moscow market for 200 hryvnia. With a grenade, he came to his sister on June 6 to clarify the relationship. I found out. The woman was taken to the hospital with shrapnel wounds to her legs. We consider only cases of using hand grenades, because shootings occur much more often, because in the hands of citizens there are millions of pieces of firearms. According to the results of 2016, according to the database of the Ministry of Internal Affairs of Ukraine, about 900 thousand owners of such weapons were officially registered. How many illegal trunks walks around Ukraine – no one knows. Head of the Supervisory Board of the Ukrainian Association of Owners of Weapons Georgy Uchaykin believes that about 3 million. "Directly from the ATU zone for the year we received 500-700 thousand units of small arms, I can not say anything about grenade launchers, grenades and explosives," admitted Uchaykin Magazine "Armory shop" in 2015. For two years the number of illegal trunks, of course, has increased. Among the legal weapons, there are 1,322 award units, which were handed over by Interior Minister Arsen Avakov in 2014-2016, or rather 1323. On June 8, on his Facebook page, Avakov reported that he awarded Amin Okuev a Glock-43 pistol. "The guys came to the Ministry of Internal Affairs to drink a cup of tea in a friendly circle," Avakov wrote. Recall, Okuyeva's husband, Adam Osmayev, as Ukrainian media wrote, was detained in Odessa by the Security Service of Ukraine on charges of illegally handling weapons and creating a terrorist group. True, it was before the Maidan, and after – such as Osmaev, from terrorists quickly repainted in the "heroes." Since February 2015, he is the commander of the volunteer battalion named after Dzhokhar Dudayev (that is, an illegal armed group) created in Ukraine by the socio-political movement "Free Caucasus". In November 2015, the Verkhovna Rada announced the creation of the same inter-factional deputy group. Its goal was to declare, in particular, "assistance to the national liberation movements of the North Caucasus", that is, subversive activities in Russia. The members of the inter-factional association, as reported by the Ukrainian media, included deputies Yevgeny Rybchinsky (The Will of the People), Igor Lutsenko (Batkivshchina, served in the Azov battalion), Vladimir Parasyuk (non-factional), Yaroslav Markevich (Self-help) and Deputy from the Radical Party Oksana Korchinskaya – the wife of ex-leader of UNA-UNSO Dmitry Korchinsky. Thus, terrorists, extremists and nationalists have built a nest in the highest legislative body of the country and now lobby it from the rostrum to legalize nationalist military formations and their weapons. In December 2014, Korchinskaya, Lyashko and 28 other deputies registered a draft law on civilian weapons and ammunition. Avakov generally supports the idea of arming the people, but only a certain part of it. The head of the Ministry of Internal Affairs believes that access to automatic rifled, firearms should be only in state structures. And here the most important thing is what is meant by such structures? Since May 2015, the Verkhovna Rada is without motion the bill of Dmitry Yarosh "On the Volunteer Ukrainian Corps" (DUK). De jure DUK is not in the legislative field of Ukraine, but it is de facto. This vertically integrated structure has in each region illegal (from the point of view of the Ukrainian Constitution) military formations, training camps, logistics bases and government bodies. In fact, this is a "parallel" army that at the hour of "X", which may come during parliamentary or presidential elections, will become the mainstay of even more scoundrels for the new government than those that are currently sitting on Bankovskaya and Grushevsky. The process of legalizing weapons, If it starts in parallel with giving the army Yarosh official status, will mean a new turn in the history of Ukraine, reminiscent of the coming to power of Hitler in Germany and Mao Zedong in China. History elevated the Great Helmsman, and the ashes of Hitler remained under the wreckage of the Third Reich.
Kyiv's Most Ancient Trees are Surrounded in Legend – YouTube UATV is a 24/7 international broadcaster that targets broad audiences around the globe. UATV's main goal is to convey objective, unbiased, relevant and inter…
---
Russia / Iran / Syria / Iraq / OEF Reports
---
US F/A-18E Shoots Down Syrian Su-22 in Air-to-Air Kill | Military.com A Navy F/A-18E Super Hornet shot down a Syrian Su-22 fighter in the U.S. military's first air-to-air kill in nearly two decades.
USN F/A-18E Super Hornet Shoots Down Syrian Su-22 Fitter Attack Jet – The Drive The unprecedented engagement could lead to a rapidly escalating security situation in the skies over eastern Syria.
U.S. Says Jet Shoots Down Syrian Government Plane After Attack On Allied SDF Fighters A U.S. jet shot down a Syrian government warplane after it attacked forces fighting against the Islamic State (IS) militant group on the southern edge of Raqqa, the U.S.-led coalition in Syria says. …
U.S. warplane downs Syrian army jet in Raqqa province | Reuters Khalidi and Matt Spetalnick
U.S. Fighter Jet Shoots Down Syrian Warplane – The New York Times An American warplane shot down a Syrian warplane on the same day Iran's Revolutionary Guards Corps also launched missiles into Syria.
US shoots down Syrian Air Force fighter – To Inform is to Influence Yes, this is significant, but what will Russia do or say?  This is a serious escalation in the war.  Russia will talk tough, they will launch a tirade in the news, both Putin and Lavrov. The Russian Ambassador to the UN may even take off his shoe and pound it on the table. Russia, however,…

Russia escalates Syria tensions vowing to target US-led aircraft
Russia's defense ministry said it would target aircraft from the US-led coalition in Syria, ending a de-confliction agreement aimed at preventing incidents between US and Russian aircraft. "Any aircraft, including the international coalition's planes and drones, discovered west of the river Euphrates, will be accompanied by ground and air-based anti-aircraft defenses as aerial targets," Moscow said in a statement after the US downed a Syrian fighter over the weekend. The incident was thought to be the first time the US-led coalition fighting Isis has shot down a Syrian jet since the war erupted six years ago, and it comes after several recent incidents in which the US has targeted regime forces and their allies in eastern Syria. The US military said the downed Syrian plane was dropping bombs near a Syrian Kurdish militia that Washington was backing in the fight against Isis in Raqqa, the jihadi group's de facto capital. Moscow, which intervened militarily to back the Syrian regime, condemned the US action, saying it flouted international law. "What is this other than an act of aggression in violation of the norms of international law?" Russian deputy foreign minister Sergei Ryabkov told reporters. "This, if you like, is help for the terrorists that the US are fighting under what they call their anti-terrorism policy."
TASS: Russian Politics & Diplomacy – Russian Foreign Ministry: US strike against Syrian plane is act of aggression Russian Foreign Ministry: US strike against Syrian plane is act of aggression
Russian Diplomat Condemns US for Downing Syrian Fighter Jet | World News | US News MOSCOW (AP) — A top Russian diplomat has condemned the United States for shooting down a Syrian Air Force fighter jet the previous day as an act of "aggression."
Russian diplomat: U.S. downing of Syrian warplane is 'support of terrorists': TASS | ReutersMoscow sees the downing of a Syrian government warplane by the United States as an "act of aggression and support of terrorists", TASS news agency quoted Russian Deputy Foreign Minister Sergei Ryabkov as saying on Monday.Russian ForMin calls on U.S. to respect Syria's integrity: agencies | ReutersThe United States should respect Syria's territorial integrity and refrain from unilateral actions in this country, Russian news agencies quoted Russian Foreign Minister Sergei Lavrov as saying on Monday.
---
Iran's missile launch and U.S. downing a Syrian jet – explained – Middle East News – Haaretz.com Iran's missile fire toward Syria targets is a show of strength and a message to U.S., Russia and Israel
Iran warns missile attack on IS in Syria can be repeated – The Washington Post After firing missiles targeting the Islamic State group in eastern Syria, Iran's Revolutionary Guard on Monday issued a stark warning to IS militants, saying that any future attack against Iran will result in more powerful launches.
Iran's Revolutionary Guard strikes Syria for Tehran attacks – The Washington Post Iran's Revolutionary Guard said Sunday it launched missiles into eastern Syria targeting Islamic State militants in response to an attack on Iran's parliament and a shrine in Tehran, warning that it would similarly retaliate on anyone else carrying out attacks in Iran.
IRGC launches missiles at Daesh headquarters in Syria from western Iran – To Inform is to Influence This is one of the rare times I will use a PressTV report as a source for a report.  I have read dozens of reports that Iran launched the missile from Western Iran into Eastern Syria and hit ISIS targets in response to ISIS terrorist attacks in Tehran, about 600 km away.   But what…
Iran launches missiles into Syria – CNN.com Iran's Revolutionary Guard announced on Sunday that it launched several missiles into Syria, targeting Islamic State fighters in retaliation for the attacks in Tehran on June 7.
Iran Launched An Unprecedented Ballistic Missile Attack On Syrian City – The Drive Now that Iran has shown it is willing to use its ballistic missiles, the strategic equation in the region has changed.
Iran claims Zolfaghar missile has 700 km range | Jane's 360 Iranian defence minister Hossein Dehghan claimed that the new Zolfaghar (Zulfiqar) ballistic missile has a range of 700 km during a 25 September ceremony that inaugurated the weapon's production line. Unveiled for the first time during a military parade four days earlier, the Zolfaghar is a new 
---
Report: Israel secretly giving aid to Syrian rebels – Middle East – Jerusalem Post Israel has reportedly been discreetly supporting Syrian rebel groups for years in order to protect its northern border from the war raging in Syria.
Israel reportedly providing direct aid to Syrian rebels – Israel News – Haaretz.com It's been known that Israeli hospitals have treated wounded Syrian fighters, but Wall Street Journal report uncovers direct support in cash, without which fighters say they 'wouldn't have survived'
Syrian Archives Add New Details to Henry Kissinger's Disastrous Middle East Record "The Edge of the Precipice" draws on official Syrian archives to tell the story of Henry Kissinger's shuttle diplomacy after the 1973 Arab-Israeli War.
Iraqi forces storm Islamic State-held Old City of Mosul – NY Daily News MOSUL, Iraq (Reuters) – Iraqi forces began storming the Islamic State-held Old City of Mosul on Sunday, an assault they hope to be the last in the nine-month old campaign to seize the militants' stronghold.
Iraqi Troops Storm Mosul's Old City, Last IS Stronghold Iraqi security forces have launched an operation to retake the last Islamic State (IS) militant group stronghold in Mosul, the country's second-largest city. Brett McGurk, the U.S. envo…
Turkish Democracy Didn't Die on Sunday | The National Interest The referendum merely cemented, through popular sanction, the antiliberal tragedy that's already unfolded.
ON LEAVING ISLAM | Herald Sun  ABC presenter Sami Shah has written The Islamic Republic of Australia, explaining why he and his wife, psychologist Ishma Alvi, have left Islam.  
Officials: 17-year-old Muslim girl assaulted and killed after leaving Virginia mosque – The Washington Post Darwin Martinez Torres, 22, of Sterling is being held in the death of Nabra Hassanen.
Man Charged with Assaulting and Killing a 17-Year-Old Girl – Fairfax County Police Department News Reston Police District – A man has been charged with murdering a 17-year-old Reston girl who was reported missing today, Sunday, June 18, around 4 a.m. near Dranesville Road and Woodson Road, in the Herndon area. An investigation determined she was walking outside with a group of friends when they got into a dispute with…
Finsbury Park: Police treating mosque assault as 'terror attack' – CNN.comOne person is dead and several injured after a van slammed into pedestrians near Finsbury Park Mosque in an incident London Mayor Sadiq Khan has called a "horrific terror attack."
Finsbury Park attack: Imam 'stopped bystanders from attacking suspect' | London Evening Standard The suspect in the terror attack near Finsbury Park mosque was protected by an imam after bystanders began beating him while on the ground, witnesses said. The suspected terrorist was wrestled to the ground by passers-by after he had careered 'smiling' through a crowd of pedestrians, including a man in a wheelchair.
Finsbury Park van attack: 'driver said he wanted to kill all Muslims' | News | The Times & The Sunday Times A witness to the van attack in north London said the driver screamed that he wanted to "kill all Muslims".Abdulrahman Saleh Alamoudi said the white van swerved
Horrific Finsbury Park van attack video and pictures show victims lying on the road in North London after terror atrocity Shocking footage shows injured bodies of victims mowed down in a suspected copycat van attack in North London.
---
---
Kim Jong-un nervous about assassination: NIS North Korean leader Kim Jong-un seems to feel "extremely nervous" about the allies' possible clandestine operation to eliminate him, South Korea's intelligence agency told lawmakers Thursday. Due to concerns over potential airstrikes and assassination attempts, the young tyrant prefers to move at dawn and uses his subordinates' cars, such as a Lexus car, not his own Mercedes-Benz 600, the National Intelligence S…
North Korea: Diplomatic delegation 'mugged' at JFK Airport – CNN.com North Korea says delegates it sent to a United Nations' conference in New York were "literally mugged" by US authorities as they tried to leave John F. Kennedy International Airport on Friday.The inconvenient truth about North Korea and China – The Washington PostNothing short of war will get the Kim regime to give up its nukes.
Top North Korean Nuclear Negotiator Secretly Met With U.S. Diplomats – WSJ For more than a year, American diplomats held talks with Madame Choi Sun Hee, hoping to free U.S. hostages and even establish a diplomatic channel to constrain North Korea's nuclear and missile programs.
North Korea is sitting on $6 trillion-$10 trillion of untapped minerals (gold, iron, rare earth metals) the world wants — Quartz Few think of North Korea as being a prosperous nation. But it is rich in one regard: mineral resources. Currently North Korea is alarming neighbors with its frequent missile tests, and the US with its attempts to field long-range nuclear missiles that can hit American cities. A sixth nuclear test could be imminent. An attack…
U.N. envoy urges North Korea to explain why freed U.S. man is in coma | Reuters A United Nations human rights investigator called on North Korea on Friday to explain why an American student was in a coma when he was returned home this week after more than a year in detention there.
Why I can't stop thinking about Otto Warmbier – The Washington Post Hundreds of thousands of Koreans have been subjected to similar criminal abuse at the hands of North Korea's Stalinist regime.
North Korea carried out the WannaCry ransomware attack, say security services | ZDNet The cybersecurity arm of British intelligence services has reportedly suggested the global ransomware outbreak was launched from North Korea.
North Korea Detains Russian Yacht As Diplomats Reach to Crew The Katalexa yacht was returning from Japan when it was commandeered by North Korea.
Fears Russian yacht and 3 crew seized by North Korea | Daily Mail Online The Russian yacht Katalexa – which has a crew of three – was in the Sea of Japan when it sent a radio message saying it had been 'hijacked or arrested' by a North Korean ship.
Here's what happens when North Korea gets ICBMs | Business Insider North Korea will build a nuclear missile that…
Japanese Visitors' Flight To Disputed Russian-Held Islands Canceled Due To Weather A flight scheduled to take former Japanese residents to two Russian-held islands in the Pacific Ocean has been canceled because of heavy fog conditions on one of the islands, Japanese Foreign Ministr…


How Could This Happen? The Fitzgerald, the U.S. Navy, and Collisions at Sea On Saturday, at about 2:30 AM local time, the destroyer USS Fitzgerald (DDG 62) and the Philippine container ship ACX Crystal collided southwest of Yokosuka.
U.S. destroyer almost foundered after collision, bodies found: Seventh Fleet | Reuters The bodies of missing sailors were found in flooded compartments of the USS Fitzgerald, which came close to sinking after a collision with a container ship off Japan tore a gash under the warship's waterline, the U.S. Navy's Seventh Fleet commander said on Sunday.
How Could The Navy Destroyer Collision Happen? : NPR How could an advanced combatant crash into a container ship in the middle of the ocean? Investigators begin to look for clues about what happened.
---
---
America in Retreat, Europe en Marche – The New York Times New confidence is taking hold among continental Europeans, as faith in American leadership fades.
"France is back." Macron's En Marche party just swept the French parliament. – Vox A decisive majority in parliament gives Emmanuel Macron an opportunity to advance his centrist agenda.
Emmanuel Macron, the Élysée's Dorian Gray – POLITICO Macron's youthful style emulates the sort of American modernity shown by Obama, Kennedy and Trudeau.
Traditional French parties face years in political wilderness after Emmanuel Macron's rise | World | The Times & The Sunday Times France's traditional parties, their ranks withered in the new parliament, face years in the political wilderness, if not actual extinction.Socialists The dominant …
Emmanuel Macron's conquest is complete – what now? – BBC News The BBC's Hugh Schofield ponders what might lie ahead for France's man-on-the-move.
With Emmanuel Macron Set for a Huge Majority, French Politics Has Gone Crazy Growing a broad power base so swiftly is not without its complications for France's new liberal president.
Macron Deals a Crippling Blow to France's Establishment – WSJ The resounding victory of President Emmanuel Macron's fledgling political force in parliamentary elections crushed the traditional parties that have governed France since the end of World War II.
Emmanuel Macron's parliamentary victory marks the return of the experts The new French President is assembling a technocratic government.
French President Macron: France should be a 'country of unicorns' France launched a technology visa on Thursday to help attract international talent.
Emmanuel Macron says door to remain in EU is open to Britain | Politics | The GuardianTheresa May says Brexit talks to start next week as French president suggests time is of the essence if decision is to be reversed
Brexit: Poll Finds Support for European Union on Rise | Time.com  Euroscepticism in Europe has decreased nearly a year after Britain voted to leave the E.U., a new poll by Pew Research Center suggests.
Globsec.org | GLOBSEC Trends 2017: Mixed messages and Signs of Hope from Central and Eastern Europe Which CEE countries favour a neutral position between West and East? Who is the biggest Eurosceptic and which countries are the satisfied with thier EU membership? Would Central European countries honour their Article 5 obligation and defend their NATO allies in case of an attack? How do people in this region perceive world political leaders such as Donald Trump, Angela Merkel or Vladimir Putin? Would they support a strong authoritarian leader over liberal democracy? Answers to these questions and much more is included in the latest comprehensive analysis of public opinion surveys in 7 Central and Eastern European Countries – GLOBSEC Trends 2017. Comparison of the results from Bulgaria, Czech Republic, Croatia, Hungary, Poland, Romania and Slovakia provides an overview of common trends but also regional differences and vulnerabilities present in the societies of this region.
Brexit latest – Former Czech President rages at Eurocrats: 'It's time for Czexit' | World | News | Express.co.uk THE FORMER Czech Republic President has blasted the European Union insisting it is time for the country to exit the bloc.
Warning of U.S. desertion, EU chief calls for European defense | Reuters Europe's chief executive appealed to EU governments on Friday to forge a military alliance to defend the bloc and enhance its power abroad, warning that the United States was no longer prepared to do it for them.
---
---
Cold War Deja Vu Deepens as New Russia Sanctions Anger Europe – Bloomberg Russia on Sunday accused the U.S. of returning to "almost forgotten Cold War rhetoric," after President Donald Trump's decision to reinstate some sanctions on Cuba. It could have dropped "forgotten."
White House and Putin Among Biggest Critics of Russia Sanctions Bill  The White House plans to push congress to make changes to bill to strengthen sanctions against Russia.
Senate alters sanctions to allow use of Russian rocket enginesDon't look now, but American spaceflight just dodged a bullet. Senators have passed an amendment to an Iran-Russia sanctions bill that, if gone unchecked, would…Quora Question: Why Did Russia Mess With Our Presidential Election?Russia's leaders and operatives don't do anything for "the heck of it."
How to Putin-Proof Your Elections – To Inform is to Influence 13 June 2017 BY JAKUB JANDA AND VERONIKA VÍCHOVÁ Russia has been meddling in Western democracies and their internal affairs since at least 2014, but the issue came to the fore only after the 2016 US presidential election. And the problem may be more acute than previously thought: Russian hackers attacked election systems in thirty-nine…
Turkish Guards Will Be Charged in Embassy Protest, Officials Say – The New York Times Members of President Recep Tayyip Erdogan's security detail are to face misdemeanor and felony counts in an attack on protesters in Washington last month.
At height of Russia tensions, Trump campaign chairman Manafort met with business associate from Ukraine – The Washington Post Investigators show interest in Manafort and his business colleague, a Russian army veteran.
Nunes: No collusion between Trump and Russians – POLITICO "I have to ask myself, Was this really an investigation in search of a crime?"
Rubio: Trump 'pretty fired up' about Russia investigations – POLITICO "He, from every pronouncement we have seen, feels very strongly that he did nothing wrong, and he wants people to say that," Rubio said.
Week ahead: Obama DHS chief to testify on Russian meddling | TheHill
After Scalise shooting, Congress wants to pack heat – GOPUSA
2017: Right Splits over Civil Disobedience, Left Splits over Political Violence – Breitbart Fault lines within major U.S. factions: The right fights about civil disobedience while the left fights over the attempted murder of a GOP Congressman.
Anti-Trump Hate Map – American Renaissance

Leftist Crowd Fills Out Poster at Trump Assassination Play – Hope for Trump's Death

'He's full of s*it': Lib author SCORCHED by conservatives over Trump voter hot take – twitchy.com"This is a recipe for a second Trump term."