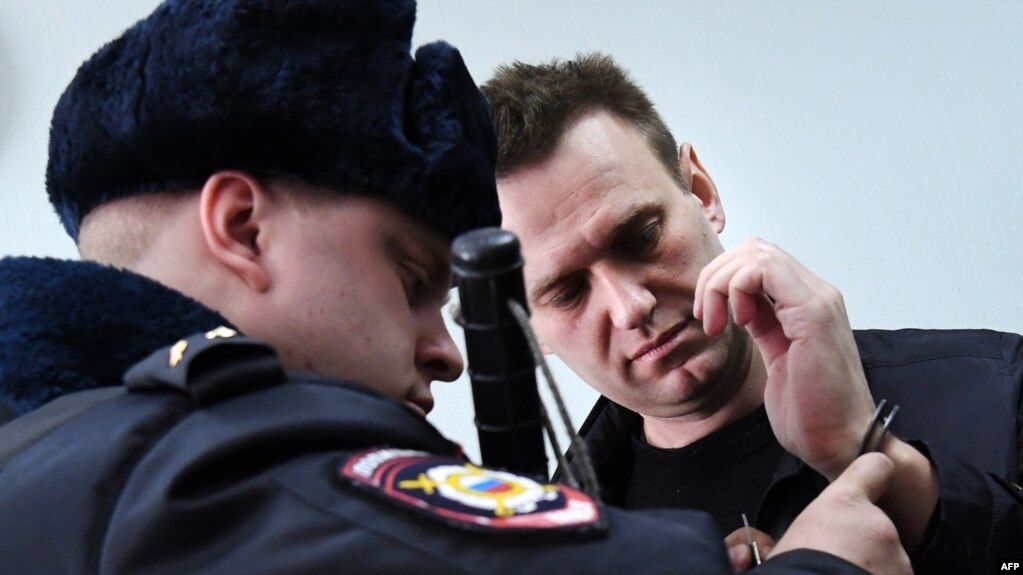 It appears the posting of the Medvedev corruption videos may be part of the preparations for tomorrow's anti-corruption marches.
Russia will most likely arrest Navalny again. But the world is watching – closely.
</end editorial> 
---
---
June 11, 2017 19:45 GMT
RFE/RL
Protesters are set to take to the streets in Russia on June 12 in the latest anticorruption demonstrations spearheaded by opposition leader Aleksei Navalny.
The planned rallies in cities and towns across the country come less than three months after nationwide anticorruption demonstrations led by Navalny jolted Russia's political landscape, most notably thanks to a substantial turnout by young people.
The March 26 street protests — the biggest grassroots demonstrations against President Vladimir Putin's government since a wave of rallies in 2011-12 — led to scores of arrests.
Navalny, a Kremlin foe who is seeking to run for president next year, says demonstrations are set to be held in more than 200 cities and towns across the country on June 12 to protest what he alleges is a system of corruption and cronyism that Putin presides over.
"Authorities, especially the kind we have — sitting on the throne for 18 years — are not capable of changing for the better by themselves," Navalny said on his website on June 11. "They needs outside pressure."
The focal point of the protests will be Moscow, where authorities have granted permission to Navalny and his supporters to stage a rally on Prospekt Sakharov, outside the city center.
Navalny's team had asked to hold the rally at a central location close to the Kremlin and the offices of the Russian government.
The city government rejected that idea, saying the protest might disrupt scheduled events to mark the Russia Day holiday.
Writing on his website on June 11, however, Navalny warned that the protesters could change course and move to Moscow's central Tverskaya Street, which leads straight to Red Square and the Kremlin, if authorities do not allow them to use video screens and audio equipment for the rally.
"Tverskaya Street will be one giant pedestrian zone the entire day," Navalny said, referring to city traffic arrangements for the Russia Day celebrations. "You can easily walk around there."
Moscow police, meanwhile, warned about possible "provocations" planned during the protests and said it would "respond harshly to violations of the law and take all necessary measures to ensure order and protect citizens."
More than 1,000 people were detained in Moscow alone during the March 26 anticorruption protests, and Navalny was jailed for 15 days.
Navalny is seeking to build on momentum picked up during the March 26 protests that drew unexpectedly large crowds.
He is trying to get on the ballot for the March 2018 presidential election, in which Putin is widely expected to seek and secure a fourth term as president.
Navalny has been convicted three times in financial-crimes trials that he calls Kremlin-orchestrated retribution for his activism, though he has been handed suspended sentences rather than actual prison time.
Russian authorities have suggested that he could be barred from the presidential ballot due to his criminal record. But his backers say the rules are unclear, and Russian officials have not stated clearly whether he will be allowed to run.
A day before the planned June 12 protests, a video produced by Navalny and his supporters accusing Russian Prime Minister Dmitry Medvedev of corruption was published on two government websites.
The video, which played a central role in galvanizing protesters for the March 26 demonstrations, was published briefly on the websites of the regional prosecutor's office in the central city of Yaroslavl and the St. Petersburg regional administration.
Yaroslavl prosecutors said they suspected their website was hacked.
With reporting by Interfax and Kommersant