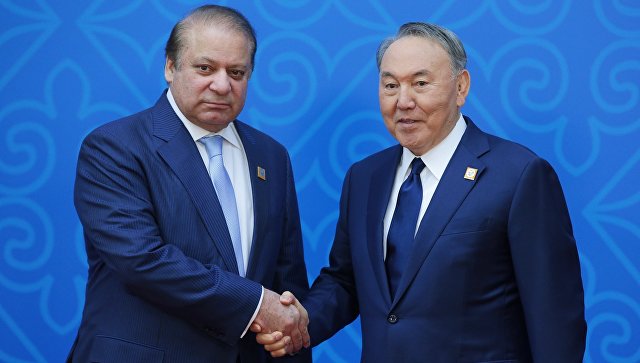 Perhaps this is what Russia was contemplating when stating they would respond to NATO's expansion.
SCO: 
The Shanghai Cooperation Organization (SCO), or Shanghai Pact, is a Eurasian political, economic, and military organisation which was founded in 1996 in Shanghai by the leaders of China, Kazakhstan, Kyrgyzstan, Russia, Tajikistan, and Uzbekistan. These countries, except for Uzbekistan, had been members of the Shanghai Five, founded in 1996; after the inclusion of Uzbekistan in 2001, the members renamed the organisation. On 10 July 2015, the SCO decided to admit India and Pakistan as full member

India and Pakistan signed the memorandum of obligations on 24 June 2016 at Tashkent, thereby starting the formal process of joining the SCO as full members. India and Pakistan joined the Shanghai Cooperation Organisation as full members on 9 June 2017 in Astana, Khazakstan summit.
SCO and CSTO are not well known in the West. 
Confirmation: India, Pakistan become full members of SCO The Hindu 06:37
</end editorial>
---
---
(Translated from Russian by my Chrome browser)
12:29 09/06/2017
ASTANA, June 9 – RIA Novosti. The leaders of the SCO member states signed the decision on the admission of India and Pakistan in the organization.
"We are confident that the cooperation between India and the SCO will celebrate new trends and will give a new impetus to the fight against terrorism in a regional context, the SCO efforts will help to promote peace and stability in Afghanistan," – said the Prime Minister of India, Narendra Modi.
The last 12 years India has had observer status in the SCO. According to Modi, Delhi's accession to the organization will help to bring the cooperation with other countries to a new level.
In turn, Prime Minister of Pakistan Nawaz Sharif thanked the founding countries of the SCO for "constant and unwavering support" the country's membership in the organization.
"We are also grateful to the Secretary General of the SCO and the SCO entire team for the efficient process of our accession", – added the politician.
In addition, at the meeting of Council of Heads of SCO member states, participants signed the convention on combating extremism.
The Shanghai Cooperation Organization was established in 2001 by the leaders of Russia, China, Kazakhstan, Tajikistan, Kyrgyzstan and Uzbekistan.
Source: https://ria.ru/world/20170609/1496181707.html