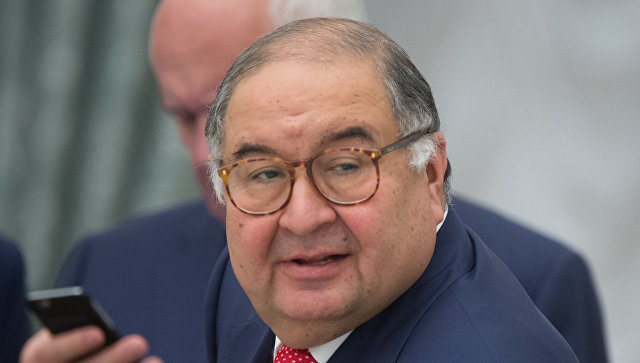 One thing is for certain when reading Russian media, it's entertaining. 
In March 2017, Usmanov was accused of being a part of the corruption allegation against Russian Prime Minister Medvedev by corruption fighter and Russian Presidential candidate Navalny.  
Alisher Burkhanovich Usmanov is an Uzbek-born Russian business magnate. As reported by Forbes, in 2017, Alisher Usmanov has an estimated net worth of $15.1 Billion. Wikipedia
Usmanov does not say "I categorically deny these charges. They are false, fabricated, and totally without merit. Besides, you have no proof!" Instead, he says 'You're ignorant, you're a loser, and you only "sometimes read books"'.  
He also responds to some other charges, but this was the best of the bunch. 
The real insult?  "[I]t's a pug barking at the elephant. Fie on you, Alexei Navalny!"  
Yes, I had to look that one up.  
fie 

fī/

 exclamation 

archaic 

humorous
used to express disgust or outrage. Example: "if people don't answer your first letter, fie on them!"
I noticed Usamanov doesn't deny the charges, but that just might be the American in me reading Russian translated into English by a machine.  But then again…
Hat tip to a Russian MFA official on Facebook. Who knew this had to do with Russian Foreign Policy?
</end editorial> 
---
---
(Translated from Russian by my Chrome browser)
"Fie on you!": Usmanov published a video message to Navalny
(Updated:
15:31 18/05/2017
)
MOSCOW, May 18 – RIA Novosti. Alisher Usmanov published a video message to Alekseyu Navalnomu. Businessman responded to the allegations against him, called his opponent "ignorant" and "loser" and suggested that "sometimes read books." Navalny has already promised to give an answer.
Usmanov clip appeared on the page in the social network "VKontakte" the day of the trial on the suit on protection of honor and dignity.
The dispute
In early March, Alexei Navalny posted on YouTube a movie, in which he said that the Prime Minister Dmitry Medvedev, with the help of non-profit foundations allegedly acquired various assets. Among other things, the filmmakers claimed that Alisher Usmanov has presented the site to the mansion in the prestigious suburban district Ruble Fund "Sotsgosproekt" which allegedly controls the prime minister.
In mid-April, Usmanov has filed a lawsuit on protection of honor and dignity. Then the billionaire said that the blogger "crossed a red line", accusing him of corruption ties to Medvedev, shady schemes for profit and "robbery" of their own employees, allegedly working for pennies.Usmanov did not say material claims, requiring only deny information dissemination. The Fund to fight corruption, which is headed by Navalny, said that "will be happy to" meet with billionaire lawyers in court.
Why Usmanov recorded appeal
In his address, the billionaire called his opponent "ignorant" and "loser".
"Bear in mind that our lawyers will now be go to court, and you, as always, will do this deceitful public relations and continue to fool all of the head," – said a businessman.
According to him, his appeal he addresses to those people who believe Navalny.
"Their opinion is important to me, especially as the Internet I have a much deeper relationship than you do," – said Usmanov.The businessman also recalled the words of Navalny, who himself asked to call him "a scoundrel." Usmanov said that he would try to explain "why this is so."
On taxes and state
In his film Navalny accused Usmanov that he allegedly does not pay taxes in Russia. In response, the businessman said that this is a lie.
"This year alone, I declare 2.7 billion rubles of taxes, and for ten years has paid nearly half a billion dollars, if translated at the exchange rate", – he said.
In addition, Usmanov has denied accusations that the source of his condition began to privatization transactions.
Conviction Usmanov
Usmanov has also responded to the accusations of the blogger, who said that the billionaire hides his prison past."I have nothing to hide, I'm six years, unlike you, has stayed in prison, and being on the actual fabricated case: the theft of socialist property, which I did not steal, the bribe, which I did not let anyone – yet again" – the businessman said.
In this case, Navalny in his film claimed that Usmanov was sitting with jail for rape.
"Here you have this manipulation of articles and words immediately wanted to blur the line between humans and nonhumans," – said the billionaire.
About Dmitry Medvedev
Alisher Usmanov elaborated in words Navalny on the plot with a house on the ruble, which, according to the blogger, was presented by Prime Minister Dmitry Medvedev affiliated fund.
Earlier, the billionaire said that the agreement on the site was part of another deal: he originally bought the house for his sister, but she did not want to live there. According to Usmanov, then he gave the land fund "Sotsgosproekt", receiving in return a different site."You must understand, bribes are not registered at Companies House, is open not transfer money from my account", – he said Usmanov, Navalny called "sometimes read books" on the real estate and land ownership.
The story of the earth entrepreneur called "saga, which had three interested parties."
"What kind of a bribe may be involved the way, all the registration documents in the public domain But on the commercial terms of the transaction report to you, I do not consider it necessary, much honor?.", – said the billionaire.
"It's important for me that the people who watch this video to know that I, Alisher Usmanov, – an honest businessman, honest person above all The goal here is like you, Alexei Navalny, -. Is to create the image of a Russian businessman who is not He knows nothing but steal not able to create anything and it is also a lie And your attempts to defame me -… it's a pug barking at the elephant Fie on you, Alexei Navalny. "! – concluded Usmanov.
Navalny response
Message from Usmanov has said Navalny himself, vowing "to answer on all counts.""To not have any questions that our channel audience see my answer and do not see the appeal Usmanov, I put his entire video on our channel", – said the blogger in annotations on their channel on the YouTube , a video which accompanied the billionaire.
prospects for action
On Thursday, Lublin Moscow court began a preliminary hearing on the lawsuit. Consideration of the merits is scheduled for May 30th.
FBK's lawyers requested to discontinue the proceedings, citing the fact that the claim should be considered in the arbitration court, since we are talking about entrepreneurship Usmanov.
Lawyer Genrikh Padva entrepreneur, in turn, reminded that the respondents were ready to defend its position in court."We want them to publicly answer for his words," – said Padva.
Lawyers interviewed by RIA Novosti previously agreed that Usmanov is likely to be able to prove his innocence in the process. They noted that, according to the data published in the media, is nothing illegal in the transaction to the mansion on the ruble, as referred to in the film bulk, not really.