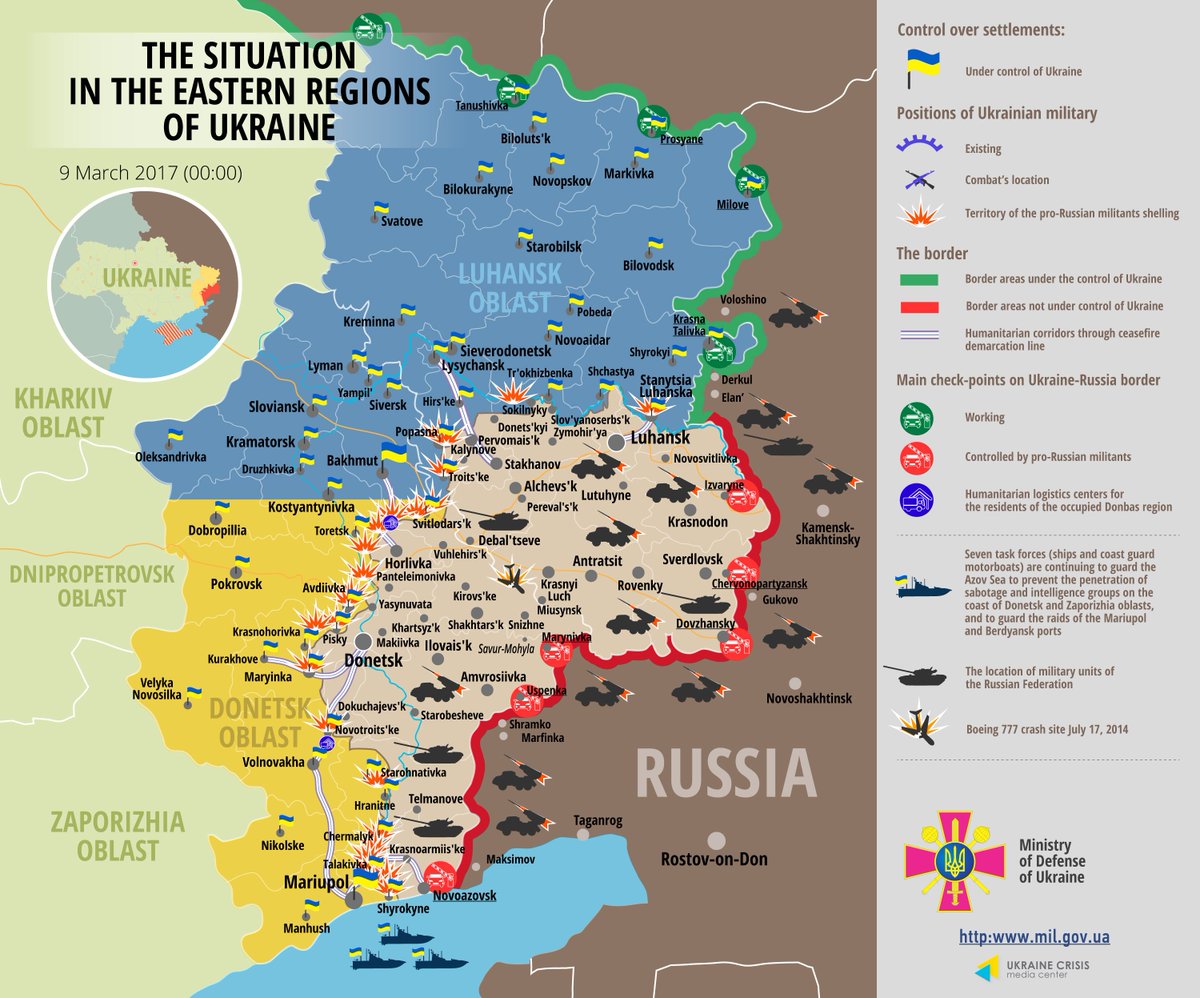 Anonymous expert compilation, analysis, and reporting.
</end editorial>
---
---
Russia's V-E Day propaganda and its foreign franchises, plus the FUBAR in France, are the dominant MSM themes today.
Zaidman essay on Putinist fascism is very good, but original is rather convoluted. Schindler states the obvious. Russian Navy conducts another provocation in the Baltic Sea. Russian V-E Day sees some new land force equipment, including Arctic variants of SAM systems. All five Russian authored essays on V-E myths are very good. Good essays on hacking of Russian elites exposing corruption by the Shaltai Boltai group, the declining loyalty of Russian police to the regime, and the history of failed coups in Russia. In Belarus, police being sacked or disarmed for complaining to the Minister of the Interior.
In Ukraine, Donbass fires continue, while DNR leader Zacharchenko claims surviving an assassination attempt enroute to Saur-Mogila, allegedly six land mines planted on the route. No evidence this was real or staged at this point. Russian organized "Immortal Regiment" provocation marches in Ukraine pelted by protesting nationalists. Antonov announce the An-148DRLV AEW&C system, that appears to be a rehosted SAAB/Eriksson Erieye system.
Moon Jae-in wins RoK election. China emplacing coastal defense ASCM batteries on Hainan Island.
Multiple post mortems on Russia's FUBAR in the French election.
In the US, Russia hearings restart.

---
Russia / Russophone Reports
---
Window on Eurasia — New Series: Putin Regime was Fascist from the Beginning, Zaidman Says
Paul Goble Staunton, May 9 – Ever more people are pointing to fascist aspects of Vladimir Putin's rule in Russia and even are suggesting that he is on the way to making it a fully fascist state, but Vadim Zaydman says that his regime was fascist from the outset, a conclusion certain to unsettle many in Russia and in the West. Suggesting that Putin only became fascist in the course of his rule, the Moscow commentator says, lets off the hook not only those in the Yeltsin regime who brought him to power but those in Russia and the West who have viewed him as someone they could deal with as a more or less normal leader (kasparov.ru/material.php?id=59105A5E436B3). Even before Putin was elevated to the presidency, when he was still prime minister, Zaidman continues, he "began his actions by blowing up the apartment blocks in Moscow and Volgodonsk and with 'the training exercise in Ryazan.' If this isn't fascism, blowing up houses where one's own citizens live, then what is fascism?" Putin's regime "from the very beginning was authoritarian … he did not acquire fascist characteristics step by step; it only ever more manifest them in its activity." And those who did not see it after Ryazan were deceiving themselves. Given Russian history, Yeltsin's decision to appoint "the chief of 'the Russische Gestapo'" president only confirms that. Many in Russia and the West have refused to recognize this, preferring instead to follow the Kremlin's line that the Chechens were to blame for what Putin's FSB did. They and those who accept their view do not see that this too is confirmation that Putin has already created his own "stormtroopers," people who will do his bidding regardless of what he does. Such people must be exposed, Zaidman says. "A country must know its 'heroes,' it must know that there are a lot of them." Only in that way can they and the fascist regime they are defending and extending be defeated.
Vadim Zaidman: and again about lampshades
John R. Schindler | Vladimir Putin Declares War on the West | Observer
Kremlin efforts to sway France's election failed badly—but Russian spy-games are far from over.
Putin Declares War on the West – To Inform is to Influence
Kremlin efforts to sway France's election failed—but Russian spy-games are far from over By John R. Schindler • 05/08/17 12:00pm A presidential candidate loathed by Moscow suffers a massive cyber-attack by Russian spies. Purloined emails that are embarrassing for the front-runner are dumped online by Kremlin fronts. Political chaos ensues as Vladimir Putin prepares to…
Russia puts Europe on alert as Putin's warships enter waters after U.S. destroyer swoops – media
Three Russian warships have challenged NATO by entering Latvia's exclusive economic zone in the Baltic Sea, according to armed forces officials in Riga, Express.co.uk reported. News 08 May from UNIAN.
Russian warships spotted just outside Latvia's territorial waters in latest show of strength | The Independent
The Latvian military says it has spotted three Russian warships close to its territorial waters. According to a statement posted by the force on Twitter, three ships identified as the Liven 551, Serpukhov 603 and the Morshansk 824 has been spotted four miles from their territorial waters – and 12 nautical miles from the coast.
NATO launches massive two-week exercise in Estonia
08.05.17 17:10 – NATO launches massive two-week exercise in Estonia The large-scale two-week NATO exercise Spring Storm-2017 has kicked off in Estonia. View news.
Spending deal includes new plan to counter Russian covert "active measures" – To Inform is to Influence
By Jamie Dupree Quietly added to a sweeping budget deal being voted on this week in Congress, an intelligence policy plan unveiled Tuesday would set up a new coordinating group within the federal government to more actively push back against Russian government covert "active measures," while also limiting the travel of official Russian diplomats in…
Citing Russian Aggression, Portman & Bipartisan Colleagues Ask Administration to First Engage with Ukraine and Other Longstanding Allies – Press Releases – Newsroom – Rob Portman
COLUMBUS, OH – U.S. Senator Rob Portman (R-OH), a member of the Senate Foreign Relations Committee, today joined a group of bipartisan senators in sending a letter to President Trump encouraging him to prioritize meeting with President Petro Poroshenko of Ukraine before meeting with Russian President Vladimir Putin at the G20 conference in July. Identifying the importance of engaging longstanding American allies as a priority for the foreign policy agenda of the new Administration, the letter also recommends increased support for institutions and European governments that help preserve the international order. "As your Administration continues to formulate policies to promote American national security and foreign policy interests, we are writing to strongly encourage you to engage with our traditional allies and prioritize meeting with foreign leaders representing countries with whom we share historical ties, democratic valise, and mutual interests," wrote the senators. "Meeting with democratically elected representatives from Ukraine would send a strong signal that the United States continues to prioritize our relationship with longstanding allies, and will continue our commitments to support Ukraine's sovereignty and territorial integrity in the face of ongoing aggression."
Tillerson, Lavrov To Meet In Washington For Ukraine, Syria Talks
U.S. Secretary of State Rex Tillerson and Russian Foreign Minister Sergei Lavrov will meet in Washington on May 10 to discuss the conflicts in Ukraine and Syria, as well as other bilateral issues, th…
Russia Celebrates Victory Day With Pomp, Parades
Russian President Vladimir Putin used a speech at a military parade commemorating the Allied victory over Nazi Germany to press Western countries to fall in line with Moscow's approach t…
Best of the Best: Military Hardware Showcased at Victory Day Parade in Moscow
On May 9, Russia celebrates the victory over Nazi Germany in the 1941-1945 Great Patriotic War. On Tuesday morning, the annual military parade was held on Moscow's Red Square to commemorate the 72th anniversary of one of the most glorious dates in Russian history.
Victory Day Flyover Cancelled Due to Bad Weather
Despite uncharacteristically cold and rainy conditions for this time of year, Russia's annual Victory Day military parade proceeded through central Moscow as planned. But one critical feature of the parade, the air force flyover, has been cancelled. "Due to adverse weather conditions in the Moscow region," the Defence Ministry press office was quoted by TASS as saying on May 9, "the participation of the air force in the Victory Day parade has been cancelled." The annual parade has featured nuclear missiles driven through the streets of Moscow since 2008. It is Russia's largest public event. May 9 marks 72 years since the defeat of Nazi Germany. The Soviet Union's defeat of fascism is Russia's most revered historical moment. Today's cloud cover is unusual for Victory Day. Each year, the government attempts to control the weather and ensure clear skies by seeding clouds with concrete particles. Those efforts, apparently, failed. The government spent 98 million rubles ($1.67 million) on the effort this year.
Vladimir Putin stages massive Victory Day parade featuring nuclear warheads, monster military vehicles and 10,000 troops to make his enemies 'salivate'
The annual Red Square march and fly-past marks the defeat of Hitler and the Nazis in World War Two
Vladimir Putin praises military at WW2 victory parade – BBC News
Heavy missiles feature in Russia's 72nd anniversary of the World War Two victory.
On Victory Day, Putin calls for international unity – NY Daily News
MOSCOW (AP) — Thick clouds have forced the cancellation of the traditional dramatic conclusion to Russia's annual Victory Day parade on Red Square — the roaring flyover by scores of military aircraft.
Victory Day: Why is May 9 So Important to Russia?
Moscow marks one of its most famous holidays with plenty of military bombast.
How an unlikely PR campaign made a ribbon the symbol of Russian patriotism – The Washington Post
The ribbon that united Russia re-emerged as part of a media PR campaign on war memories.
Putin snubs leaders of Ukraine, Georgia on V-Day – LB.ua news portal
Putin snubs leaders of Ukraine, Georgia on V-Day. The Russian president warned against "distortion of history". Main – LB.ua news portal. Latest from Ukraine and the world today
Window on Eurasia — New Series: Putin's Victory Parade a Horrific Orwellian Exercise, Khots Says
Paul Goble Staunton, May 9 – "'The Victory Parade' in Putin's Russia is unique in its absurdity, one in which an imperial army presents itself as 'defenders of the motherland,' occupiers as liberators, and invaders as anti-fascists," Aleksandr Khots says. It is thus "a hybrid parade of 'heroes' of a hybrid war," of "totalitarianism under the mask of anti-fascism." The Russian opposition journalist points out that "a military parade by definition is a symbolic event connected with the present even if it is devoted to past victories because the army with its 'patriotism' and militarism is always (especially in Russia) an instrument of present-day policy" (kasparov.ru/material.php?id=5911710F5A1D8). The military parade in Moscow today features not the weapons that Soviet forces used against the Germans in World War II but those they have used against Ukraine and other countries in recent times. And among those marching and being celebrated were those who invaded and occupied Ukrainian cities. In short, Khots says, this parade is "a parade of hybrid murderers and occupied who hide themselves under the mask of 'liberators' and 'anti-fascists.'" (The commentator doesn't say but for half of Europe, Stalin's victory in 1945 was much the same: it brought them not freedom but a half century of enslavement.) No one should be deceived by references to 1945 and "the immortal regiments," he continues. The only meaning of this parade for those who organized it and the only meaning they want others to take away from it is that Moscow again has "a strong instrument for its imperial policies of occupation." "It is no accident," Khots says, that among the portraits of "the immortal regiment" are people like Zakharchenko, Motorola and Givi, people who weren't even born when the victory supposedly being celebrated occurred but who have been conducting a war for Moscow against Ukraine in recent years. According to the Russian journalist, today's event is best understood as "the parade of an occupation army, a demonstration of the powers of the Russian regime, an instrument of militarization and stupefaction of 'the popular masses' – under the cheap camouflage of past 'historical victories." "For a long time already," he concludes, we have been living in a country of total imitations, from 'elections' to 'democracy,' 'constitutionality,' 'division of powers,' 'an independent court system,' and 'a parliament.'" Thus, no one should be surprised that a Victory Parade under Putin would be "such a cheap imitation of its initial meaning, false and cynical."
Window on Eurasia — New Series: Putin's Reliance on Victory Day Highlights His Weakness, Zapolsky Says
Paul Goble Staunton, May 8 – Vladimir Putin's attempt to use the Soviet victory in World War II to legitimize himself and his regime reflects not the strength but the weakness of his position, given that Victory Day as it currently exists in Russia is "one of the weakest elements in the arsenal of Putinism," according to Dmitry Zapolsky. The Russian opposition journalist who was forced to move to Finland says that "'the great victory over fascism' in the present-day Russian Federation plays the role of an almost official religious cult" but it remains "an open question" how deeply anyone believes in it(rusmonitor.com/dmitrijj-zapolskijj-skrepa-pobedy-odna-iz-samykh-slabykh-v-arsenale-putinizma.html). According to Zapolsky, "the Putin regime suffers from a terrible complex of incompleteness: it doesn't have legitimacy" and can't come up with an adequate answer as to why the Russian Federation should exist, "what unites North Ossetia with Kalmykia, Sakhalin with Tyva and Petersburg with Yakutia." Of course, the Russian language in part connects them, but language is far from the unifier many assume. Many countries speak English, and so there is no reason why many can't speak Russian. Orthodox Christianity doesn't work either not only because of its NKVD origins but also because there are so many Muslims, Buddhists, Protestants and atheists in Russia today. Hence the temptation to use World War II when all fought together to justify the existence of the Russian Federation and the Putin regime, Zapolsky says; but doing so raises many questions about Stalin, the costs of Soviet participation – more than 40 million dead — and the "pyrrhic" nature of "the victory" and its consequences.. Indeed, Zapolsky argues, invoking the Soviet victory in his support is "one of the weakest things in the arsenal of Putinism." That is shown by some of the most absurd and outrageous sloganeering on this holiday, including the idea of going again "to Berlin." Just which Berlin are you talking about? And "what will you do there? Steal from the stores?" The outcome of World War II was to give the world a chance to resolve many of its conflicts without wars, the journalist says; and thus talking all the time about using force is not only dangerous but undermines what that earlier conflict was about. One can't "repeat the success of the barbarians who destroyed the Roman Empire … Europe is much more stable." And when one considers how many Soviet citizens died, in many cases because of the mistakes of Stalin, Zapolsky continues, one is driven to recall the 1994 war in Rwanda between the Tutsi and the Hutus. Over there months, that conflict cost a million lives. The Tutsi came out on top despite losing 900,000 of its own. But given such losses, Zapolsky says, it is impossible to imagine that "after 70 years, through the streets and avenues of Rwandan cities will walk under bold slogans of 'the immortal Tutsi regimen,' with pictures of who knows what people" carrying the weapons that they used in that bloodbath. Unfortunately, what Putin is having Russians do now is analogous. If the Kremlin leader were to reflect on things, he would see that there are many other notions that would work better for his purposes because "every failure finds for himself explanations for his problems in the actions of those around him." But facing up to those realities seems quite beyond Putin.
The Soviet foundations of Russia's Great Patriotic War myth -Euromaidan Press |
Yana Prymachenko The myth of the Great Patriotic War is one of the driving elements of Russia's expansionism and war in Donbas. The Kremlin leadership uses this myth today as one of the foundational elements of the modern Russian nation to solidify the support of Russians for a strong military leader. As real World War II veterans pass away (those that were 17 years old in 1941 are 93 in 2017), supporting this myth requires new fake veterans, appealing to the memory of deceased relatives, as seen in the "Immortal regiment" marches now being held outside of Russia, and the indoctrination of young children, including preschoolers, by military shows. Despite efforts made after the Euromaidan revolution, the World War II historical discourse in Ukraine still remains shaped by the Soviet narratives. The Great Patriotic Myth itself was coined based on historical falsifications, some of which we will address here based on the materials of historian Yana Prymachenko writing for likbez.org.ua, an educational project to dispel historical myths.
The Hypocrisy of Victory Day | Intersection
Russia's remaining veterans of the Second World War are honoured with lavish parades on Victory Day. But for the rest of the year, the government treats them with contempt
How Russian Kids Are Taught World War II | Moscow Times
Teaching history has never been easy in Russia, where archives are closed and transparent discussions about the country's Soviet past are met with hostility. Even then, teaching World War II is more difficult: with every year that Putin is in power, Russia fails to confront its role in the war head on. In August 2016—on the eve of the new school year—a new Education Minister, Olga Vasilyeva, took office. Vasilyeva is perceived as a supporter of the conservative Orthodox agenda. She has also defended Soviet policies and made controversial statements about Stalin. While control over the classroom is supposed to be in the teacher's hands, a new set of history textbooks introduced this year presents a view of the Soviet role in the war uncannily close to Vasilyeva's—and the Kremlin's.
In Russia, Leaked Documents Rattle the Kremlin – WSJ
Russian domestic politics are being influenced by hacking tactics similar to ones Russia is accused of using to try to weaken its foreign opponents.
Window on Eurasia — New Series: Putin Regime Can No Longer Count on Unquestioned Loyalty of Russian Police, Solovey Says
Paul Goble Staunton, May 8 – "Russia has entered a period of prolonged crisis," one that is likely to involve more and larger protests, Valery Solovey says. The Kremlin will likely respond with the only method it knows, force. But now, the Moscow analyst says, it can no longer count on the unquestioned loyalty and obedience of the police. That is not to say that the police will go over to the protesters but rather that they will be unwilling to employ the harsh measures Vladiimir Putin and others may demand from them. Those taking part in the demonstrations will see this; and that will change the ways in which they will act in the future (fedpress.ru/interview/1783972). Such a shift is just one of the reasons, the MGIMO professor says, why it is difficult to predict how the crisis will develop and when or even if Russia will be able to escape from it. Another reason why it is difficult to predict the future, he suggests, is that the coming protests after a lull this summer are most likely to have "not a political but a social character and also to be connected with local agendas in various regions and cities." That is because "in Russia, every city and region is unhappy in its own way." But one thing is clear: the rise in protest activity is not being driven by the election calendar even though it is occurring at the same time, something that "creates an extremely unfavorable backdrop for the elections." The Kremlin and the powers that be more generally have falsely concluded tha the March 26 demonstrations were a highwater mark. That is a misconception, Solovey argues. And "when [the powers that be] come into contact with a new, higher and more powerful wave of protests, [they] will turn to all those mans which they have at their disposal and are accustomed to use." "Besides police and administrative pressure," he says, these will include also "the organization of moral-psychological terror and psychological pressure via the mass media," the analyst continues. That is all the more likely because the authorities can no longer count on the unqualified obedience of the police to crack down. The police are experiencing the same problems in their lives that other Russians outside the elite are. If the Kremlin forgets this and tries to use the police in ways the police don't want to be used, Solovey says, Russia will enter into "a qualitatively new political situation," one in which "the powers will have lost a very important support." And that could easily mean, Solovey says, that "the situation will gradually get out of control." That is all the more likely, he continues, because the Kremlin does not have an adequate understanding of what is happening as it prefers to take what it would like to be the case to be so. In an obvious sense, Solovey says, this is "nothing new." It was the case in late Soviet times as well, something that should give Putin and his entourage pause, no matter how high his ratings now are.
Window on Eurasia — New Series: Five Failed Russian Putsches Recalled on Eve of Victory Day
Paul Goble Staunton, May 8 – Russia is an historically saturated country in which the present and future are almost inevitably discussed in terms of the past. And that makes a Moscow commentary today about "the top five unsuccessful putsches in the history of Russia" especially intriguing. Many have suggested that the Putin regime can't be changed from below but only by the actions of those closest to him and that the future of that country will thus be determined not by a revolutionary upsurge on the part of the population but rather by a conspiracy within the elite against the Kremlin leader. On the Svobodnaya pressa portal today, Moscow commentator Aleksandr Yevdokimov examines what he calls "the most significant putsches in the history of Russia" both to distinguish them from the October 1917 revolution which he insists was not one and to consider why they failed(svpressa.ru/post/article/171813/). The first such putsch in Yevdokimov's telling was the revolt of the streltsi in 1698, which failed according to him because those who started it did not have a clear program which would allow them to gain support beyond the narrow confines of the direct participants in the operation. The second, the Decembrist uprising of 1825, was more than just a fight between the regime and disgruntled officers in Palace Square, he argues. It involved a conflict between two potential tsars, Konstantin and Nikolay. The first supported a more democratic approach for Russia's future; the second backed authoritarianism and being more ready to act harshly won the day. The third putsch, the Kornilov rising of August 1917, failed not only because of the overconfidence of its leader General Lavr Kornilov but also because those he was seeking to overthrow, the members of the Provisional Government of Aleksandr Kerensky, were prepared to form an alliance with their opponents on the left, the Bolsheviks. Kerensky armed them, they helped defeat Kornilov, and then they overthrew Kerensky. The third failed putsch in Yevdokimov's telling concerned plans by Soviet commander Mikhail Tukhachevsky to replace Stalin and his immediate entourage. As the commentator points out, "before the 20th CPSU Congress few had doubts that it was real, but until about 2000, few believed in its existence." In the last 15 years, the idea that Tukhachevsky really did plan to overthrow Stalin has gained support not only because of the writings of historians but also because of a popular television series that laid out the evidence in fictionalized form. Something clearly was afoot, Yevdokimov suggests. Perhaps the best evidence is that Stalin's moves against Tukhachevsky became the model 16 years later for Nikita Khrushchev's actions against Lavrenty Beria, Stalin's secret police chief, whom the other members of the party leadership feared would launch a new purge beginning with themselves. And the fifth failed putsch, of course, is the failed effort of those who plotted to overthrow Mikhail Gorbachev in August 1991. Those who led promised the Soviet people a better future and the recovery of the country's pride, but beyond promises, they couldn't do anything and could not mobilize the party or state on their behalf. Consequently, they failed. Yevdokimov's list of failed Russian putsches suggests that any future one would be likely to fail as well. But his commentary also makes clear that those who would hope to carry one out would need to avoid the errors of their predecessors, something that those now in power certainly know as well – and can be counted on to monitor and vigorously suppress.
Georgian PM: Trump Offers 'Full Support' In Standoff With Russia Over Breakaway Regions
Georgian Prime Minister Giorgi Kvirikashvili's office said that U.S. President Donald Trump expressed Washington's "full support of Georgia's sovereignty and territoria…
Oleg Kashin Explains How Russia Reinvented the Political Rumor Mill · Global Voices
The emergence of Telegram channels last year transformed what was a popular messenger into a social network, and aside from the question we always ask about new social networks these days (will it or won't it take off?), there's another basic riddle: who will be the main user base, and who will become its stars? You can never be sure: a network dreamed up for geeks might end up a haven for happy little school kids, or the other way around. The first Telegram channels belonged to people already established on other social networks. They brought over the same names, the same discussions, and a familiar language. Back then, in their first few months, Telegram channels were a social network without a face — not until "Nezygar" appeared.
The American Jews who are proud to be Pro-Putin – Opinion – Israel News | Haaretz.com
An alarming number of Jews who fled authoritarian Soviet Russia for America are now admirers of Mr. Putin, a peculiar show of intellectual sclerosis and utter ethical failure
Why the Russian government cultivates foreign contacts on the far-right and far-left. – To Inform is to Influence
By Casey Michel In late December, surrounded by a handful of reporters, an American named Louis Marinelli held the floor in a mid-size office in Moscow. Flanked by photos of Vladimir Putin and Hugo Chavez, Marinelli railed against American hegemony, listing complaints ranging from Washington's foreign policy to the difficulties of the U.S. immigration system.…
Russia Tells the UN It Wants to Produce More Renewable Energy – MIT Technology Review
The country lives off of its fossil fuel industry, but now says it's interested in going green.
Lieutenant-Colonel Vusik: Bosses Failed To 'Localize' Rebellion In Police Department – Charter'97 :: News from Belarus – Belarusian News – Republic of Belarus – Minsk
Suspended head of the public order protection point of the Krychau police department, Lieutenant-Colonel of police Ihar Vusik stated he didn't think the situation in the Krychau police department had been "localized". Mr.Vusik has expressed this opinion in a dialogue with the journalist of Mahiliou Region. According to Ihar Vusik, tense atmosphere remains in the police department of Krychau. The police officer believes it is connected wit the fact that he was the only one who was dismissed upon the results of the agency check. The police department chief Stanislau Chupryn and his deputy V. Tsikhanenka remained at their positions. The pressure on the policemen of the department, who signed the appeal to the Interior Minister, is continued. "So far, we have not received any official response to our appeal. There is no information about the measures taken on the facts indicated in the appeal. However, they were confirmed during the inspections. I do not think that the situation in the Krychau district police department is localized, as the Minister said, because no legal assessment has been given to the actions of the police department's board, " – Ihar Vusik says. I.Vusik notes that he is now considered to have been suspended from the post of the head of the public order protection point of the Krychau police department, although so far no one has ever made the corresponding order known to him. The Lieutenant-Colonel of the police takes to the service from 9-00 till 18-00 every day, and he is referred to as a local inspector in the decisions on protection of a public order. "My name is not on the schedule, and in the operative group either, I have seen no order on suspension, – Ihar Vusik tells. – They don't give me weapons, they don't give me a car, according to the decision of the police department head Stanislau Chupryn. However, they give me materials for consideration on a regular basis, and I am obliged to handle them. I have been working without days-off lately. I realize they want to fire me for the discreditation of the police, and I don't want to give them a single cause. Let this decision be a burden on the bosses' conscience." The Lieutenant-Colonel of the police says that he and other officers of the Krychau district police department appealed to the Minister of Internal Affairs Ihar Shunevich for help, and as a result they themselves were to blame. At the same time, according to I. Vusik, despite the pressure, none of the policemen-signatories have withdrawn their signatures under the appeal addressed to the Minister.
---
IW/IO/Cyber Reports
---
Fulbright Scholar Nina Jankowicz Discusses Strategies for Countering Russian Propaganda – YouTube
Clinton-Fulbright Public Policy Fellow Nina Jankowicz explains how to fight disinformation and fake news. Hosted by UATV correspondent Romeo Kabir. _ Follow …
Russian They Don't Teach In School, Russian Insults – To Inform is to Influence
In this blog I have deliberately avoided trying to directly insult Russia or Russians, instead, choosing to expose Russian idiosyncracies, mistakes, and missteps. It must be difficult to be a Russian leader.  Everybody seems to be accusing Russia of invading other countries, hacking them, influencing their elections, acting provocatively, being corrupt, being a kleptocracy, and doing…
Joint Staff links cyber ops to countering air, missile threats – Fifth Domain | Cyber
Fifth Domain is a news and information resource that brings civilian, defense, industry, private sector and critical infrastructure stakeholders together in one place for a holistic discussion on cybersecurity, both defense and offense. The cyberwar is here. Fifth Domain has it covered.
---
Ukraine Reports
---
Ukraine Says Poroshenko And Merkel Discuss Russia, Conflict In East
Ukrainian President Petro Poroshenko's office says he and German Chancellor Angela Merkel have discussed her meeting last week with Russian President Vladimir Putin. Poroshenko's offic…
Ukraine marks Victory Day over Nazism in WWII (Video) | UNIAN
On May 9, Ukraine marks Victory Day over Nazism in the Second World War. It is the 72nd Victory Day anniversary. Latest UNIAN news from 09 May.
Ukraine celebrates Day of Victory over Nazism in World War II
09.05.17 10:40 – Ukraine celebrates Day of Victory over Nazism in World War II On Tuesday, May 9, Ukraine marks the 72nd anniversary of the victory over Nazism in the Second World War. View news.
Poroshenko: Being a Ukrainian soldier is honor, while Russia easily renounces its dead military
08.05.17 18:02 – Poroshenko: Being a Ukrainian soldier is honor, while Russia easily renounces its dead military Russia does not value the lives of its soldiers and without any sense of shame renounces its dead and wounded soldiers. View news.
Immortal Regiment march in Kyiv attacked with paint and smoke by OUN activists. PHOTOS
09.05.17 15:02 – Immortal Regiment march in Kyiv attacked with paint and smoke by OUN activists. PHOTOS Participants in the Immortal Regiment walk, journalists and patrol officers got showered with eggs, potatoes, paintballs and smoke flares as they were marching past the OUN (Organization of Ukrainian Nationalists) office in downtown Kyiv. View photo news.
"Immortal Regiment walk is an example of sophisticated political speculation on people's feelings," – Poroshenko
09.05.17 14:10 – Immortal Regiment walk is an example of sophisticated political speculation on people's feelings, – Poroshenko President Petro Poroshenko believes the Moscow-designed Bezsmertny Polk (Immortal Regiment) march is a speculation on the feelings of people. View news.
Poroshenko: We reject Moscow's attempts to use victory over Nazism to meet imperial needs
Ukrainian President Petro Poroshenko is convinced Russia is trying to use victory in the Second World War to meet its imperial ambitions. "We categorically reject Moscow's attempts to use the victory over Nazism in World War II to meet its revanchist, imperial and expansionist needs," he said during participation in the ceremony of oath taking by servicemen in Kyiv. According to him, the Second World War ended 72 years ago, but Russia is still trying to lead Ukraine.
Odessan faces five years in prison for a flag with a red star
In Odessa, a man was put in jail for displaying Soviet symbols, he faces up to five years in prison with confiscation. Information on the man who distributed in the area of the "Zastava" market banned Soviet symbols came to law enforcers the day before, on May 7. Upon arrival, the police found a car with foreign registration, to which was attached a flag with a picture of a red star, a sickle and a hammer and the inscription "Patriotic War". To establish the circumstances of the incident, the driver and his were taken to the police department. Later, a 29-year-old Odessa citizen was placed in a temporary detention facility. Earlier activists-patriots in the center of Odessa, right near the police department , stopped people traveling in a retro American-made car of the Second World War.
Details of the explosion in front of Zakharchenko's motorcade in "DNR" appeared
The cause of the explosion on the road near the memorial "Saur-Mogila" in the city of Shakhtersk were two land mines. This was told by a source in the security departments of the terrorist "DNR". "Two landmines were laid, one of them worked. There are no dead or injured, "the website of the separatists" DAN "quotes the source. Subsequently, the source added that five more landmines were found on the same road. "Five more land mines have been found. They were not radio-controlled, but were set for a certain time, "he said. Recall that on the road near the memorial "Saur-Mogila" there were two explosions shortly before it was supposed to pass the leader of the "DNR" Alexander Zakharchenko.
Attempt on Zakharchenko: The first video appeared
The web has a video from the place of the alleged attempt on the leader of the militants of the so-called "DNR" Alexander Zakharchenko. The video unveiled the Russian site Life.ru. At the moment, militants are searching for saboteurs who allegedly installed explosive devices. A total of six charges were installed: four were buried in the ground, and two were located on trees close to the road. It is noted that the explosive devices contained striking elements.
Escalation in Donbas: One Ukrainian soldier killed, nine wounded in past day
Ukraine's Anti-Terrorist Operation (ATO) Headquarters has reported escalation in Donbas, eastern Ukraine, as Russia's hybrid military forces attacked Ukrainian troops 50 times in the past day, resulting in one killed in action and nine wounded in action. News 09 May from UNIAN.
One serviceman killed, nine wounded in 50 attacks in past day, – ATO HQ
09.05.17 09:56 – One serviceman killed, nine wounded in 50 attacks in past day, – ATO HQ Over the past day, Russian-terrorist forces committed 50 attacks on Ukrainian positions in the anti-terrorist operation (ATO) area. One military was killed, nine received injuries. View news.
Valentyn Kovalsky: a story of life, war and death -Euromaidan Press |
25-year-old Valentyn Kovalsky was laid to rest in Zhytomyr on May 7, 2017. He was gravely wounded during a combat mission in July 2014. For the next three years (33 months), he continued to fight for his life with incredible bravery and determination.
Antonov to produce new airborne early warning and control aircraft for Ukrainian Air Force | Defence Blog
Antonov Company (part of Ukroboronprom concern) has announced a plan to boost program to develop and build new airborne early warning and control aircraft for Ukrainian Air Force and Export. The concept design for the new airborne early warning and control aircraft for the Ukrainian Air Force was unveiled by the Ukrainian defence minister and head of the National Security and Defense Council. The new Ukraine's An-148DRLV is an airborne early warning and control (AEW&C) aircraft; a variant of the An-148 aircraft. The fixed dual sided electronically scanned antenna array of An-148DRLV is installed in a rectangular housing, dorsally mounted above the fuselage. The An-148DRLV radar has an instrumental range more of 400km and detection range of 350km against a fighter aircraft sized target in dense hostile electronic warfare environments and at low target altitudes. The system is capable of tracking multiple air and sea target over the horizon and provides above 25km altitude coverage, 360° coverage and has sea surveillance capability. The radar incorporates an identification friend or foe interrogator. The standard configuration of An-148 has a maximum range of 2,100–4,400 km and is able to carry 68–85 passengers, depending on the configuration. The maximum cruise and patrol speed of the aircraft are 850km/h and 450km/h respectively. The range is 4,400km. The take-off run of the aircraft is 1,560m and the maximum endurance is 8-10 hours. The aircraft weighs around 9,000kg and its maximum take-off weight is 41,500kg.
Ukraine to set ATO memorial within World War II museum – LB.ua news portal
Ukraine to set ATO memorial within World War II museum. "This place is visited by thousands of people, and this path will never grass over." Main – LB.ua news portal. Latest from Ukraine and the world today
Ukrainians Reenact Allied Victory Over Nazi Germany During WWII – YouTube
Chronicles of the Second World War have been reenacted in Kyiv by fifteen military clubs that organized a historical festival called "Peremoha.UA". Weapons, …
Ukraine Taking Part in the Strong Europe Tank Challenge – YouTube_
Follow UATV English: Facebook: https://www.facebook.com/UATVEN Twitter: https://twitter.com/UATV_en Instagram: https://www.instagram.com/uatv.en Medium: ht…
The Kyiv Comic Con Dazzles the Capital With Comics and Costumes – YouTube_
Follow UATV English: Facebook: https://www.facebook.com/UATVEN Twitter: https://twitter.com/UATV_en Instagram: https://www.instagram.com/uatv.en Medium: ht…
Egyptian Mummies Found in Kyiv Cathedral – YouTube
The artifacts spent several decades in Kyiv's Pechersk Lavra museum depository and were discovered by archaeologists earlier this year during an audit.
Ukraine to employ unprecedented security measures during Eurovision. PHOTOS+VIDEO
09.05.17 12:35 – Ukraine to employ unprecedented security measures during Eurovision. PHOTOS+VIDEO To ensure the safety of Kyiv residents and guests of the city, the police will for the first time use three specialized vehicles and a helicopter. View photo news.
Eurovision Village Hosts Fans on Kyiv's Khreschatyk Street – YouTube_
Follow UATV English: Facebook: https://www.facebook.com/UATVEN Twitter: https://twitter.com/UATV_en Instagram: https://www.instagram.com/uatv.en Medium: ht…
Eurovision Host Ukraine and Realities of Diversity – YouTube
As Eurovision host Ukraine promotes diversity, it's important to analyze the reality.
Eurovision on front line: Will Russia's absence spoil Ukraine's party? – BBC News
Eurovision is meant to foster unity but 2017 seems to be all about Ukraine's conflict with Russia.
Movie Star Seagal Backs Russia's Actions in Crimea
American action movie star Steven Seagal has given state-run newspaper Rossiskaya Gazeta a whopping 2,000 word interview in which he expressed support for Russia's actions in Crimea. In the interview on the set of a movie he is shooting in Romania, Seagal said President Vladimir Putin's "desire to protect the Russian-speaking people of Crimea, his assets, and the Russian Black Sea military base in Sevastopol … is very reasonable." Criticizing the "idiotic" U.S. policy on Ukraine, Seagal said the American media coverage of the crisis was promoting the agenda of U.S. President Barack Obama. Seagal, a Republican who is thought to be a relatively close acquaintance of Putin partly due to their shared love of martial arts, said that Putin is "one of the great living world leaders" and that he "would like to consider him as a brother." Earlier this month he helped Putin promote the relaunch of a physical fitness program discontinued after the fall of the Soviet Union. This is not the first time that the action star and former deputy sheriff has spoken to Kremlin-run media about the situation in Ukraine. Last month English language television station RT brought on Seagal, 61, as an expert panelist on the situation in the country.
Steven Seagal Banned from Ukraine Amid His Friendship with Putin
Seagal allegedly "committed socially dangerous actions … that contradict the interests of maintaining Ukraine's security," according to a Ukrainian service letter.
---
Russia / Iran / Syria / Iraq / OEF Reports
---
Syria Says Russian Military, Not UN Troops, To Police Safe Zones
Syria's foreign minister said on May 8 that Russian troops, not UN-supervised international forces, will enforce the cease-fire in safe zones established under a Russian-led agreement. Syria…
IS Video Purportedly Shows Beheading Of Russian Officer In Syria
The extremist group Islamic State has issued a video showing the beheading of a man it described as a Russian intelligence officer captured in Syria, according to a U.S.-based monitoring organization…
---
DPRK / PRC Reports
---
U.S. Forces Korea set to establish 'Humint' for gathering N.K. intelligence : The DONG-A ILBO
The U.S. Forces stationed in South Korea is preparing to establish a unit specializing in human intelligence (Humint), it was confirmed on Sunday. Th…
US creates elite spy unit to 'infiltrate North Korea and use informants to gather intelligence on Kim Jong-un'
It comes as satellite images suggest a fresh wave of ballistic missile tests are imminent
The Dangerous Mission To Undermine North Korea With Flash Drives
Activists are using bribes, balloons, and drones to get the devices—packed with movies, music, TV shows, and a copy of Wikipedia—into the country, to let its isolated people know what the outside world is really like.
MORNING BRIEF: Rice praises WH for working with China on North Korea | Fox News
Former Secretary of State Condoleezza Rice praised the Trump administration on Fox News' Hannity Monday for its work with the Chinese government on confronting North Korea's regime over its burgeoning nuclear weapons program.
Condoleezza Rice says North Korea's leader may be "a little unhinged" – CBS News
The former secretary of state also addresses the outcome of the French election and upcoming testimony to Congress by Sally Yates
Prisoner of North Korea: An American safe at home shares his ordeal | Fox News
Jeffrey Fowle lost his job and feared for his life and wondered if he would ever see his family while being held prisoner by North Korea, yet the Ohio man considers himself lucky.
South Korea election: Exit poll points to Moon Jae-in win – CNN.com
The Democratic Party's Moon Jae-in is expected to win the South Korean presidential election, according to an exit poll conducted by the country's three major broadcasters.
Exit polls suggest liberal Moon has won the South Korean presidential election – The Washington Post
The liberal Moon Jae-in wants more engagement with North Korea, possibly setting up tensions with Washington.
South Korea election results could alter course of crisis with North Korea – CBS News
South Korea appears to he electing a liberal leader for the 1st time in a decade — a change with serious implications for Trump
South Korea's Powerful Family Business Ties Could Be Tough to Cut – The New York Times
As voters select a new president, many seek to rein in the politically connected conglomerates known as chaebol — but the companies are adept at keeping power.
Yes, we do have a way to deal with North KoreaIt starts with sanctions.
Satellite images reveal Chinese expansion in South China Sea
Imagery captured Monday from an ImageSat International Eros B satellite indicates Chinese preparations for new land-based missile installations.
---
Foreign Policy Reports
---
Emmanuel Macron labelled 'psychopath who hates France' in Russian media | The Independent
A Russian tabloid has quoted a description of the new President of France, Emmanuel Macron, as a psychopath who hates his country, and made derogatory allusions to homosexuality around him and his campaign.  An article in Komsomolskaya Pravda, refers to a picture of a topless Mr Macron as he poses for a magazine with the title "coming out".  The piece then later goes on to quote a psychiatrist who calls Mr Macron a psychopath, and suggests he does not love France and instead only loves himself. 
Evidence suggests Russia behind hack of French president-elect | Ars Technica
Russian security firms' metadata found in files, according to WikiLeaks and others.
Russia Probably Hacked Macron, But There's Still No Clear Proof | WIRED
There are clues that the Kremlin hacked the French presidential candidate. But not yet enough to draw a conclusion.
Washington Journal Alina Polyakova Discusses | Video | C-SPAN.org
The Atlantic Council's Alina Polyakova discusses the presidential election in France.
The Daily Vertical: Putin Shoots Himself In The Foot (Transcript)
The hacking didn't work. The leaks didn't work. The fake news didn't work. And the smear campaign didn't work. So now the Kremlin is saying: can't we all just get along? In his congratulatory message to Emmanuel Macron yesterday, Vladimir Putin called on the French president-elect to overcome the "mutual mistrust" between Paris and Moscow. That's pretty rich when you consider who created the mutual mistrust. It's pretty rich given that for months the Kremlin-backed media and Kremlin-backed social-media trolls have been relentlessly smearing Macron with lies, rumors, and innuendo. It's pretty rich when in the midst of the French election campaign, Putin hosted Macron's rival, the nationalist Marine Le Pen, in the Kremlin. And it's pretty rich considering that a cyberattack on Macron's campaign and a data dump on the eve of the election looked suspiciously like the Kremlin's handiwork. It's rich, but it's also par for the course. The Putin regime's standard operating procedure is to provoke a conflict, blame the other side, and offer itself as a peacemaker. Start a war in Ukraine, blame the Ukrainians, and then play the mediator. Fly warplanes into NATO airspace, accuse NATO of provoking a new Cold War, and then call for dialogue. We've all seen this movie before. And this time, Putin shot himself in the foot. He has turned France, one of the friendliest countries toward Russia in Europe, into an adversary.
The Morning Vertical, May 9, 2017
ON MY MIND The Kremlin's behavior in the French election sure was a head scratcher. France is probably the European country most favorably disposed toward Russia and Emmanuel Macron wasn't anti-Moscow when he entered the race. But now, after months of smears, hacks, and fake news, it's a pretty safe bet that France's new president will be a Russia skeptic and a staunch foe of Vladimir Putin's regime. Earlier this year, Vladimir Putin's regime thought it was going to have an easy ride in France. The race was shaping up to be a showdown between two pro-Moscow candidates Marine Le Pen and Francois Fillon. It was a win-win scenario that evaporated when Fillon's campaign floundered. But what doesn't really make any sense is why the Kremlin decided to turn Macron into an enemy, even when it became increasingly clear he would be the likely winner. But this is exactly what the Kremlin did and it was politically tone deaf. So now Moscow has managed to alienate both Germany and France — and the backlash against Russia's political war on Europe is only growing.
Macron win is bad for Vladimir Putin, good for team Angela Merkel on world stage – Livemint
With Angela Merkel gaining Macron as a team member, Vladimir Putin will face a re-energized front in Europe as he seeks to expand Russia's influence
Emmanuel Macron's foreign policy doctrine(s) – POLITICO
The newly minted French president knows Brussels, distrusts Moscow and must learn everything else.
Russia's intervention in Emmanuel Macron's election campaign was a foreign policy screw-up of astronomic proportions — Quartz
The Kremlin doubtless thought it had the French election all sewn up. Of the four leading candidates for president, three were openly pro-Moscow. Even the eventual winner Emmanuel Macron was hardly a hawk. As Quartz wrote at the time, Russian president Vladimir Putin really couldn't lose.https://twitter.com/_JakubJanda/status/854970465865146368 And yet, buoyed by its alleged intervention on behalf of US…
French Voters Defy Putin's Meddling, but You'd Hardly Know It in Russia – The New York Times
"The victorious defeat of Marine Le Pen" read one headline from a Russian TV news service.
Why Macron Won and Clinton Lost – Bloomberg
Internet-based dirty tricks only work against voters willing to be misled and weak candidates.
---
US Domestic Policy Reports
---
Clapper's 'Freudian slip' on Russia
During testimony before the Senate Judiciary Subcommittee on Crime and Terrorism, former director of national intelligence James R. Clapper Jr. misspoke in a reference Russia.
Clapper: Intel community stands by finding that Vladimir Putin sought to undermine US election
Russia: James Clapper Testifies About 2016 Election Meddling | Time.com
Former Director of National Intelligence James Clapper says Russia is now "emboldened" to interfere in elections in the U.S. and worldwide
James Clapper: Intelligence Community Could Not Corroborate Trump Dossier – Breitbart
James Clapper said the intelligence community could not corroborate a dossier on Trump produced by a former British spy Christopher Steele.
7 Unanswered Questions About The Russia Investigation : The Two-Way : NPR
When Russia tried to influence the U.S. presidential election, who knew it was happening? Who helped, and who was exploited? And in the months since, who leaked classified intel, and why?
Obama Official Meeting With Russian Diplomat On Last Day – To Inform is to Influence
Under Secretary Shannon Travels to New York Media Note Office of the Spokesperson Washington, DC May 5, 2017 Under Secretary of State for Political Affairs Thomas A. Shannon, Jr., will travel to New York City, May 8, to meet with Russian Deputy Foreign Minister Sergey Ryabkov to discuss a range of bilateral issues. To learn…
Former Trump security aide was Russia blackmail risk: ex-U.S. official | Reuters
Former Acting U.S. Attorney General Sally Yates said on Monday she warned the White House in January that then-national security adviser Michael Flynn had been compromised and could have been vulnerable to blackmail by Russia.
Former U.S. Official Says She Told Trump White House Of Russia Blackmail Concerns
WASHINGTON — A former top U.S. Justice Department official has testified that she told the White House in January that President Donald Trump's national security adviser was in danger of bein…
White House Says Obama Made Clear To Trump He Wasn't 'A Fan' Of Flynn
Former U.S. President Barack Obama made it clear to then President-elect Donald Trump that he did not support Michael Flynn, whom Trump later fired as national security adviser in connection with hi…
Graham: Russia Was Behind Hacks, Not Trump's '400-Pound Guy Sitting On A Bed' – Talking Points Memo
Donald Trump: Lindsey Graham Says Russia Hacked Election | Time.com
Sen. Lindsey Graham countered President Trump's comments about who was responsible for the hacks that influenced the 2016 election
Laura Poitras Does Not Want to Talk About WikiLeaks and Russia
The Oscar-winning filmmaker ('Citizenfour') sits down with Marlow Stern to discuss 'Risk'—her compelling, incredibly timely documentary on WikiLeaks founder Julian Assange.