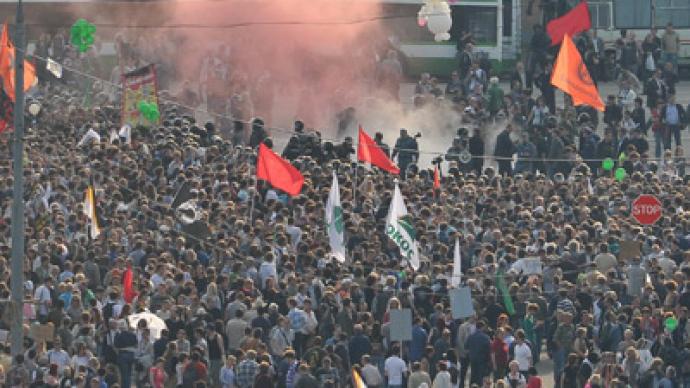 Three reports in
English
on the fifth anniversary of the protests in Bolotnaya Square protests against the results of the 2012 Russian elections.  One new, one is one month old.
Strangely, the third story, published on RFE, is not picked up by NewsNow, the news aggregator in the UK. It is, by far, the best report of the three.
Wikipedia: https://en.wikipedia.org/wiki/Bolotnaya_Square_case
Change to Russian and search for Болотная площадь, and all kinds of results pop up, headed up by RFE, Deutsche Welle, and other International Broadcasting efforts.
Here are two stories in English, but I strongly encourage you to read the RFE report (not archived here).
This is definitely an attempt to keep the memories of Bolotnaya Square alive.
Russia, however, is doing its best to suppress a repeat of 2012.  Bolotnaya Square is closed for a "rehearsal" for the Victory Day parade, a very recent change. I saw that news release a few days ago but I didn't understand what it really meant until now.
---
---
[Story #1]
Russia: thousands of protesters mark anniversary of Bolotnaya Square crackdown
06/05/2017
Thousands of opposition activists have taken part in an authorised rally in Moscow to mark the five year anniversary since the Bolotnaya Square protest.
The 2012 anti-government demonstration was marred by violence with police detaining scores of protesters.
Source: http://www.euronews.com/2017/05/06/russia-thousands-of-protesters-mark-anniversary-of-bolotnaya-square-crackdown?utm_source=feedburner&utm_medium=feed&utm_campaign=Feed%3A+euronews%2Fen%2Fnews+%28euronews+-+news+-+en%29
[Story #2]
Bolotnaya 2.0?
In Russia, fresh criminal investigations into anti-corruption protests are designed to intimidate activists and protesters from taking further action. Русский
UN human rights experts are calling for the immediate release of everyone detained in connection with anti-corruption protests on 26 March. Still from RFE/RL.We continue our partnership with OVD-Info, an NGO that monitors politically-motivated arrests in Russia. Every Friday, we bring you the latest information on freedom of assembly. 
This week, Russia's Investigative Committee announced that four people have been arrested in connection with the events of 26 March, when anti-corruption protests were held across the country. Alexander Shapkov, Stanislav Zimovets, Yuri Kuliy and Andrei Kosykh are all accused of assaulting police officers.
Dmitry Bogatov, a maths teacher from Moscow, has also been arrested in connection with an investigation into calls for mass unrest on 2 April, when unknown people called for a demonstration on Red Square. To keep Bogatov under arrest, the investigators have added more serious charges, including preparing to organise mass unrest and justifying terrorism. You can read more about criminal and administrative investigations, as well as informal pressure, against people in connection with 26 March protests here.
These investigations are reminiscent of the 2012 Bolotnaya Case, which, with over 30 people arrested and imprisoned in connection with protests on 6 May 2012, continues to intimidate activist networks and potential protesters to this day.
Don't comply
Friday 13 April saw house searches and arrests against nationalist activists in Moscow and Saratov. Ivan Beletsky and Yuri Gorsky, organisers of the annual "Russian March", had their apartments searched in Moscow, and Beletsky was later questioned (and released) in connection with the criminal case against 26 March participants. That same morning, police searched the home of Vyacheslav Maltsev, a popular blogger and self-described "national democrat" politician. Maltsev was then transferred from Saratov to Moscow, but suffered a heart attack en route. Upon arrival in Moscow, Maltsev was charged with not complying with a legal order given by a police officer in connection with 26 March.
13 April: Vyacheslav Maltsev suffers from a heart attack before boarding a plane for Moscow while under arrest.
Another criminal case in connection with 26 March was opened in Irkutsk. On 8 April, local police
arrested
several people who had participated in the anti-corruption protests. They had planned to hold a meeting on 9 April in connection with 26 March. Later it turned out that one of them, Dmitry Litvin, is
facing charges of insulting believers' feelings
for a publication on social media, and the other individuals will act as witnesses. However, at the Center for Combatting Terrorism, they were questioned about the protests and calls to terrorism. The police
had trouble finding one of them
, Igor Martynenko, a prominent Irtkutsk activist, before realizing that he'd
already been arrested for 10 days
on "non-compliance" charges. Martynenko's case was
later sent for further examination
by the court, but the activist remains under arrest.
Meanwhile, across Russia, courts continue to process cases against people who participated in anti-corruption demonstrations. Check out our survey text on how these courts are organised in Moscow. There's violations a-plenty, of course — in Petersburg, judges are sending people's cases back to investigators en masse; and in Chelyabinsk, police officers rewrote a report full of mistakes in the courtroom corridor. The directors of Moscow schools have started being summoned to the Investigative Committee.
Closed Russia
The authorities are conducting searches not only against Russian citizens involved in 26 March. For instance, activists with Open Russia are experiencing pressure in various regions — in Irkutsk, police carried out a search at the home of an Open Russia coordinator; and in Izhevsk, police searched the home of Mikhail Nazarov, an Open Russia activist who was preparing to join a congress in Tallin. Police removed Nazarov's foreign passport, and then opened a criminal case against him.
Russia's long-distance truckers are still striking across the country, and police are drawing up reports against them for solitary pickets, even if people are only preparing to hold them. The police are not only pressuring the truck drivers, but people who are supporting them. In Yeisk, for example, two National Bolshevik activists were given 15 days of administrative detention — the party connects this to their active support for the strike.
12 April: seven people are detained on Moscow's Red Square for reading out the Russian Constitution. Source: OVD-Info.Detentions against other actions continue — for instance, for reading out the Russian Constitution (which protects freedom of assembly) on Red Square.
What we're reading
– We look at two cases of people detained on 26 March. The first, who was arrested for 10 days for a folded-up placard; the second fined for 20,000 roubles for "shouting slogans" and "blocking the road" on 26 March
– Meduza explains in detail what's wrong with the case against Moscow maths teacher Dmitry Bogatov 
Source: https://www.opendemocracy.net/od-russia/ovd-info/bolotnaya-20