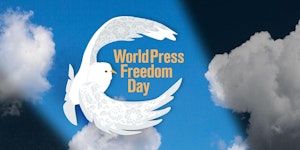 Join the Broadcasting Board of Governors (BBG) and The George Washington University School of Media & Public Affairs for a conversation about the role of US international journalists, defending press freedom, and protecting journalists.
Date
Monday, May 1st, 2017
Time
8:15 AM – 9:00 AM (EDT): registration and networking breakfast
9:00 – 11:00 AM (EDT): program
Location
The George Washington University
Elliott School of International Affairs
City View Room, 7th Floor
1957 E Street, NW
Washington, DC 20052
Host
Frank Sesno, Director, GW's School of Media & Public Affairs
Keynote
Ambassador D. Bruce Wharton, Acting Under Secretary for Public Diplomacy and Public Affairs, Department of State
Panelists include:
John F. Lansing, CEO & Director, Broadcasting Board of Governors
Elise Labott, Global Affairs Correspondent, CNN
Michael Oreskes, Senior VP of News and Editorial Director, NPR
David Smith, Washington Correspondent, The Guardian
Maryam Bugaje, Multimedia Broadcaster, Voice of America Hausa Service
Setareh Derakhshesh, Director, Voice of America Persian Service
Mike Eckel, Senior Washington Correspondent, Radio Free Europe/Radio Liberty
Bay Fang, Executive Editor, Radio Free Asia
Omar Fekeiki, Managing Editor, "Raise Your Voice" Digital, Middle East Broadcasting Networks
Nada Alwadi, Assignment Editor of Community Managers, "Raise Your Voice" Digital, Middle East Broadcasting Networks
This #BBGWPFD event is free, but registration is required. It will also be live-streamed on www.bbg.gov and on our Facebook page. We hope you can join us.
For questions or further information, contact the BBG's Office of Public Affairs at
202-203-4400, publicaffairs@bbg.gov.
Have questions about World Press Freedom Day: A conversation with BBG & GW? Contact Broadcasting Board of Governors

Source: https://www.eventbrite.com/e/world-press-freedom-day-a-conversation-with-bbg-gw-tickets-33707176071