Laughter, in an unattributable quote, is said to be the best medicine.
A quote from Mark Laity, NATO Strategic Communications chief:
When I was the NATO spokesman in FYROM in 2001 there was a rumour that, Ali Ahmeti, the leader of the ethnic-Albanian insurgent group, the NLA, was in the Macedonian capital, Skopje. This was seen as very alarming to most Macedonians, either indicating a supposed sell-out to the insurgents, or that the capital could come under attack.

It was nonsense and absurd nonsense at that, but rumours of this kind are very hard to stop and damaging. So when I was called by a news agency to comment on the rumour I replied on the record, 'Yes, I saw him myself walking down the road with Elvis.' It was used, and very soon the rumour died as people realised the rumour was literally laughable.
You never see quotes like that coming out of Russia…
NATO's StratCom Centre of Excellence actually studied humor in "StratCom Laughs: In Search Of An Analytical Framework". No, seriously.  Here is the actual report, which is absolutely fascinating.
Therefore, the objective of this study is to examine the concept of humour from an interdisciplinary perspective; identifying the role of humour in strategic communication through various functions; as well as to elaborate a methodology to assist in analyzing and applying humour in different situations and referencing different target audiences. The methodological framework we are striving to develop by the end of the study is only one of many that might be proposed by other researchers. In the presented case we combine ideas and concepts from different disciplines and test the feasibility of this interdisciplinary approach as regards the analysis of humour. We argue that the proposed methodology serves the purpose of distinguishing humour as entertainment from humour as a strategic communication tool aimed at influencing the belief systems and even the behavior of individuals and groups.
Of note, the conclusions:
CONCLUSIONS

Although Russian propaganda has been trying to use and exacerbate a number of differences between social groups so as to create an atmosphere of total distrust and panic, in the last few years' Ukrainian society has shown its potential to resist this and achieve solidarity. To counter Russia's policy of division and its propaganda (which also includes humour in its toolbox), the Ukrainian media have quite often used humour. The examples presented in this case study not only prove this trend, but also demonstrate several lessons worth learning. The main conclusions that can be drawn:

– as a special tool, humour appeals not only to the emotions, but also to critical thinking. For instance, mirroring propaganda messages in a way that helps underline their absurdity;

– humour is a universal factor of influence, since it can be disseminated quickly and with minimal effort;

– on the one hand, humour must be supported by real facts and news. On the other hand, humour creates an altered reality. This makes humour an exceptional tool of propaganda and counterpropaganda;

– humour often requires the use of stereotypes and socio-political myths. It is used to diminish opponent's capacities and to emphasise one's own strengths;

– humour is an adaptive reaction during the so-called 'borderline state' and can be used as a tool for overcoming fear and panic. 137

These specific features of humour content analysed demonstrate that it can be used for stress-relief and deepening the sense of social solidarity, as well as a tool to deter an adversary by denigrating and satirizing its main messages and capacities. At the same time, it should be underlined that one important aspect, not covered in full because of the project's restrictions, is the question of the specific reflections and actions of the strategic audience as a response to humorous content. Additional studies in this field could give more in-depth knowledge about the potential effects of humour consumption within societies during wartime and post-war periods.
The study is now being parodied by the media, see the article below, and by the Russians.  Sputnik published: Comedy Gold: NATO Pans Russian Humor Contest as Nefarious Kremlin Tool and Russian Comedians Howl With Laughter Over NATO Claim That They are Kremlin Tool.
Monty Python, of course, took this to the extreme many decades ago, during the Cold War, to the point of absurdity.
My thanks to KH for pointing this out.
---
---
This Think Tank Studied Russian Humor And Russia Thought It Was Hilarious
In Putin's Russia, Foreign Ministry trolls you.
posted on Mar. 16, 2017, at 5:27 p.m.
So here's a thing that happened: the NATO Strategic Communications Centre of Excellence just released a study on Russian humor.
Quick point of clarification: NATO StratCom COE, as the group is known, is a "multi-nationally constituted and NATO-accredited international military organization, which is not part of the NATO Command Structure, nor subordinate to any other NATO entity," according to its website. In plain English, it's a think tank based in Latvia that studies security issues relevant to NATO member countries. It's not the same thing as the North Atlantic Treaty Organization.
Now, on to the comedy.
The group didn't actually analyze 1980s Yakov Smirnoff jokes — though someone definitely should — but it looked at how late-night Russian comedy shows work to discredit Western leaders and the idea of democracy in general.
These shows, broadcast on Russian state-owned television, serve as a "massive humor-driven propaganda tool aimed at national and international target audiences," according to the study's authors.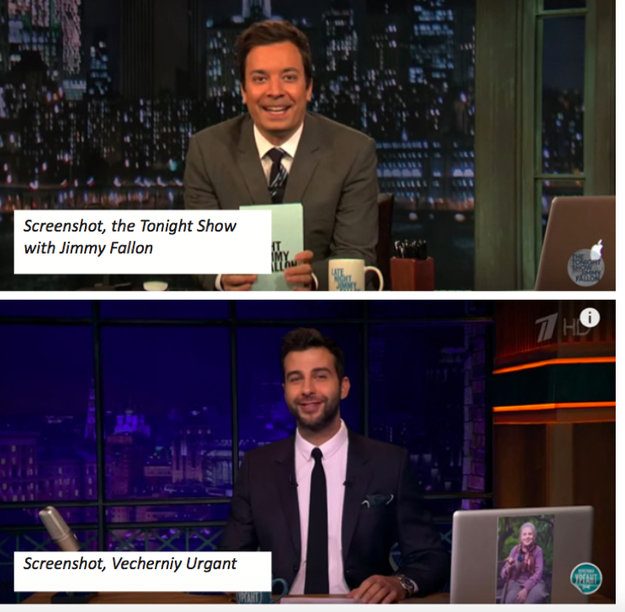 The research also looked at Ukrainian humor as "counter-propaganda" to the Kremlin line and studied a popular comedy show format known as KVN.
As anyone who's studied a foreign language knows, jokes don't always translate. But Russia thought the idea of this think tank studying its humor as a "tool of strategic political communication" was preeeeetttttty hilarious.
Russia's Foreign Ministry responded by posting this video on Facebook, which features comic Yevgeny Petrosyan cracking jokes about NATO: "Go ahead, expand. Many have expanded towards us … Genghis Khan … Napoleon."
(Russia beat up both Napoleon and Genghis Khan so that appears to be The Joke.)
The think tank looked specifically at shows airing on Russia's Perviy Kanal or "First Channel," to which Yakov Smirnoff might say: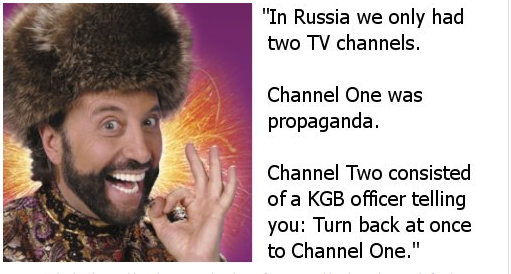 Source: https://www.buzzfeed.com/susiearmitage/this-think-tank-studied-russian-humor-and-russia-thought-it?utm_term=.vvagl2OAnG#.kcAzYgJBk5