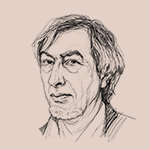 Quote from Brian Whitmore:
According to a new study by the Levada Center, nearly half of Russians say they can't distinguish truth from lies in the media.
In today's Congressional hearing, Russian expert Timothy L. Thomas referred to "Kennan's Long Telegram", from 1946.  Here is the quote that he referred to, in reference to how Russians view "the truth".  
The very disrespect of Russians for objective truth–indeed, their disbelief in its existence–leads them to view all stated facts as instruments for furtherance of one ulterior purpose or another.

–http://nsarchive.gwu.edu/coldwar/documents/episode-1/kennan.htm
</end editorial>
---
---
(Translated from Russian by my Chrome browser)
14/03/2017
By Alexei Levinson
Why distinguish between truth and falsehood