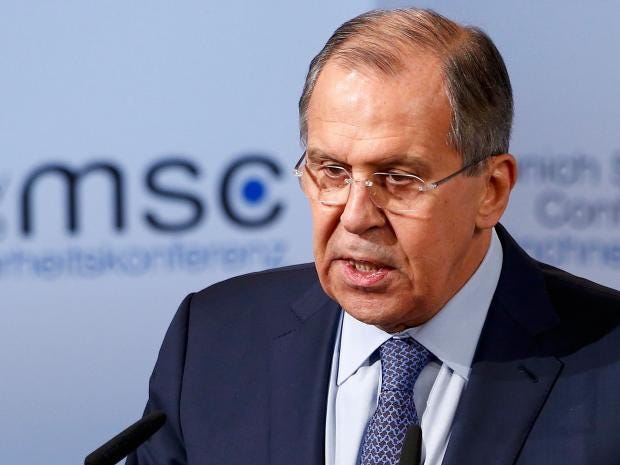 Russian Foreign Minister Sergey Lavrov recently spoke at the Munich Security Conference and wasted absolutely no opportunity to spin his words counter to reality.
I am sorely tempted to do a point by point deconstruction of Lavrov's carefully crafted speech, where Russia is portrayed as the perennial victim, the West is constantly picking on poor little Russia, and instead of "can't we all just get along" it's "can't the world just do it our way?"  
Okay, just the sub-headline, because it is just too juicy.  
Sergey Lavrov denies alleged Russian interference in US elections: 'I've seen no facts'
[Ed. comment: Shades of Sergeant Schultz: I see nothing! ] 
I invite you, gentle reader, to continue through his speech. You could make this into a drinking game and quaff one for each fat, juicy lie he tells, stretches reality to the point of absurdity, or deviates into another dimension.  The Twilight Zone. 
</end editorial>
---
---
Sergey Lavrov denies alleged Russian interference in US elections: 'I've seen no facts'
Russia's foreign minister has called for a "post-West world order" while addressing global leaders at an international security conference.
Sergey Lavrov accused Nato of being a Cold War institution and accused its "expansion" of sparking unprecedented tensions in Europe as both sides expand military deployments and drills.
He said he hoped "responsible leaders" will choose to create a "just world order – if you want you can call it a post-West world order".
Mr Lavrov also denied allegations of attempted interference in elections in US and Germany, telling delegates: "Whenever Russia gets blamed, there are no facts … I've seen no facts, only accusations."
In a speech watched by the US Vice President, he said the Kremlin wants to have a "pragmatic" relationship with the Trump administration.
The Russian minister said his country wants "mutual respect, understanding our special responsibility for global stability".
"We have immense potential that has yet to be tapped into, and we're open for that inasmuch as the US is open for that as well," he added.
Mike Pence had told delegates at the annual Munich Security Conference the US would "hold Russia accountable" on issues including the Ukrainian conflict and the Syrian war.
He also pledged America's "unwavering commitment" to Nato following Donald Trump's labelling of the alliance as "obsolete" and questions over its funding during his campaign.
Mr Lavrov repeatedly hit out at the transatlantic military alliance during his speech, which follows years of worsening relations and increasing military encounters.
"The tensions of the past years between the US, Europe and Russia are unnatural," he said.
"Russia is not looking for a conflict with anyone but will always be able to protect its interests."
The US-led international coalition and Russia are backing opposite sides in the Syrian civil war – although both target Isis – while imposing waves of sanctions and counter sanctions over the Kremlin's involvement in Ukraine.
Russia has been accused of violating international law in both countries, annexing Crimea in 2014 and conducting indiscriminate bombing raids amounting to war crimes in support of Syria's autocratic President Bashar al-Assad.
Tensions have risen further over allegations the Kremlin backed cyber attacks attempting to influence the US and German elections, as well as controversy over "fake news" spread by state-funded outlets including Russia Today and Sputnik.
The Russian government has denied involvement in hacking attempts and accused Nato and Western media in turn of conducting a "propaganda war" against it.
Source: http://www.independent.co.uk/news/world/europe/russia-post-west-world-order-lavrov-munich-security-conference-nato-trump-putin-ukraine-syria-assad-a7587006.html