The block has been lifted, but I can guarantee that RT is going to play this for all the propaganda value it is worth.
One must question, exactly what are these "active countermeasures" to which Roskomnadzor is referring?
Roskomnadzor, according to its own website, is not authorized to actively engage outside Russia, https://rkn.gov.ru/.
Obviously, "active countermeasures" are something which Roskomnadzor is not authorized to do.  *gasp* Unless they have SECRET authorizations also.  Is this an admission of a secret mission which they are allowed to do?
Or did the spokesperson misspeak? Make a mistake? Reveal a secret in public?  I'm certain, however, like Chelsea Manning, President Obama will commute his sentence.
Okay, I was doing a parody of RT or Sputnik News, where something is played way out of proportion or fabricated.
Ria Novosti revealed what Roskonadzor might do: Roskomnadzor has threatened retaliation in the event of limitations of the RT (Translated from Russian by my Chrome browser).
What could they possibly do?  Let's see…  they've already blocked LinkedIn in Russia, because LinkedIn will not store user data in Russia.  If Roskomnadzor blocks Facebook in Russia, that means only Russians will be affected, which does nothing to the vast majority of users.  It especially does not affect Western users, so it would have exactly the opposite of the desired effect.  They could block vKontakte, the Russian Facebook equivalent, from non-Russian users. Again, this would have the opposite of the desired effect, probably affecting a huge amount of Russian proxies.  Oh, and all the Russian troops stationed in Ukraine and Syria would be blocked.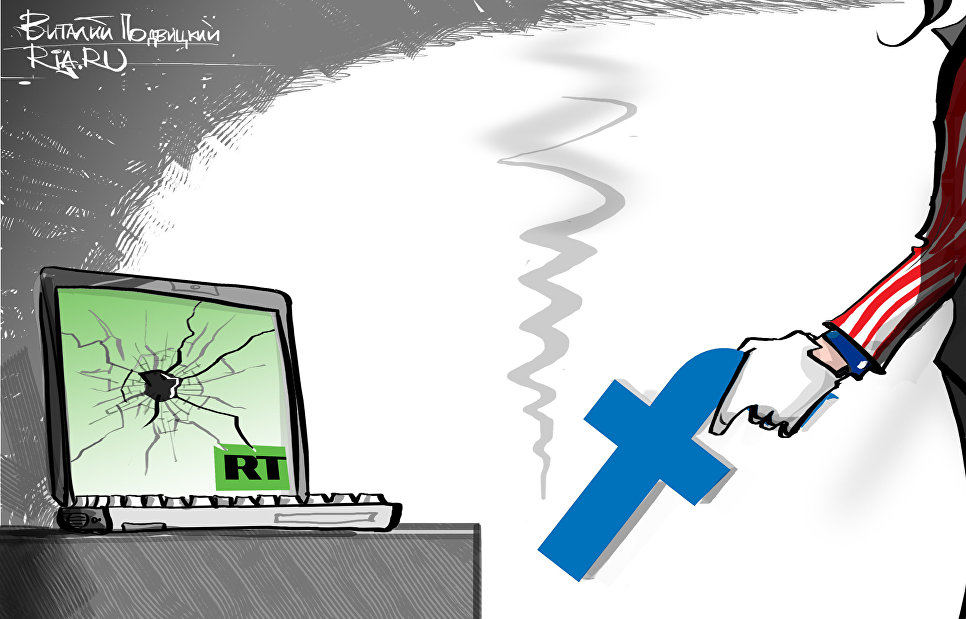 Conclusion, unless Roskomnadzor has offensive tools, like malware, that it can plant in Facebook servers, any and all threats by Roskomnadzor are empty and idle threats.
Ho hum. Once again a Russian threat is a bluff.  Full of air and bravado.
</end editorial>
---
---
By Adam Taylor January 19 at 1:41 PM
Russian news organization RT announced Thursday morning that it had been temporarily blocked from posting links and other media to its Facebook page — with the restriction initially not due to lift until after President-elect Donald Trump's inauguration on Friday.
The block soon prompted an angry response from Russian authorities, with Foreign Ministry spokeswoman Maria Zakharova calling it an "unacceptable situation" and Roskomnadzor, Russia's communications authority, warning of "active countermeasures" in response.
Facebook later said that the issue had been resolved and that RT was now able to post media to its page again. "We are looking into the reasons behind the temporary block," a spokesman for the American social network told WorldViews. While such blocks are far from rare and the restrictions ultimately lasted less than 24 hours in this case, the timing of the incident led to some conspiratorial thinking in Russia.
The Russian government, including its state news agencies like RT, have been widely accused of using underhand tactics to help Trump get elected. Meanwhile, Russian authorities strenuously deny these accusations and claim that legitimate organizations like RT are unfairly portrayed as propaganda outfits.
If the ban had not been lifted, RT would have been limited in its ability to promote its coverage of Trump's inauguration on its Facebook page where it currently has over 4 million fans, though it was still able to post text. The block was originally due to lift on Saturday afternoon.
The restriction appeared to have been put in place because of a video of President Obama's final news conference on the Facebook page and a subsequent copyright complaint. However, RT says the block should not have been filed as the organization did in fact have the rights to the video through the Associated Press.
RT editor in chief Margarita Simonyan said that a complaint from Current Time TV, a Russian-language television network run by Radio Free Europe/Radio Liberty, had prompted the block. Simonyan also suggested the State Department might be involved.
"I'm not surprised," Simonyan told Ria Novosti, another Russian state news agency. "If the Department of State could block oxygen to us, they would do it." RT also noted on Thursday that another American tech company, Dataminr, had unexpectedly canceled its service to RT.
Current Time TV later denied it had filed a complaint. "Our channel did not file any complaints regarding RT's transmission of the Obama news conference," Current Time's acting director, Daisy Sindelar, said. "The blocking of RT is not the result of any action on our part."
RFE/RL also noted that it is funded by Congress though the Broadcasting Board of Governors, rather than the State Department.
Originally known as Russia Today, RT was founded in December 2005 as an English-language television network. At first, it focused on reporting events in Russia and combating what it said was a bias in international coverage of Russia, but it soon shifted to offering a dissenting view of world events. The organization appeared to take a pro-Trump perspective during the 2016 election and in September, it aired an interview with the Republican candidate.
Despite Facebook's response, Russia is still not happy with the outcome. After the block was lifted, Zakharova told reporters in Moscow that the social network still needed to explain exactly what had happened.
Source: https://www.washingtonpost.com/news/worldviews/wp/2017/01/19/facebook-temporarily-blocked-rt-and-moscow-isnt-happy/?utm_term=.ce327d71ab02