Local officials want to transform Magaluf from a raucous resort into an upmarket destination. Will Covid-19 be a help or a hindrance?
F
For years, officials in Magaluf, a resort town on the Spanish island of Mallorca, have waged a battle against booze-fuelled tourism. They've banned pub crawl tours, happy hours and late-night alcohol sales in shops. They have long been upfront about their goal: to transform the raucous resort into an upmarket destination, the kind capable of attracting families and year-round tourists. 
Now, they're hoping the coronavirus pandemic might succeed where their efforts have so far faltered. "You can look at Covid as a threat. But it's also an opportunity," says Javier Pascuet, the director of tourism for the municipality of Calvià, which includes Magaluf. "When you're driving, you can turn a little. But when you're stopped, you can back up or change direction dramatically." 
Set on a white sandy beach and usually home to an ample offering of party boats, jam-packed pool parties and heaving bars, Magaluf receives a fraction of the more than 10 million visitors who arrive on Mallorca in a normal year. But the hard partying and, at times, sexually charged antics of these travellers – often young, often from the UK – tend to dominate international headlines about the island. 
"It's a symbol of the degeneration of tourism," says Antoni Janer, who is part of a group that recently held a tour of Magaluf for locals, walking them through a stretch of bars and nightclubs once dubbed "500 metres of shame" by a former regional leader. "It's a tourism model that trivialises uncivil behaviour that, I'm sure, in England would be penalised by law. And here we turn a blind eye." 
While Janer, 41, is critical of the industry, he insists the aim of the tour is not to demonise a sector that has brought economic gains to the island. Instead, the hope is to provoke a reflection on the trade-offs the prosperity has brought, from the increasingly precarious and low-paid nature of its jobs to the rising cost of living driven by the growing popularity of the island.  
Getting a lot of people partying, getting the streets dirty or ending up in hospitals, it's a huge cost for locals - Javier Pascuet
It's a debate that has long echoed across Spain, where one in eight jobs depends on tourism. Prior to the pandemic Spain ranked as one of the world's most-visited countries, with tourism accounting for around 12% of its GDP. 
For islands such as Mallorca, this dependency has squared off against broader questions of sustainability, as millions of annual visitors pack onto beaches and into green spaces and add to the island's noise and air pollution. "Getting 10 million tourists a year, it has a cost," says Pascuet, the tourism director from Calvià. "And for us, getting a lot of people partying, getting the streets dirty or ending up in hospitals, it's a huge cost for locals." 
'Uncivil tourists' 
These concerns have underpinned the push to tame Magaluf. Officials have rolled out a raft of initiatives over the years: three-star hotels have been steadily upgraded to four-star iterations, British police were briefly brought in to help keep order and at one point a name change was batted about for the resort town. Earlier this year the regional government unveiled what it described as a European first: a decree that slapped restrictions on all-you-can-drink parties, 2 for 1 drink specials and vending machines that sell alcohol, among other measures, in a bid to curb binge-drinking tourism in specific areas of the island.
Officials in Magaluf have explored various ways, including drafting in British police, to better manage the young tourists
These efforts have yielded some success. Between 2015 and 2019, the number of young, often hard-partying, tourists in Magaluf dropped from around 10,000 a day to some 5,000, according to Pascuet. Yet in July, soon after Spain's lockdown ended and tourism began sputtering to life, Magaluf found itself again in the headlines. Footage had gone viral of revellers partying in the streets while flouting local laws on wearing masks and social distancing, sparking concerns across a country that had recently emerged from one of Europe's strictest lockdowns. 
Local officials reacted swiftly. "We don't want uncivil tourists in our islands, we don't want them to come," Iago Negueruela, the regional official in charge of tourism, told reporters as he ordered a two-month closure of bars, restaurants and shops on Magaluf's main strip. The closures were also extended to two other streets near Playa del Palma known for partying and which are popular with German tourists.  
They have left Magaluf sick and on the brink of death - Juan Rodríguez
The drastic move has been controversial. Waving signs that read "We have the right to work", more than 200 people took to the streets last month to argue that local businesses were being wrongly scapegoated for the failure to police tourist behaviour. "They have left Magaluf sick and on the brink of death," says protest organiser Juan Rodríguez, a father of four who, along with this wife, was thrown out of work by the closures. 
Many at the protest argued that now – as the industry scrambles to salvage what's left of the season amid lockdowns, travel advisories and quarantines – is not the right time for a reset. "While many of us want change, the debate we should be having right now is not about our tourism model," says Juan Manuel Ordinas, the owner of two small hotels on the island. "Not when the sector is focused on its survival, providing jobs and trying to alleviate this disaster in some way." 
During what should be high season on the island, occupancy rates hover around 30% to 40%, says Ordinas, who also leads an association representing small hotels. "The sector is not looking to make money. We're working to stem our losses." 
'Supply and demand, they're not gone' 
Similar tensions are playing out in party spots across Europe, as the tourism industry fights for survival and officials seize on the standstill to rethink their model. "The tourists are not here. And this is exactly the moment where you can implement rules," says Jan Štern, the former night mayor of Prague. "When you are in the middle of the season, which is basically all year long in Prague, it's much more difficult to change things."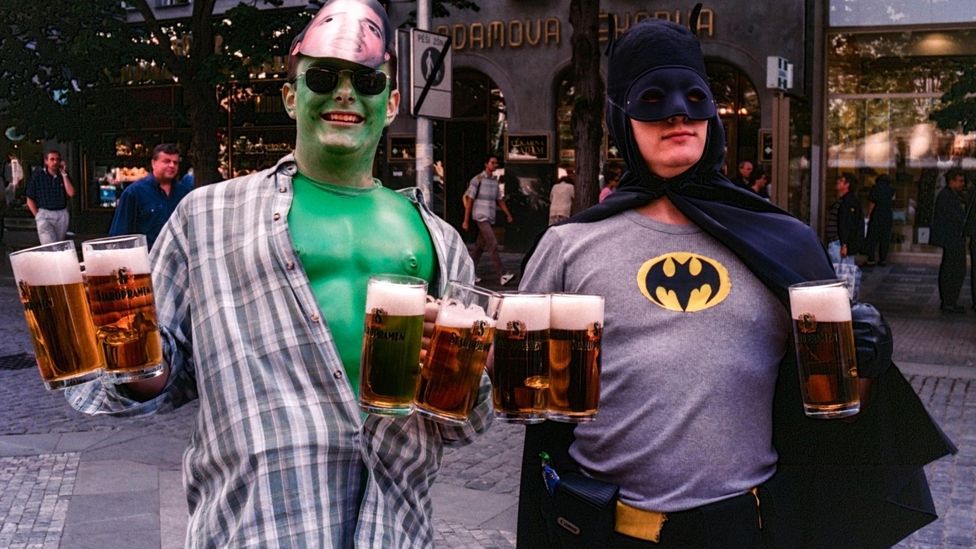 Being a stag-do hot-spot comes with a downside, some Prague residents feel
More than nine million tourists arrived in Prague last year, many of them lured by the city's reputation as one of Europe's stag-do and hen-party capitals. Stern, whose job tasked him with alleviating complaints over noisy streets and drunken tourists, has little doubt that once the pandemic subsides, tourists looking to indulge in the city's cheap booze and relatively tolerant atmosphere will return. 
But in the meantime, the city has sought to capitalise on the pandemic in other ways. After struggling to convince Czech parliamentarians of the need to better keep track of the thousands of tourist flats in Prague's city centre being rented via platforms such as Airbnb, the issue was reframed as one of public health. "Suddenly it was much easier to convince them," says Štern, resulting in a fast-tracked plan forcing landlords to inform authorities of the location of the flat, how often it is rented and the payment received. 
In Amsterdam, where English-language signs were set up to remind tourists "Don't pee in the street" and "No alcohol in public places", officials have been vocal about shifting tourism away from those looking for parties and cannabis coffee shops. "When the pandemic hit in the spring and you saw the empty streets and the niceness of the quiet in the city, there were people that said this is our chance, this is our opportunity," says Sebastiaan Meijer, the spokesperson for the city's mayor, Femke Halsema. 
The hope, however, began to fade last month as tourists began again descending on the city's quaint cobblestone streets, many of them seemingly looking to party after months of lockdown. "It's not like the pandemic gave us any chance to structurally change things," says Meijer. "The supply and demand, they're not gone."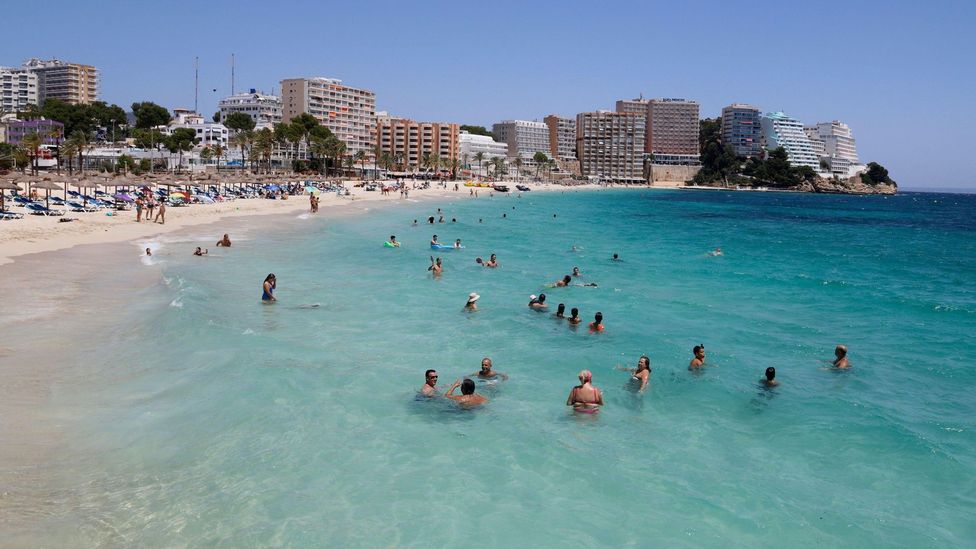 Some local officials want to attract a new kind of tourist to enjoy Magaluf's natural beauty
In Mallorca, locals have begun frequenting Magaluf's beaches, many of them for the first time in years, lured by tales of blissful quiet and lapping, turquoise waters. But the tranquillity comes at a cost. Fewer than two weeks after authorities ordered the closures in Magaluf, the UK announced it would impose a 14-day quarantine on all travellers returning from Spain. This sparked a cascade of cancellations across the island, with potentially far-reaching impacts; the industry association representing restauranteurs estimates some 30% of its members could end up closing their doors permanently. 
The Balearic Islands, which include Mallorca, could see a drop of as much as 30% in GDP, regional leader Francina Armengol recently told reporters. The region is likely to be among the hardest hit in Spain by the fallout from the pandemic, she added. Whether these deep blows to the hospitality sector will imperil authorities' appetite to transform Magaluf remains to be seen. As Armengol says: "The situation is incredibly complicated."