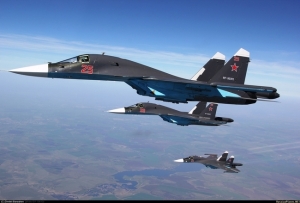 October 5, 2015, 1:07
Russian troops used to attack the positions of the Syrian opposition banned weapons.
The Russian air force attacked targets in the camp near the village Nusra Kafr Halab, Aleppo province, with the use of prohibited weapons.
In particular, Russia used cluster munitions, which is clearly seen in the video, in the wake of the explosions on approach to land.
Cluster bombs – this aircraft munitions in the form of thin-walled bombs, mines curb aviation or small bombs for different purposes.They detonate at a certain height above the target, hitting a large area.They are dangerous because unexploded shells are literally "anti-personnel mines", affects mainly civilians and children.
Cluster munitions are banned by international convention in 2008. But countries such as Russia and China refused to ratify the convention.