Brexit: Are the borders ready?
By Chris Morris
Reality Check correspondent, BBC News
For months, the government has been urging businesses to get ready for a new era in trading with the EU. But it was only on Boxing Day that details of all the new rules were actually published.
Business groups are relieved that the threat of a no-deal Brexit, which would have meant tariffs (or taxes) on goods crossing the border with the EU, has been removed. But companies that trade with the EU are still facing a lot of new bureaucracy.
And the disruption in mid-December, caused by border closures related to the new variant of Covid-19, was a reminder of how dependent the UK economy is on trade across the English Channel.
New bureaucracy
From 1 January 2021, goods entering the EU from Great Britain (England, Scotland and Wales) face large amounts of new paperwork and checks, including:
customs declarations
rules of origin checks
product safety certificates
food inspections
Hauliers will also need to make sure they have the right transportation paperwork before they drive to the border.
There is particular focus on the "short straits" route between Dover and Calais, and the nearby Channel Tunnel, which taken together handle about four million lorries a year.
"This is the biggest imposition of red tape that businesses have had to deal with in 50 years," says William Bain from the British Retail Consortium.
Phasing in checks
Full controls on British exports to the EU began on 1 January. The first day of the new regime appears to have gone relatively smoothly.
But it's feared that later in the year, the new controls could cause disruption, even though new border infrastructure has been built at ports such as Calais, to help process vehicles more efficiently.
There are some mitigating measures though.
In response to the Covid crisis, the government is delaying full controls on goods entering Great Britain from the EU for a further six months.
There will be checks from 1 January on controlled substances such as alcohol and tobacco, and traders deemed to be a risk will also be asked to fill in customs declarations.
But most checks on goods coming in from the EU will be delayed until 1 July, a deadline that could in theory be extended.
"I think we will want to monitor it," the chief executive of HM Revenue and Customs, Jim Harra, told MPs in November. "Hopefully we will not still be in a situation where Covid-19 is consuming as much of people's attention."
Lorry parks and access permits
Other measures to tackle potential disruption include diverting trade to other ports around the country and opening lorry parks in Kent, to avoid gridlock on the roads.
Some of these contingencies were put into action early, to deal with the Covid border closures in December.
Operation Brock, for example, involved changing the layout of a section of the M20, using a concrete barrier to allow lorries heading for mainland Europe to queue safely on the motorway.
Thousands of lorries were also diverted to temporary parking at a disused airport at Manston.
From 1 January drivers of lorries weighing more than 7.5 tonnes will need to acquire a Kent Access Permit before they enter the county. They will have to show that they have all the paperwork they need to ferry goods to Europe.
But that doesn't deal with the challenge of the thousands of vans that cross the Channel every week.
"What has been serially misunderstood by various parts of government is the scale of the complexity for people on the ground dealing with the paperwork," says Duncan Buchanan, the Policy Director of the Road Haulage Association.
Delays in trade?
That could mean that instead of queues on motorways, many traders won't be able to leave their depots.
"Either they won't be able to get vets to sign off on their meat exports, or they won't be able to get their permit because they don't have the right bits of paper," says Shane Brennan, chief executive of the Cold Storage Federation.
"We might see a quite significant holding off of trading - people just not moving stuff in the first few weeks."
Eighty-five per cent of the volume of trade between the EU and Great Britain is carried by EU hauliers, who are often paid not by the hour, but by the kilometre. If they think there will be too many delays, many may simply not come.
The government says the readiness of traders to deal with the new system remains its biggest concern.
"The sheer scale of the overall operation means there are literally many millions of moving parts," permanent secretary of the cabinet office Alex Chisholm told MPs. "Inevitably there are going to be some difficulties for some individual people as they adjust to the new regime."
The government has also announced a new Border Operations Centre as part of plans "for the UK to have the world's most effective border by 2025".
Food supply
Questions have been asked about how changes at the border might affect food supply. The short answer is no-one can say for sure, but nearly 30% of all the food consumed in the UK is imported from the EU.
The good news is that there is a deal, which makes a big difference. But the challenge is particularly acute because the UK grows relatively small amounts of fruit and vegetables in January and February and is most dependent on supplies from southern Europe at this time of year.
So, if there are delays, they could cause some shortages on the shelves.
"Some gaps are possible but we're not going to run out of food - that's not going to happen" says Ian Wright.
When it comes to non-perishable items, there had been some stockpiling in preparation for either outcome, but extra supplies won't last forever.
"The crunch point is probably not going to be in the first few days or weeks of January," William Bain argues. "Towards the end of the month, when new orders start being placed and delivered, we will start to see the processes in Kent and the other ports really tested."
And it's not only about food.
Other retailers, which are used to moving their stock freely around the EU customs union, have had to create separate supply chains for the UK. That is costing them more money, and their new systems have yet to be tested properly.
Northern Ireland's border
It's not just about trade across the English Channel.
Trade across the Irish Sea between Great Britain and the Republic of Ireland will be subject to the same pressures, while Northern Ireland will be a special case under the terms of the Northern Ireland protocol in the Brexit Withdrawal Agreement.
Northern Ireland will remain in the EU single market for goods, and unlike the rest of the UK it will continue to enjoy frictionless trade with the EU with no checks of any kind at the land border with the Republic.
But there is a price to pay for that - new bureaucracy within the UK between Great Britain and Northern Ireland.
The EU, for example, has strict rules on products of animal origin: meat, milk, fish and eggs.
These products must enter the single market (and, from 1 January, Northern Ireland) through a border control post where paperwork is checked, and a proportion of goods physically inspected.
There will be a grace period of three months for supermarkets and their suppliers, but some smaller traders may have to get used to the new rules straight away.
All shipments from Great Britain to Northern Ireland will also need a safety and security declaration, and a customs declaration from a new IT system which none of the traders have used before.
The government has set up a Trader Support Service to help.
The details of the new trading arrangements for Northern Ireland were announced separately in early December, and provided some clarity. They include an agreement which means the vast majority of goods being shipped from GB to NI will not be at risk of having tariffs imposed.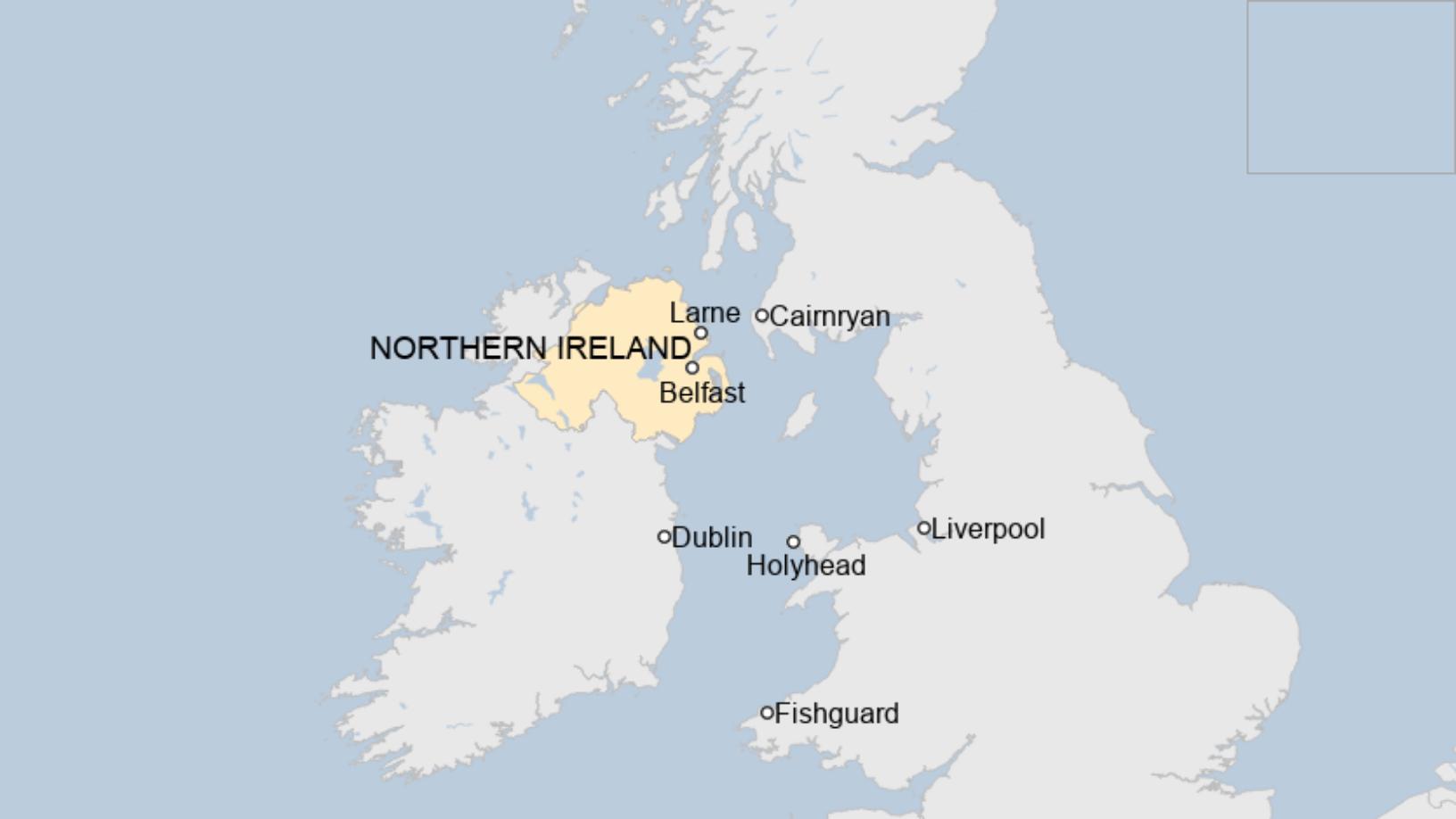 But there are plenty of unresolved issues.
The trade from British to Northern Irish ports often involves multiple small shipments on a single lorry - all of which will need the right paperwork.
"We need clear rules for everyone in the supply chain," says Duncan Buchanan, "and when you scratch the surface it is just not ready."
It is expected that many checks will be carried out on a 'light touch' basis to begin with.
But anyone trading between Great Britain and Northern Ireland is going to have to get used to a new way of working very quickly.