A string of tiny islands plays an outsized role in defending Germany's coast from the wild North Sea. As sea levels rise, these islands face their greatest challenge yet.
U
Up to 50 times a year, the North Sea floods the small, flat German island of Nordstrandischmoor where Ruth Hartwig-Kruse lives with her children and grandchildren. In a phenomenon known as "land under", the island almost entirely vanishes beneath the sea. At the peak of these floods, all that can be seen are four man-made mounds with farmhouses and stables. There, the island's 25 inhabitants and their sheep shelter and wait for the water to recede.
Hartwig-Kruse's family has been living with "land under" since her first recorded ancestor arrived on Nordstrandischmoor in 1717. The island is one of 10 Halligen – unique sea-level islands off Germany's North Sea coast. Typically, they are not protected by dykes, leaving them exposed to floods, especially in winter. The largest two, Langeness and Hooge, are home to about 100 people; the smallest, Gröde, to only 10.
In the past, violent storm floods split or even drowned entire Halligen. But the regular floods also bring sediment that helps the land grow, and nurture salt marshes where birds and plants flourish. For some species of bird, the islands host more than half of Germany's nesting population.
Now the Halligen are facing their biggest threat yet: climate change, and the rising sea levels that come with it.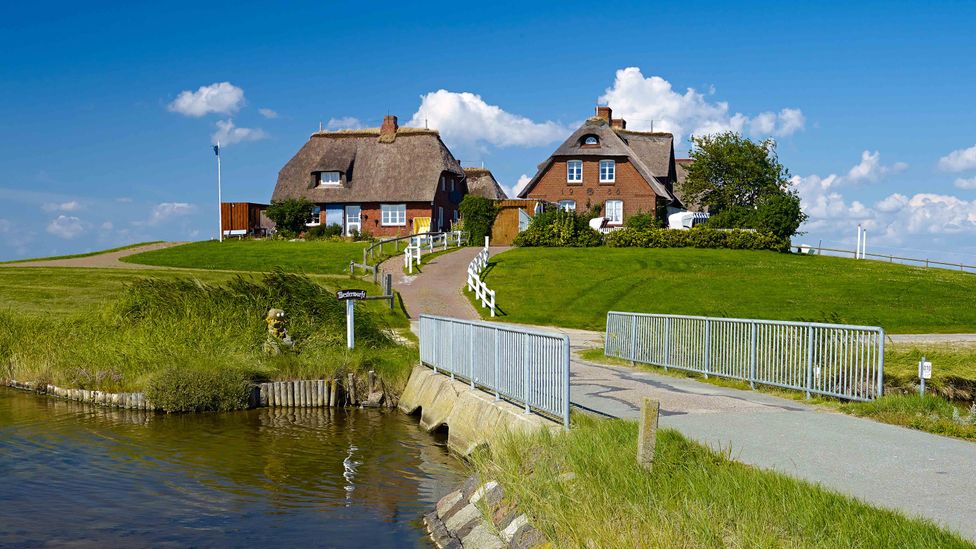 The Halligen, off the northern coast of Germany, are isolated islands that face many challenges – but they are also a powerful defence for the mainland (Credit: Alamy)
The German coastal state of Schleswig-Holstein, which includes the Halligen, is spending millions of euros to enlarge the mounds on which the islanders live, preparing for a sea level rise of up to 1 metre (3.3ft) by 2100. It is also funding research into a measure that may seem counter-intuitive: flooding the islands even more, to add layers of sediment and help them grow with the sea.
We have to find ways of letting our Hallig grow, so that we don't end up sitting on a super-duper high mound, and experience land under every day – Ruth Hartwig-Kruse
"We have to find ways of letting our Hallig grow, so that we don't end up sitting on a super-duper high mound, and experience land under every day," says Hartwig-Kruse, who is the mayor of Nordstrandischmoor as well as a larger neighbouring peninsula.
Matthias Deicke, a geologist at the Georg-August University in Göttingen, has been measuring the Halligen's progress since 2007. He estimates that they should be growing 4-5mm a year to keep up with the sea. Currently, none of them do.
Hooge is the only Hallig with a so-called closed summer dyke, meaning, a low dyke that completely surrounds the island and is designed to keep out lighter floods. Other Halligen have small barriers that are even lower than dykes, and fortified edges to stop erosion. Hooge's barrier means it usually experiences land under only two or three times a year and is essentially not growing at all, according to Deicke. Nordstrandischmoor is only growing by about 1-2mm a year, he says, despite its abundant floods.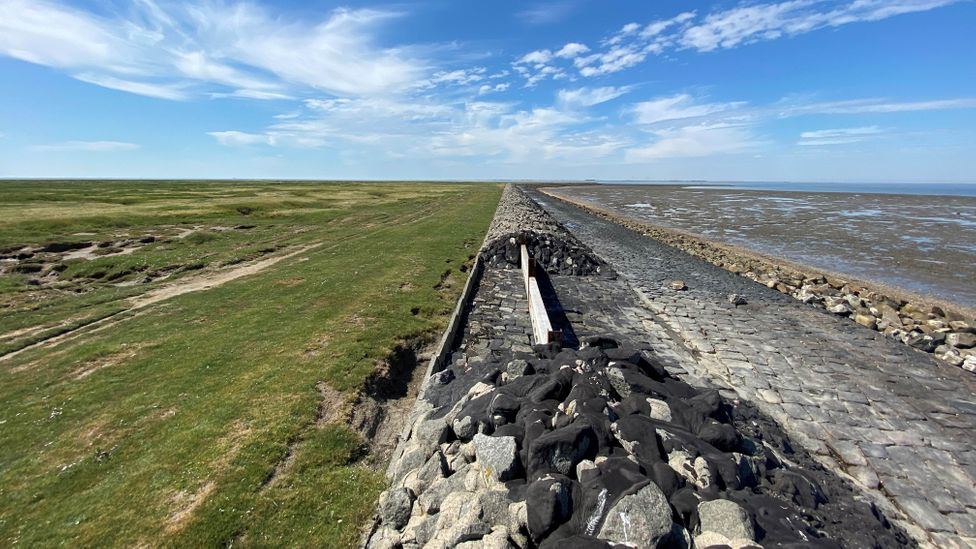 As part of ongoing trials, openings have been cut into the defences of the island of Nordstrandischmoor to allow water and sediment to wash in (Credit: Hendrik Brunckhorst/LKN.SH)
Over the past three winters, Hartwig-Kruse's family and Deicke have tested different ways to help the sea wash more sediment onto Nordstrandischmoor.
They have cut a gap into the low stone barrier that protects island from very mild floods, and opened its flood gates during winter storms. They also installed an upwards pipe through the barrier. During winter floods, storms and high tide push sediment-rich water from the lower depths of the sea directly onto the island.
Some 60,000 birds nest and breed on the Halligen. This includes 71% of Germany's total breeding population of sandwich terns
"The Halligen are a great thing for science, because we can test methods here that we could perhaps apply to other regions, too," says Deicke. He sees potential lessons for Germany's North Sea coast, but also the United States' East Coast, and any other low-lying coastlines seeking to prepare for rising sea levels.
"Building ever-higher dykes on the mainland is not going to work in the long run. The land has to somehow grow with the sea," he argues. If not, the risk is that if the dyke breaks, "it's the perfect catastrophe", because the water will hit the area behind it with full force.
Wild coast
The idyllic Halligen are part of a much bigger ecosystem. They lie in the protected Wadden Sea, an intertidal area that acts as a natural wavebreaker for Germany's North Sea coast, and teems with wildlife. One of the most dramatic features of this ecosystem is the extreme effect of tidal forces. At low tide, the water retreats and exposes the sea floor, allowing people to walk from one island to another, and even to the mainland.
The targeted floods have to be carefully managed within this dynamic landscape, not just to protect the islanders and their livestock, but also to shield nesting birds.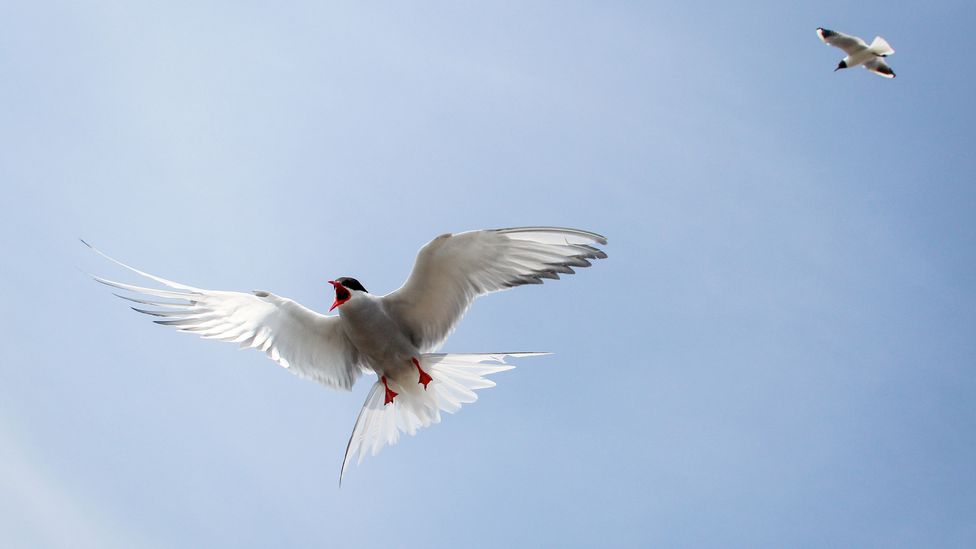 The islands are an important breeding and nesting ground for many species, such as the Arctic tern (Credit: Getty Images)
Some 60,000 birds nest and breed on the Halligen. This includes 71% of Germany's total breeding population of sandwich terns, 49% of its Arctic terns, and 53% of its great black-backed gulls, according to a study by the World Wide Fund For Nature (WWF) in Germany. They find plenty of food in the salt marshes and on the sea floor during low tide. The winter floods tend to keep the islands free of land predators. To protect these birds, the openings and pipe tested by Deicke and his team are all closed during the spring and summer.
Based on preliminary, unpublished results from the targeted flooding tests that will conclude this year, Deicke believes the measures can help Nordstrandischmoor achieve the necessary growth. The pipe appears to be particularly effective, he says, spilling a thick layer of sediment onto the land that can be observed with the naked eye. Slowing the water's retreat, to let it sit on the land for longer and allow as much sediment as possible to settle, also helps.
In principle, the measures could be implemented on all the Halligen. But for the islanders, targeted flooding comes with some inconvenience.
Typically, land under lasts for 12 hours, until the water flows off. If storms keep pushing water onto the land, however, it can last for days. During that time, the islanders are cut off not just from the mainland, but also from other mounds with schools and shops. The experience is somewhat like a lockdown, with the added drama of being entirely surrounded by the sea: children are home-schooled, families live off stored food, any errands on the mainland or other mounds are put off.
Without well-functioning global climate protection, nothing can be saved here – Hans-Ulrich Rösner
Targeted flooding, and in particular, slowing the water's retreat, could intensify that experience. The longer the water sits on their Hallig, the longer the islanders are trapped on their mounds.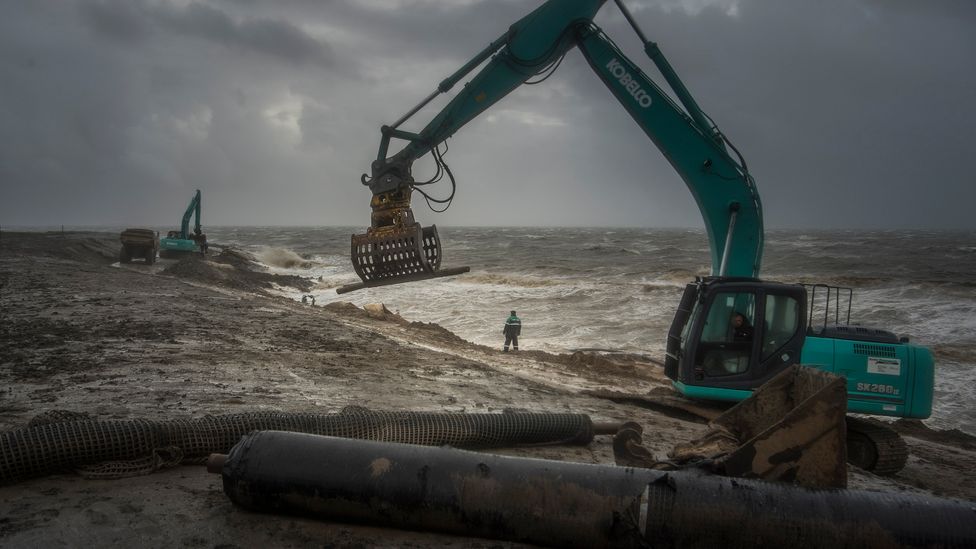 Despite the protection from the Halligen, coastal defences still need to be strengthened on the mainland as climate change brings rising seas (Credit: Oliver Franke:LKN.SH)
"I'm in favour of [targeted flooding] and think we on the Halligen should definitely support it," says Katja Just, the mayor of Hooge, which is relatively rarely flooded because of its dyke. "But of course there are those who say, no, no, no way, that would lengthen land under, and then we can't get away." She believes, however, that the inconvenience is worth it, if it means preserving Hooge for future generations.
Even if they were eventually implemented on all the Halligen, the targeted floods will only be one element of a wide-reaching and costly plan to adapt the islands to climate change.
"If we want to hold on to the Halligen, there are several basic conditions," says Hans-Ulrich Rösner, the director of the WWF's Wadden Sea Office in the German town of Husum. "First, the mounds have to be raised, so people can live there. Second, the land has to grow, and that's only possible through land under. Third, the edges have to be protected from erosion." That last step has already been implemented for some decades, by fortifying the Halligen with stone edges. As a final point, Rösner emphasises that the surrounding Wadden Sea intertidal ecosystem also has to be preserved, because the Halligen ultimately can't exist without it.
All these efforts, Rösner says, are going to be futile unless countries adhere to the Paris Agreement, an international treaty on climate change that aims to limit global warming: "Without well-functioning global climate protection, nothing can be saved here."
Climate mounds
The first of Rösner's recommendations, raising the mounds, is already underway. The state of Schleswig-Holstein is aiming to gradually convert the mounds on the Halligen into so-called "Klimawarften", or "climate mounds", which will resist the rising sea. A climate mound is up to 1.5m (5ft) higher than conventional mounds, broad enough to accommodate future expansions, and has a long, gentle westward slope to take the heft out of the incoming floods, driven by west winds.   
A pilot project to create three climate mounds on Hooge, Nordstrandischmoor and Langeness is nearing completion. It has turned out to be considerably more expensive than expected, costing between €3.7m (£3.2m/$4.5m) to €9m (£7.9m/$10.9m) per mound, largely because of the cost of the sand needed for construction, and its transport. Since no sand can be taken out of the protected Wadden Sea, it has to be brought in from elsewhere in the North Sea and on the mainland.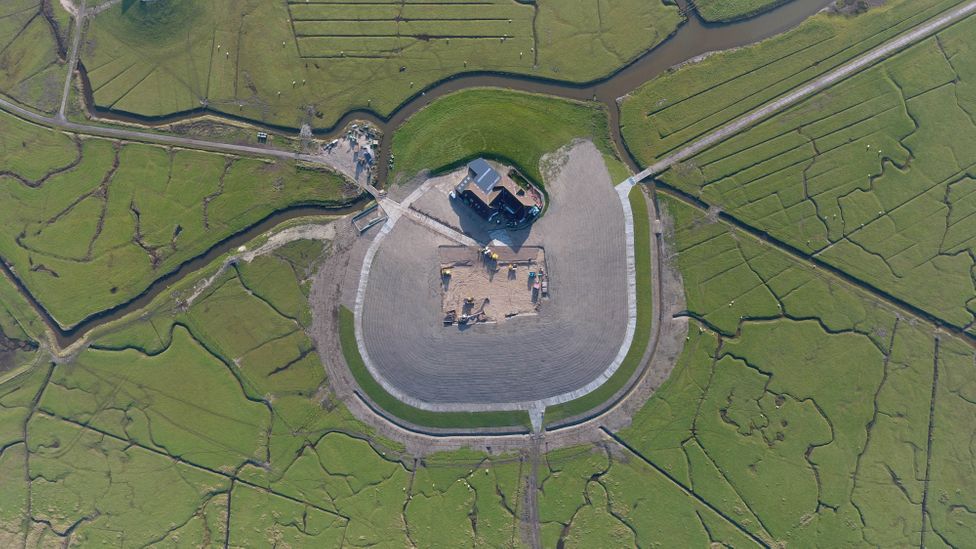 The construction of climate mounds is very expensive, but they could be key to keeping the islands habitable (Credit: Reuse-Bau)
The mound where Hartwig-Kruse and her family live was expanded as part of that project. The work finished last year, and cost more than €5m (£4.4m/$6m). The expansion created a new plot of raised land big enough for a second house, where one of Hartwig-Kruse's sons will live with his family. On Hooge, the mound expansion also created an additional plot. It belongs to the municipality, with the idea of building a spare house that can be used by the islanders on lower parts of the mound as they gradually rebuild their own homes, and raise the land below them, so that eventually the entire plateau is raised.
We've taken the decision to stand by the Halligen. Standing by the Halligen also means making sure they stay inhabitable – Birgit Matelski
Katja Just, the mayor of Hooge, says those who question making such a huge investment to save these sparsely populated islands should consider the bigger picture: "If the Halligen disappear, the coast will be exposed to a force that will bring enormous costs and damage. In the long term, protecting the Halligen means protecting the coast."
Birgit Matelski is the director of the Agency for Coastal Defence, National Park and Marine Conservation of the state of Schleswig-Holstein, which funds the climate mounds and flooding tests. She points out that many islanders also work in coastal protection and help maintain the Halligen. In her view, abandoning the islands, and letting them vanish into the sea, would mean destroying a unique piece of cultural and environmental heritage.
"We've taken the decision to stand by the Halligen," she says. "Standing by the Halligen also means making sure they stay inhabitable. Because if they're not inhabited, they can't be preserved."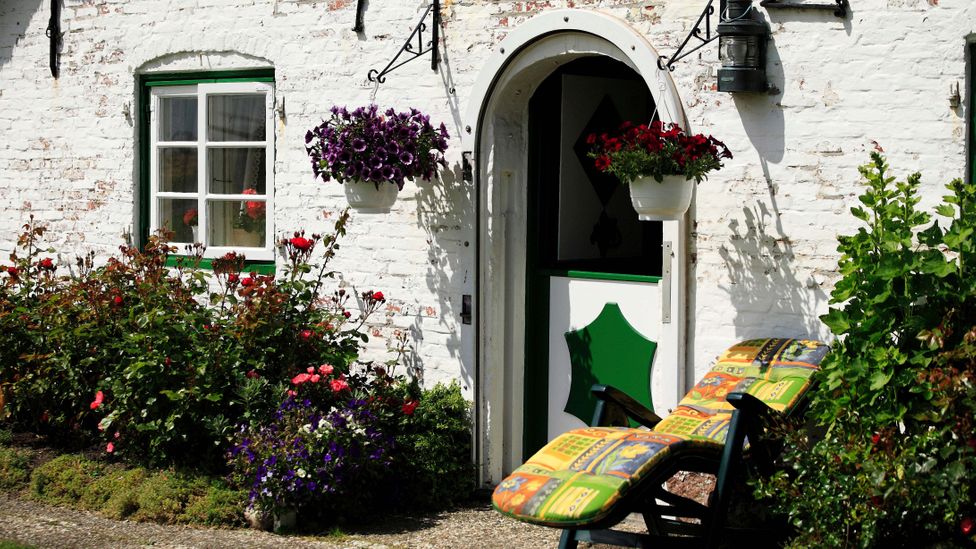 For many who have lived on the islands for years, the challenge of land under is worth it for the islands' special environment (Credit: Alamy)
Some locals are sceptical about the climate mounds. They fear that a large building site will deter tourists, or that their gardens or grazing land will be reshaped or reduced.
On Gröde, which has a population of only 10 people who all live on one mound, such concerns have already delayed the planned work. Without their consent, the project to expand their mound can't go ahead, but so far they haven't come to an agreement.
"Finding a solution that is acceptable to everyone, that process just takes longer here," says Jürgen Kolk, the mayor of Gröde. "The necessity is there, everyone here knows that."
I feel that it's a huge gift to live here, and to have raised children here, in this freedom, in this unique environment – Ruth Hartwig-Kruse
Like the mayors of Hooge and Nordstrandischmoor, Kolk emphasises that keeping the Halligen inhabited will take more than strong mounds and dry feet. He sees an urgent need for better internet access, which would also improve educational opportunities. The schools on the Halligen tend to be visited by fewer than a dozen children, with one teacher who covers all the subjects and instructs all the year groups at once. On Gröde, there are no children at all, and the schoolhouse is currently unused. As charming as the idea of a tiny island school may seem, Kolk says that in practice, many families end up moving to the mainland for their children's education.
For Hartwig-Kruse, any inconveniences of Hallig life are more than offset by her island's natural beauty. Every winter she looks forward to the arrival of the first oystercatchers that herald the warmer seasons. At low tide, she looks for shells on the sea floor. When the weather forecast signals a likely land under, she reminds her grandchildren to collect their bikes and toys from the flat land before they are swallowed by the sea. Then she works at her computer, or finishes chores around the house, until the water flows off.
"I feel that it's a huge gift to live here, and to have raised children here, in this freedom, in this unique environment," she says.
Thinking of her ancestors, whose rhythm of life was not that different from hers, Hartwig-Kruse feels quietly optimistic about the future of the Halligen. After all, they adapted to many dramatic changes over the centuries, moving their mound twice as their island eroded around them. Their last move to a safer place on the island was in 1919, just before a storm surge that would have drowned their old home.
"If they hadn't moved, our family wouldn't be here anymore," she says. "They always thought ahead, before it was too late. And that's what we've learned from them, to tackle problems well in advance."
--
The emissions from travel it took to report this story were 0kg CO2. The digital emissions from this story are an estimated 1.2g to 3.6g CO2 per page view. Find out more about how we calculated this figure here.
--
Join one million Future fans by liking us on Facebook, or follow us on Twitter or Instagram.
If you liked this story, sign up for the weekly bbc.com features newsletter, called "The Essential List". A handpicked selection of stories from BBC Future, Culture, Worklife, and Travel, delivered to your inbox every Friday.