The city of Chennai, on India's south-eastern coast, infamously ran dry in the summer of 2019. Now, the city is looking to its ancient wetlands to keep its taps running.
K
Kalaiselvi Murugan's day starts early. She is a domestic worker in Chennai, India, who rises at dawn to beat the queue and place her red plastic pot in line, ready for the water to be released at the neighbourhood water pump. After collecting water for her tiny third-floor flat, she walks to work in a wealthier neighbourhood, where the apartments have piped water supplied by tankers throughout the day.
Chennai, with a population of nearly 11 million, has no perennial rivers to supply its water. The city is dependent on the north-east monsoons and four large reservoirs for its water. But reliance on these reservoirs is proving increasingly precarious. In June 2019, Chennai made international headlines when the city officials declared that Day Zero had arrived – the anticipated moment when all four of the city's reservoirs ran dry. The crisis prompted extreme measures to provide relief, including transporting water by rail from a town more than 200km (124 miles) away.
As well as providing a rare haven for wildlife, the preservation of the marsh offers a chance for Chennai to absorb its ample rainfall
And yet Chennai is prone to flooding too. Climate change increased extreme rainfall events threefold between 1950 and 2015, while the monsoons on which Chennai relies have become increasingly erratic, leading to more dry spells as well as wet spells. In the city, those who can afford it hire tanker trucks to fill their cisterns with water, while others depend on packaged mineral water or, like Murugan, walk to fill their containers at local pumps.
Chennai's water troubles have a long history, with environmentalists such as Nityanand Jayaraman, a local engineer and community activist, dating their origin to when Chennai became a British colony in India in the 17th Century, leading to a profound change in the way the city got its water. "Chennai's solutions to its water problems have been short-sighted, and landed the city in more problems," says Jayaraman.
Now, centuries later, the city is turning to its natural surroundings in the hope of staving off a second "Day Zero".
In June 2019, the major reservoirs supplying Chennai with water ran dry, leaving many unable to essential water supplies (Credit: Getty Images)
Before British colonisation, Chennai and its neighbouring areas were known as "yeri (lake) districts". A network of connected ponds, lakes, marshes and wetlands, reservoirs and small bodies of water at temples known as "temple tanks" collected large quantities of rainwater for use in the city, and kept the region's water table topped up through the year. Under British rule, some water tanks (man-made open bodies of water) were significantly expanded so a centralised reservoir could supply water to a large tract of the city.
In the centuries since, Chennai has continued to rely on the several large reservoirs as it has rapidly expanded. But urbanisation has come at a cost – only 10% of Chennai's original wetlands have not been built over or destroyed, according to The Nature Conservancy. This loss of wetlands has continued rapidly in recent decades – wetlands now comprise only 15% of the city's total area, down from 80% in the 1980s.
Today, street names like Spur Tank Road and Lake View Road are the only reminder of the marshy history of these former wetlands.
You might also like:
Yet in another part of the city, fish eagles and spoonbills can still be seen swooping over the waters dotted with endemic purple lilies, framed by tall buildings in the distance. This lush ecosystem is the Pallikaranai Marsh, the only surviving wetland of the city, located 20km (12 miles) from Chennai's centre. More than 30 different water bodies release surplus water into the marsh during the monsoons. It is also home to reptiles such as the Russell's viper, and birds such as the grey-headed lapwings and pheasant-tailed jacana.
Jayshree Vencatesan, founder of the Chennai-based biodiversity research organisation Care Earth Trust, has been studying the Pallikaranai Marsh since 2001. She found that the marshland had shrunk from around 6,000 hectares (23 square miles) in the 1960s to less than 600 hectares (2.3 sq miles) in the early 2000s, due to unplanned development and rubbish dumping. Her findings were the basis for a ruling by the High Court of Madras to prohibit further encroachment on wetlands and to implement a plan to restore some of these ecosystems.
In 2007, part of the marshland was declared a nature reserve. In 2018, 1.65bn rupees (£16.7m/$22.7m) were allocated to further restore the marsh. Since then, the Tamil Nadu Forest Department has worked to remove invasive species, and reduce untreated sewage disposal, waste dumping and illegal encroachment.
As well as providing a rare haven for wildlife, the preservation of the marsh and the restoration of pockets of vegetation throughout the city offer a chance for Chennai to absorb its ample rainfall, and replenish the groundwater.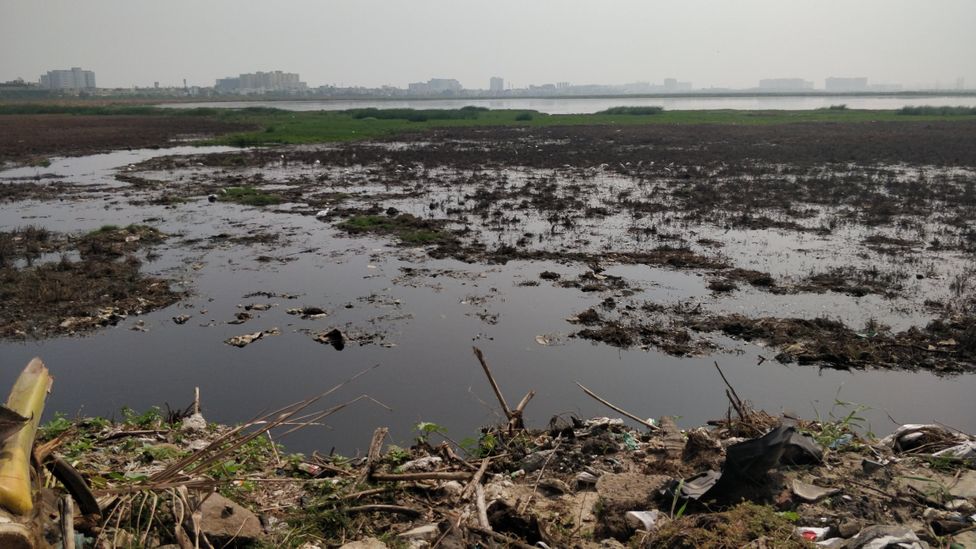 The remaining wetlands of Chennai have been historically encroached upon and polluted with waste dumping (Credit: Kalpana Sunder)
A similar rehabilitation of the main rivers of the city, though, has been more challenging. Chennai's three main rivers and its largest canal have a history of industrial pollution and solid waste disposal, which have made their water largely unsuitable for consumption or bathing. In 2006, the Tamil Nadu Government set up the Adyar Poonga Trust, to protect and restore the three rivers and the Buckingham Canal, which stretches through much of the city parallel to the coast. It was a significant undertaking – the width of the canal had shrunk from 200 metres to less than 50 metres in many places due to the accumulation of waste.
But the estuary habitat has begun to recover. Saplings from 173 species of native plants, including mangroves and mangrove associated plants like Rhizophora, Avicennia, and Bruguiera were planted over 350 acres (140 hectares) – and it seemed to work. The number of species in the restored area rose over the course of the project from 141 in 2007-08 to 368 in 2019-20, and is now a thriving home to creatures ranging from mudskippers and crabs, to monitor lizards.
The restoration is far from over, with the city's rivers are still beset by waste dumping and large quantities of untreated sewage. But over the years, there has been a visible improvement. One can see more birds and, in the stretches where it is free from debris, the once-stagnant water actually appears to flow.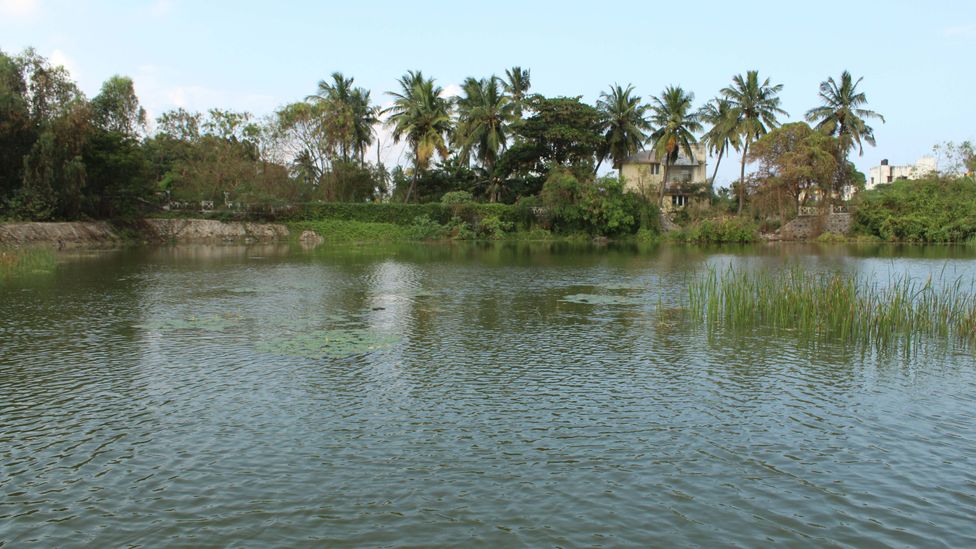 After restoration, species counts rose at Chennai's Pallikaranai Marsh as the habitat recovered (Credit: Jayshree Vencatesan)
While these ecosystem renewal projects have been ongoing for decades in Chennai, it was the devastating floods of 2015 that kickstarted an ambition for a larger-scale rejuvenation of Chennai's wetlands. After those floods, during which the military dropped food supplies to residents stranded on rooftops, the city turned to nature-based solutions as a way to become more resilient to climate change.
One of the major outcomes of that period was the goal to turn Chennai into "the city of 1,000 tanks". The aim is to restore the city's ancient system of interconnected ponds, temple tanks and small reservoirs that were the source of its water before the city's rapid growth.
Given the decimation of the wetlands in the city's recent history, it remains a vast challenge to restore them to the extent that they can keep taps running
Madras Terrace, a local architecture firm, is one of the partners in the project, and intends to focus on restoring the historic temple reservoirs. "Temple tanks are barometers of the water table in a locality," says Sudheendra NK, director of Madras Terrace. So far, the city's municipal authority has restored 15 of the city's temple tanks, but Sudheendra wants to go much further.
As well as the temple tanks, the Madras Terrace team intends to raise the water table by collecting treated wastewater from buildings through vegetated ditches, called bioswales. Beginning in the neighbourhood of Mylapore, the bioswales would be placed strategically along streets, in backyards and hotel grounds. A pilot project is being conducted in a local school, though its progress has been hampered by the pandemic.
A wetland's roles are many and varied, from storing surface water, to recharging groundwater and providing a habitat for dwindling wildlife. The incentives to save Chennai's wetlands – as a buffer to the floods and droughts predicted to worsen in India – are clear. Yet given the decimation of the wetlands in the city's recent history, it remains a vast challenge to restore them to the extent that they can keep taps running in the city.
But Care Earth Trust founder Vencatesan has not lost hope. Progress is steady – the Chennai Municipal Corporation has prioritised 200 wetland sites for restoration, working with organisations including the Nature Conservancy and Care Earth Trust. And Vencatesan in particular is not one to be daunted by such a feat. "When I started working on the Pallikaranai Marsh, many people dissuaded me saying it was of no use or relevance," says Vencatesan. "Today it's a benchmark for wetland restoration not only in India but globally."
--
The emissions from travel it took to report this story were 0kg CO2. The digital emissions from this story are an estimated 1.2g to 3.6g CO2 per page view. Find out more about how we calculated this figure here.
--
Join one million Future fans by liking us on Facebook, or follow us on Twitter or Instagram.
If you liked this story, sign up for the weekly bbc.com features newsletter, called "The Essential List". A handpicked selection of stories from BBC Future, Culture, Worklife, and Travel, delivered to your inbox every Friday.