Six months into Hong Kong's anti-government protests, the city is celebrating its artistic talent and creativity in an unprecedented manner, writes Vivienne Chow.
T
The face of Hong Kong's chief executive Carrie Lam is falling apart: an eyeball has fallen out of its socket and the flesh of her left chin has been ripped off. Black-clad protesters in yellow hard hats are standing on top of her head, hanging a banner with 'Hong Kong add oil' on her forehead and shouting into her ear with a megaphone.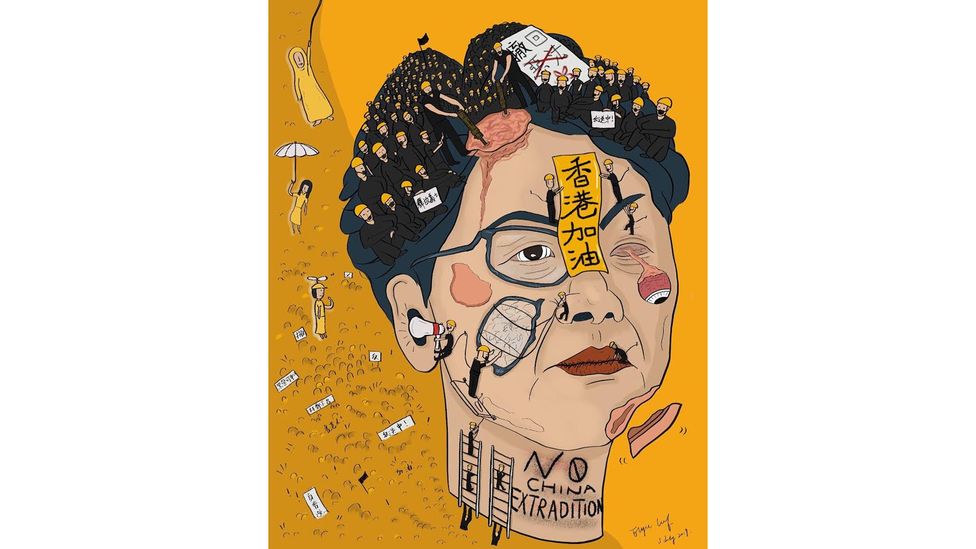 Illustrator and designer Elyse Leaf created this image of Hong Kong's chief executive Carrie Lam in July just after protests broke out in the city (Credit: Elyse Leaf)
Such is an imaginary scene painted by Elyse Leaf, a 26-year-old illustrator and designer who channelled her anger and frustration into this illustration. She completed it in July, a month after the outbreak of Hong Kong's pro-democracy protests began, sparked by the now-withdrawn extradition bill. "I have never felt such an indescribable rage towards one person in my life, and this person is Carrie Lam," she said.
More like this:
-        Art of Feeling: Why we should celebrate anger
-        The art that stereotyped the Arab world
-        This year's most controversial artwork?
Elyse Leaf's illustration echoes an iconic slogan of the ongoing protests: "we climb the same mountain together, but each of us makes their own effort" – it became one of the digital posters that went viral online. The digital illustration has also been transformed into stickers and handed out to people taking part in protests, and they ended up decorating the streets. Photos of these stickers in the streets were later shared on social media.   
These creative outputs are embedded in the collective action and empowering the movement – Professor Francis Lee
Elyse Leaf's illustration is one of the many examples completing the online-offline creative cycle that has been fueling the Hong Kong protests. Drawing references from popular culture and fine art, these creative outputs first propagate the ideologies of the protests in the digital realm. They are dispersed via social media, encrypted messaging platform Telegram and Apple's bluetooth-enabled AirDrop. Then they cross into reality, ending up as protest art objects or performative protests in the streets, turning public spaces into a canvas or an art gallery. Images of streets that are full of these creations travel back to cyberspace and are spread further via social media.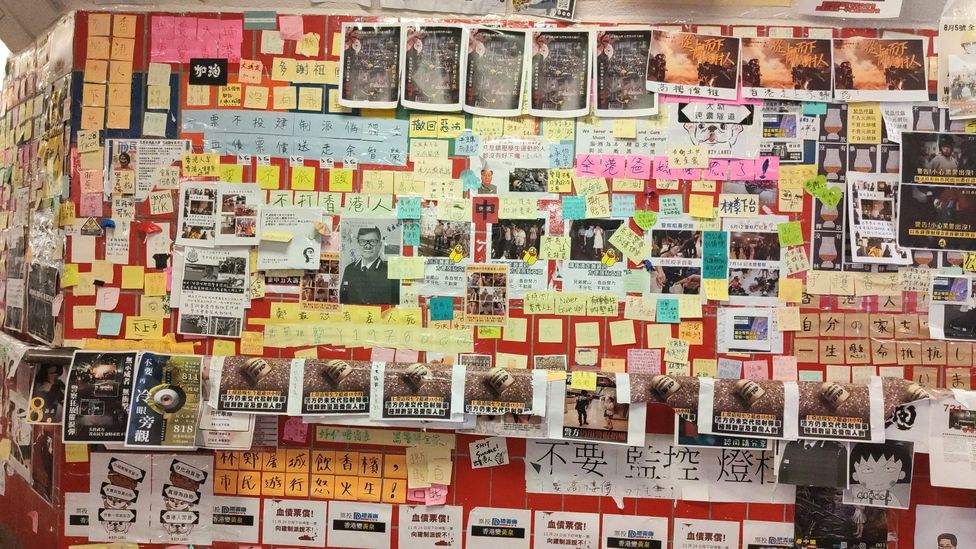 A metro station in the city has been transformed into a 'Lennon wall', inspired by tributes to John Lennon (Credit: Getty Images)
"The transformation of public space itself is art," Him Lo, an artist and curator from Hong Kong, tells me during a panel discussion in Hong Kong titled Visual Art in Public Space. "We have more imagination of public space, taking the chance to transform space into place."
Art embedded in protest
Six months on, the protests are still going strong and the form they take is continually evolving. Violence from both the police and radical protesters is escalating as the authorities take a more hard-hitting, suppressive approach and protesters respond with increasingly aggressive tactics that disrupt the city.
"This movement requires a great deal of creative power in order to sustain, and the emergence of artistic creativity during this process is natural. These creative outputs are embedded in the collective action and empowering the movement," Professor Francis Lee, Director of the School of Journalism and Communication at The Chinese University of Hong Kong, tells BBC Culture.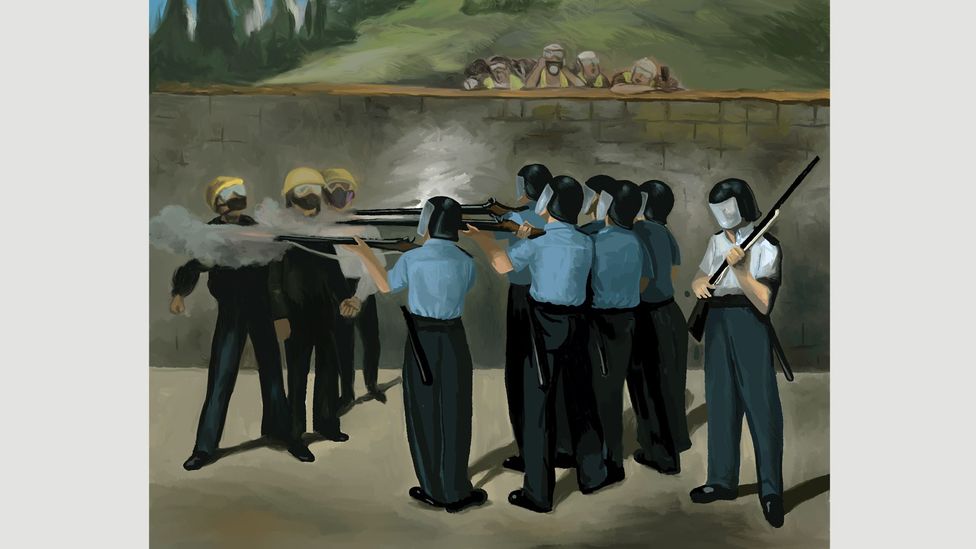 Justin Wong – whose Execution is shown here – is one of the professional artists whose work has been attached to Lennon walls (Credit: Justin Wong)
The strategy of 'be water', inspired by Hong Kong kung-fu icon Bruce Lee's famous philosophical quote, is the fundamental principle of the protests – which come and go. Unlike the city's past political demonstrations, such as the Umbrella Movement in 2014, where protesters led by political leaders occupied specific sites for 79 days, the current movement does not operate on a singular model, Professor Lee explains. "It has to constantly evolve and there is always something new."  
And speaking during the Visual Art in Public Space panel, Hong Kong artist Kacey Wong, best-known for his protest art, said that due to the mobile nature of the protests, art attached to the protests also has to be mobile.
Digitally-made works fit the bill. Protest art, illustrations, animated shorts and publicity posters by anonymous creatives have gone viral, such as those inspired by Japanese anime and an iconic work by an anonymous artist called Harcourt Romanticist that references Delacroix's Liberty Leading the People. Together with works by professionals such as Hong Kong artist Justin Wong and Badiucao, a Chinese political artist living in Australia, these creative outputs ended up as physical objects attached to Lennon Walls.  
During this time of crisis, we need someone to listen to us – Kacey Wong
Professor Lee explains that besides art, the protests took on other new forms aimed at catching the world's attention, like crowdfunding more than HK$5 million (£486,000) to run artfully-designed advertisements in newspapers around the world in order to spread protest messages ahead of the G20 summit.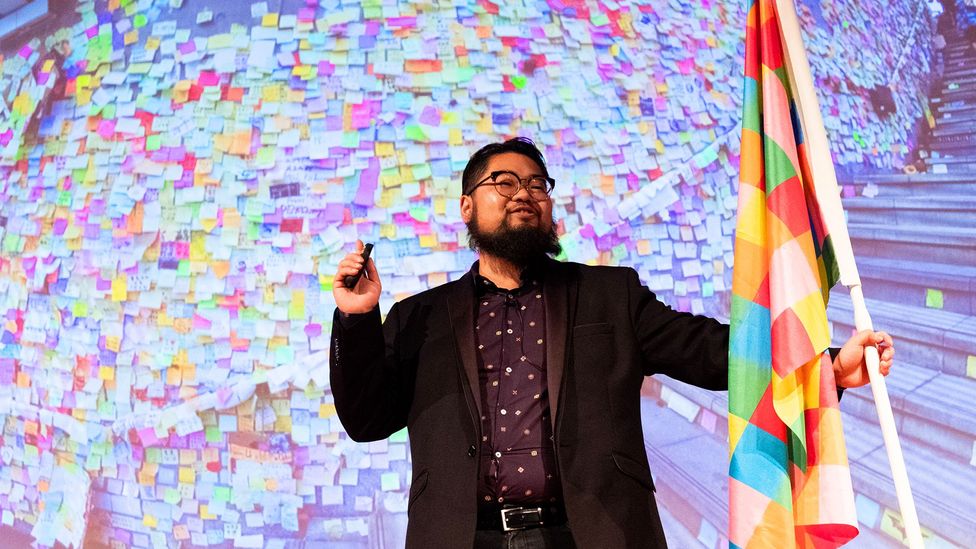 Political cartoonist Badiucao holds the flag that was inspired by the Lennon walls around the city (Credit: Getty Images)
He adds that activists are well aware of how performative elements can turn a rally into an appealing event with long-lasting impact, citing the human chain protest on the iconic Lion Rock on 23 August and the singing of protest songs at shopping malls like Glory to Hong Kong, a song written by netizens that within a matter of weeks had quickly became the city's unofficial anthem. "These iconic images help consolidate how we understand these events," he says.
'Art as a weapon'
Kacey Wong has also joined one of the singing protests. On one occasion, he posed as a 'raptor', the Special Tactical Squad of the police force that was captured on camera attacking protesters and civilians. The crowd – initially frightened by his appearance – was soon relaxed, as Wong waved his baton like a conductor, compelling people to sing along with the music playing on his loudspeaker.
"During the time of crisis, we need somebody to listen to us," Wong said. 
Him Lo shared the same desire to be heard, admitting that he felt rage when he witnessed how the city had been turned into a war zone, particularly in mid-November, when university campuses were under siege by riot police. He made an installation called Sin of Hong Kong, using tear gas canisters he collected from the field. The work was on show in Hong Kong, but the police removed it, citing that it was illegal to possess weapons and ammunition.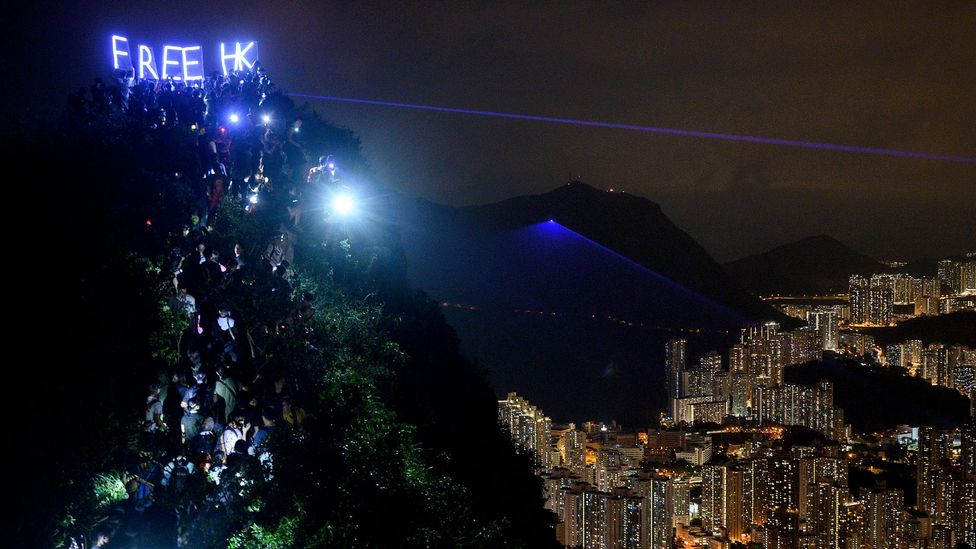 Activists formed a human chain and held up LED letters that read 'Free HK' in a protest on Hong Kong's Lion Rock (Credit: Getty Images)
"As an artist, I have different weapons if I want to voice out my messages, such as painting, poetry, or other kinds of media," Lo tells BBC Culture. "Some people might think these weapons are weak, but it is the message that we need to deliver to people. We have other options before resorting to violence."
More artists have begun to respond to the protests with their art, but only a few have been shown locally to date. Some of Wong and Lo's works were featured in a group show called Water and Ashes for Creative (R)Evolution, the first exhibition in Paris dedicated to the protest art from the 2019 movement.
Hong Kong people have never been so united – Elyse Leaf
The show gave a spotlight to the creative outputs by the anonymous illustrators, designers and artists who have been among the key drivers of the protests. Wong explains that when anonymous creatives and protesters hide their identities, they collectively form a new identity, creating a sense of unity and fluidity that previously did not exist. Lo agrees, saying that artists are a part of a political movement that is morphing into a fight to reinvent Hong Kong's identity and preserving the city's soul. 
Kacey Wong – whose work includes The Shield – says that art attached to protests has to be mobile (Credit: Kacey Wong)
And this is an opportunity for the anonymous creatives to showcase the talent they are not allowed to demonstrate at work because they have to serve conservative clients, Elyse Leaf explains, citing friends who are also designers and even owners of advertising agencies.
"Hong Kong people have never been so united," she says. "They do their best to express themselves and spread their messages creatively. In the past, I did not love Hong Kong that much. I always thought about leaving. But now all I want is to win this battle – these people have messed up my home, and they are not allowed to do that".
If you would like to comment on this story or anything else you have seen on BBC Culture, head over to our Facebook page or message us on Twitter.
And if you liked this story, sign up for the weekly bbc.com features newsletter, called The Essential List. A handpicked selection of stories from BBC Future, Culture, Worklife and Travel, delivered to your inbox every Friday.