A figure that captures our fear of what lies ahead, or the poster girl for a bold new movement? As a new exhibition opens in Vienna, Kelly Grovier reveals how one of Koloman Moser's works contains an emblem of unity in an age of uncertainty.
I
If you want to measure the soul of an age, don't rifle through its literature or wrestle with the writings of its thinkers. Study instead how it decorates its calendars. Calendar designs quietly attest to how a culture grapples with its perishable presence in the world. An illustrated history of humankind is waiting to be compiled, stretching from ancient Egypt to the present day, that showcases the evolution of how we adorn those rigid grids of days and weeks and years through which our lives are slowly sieved.
More like this:
- The juvenile joke hidden in a 16th-Century painting
- One of art's most enduring puzzles?
- Unsettling images twisted from Disney
What it says about our own era that, at the start of 2019, the bestselling wall calendars feature cats performing yoga and (perhaps a variation on the same theme) the pouty poses of Little Mix and Liverpool FC, is for our descendants to decide. A mesmerising poster for the Viennese calendar firm Fromme's, designed 120 years ago by the Austrian artist Koloman Moser, offers an intriguing window into one of the most ambitious imaginations in modern art. The poster is currently on display in Vienna at the MAK (the Austrian Museum of Applied Arts and Contemporary Art) as part of an exhibition devoted to the manifold artistic creations of Moser, who collaborated – in the closing years of the 19th Century – with Gustav Klimt in founding the pioneering art movement known as the Vienna Secession.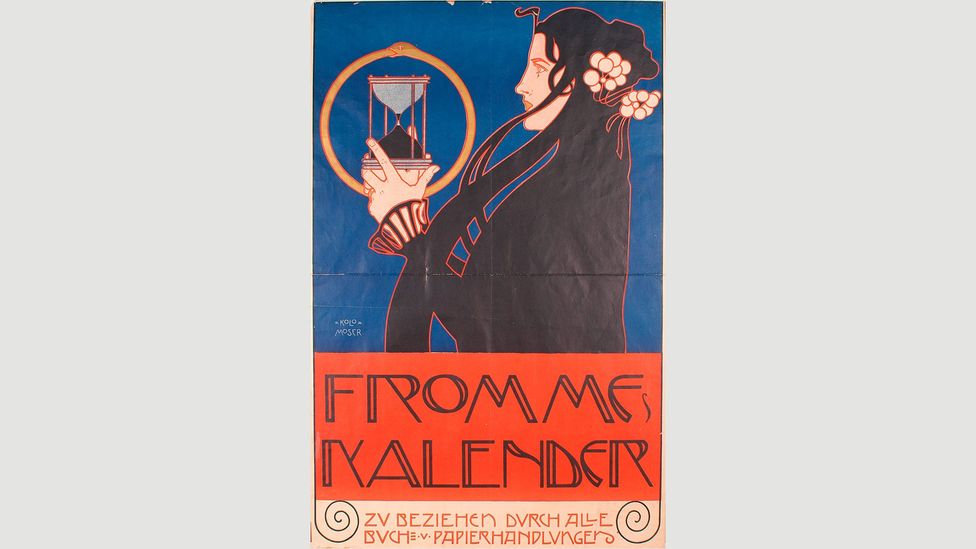 Koloman Moser, Frommes Kalender [Fromme's Calendar], 1899 (Credit: MAK)
Moser's heavily stylised portrait for 'Fromme's Kalendar' is dominated by the sidelong stare of a mysterious woman whose air of cold clairvoyance is in accord with the artistic temperament of the times. Gazing past the hourglass that she lifts like a sacred chalice or sacrificial offering, this archetypal mystic could easily have been modelled after a young Madame Blavatsky, the Russian occultist philosopher and co-founder of the Theosophical Society, whose esoteric ideas about Ancient Wisdom were shaping the artistic attitudes of everyone from Piet Mondrian to Kazimir Malevich, Wassily Kandinsky to Hilma af Klint.
To judge from the diminishing volume of sand in the upper bulb of the hourglass, time is quickly running out
Designed in 1899, as an increasingly industrialising world braced itself for the uncertainties of a new century, Moser's enigmatic portrait vibrates with anxiety about what lies ahead for mankind. To judge from the diminishing volume of sand in the upper bulb of the hourglass, time is quickly running out. As our eyes swivel from that ominous timepiece to the curvilinear ribbons and tresses that flow from the seer's temples, a cascade that merges into her shadowy physique, we begin to suspect that our elusive woman is less an actual figure in the here-and-now and more a kind of cursive character to be read – a symbol, perhaps even an ancient one, of riddling portent.
A bold new frontier
In her emotional evasiveness and refusal to be pinned down to any particular time or place, Moser's inscrutable construct can be understood as a close cousin of the countless allegorical enchantresses that come glitteringly to life on the surface of Klimt's works. Klimt's own alluring watercolour Allegory of Sculpture, created the same year as Moser's poster, for a festschrift to mark the 25th anniversary of the Imperial Royal Austrian Museum of Art and Industry (today's MAK), is also on display in the exhibition.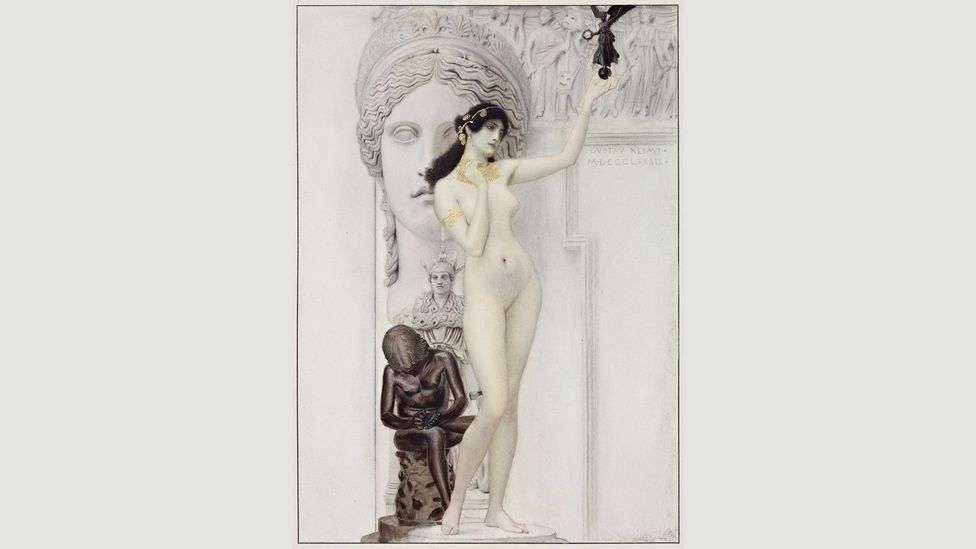 Gustav Klimt, Allegory of Sculpture, 1889 (Credit: MAK/Georg Mayer)
Six years Klimt's junior, Moser shared with the creator of The Kiss (1907) a passionate belief that art in Vienna had grown far too fusty and academic in its prejudices. Together with a clutch of avant-garde architects and painters (including Wilhelm Bernatzik, Josef Hoffmann, Max Kurzweil, and Joseph Maria Olbrich), Moser and Klimt established a new consortium of contemporary energy that sought to challenge conservative artistic norms, especially those that demanded fealty to nationalist themes and subjects.
Determined to break free from the shackles of expectation, the Vienna Secessionists welcomed innovation, in whatever form it might take, and eclectically embraced the competing objective of Symbolist, Realist, and Impressionist artists in forging an aesthetic that was crisp and fresh and unapologetically modern. Moser's sibylline sorceress can be seen as the poster child of a bold new movement that played by its own mysterious rules.
The pursuits of painting and sculpture had wrongly been elevated, Moser felt, over the fashioning of the objects we use in everyday life
In Moser's own mind, it was not enough, however, that the artificial boundaries that separated artistic styles should be erased. The arbitrary distinctions between high and low art, enforced by the elites who control culture, should go as well. The pursuits of painting and sculpture had wrongly been elevated, Moser felt, over folk craft and the fashioning of the objects we use in everyday life. Committed to the concept of the Gesamtkunstwerk, or 'total work of art', Moser ambitiously committed himself in the late 1890s not to bridging the distance between fine and applied arts, but to creating from the historical friction between the two a lustrous synthesis. "It is out of the tension between these two opposites," according to curator Christian Witt-Dörring, that Moser "designs the volume of his practical objects".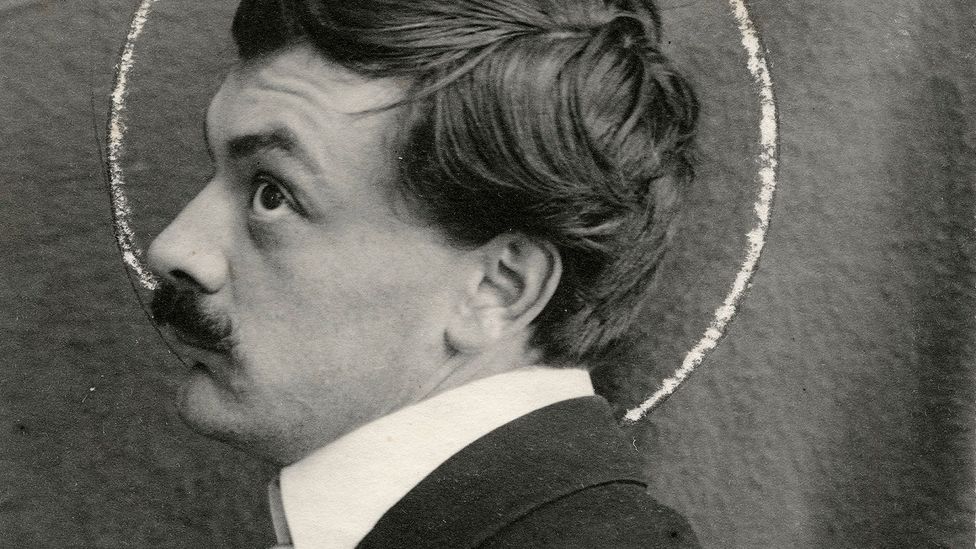 Anonymous, portrait photograph of Koloman Moser, c. 1903 (Credit: MAK)
Moser began conceiving of the spaces that we inhabit as stages on which every object, however utilitarian, should match in its exquisite stylishness every other object we encounter. For a decade, from the inception of the Vienna Secession in 1897, Moser would devote himself to designing a dizzying array of furniture, ceramics, silverware, glass works, stained-glass windows, and graphic arts whose elegance embody his unifying vision. His commitment to conceiving a 'total work of art' only accelerated in 1903 with his co-founding, along with Josef Hoffmann, of the legendary Wiener Werkstätte, a workshop of master tradesman dedicated to creating objects of timeless grace.
A symbol of the eternal
If we look closer at Moser's poster for Fromme's calendar, a detail that one might dismiss as a mere stylistic flourish suddenly seems resonant with meaning – a secret shorthand for the artist's unifying philosophy. Orbiting the hourglass that the sphinx-like sorceress lifts is a snake or dragon devouring its own tail. Known as an 'ouroboros', this esoteric symbol originated in antiquity and was associated in Ancient Egypt with the union of the realm of the sun god Ra, and that of the god of the underworld and afterlife, Osiris. In later eras, the emblem of a self-consuming serpent would be seized upon by alchemists and theologians alike as denoting the eternal harmony of all things.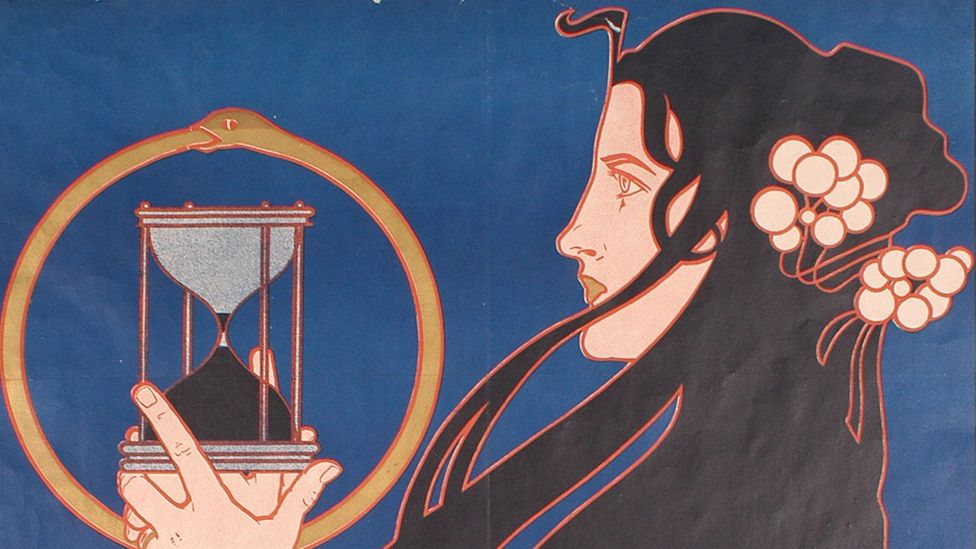 Koloman Moser, Frommes Kalender [Fromme's Calendar], 1899 (Credit: MAK)
That a snake bracelet has also wrapped itself around the arm in Klimt's own Allegory of Sculpture establishes a unity across the creative consciousnesses of the Secessionists. Encircling, as it does, the emptying hourglass in Moser's poster, the ouroboros asserts a cosmic order that supersedes the clumsy calibrations of time in this world. Once spotted, the ancient symbol transforms Moser's poster into a New Age tarot, one whose unflinching fortitude trumps any anxieties about the future that lies ahead.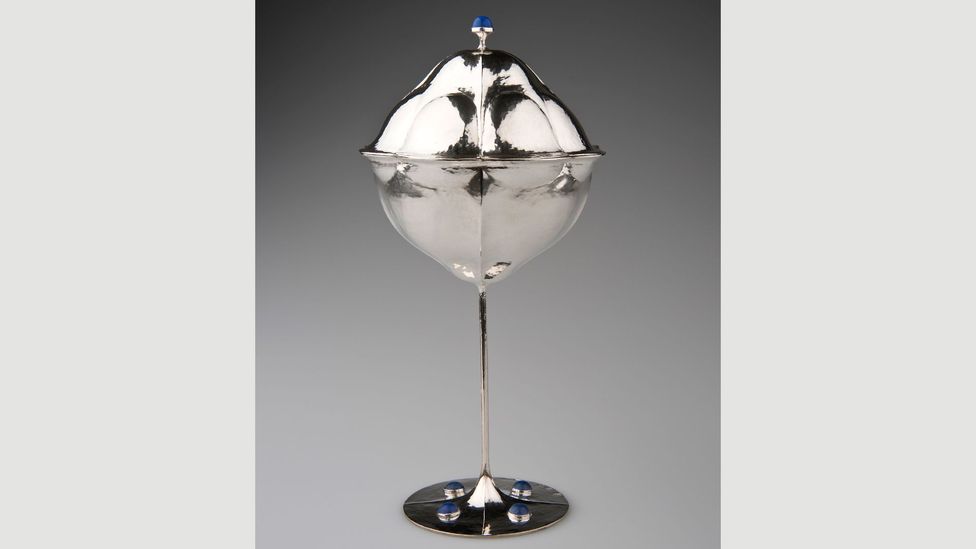 Koloman Moser, lidded goblet, 1905, made by Wiener Werkstätte (Adolf Erbrich) (Credit: MAK/Katrin Wißkirchen)
The ouroboros, resuscitated by Moser as an emblem of unity for an age of uncertainty, offers itself as a lens through which one can bring into sharper focus the full spectrum of the artist's creativity. The curators of Koloman Moser: Universal Artist Between Gustav Klimt and Josef Hoffmann have assembled an impressive array of objects produced by the artist, before he decided to step away from the financially floundering Wiener Werkstätte in 1907 to return exclusively to painting. From innovative wooden writing desks with disappearing chairs, to lidded silver goblets as shapely as orchid buds, to ornamental boxes wrought with the charm of a treasure salvaged from a dream, the works summoned for the show reveal Moser's artistic ingenuity.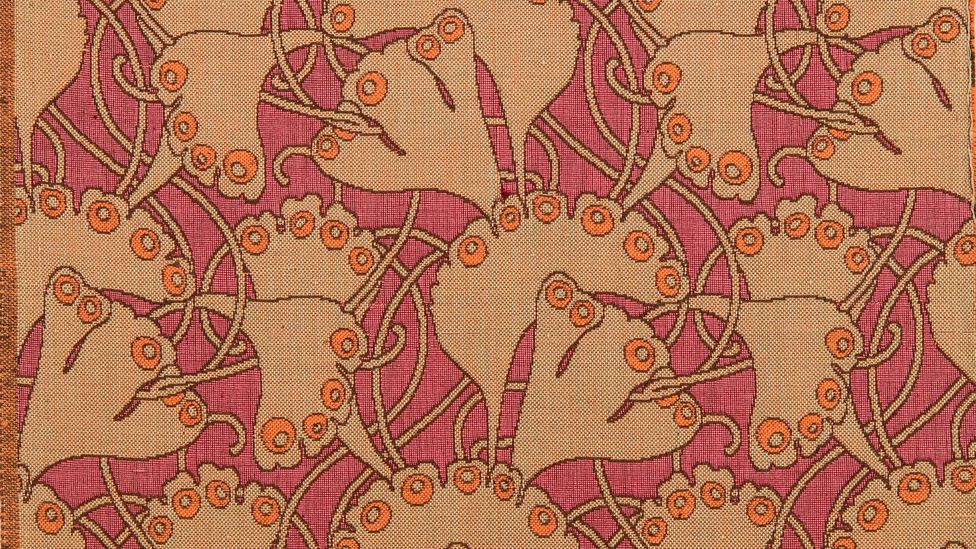 Koloman Moser, fabric pattern Palmenblatt (Palm Leaf), 1898, made by Joh. Backhausen & Söhne (Credit: MAK/Katrin Wißkirchen)
Samples of fabric patterns also created during this period seem at once familiar in their organic nature and strangely abstract in their biomorphic whimsy, as if presciently anticipating the non-figurative concerns of later artists. Lost in these absorbing designs that suggest an enveloping harmony over all things, visitors will fathom anything they want. Personally, I see a supple squadron of kittens limbering up for sun salutations and downward dogs.
Koloman Moser: Universal Artist Between Gustav Klimt and Josef Hoffmann is at the MAK in Vienna until 22 April 2019.
If you would like to comment on this story or anything else you have seen on BBC Culture, head over to our Facebook page or message us on Twitter.
And if you liked this story, sign up for the weekly bbc.com features newsletter, called "If You Only Read 6 Things This Week". A handpicked selection of stories from BBC Future, Culture, Capital and Travel, delivered to your inbox every Friday.